Best Outdoor Ceiling Fans
Do you love spending time in your home's outdoor area? You may give up on the idea on hot days due to extra heat. However, installing an outdoor ceiling fan can resolve this problem for you. This fan type complements your house's decor while maintaining an optimum airflow rate. Most fans now come with the modern technology of reversible motors. You can enjoy a cool atmosphere in the summer while feeling cozy in the warm air during winter. It also helps keep insects away from the area. Outdoor ceiling fans are different from the ones installed inside the house. Their blades must have a wet rating to qualify for safe use during rain. We have searched and reviewed the 7 best outdoor ceiling fans of 2022 to ensure you invest your money in the right product. Let's get started.
Criteria of Good Outdoor Ceiling Fan
Several factors combine to make an outdoor ceiling fan a perfect appliance. We have discussed them below. It would be best if you considered these criteria before buying a fan for installing outdoors.
IP ratings
Every fan has different IP ratings depending on their protective action against foreign bodies. The higher this rating, the well-secured your fan will be from dust, debris, and moisture. An IP rating of 65 or more is ideal in this case.
Height of the ceiling
You must purchase a fan that has a considerable height from the ground. If not, you can use a downrod to maintain it appropriately.  Here are a few important considerations to follow regarding this factor:
The blade's end must not be less than 0.6 meters away from the wall.
It would help if you hung the fan at least 2 meters above the ground.
A distance of 0.3 meters between the fan and the ceiling is important.
Additional features (colors, design, light)
Outdoor ceiling fans can be an excellent decorative prop for your house. You must consider the color and design that goes well with your house's interior. Bold colors prove versatile in this case. You can also buy a two-in-one fan with a LED light in its center. Usually, these bulbs are highly energy-saving, and you can easily adjust their intensity through remote control.
Material
To last long, an outdoor ceiling fan must be built from sturdy material like metal. Even wood is a classy option, but metal fans provide exceptional functionality. They cut the air with negligible resistance, which means a better airflow rate. Moreover, the durable body can withstand storms and rains easily.
Reviewing the Best Outdoor Ceiling Fans of 2022
1.   Obabala Outdoor Ceiling Fan
The Obabala Outdoor Ceiling Fan is perfect for maintaining an optimum level of airflow, especially on hot days. You can operate this modern tech fan with remote control. There are six different speed settings, from low to high. You can also adjust the brightness of the remote's display for better visibility. It is an ideal energy-saving option. You can set a few hours' sleep timer, and the fan will automatically turn off. Be it your home outdoors or a farmhouse; you can conveniently install this fan and enjoy a breeze of cool air in the summer.
Here are a few essential features of this fan that offers excellent value for money.
The matte black motor makes no noise while operating. This silent-functioning feature is perfect when you want to relax outdoors.
This fan has a warranty of one year, while its motor has that of a lifetime. You can also contact the brand's support team for technical help within one day of purchase.
It has an adjustable rod that you can set according to the ceiling's height during installation.
A dimmable power-saving LED light also comes with this fan. No other brands offer this two-in-one feature at such reasonable rates.
You can adjust the light's intensity according to three settings: warm, neutral, and white.
2.   Hunter Key Biscayne Outdoor Ceiling Fan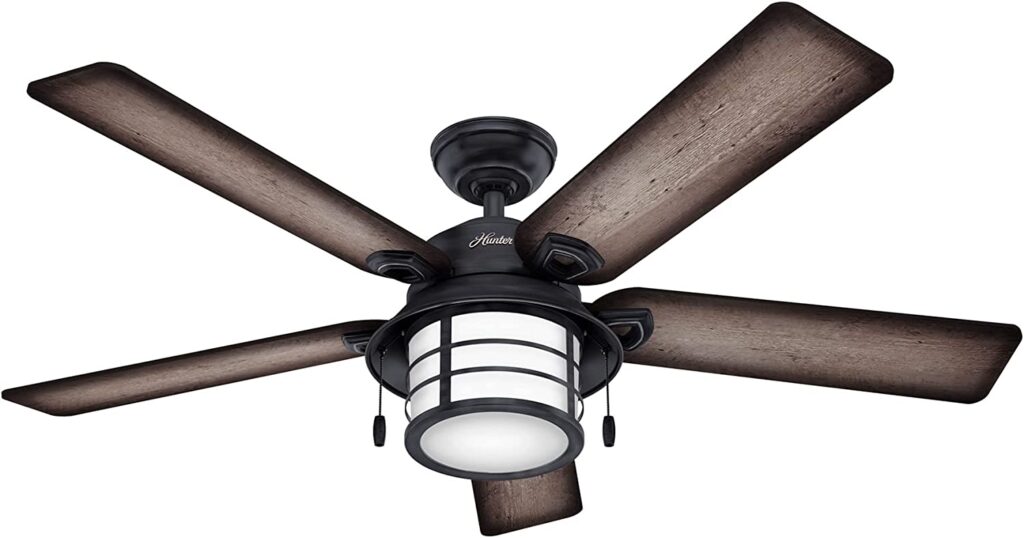 Are you looking for a functional outdoor fan that keeps your house interior up to date? Then, buying the Hunter's Key Outdoor Ceiling Fan with a glossy zinc finish can help. It has a reversible motor that's ideal for both summers and winters. You can activate the downdraft or updraft mode according to the weather to change the motor's direction. Turning on/off this fan and adjusting its speed through pull chains is simple.
Let's overview some other features of this outdoor appliance by one of the leading brands.
You can adjust the fan's height accordingly. It includes two and three-inch downrods to maintain an optimum distance from the ground.
This fan has two energy-efficient LED lights in its center. You can easily control their intensity from different settings. Moreover, they have a prolonged life than standard bulbs.
The motor's whisper wind technology ensures silent performance by the fan.
This casual-styled fan has a metal body, making it durable to last longer.
3.   Sofucor Outdoor Ceiling Fan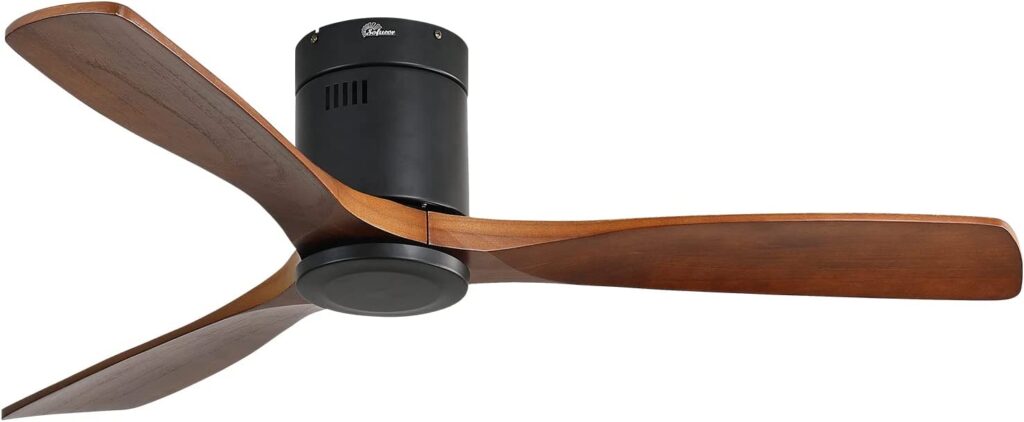 Are you tired of paying extra charges on energy bills? It's time to replace that traditional fan with the Sofucor Outdoor Ceiling Fan. This fan runs on a DC motor with a 50% energy-saving feature. Its assembly and structure are durable enough to last as long as a decade. The brand even offers a 15-years after-sales warranty on this fan's motor and other parts. Its solid brown wooden design looks stylish with a classic combo of a black lampshade. Without light, this fan's blades are 52 inches long.
Some of its other features are:
You can control this fan's settings, including its speed, sleep timer, etc., through a digital remote. There are six wind speed intensities to choose from.
It is easily installable, thanks to a low-profile mount. You won't probably require any professional help in the process.
The motor of this fan is reversible. You can adjust its movement according to the season to get warm or cold airflow.
This fan doesn't produce more sound than 35 decibels which is less likely detectable by human ears. It delivers a high-power performance through quiet functioning.
Besides outdoors and in the farmhouse, you can also install this fan indoors. Whether your bedroom or living room, this fan guarantees an equally effective airflow rate in all conditions.
4.   Honeywell Outdoor Ceiling Fan

The bronze-colored Outdoor Fan by Honeywell is in our top four picks for multiple reasons. From its structure to its performance, everything is top-notch. The innovative design with an oil-rubbed finish makes it a perfect choice to step up the game of your house's interior. This ceiling appliance has wet-rated blades keeping it safe from rain. It quickly wicks away the moisture before it can reach the machine and damage it. Your medium to large-sized rooms and patios are perfect for installing this fan. Even the installation is not complicated. You can follow a few steps in the instructions manual, and everything will be good to go.
Let's look at this fan's functional attributes that make it one of our top choices.
You can activate this fan even on colder days. The reverse functionality of the motor delivers warm air in low temperatures.
The motor makes no disturbing noises while it's running.
There are four fan speeds to adjust. You can select the desired level through an easy-to-use remote control.
Installation of this fan requires no extraordinary knowledge of the electric system. You can easily hang it on the ceiling following a few simple steps from the manual by the brand.
You get three mounting options while installing this fan: close mount, downrod, or angled. Choose the one that matches the ceiling's area.
5.   Hunter Kennicott Outdoor Ceiling Fan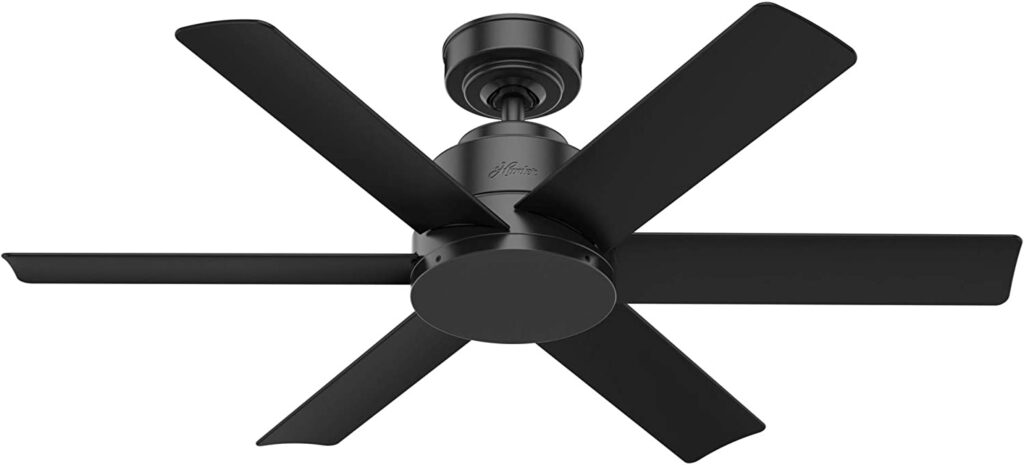 Are you a black lover, which also reflects in your home's interior? Buy the Hunter Kennicott Fan with a matte black finish to complement the decor. It's also a practical choice to maintain optimum airflow outside. A reversible motor makes this fan ideal for throughout-the-year use. This fan is also functional indoors, including in your bedrooms and living rooms.
Hunter is widely famous as the best-selling brand in the home appliances industry. You can see the remarkable features of one of its best products, Kennicott, below.
The sure speed technology delivers a 20% faster cooling power. Thanks to a high-velocity airflow that helps maintain an ideal airflow rate.
Another modern tech of whisper wind makes this fan's motor operate with non-detectable noise.
It has a remote control to adjust the custom speed from multiple options.
You can install it easily through the stem-hung mounting technique. A metal pipe secures all the electrical wiring making it ultra-safe.
6.   Harbor Breeze Oil Rubbed Outdoor Ceiling Fan

The Harbor Breeze Outdoor Fan has an innovative design that will look classy in your home. Its double fan style makes it one of the most popular purchases. Besides a classic appearance, this fan is also effective in maintaining airflow. The six blades work in sync to bring never-ending waves of cold air when the temperature is on the higher side. You can even replace its blade to change the style per your preference.
This fan has many features to compel you into buying it. Let's have a look at them.
This fan has dimensions of 74-inches, making it perfect for large rooms and patios.
The oil-rubbed bronze blades are durable and look stylish.
You can adjust the motor's speed accordingly from three different intensities.
There are frosted glass shades that work as a light source. It glows immensely without consuming lots of energy.
Among this fan's components, you can also find a four inches long downrod. You can use it to maintain an ideal height of the fan from the floor.
7.   Harbor Breeze Merrimack Outdoor Ceiling Fan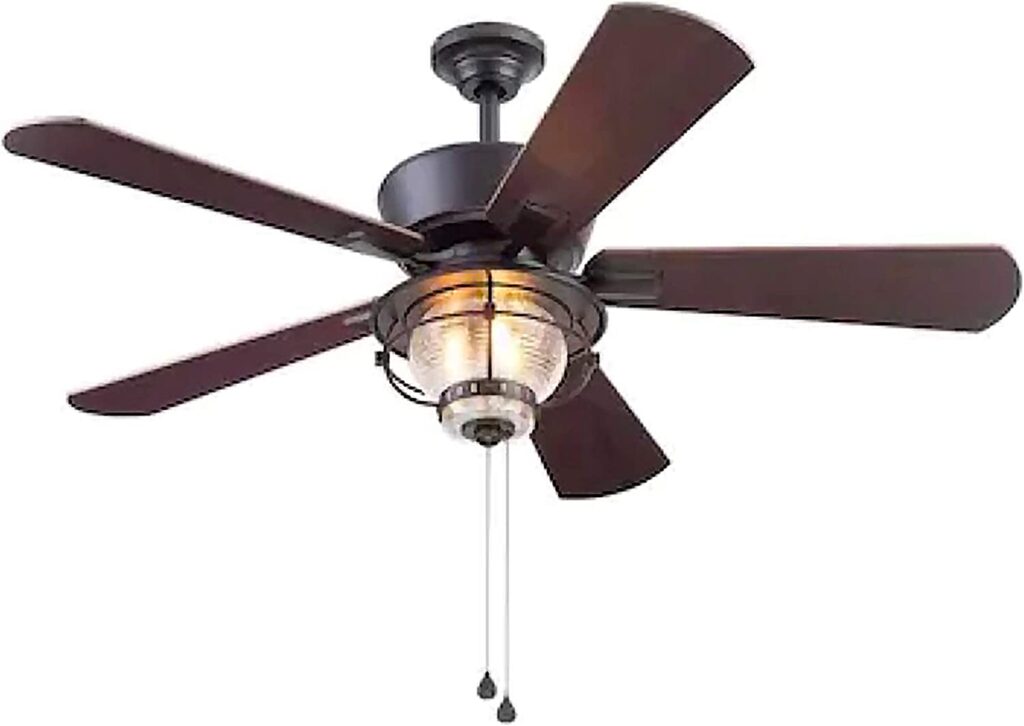 The casual Harbor Breeze Merrimack Fan for Outdoors has five blades for exceptional performance. The matte bronze layer coats this fan's structure, giving it a royal look. You can adjust the fan's speed, and other settings through a chain pull control. Not just outdoors, it's also pretty functional for the inside area of your home, like bedrooms, living, and dining rooms.
Here are some of its appreciated features:
There's a light kit with energy-saving bulbs and adjustable lighting intensity.
You can reverse this fan's airflow depending on the weather outside.
The ceiling mount makes it easier to install this fan.
Its noise level is also satisfactory. The motor produces no extra sounds as the fan does its job quietly.
Wrapping Up
An outdoor ceiling fan is a must to stay cool on hot days. It would also enhance the beauty of your house through a modern design. Be it a porch, patio, or garage, an outdoor fan is functional in all areas with its wet-rated blades. Buy one of the best outdoor ceiling fans from our top 7 picks and enjoy the cold air outdoors.