Fall is coming. You are probably worried about cutting down dry tree branches and bushes in your backyard, right? You can carry out the task using an axe. All your time and energy will be drained, though. So a way out to this problem is to keep a chainsaw at your home. It is the easiest and fastest alternative to all of your woodworking needs. Using a chainsaw, you may quickly remove large tree branches that are blocking your path to view the beautiful landscape around your home.
Why Small and Mini Chainsaw Instead of Big Chainsaw?
Using a chainsaw is all cool, but a big, bulky chainsaw may hinder your efficiency. Firstly, you'll have to handle it using both hands. Secondly, a big chainsaw produces more vibrations and may cause you to lose your balance. Therefore, a large chainsaw is not suitable for being used by elderly people and women. If you are a do-it-yourselfer, a mini chainsaw can prove to be the game changer in all of your woodworking projects. Both the young and the elderly can use it alike. A small chainsaw is easy to maneuver, allowing the one-hand application for the user. Moreover, less noise and fewer vibrations from it ensure your work goes smoothly.
To help you buy this crucial piece of equipment, we've been looking for some of the best small and mini chainsaws out there. Here are the 10 small and mini chainsaws that we found perfect for your use at home: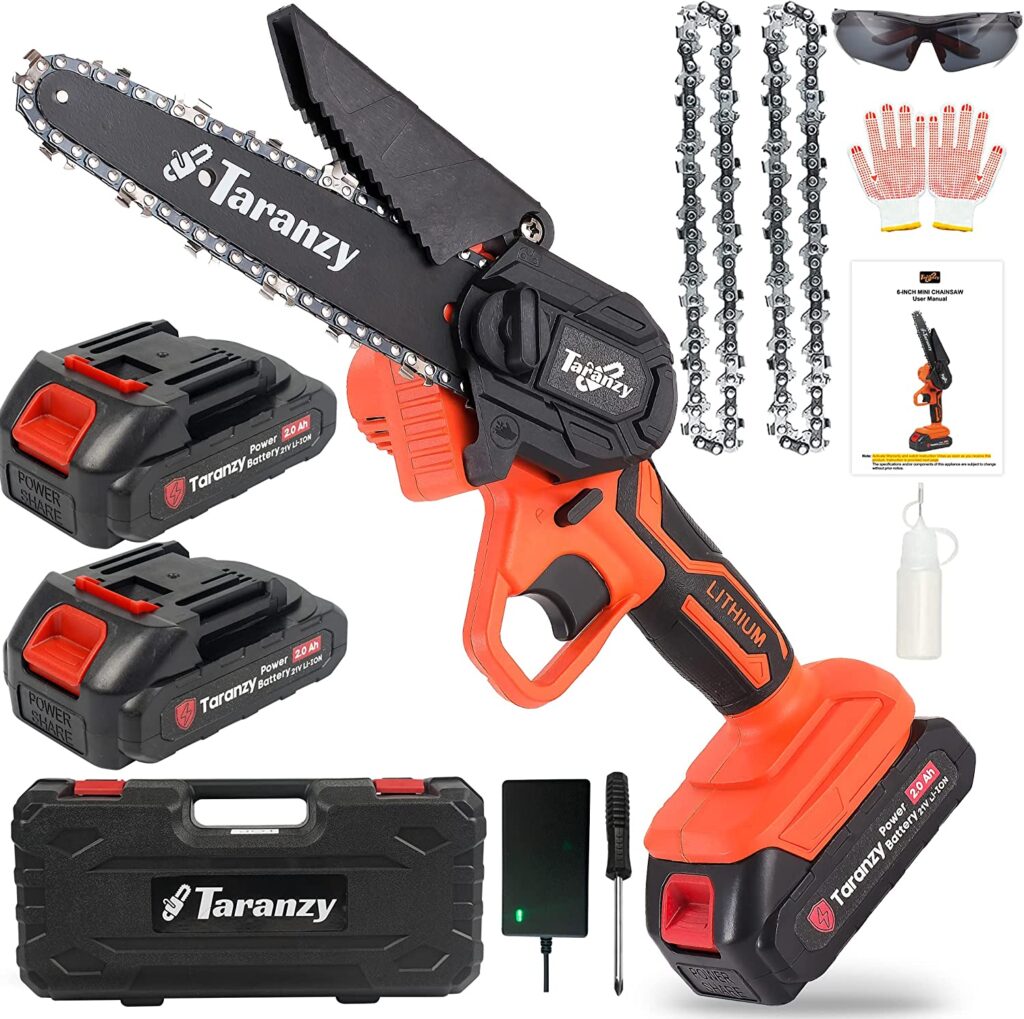 Taranzy is a small business with great potential. Its mini chainsaws are one of a kind. These are sold in bulk around the world. The Taranzy mini chainsaw is all that you need for your daily cutting tasks. From pruning trees to improving your home, this piece of gear can be employed to do every job pretty neatly.
It is a small cordless chainsaw that is super lightweight and comes with a 6-inch chain. Here are features of Taranzy's chainsaw that are worth mentioning:
Only 2.57 lbs in weight: easy to use and can be maneuvered with one hand
Compact design
A high-speed chain that works at 19.2 ft/s
Energy efficient
The rotatable protective baffle on the upper side is designed to prevent dust and sparks
Thermoplastic rubber handle: handy and ergonomic
Pure copper motor
Long-lasting battery
Comes with double batteries and multiple accessories like safety goggles, safety gloves, a screwdriver, an extra chain, etc.
Comes in a sturdy and easy-to-carry box
RLSOO serves its customers through home and kitchen appliances. These mainly include cordless chainsaws, light hair removal devices, and heat press machines. The Mini Chainsaw from RLSOO is a no-regret upgrade to your equipment storage.
This 24V rechargeable, battery-powered chainsaw can be used by the young and old equally. It is easy to use and can be operated with one hand. This small chainsaw can be used for a wide range of applications, like pruning trees and logging.
Some distinguishing features of this mini chainsaw are:
High-quality alloy chain for labor-saving and time-saving cutting
Multiple protection systems to ensure user safety, like safety bezel, safety lock button, switch button, etc.
Built-in LED lights for use in darker places
Handheld design
Portable and easy to carry outdoors
Easy to install
A thermal effective design to ensure better heat dissipation
Two batteries ensure more application time
Friendly service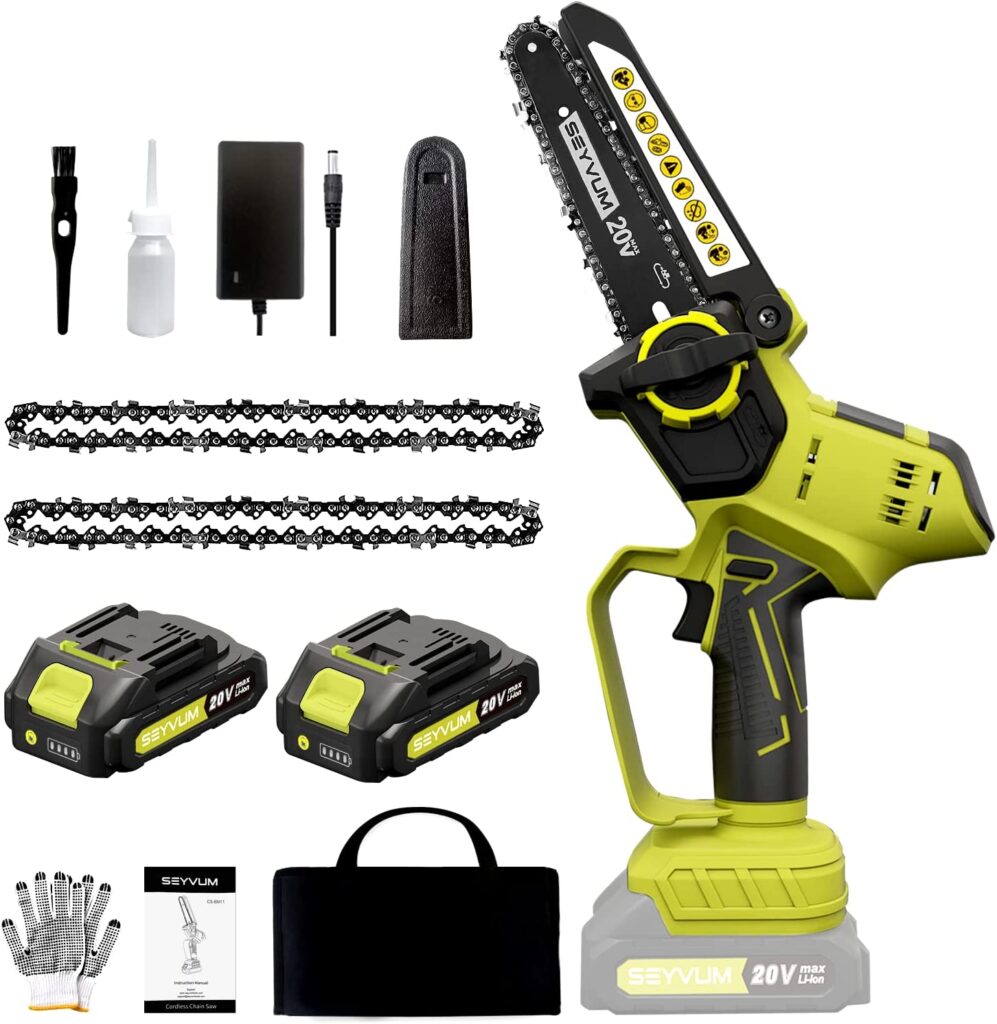 SEYVUM is a multinational company that researches, develops, and sells lithium-ion power tools. Established in 2006, the company is dedicated to making equipment that makes it easy for people to create masterpieces and do useful work.
The SEYVUM 6-inch cordless mini chainsaw needs no tools for installation. It is designed to be used by both professionals and novices. Its in-built chain tensioning system and bar tightening knob allow you to use it anywhere, anytime.
Here's what you need to know about the SEYVUM mini chainsaw:
Tool-free chain tensioning and installation
Multiple features for user protection
Ventilated design for better heat dissipation
German-made high-hardness guide chain
Ergonomic and handy design
High-efficiency 750W pure copper motor that provides more power
26.2 feet/s high chain speed: cuts a branch in the blink of an eye
Dual rechargeable batteries of 2.0Ah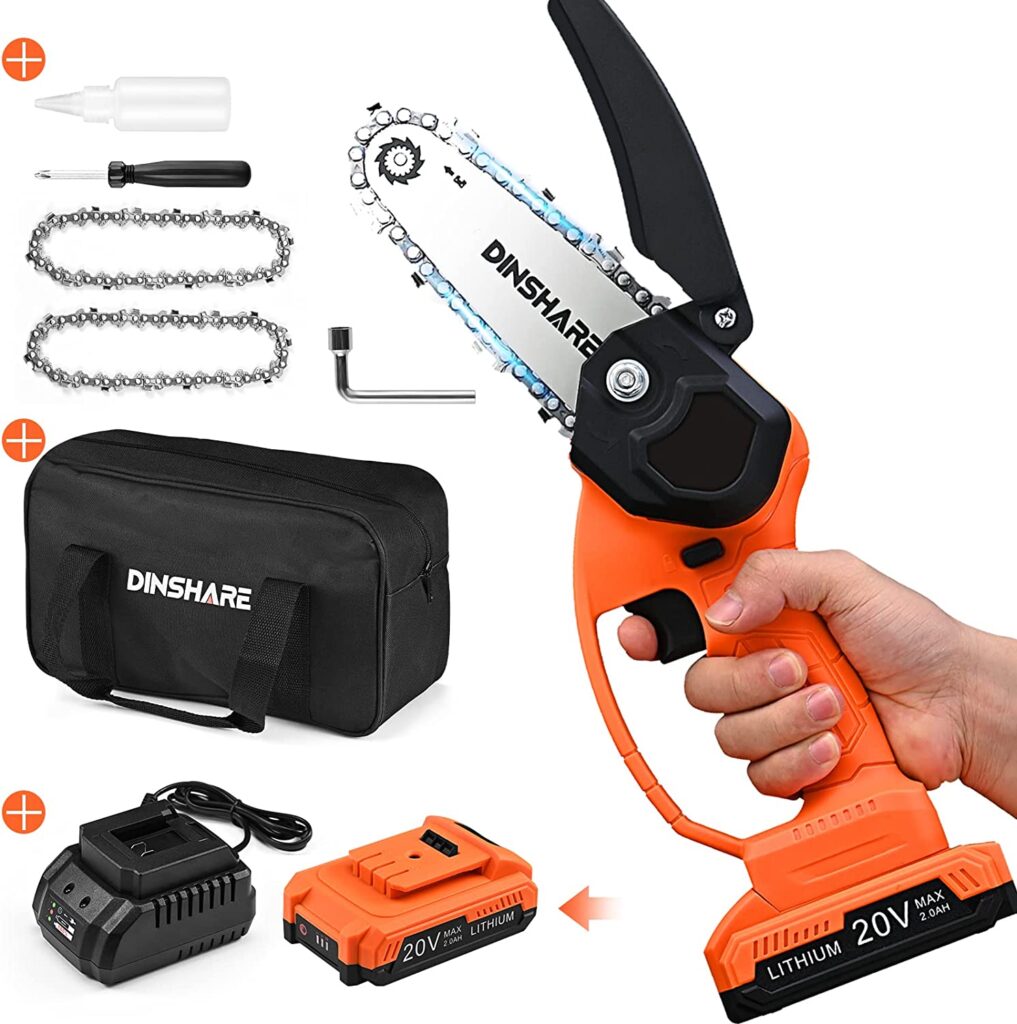 DINSHARE is a manufacturer of household appliances. The company was established in 2012 and has been working to assist its customers with their home maintenance projects up to now.
The DINSHARE mini chainsaw is designed to provide high security during use. Its low power consumption and high durability make it an ideal power tool for every DIYer.
Here are the specifications of this product that you must know:
High cutting speed, up to 5 revolutions per second
Corrosion and wear resistant guide plate of the highest quality
Can cut different types of materials
Easy to use and clean
Double safety: 90° baffle and safety lock
Handheld, lightweight, and portable design
Only 1.98 lbs weight
20 V long-lasting battery
Easy to install: an installation guide also comes along with it
Foonsen is a sub-brand of Enegon electronics. The company provides its customers with high-quality equipment at reasonable prices. Foonsen ensures complete user satisfaction through its best service.
The Foonsen mini chainsaw is a small cordless chainsaw featuring a 4-inch chain with a handheld design. This small chainsaw is an all-rounder piece of equipment for your cutting needs.
Some features which make it one of the best power tools are:
Extremely fast cutting: can cut wood of 6-inch diameter in just 10 seconds
Powerful copper motor with a high speed of 15000 rpm: needs less power from your hand
One-hand design makes it convenient to use
Lightweight and portable
Applicable to different situations
Safe application
Ergonomic design
Running time of 30-40 minutes per charge
LED light for more accuracy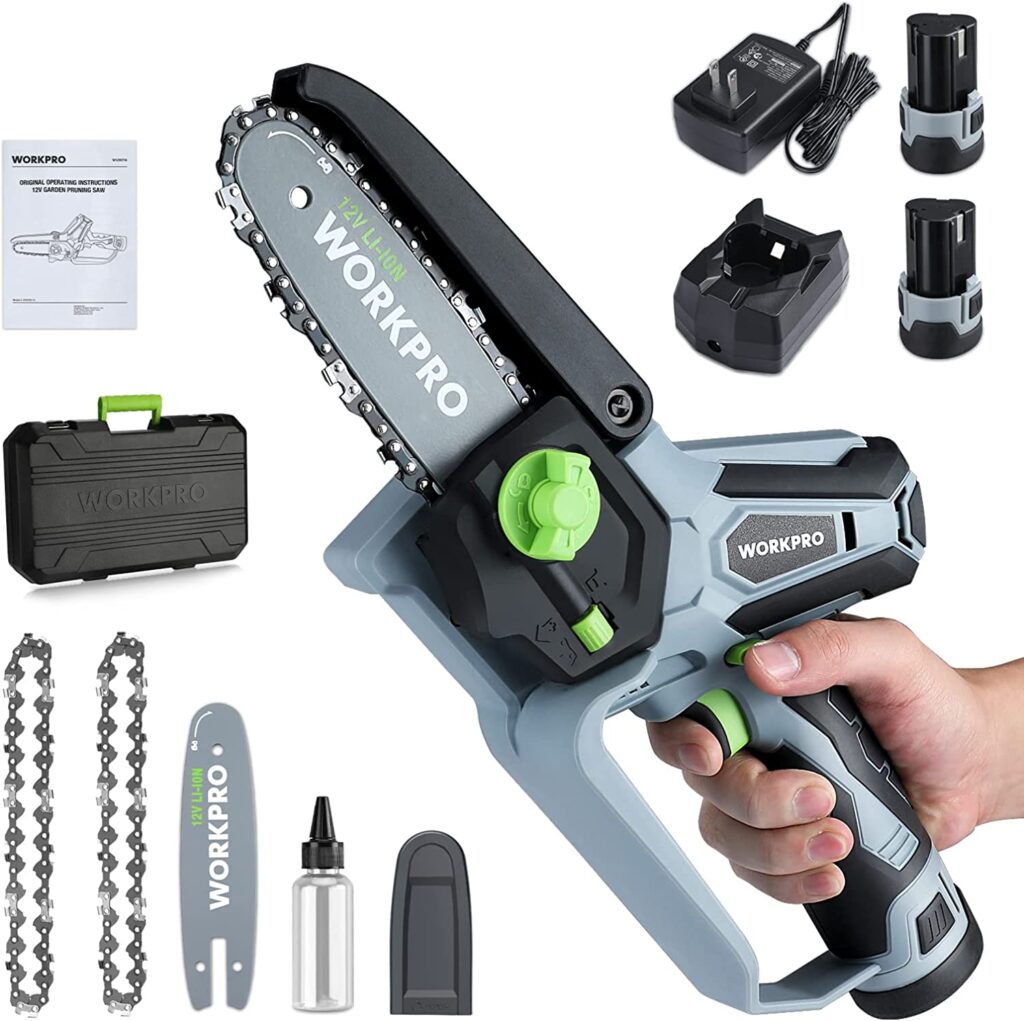 Power tool manufacturer WORKPRO has 25 years of experience in the market. The company has adhered to its commitment to provide high-quality equipment to its consumers. The tools made by WORKPRO are some of the most reliable ones available. Its wide range of products and reasonably priced rates encourage customers to take on home improvement tasks with confidence.
The mini chainsaw from WORKPRO is an electric cordless chainsaw that comes with two batteries. Although designed especially for garden pruning, it can be used for different cutting tasks.
This small chainsaw features several interesting specs, some of which are:
Tool-free installation
Hand-free chain tensioning
Appropriate for one-hand operation due to its lightweight body
16.4 ft/s high chain speed
6 inches long low kickback bar: can cut wide tree logs easily
100° rotatable protective baffle
Dual safety locks for better protection
Long-lasting battery
Weighs only 3.2 lbs: less fatigue while working
Rubberized grippy handles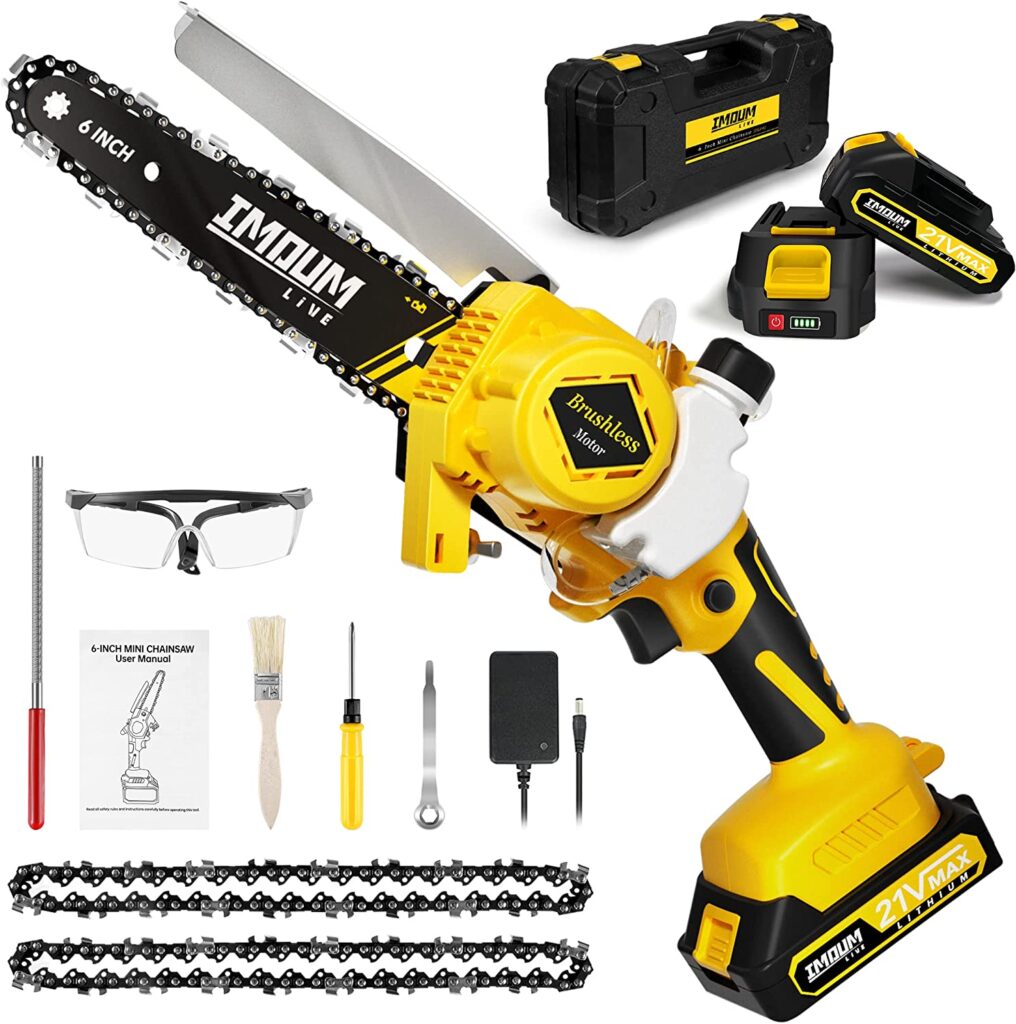 IMOUMLIVE is a developer and distributor of high-quality power tools. The aim of this brand is to replace all traditional heavy power tools with those that are lightweight and easy to carry. Just like other tools from the brand, the mini chainsaw from IMOUMLIVE is just the weight you need to maneuver easily.
The IMOUMLIVE mini chainsaw is produced using the most sturdy and compact material. Its brushless motor allows you to cut almost everything with little effort and little noise.
A few important features of this cordless chainsaw are:
Easy lubrication for more longevity
Long lasting 21 V battery system and a battery indicator
Operable with one hand
Multiple safety systems: safety lock, safety switch, protective baffle, etc.
Ergonomic and suitable for use by the old
High-quality trigger
Brushless motor that solves the problem of overheating
A perfect gift for every DIYer
DIKAKO manufactures and sells a wide range of products in the sports and outdoors category. These mainly include sports reaction balls, power tools, manual back massagers, and kids' baking tools.
If you're seeking the best chainsaw brand, DIKAKO might be the best match for you. This 6-inch mini cordless chainsaw is powerful enough to carry out large cutting applications. It's got a small and compact body, which is lightweight and easy to hold.
Here are some ins and outs of this chainsaw:
Long-lasting rechargeable battery (21V and 7500mAh) that is protected from overheating and overcharging
5 m/s high chain speed
Ergonomic rubberized handle for slip resistance and easy handling
Safe application: has a safety lock button
Easy to install and use
Powerful brushless motor for high cutting efficiency
The effective heat dissipation system
High hardness durable chain
Anti-splash and protective baffle that is rotatable up to 90°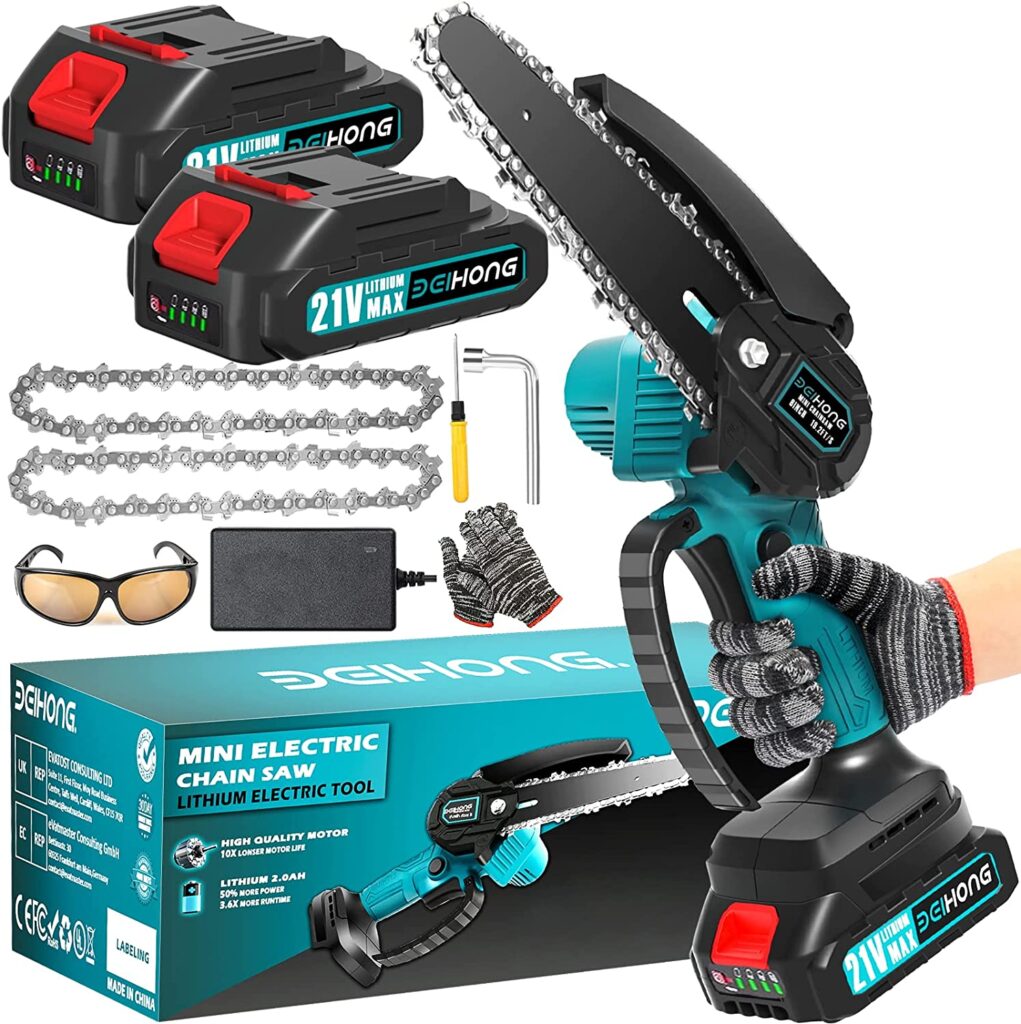 BEI & HONG is a primary manufacturer of lithium-ion power tools. The best of the best are their lithium-ion mini chainsaws.
Whether it be simple wood cutting or large tree trimming, the mini chainsaw from BEI & HONG always comes in handy. It is a small, cordless, handheld chainsaw with a 6-inch chain and 2 batteries. Being highly efficient in cutting, it may cut a 6-inch thick wood log in only 4 seconds.
Here are the specifications of this chainsaw:
Large battery capacity: double lithium-ion battery packs, each of 21V and 3000mAh charge capacity
Weighing only 0.75 kg, it can be used only with one hand
Easy to use: both the elderly and women can use it for different cutting purposes
High-efficiency copper motor that provides greater power
Safe to use: features a switch lock, a protective baffle, and comes with a pair of safety goggles and safety gloves
Anti-slip handle
German made high-hardness chain
Multiple accessories also come in the box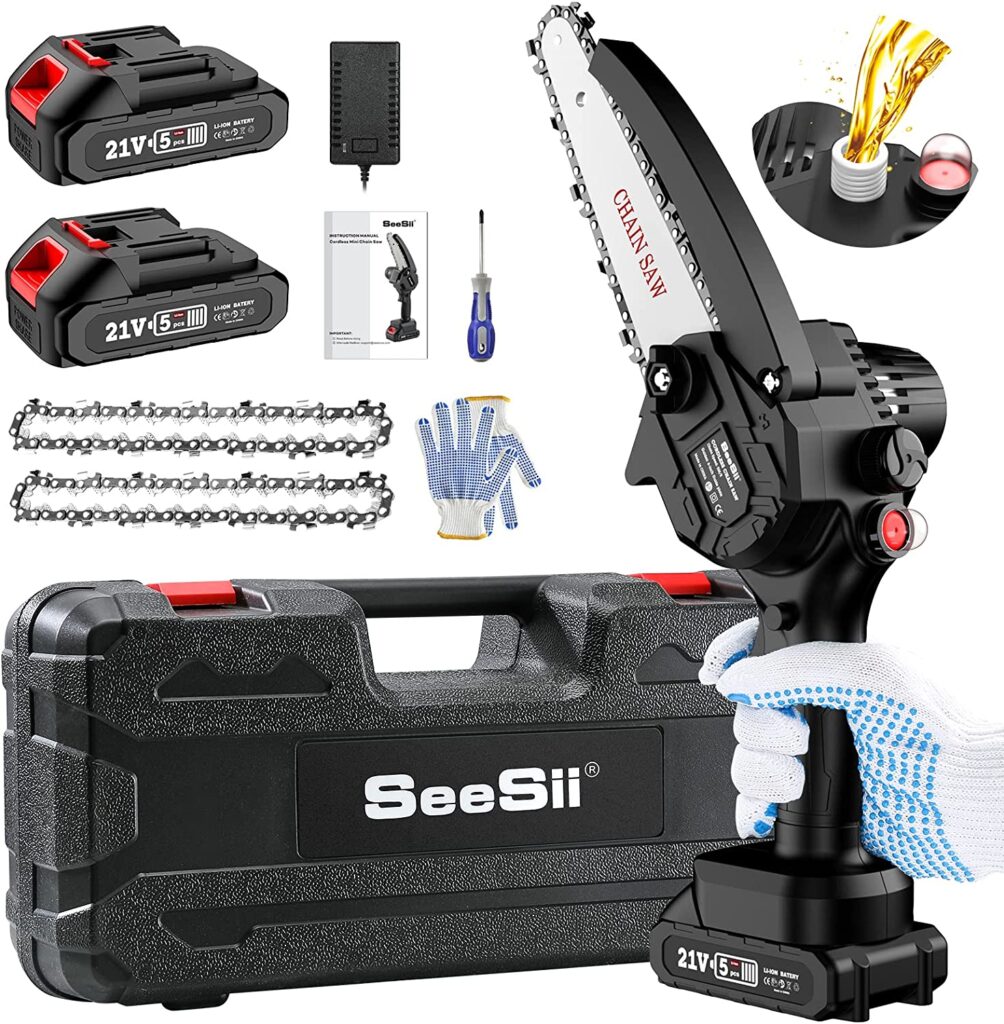 SeeSii is a Japanese company that manufactures gardening tools, home appliances, and power tools. Its electric chainsaws are way lighter than gasoline saws. They work faster than all reciprocating saws and are more portable as compared to wired chainsaws.
The Seesii 6-inch small cordless chainsaw is a perfect tool for all of your woodworking projects. You can use it to cut wood, clip tree branches, clean up thorny bushes, and perform other tasks that could possibly arise in a typical household.
Some features of Seesii's mini cordless chainsaw are:
One-hand application: lightweight, small and compact body with ergonomic and grippy handles
Energy efficient
Easy to maintain with an auto lubrication system
Noise effective
Long lasting batteries
Friendly accessories that come with the chainsaw
Excellent customer service
Wrapping Up
Having a small chainsaw will come in handy in the upcoming winter to help you cut some wood for your fireplace. It'll be safe and easier for you to handle. You can accomplish your daily cutting tasks easily using one.
So, do you want to make this fall season a bit easier for pruning bushes in your yard? Try one of our 10 top picks for the best small and mini chainsaws.