When it comes to the realm of best vacuum cleaners in Malaysia, few names stand as tall as Dyson. Renowned for their unwavering commitment to innovation and performance, Dyson has become synonymous with cutting-edge cleaning solutions. The Dyson Gen5detect™ Complete, their latest masterpiece, seamlessly upholds this legacy by introducing a medley of groundbreaking features, all meticulously designed to usher in a new era of thorough and efficient cleaning.
Stepping into the limelight as the freshest addition to Dyson's prestigious lineup, the Gen5detect™ Complete doesn't just promise performance – it embodies it. In this comprehensive review, we embark on an insightful journey, uncovering the vacuum's capabilities, highlighting its strengths, and candidly addressing any potential limitations. From its ingenious features that promise to revolutionise cleaning dynamics to the unparalleled cleaning prowess it offers, every facet of this high-powered cordless vacuum is laid bare for your consideration.
Introducing Dyson Gen5detect™ Complete Vacuum Cleaner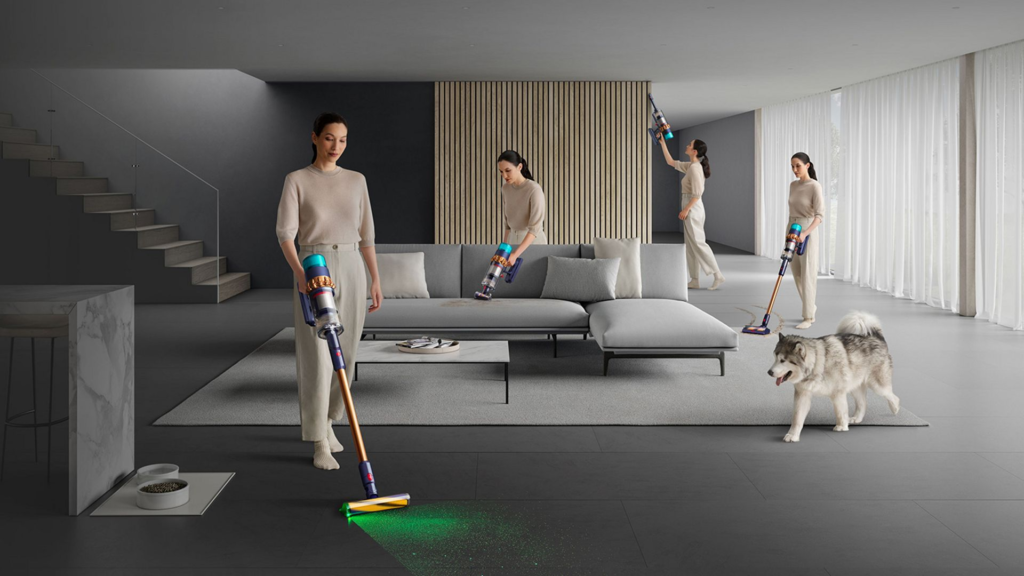 ✅ Get your Dyson Gen5detect™ Vacuum Cleaner today: click here
The Dyson Gen5detect™ Complete stands as a remarkable embodiment of Dyson's unwavering commitment to pushing the boundaries of vacuum technology. Showcasing an awe-inspiring 280AW of suction power, this cordless marvel is engineered to boldly confront even the most stubborn dirt and debris, leaving no trace of compromise in its wake.
However, its prowess extends beyond mere cleaning – it's a guardian of health and hygiene. At its core lies an advanced HEPA filtration system that commands the capability to ensnare an astonishing 99.9% of viruses and particles, no larger than 0.1 microns. This uncompromising filtration prowess ensures that the air you breathe in your home remains pristine and untainted, aligning perfectly with the modern demand for cleaner living spaces.
One of the most intriguing features this vacuum boasts is the innovative "blade of light." This ingenious addition goes beyond conventional cleaning by unveiling invisible dust, making it palpably visible to the eye. This revelation introduces an entirely new dimension of cleaning visibility, ensuring no hidden particle remains safe from the Gen5detect™ Complete's relentless pursuit of cleanliness.
Features of Dyson Gen5detect™ Complete Vacuum Cleaner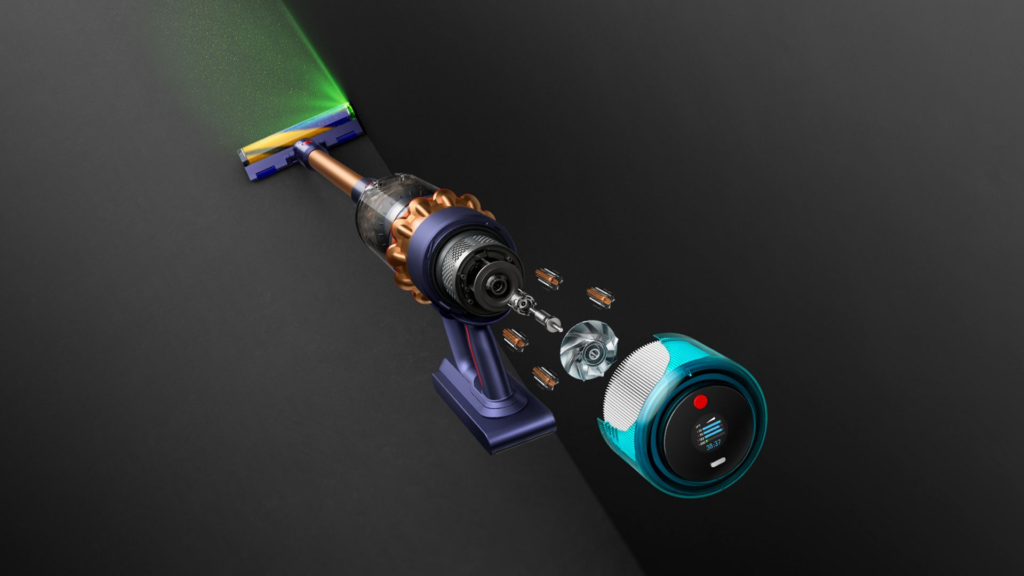 ✅ Get your Dyson Gen5detect™ Vacuum Cleaner today: click here
Dyson Gen5detect™ Complete has the following amazing features:
280AW Suction Power: Unparalleled suction capabilities, ensuring thorough debris removal.
Whole-Machine HEPA Filtration: Captures particles as small as 0.1 microns, including viruses, for a healthier environment.
Dust Detection with Light: An illuminating blade reveals hidden dust, enhancing cleaning visibility.
Piezo Sensor Technology: Automatically adjusts power based on particle size, as displayed on the LCD screen.
Radial Root Cyclone Technology: Maintains consistent suction by capturing debris effectively.
Transforms into Handheld: Easily switches to handheld mode for versatile cleaning of various surfaces.
Long Runtime: A 10-cell battery offers up to 70 minutes of continuous cleaning.
Adaptive Power Modes: Auto mode optimises suction for different floor types, while Boost and Eco modes offer flexibility.
No-Touch Bin Emptying: Ejects dust and debris directly into the bin with minimal contact.
Swappable Batteries: Extend cleaning time by simply switching batteries.
Washable Parts: HEPA filter and Fluffy Optic™ roller reduce waste and can be reused.
Digital Motorbar™ with De-tangling Vanes: Adapts suction power to different floors and detangles hair from the brush bar.
Blade of Light: Reveals twice as much invisible dust, providing a clear indication of cleaning effectiveness.
Built-in Dusting and Crevice Tool: Always accessible for quick and efficient cleaning.
Pros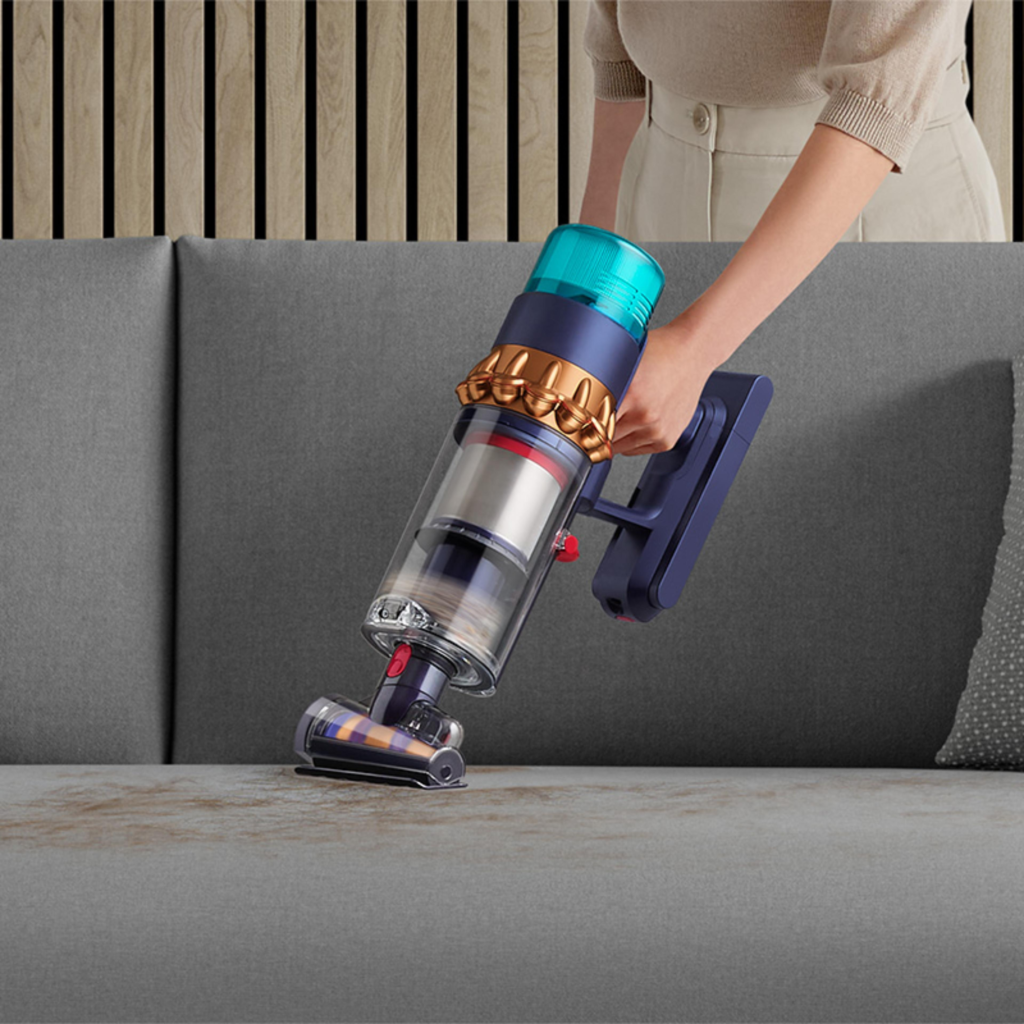 Following are the features of Dyson Gen5detect™ Complete that will be the most beneficial:
Impressive Suction Power: Exceptional 280AW suction tackles stubborn debris effectively.
Superior Filtration: HEPA filtration captures tiny particles and viruses, promoting cleaner air quality.
Innovative Dust Detection: A blade of light exposes hidden dust, enhancing the cleaning process.
Versatile Cleaning: Easily transforms into a handheld vacuum for various cleaning tasks.
Extended Runtime: A 10-cell battery offers up to 70 minutes of continuous operation.
Consistent Suction: Radial Root Cyclone technology maintains strong suction throughout use.
Adaptive Cleaning: Different power modes cater to various floor types and cleaning needs.
Hygienic Bin Emptying: No-touch mechanism ensures a clean and convenient process.
Swappable Batteries: Battery versatility extends cleaning time without interruptions.
Sustainable Design: Washable HEPA filter and reusable Fluffy Optic™ roller reduce waste.
Cons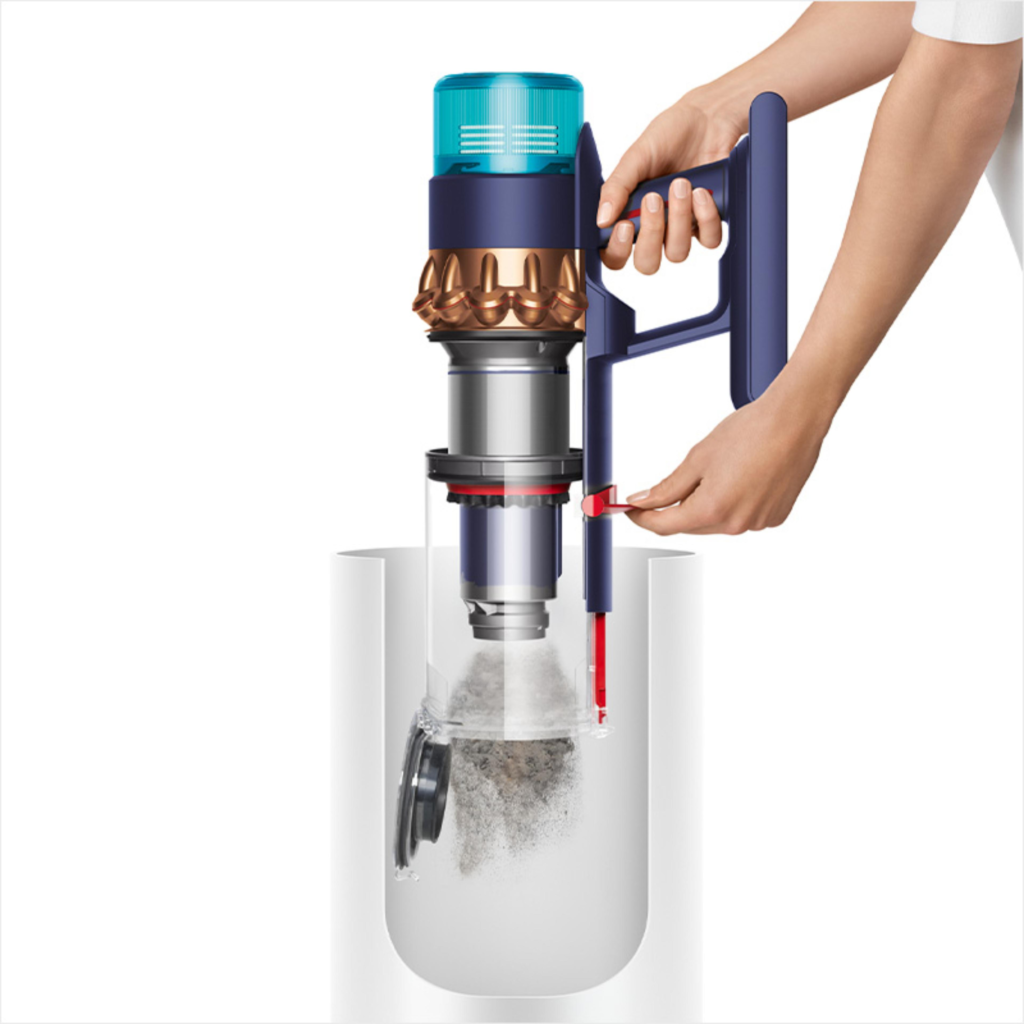 Following are the features of Dyson Gen5detect™ Complete that you have to make a compromise on:
Premium Price: The vacuum's cost might be a deterrent for budget-conscious buyers.
Filter Drying Time: Washable filters require extended drying periods.
Carpet Limitations: Intense brush roll power may not suit high-pile carpets.
Final Thoughts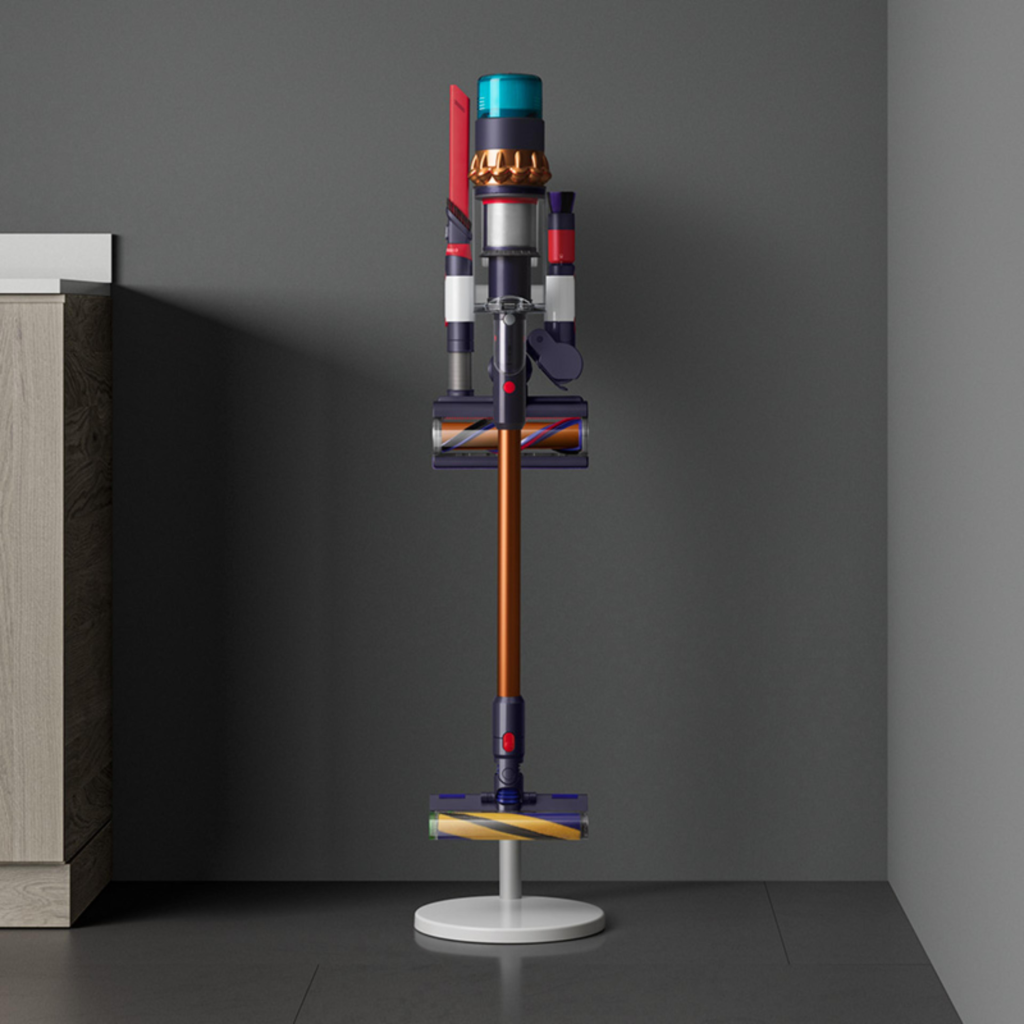 ✅ Get your Dyson Gen5detect™ Vacuum Cleaner today: click here
The Dyson Gen5detect™ Complete lives up to its promise of power and cleanliness. With its exceptional suction, advanced HEPA filtration, and innovative features like dust detection and real-time data display, it redefines the way we perceive vacuuming. While the price tag might raise eyebrows, the vacuum's performance and versatility make a strong case for its value. Dyson's dedication to engineering excellence is evident in every aspect of the Gen5detect™ Complete, making it a compelling choice for those seeking a top-tier cleaning solution.
In conclusion, the Dyson Gen5detect™ Complete emerges as a powerful and sophisticated cleaning companion, elevating the standards of cordless vacuums. While it comes with a few trade-offs, its exceptional performance and cutting-edge features make it a worthy investment for those who prioritise a cleaner and healthier living space.