The refrigerator steals the spotlight among all kitchen appliances. Choosing the perfect fridge isn't just about keeping your food cold; it's also about making a statement in your kitchen. That's where the Samsung Bespoke Refrigerator comes into play. In this review, we're going to take a close look at this fancy fridge. We tested its multi-door model to determine whether its customisable style matches up to the refrigerator's impressive list of features or not. We'll break down what it's made of, what we found good about it, and what could be better. By the end, you'll know if this fridge is suitable for your kitchen.
Introducing the Samsung Bespoke Refrigerator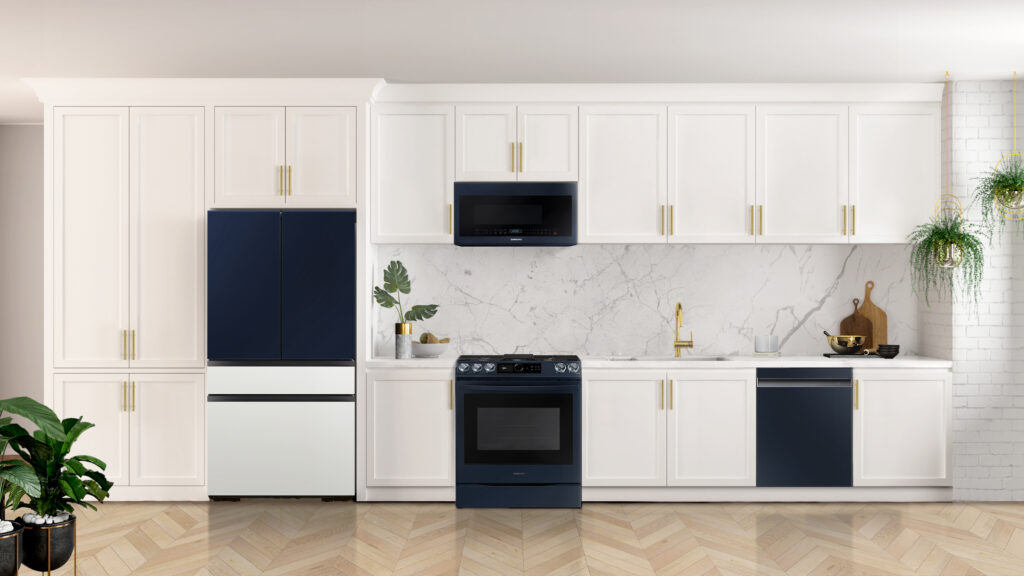 ✅ Get your Samsung Bespoke Refrigerator today: click here
The Samsung Bespoke Fridge is a highly customisable appliance that allows you to tailor its appearance to your kitchen's decor. It comes in various colour options, such as Glam White, Glam Pink, Glam Navy, Satin Grey, and Satin Sky Blue, giving you the flexibility to match it with your kitchen's aesthetics. Let's explore its features and see whether this refrigerator is worth the money.
Features of Samsung Bespoke Refrigerator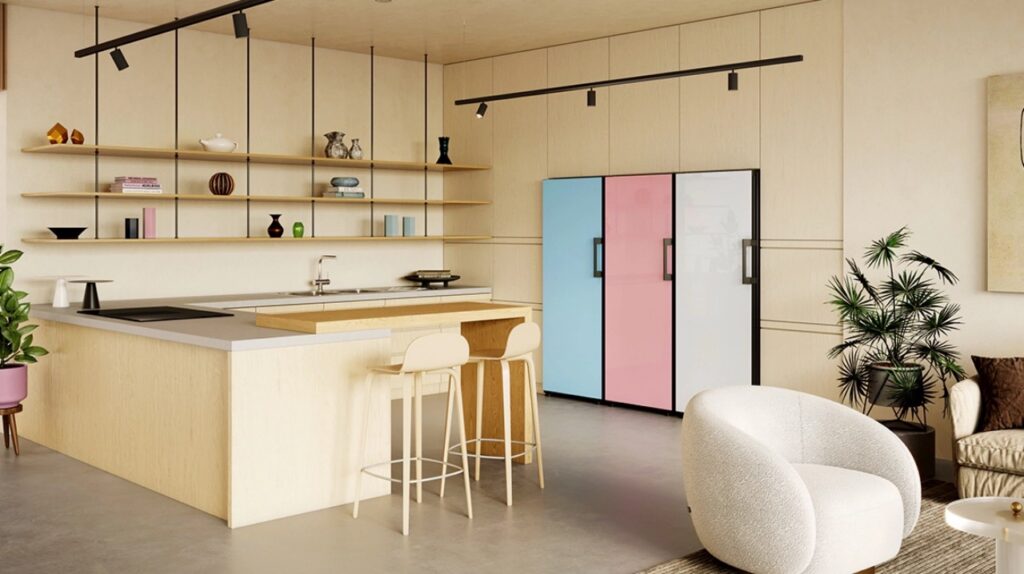 ✅ Get your Samsung Bespoke Refrigerator today: click here
Beyond its striking looks, the Bespoke refrigerator boasts impressive functionality. The following are some features it offers:
Interchangeable Panels: What sets this refrigerator apart is its modular design and interchangeable panels. You can change different components to adapt to your evolving needs.
Customisability: The customisability of this fridge extends beyond colours; it includes materials and layout as well. You can customise your refrigerator by selecting from two finish options: glam and satin. The result is a refrigerator that can grow and change with you, ensuring it remains a functional and stylish addition to your kitchen.
All-Around Cooling: The All Around Cooling system ensures uniform cooling in every compartment of the refrigerator. It maintains the ideal temperature by constantly monitoring and distributing cold air through strategically positioned vents.
Convenience: An automatic filling pitcher and an ice maker producing two sizes of ice add convenience to your daily life.
Power Cool and Power Freeze: With a simple press, the Power Freeze function sends a burst of cold air into the freezer, while the Power Cool function rapidly chills your groceries and beverages by releasing ultra-cold air into the fridge.
Adjustable Shelves: Another standout feature of this refrigerator is its adjustable shelves. These versatile shelves can be customised to your liking, allowing you to make room for taller items. This adaptability ensures that you can maximise every inch of available space and keep your refrigerator neatly organised.
Durability and Energy Efficiency: The refrigerator's Digital Inverter Compressor, certified to work for 21 years and backed by a 20-year warranty, combines energy efficiency with long-lasting performance.
Smart Control: The refrigerator is also compatible with SmartThings app, so you can get some amazing recipes, manage your energy usage, and monitor your fridge in real time, all while using your smartphone.
Alert System: Additionally, the Bespoke refrigerator includes an open-door alert system, maintaining consistent temperatures throughout its spacious interior.
Variations of Samsung Bespoke Refrigerator
The Samsung Bespoke Refrigerator offers various configurations to cater to different needs. Some of the most popular models include:
1-Door Model: A single door refrigerator without a separate freezer compartment at top or bottom.
Double-Door Model: A refrigerator with a separate freezer compartment, typically either on top (Top-Mount-Freezer) or at the bottom (Bottom-Mount-Freezer).
French Door Model: A style with two side-by-side doors that open outward for the refrigerator section and a bottom freezer drawer.
Side-by-Side Model: A design with two or more vertical doors placed next to each other.
Multi-Door Model: Combining a French door refrigerator with a second drawer or compartment, often called a "FlexZone" or "FlexZone drawer," which can be customised for different temperature settings.
Pros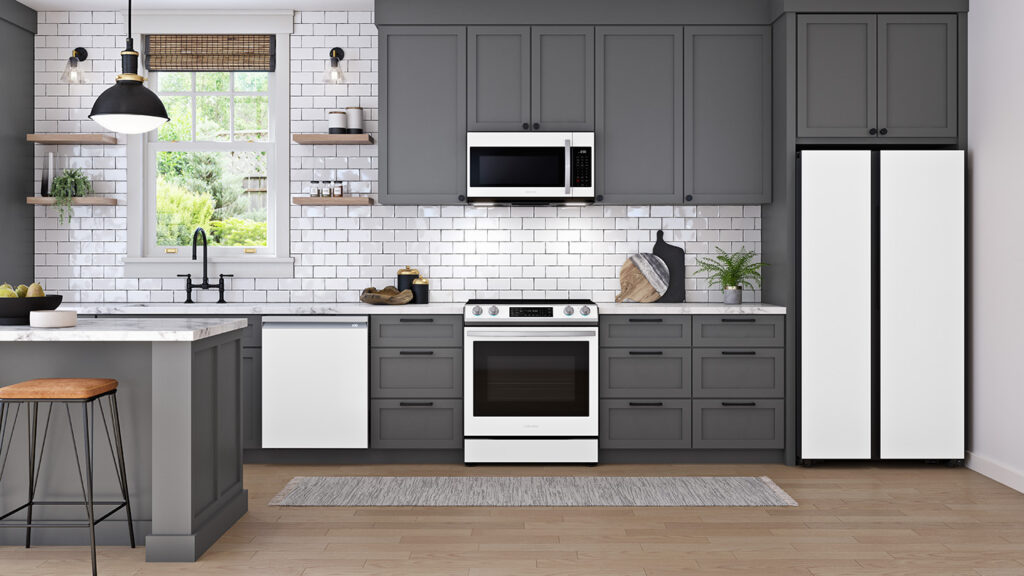 The things we liked the most about this fridge include:
Temperature Consistency: The Bespoke refrigerator shines in maintaining consistent temperatures without any warm spots. Our food would stay fresher for longer, both in the freezer and the refrigerator cabinet.
Customisable Front Panels: The range of swappable front panels allowed us to personalise our fridge like never before. We turned it into a statement piece for our kitchen.
Quiet Operation: Its near-silent operation is a blessing. We had no issues maintaining a peaceful kitchen with it.
Ample Storage Space: Inside the refrigerator, there's ample room with shelves and drawers designed for efficient organisation. We effortlessly stored enough groceries to sustain two people for two weeks. The adjustable shelves allowed us to easily accommodate taller items like cans, jugs, and bottles.
Convenient Features: The refrigerator's automatic filling pitcher and versatile ice maker elevate daily convenience. We would never run out of ice or have to worry about filling our pitcher again.
Safety: The open-door alert system of the Bespoke is a practical safety feature, preventing accidental food spoilage.
Cons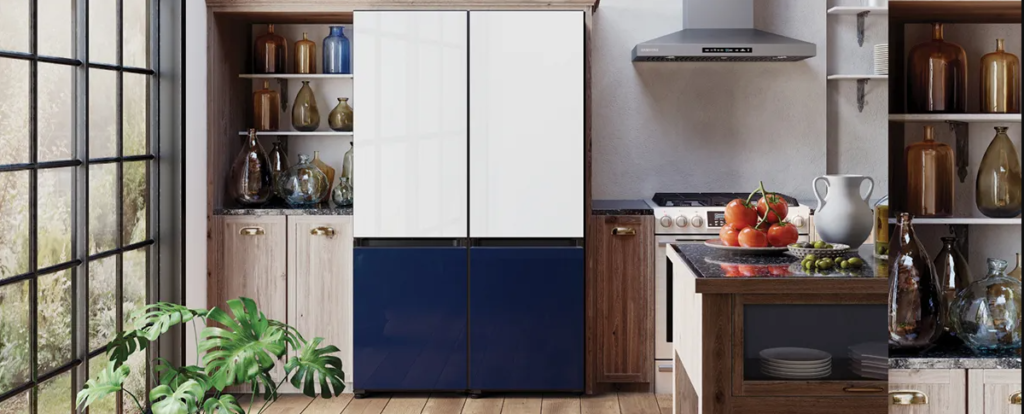 While the Samsung Bespoke Refrigerator offers an array of benefits, it's essential to acknowledge its limitations. The following are some cons to consider before you go and buy it:
Non-Adhesive Front: Magnets don't adhere to its glass panels, which could be disappointing for those accustomed to displaying notes and photos on their fridge.
Drawer Design: The design of the ice drawer can be a minor drawback, as it can lead to ice spilling when not handled carefully. It can potentially impede the freezer drawer's closure.
Value and Recommendation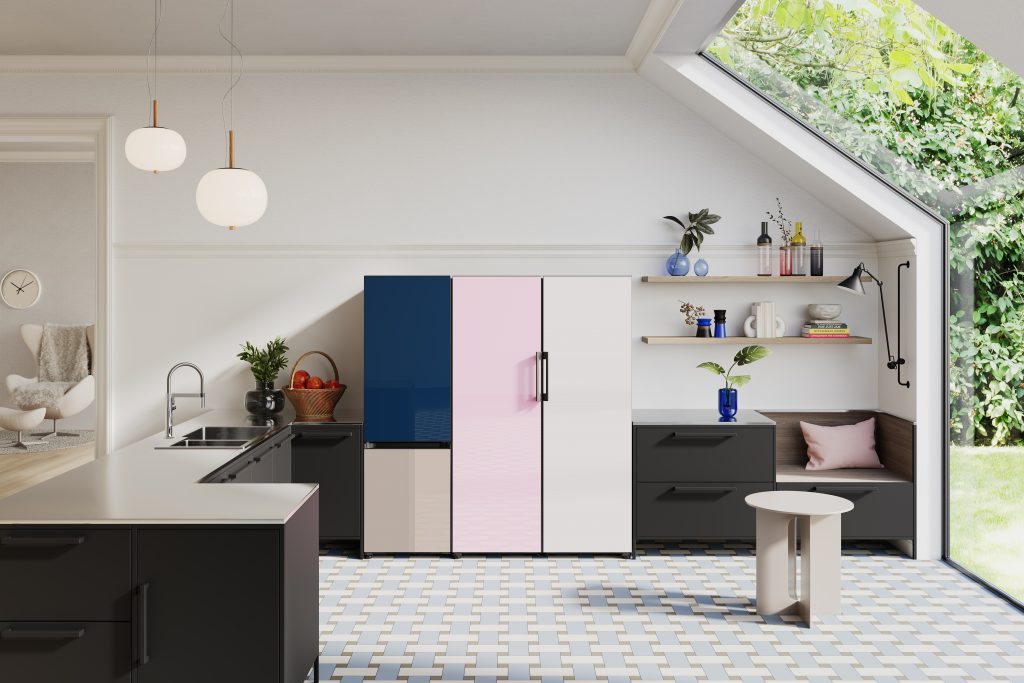 The Samsung Bespoke Refrigerator is a premium kitchen appliance. It's not just about cooling food—it's about elevating your kitchen's style and functionality. If you are someone who prioritises customisation, aesthetics, and long-term performance, this refrigerator is worth every penny. It seamlessly combines artistry with advanced cooling technology.
We wholeheartedly recommend the Samsung Bespoke Refrigerator to anyone who values both form and function in their kitchen appliances. We'll say it deserves a solid 4.5 out of 5 stars. It's an investment that will upgrade your boring kitchen and transform it into a space that reflects your unique tastes.
Conclusion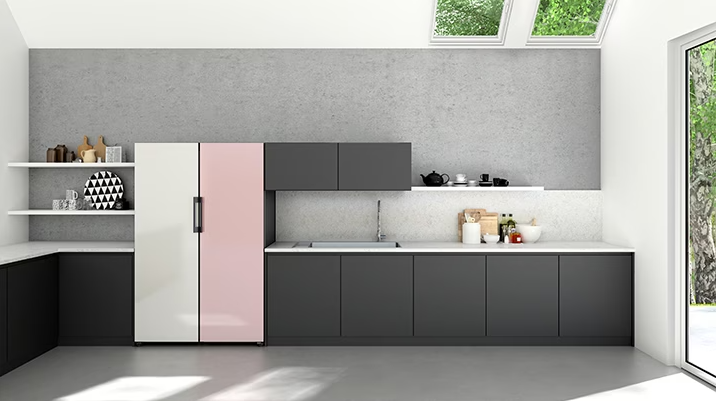 ✅ Get your Samsung Bespoke Refrigerator today: click here
If you're searching for a contemporary refrigerator that's beautiful, versatile, functional, and spacious, look no further than the Samsung Bespoke. This appliance seamlessly combines customisable elegance with long-lasting performance. It strikes an impressive balance between style and practicality, all while remaining budget-friendly. What sets this refrigerator apart is the wealth of personalisation options available, ensuring that you can craft a refrigerator that perfectly complements your unique taste and preferences. So upgrade your kitchen with the Bespoke today and enjoy the luxury of customisation and reliability!