In a world that's always racing and where we're busy with tasks and deadlines, keeping a tidy home can seem like a distant dream. But what if I told you there was a way to have a clean home without all the work? Yes, robot vacuum cleaners can transform how we maintain our living spaces! Combining cutting-edge technology with convenience, these high-tech helpers have become an indispensable part of modern households.
Imagine being able to schedule cleaning from your phone, even when you're not home. It's a possibility that's waiting for you to try it. This article is all about exploring the best robot vacuum cleaners in Singapore. We'll explain what makes them special and how they can make your life simpler. Let's dive in and learn how these robots are changing the cleaning routines of Singaporeans!
Features of a Good Robot Vacuum Cleaner
A good robot vacuum cleaner comes with a set of features that work together to make cleaning efficient and hassle-free:
Advanced Navigation: A quality robot vacuum has smart navigation systems like mapping and obstacle detection. These features help the robot move around your home without getting stuck or missing areas.
Strong Suction: Powerful suction ensures that the robot can pick up dirt, dust, pet hair, and debris from various surfaces like carpets and hardwood floors.
Effective Brushes: Quality brushes, such as roller brushes, agitate and lift dirt for better cleaning. Some models even have self-cleaning brushes to prevent tangles.
App Control: The ability to control and schedule cleaning sessions through a smartphone app adds convenience, allowing you to manage the robot even when you're not at home.
Voice Command Compatibility: Some models are compatible with voice assistants like Amazon Alexa or Google Assistant, making it easy to start or stop cleaning with just your voice.
Automated Charging: A good robot vacuum can find its charging dock when the battery is low and recharge itself, ensuring it's always ready for the next cleaning cycle.
Customisable Cleaning: The option to set cleaning schedules and customise cleaning modes lets you tailor the robot's activity to your specific needs.
Edge and Corner Cleaning: Look for models with side brushes or edge detection capabilities that allow the robot to clean along walls and in tight corners.
Dirt Detection: Sensors that detect heavily soiled areas ensure that the robot spends more time cleaning where it's needed the most.
Mapping and Memory: Advanced models create maps of your home to improve cleaning efficiency over time. They remember where they've cleaned and adjust their routes accordingly.
Self-Emptying Bins: Premium models feature self-emptying bins, where the robot empties its collected dirt into a larger container, reducing the frequency of manual emptying.
Virtual Barriers: Some robots come with magnetic strips or virtual walls that you can place to keep the robot out of specific areas or rooms.
Long Battery Life: A longer battery life ensures the robot can clean larger areas without needing frequent recharging.
Revolutionising Cleaning: Our Selection of 11 Best Robot Vacuum Cleaners in Singapore
The following are the models that we've found to be the most reliable:
1. Roborock Q Revo Robot Vacuum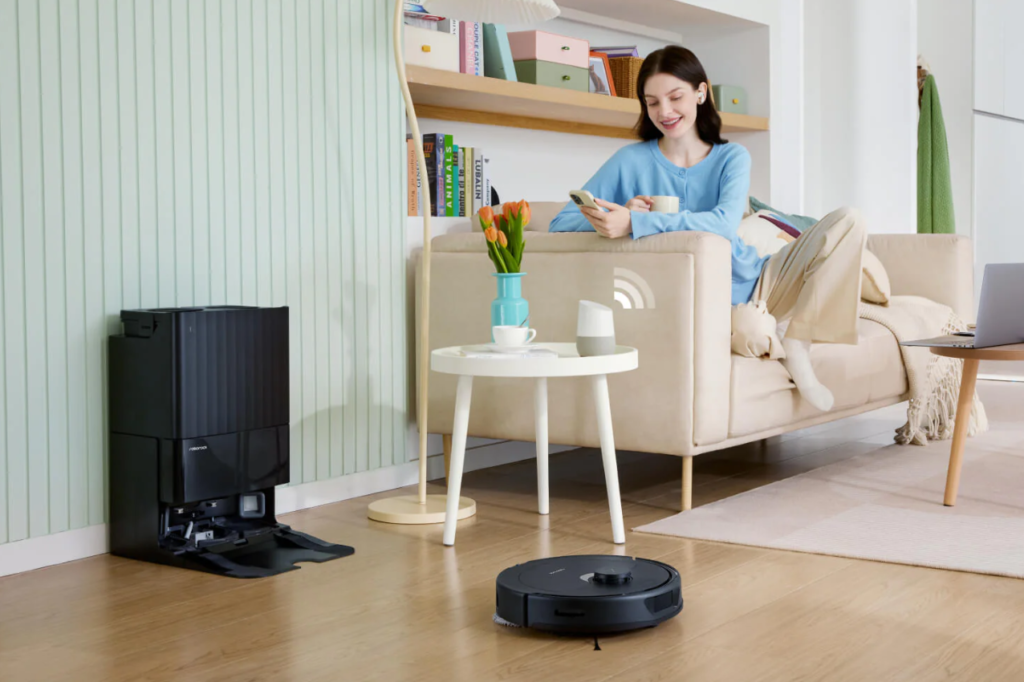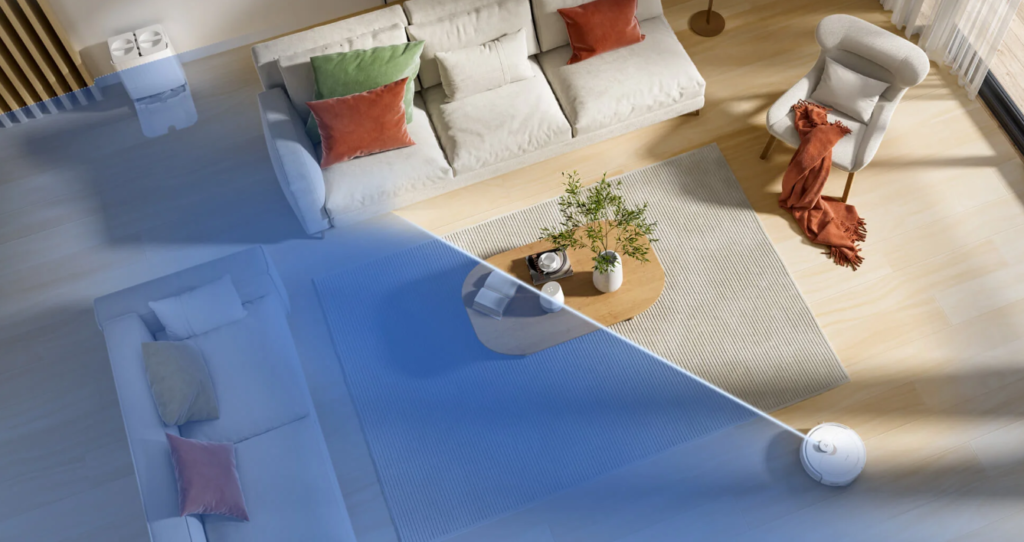 Discover the delightful satisfaction of intelligent cleaning using the Roborock Q Revo. With its robust capabilities and advanced technology, this robot vacuum simplifies maintenance and cleaning tasks like no other. The Q Revo's standout feature lies in its incorporation of PreciSense® LiDAR Navigation technology. This cutting-edge system not only ensures precise movement but also significantly minimises the possibility of accidental collisions. Moreover, the Adaptive Route Algorithms are an ingenious addition that permits the robot to learn and internalise the layout of your home over time, enhancing its efficiency and coverage with each cleaning cycle.
Say farewell to cleaning hassles with the incredible features of the Roborock Q Revo Robot Vacuum:
Multifunctional dock
Self-washing, self-drying, self-emptying, and self-refilling
Liftable dual-spinning mops
5,500 Pa powerful suction
Smart navigation with PreciSense® LiDAR Navigation technology
All rubber brush
Reactive Tech Obstacle Avoidance
Smart Suggestions for No-Go Zones
Multi-level quick mapping system
Custom cleaning routines with App control
Voice control
30% faster charging
ScratchSafeTM wheels and brushes
Sensient® Sensor Array
Adaptive Route Algorithms
Quiet cleaning
Washable E11-rated air filter
2. Dreame L10S Ultra SE Robot Vacuum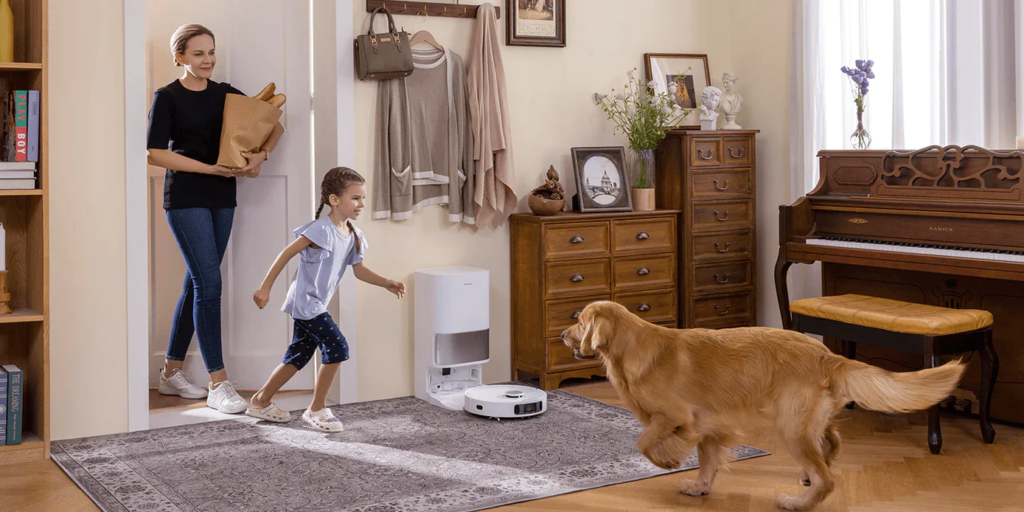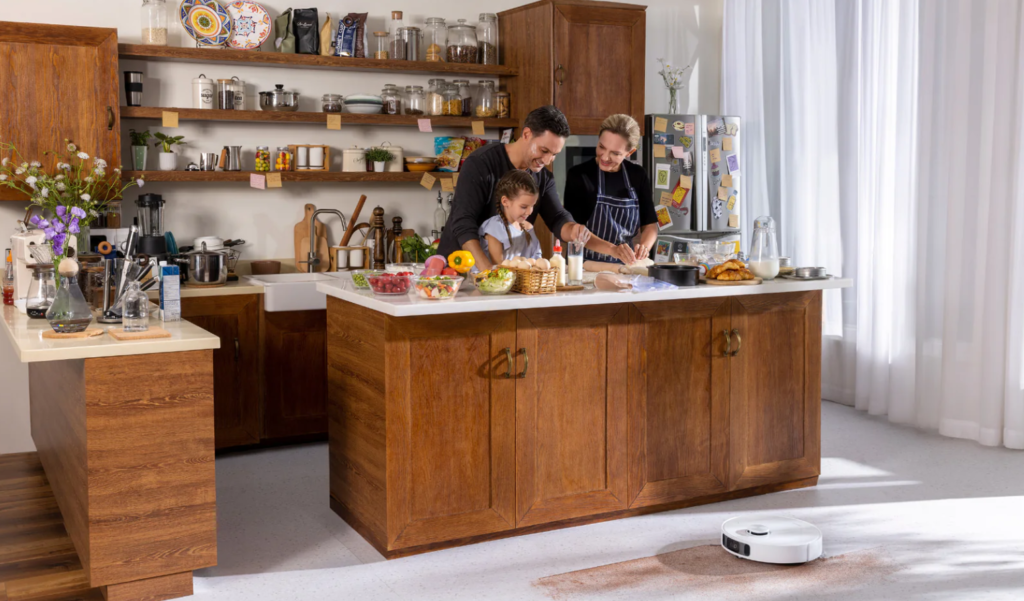 The Dreame L10S Ultra SE Robot Vacuum incorporates AI-powered navigation, ensuring a thorough and effective cleaning process that leaves no corner untouched in your home. It employs 3D structured light and an AI camera to map your home and navigate through obstacles intelligently. The mop self-cleans and dries, while the 3L dust bag offers hands-off emptying for up to 60 days. The robot also refills water and detergent automatically and has an upgraded mop lifting system for carpets. And with a powerful 5,300 Pa suction, app control, and dual rotary mop pads, this robot vacuum stands as a testament to meticulous cleaning.
Experience automated cleaning with the intelligent features of the Dreame L10S Ultra SE Robot Vacuum:
DualBoost 2.0 system: high-speed auto-emptying with minimal noise and no clogging
Mop self-cleaning and drying
AI and 3D navigation
5,300 Pa suction plus automatic suction boost
Automatic carpet detection
Mop lifting
Automatic dust collection
Large 2.5 L water tank
Auto refilling and draining of water
Robust bristleless rubber brush
Advanced dual rotary mop pads
Dreamehome App: real-time remote video supervision
Voice control
3. Ecovacs Deebot T20 Omni Vacuum Cleaner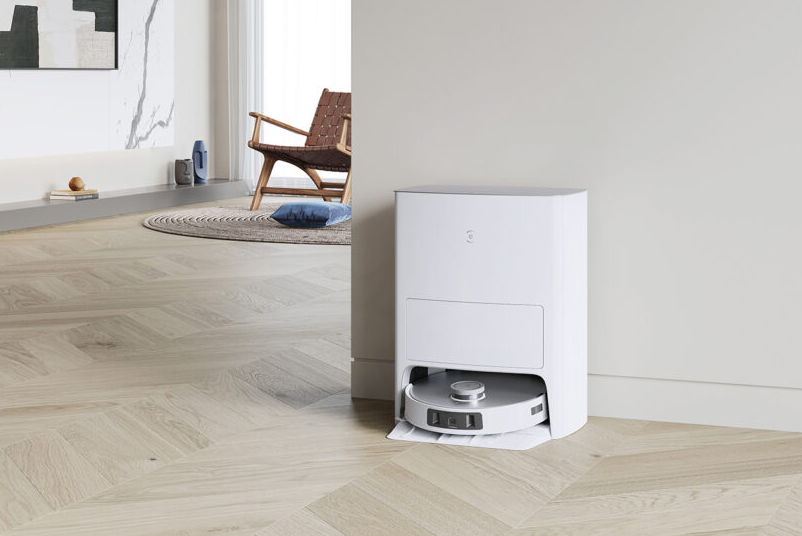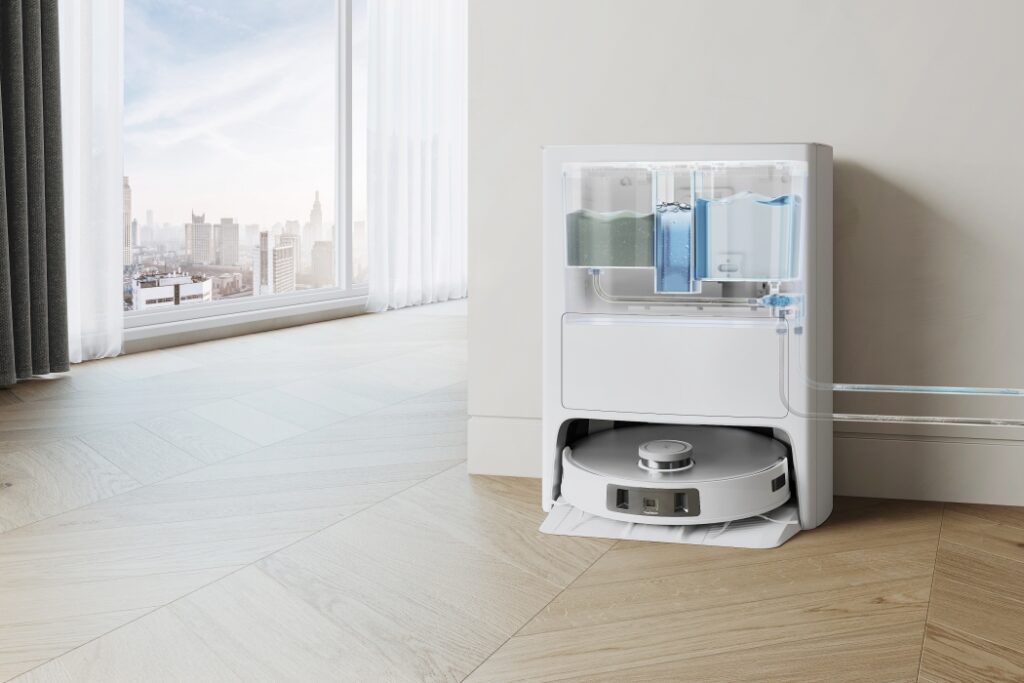 The Deebot T20 Omni from Ecovacs is your new partner-in-grime with its innovative Hot Water Mop Washing technology. This innovative approach dissolves tough stains, efficiently eliminates odours, and enhances the effectiveness of the cleaning solution. The TrueDetect 3D technology feature equips the robot with the ability to detect obstacles in its path with unparalleled precision. It recognises carpets and lifts mop pads while vacuuming, ensuring a hassle-free cleaning experience. Moreover, the Deebot T20's OMNI station introduces a fully automated cleaning solution. It incorporates automatic features like self-emptying, hot air drying, and self-cleaning providing you with a complete hands-free experience.
Redefine the way you clean your home with the following features of the Ecovacs Deebot T20 Omni Vacuum Cleaner:
55°C Hot Water Mop Washing technology
Auto-lift mopping and carpet detection
TrueDetect 3D 3.0: real-time 3D scanning
TrueMapping 2.0
Housekeeper Mode 2.0
All-in-one OMNI station for a hands-free experience
OZMO™ Turbo 2.0 Rotating Mopping system
Edge Deep Cleaning function
Rubber brush
Massive 6000 Pa suction power
YIKO AI Voice Assistant
5200 mAh battery
Smart-charging function
4. Roborock S8 Pro Ultra Vacuum Cleaner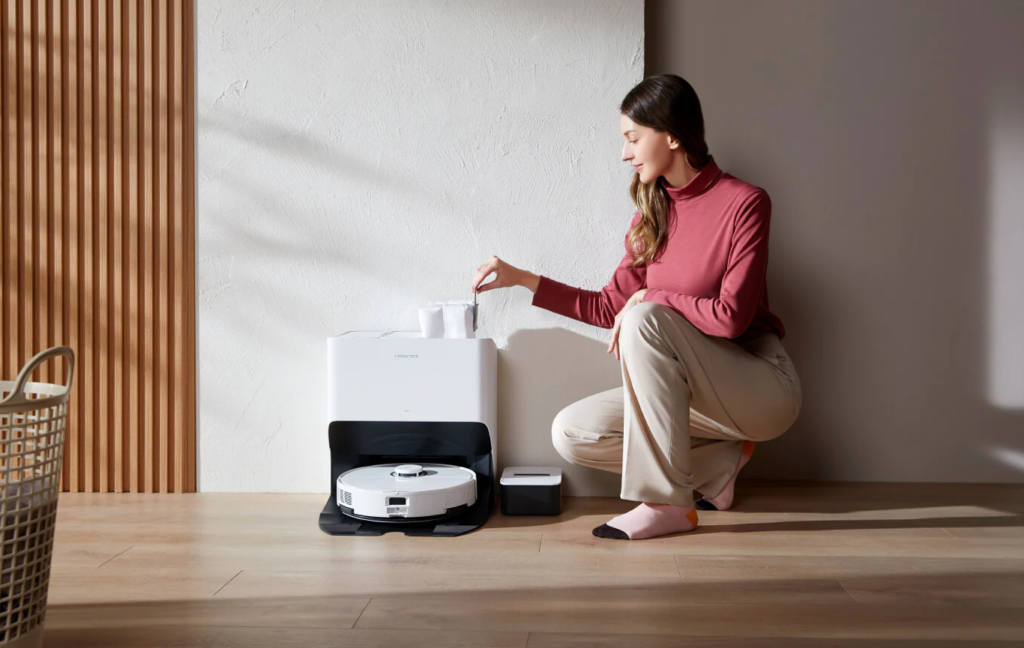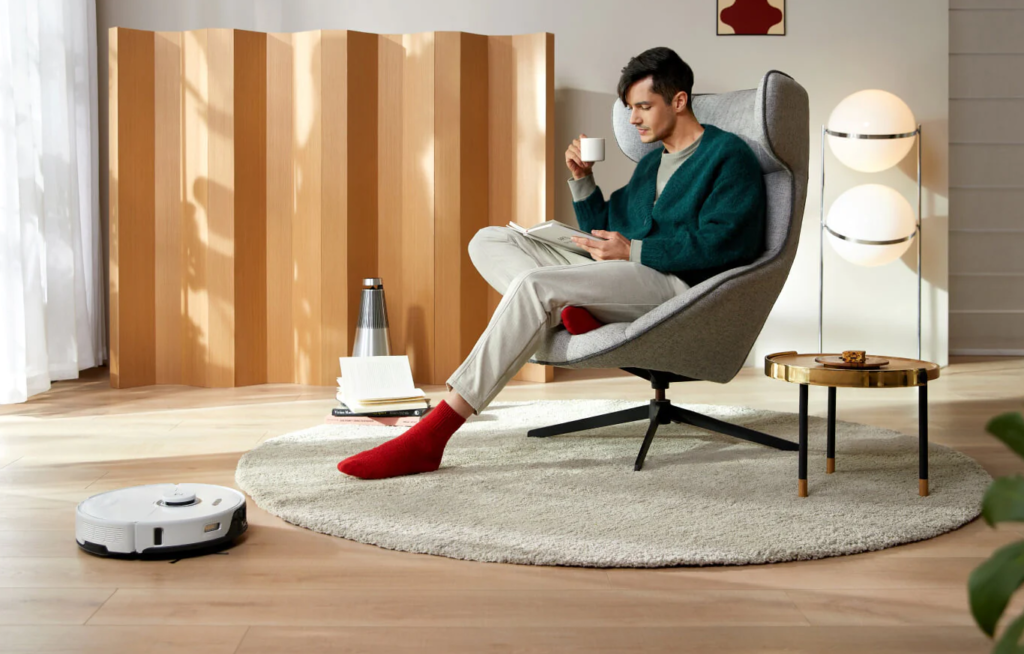 The Roborock S8 Pro Ultra Vacuum Cleaner takes the concept of efficient cleaning to new heights with its Multi-level Mapping system. This cutting-edge feature allows the robot to map and store multiple levels of your home, making it ideal for multi-story residences. The PreciSense® LiDAR Navigation technology and Adaptive Route Algorithms empower the robot to clean with accuracy and avoid accidental collisions, saving both time and energy. And by using the Roborock app, you can create Invisible Walls that will stop your robot vacuum from entering particular areas.
Brace yourself for the amazing features of the Roborock S8 Pro Ultra Vacuum Cleaner, ready to relieve you from the stress of cleaning chores:
DuoRoller Riser Brush
HyperForce Suction: 6000 Pa
VibraRise 2.0 Mopping System
Carpet Boost+ System
Reactive 3D Obstacle Avoidance
Smart Suggestions for No-Go Zones
PreciSense LiDAR Navigation technology
Multi-level Mapping system
Sensient Sensor Array
Customisable App control
Voice control
Adaptive Route Algorithms
Child lock
Quiet mopping
Fast charging and off-peak charging
All in one dock: Self-washing, self-drying, self-emptying, self-refilling, and self-cleaning
5. Xiaomi ROIDMI EVA 2023 Smart Robot Vacuum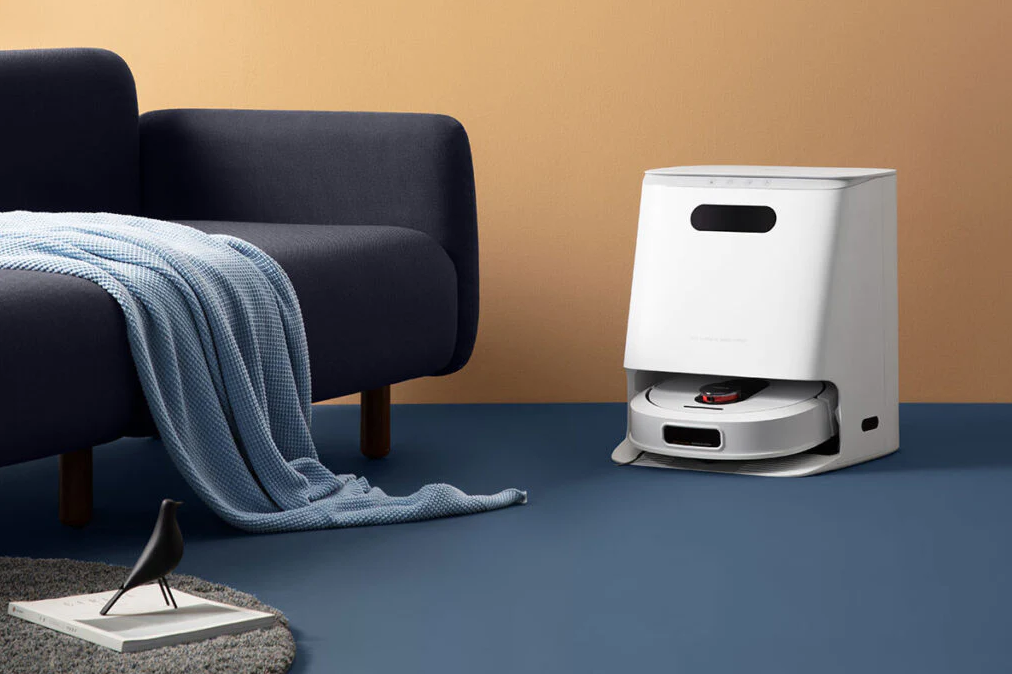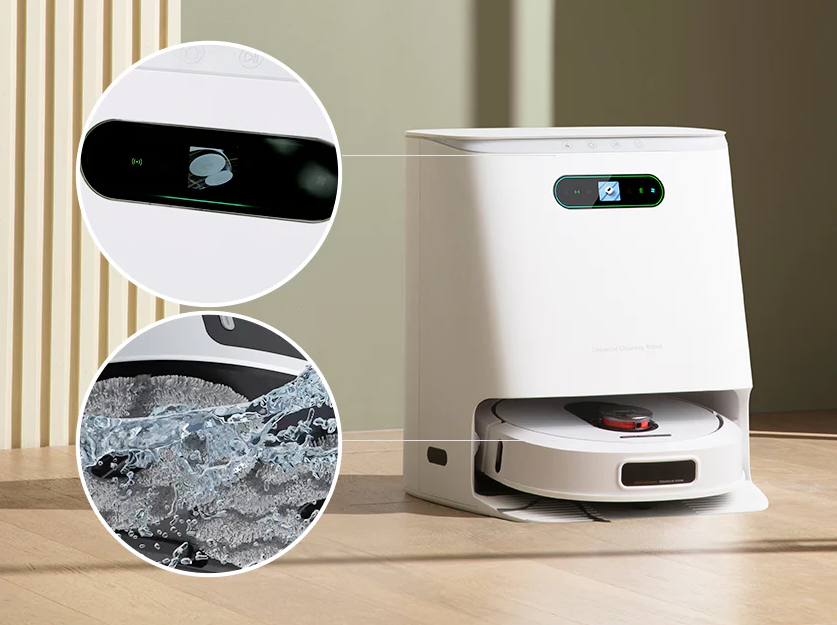 Xiaomi's ROIDMI EVA 2023 Smart Robot Vacuum is an appealing choice for those seeking minimal upkeep. This vacuum boasts an innovative self-cleaning and self-emptying feature. It detects the dirtiness of the mops, returns to the base for quick self-cleaning, and autonomously collects dust once linked to the base station. After 60 days, simply dispose of the dust bag without touching the dust. With App-controlled convenience, three mopping modes, and a durable battery, ROIDMI EVA ensures consistent and hassle-free cleaning every day. And with its intelligent LED colour screen, you can check the cleaning status anytime you want.
Step into the future of cleaning with the following features of the Xiaomi ROIDMI EVA 2023 Smart Robot Vacuum:
Self-cleaning and emptying, automatic separation, and auto-drying
4 L water tanks
2 in 1 functions: mopping and vacuuming
12N Pressurised Mopping
3 cleaning modes
Super 3200 Pa suction
Carpet recognition
A smart LED colour screen
The robot cleaner's battery status
Works with Smart Home Assistant
Online OTA upgrade
5200 mAh battery
6. Yeedi Mop Station Vacuum Cleaner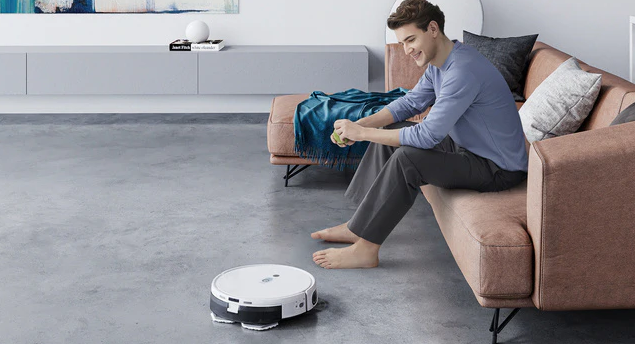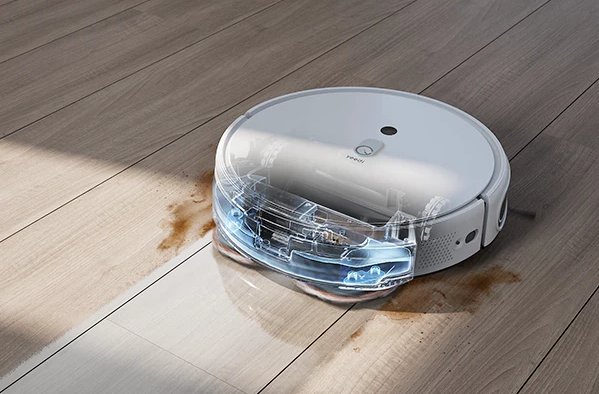 The Yeedi Mop Station Vacuum Cleaner redefines versatility by offering a dual-functional design. This robot not only vacuums but also mops your floors, eliminating the need for separate devices. Equipped with advanced mopping technology, it ensures efficient wet cleaning, making it a valuable asset for maintaining pristine hard floors. The vacuum's self-cleaning station thoroughly cleans and scrubs the mop pads using a built-in washboard to remove dirt effectively. And the integrated fan swiftly dries the mop pads automatically post-cleaning.
Using Visual SLAM (Simultaneous Localisation and Mapping) technology, the robot learns your home's layout, creates a dedicated Home Map, and navigates efficiently, ensuring thorough cleaning of every corner.
Here are the features of the Yeedi Mop Station Vacuum Cleaner that will revolutionise your home maintenance routine:
Simultaneous mop and vacuum function
Capacious water tank
Self-cleaning and drying station
Visual SLAM (Simultaneous Localisation and Mapping) technology
Elastic side brush and a tangle-free silicone brush
The suction power of up to 2500 Pa
Dual high-speed power spin mopping
The downward pressure of 10N
Automatic smart charging
Floor tracking sensor: can also operate in complete darkness
Anti-fall prevention
Battery capacity of 5,200 mAh
Voice control
7. Neatsvor X600Pro Black Robot Vacuum Cleaner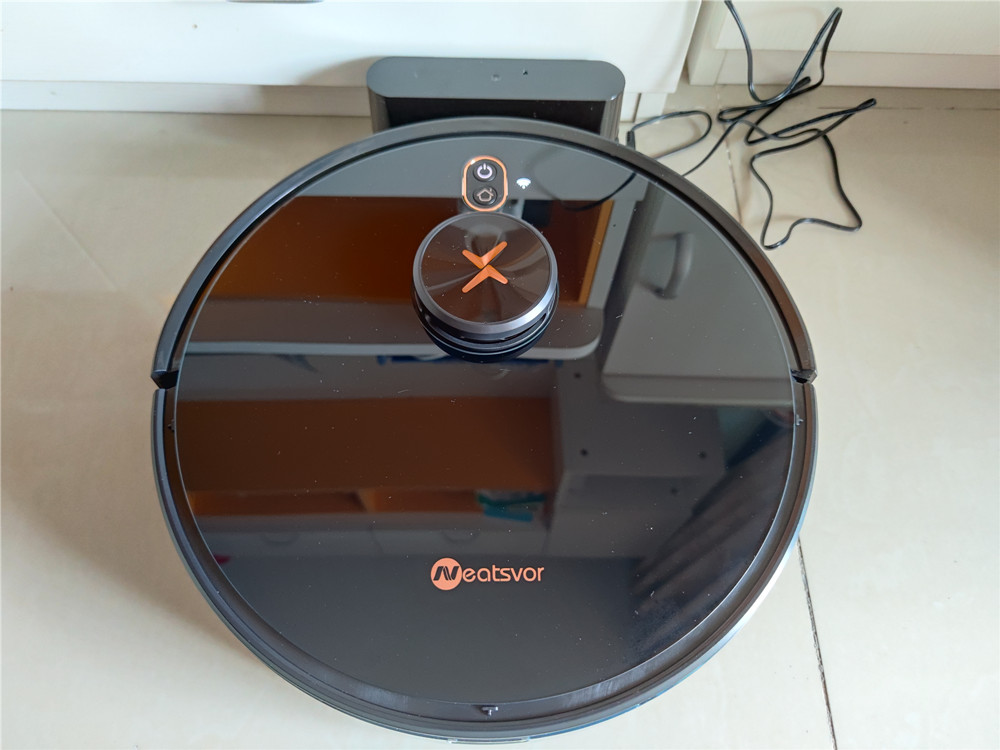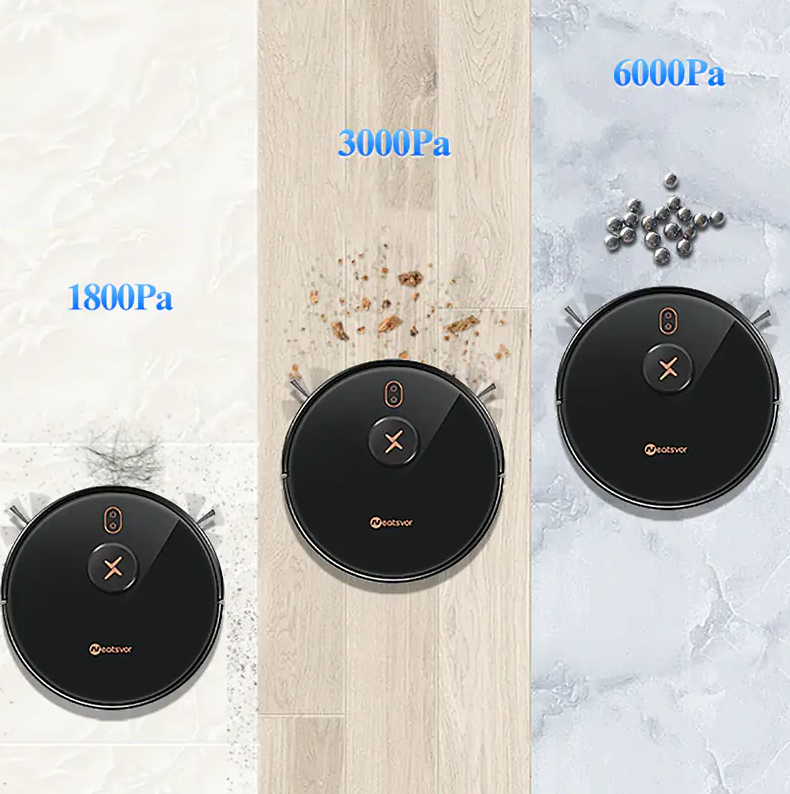 The Neatsvor X600Pro Black Robot Vacuum Cleaner stands out for its powerful suction prowess, ideal for extracting dirt and debris from various surfaces in your home. With its most intelligent laser navigation system, this robot takes the lead with its higher efficiency, increased intelligence, enhanced intuition, and superior predictive capabilities compared to gyroscopes and visual solutions. It creates a house map, optimises its cleaning path, and displays the interactive map on the app for your reference. The Neatsvor X600 Pro's 2-in-1 design combines a regular brush and a rubber brush, offering both efficient cleaning and preventing hair tangling. With a triple filtration system and high-efficiency HEPA filter, it effectively captures allergens and dust, contributing to air purification.
The features that make the Neatsvor X600Pro Robot Vacuum Cleaner your best cleaning buddy are:
Intelligent laser navigation system (LDS4.0)
350 ml large-capacity water tank
Nswitch system: can easily switch between dust box and water tank
APP control
Voice control
2-in-1 design brush
Virtual mapping function
Smart connection
Spot cleaning mode
Upgraded spiral suction system: maximum suction force of 6000Pa
NSurface2.0 technology
NSilence technology
5200mAh large-capacity lithium battery
Triple filtration system
Super-high obstacle-surmounting ability
Multi-sensing system
8. Midea M7 Black Robotic Vacuum Cleaner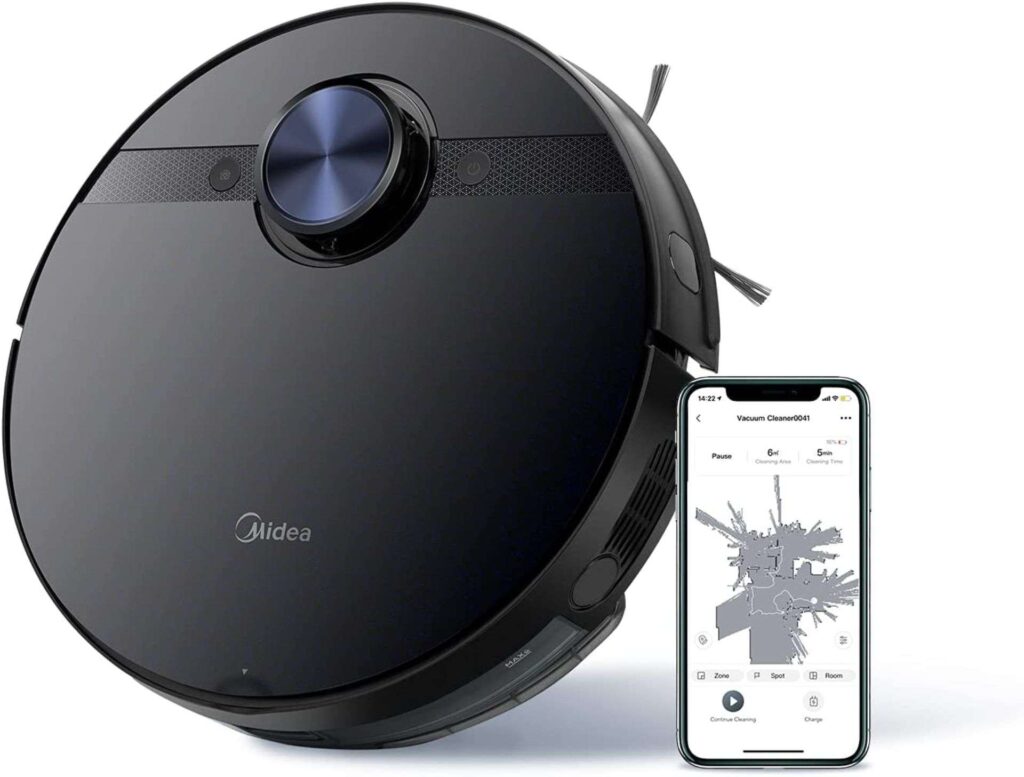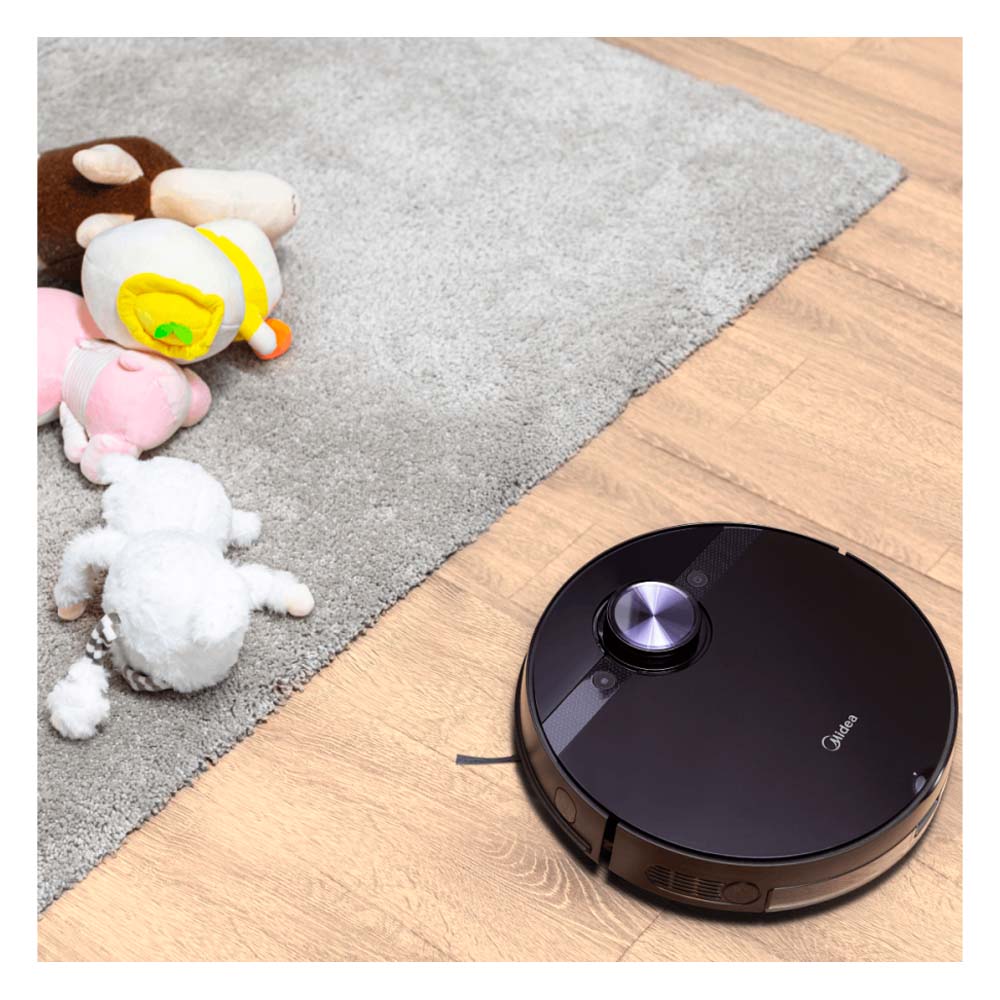 Midea's M7 Black Robotic Vacuum Cleaner impresses with its infrared sensors and the 5th generation of Laser Navigation systems that provide real-time obstacle detection. These sensors enable the robot to perceive its surroundings in three dimensions, making navigation more accurate and preventing unwanted collisions. The M7's super BLDC motor delivers outstanding cleaning performance, with the option to select from three different power settings. Its intelligent mopping functionality lets you achieve a thoroughly clean home by combining vacuuming and mopping in one device. On top of this, you can adjust the vacuum's power and water flow, customise mapping, set cleaning schedules, and track your robot's performance using the M-smartLife mobile app.
The features that make the Midea M7 Robotic Vacuum Cleaner a no-regret choice are:
BLDC motor
4000 Pa suction power
E-controlled water tank
Smart mopping feature
Virtual Wall Technology
Carpet detection
Multiple cleaning modes
LDS Navigation System
Infrared sensors
Instant auto-mapping
Anti-collision
Compatible with Alexa/Google
App control
22 mm climbing ability
150 min long run time
Automatic self-charging
9. Ecovacs Deebot T9 Robot Vacuum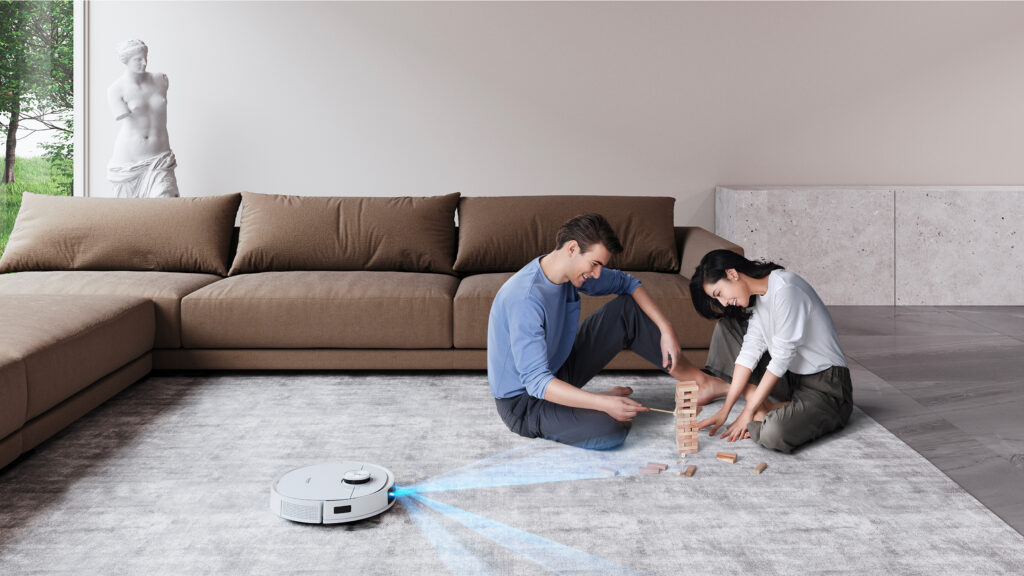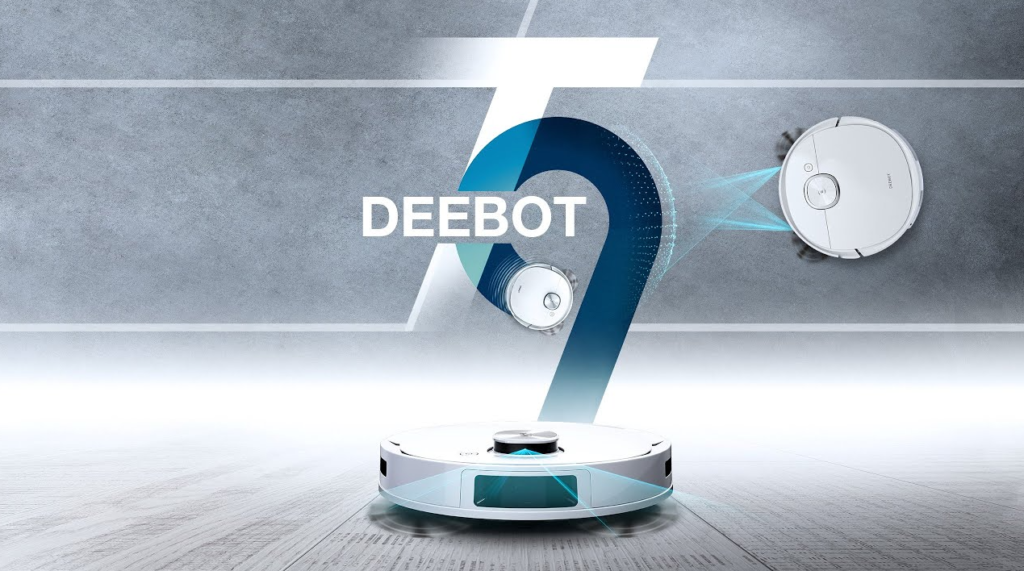 The Ecovacs Deebot T9 Robot Vacuum stands as the pioneer in intelligent obstacle-avoiding robot vacuum cleaners. It offers combined vacuuming and mopping capabilities, along with a built-in mobile Air Freshener. The Air Freshener is intended to diffuse delightful fragrances and efficiently eliminate any unpleasant musty or pet odours. The Deebot T9 is designed to handle different types of challenging spaces. Thanks to TrueMapping 2.0, it can move smoothly in well-lit areas or even in complete darkness, ensuring your home is effectively cleaned at any time without any disruptions.
Below are the attributes of the Ecovacs Deebot T9 Robot Vacuum that ensure uninterrupted cleaning sessions and thorough coverage:
TrueDetect 3D technology
TrueMapping 2.0 technology
OZMO™ Pro 2.0 Mopping
Compatible with ECOVACS HOME App
3000 Pa powerful suction
Built-in Air Freshener
Compatible with Auto-Empty Station
Disposable dust bag, large to 2.5 L
Disposable mopping pad
High-efficiency filtration up to 99%
10. ILIFE V55 Pro Robotic Vacuum Cleaner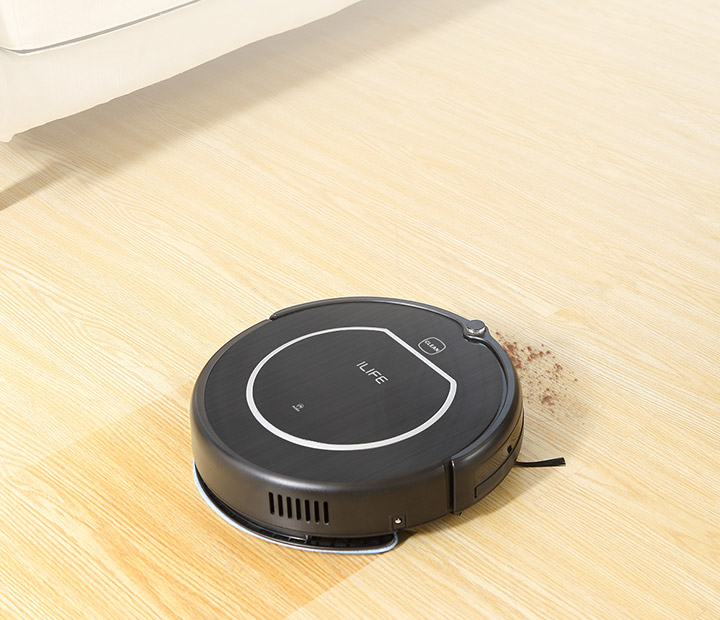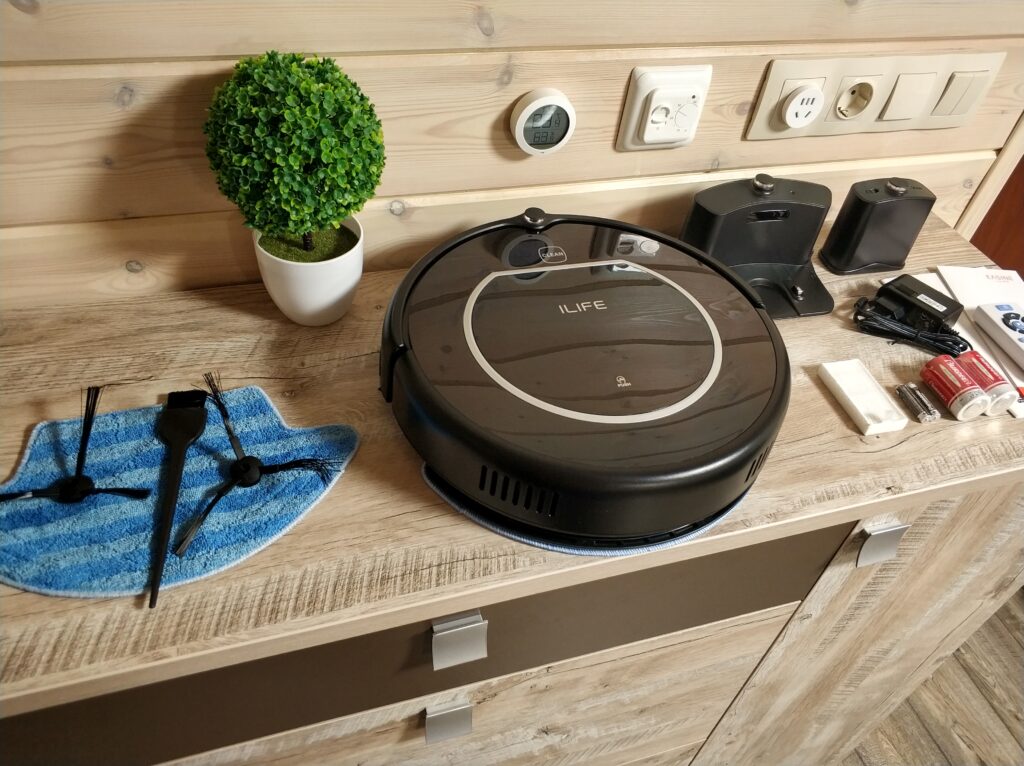 The ILIFE V55 Pro Robotic Vacuum Cleaner is designed to effortlessly navigate and clean your floors. With user-friendly operation suitable for all ages, its one-button functionality makes it incredibly convenient. The robot's low noise operation provides you with a more peaceful environment, while its rechargeable design not only saves you money but also contributes to a greener planet. Equipped with an anti-tangle suction port and multiple cleaning modes, it efficiently captures and removes hair and debris from different surfaces, like carpets and floors. Moreover, its dual filtering system ensures your home environment remains clean and hygienic all the time.
The following are some amazing features of the ILIFE V55 Pro Robotic Vacuum Cleaner:
Strong suction power
Brushless motor
Dust box capacity: 300 ml
Water tank capacity: 200 ml
All in one: vacuuming and mopping
Suitable for most types of floors
Anti-tangle suction port 
Multiple cleaning modes: Auto mode, Edge mode, Spot mode, and Max mode
Planned zigzag path for maximum coverage
With virtual wall: prevents the robot from entering off-limit areas
Low noise operation
Anti-fall
Obstacle avoidance
Double filtration
Easy operation
Auto recharge
High capacity battery
11. Samsung VR30T80313W/SP Bespoke Jet Bot Robot Vacuum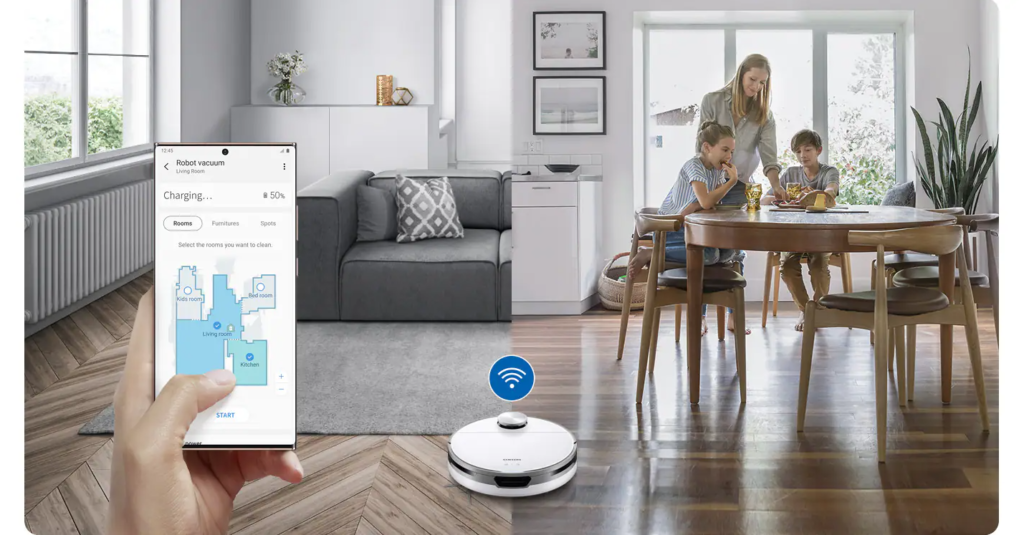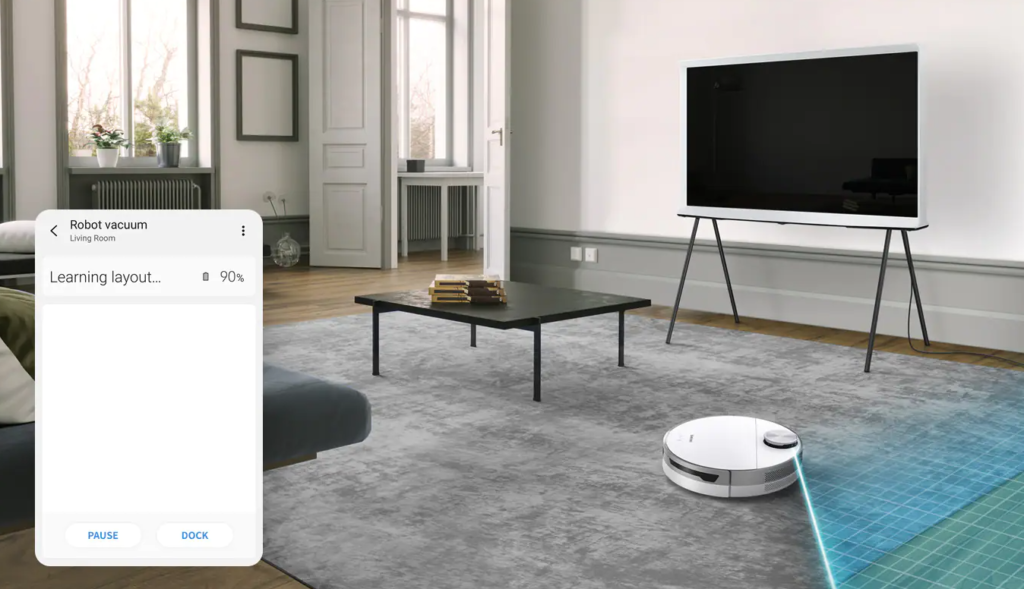 The Samsung VR30T80313W/SP Bespoke Jet Bot Robot Vacuum is designed with a LiDAR sensor that identifies and sorts objects. This advanced feature enables the robot to navigate around obstacles, ensuring a thorough clean even in cluttered spaces. Its ability to differentiate objects minimises interruptions, resulting in a smoother cleaning process. With the Digital Inverter Motor, the robot generates strong suction to effectively clean heavily soiled surfaces. Additionally, the Intelligent Power Control adjusts suction power based on the floor type, optimising cleaning performance. You can conveniently control your Jet Bot using the SmartThings App, which offers remote access anytime, anywhere.
The features that make the Samsung VR30T80313W/SP Bespoke Jet Bot the best robot vacuum in Singapore include:
LiDAR Sensor for precise navigation
Digital Inverter Motor
Wi-Fi® Smart Control
Intelligent Power Control
High-efficiency brush
Self-Cleaning Grinder
The fully washable dustbin of 0.4 L
Select & Go function
No-go Zone restriction
The Bottom Line
Now that time and energy are precious commodities, investing in a robot vacuum cleaner is a wise decision. The 11 models highlighted in this article represent the pinnacle of cleaning technology, combining intelligent navigation, powerful suction, and user-friendly features. As these robotic assistants seamlessly glide through your home, eliminating dirt and dust, they not only save you time but also contribute to a healthier living environment. So, invest in a robot vacuum cleaner today and watch it take charge of your cleaning duties!