Are you tired of the never-ending battle against wrinkles in your clothes? Wrinkled outfits can be a daily frustration, leaving you looking less than your best, especially in a city as fashion-forward as Singapore. But there's a modern solution that's revolutionising the way we keep our clothes looking pristine – garment steamers. Yes, having a good garment steamer can make clothing care less worry-free. They ensure your dresses are pressed to perfection so that you can step out with confidence.
But with so many options flooding the market, how do you pick the right steamer for your wardrobe? Don't sweat it. Our blog has your back with a curated list of the best garment steamers in Singapore. We've put them all to the test, considering factors like performance, convenience, and affordability, so you don't have to. With one of these by your side, your dresses will always be runway-ready. So, let's discover how these garment steamers can simplify your daily routine while keeping you looking effortlessly stylish.
Features of a Good Garment Steamer
A good garment steamer should have the following features:
Sufficient Steam Output: Look for a steamer with a powerful and consistent steam output. This ensures efficient wrinkle removal.
Quick Heat-up Time: A quick heat-up time is essential for convenience. Ideally, it should be ready to use in a couple of minutes.
Large Water Tank Capacity: A larger water tank means fewer interruptions for refilling. Choose a steamer with a suitable tank size for your needs.
Portability: Consider the weight and size of the steamer. It should be easy to handle and store, especially if you plan to travel with it.
Adjustable Steam Settings: Adjustable steam settings allow you to customise the steam output for different fabrics. This is important for preventing damage to delicate materials.
Safety Features: Look for features like auto shut-off to prevent overheating and accidental burns.
Hose and Nozzle Design: A flexible hose and a well-designed nozzle make it easier to reach and steam different parts of your garments effectively.
Sufficient Cord Length: Ensure the cord length is sufficient for your needs and that it's easy to manoeuvre.
Build Quality: Opt for a steamer made from durable materials that can withstand regular use.
Attachments: Some steamers come with attachments like crease brushes, fabric brushes, or lint removers, which can enhance their versatility.
Our Selection of 8 Best Garment Steamers in Singapore
The following are the eight best crease-busting steamers that will make your clothes look smoother than ever before:
1. Tefal All-in-One Ironing IXEO+ Garment Steamer QT1510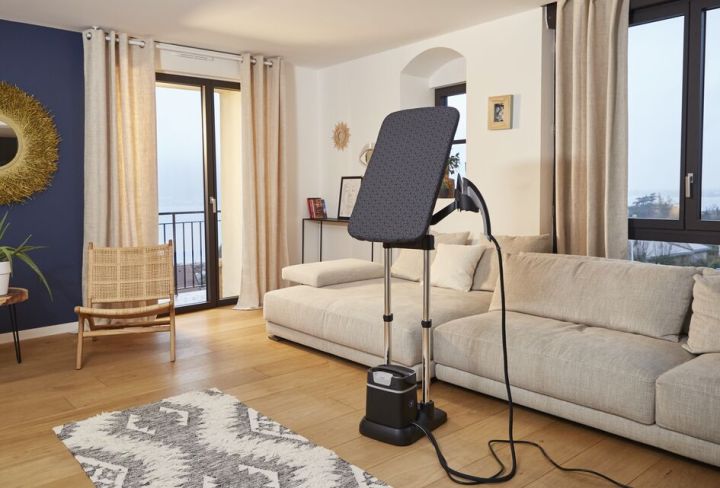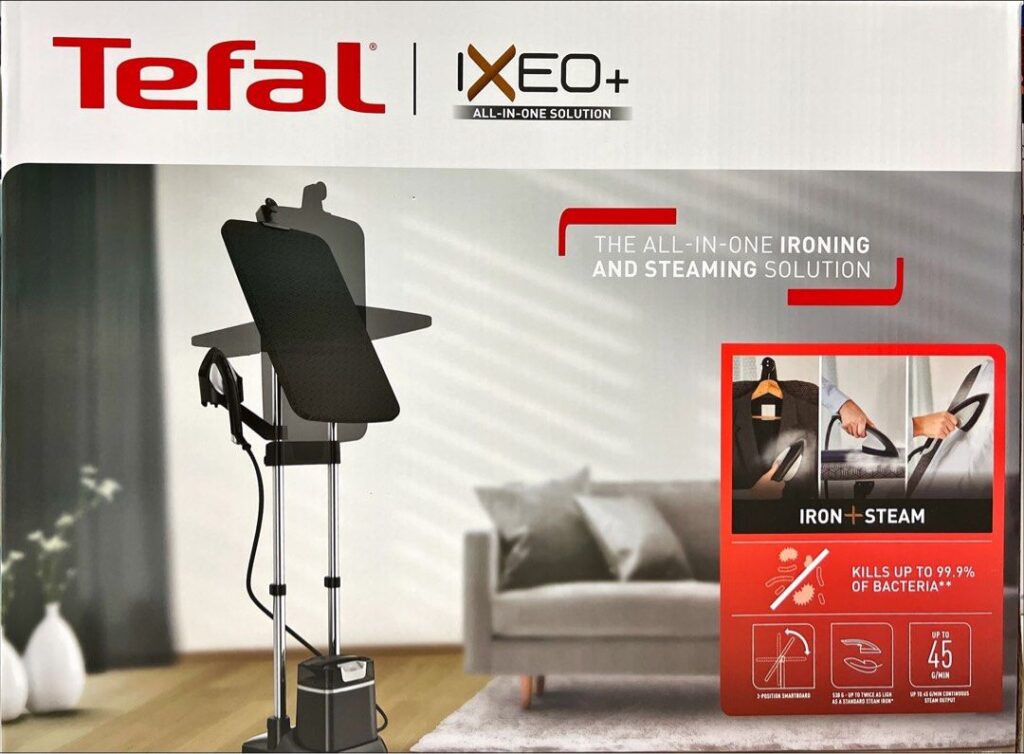 The first garment steamer on our list is the Tefal IXEO, which comes with a full Iron Steamer Station. This all-in-one garment care powerhouse transforms your ironing and steaming tasks into a breeze. With cutting-edge steam power at your fingertips, whether it's tackling stubborn wrinkles or last-minute touch-ups, consider it done efficiently.
The IXEO's built-in Smart Board offers three comfortable positions for your needs: upright, horizontal, and a 30° angle for ironing, all with enhanced ergonomics. Experience a new level of hygiene and freshness as you steam. It refreshes, sanitises, and banishes odours, even removing up to 99.9% of bacteria. And here's the clincher – it's feather-light, twice as light as your standard steam iron. Ready in a mere 70 seconds, this steamer is a revolution in garment care.
Upgrade your garment care routine today with the following features of the Tefal IXEO:
Smart board with 3 positions
Sanitising steam power
Twin Boiler steam technology
Lightweight design
Enhanced ergonomics
Convenient smart removable base
70 second heat up time
Smart Protect technology
Built-in calc management system
Precision tip
Collapsible poles for adjusting height
Easy to transport
Comes with handy accessories
Auto-Off for protection
Steam ready indicator
2. PHILIPS 8000 Series All-in-One Ironing Solution Stand Steamer GC628/86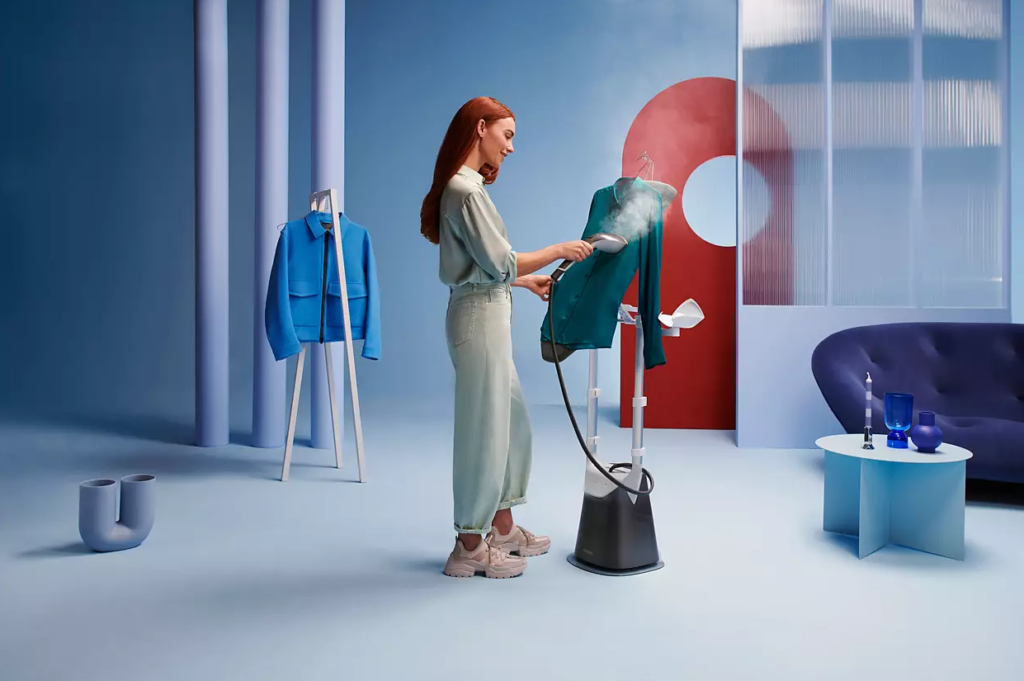 The Philips 8000 Series All-in-One Ironing Solution Stand Steamer takes the hassle out of keeping your clothes crisp and fresh. It has a continuous steam rate that effortlessly banishes wrinkles. The steamer boasts a steam plate with triple precision tips, making quick work of those tricky spots like collars and between buttons. Not only does it make your clothes wrinkle-free, but it also eliminates bacteria and pesky odours while extending the life of your garments. Its OptimalTEMP heated plate guarantees no more burns on your favourite fabrics.
The All-in-One 8000 Series covers all the bases with powerful steam and adjustable settings for all your fabrics. Choose any angle that suits you, thanks to the pivoting multi-angle board, and enjoy the penetrating power of dual-heating technology. The cleverly designed top hook lets you hang your clothes conveniently, while the four-layer board cover prevents drips, even when you're tackling those hard-to-reach angles. And no worries about scale buildup. The steamer's innovative technology keeps it performing at its best.
Get ready to conquer wrinkles like a pro with the features of the Philips 8000 Series below:
Adjustable multi-angle board
Powerful and continuous steam
Removes odours and bacteria
Dual-heating technology
Triple precision tips
OptimalTEMP heated plate: no burns guaranteed
Top hook
Board cover with 4 layers: prevents drips
Rotatable steamer dock
Long-lasting steam performance
Automatic shut off
Safe on all fabrics
Handy wheels for easy transportation
3. PHILIPS Stand Steamer 3000 Series STE3170/80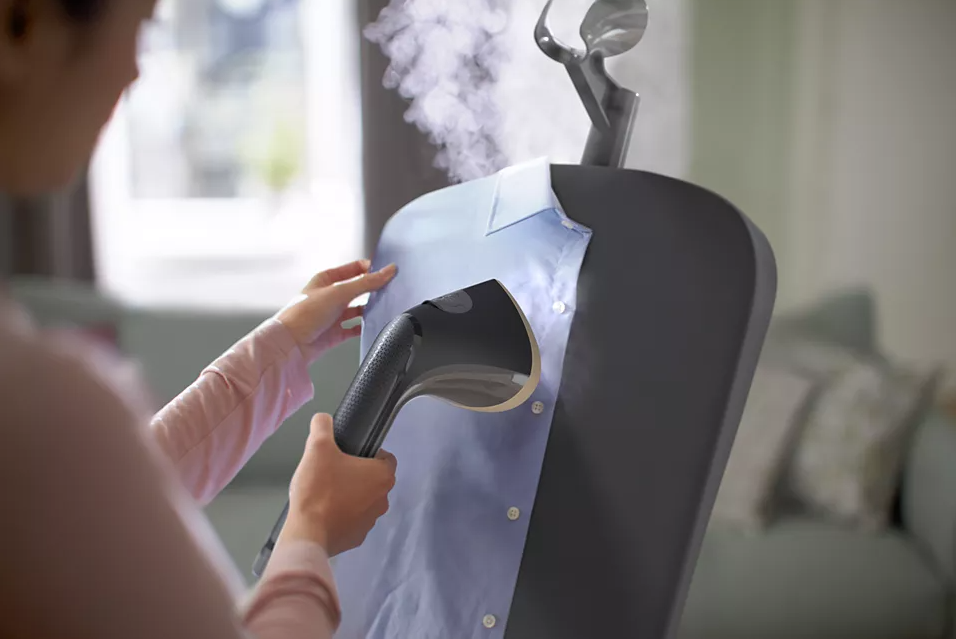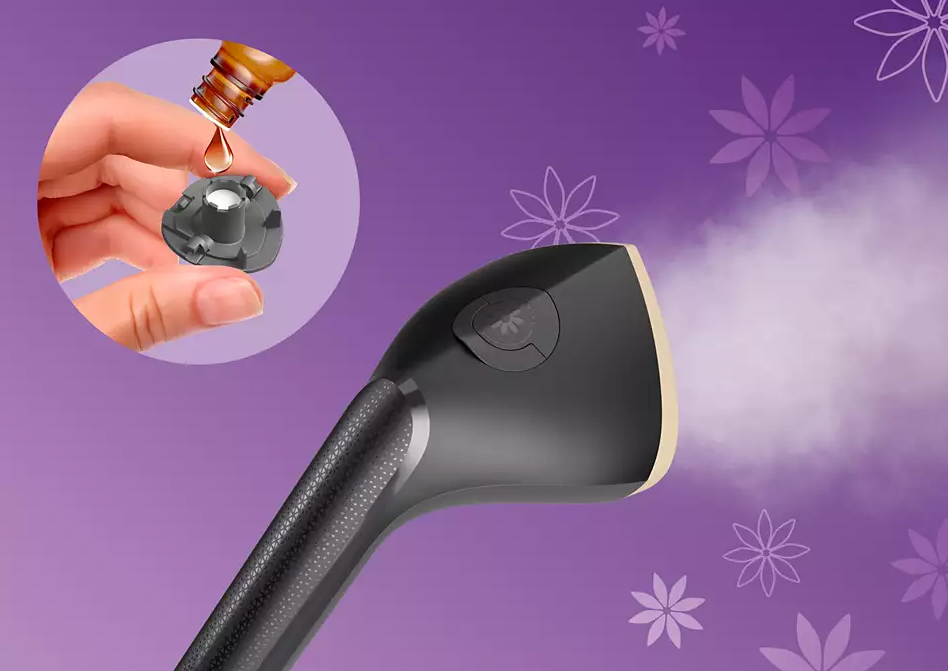 The Philips Stand Steamer 3000 Series comes with a Tilting StyleBoard that ensures you get perfect ironing results from top to bottom with minimal effort. This stand steamer heats up in under 60 seconds, always ready to rescue your outfit choices, even those last-minute ones. No wrinkle stands a chance, thanks to its innovative metal steamer head with a large soleplate and precision tip.
One of the most amazing features of the Philips Stand Steamer 3000 Series is the MyEssence fragrance infuser, which infuses your clothes with your favourite scents. With three steam settings and a high continuous steam rate, it's a versatile steamer suitable for all types of fabrics. Use low steam for delicate fabrics and crank it up for those thicker garments and coats. The steamer is gentle on all ironable fabrics, even delicate ones like silk.
Here are the features of the Philips Stand Steamer 3000 Series that have got your back in style:
Tilting StyleBoard
Heats up in under 60 seconds
3 Steam settings
MyEssence fragrance infuser
Pointed metal steam plate tip
Kills up to 99.9% of bacteria
Large 2 L water tank
Calc management system
2000 W power
Safe on all ironable fabrics
Adjustable double pole
Slim design for easy storage
Auto shut off
4. Tefal Pro Style Care Garment Steamer IT8460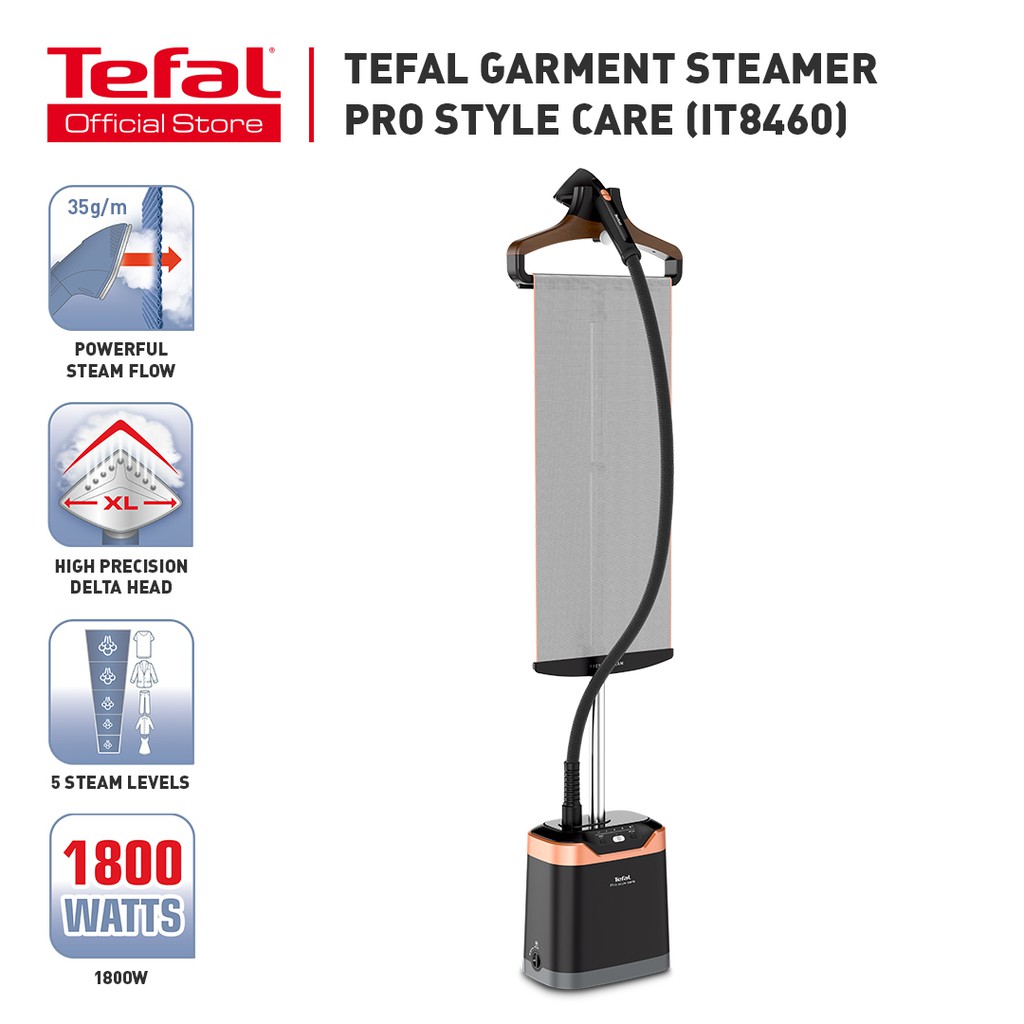 The Tefal Pro Style Care Garment Steamer is your ticket to professional-grade steaming without the fuss. Its exclusive, patented Steam & Press vertical support system ensures wrinkle-free perfection with a simple, one-handed, double-action steaming process that's both quick and efficient. Packed with 1800 W of power and a continuous steam output of 35 g/min, it banishes even the most stubborn creases from your entire wardrobe.
What truly distinguishes the Tefal Pro Style Care Garment Steamer is the XL Delta Steam Head, masterfully engineered to reach those tricky spots, guaranteeing precision and impeccable results. Say goodbye to long waits; this steamer heats up in just 45 seconds, sparing your precious time. And don't worry about delicate fabrics; this steamer is gentle and suitable for all kinds of garments, giving you the confidence to steam with ease.
Let's explore the convenient features that make the Tefal Pro Style Care Garment Steamer the ultimate choice for at-home clothing care:
Patented Steam & Press vertical support system
Comfortable one-handed steaming
Rapid 45-second heat-up time
XL Delta Steam Head
1800 watts of power
Steam output of 35 g/min
5 steam settings
Safe for all kinds of garments
Descaling function
1.3 L removable water tank
Sanitising function
Five smart accessories included
5. Philips GC487/86 Easy Touch Stand Garment Steamer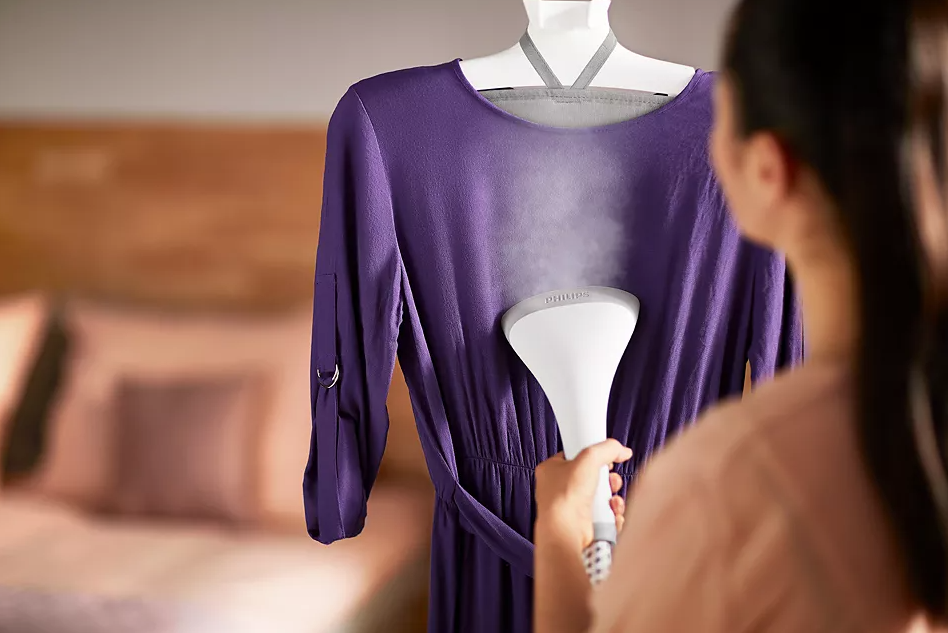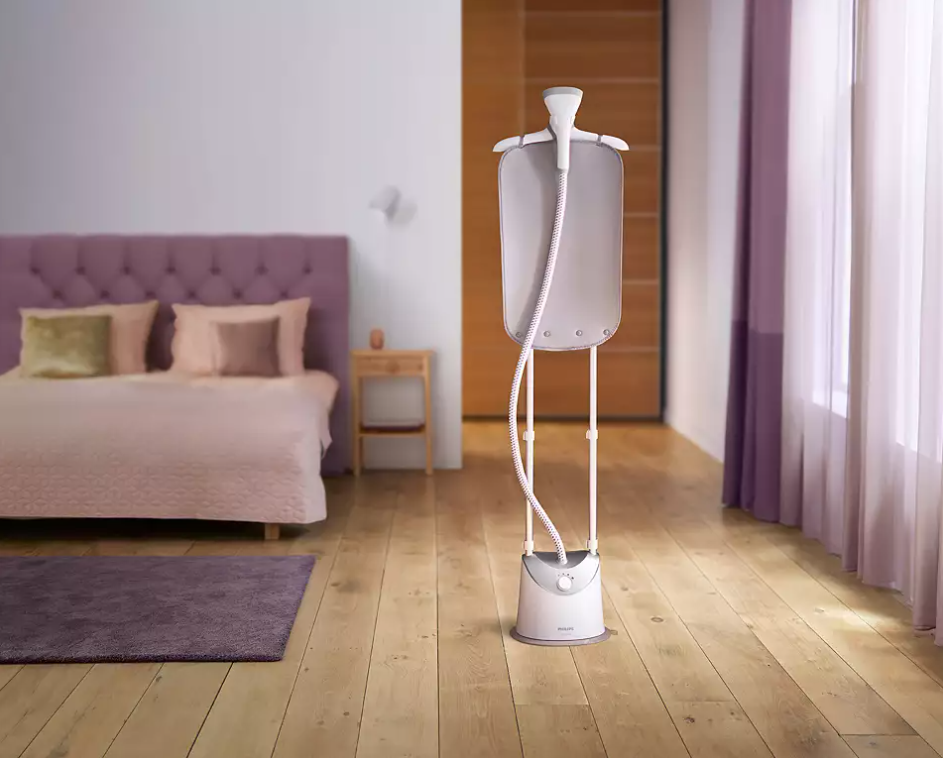 The EasyTouch Stand Garment Steamer is the most compact stand steamer Philips offers. Boasting a robust 1800W of power and a continuous steam output of 35g/min, this little dynamo is 20% more potent than its predecessors, ensuring those wrinkles vanish with a few swift strokes. Catering to your diverse wardrobe, it offers three steam settings, while its 40% larger steam plate covers more fabric in a single pass. Refilling this steamer is also easy thanks to the 1.4L detachable water tank with an 80% larger filling hole.
Don't worry about scaling either; the Easy Rinse descaling keeps it in top shape for years of effective use. Its double adjustable poles let you hang garments while you steam, and it's collapsible for tidy storage. Plus, there's the StyleMat support solution, making achieving crisp results even easier. With the integrated garment hanger, you can effortlessly steam shirts, dresses, and trousers. Best of all, it's gentle on all fabrics, from silk to cashmere. The hot steam not only eliminates wrinkles but also rids your clothes of bacteria and dust mites, reducing the need for frequent washing and dry cleaning.
Say goodbye to wrinkles and hello to freshness with the amazing features of the Philips GC487/86 Easy Touch Stand Garment Steamer:
1800 W power
35g/min steam output
Compact design for easy storage
40% larger steam plate
80% larger filling hole
1.4 L detachable water tank
3 steam settings
Adjustable double pole for various height settings
Easy Rinse descaling function
Premium StyleMat support solution
Integrated garment hanger
Safe to use on all garments
Heatproof gloves are included
6. Electrolux E5GS1-44MN UltimateCare 500 Garment Steamer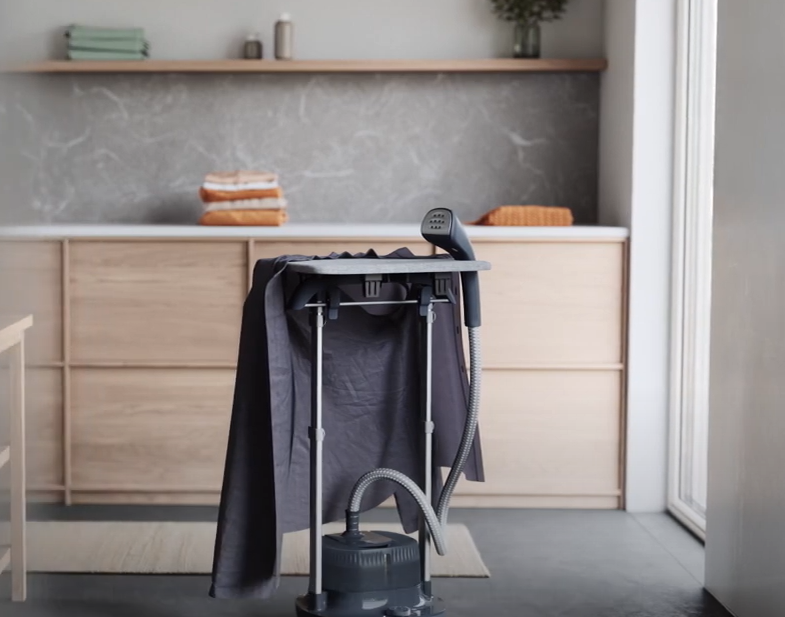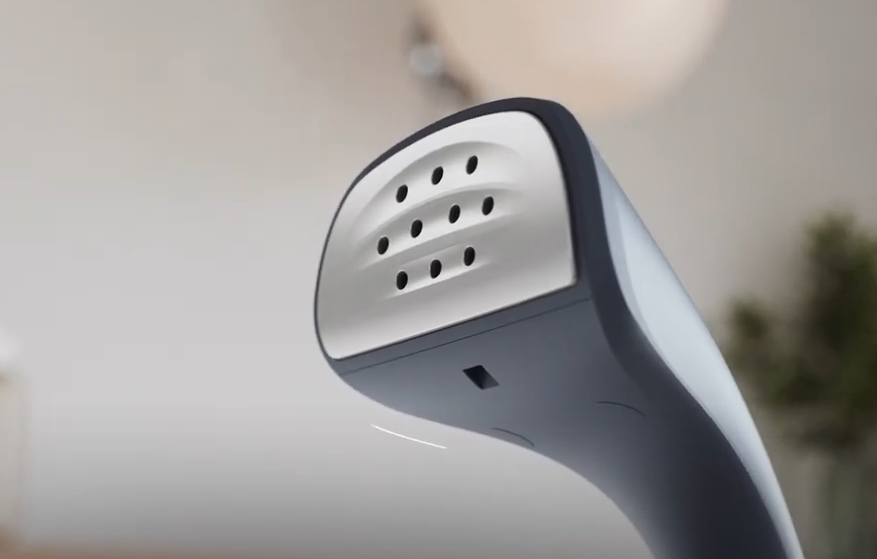 The Electrolux E5GS1-44MN UltimateCare 500 Garment Steamer is all about ease and convenience. It has an integrated ironing board that is built-in and adjustable, offering both horizontal and vertical positions for optimal steaming results. It comes with a flexible nozzle and a Glissium soleplate, which is durable, scratch-resistant, and designed for easy gliding. All your fabrics are covered by three steam control settings, from bulky linen to delicate silk. It is powerful where it needs to be and gentle where it should be.
Don't worry about constant refills. This steamer has a large water tank, which means more run time. Now you can breeze through your ironing chores quickly and effortlessly, leaving you more time to enjoy wrinkle-free clothes. Above all, its ExtraHygiene steam function is all about refreshing and cleaning your clothes by removing 99.99% of bacteria in just 1 minute. That's right, you can wait longer before your next wash, preserving both your clothes and the environment.
All the amazing features of the Electrolux E5GS1-44MN UltimateCare 500 Garment Steamer are summarised below:
Integrated ironing board
ExtraHygiene: removes 99.99% of bacteria in 1 min
Flexible nozzle
Glissium soleplate
Three steam control settings
Convenient large water tank
Safe for all types of fabrics
7. Midea YGD20D7 Garment Steamer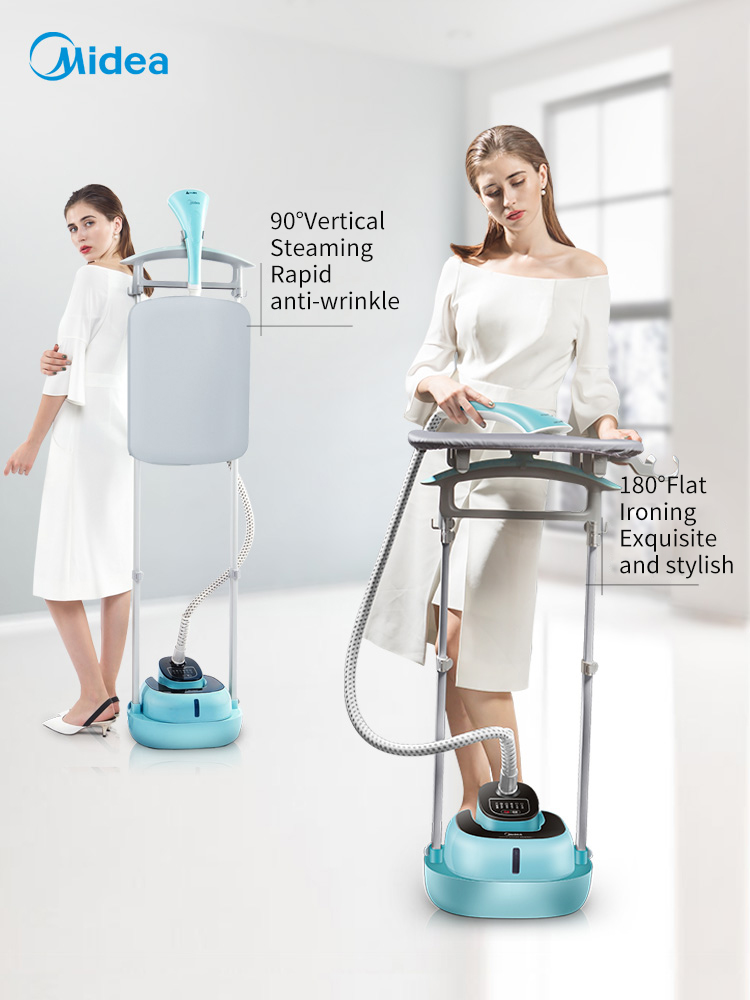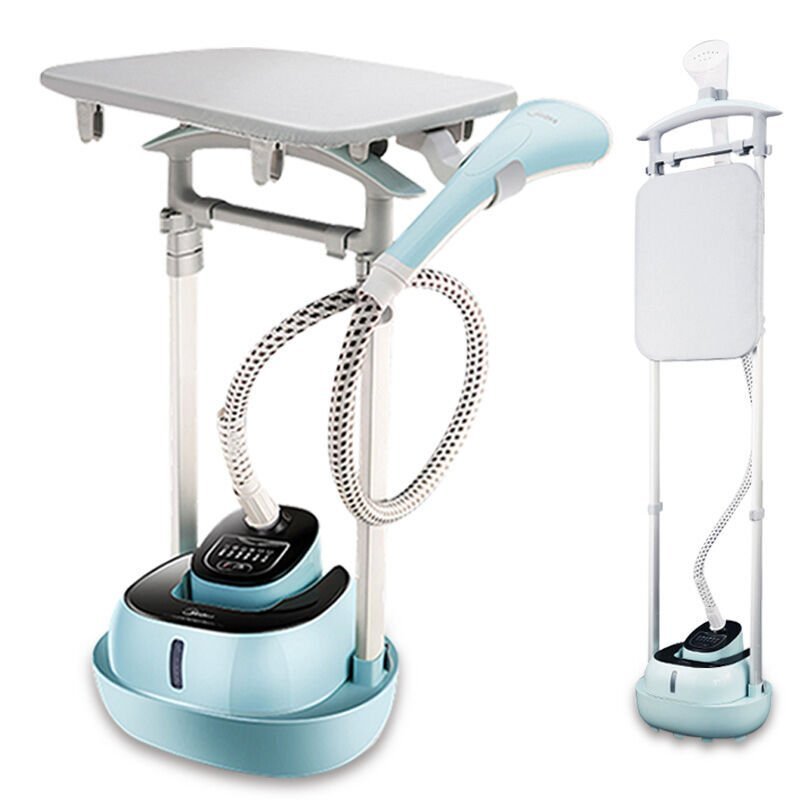 The Midea YGD20D7 Garment Steamer is a 2-in-1 garment care solution that works as a steamer and an iron. Whether you prefer horizontal or vertical steaming, this versatile appliance covers you. Powered by a robust 1800 W heater, it delivers a generous 32g/min of steam, making wrinkle removal easier than ever before. With six power levels at your disposal, you're in control of the perfect steam intensity. No need for constant refills; the 2L big water tank allows uninterrupted ironing sessions.
This steamer also includes height-adjustable poles so that you can tailor your garment care to perfection. And speaking of perfection, it has Version 2.0 smart control, bringing you the latest in intelligent garment care. Its nine-hole big ironing head is designed for precision and efficiency, while the thickened and reinforced ironing panel ensures years of use. Moreover, the steamer's triple anti-dry burn protection has your back, so you can steam and iron worry-free.
Here are the features that make the Midea YGD20D7 Garment Steamer the best in Singapore:
2-in-1 function: steaming and ironing
1800 W high power
32g/min steam volume
6 power levels
2 L big water tank
Both horizontal and vertical steaming
Nine-hole big ironing head
Intelligent temperature control
Thickened and reinforced ironing panel
Height adjustable poles
Version 2.0 smart control
Triple anti-dry burn
Accessories included
8. Simplus Garment Steamer With Ironing Board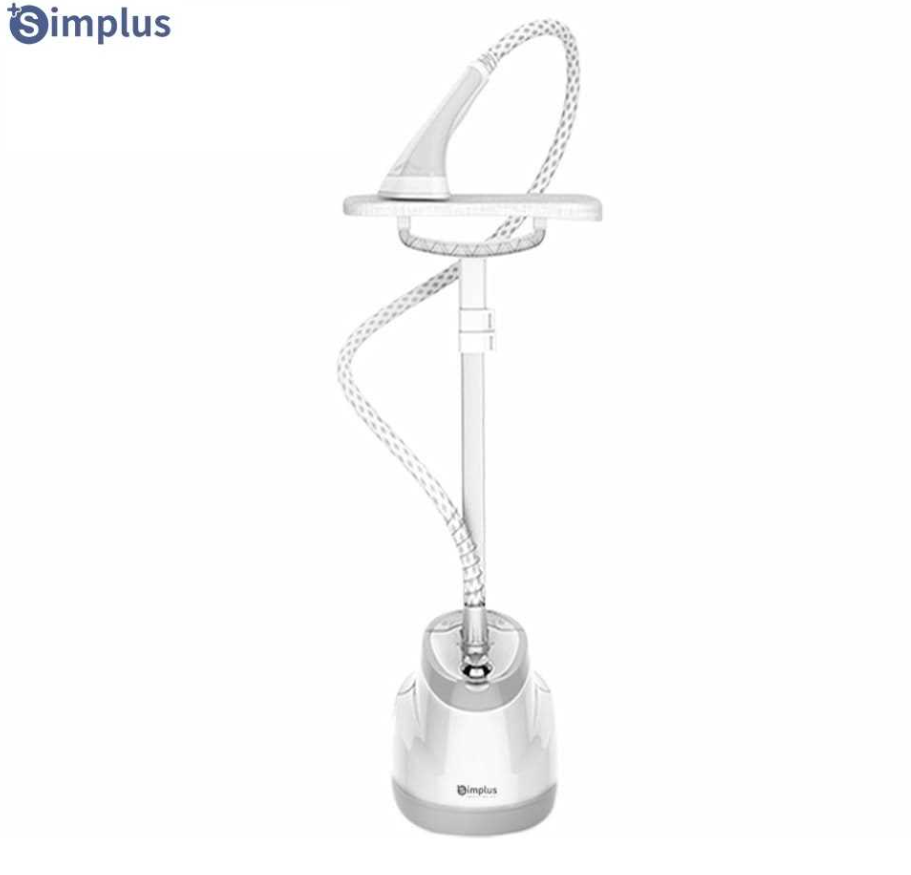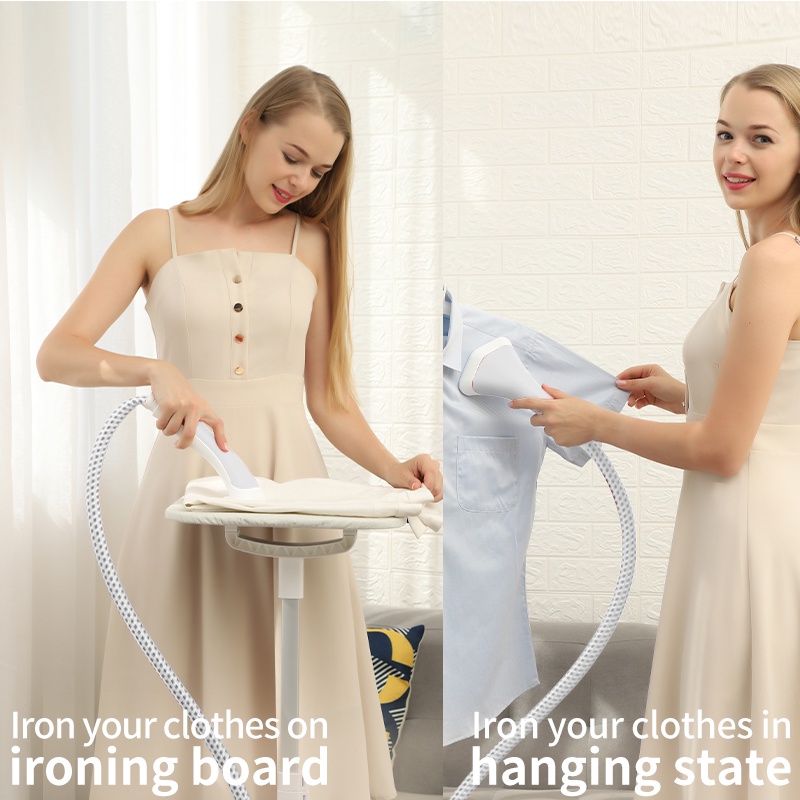 The last steamer on our list is the Simplus Garment Steamer, which comes with an ironing board. This 2-in-1 ironing solution works for both flat and hanging clothes. It features three adjustable heights and a double telescopic pole for unwavering stability. Powered by an 1800W heater, it unleashes a generous 34g/min of steam, turning wrinkle removal into a breeze. It's suitable for a wide range of clothing materials.
But what truly distinguishes this steamer is the wider and longer ironing board that has honeycomb-shaped holes for ventilation. Its triangular design head ensures precision, while the steam sterilisation adds a hygienic touch. The steamer heats up in a mere 20 seconds, so you can swiftly tackle those wrinkles. With a large 1.8L visible water tank and an anti-leakage knob design, constant refills are a thing of the past.
Wrinkles don't stand a chance against the following features of the Simplus Garment Steamer:
2-in-1 ironing: flat and hanging
3 adjustable heights
Double telescopic pole for more stability
34g/min steam output
Wider and longer ironing board with honeycomb-shaped ventilation holes
1800 W powerful heater
Suitable for a variety of clothing materials
Triangular design head
Steam sterilisation
20-second immediate heat-up
1.8 L visible water tank
Anti-leakage knob design
11 ironing modes
Upgraded 7 steam nozzles
Stainless steel soleplate
Anti-bend fabric hose
F5 anti-burn protection
Wrapping Up
Our curated list of the best garment steamers is your gateway to wrinkle-free clothes. These innovative steamers offer a range of features to simplify your daily routine, leaving you looking effortlessly stylish. Equipped with robust steaming capabilities, lightning-fast heat-up periods, and customizable settings, these steamers adapt to your every garment-related demand. It's time to revolutionise your approach to clothing care by embracing one of these premier garment steamers. So say goodbye to the hassle of ironing those stubborn wrinkles and welcome the era of simplicity and style!