As the heart of every kitchen, an induction cooker seamlessly blends advanced technology with culinary artistry, revolutionising the way we cook. Whether you're a seasoned chef or a passionate home cook, these induction cookers are here to redefine convenience, efficiency, and precision.
Join us as we explore a selection that marries sleek aesthetics with cutting-edge functionality, promising to transform your cooking endeavours into delightful gastronomic adventures. Unveil a world where delectable dishes meet state-of-the-art cooking, making every meal a masterpiece to savour.
Features of a Good Induction Cooker
A good induction cooker should have the following features:
Precision Cooking Technology: Experience unparalleled control over your culinary creations with precise temperature adjustments, ensuring perfect results every time.
Multiple Cooking Modes: A versatile induction cooker offers an array of cooking modes, from simmering to searing, accommodating various dishes and cooking styles effortlessly.
Safety Sensors and Auto-Off: Advanced safety features such as overheat protection and automatic shut-off provide a secure cooking environment, preventing accidents and promoting peace of mind.
Sleek Design and Intuitive Controls: Aesthetics meet functionality with a sleek, user-friendly design and intuitive controls, making your cooking experience both stylish and seamless.
Energy Efficiency: Embrace eco-friendly cooking with an induction cooker that heats only the cookware's surface, minimizing energy wastage and reducing your carbon footprint.
Our Selection of 10 Best Induction Cookers in Singapore
Let's go through the list of best induction cookers that Singapore has to offer. These cookers promise to revolutionise your cooking routine by providing you with value.
1. Philips Daily Collection Induction Cooker HD4911/62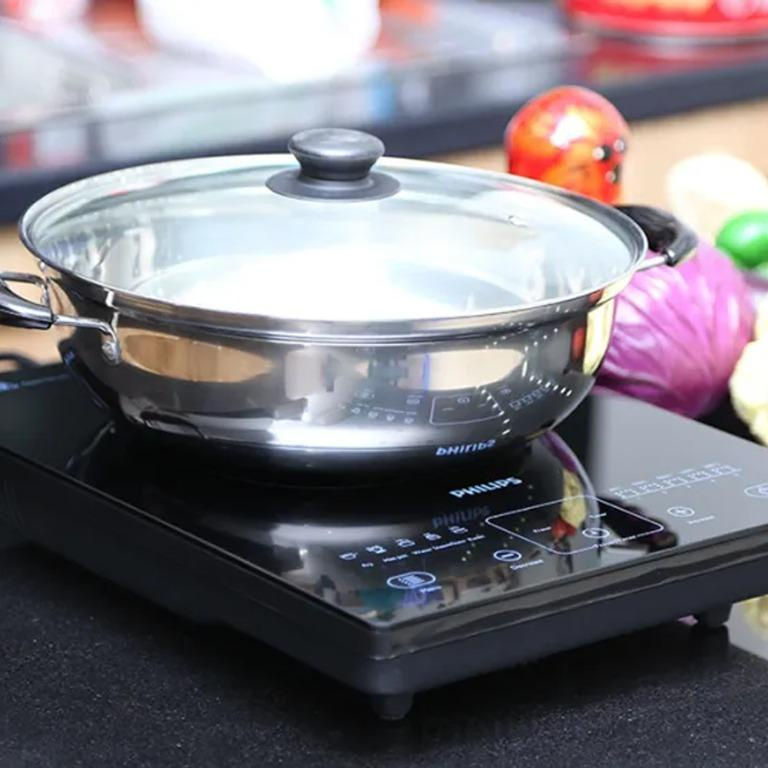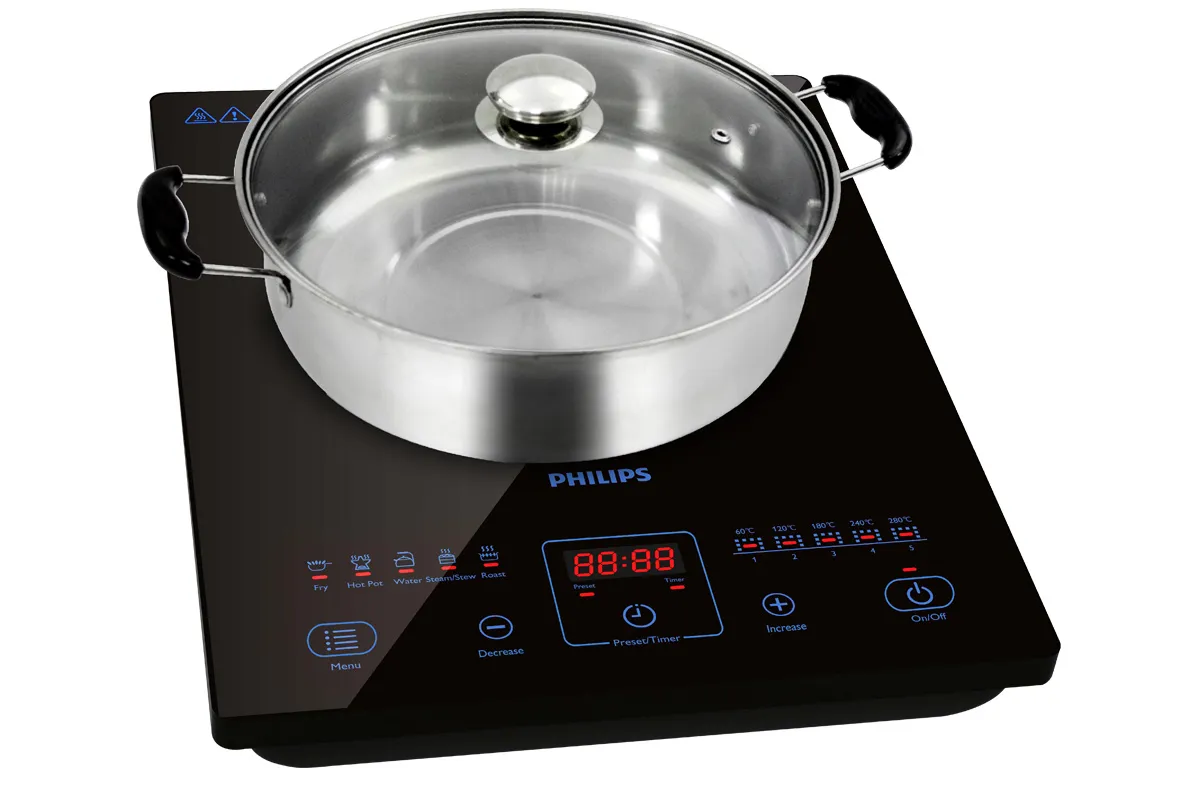 The Philips Daily Collection Induction Cooker HD4911/62 is your culinary companion that breathes new life into your meals. With its rapid and nutrition-preserving induction heating, this cooker seals in flavours and goodness effortlessly. The user-friendly sensor touch interface simplifies cooking, while its high power of 2100W ensures swift and efficient heating, elevating your cooking experience. Explore a range of possibilities with 5 power levels and 5 local menus, tailored to modern tastes.
The 24-hour preset timer function enables delayed cooking, catering to your convenience. Crafted for safety, it features overheating protection, and the easy-to-clean glossy glass plate adds to its allure. The cooker's main body boasts a sleek full glass panel, marrying style with substance seamlessly. Enrich your cooking journey with Philips innovation.
Here are the highlights of the Philips Daily Collection Induction Cooker HD4911/62's amazing features:
Fast Heating
Sensor Touch
2100W Power
5 Menus
5 Power Levels
24-Hour Timer
Overheat Protection
Easy to Clean
Sleek Design
2. Tefal Everyday Slim Induction Hob IH2108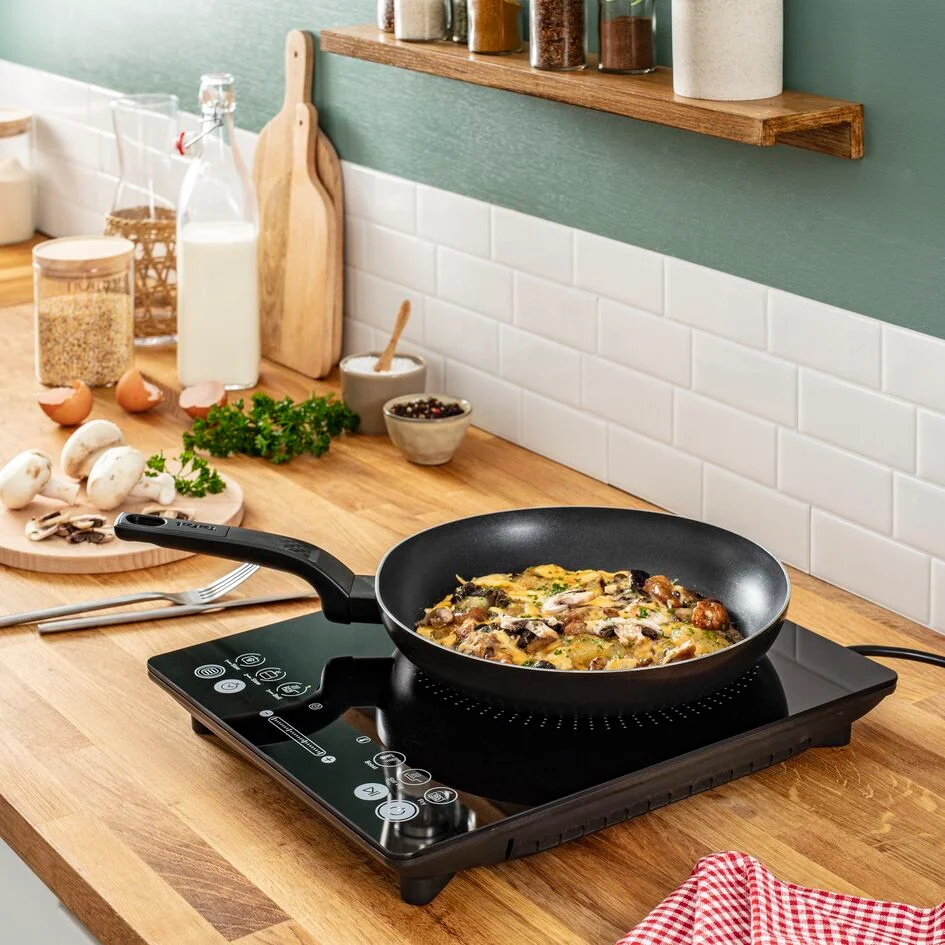 Tefal Everyday Slim Induction Hob IH2108 is a compact marvel designed to infuse convenience and tranquillity into your culinary endeavours. This portable induction cooktop exudes efficiency while conserving space, making everyday cooking an effortless delight. With an array of six cooking presets, including low temperature, simmer, and stir-fry, alongside manual control for precise culinary mastery, your cooking experience is elevated to new heights. The crystal-clear digital display and user-friendly interface ensure intuitive operation.
Crafted with an ultra-slim profile of just 45 mm, this induction hob empowers you to cook anywhere, anytime, without compromise. Benefit from durability and easy maintenance, automatic shut-off, and a handy timer, encapsulating Tefal's commitment to your cooking needs. With its versatile 7 power levels, the Everyday Slim Induction Hob IH2108 is your ultimate culinary ally.
Here are the highlights of the Tefal Everyday Slim Induction Hob IH2108's amazing features:
Space-Saving Design
6 Cooking Presets
High Precision
User-Friendly Interface
Ultra-Slim Profile
Easy to Clean
Automatic Shut-Off
Crystal-Clear Display
Portable Convenience
7 Power Levels
3. PowerPac Steamboat Induction Cooker with Stainless Steel Pot (PPIC887)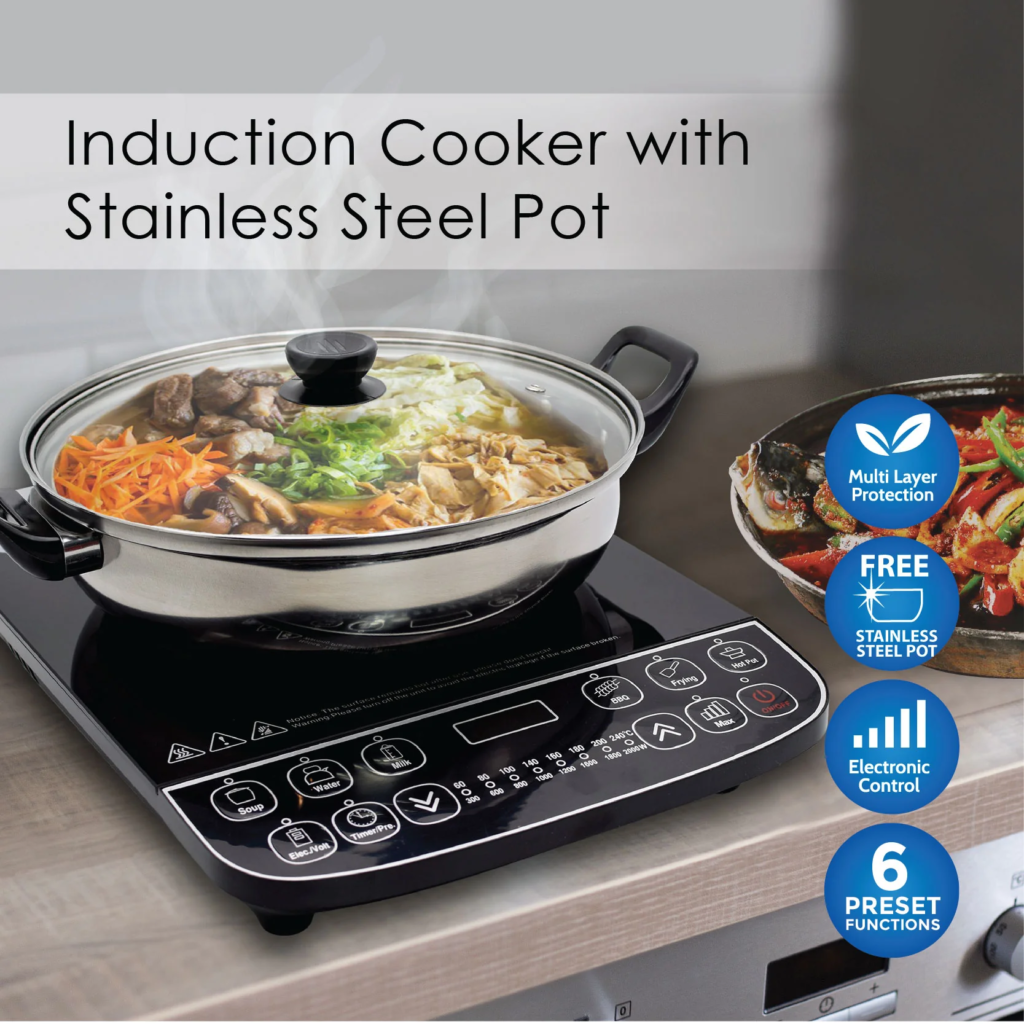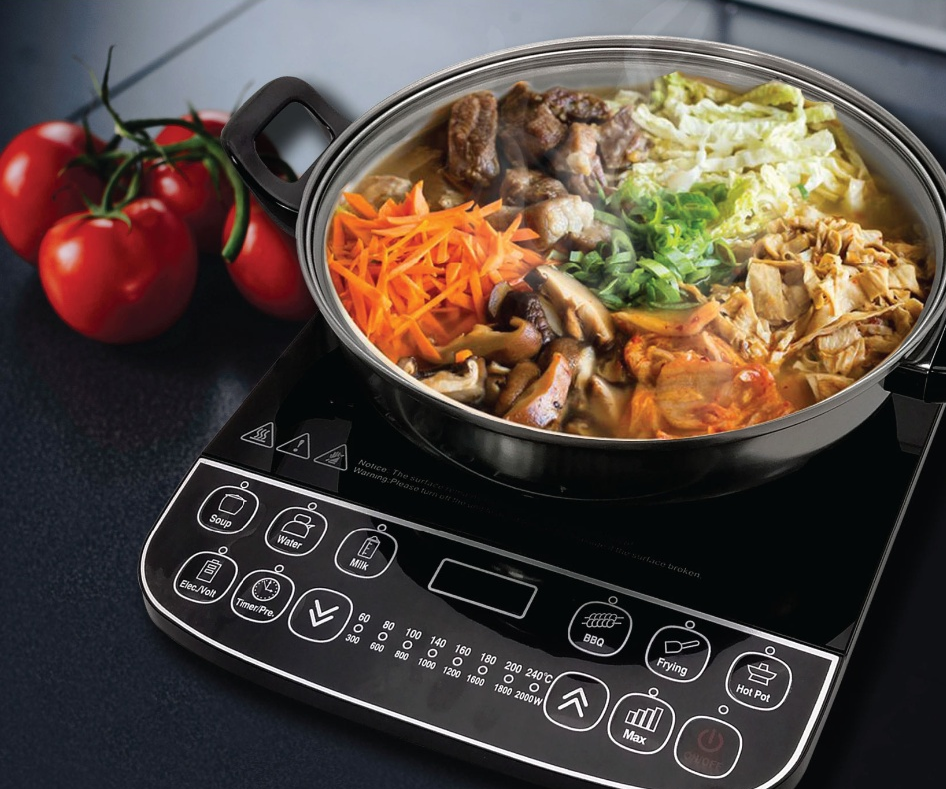 Elevate your culinary experiences with the PowerPac Steamboat Induction Cooker with Stainless Steel Pot (PPIC887). This ingenious appliance revolutionises cooking, ensuring uniform heating without unsightly burns or undercooked portions. Unlike traditional gas flames or electric hot plates, the induction technology eliminates the risk of blackened utensil bottoms. Embrace energy efficiency as electrical induction seamlessly transforms energy, delivering precise heat distribution. Safety takes centre stage with a flameless, cool surface that's ideal for any kitchen.
This environmentally-friendly cooker leaves behind no fire, smoke, or carbon monoxide. Cleaning is a breeze, thanks to the easily wiped Crystal Plate. Designed for versatility, the cooker accommodates stainless steel utensils and comes with a complimentary 2L stainless steel pot. With intelligent features like overheat protection, preset programs, and a timer, your cooking journey becomes both efficient and enjoyable. Trust in its multiple safety measures and self-detecting functions for ultimate peace of mind.
Here are the highlights of the PowerPac Steamboat Induction Cooker with Stainless Steel Pot (PPIC887)'s amazing features:
Even Cooking
No Black Marks
Efficient Energy Transfer
Flameless & Safe
Environmentally-Friendly
Easy to Clean
Stainless Steel Pot Included
Overheat Protection
Preset Programs
Multiple Safety Features
4. Electrolux Table Top Induction Cooker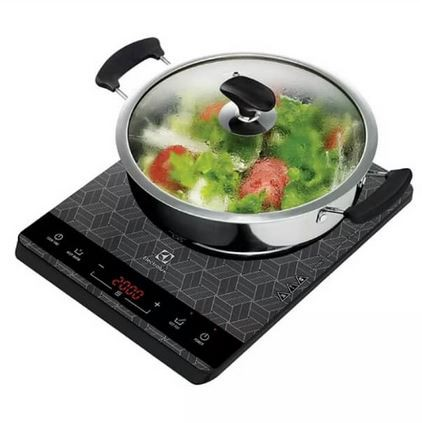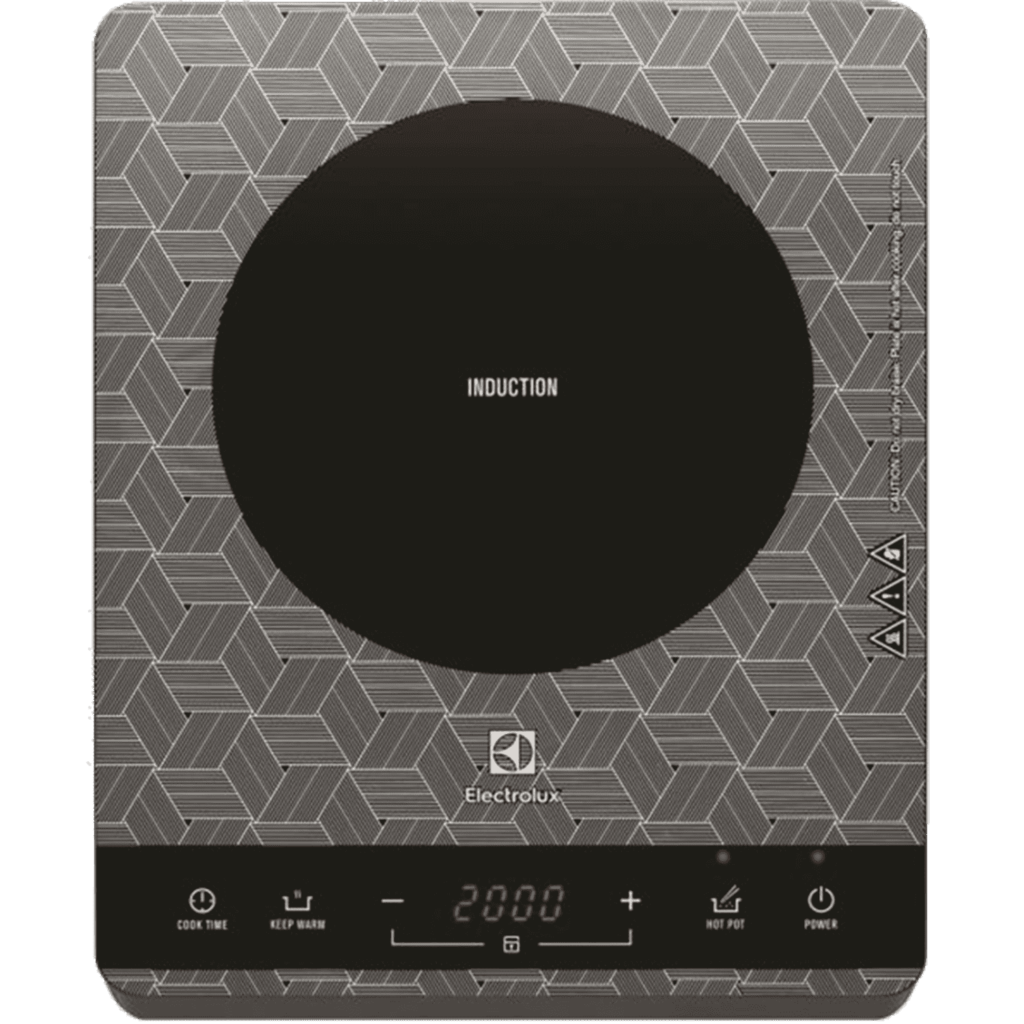 Experience the future of cooking with the Electrolux Table Top Induction Cooker. Safe, swift, and energy-efficient, this innovation redefines your culinary journey. Induction technology's focused heating beneath the pan ensures unparalleled safety, leaving the surrounding surface cool for effortless cleaning. Efficiency meets speed, allowing you to create delectable dishes in less time and with minimal energy consumption. The brilliance of timing shines through with a keep-warm function maintaining dishes at 80°C, ensuring they're served hot and ready.
The user-friendly timer seamlessly shuts off the hob, offering extra peace of mind. Activate the child lock to safeguard curious hands and enjoy family moments worry-free. With a single cooking zone, 2 programs, and the convenience of keep-warm, the Electrolux Table Top Induction Cooker heralds a new era of precise, secure, and delightful cooking.
Here are the highlights of the Electrolux Table Top Induction Cooker's amazing features:
Safe & Efficient
Focused Heating
Keep Warm Function
Automatic Timer
Child Lock
Single Cooking Zone
User-Friendly
Energy-Efficient
Easy to Clean
Precise Timing
5. WMF KULT X Mono Induction Hob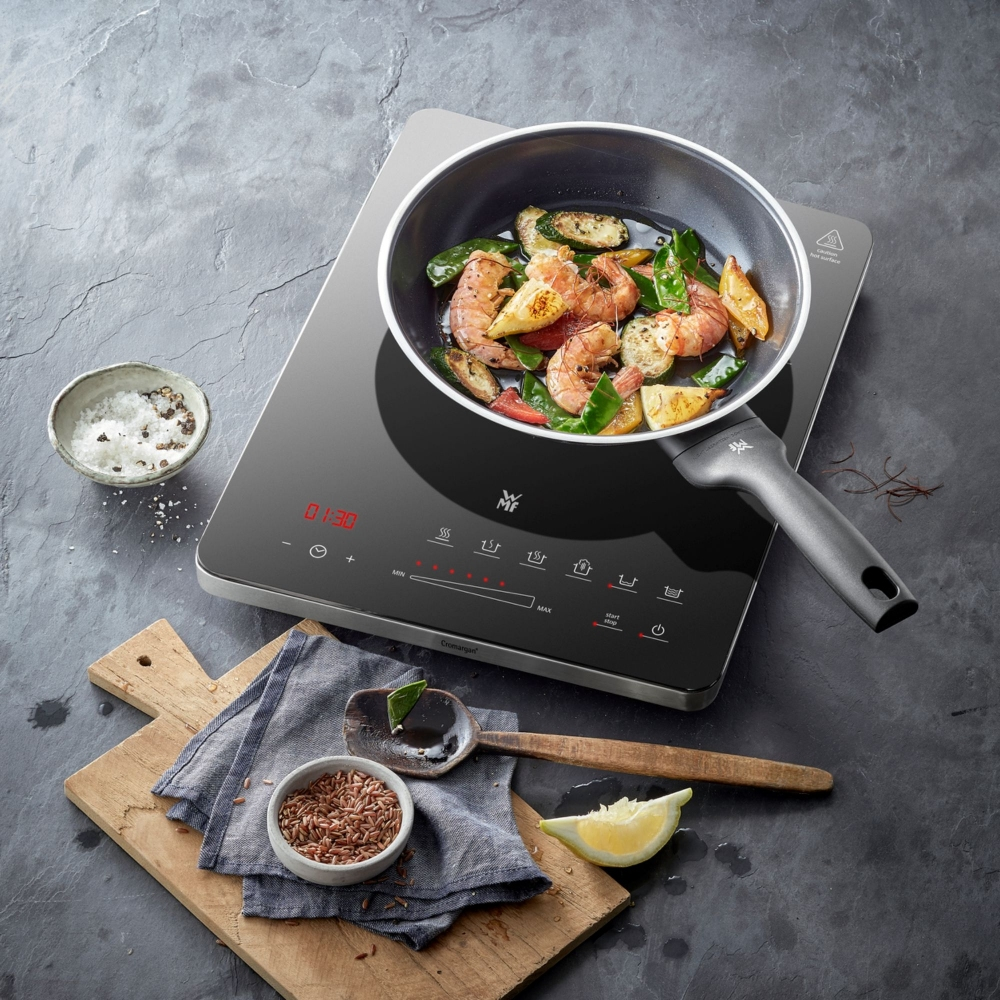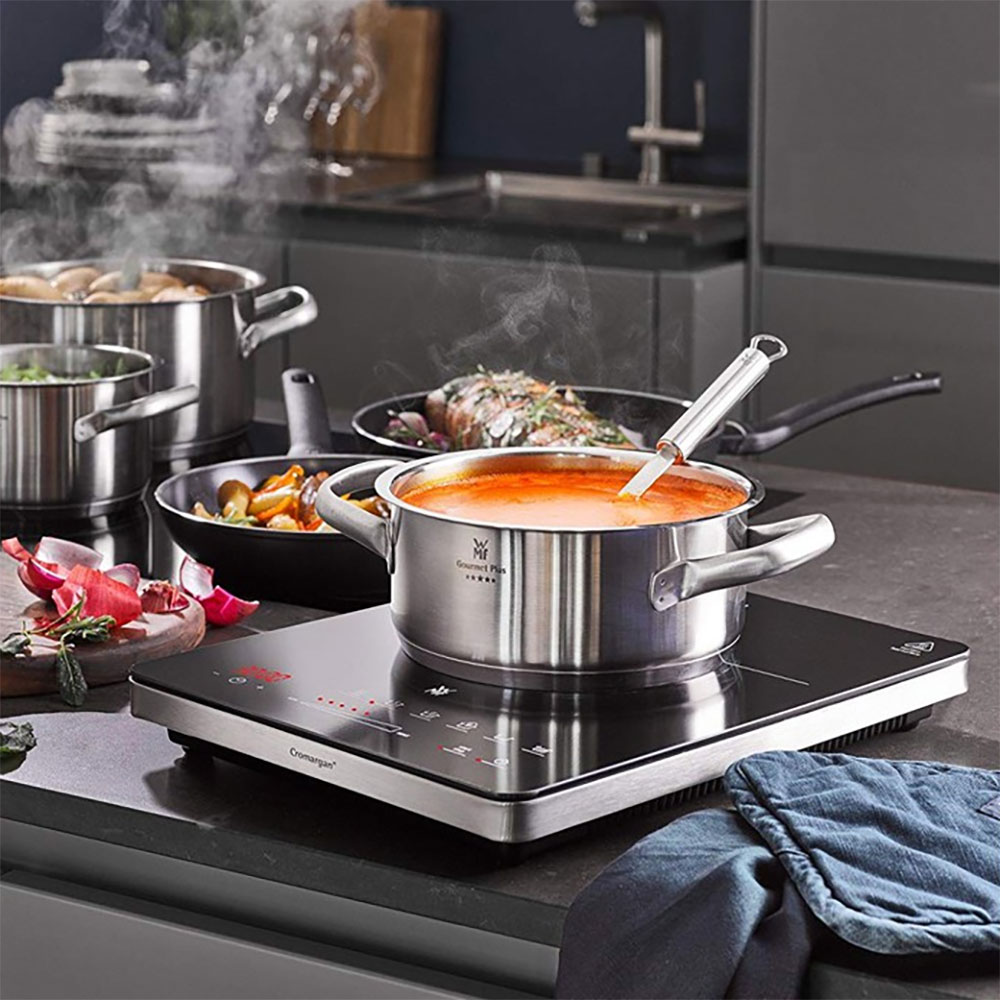 WMF KULT X Mono Induction Hob is a versatile culinary companion that transcends boundaries. Crafted for compact kitchens or intimate table gatherings, this portable marvel empowers your culinary creativity wherever you are. With 8 adjustable power levels and 6 cooking presets, it adapts effortlessly to your every need – from simmering to sautéing, and even boosting the heat for that extra sizzle. The intuitive touch display ensures hassle-free control, while the timer function guarantees precise cooking.
Its sleek glass ceramic surface harmonises durability with aesthetics, offering easy cleaning and elegant cooking. Designed to accommodate pots and pans of various sizes, this cooktop seamlessly adapts to your culinary arsenal. Safety features like automatic pan detection and overheating protection make your cooking journey worry-free.
Here are the highlights of the WMF KULT X Mono Induction Hob's amazing features:
Portable Convenience
8 Power Levels
6 Cooking Presets
Timer Function
Versatile Compatibility
Sleek Glass Ceramic
Intuitive Touch Display
Compact Design
Enhanced Safety Features
6. Rommelsbacher CT 2010IN Induction Cooker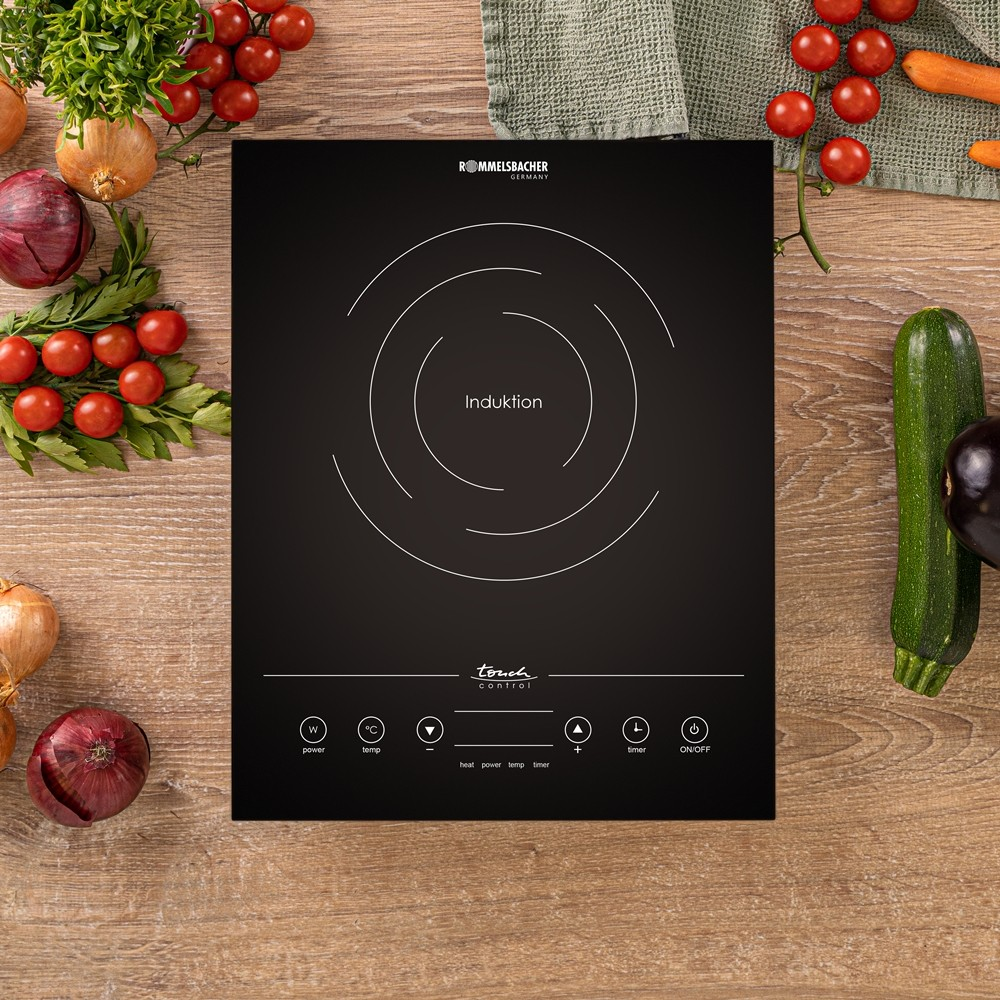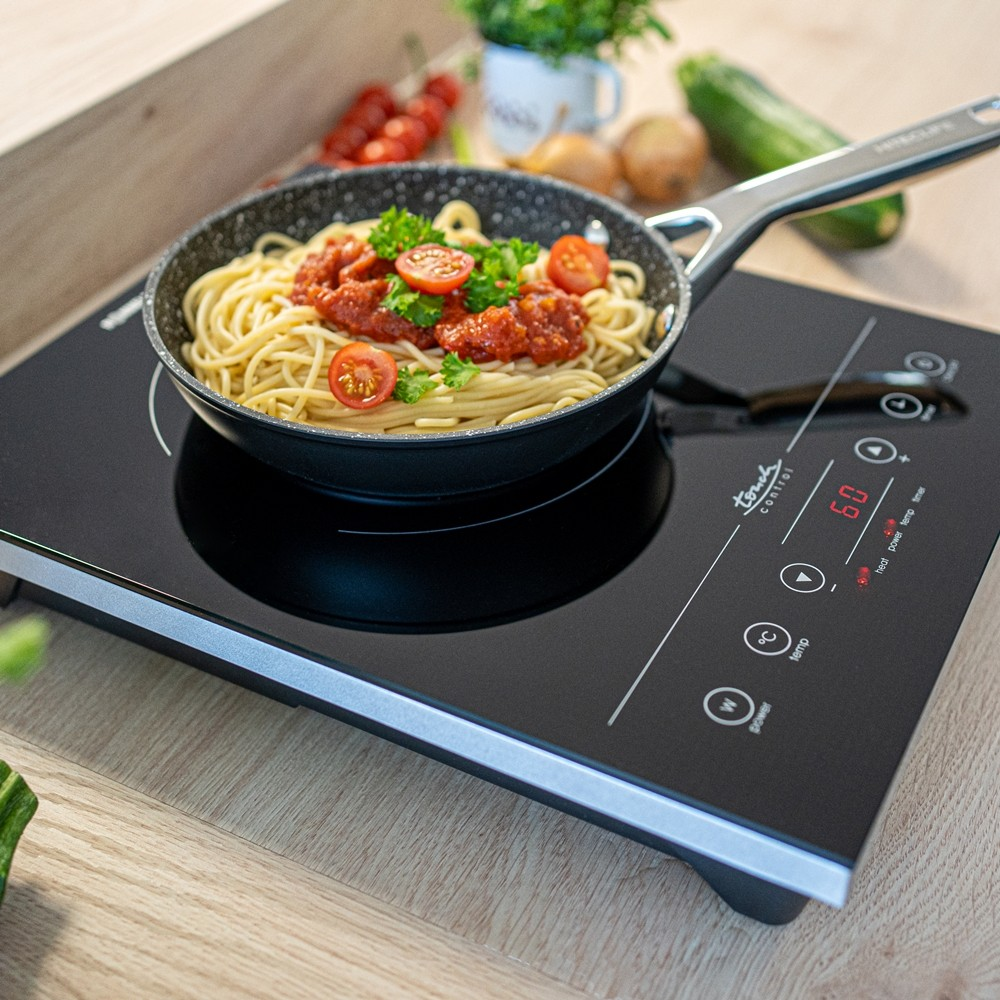 Discover the Rommelsbacher CT 2010IN Induction Cooker – a culinary powerhouse designed to elevate your cooking experience. Designed for versatility, it accommodates various pots and pans with a ferromagnetic bottom, while the expansive cooking zones range from 120 to 230 mm. The intelligent automatic pot recognition streamlines your cooking journey, seamlessly adjusting settings. Touch control sensors ensure effortless electronic regulation, while the easy-to-clean full glass ceramic surface adds a touch of elegance.
With 10 power settings and a temperature range of 60 to 240 °C, your culinary precision is unparalleled. The 180-minute timer grants flexibility, while the automatic switch-off with a signal tone and residual heat indicator guarantee safety and convenience.
Here are the highlights of the Rommelsbacher CT 2010IN Induction Cooker's amazing features:
Versatile Pot Compatibility
Expansive Cooking Zones
Automatic Pot Recognition
Touch Control Sensors
Elegant Glass Ceramic Surface
10 Power Settings
Wide Temperature Range
180-Minute Timer
Automatic Switch-Off
Residual Heat Indicator
7. Cornell Ceramic Induction Cooker CCC-E2000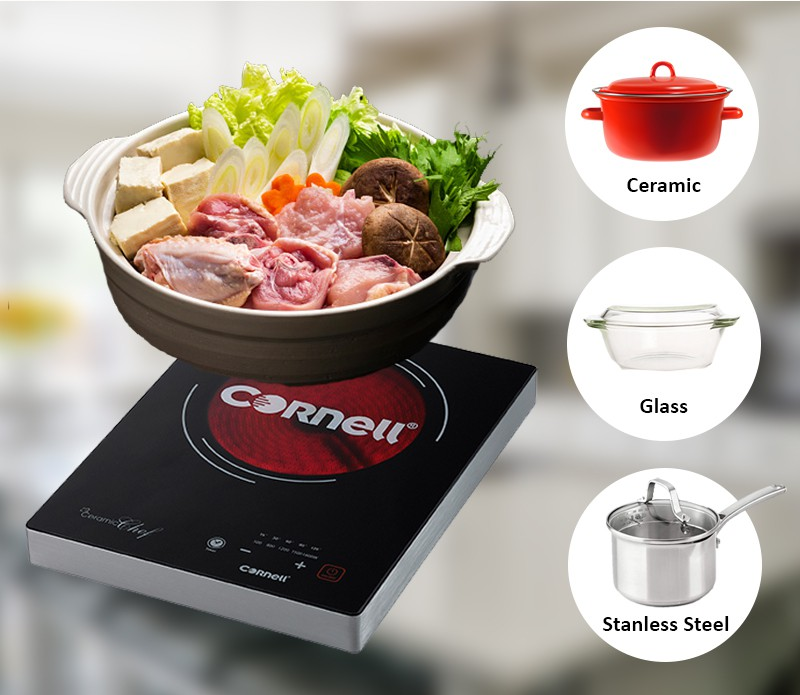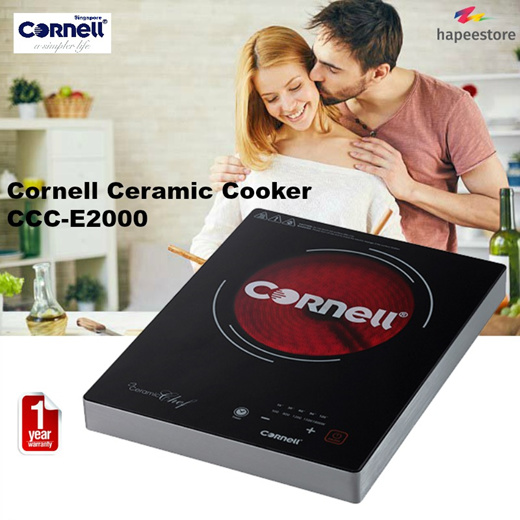 Experience culinary finesse with the Cornell Ceramic Induction Cooker CCC-E2000. Its touch sensor control streamlines temperature adjustments, offering a seamless cooking experience without the need for knobs. With a remarkable 240-degree heating capacity, this cooker handles diverse dishes effortlessly. The four digital display screens provide clarity while the black crystallite glass and multiple protection features ensure safety and durability.
Engage the timer function, ranging from 15 to 120 minutes, and explore versatile cooking options like keep warm, deep fry, and steamboat. The LED timer display enhances convenience. Crafted to accommodate various cookware, this induction cooker embraces innovation and efficiency in every meal. Elevate your culinary journey with the Cornell Ceramic Induction Cooker CCC-E2000, where precision meets style.
Here are the highlights of the Cornell Ceramic Induction Cooker CCC-E2000's amazing features:
Touch Sensor Control
Up to 240°C Heat
Four Digital Displays
Black Crystallite Glass
Multiple Protection
Versatile Timer Function
Keep Warm & More
LED Timer Display
Suitable for All Cookware
8. Midea MIC2233 Black Induction Cooker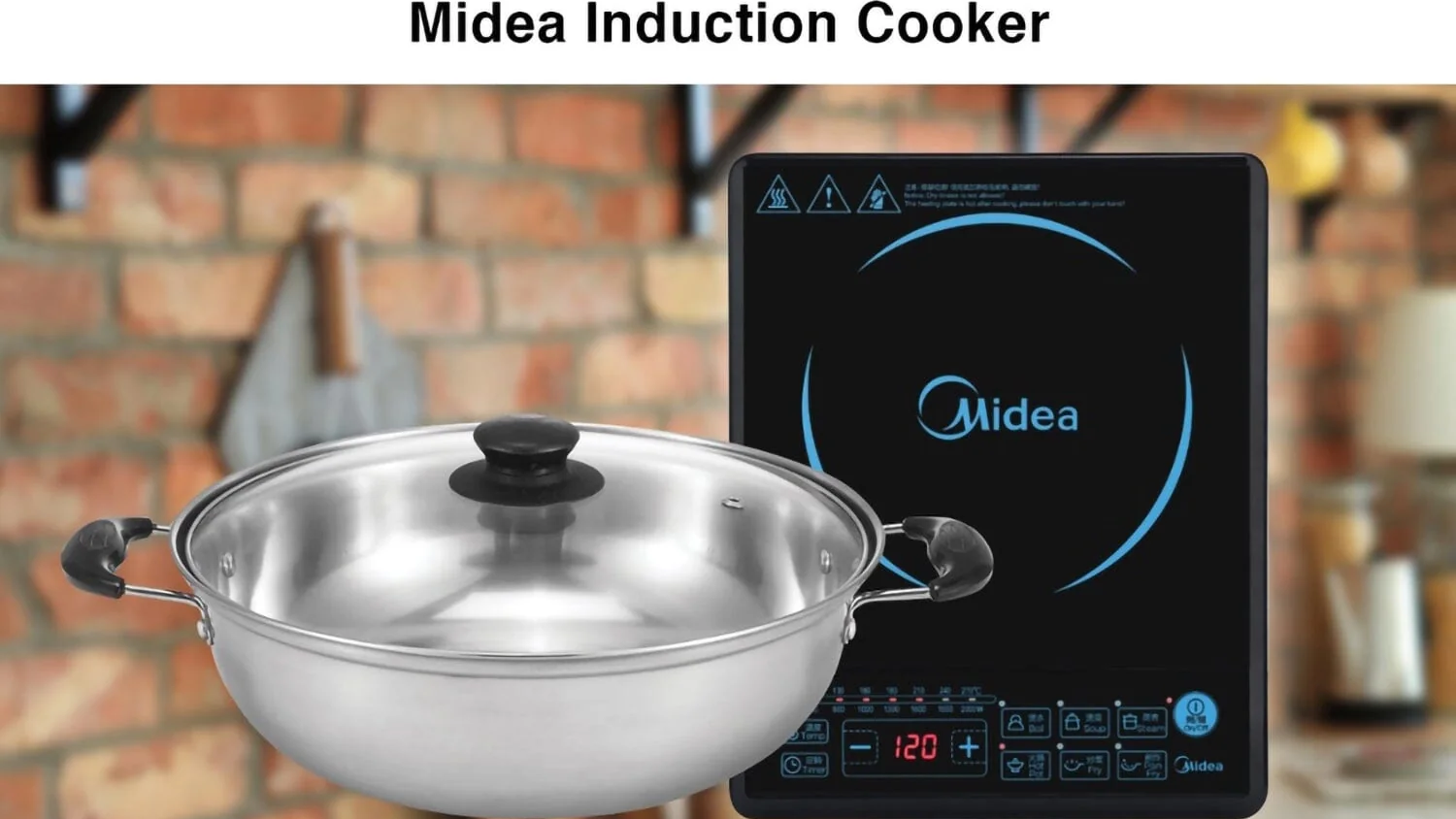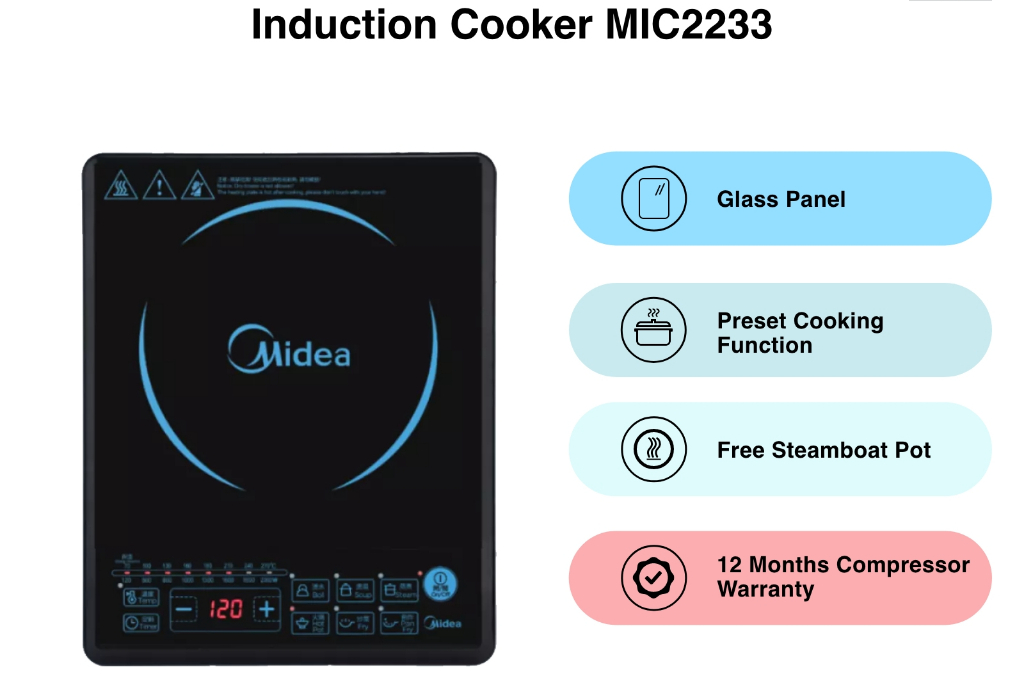 Elevate your cooking experience with the Midea MIC2233 Black Induction Cooker. Its sleek glass panel not only adds a touch of sophistication but also ensures effortless cleaning after every culinary masterpiece. The LED display grants easy monitoring and control, while the integrated touch functionality streamlines your interaction with precision. Unleash culinary creativity with the preset cooking function and select from 8 power settings to achieve your desired results.
Embark on a gastronomic journey with 6 versatile cooking programs – Boil, Soup, Steam, Hot Pot, Fry, and Pan Fry. Plus, enjoy added convenience with the complimentary pot included. The Midea MIC2233 Black Induction Cooker seamlessly blends style, functionality, and performance for a remarkable cooking venture.
Here are the highlights of the Midea MIC2233 Black Induction Cooker's amazing features:
Easy-Clean Glass Panel
LED Display
Preset Cooking Function
8 Power Settings
6 Cooking Programs
Free Pot Included
Integrated Touch Control
9. Mayer Induction Cooker MMIC312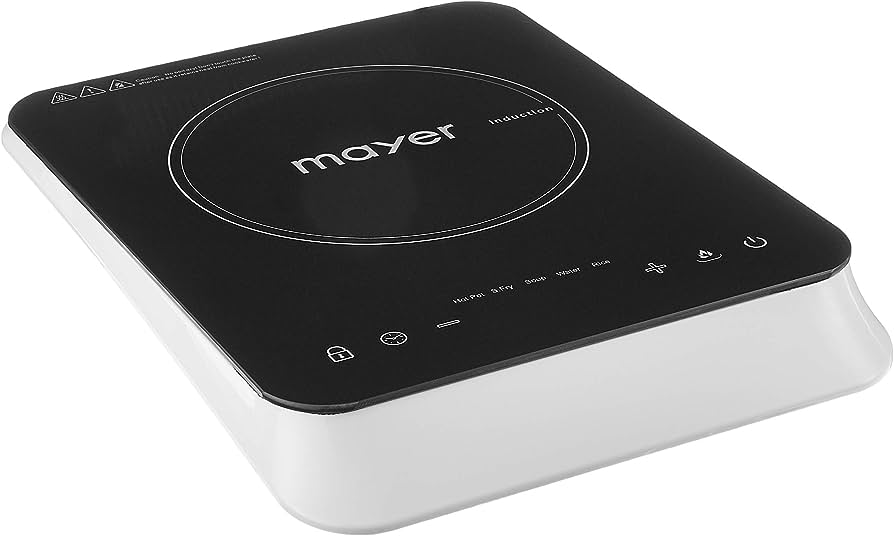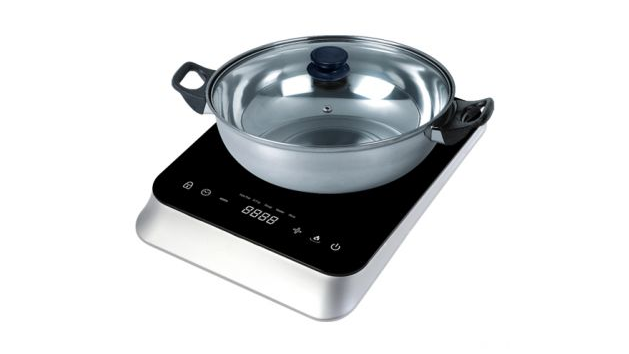 Elevate your culinary prowess with the Mayer Induction Cooker MMIC312. Its full black crystal panel not only exudes elegance but also ensures easy cleaning, while the sensor touch control adds a touch of modernity to your cooking experience. Enjoy energy-efficient cooking with 10 power and temperature levels, tailored to your needs. Indulge in culinary versatility with 5 cooking functions, including Hot Pot, Stir Fry, Soup, Rice, and Boiling Water.
The thermostatic temperature mode spanning 60 to 280°C provides precision in every dish. Safety takes precedence with the automatic cut-off switch, over-heat protection, and child lock features. The 4 digital LED display grants clarity and the inclusion of a double-layer pot enhance convenience. Embrace culinary excellence with the Mayer Induction Cooker MMIC312, where innovation and style unite.
Here are the highlights of the Mayer Induction Cooker MMIC312's amazing features:
Sleek Black Panel
Sensor Touch Control
Energy-Efficient Cooking
10 Power & Temp Levels
5 Cooking Functions
Thermostatic Temperature Mode
Safety Features
Digital LED Display
Precision Heating Controls
Double Layer Pot
10. Airbot Induction Cooker IC01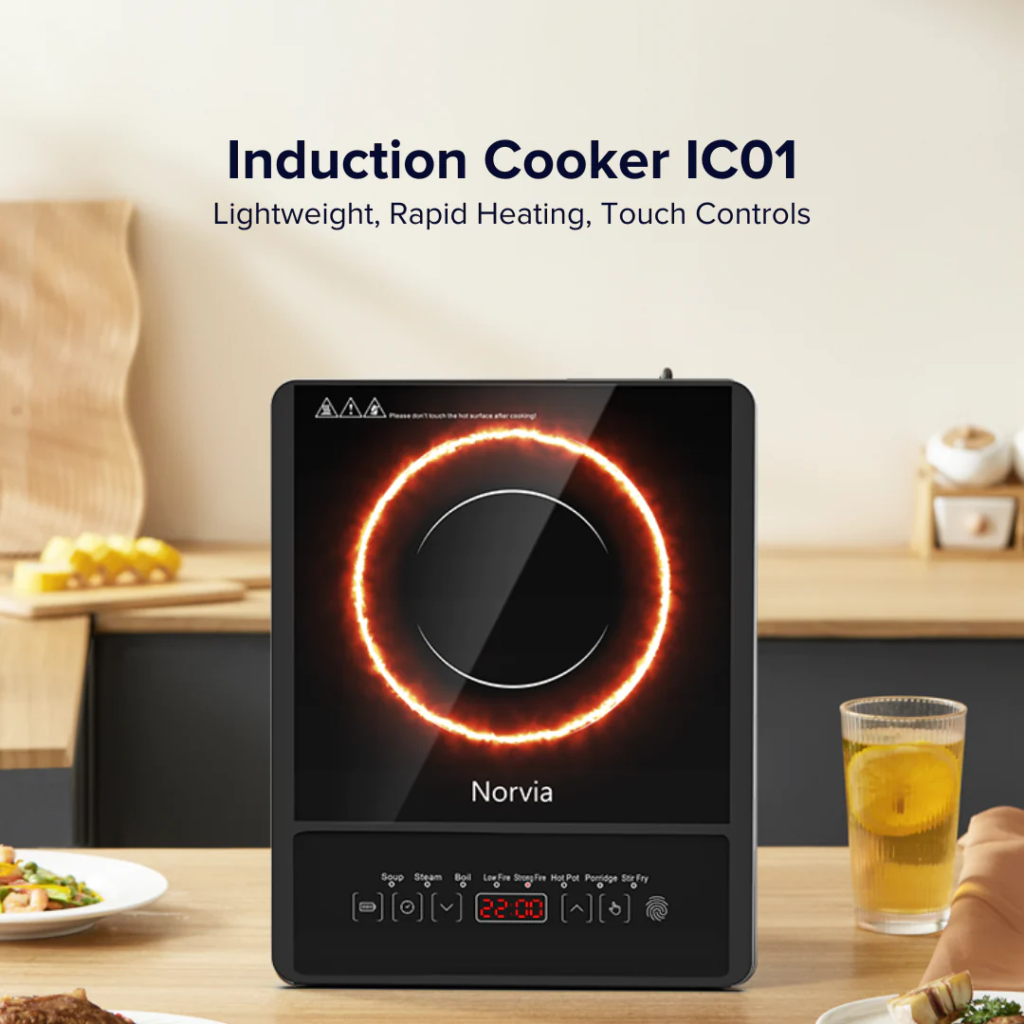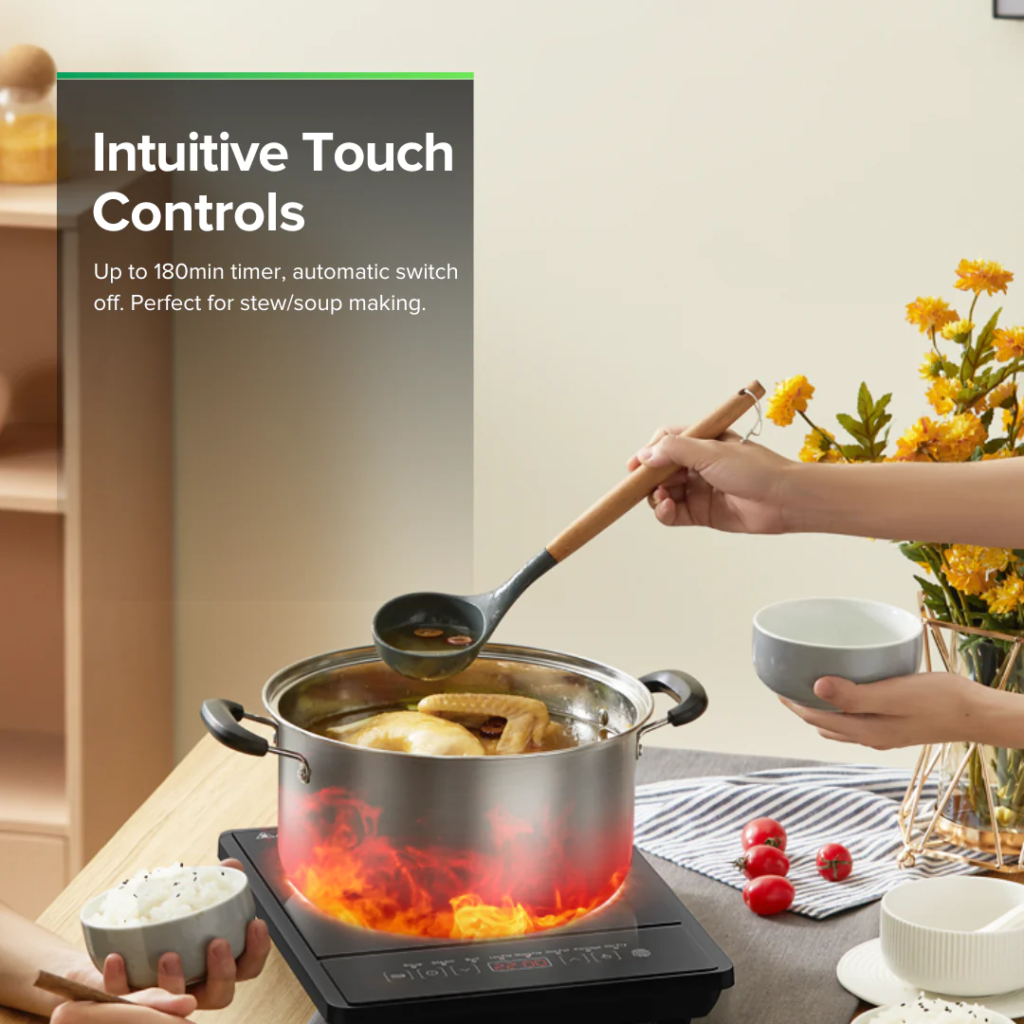 Airbot Induction Cooker IC01 is an incredible companion offering unparalleled convenience. Lightweight and portable, this induction cooker effortlessly caters to various cooking needs, from stir-frying to boiling stew, making it an essential addition to any kitchen. The user-friendly touchscreen controls ensure simple operation, suitable for all, including the elderly. Its sleek design fits seamlessly in limited spaces, while the hassle-free cleaning process involves a quick wipe with a damp cloth.
Whether you're at home or working overtime in the office, this cooker's portability and up to 3-hour timer provide ultimate flexibility. With multiple heating levels and versatile cooking modes, the Airbot Induction Cooker IC01 delivers efficiency in style and design.
Here are the highlights of the Airbot Induction Cooker IC01's amazing features:
Lightweight & Portable
Touch Screen Control
Versatile Cooking Modes
User-Friendly
Elderly-Friendly
Sleek Design
Hassle-Free Cleaning
Up to 3 Hrs Timer
Multi-Level Heating
Space-Saving Design
Conclusion
In the realm of culinary innovation, the induction cookers showcased here stand as a testament to the harmonious marriage of technology, design, and culinary artistry. From precision cooking to energy efficiency, these appliances have redefined the way we approach our kitchens. With sleek touch controls, versatile cooking modes, and safety features that grant peace of mind, they embody the evolution of modern cooking.
Whether you're a culinary enthusiast or a casual home cook, the best induction cookers in Singapore offer a gateway to effortless gourmet experiences. Embrace the future of cooking, where convenience, style, and functionality converge to elevate your culinary journey to new heights. Step into a world where every meal becomes a masterpiece, and every moment in the kitchen is a delightful adventure.