Do you have trouble keeping your home clean on a regular basis? Well! It is certainly a challenge, especially if your workday is demanding. Delaying cleaning for the whole week keeps you busy on the weekends too. So, how can you simplify clean-up and maintain your home on a regular basis? The solution is to get a vacuum cleaner. A good vacuum cleaner not only gets rid of dust and debris but also saves you time and energy.
Vacuum cleaners come in a variety of sizes and forms. We suggest you shop around before making the purchase. For example, you would like to look for a vacuum cleaner that can move easily through confined spaces. It should be light enough to be carried up and down the stairs. Get a hand-held vacuum cleaner if you need to clean couches or car seats. But if you must mop the floor, get a vertical one. If you have a tough work routine, buy a robot vacuum cleaner that cleans your house all on its own.
Certain vacuum cleaners have a two-in-one design and can be converted into both handheld and vertical forms. Some of these have cords, while others are cordless and powered by batteries. Many forms have bags to collect dust and trash, whereas others are bagless.
Features of a Good Vacuum Cleaner
A good vacuum cleaner should have the following features:
Strong Suction Power: The efficiency of a vacuum cleaner is determined by its suction power. The higher the suction power, the more effective cleaning it will do. Look for a vacuum with strong suction power to clear dirt and debris from various surfaces, like carpets, floors, couches, etc.
User-friendly and Maneuverable: A good vacuum cleaner should be easy to operate. It should possess features like adjustable suction settings and an intuitive control panel. It should be lightweight and easy to move around narrow spaces.
Effective Filtration System: An effective filtration system in a vacuum cleaner helps trap dust, allergens, and other microscopic particles. This feature is especially useful for people with allergies or respiratory problems.
Durable: A good vacuum cleaner should be durable and made with high-quality materials. It should be able to handle regular cleaning sessions. This provides value for your money and ensures your vacuum lasts for many years to come.
Quiet: Choose a vacuum cleaner with low noise levels. This is especially important if you live in an apartment with noise restrictions. Moreover, vacuum cleaners with low decibel ratings are also preferable in households with pets or young children who are sensitive to loud noises.
Versatile: A great vacuum cleaner should be versatile. It should be able to adapt to various surfaces such as carpets, hardwood floors, and upholstery. It must come with attachments that allow you to clean hard-to-reach areas such as corners and crevices.

Low Maintenance: A good vacuum cleaner is simple to clean and maintain. It should come with a removable and washable dustbin or bag. Similarly, features like washable and replaceable filters are also preferred in a vacuum cleaner.
Our Selection of 18 Best Vacuum Cleaners in Malaysia
From many of these options, we tested some popular vacuum cleaners on the market. Here we bring you the 18 best vacuum cleaners in Malaysia that you should buy to keep your home clean.
1. Dyson V12 Detect Slim Absolute (Yellow/Nickel)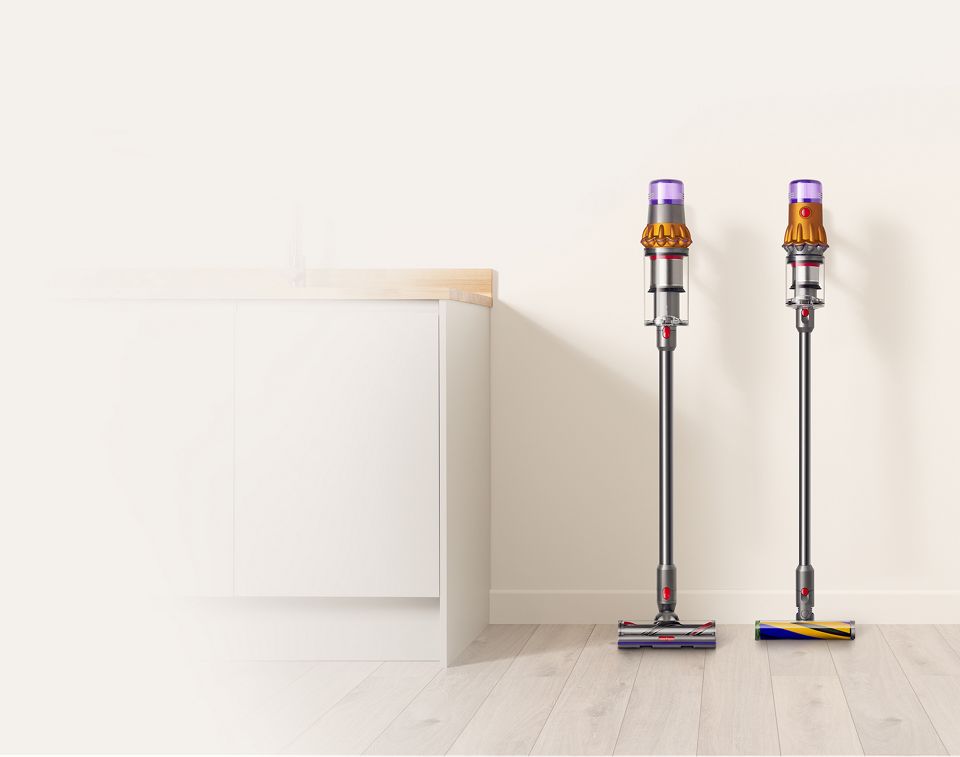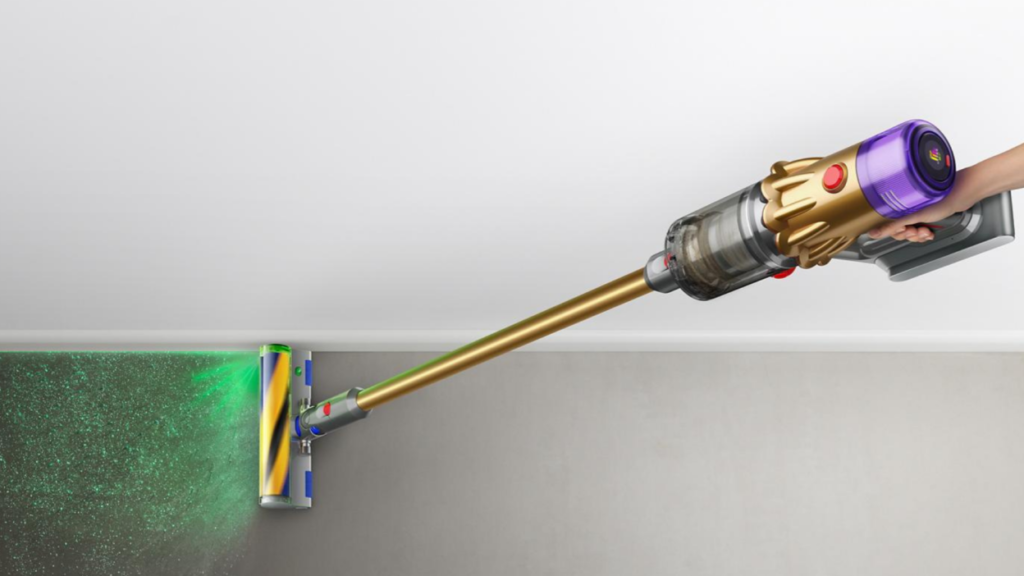 Dyson is a Singaporean manufacturer of household appliances that serves customers worldwide. It manufactures some of the best vacuum cleaners, desk fans, and air purifiers out there.
Dyson's vacuum cleaners are the most popular ones in Malaysia. All of them have strong performance for thorough cleaning. They can be moved around easily and are adaptable to different cleaning tasks. From their lineup of detect slim vacuums, Omni-glide vacuums, and V12 vacuums, our top pick is the Dyson: the V12 Detect Slim Absolute. It is equipped with advanced features that make cleaning easier and more efficient than ever before. With its innovative laser technology, invisible dust particles on hard floors become visible, allowing you to see the areas that require cleaning.
This vacuum cleaner features a piezo sensor that continuously measures and counts dust particles, automatically increasing suction power when needed. To inform you of its progress, this vacuum cleaner features a high-tech LCD display that shows in real-time what's being picked up.
The V12 Detect Slim Absolute is a cordless vacuum that features:
Dyson Hyperdymium™ motor
Root Cyclone™ technology
Energy-dense battery
Multi-stage filtration
Carbon fibre filaments
Versatile: multiple cleaning heads
Single-button power control
Three power modes
Wall dock
No-touch bin emptying
LCD screen
Easy to maintain
Click-in battery
2. Electrolux UltimateHome 900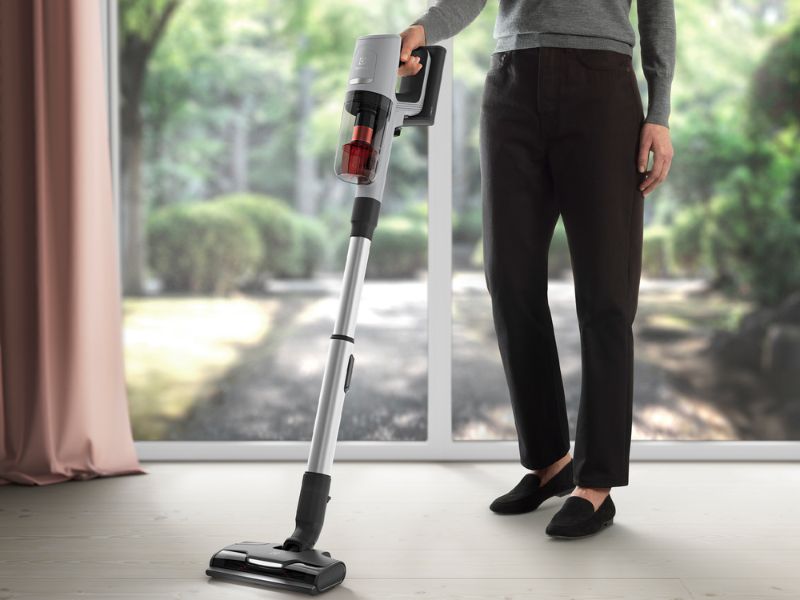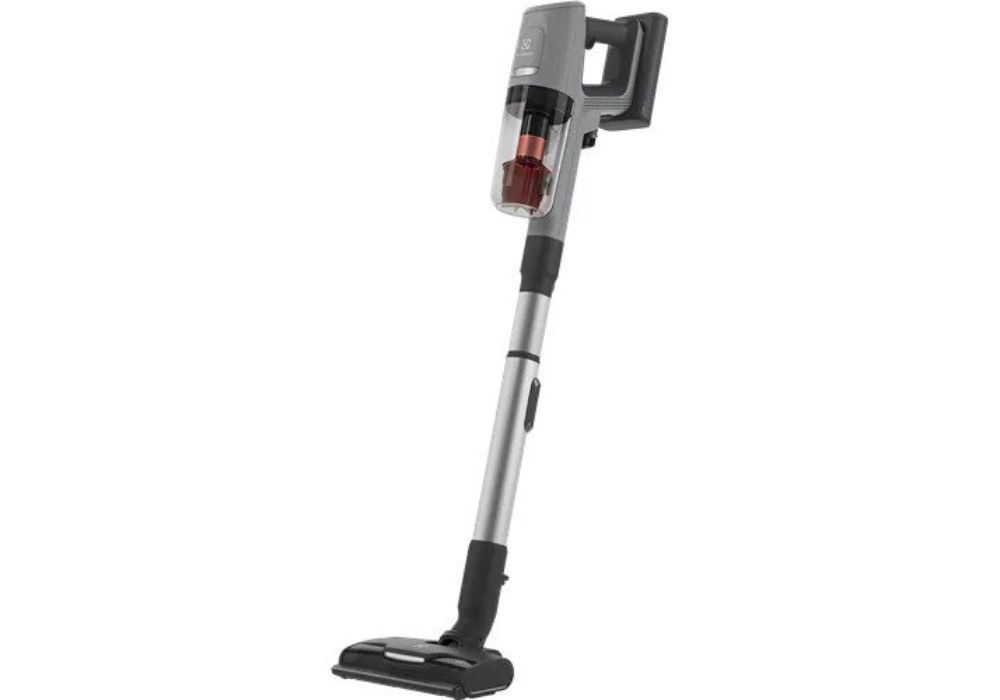 Electrolux is a well-known appliance company serving Malaysia and the rest of the world. It sells about 60 million household appliances in more than 150 markets annually.
From cordless vacuum cleaners to canisters, Electrolux has all the variety you may need. Our favourite vacuum cleaner from Electrolux is the UltimateHome 900 Vacuum Cleaner. It is a high-performance 150W cleaner that is meant for mopping floors.
This amazing vacuum cleaner has the following specifications:
Five times the suction power
Grab and Go function: requires no assembly
A PowerPro Multi-surface Nozzle: an attachment to mop every type of floor
Five-step filtration system
High durability
Automatic BrushRollClean: hassle-free brush cleaning
The 4 attachments that come with it are the PowerPro multi-surface nozzle, duster brush, short crevice tool, angled dusting brush
3. Tineco FLOOR ONE S5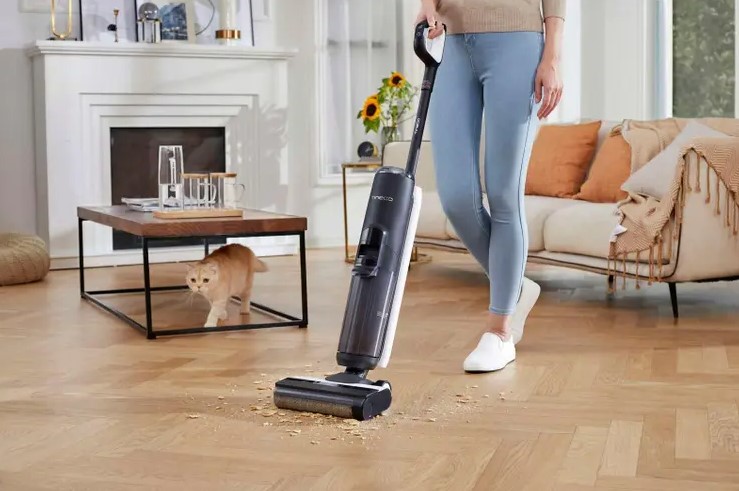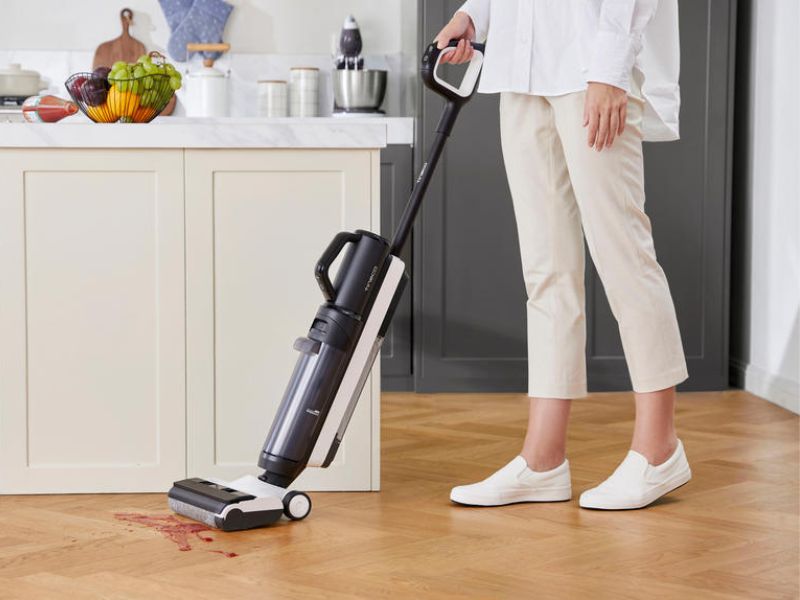 The next is another vacuum cleaner from Tineco: the Tineco FLOOR ONE S5. This vacuum cleaner features a large dustbin and smart self-cleaning, making it easy to maintain and clean. You can control this vacuum using your smartphone or voice commands, thanks to its compatibility with popular virtual assistants like Google Assistant. With its sleek design and exceptional performance, this intelligent vacuum cleaner is a good investment for a cleaner, healthier, and more comfortable home.
The following are its exceptional features:
iLoop™ smart sensor
Smart suction and flow control
Vacuum plus mop
Large capacity
Enhanced edge and corner cleaning
All-in-one display
35 minutes of cordless runtime
Voice control
Smart app integration
Smart battery management
Smart noise optimization
Smart self-clean
4. PerySmith Cordless Vacuum Cleaner Xtreme Series XS20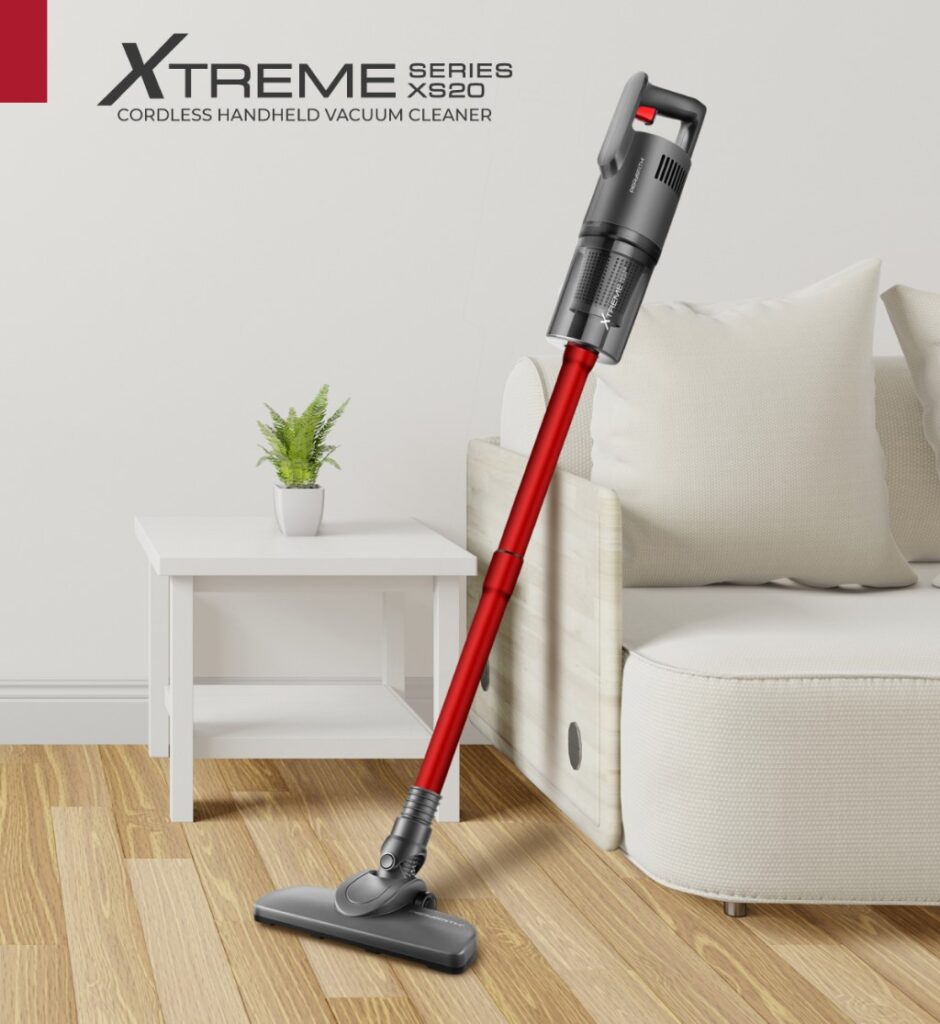 PerySmith specializes in producing high-quality home appliances that are not only high-performance but also affordable. It offers a range of top-tier vacuum cleaner models designed to tackle any mess, from pet hair to dust and debris. With advanced features such as HEPA filtration and strong suction power, their vacuums are the perfect cleaning solution for any household.
Our favorite from PerySmith is their XS20 Cordless Vacuum Cleaner. Its robust but lightweight design makes it easy to operate for everyone. The vacuum's multi-stage filtration system with a 0.25-micron HEPA filter ensures that even a minute speck of dust isn't left behind.
The features that make this vacuum cleaner our favorite are:
Robust design
Best in class 200W BOOST Motor
Large dust capacity of 0.8L
18,000PA maximum suction power
Powerful 22.2V Li-Ion Battery
4-Way adjustable floor brush
Multi-stage filtration system plus 0.25 micron HEPA filter
Smart overheat protection
Super lightweight with BUNA® durable body
Swivel steering
Easy to clean
Upgraded Version with Mop Pad
5. Kärcher VC 4s Cordless Vacuum Cleaner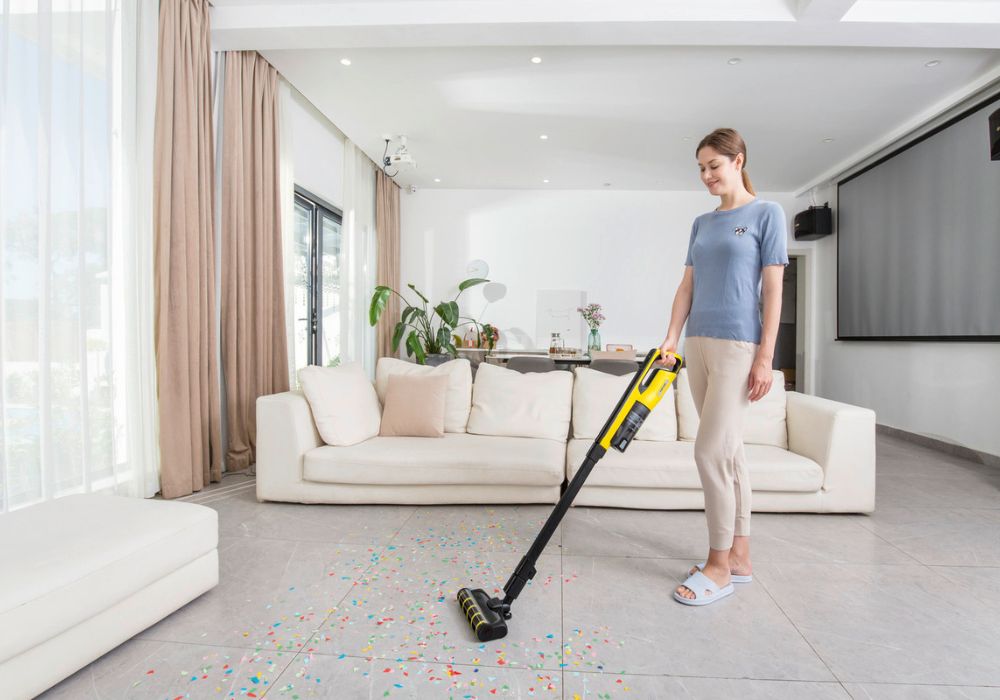 Kärcher is a leader in cleaning technology. It manufactures cleaning appliances for homes, vehicles, and industries. Kärcher's vacuum cleaners are one of a kind in Malaysia.
Our top pick is the VC 4s Cordless Vacuum Cleaner from Kärcher, a 2-in-1 cleaner that is adaptable according to your cleaning requirements. In just a few seconds, you can convert the upright cleaner into a handheld one.
Some of its amazing specs are:
Lightweight and easy-to-hold slimline design
A brushless high-speed motor
Large suction power
Power control, with 3 power levels
A multi-cyclone cleaning system for targeted cleaning
HEPA filter to capture minute particles
A motorized floor nozzle with a 180° hinge for easy movement in narrow spaces
Eco mode with a 60-minute run time
6. Panasonic Powerful Cyclone Cordless Stick Vacuum Cleaner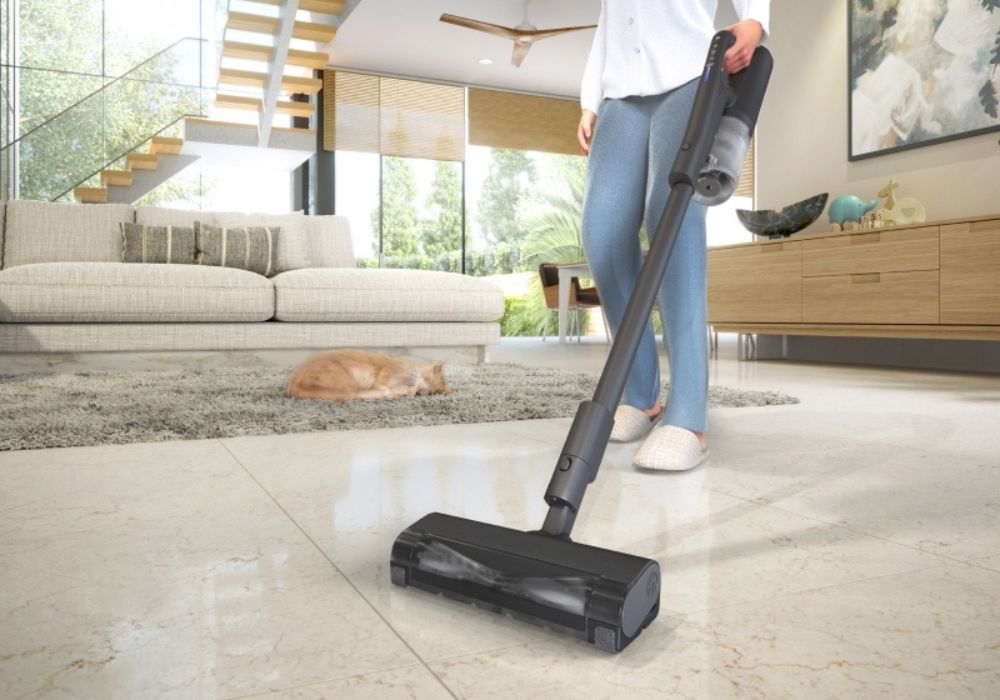 Panasonic is a global electronics company that manufactures high-quality household appliances, including vacuum cleaners. Their vacuum cleaners use the latest technology like AI, sensing, robotics, and clean energy to provide the ultimate cleaning solutions for every home.
The Powerful Cyclone Cordless Stick Vacuum Cleaner from Panasonic is made for every Malaysian home with pets. Although it's a stick vacuum cleaner, it can be converted into a handheld form for small cleanups.
The features which make it different from others are:
Tangle-free power nozzle that uses a conical double-brush head to clean all hair without getting them stuck to the brush
Antibacterial brushes to keep the germs away
House Dust Sensor: senses microscopic particles and mites etc.
Cyclone System with greater suction power and a stainless steel guard
Double motor: enables you to exert less force while cleaning
Washable dust box
Lightweight with 0.3 L of dust capacity
Attachments: mattress nozzle, 2-way dusting brush, flat crevice nozzle, wall-mounted adapter
7. Samsung BESPOKE Jet Premium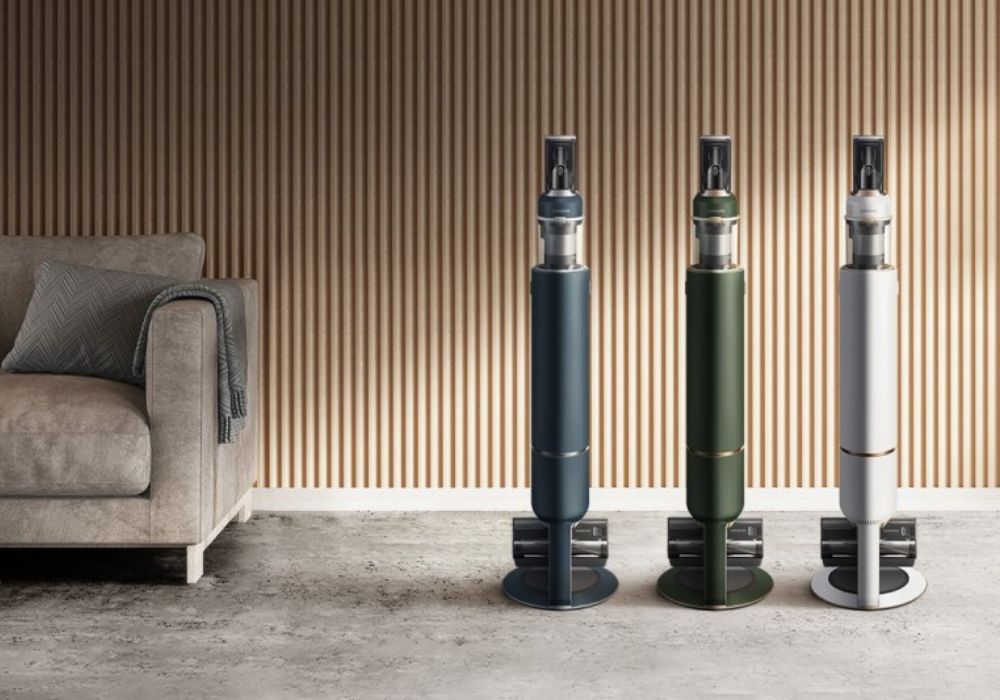 Samsung not only produces amazing mobile phones but also manufactures some innovative designs of vacuum cleaners. These are excellent blends of technology and cleaning concepts.
Samsung BESPOKE Jet Premium is a smart vacuum cleaner that should be present in every Malaysian home. It features an All-in-one Clean Station to meet all your house cleaning needs.
Some noteworthy features of the Samsung BESPOKE Jet Premium are:
Multi-layered filtration system to remove 99.9% of dirt and debris
210 Watt inverter motor that generates incredible suction power
Anti-bacterial dust bag: protects you from infections and allergies
Jet cyclone and multi-mesh grille for enhanced filtration
Aerodynamic design
Lightweight design: even children can clean their rooms
Long-lasting battery
Washable dustbin
8. Dreame M12 Wet & Dry Vacuum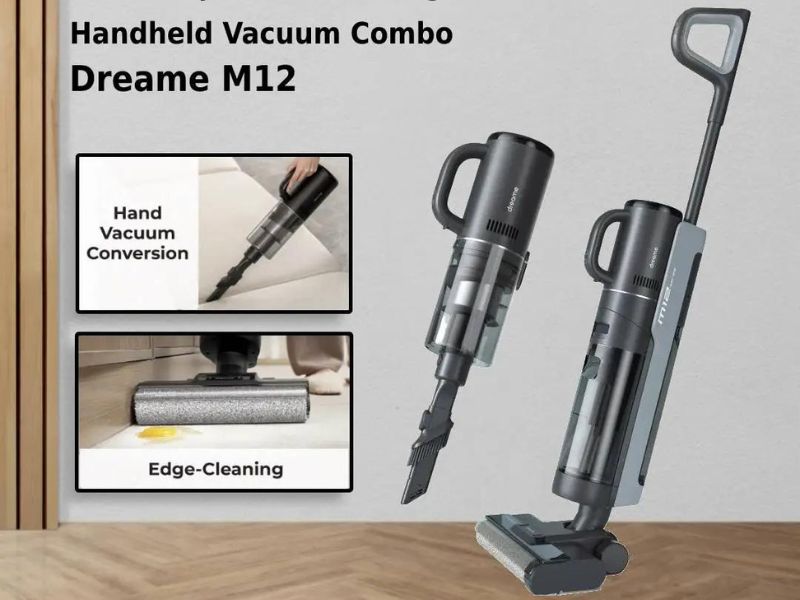 Dreame Technology, founded in 2015, is a leading-edge company that aims to improve the quality of life for people worldwide. Their main focus is on developing advanced cleaning appliances that incorporate astrodynamics technologies. The company provides the most potent products that simplify cleaning tasks for its customers everywhere. 
The Dreame M12 Wet & Dry Vacuum is designed to effortlessly wiping out messes involving spills, messes, hair, debris and many more. Equipped with an advanced circulation system and a powerful motor, this vacuum cleaner delivers exceptional suction power, and robust mopping feature. And you can take full control of this vacuum cleaner, thanks to its intuitive LED screen.
The amazing features of this vacuum cleaner are listed below:
Wet and Dry Cleaning
Portable Handvac Mode
Long Cleaning Session
All-in-one Display
Advanced Water Tank
Hassle-Free Self Cleaning
9. Xiaomi Mi Handheld Vacuum Cleaner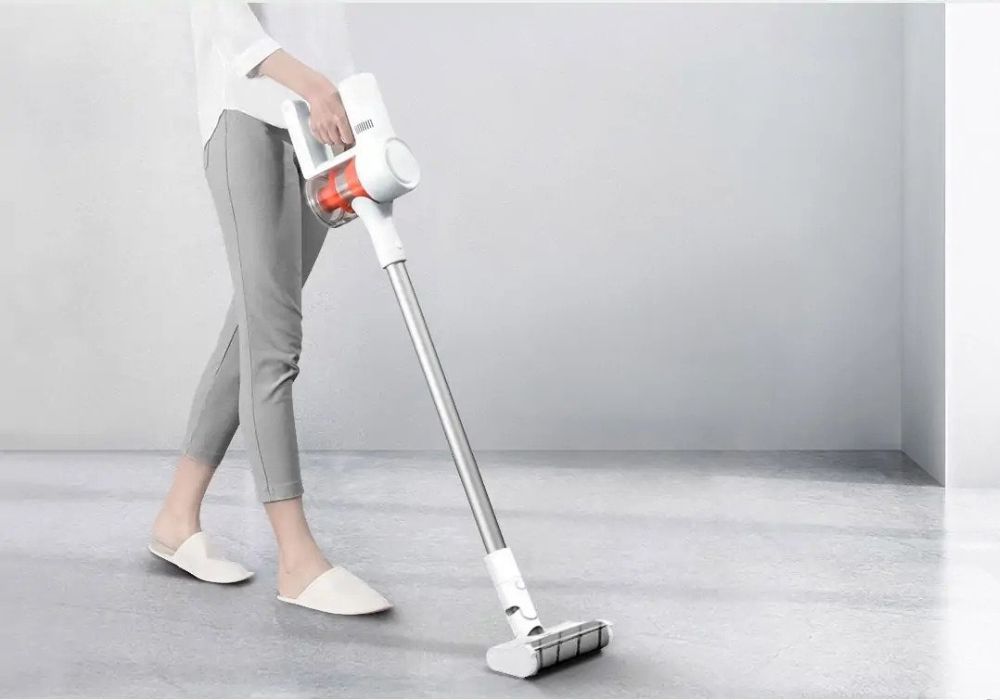 Just like Samsung, Xiaomi is also producing a high-end line of vacuum cleaners. Being a tech giant, their vacuum cleaners are equipped with the most intelligent features.
Xiaomi's powerful vacuum cleaner, the Mi Handheld Vacuum Cleaner, is cordless, portable, and easy to use. All of its parts employ the most innovative solutions for cleaning.
The Mi Handheld Vacuum Cleaner features:
100AW powerful suction with a 9-cyclone engine
A high-speed brushless motor provides efficient suction power
MAX mode for 4 times better suction power
5-step filtration system to capture 99.97% of dust particles
Removal of mites and other microscopic germs
Can clean an area of 160㎡ when charged fully
4 types of the brush head operate on multiple surfaces
Friendly for children and people with allergies
10. Dyson v8 Slim Fluffy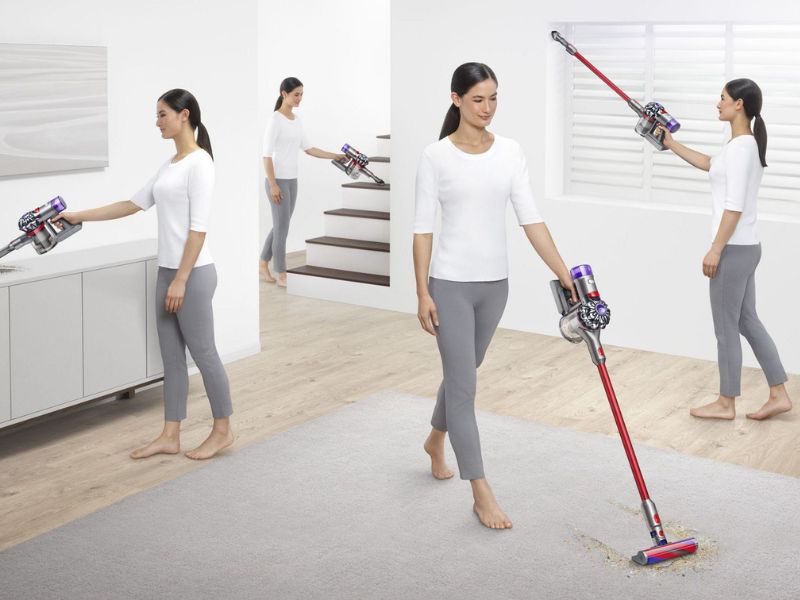 The Dyson V8 is part of Dyson's V-series lineup of cordless vacuums, which are known for their powerful suction, versatility, and ease of use. The V8 models feature a lightweight design, making them convenient for maneuvering around your home or in tight spaces.
One notable feature of the Dyson V8 vacuum cleaners is their "2 Tier Radial" cyclone technology, which creates strong centrifugal forces to capture fine dust and particles. This technology, combined with the V8's powerful motor, provides strong suction for effective cleaning performance.
This Dyson v8 Slim Fluffy features:
Lightweight Cordless Cleaning
40% Smaller
40% lighter Fluffy Cleaner Head
Power by Dyson Digital Motor V8
Advanced Filtration
Up to 40 minutes run time
11. Dibea F20 MAX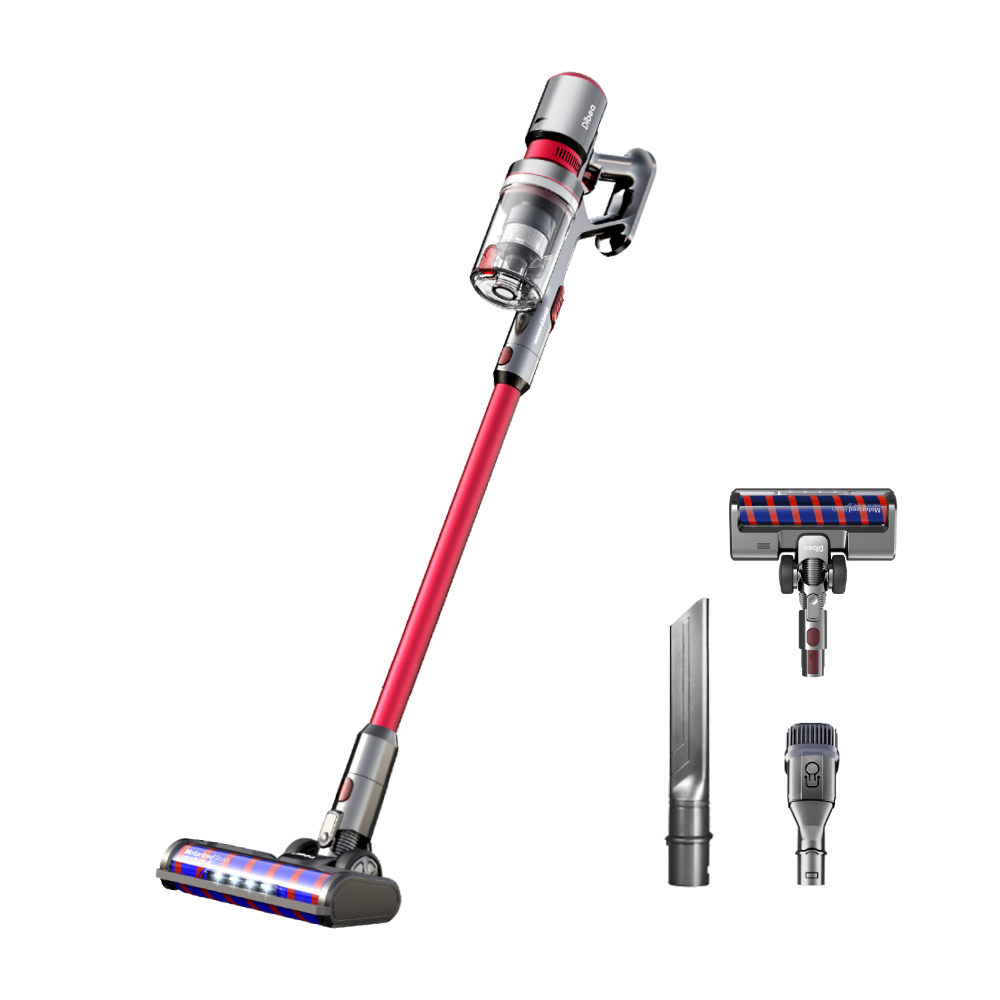 Looking for some reliable and efficient vacuum cleaners all in one place? Then, look no further than Dibea. The company's brand concept is "efficiency and convenience." They have deep industry expertise and focus on the premium quality of their vacuum cleaners. Almost all of their vacuums are wireless, brushless, and highly efficient. 
All vacuum cleaners from Dibea are built to last. But the one we found to be the most durable is the F20 MAX: Dibea's flagship model with the newest technology. Its powerful motor can handle even the toughest cleaning jobs with ease. From hardwood floors to deep carpets, this vacuum will leave your home looking and feeling spotless.
Some key features of this vacuum cleaner are listed below:
Whopping 25,000 PA true power suction
2200 mAh Li-ion battery
2-in-1 use: hand-held and vertical
3-speed modes
Up to 60 minutes of working time
Roller floor brush with bright power-saving LED headlights
Eco Mode
Efficient filtering function: multi-stage cyclone and hand washing high-efficiency filter cotton
Power indicator light bar
Large capacity dust bucket
Multiple accessories applications
12. Philips 8000 Series Aqua Plus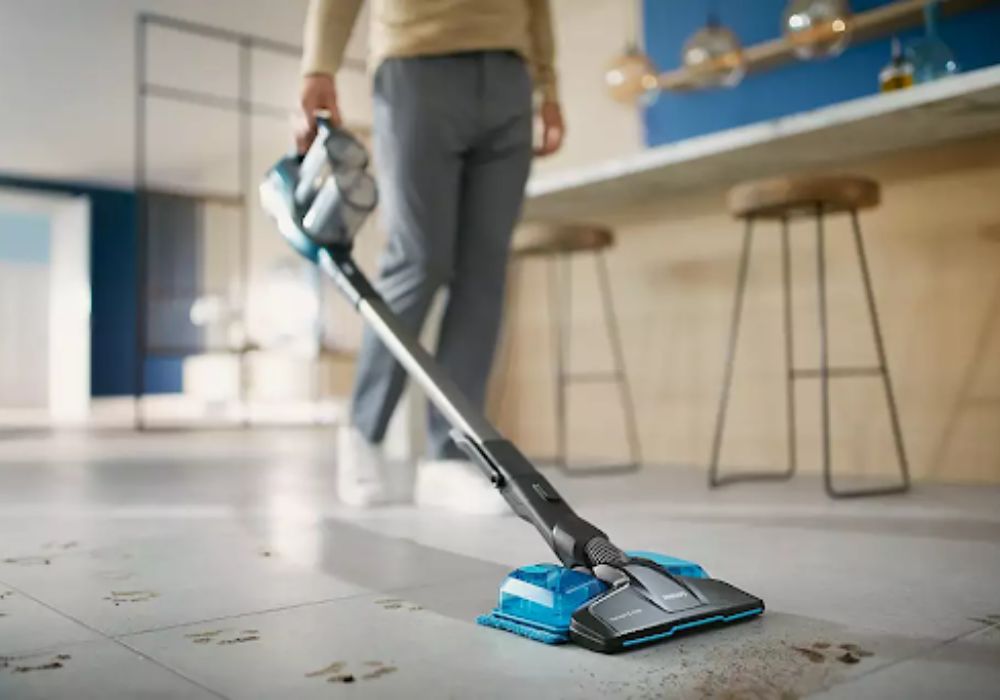 Philips is among the biggest electronics corporations in the world. The company is now concentrating on the field of health technology. This is why Philips vacuum cleaners are superior in terms of hygiene and health advantages.
The Philips Cordless Vacuum 8000 Series Aqua Plus has a special Aqua nozzle that cleans every type of dirt in a single mop. With the aid of this multifunctional vacuum cleaner, you can clean everything from your floor to your sofas.
Some of its distinct features are:
Cordless structure with up to 80 min run time
Wet wiping
0.6 L dust capacity
Triple filtration system: captures 99.7% of dirt
Dual suction channels
3-in-1 vacuum: vertical, aqua, and handheld
Built-in detergent box to add suitable cleaner while mopping floors
Accessories: extra filter, long crevice tool, extension hose, wet wipe nozzle, soft brush tool, 360° suction nozzle, and mini turbo brush
13. Morse Cordless Vacuum G10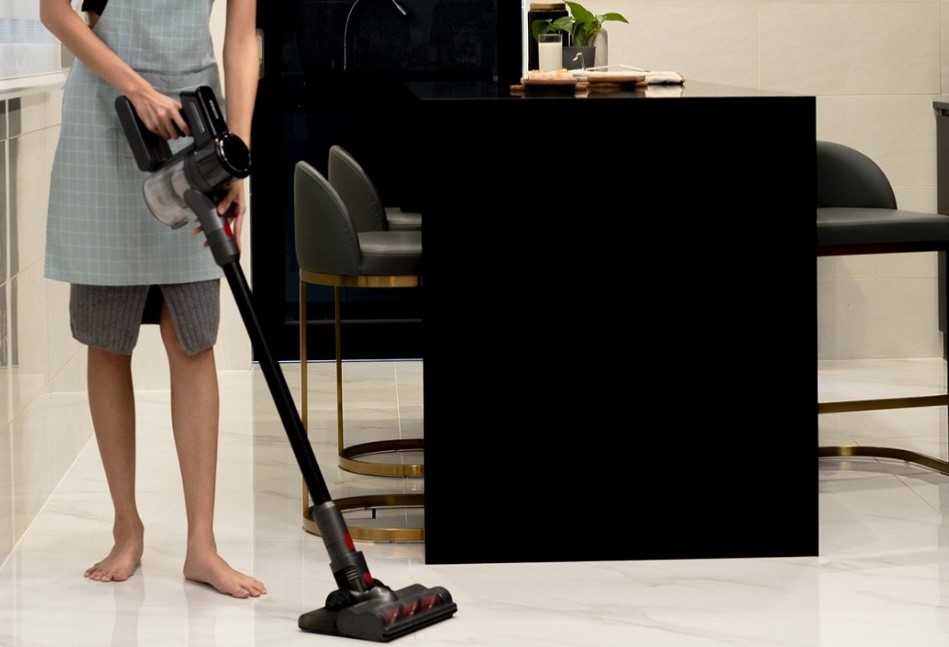 Morse Electronics is a Malaysian company that offers a range of innovative smart cleaning products. The company was established in 2018 and has experienced steady growth since then. It has now expanded into various categories of intelligent vacuum cleaners.
Our favorite from Morse is their Cordless Vacuum G10. With powerful suction and a variety of attachments, this vacuum is perfect for cleaning carpets, hardwood floors, and even tight spaces. Plus, the sleek design and easy-to-use controls make this vacuum a must-have for any home!
Some worth mentioning features of this vacuum cleaner are:
Twin battery pack design
Upto 50 minutes runtime
Strong suction power
Mopping function
New generation brushless motor
Lightweight and easy to lift
Magnetic water tank
Quiet operation
Variety of tools for multiple purposes
14. HIZERO F803 Bionic 4 in 1 Floor Cleaner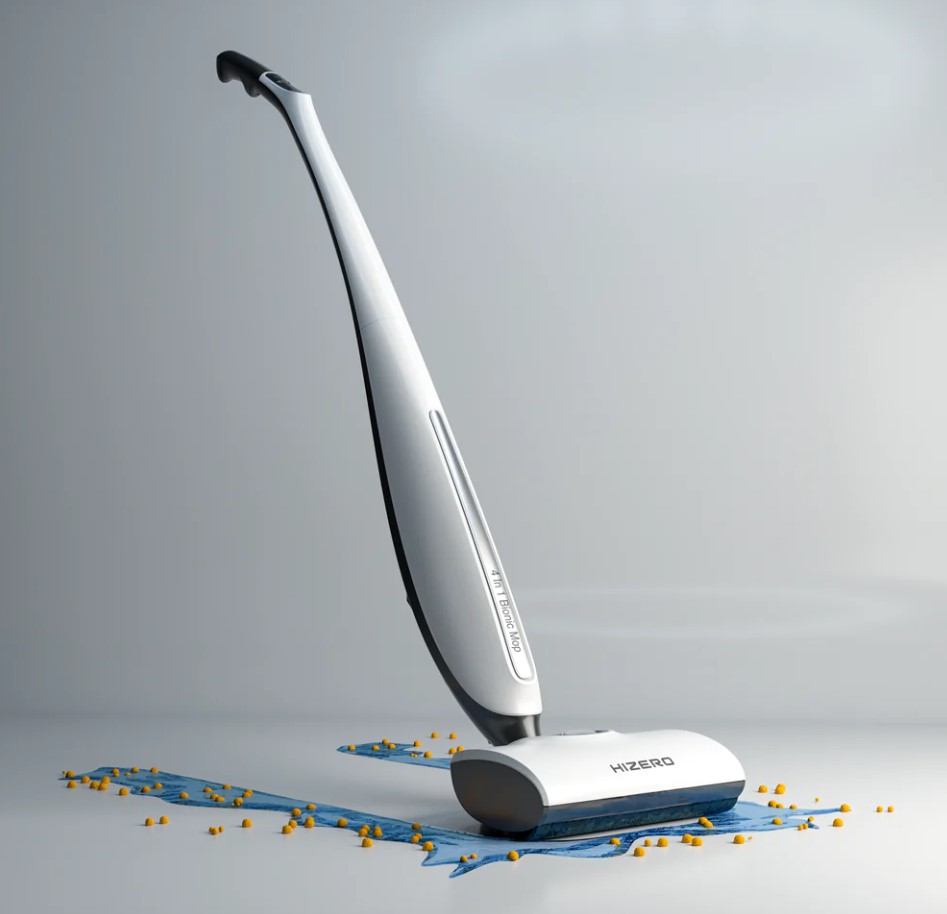 Experience the power of HIZERO's vacuum cleaners and see the difference in your home. The company demonstrates its super smart technology aimed at making home appliances more intelligent and health-friendly. Their vacuums also use innovative technology to provide superior and safer cleaning performance.
Our favorite from their product range is the HIZERO F803 Bionic 4 in 1 Floor Cleaner. It is the world's first bionic cleaner that goes beyond a vacuum. This device cleans hard floors by sweeping, mopping, and collecting wet and dry spills. It enables you to live more comfortably in a cleaner and healthier environment.
The following features make this cleaner a truly smart appliance:
Cordless upright design
All-in-one function
UltimateClean™ No Suction Technology
Formulated polymer cleaning roller
Multi-surface cleaning
Dual Flow Technology
Bionic tech instead of cyclonic or suction technology: a more healthy environment
No dust blowback or fumes
Takes only 10 minutes to clean up a 50 square meters floor area
Real-time self-cleaning
Quiet performance
60 minutes runtime
15. Tineco A11 Hero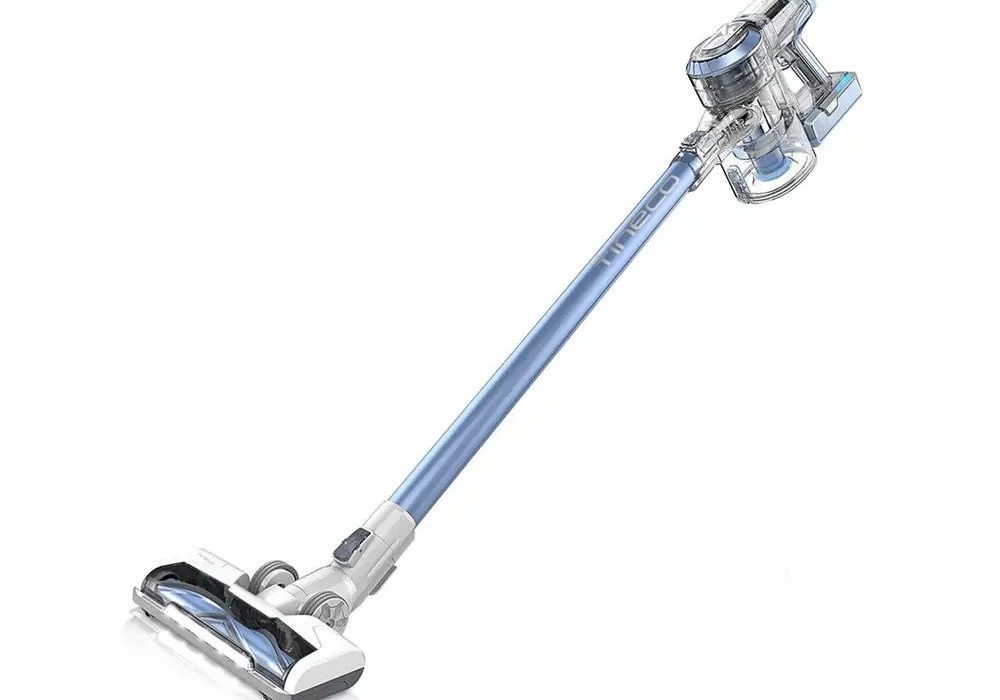 Tineco is a Malaysian brand that produces some big-time vacuum cleaners. The company's cordless vacuum cleaners are ranked 2nd on Amazon's most-sold vacuum cleaners in the US. Their stick vacuums are also rated as the best by consumers in Malaysia.
Our cleaner of choice from Tineco is the A11 Hero. It is a cordless vacuum cleaner that comes with 3 different power modes. Its smart and lightweight body makes it easy to use anywhere, anytime.
A11 Hero's best features are:
Wall mount dock: easy charging and space-saving
Better vacuuming with an enhanced suction of 120W
40 minutes of operation time, allowing you to clean your whole house on a single charge
Fully-sealed filtration with 4 step filtration system
0.6 L dust capacity
Convertible into handheld form
Trigger and continuous power modes allow you for both instant and whole-house cleaning
Instant dustbin emptying with a one-touch button
Multiple accessories for a better cleaning experience
16. Corvan Cordless Vacuum Wireless Cleaner K6S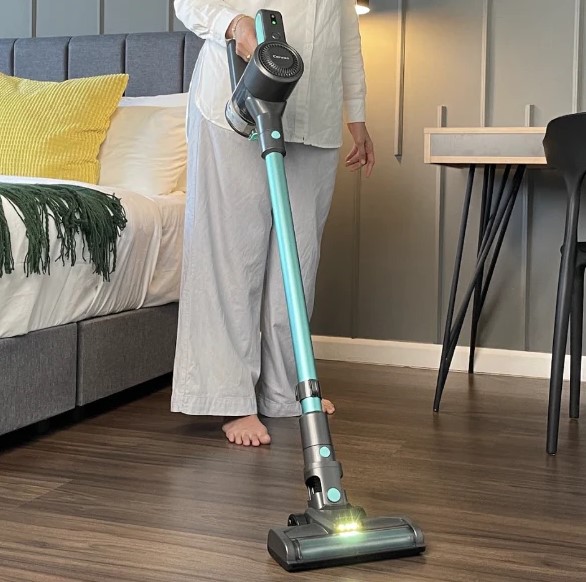 Corvan, established in Malaysia in 2014, brings cutting-edge technology to everyday home appliances. Their focus is on innovative products like robot vacuums and mops that make modern-day living easier. They create practical and stylish products that save time and streamline household chores.
Corvan's vacuum cleaners are designed with your comfort in mind. With ergonomic handles and adjustable settings, they are made to suit any cleaning task. And the best of Corvan's vacuum cleaners is their K6S Cordless Vacuum Wireless Cleaner.
The following are all the benefits this cordless vacuum cleaner has to offer:
Super lightweight: weighs only 1.2 kg
Easy to use
Cleans better with the strong suction power
Convenient and portable
Cleans a 2-storey house in 1 charge within 40min
Tangle-free cordless design
Long-lasting Li-ion battery pack
Super-effective dust pick up with Cyclonic Dust Separation System
USA engineered
Premium quality components
17. Sharp Cordless Upright Vacuum Cleaner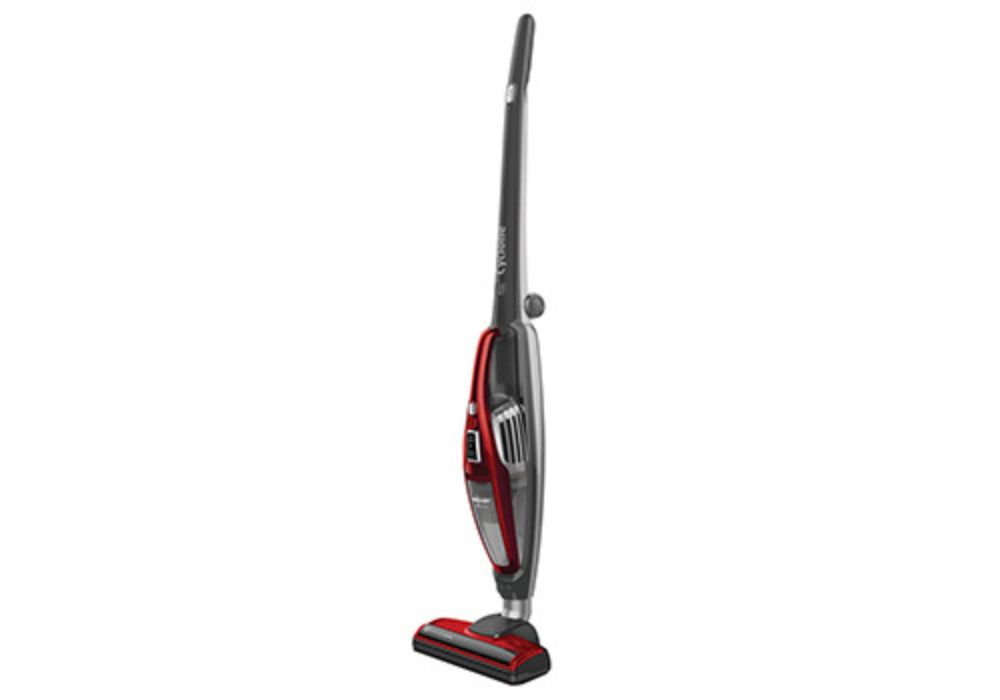 Sharp is a multinational electronics company that has a presence in Malaysia too. It manufactures energy-saving vacuum cleaners in bagged and bagless varieties.
Our recommended vacuum cleaner from Sharp is its 150W cordless upright vacuum cleaner. This 2-in-1 vacuum cleaner has a detachable unit that uncouples to form a handheld cleaning device. You can mop the floors and vacuum the mattresses and couches, all with this one device.
Some of its key specifications are:
Multi-use handheld unit for various cleaning needs
Cordless design with a rechargeable, long-lasting, lithium-ion battery
40 minutes of run time on a full charge
Dynamic floor brush
Powerful cyclone system for efficient suction
Foldable handle: easy to store
18. Hitachi PV-XD700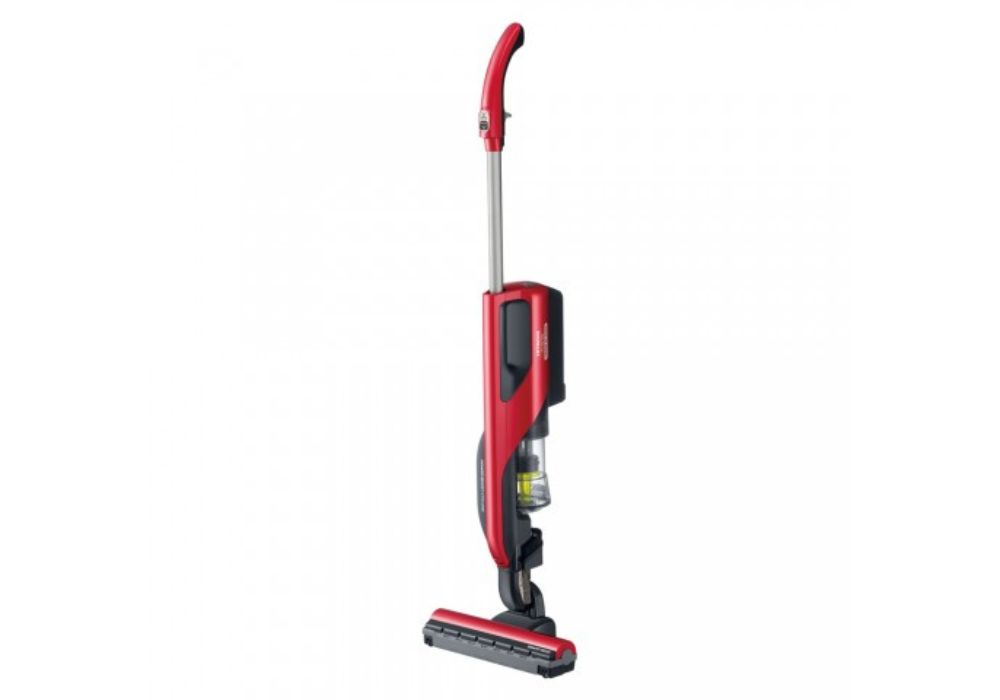 Hitachi is a Japanese original electronics company that produces appliances all over the world. It has a wide range of vacuum cleaners with stick, cylinder, and pail can categories.
The model that we found the best from Hitachi is the PV-XD700. It is a stick vacuum cleaner that comes with an extendable stick.
The main features of the PV-XD700 that are worth mentioning are:
Lightweight and easy to maneuver
High-efficiency motor: generates greater power, allowing you to exert less force
Power-boosted cyclone system
Dust disposal button:  disposes dust from the inner cylinder to an outer dust case which is washable
Auto-drive head that doesn't stick with the surface to be cleaned
30 minutes of operation time
Final Thoughts
The above 18 are our choices for the best vacuum cleaners in Malaysia that you should buy for your home. All of these are smart vacuum cleaners that will aid you in cleaning your home in a better way. We hope your next weekend doesn't get wasted on cleaning the house after you buy any of these.