Who wants to spend precious moments of their day scrubbing dishes by hand when there are so many other demands on our time? Dishwashing, often considered a necessary but laborious task, can become a breeze with the right dishwasher. We all deserve a kitchen companion that simplifies this daily chore, allowing us to reclaim our time and energy for more enjoyable pursuits.
The Bosch Series 4 Freestanding Dishwasher is one such appliance that promises to take the hassle out of one of the most tedious chores – dishwashing. With a plethora of features and a reputation for quality, it's time to dive into our comprehensive review and see if this dishwasher lives up to the hype.
Introducing Bosch Series 4 Freestanding Dishwasher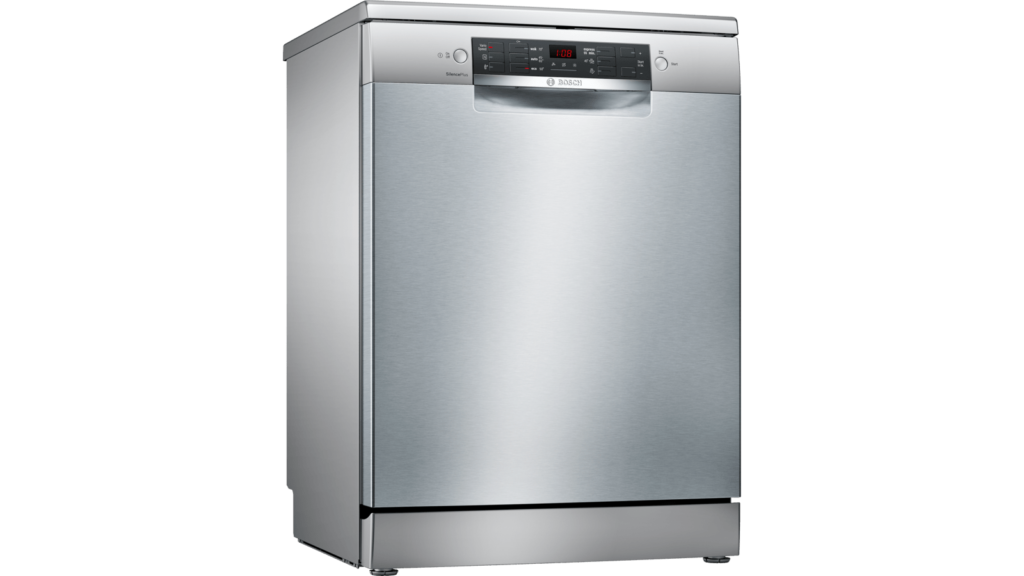 ✅ Get your Bosch Series 4 Freestanding Dishwasher today: click here
The Bosch Series 4 Freestanding Dishwasher is a versatile and high-performing kitchen companion. Standing at 845mm in height, it offers a substantial interior space that's thoughtfully designed to accommodate various dish sizes and shapes. The stainless steel body not only adds a touch of elegance to your kitchen but also ensures durability and resistance to rust, backed by an impressive 10-year rust-through warranty.
This dishwasher boasts an inherent heat drying system, which means no more fumbling around with damp dishes after a cycle. It operates quietly, thanks to the EcoSilence drive, making it a perfect fit for open-plan living spaces. With a 4-star energy and water rating, it strikes a balance between performance and eco-friendliness.
Features of Bosch Series 4 Freestanding Dishwasher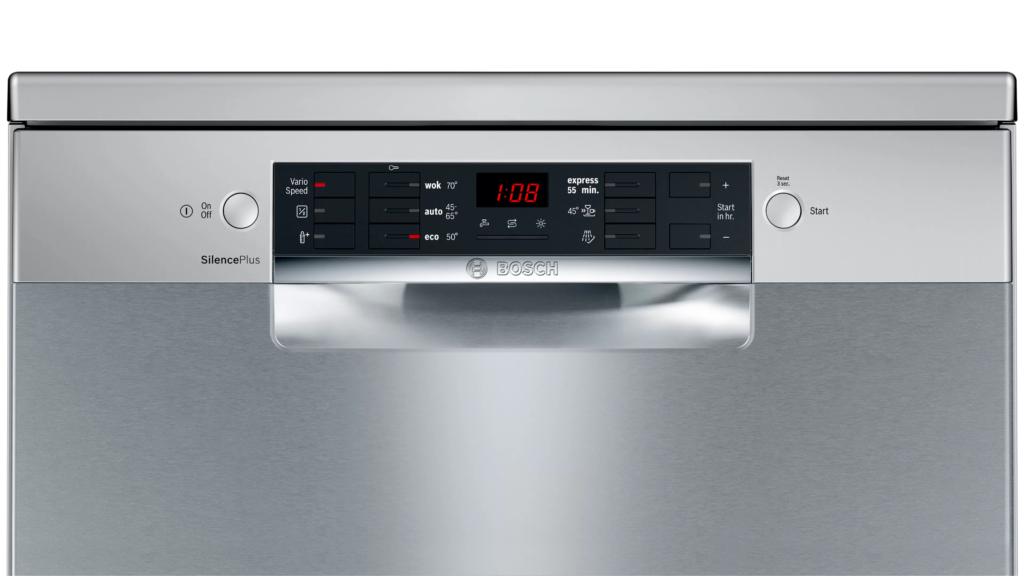 ✅ Get your Bosch Series 4 Freestanding Dishwasher today: click here
Bosch Series 4 Freestanding Dishwasher has the following amazing features:
VarioFlex Baskets: The VarioFlex basket system is the standout feature of this dishwasher. It offers a remarkable degree of flexibility in adjusting the interior layout to accommodate a variety of dishes. The red touchpoints and Rackmatic lever make it easy to configure the baskets to your liking. This system ensures that even the most awkwardly shaped dishes come out sparkling clean after just one wash.
Vario Basket for Cutlery: The included Vario basket for cutlery is conveniently placed in the lower basket, providing additional storage space and helping to keep your cutlery organised. It's a thoughtful addition that eliminates the need for a separate cutlery basket and maximises space efficiency.
Height-Adjustable Top Basket: The triple Rackmatic system allows you to adjust the height of the top basket by up to 5cm, even when fully loaded. This feature enhances flexibility, allowing you to accommodate larger items in the lower basket while ensuring thorough cleaning in the upper basket.
AquaStop Leak Protection: Leak protection is a must-have in dishwashers, and Bosch's AquaStop system delivers peace of mind. It automatically stops operation and pumps out water through a double-walled hose if a leak is detected, ensuring your kitchen is protected from water damage for the lifetime of the appliance.
ActiveWater Technology: Bosch's ActiveWater technology optimises water distribution, filter efficiency, heating speed, and pump output for superior cleaning results while minimising environmental impact. This technology ensures that every drop of water is used efficiently, reducing water and energy consumption without compromising performance.
EcoSilence Drive: This dishwasher operates with minimal noise thanks to the EcoSilence Drive, which features a brushless, energy-saving motor that significantly reduces friction noise. Now you can enjoy a peaceful home environment without sacrificing cleaning power.
DosageAssist: The DosageAssist feature ensures optimal cleaning results by effectively dissolving detergent tabs. The detergent drops into a special tray on the top basket, where it fully dissolves, guaranteeing thorough and consistent cleaning.
Anti-Fingerprint Coating: Say goodbye to unsightly fingerprints on your dishwasher. Bosch's Anti-Fingerprint solution reduces the visibility of fingerprints on the stainless steel surface, keeping your appliance looking clean and pristine.
Pros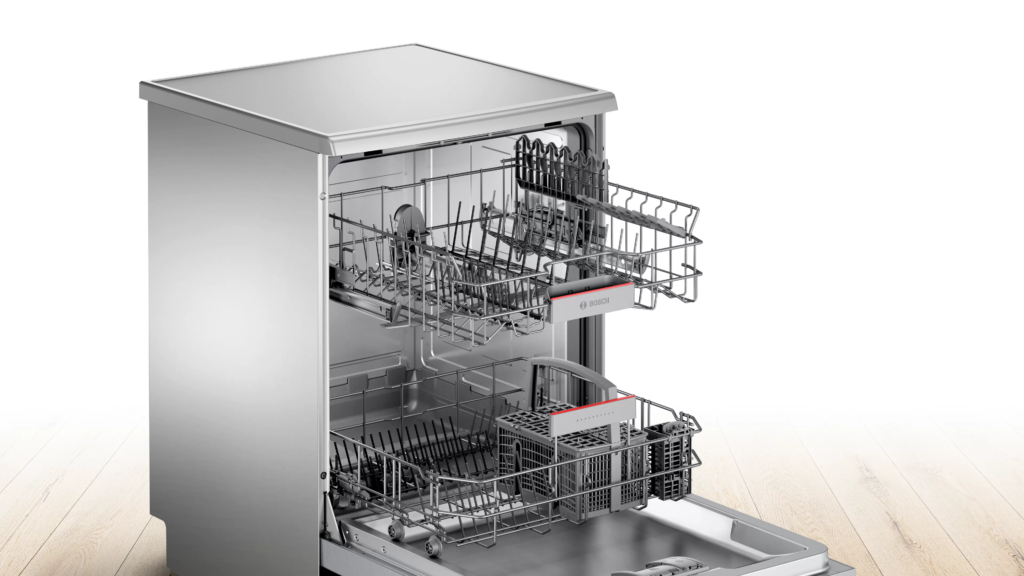 Following are the pros of the Bosch Series 4 Freestanding Dishwasher that we observed:
Convenient Internal Layout: The dishwasher's interior layout is well-designed, accommodating a wide range of dish sizes and shapes with ease.
Quiet Operation: It operates quietly, making it suitable for open living spaces where noise can be an issue.
Effective Cleaning: Customers have reported excellent cleaning performance, ensuring that dishes come out spotless.
Energy and Water Efficiency: With a 4-star energy and water rating, this dishwasher strikes a balance between performance and eco-friendliness.
Cons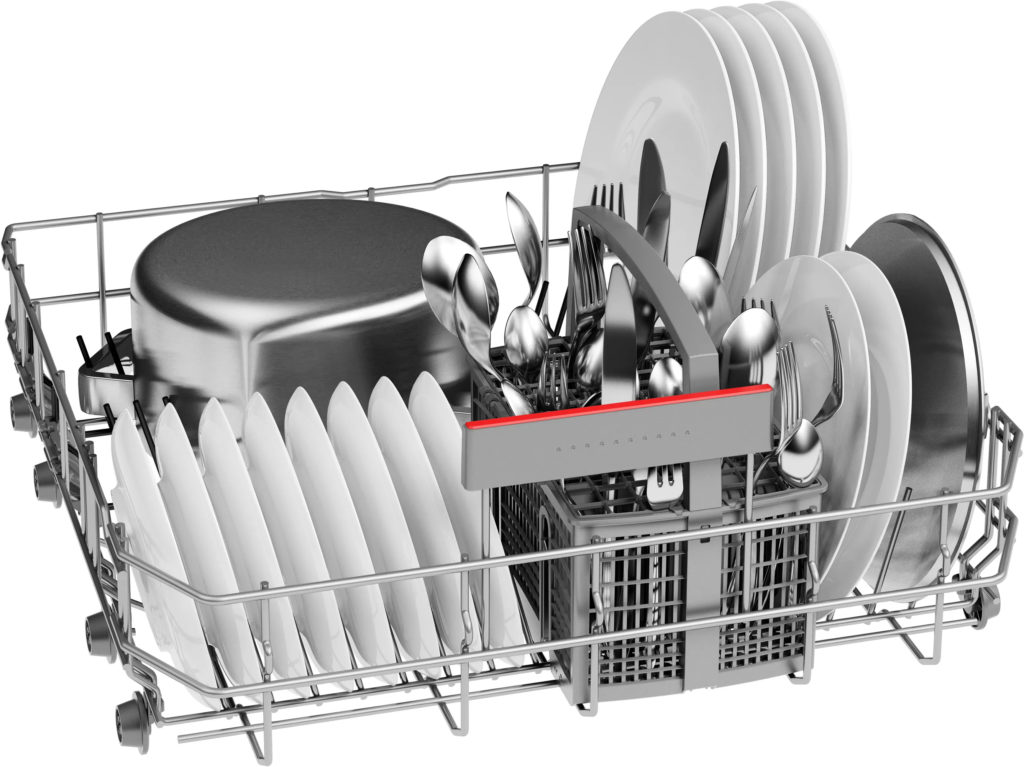 Following are the most repeated issues reported and observed by the users of Bosch Series 4 Freestanding Dishwasher:
Long Auto Cycle: The auto cycle can be quite lengthy, lasting up to 3 hours. However, given the excellent cleaning results, many users find it worth the wait.
Limited Drying: Some users have noted that the dishwasher may not dry dishes effectively. However, this is a common issue with many dishwashers and can be mitigated by using rinse aid.
Final Thoughts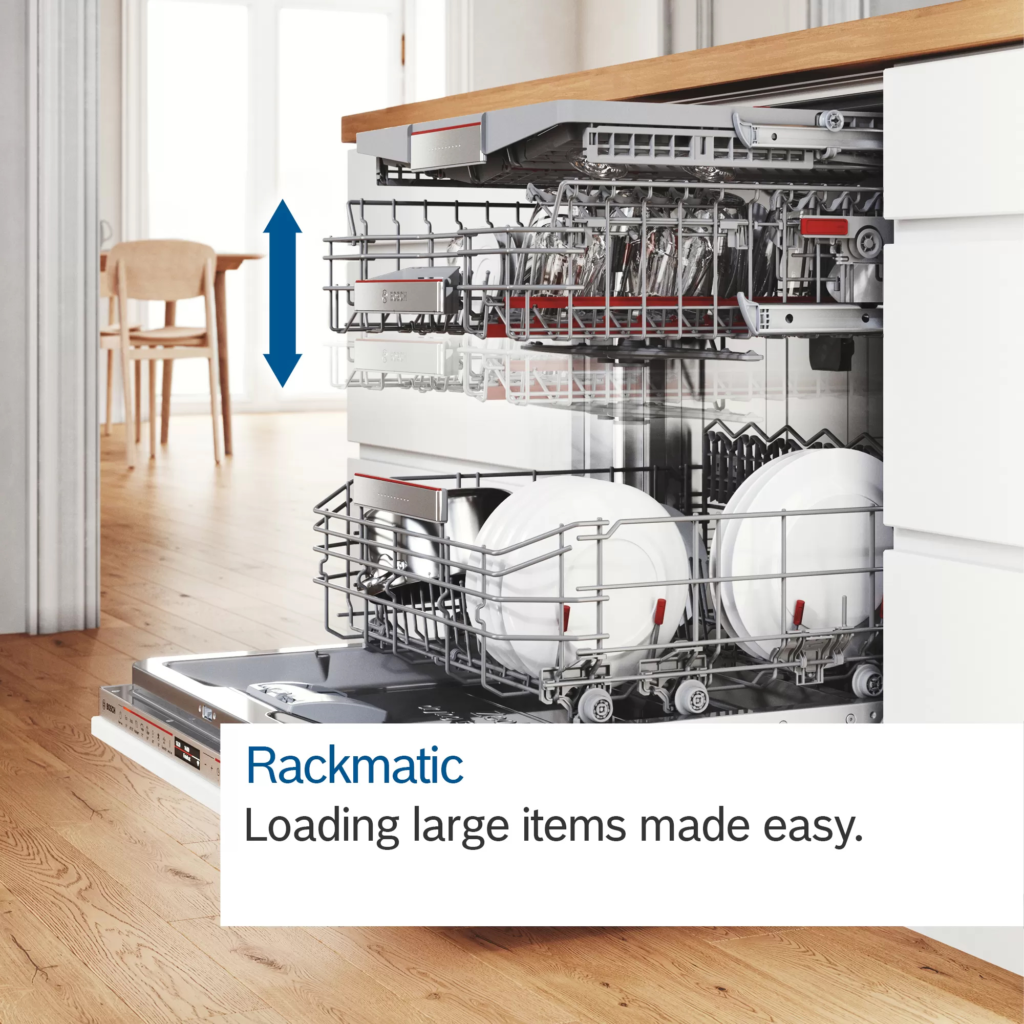 ✅ Get your Bosch Series 4 Freestanding Dishwasher today: click here
The Bosch Series 4 Freestanding Dishwasher is a stellar addition to any kitchen. Its array of features, including the innovative VarioFlex basket system, AquaStop leak protection, and ActiveWater technology, demonstrate Bosch's commitment to efficiency and performance. While the auto cycle's duration and drying effectiveness may be minor drawbacks, the overall cleaning prowess and energy efficiency make it a standout choice for those seeking a reliable and eco-friendly dishwasher.
Investing in the Bosch Series 4 Freestanding Dishwasher means investing in convenience and peace of mind in your kitchen. With its thoughtful design and robust features, it's a powerful appliance that can truly wash away your kitchen worries. Say goodbye to the hassle of manual dishwashing and hello to a cleaner, quieter, and more efficient kitchen experience.