With the rising heat brought on by global warming, everyone's looking for durable ceiling fans for their homes. Additionally, the demand for energy-saving options has grown when choosing a ceiling fan because of the depletion of energy resources and the rising cost of electricity bills. It can be difficult to find the ideal fan for your space because Malaysia is home to so many high-tech ceiling fans made by various electronic manufacturers. But don't worry—we did the work for you!
We're here to introduce you to the top ceiling fans Malaysia has to offer based on factors like the motor's power, durability, blade pitch, ease of use, energy efficiency, and a lot more. We've selected the top fan models in the market and created this comprehensive guide to help you find an ideal match for your Malaysian home. These will not only keep you cool in the summer but will also enhance the beauty of your home. So read on and say goodbye to inefficient and dull ceiling fans.
What to look for when buying a ceiling fan?
You must consider the following factors when buying a ceiling fan for your home:
Size of the fan: Choose the right size according to the dimensions of your room and the height of the ceiling.
Energy efficiency: If you don't want to spend too much on electricity bills later on, you better look for a fan with more energy star ratings. Or look for a fan graded as "A" in energy efficiency.
Motor: Choose a fan with a powerful but noiseless motor. The more efficient a motor is, the less power it is going to consume.
Blades and blade pitch: Decide on the number of blades before buying. Look for a better blade pitch for optimal airflow.
Control system: Consider the type of control system in the fan you're buying. Look whether it has a remote control or a wall switch.
Design: Choose a design that blends with your room decor well. It is totally up to your personal preference.
Installation: Make sure the fan you're buying is compatible with your existing electrical setup and can be installed easily.
Our Selection of 15 Best Ceiling Fans in Malaysia
Get ready to conquer the heat of the coming summers and add sophistication to your home with these fifteen best ceiling fans in Malaysia:
1. Panasonic NAMI 5 Blade Ceiling Fan: F-M15E2VBHH (60″)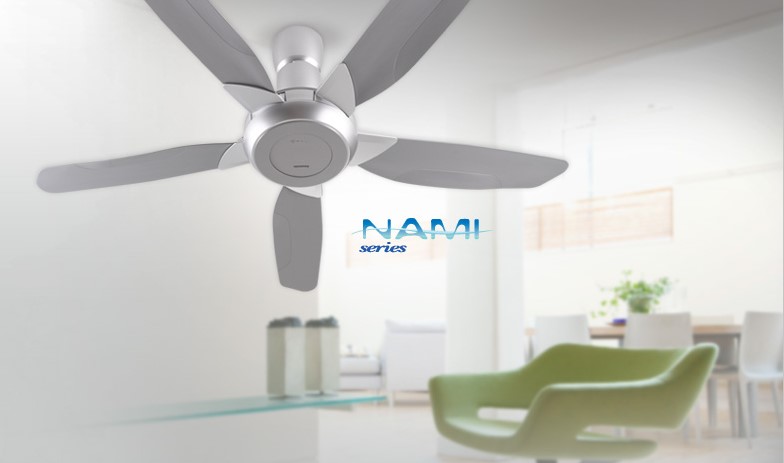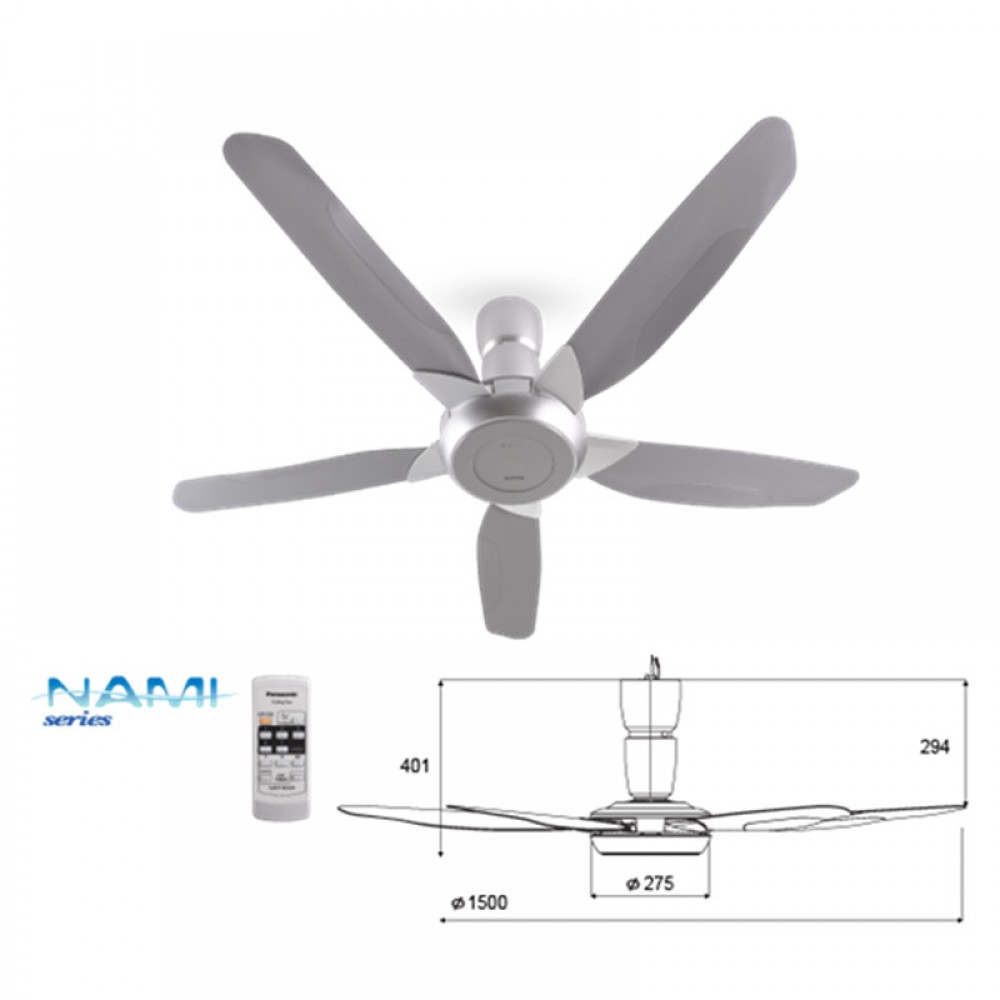 The first fan on our list is the Panasonic NAMI 5 Blade Ceiling Fan F-M15E2VBHH (60″). This fan provides you with the greatest convenience and elegance at once thanks to its powerful motor, durable blades, modern design, and superior air delivery. This ceiling fan is perfect for large spaces and has a remote control with five preset speeds. Its Yuragi function is aimed at giving you the experience of a natural breeze indoors.
The features that make it one of our favourite ceiling fans are:
Multiple safety features: thermal safety fuse, current fuse, safety wire, cut-off safety switch, and blade safety plate
1/f Yuragi function: sophisticated formula to generate a "Natural Breeze"
3D blade design for strong airflow
Durable blades made of PPG material
Remote control
5 preset speeds
Sleep Mode: automatically reduces fan speed
Energy efficient
2. Ecobreeze Ceiling Fan: EB-6018DC (60″)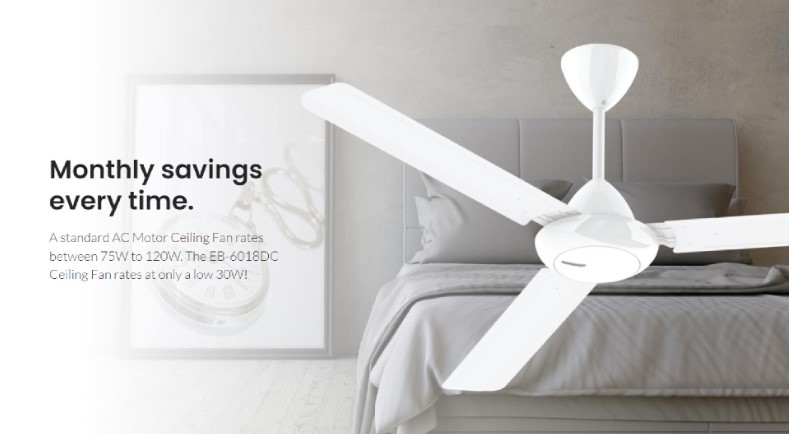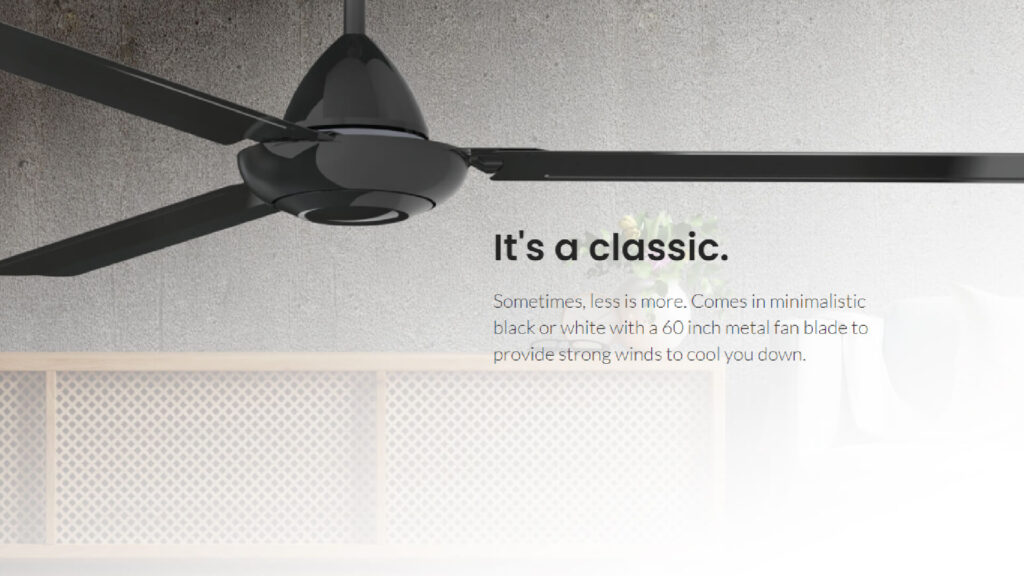 With the Ecobreeze Ceiling Fan EB-6018DC, you can now give your house the perfect solution for comfort and style. This fan comes equipped with an efficient motor and three 60-inch metal blades for powerful airflow and maximum air circulation in your room. Most of all, you can manage your comfort with the palm of your hand. Yes! Its remote control allows you to turn the fan on and off and change its speed while sitting on your bed.
Get ready for a cool, refreshing breeze with the following features of this ceiling fan:
Powerful DC motor: 235 rpm air delivery
5-star energy efficiency ratings
Power consumption as low as 30W
With remote control
5 different speed settings
Multi-level safety protection: double safety bolt, heat fuse, vibration plate, and safety wire
60-inch metal fan blades
3. Panasonic WIFAN Wifi 3-Blade Ceiling Fan: F-M12ECVBKH (48″)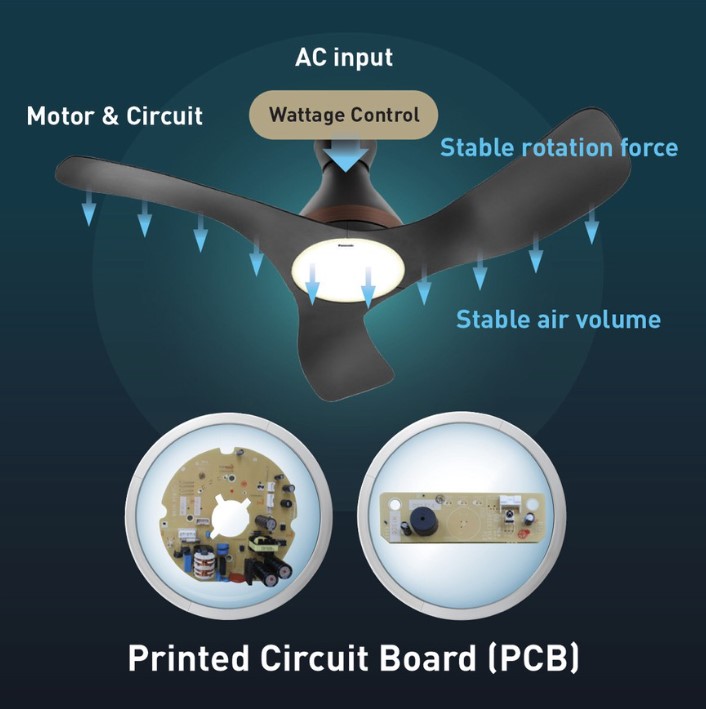 Stay calm and connected with the Panasonic F-M12ECVBKH ceiling fan. With its cutting-edge Wifi technology, you can easily control this WIFAN ceiling fan from anywhere using a mobile app. No more worries about leaving your fan running while you're away – simply use your mobile device to turn it off. It has a handy remote control as well. Featuring an efficient motor, broader air distribution, a natural breeze mode, and whisper-quiet operation, this fan is a must-have for any Malaysian household.
Some features of this ceiling fan that are worth mentioning include:
Wider air delivery: about 200 m³/min
Mobile app control: control your fan anywhere anytime with the mobile devices
Energy efficient
Simple and contemporary remote control
Scheduling function, sleep mode, and On/Off timer
New generation powerful DC motor
1/f Yuragi: Natural Breeze function
Quiet operation: low noise level of only 41 decibels
A reverse function that rotates the fan in a clockwise mode: an even airflow and more comfortable temperature
Memory function
Enhanced safety features
Durable ABS-GF blades
4. Panasonic Bayu 4-Blade Ceiling Fan: F-M14CZ VBKH (56″)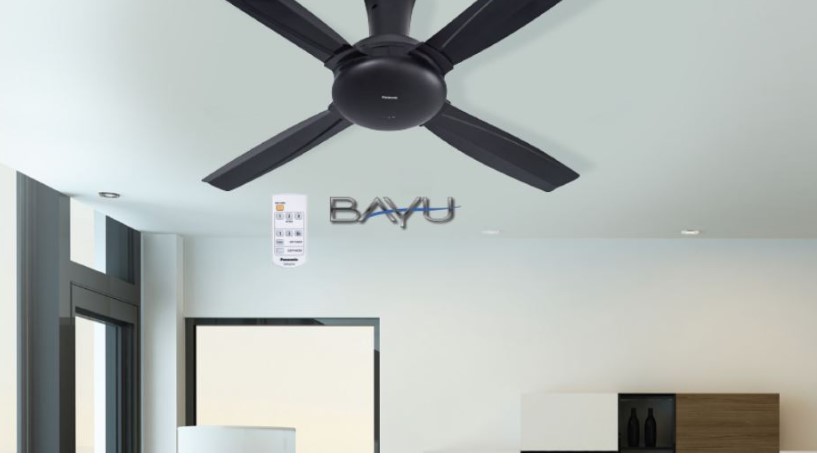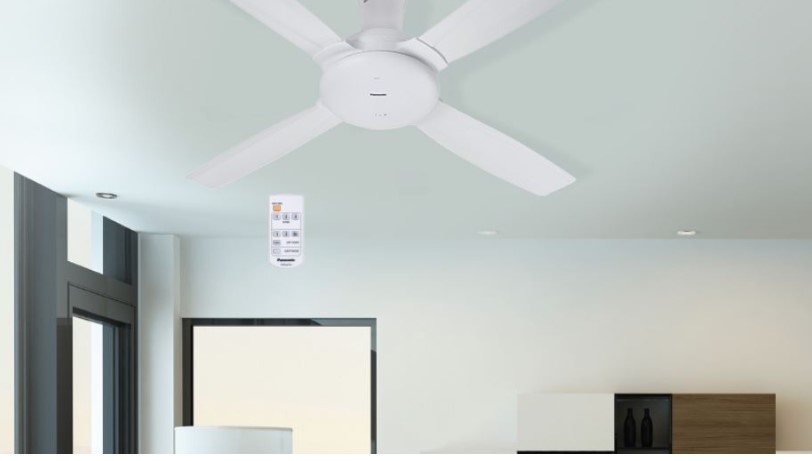 Enjoy a cool breeze with a touch of elegance with another fan from Panasonic: the Bayu 4-Blade Ceiling Fan F-M14CZ VBKH. This fan boasts a sleek matte black finish, an efficient motor, and four durable blades, making it the perfect cooling system for any room. Moreover, it lets you control your comfort with ease using the remote control, which has three-speed settings.
With these incredible features of the Panasonic Bayu Ceiling Fan, you can have it all:
4-blade elegant design
Low energy consumption with 5-star energy ratings
Enhanced safety features
Maximum air circulation
Remote control with 3-preset speed
1, 3, 6-hour off timer and 3, 6-hour sleep timer for easy scheduling
Easy to install
5. Pensonic Ceiling Fan: PCF-6001B (60″)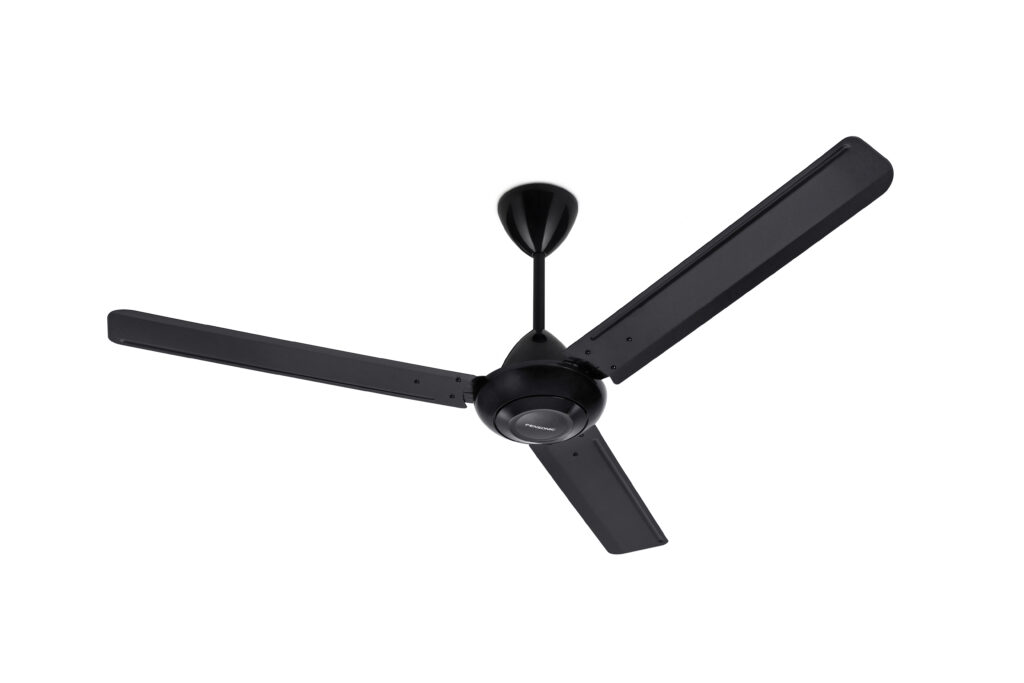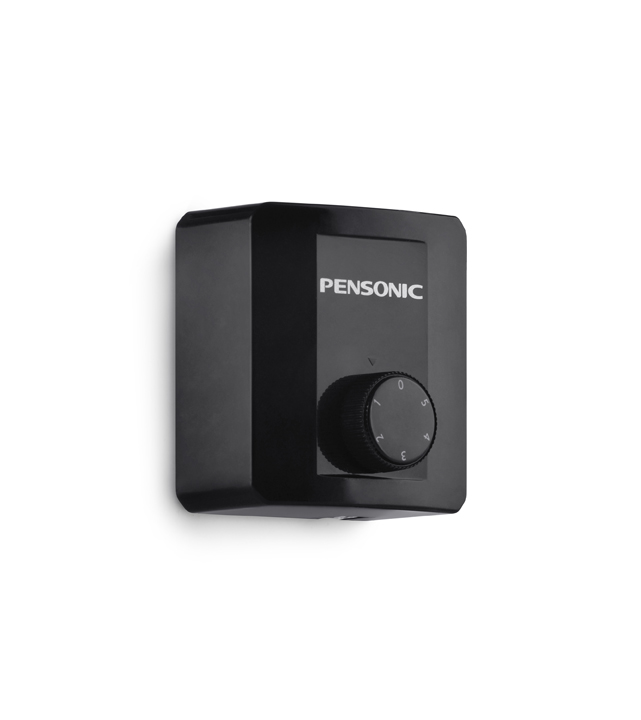 Now you can enjoy a cool breeze and comfort all at once with the Pensonic PCF-6001B ceiling fan. This fan is ideal for the climate in Malaysia. Its powerful copper motor and smooth operation add to its overall efficiency. It elevates the style and sleekness of any room's decor with its simple and basic design. A 5-speed regulator control makes controlling the fan simple, and its safety features give you the peace of mind you need.
The Pensonic PCF-6001B ceiling fan combines many amazing features, some of which are listed below:
Low power consumption with only 72W wattage
Sleek 3-blade design
The black color that goes well with any interior
Pure copper motor: increases efficiency and reduces electricity bills
5-speed regulator control
Maximum safety protection: safety wire, safety thermal fuse, etc.
6. Deka 5 Blade Ceiling Fan: DS11 (56″)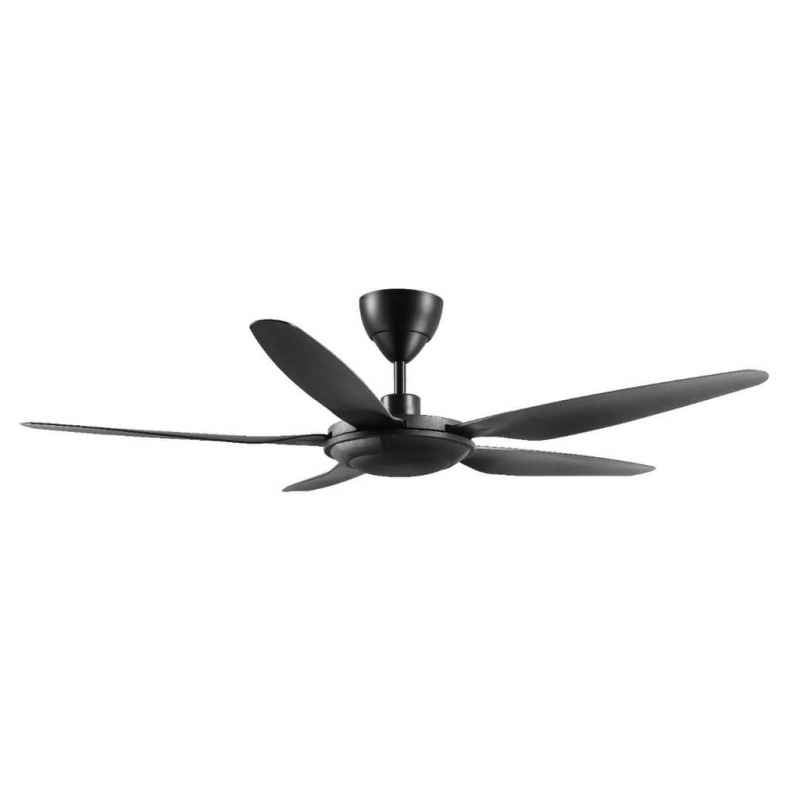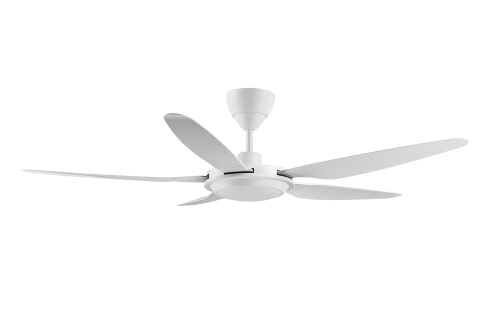 Stay ahead of the summer game with our favorite ceiling fan from Deka: the DS-11 5-blade ceiling fan. With its powerful motor and five blades, this fan delivers maximum air circulation for any room. Want even more circulation? Its reverse airflow feature have you covered. Its stylish design and easy control with a remote control make it a great addition to any home. But what's the real game changer? It's the DS-11's Quiet Breeze function that provides a cool, serene atmosphere without producing any annoying noise.
Upgrade your home with the no-regret choice of the Deka DS-11 ceiling fan. Here are some of its features:
Maximum air circulation with the 5-blade design
High-speed powerful DC motor
Energy efficient
Reverse airflow: 7 speeds forward and 7 speeds reverse
Quiet Breeze function: experience natural breeze in a quiet atmosphere
Slimline fully functional remote control
7. KDK Ceiling Fan: K15V0 (60″)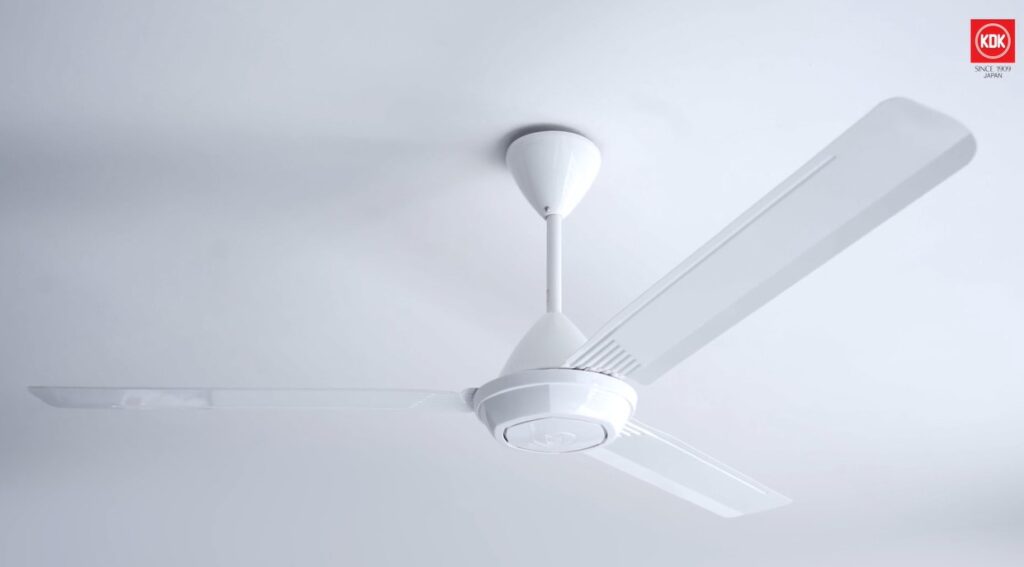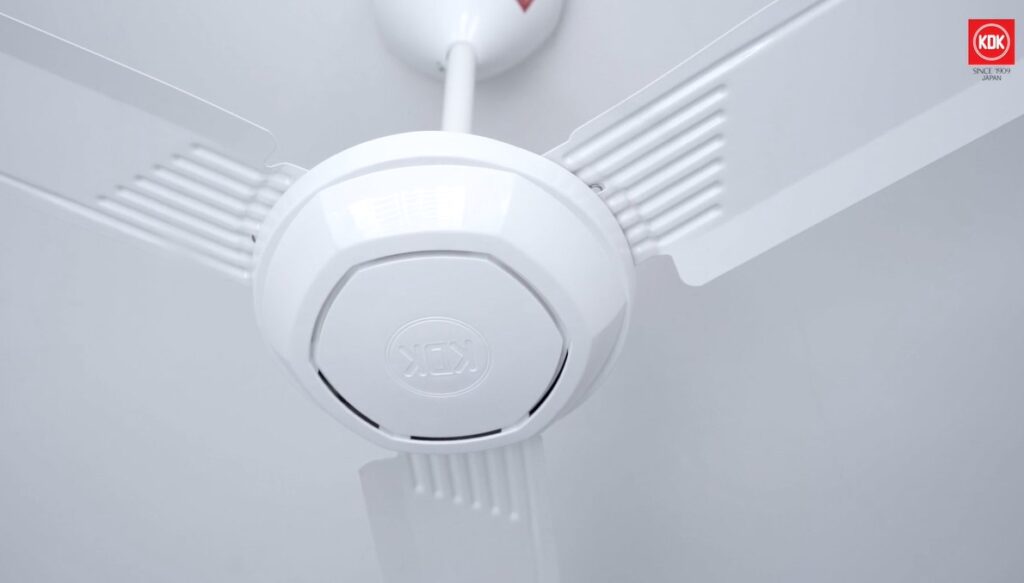 Beat the summer heat and transform your living space into a cool and stylish oasis with the KDK K15V0 ceiling fan. This ceiling fan has a minimalist white finish that creates a fresh and modern look, seamlessly blending into any decor style. Apart from design, the fan is a no-match in its operation as well. It saves energy, is highly safe, runs quietly, and delivers the highest airflow. What else do you need? Take charge of your comfort with ease through the simple operation of its wall regulator. 
The features of the KDK K15V0 ceiling fan that make it a must-have appliance are:
Energy-saving 14 Pole Condenser motor
5-star energy ratings
Enhanced safety with the cut-off safety device and blade safety plate
Maximum air delivery: 230 m³/min
Unique design: hexagon decorative cover and white finish
Low noise level: less than 62 decibels
Three wider sweeping blades
8. Alpha Ceiling Fan: AX70-3B (56″)


Experience the perfect balance of style, functionality, and energy efficiency with the Alpha AX70-3B/56 Ceiling Fan. This sleek and high-performance fan offers 8 adjustable speeds, including a Natural Wind mode for a refreshing breeze. You can control the fan from anywhere in the room with the included remote control, which also features a timer function with preset durations. The fan lets you enjoy forward and reverse airflow for year-round comfort. It operates quietly and efficiently with its energy-saving DC motor, saving up to 75% of energy.
Enjoy the soothing breeze with the following features of the Alpha AX70-3B/56 Ceiling Fan:
Remote control
8 speeds available
Natural wind mode
Timer function with preset durations: 1hr, 3hr, 6hr and 8hr
Forward and reverse air circulation
Low noise operation
High-performance DC motor
Energy saving up to 75%
9. Sharp Ceiling Fan – PJC60CFKA (60″)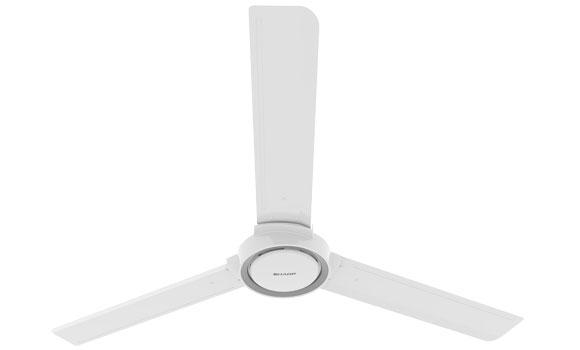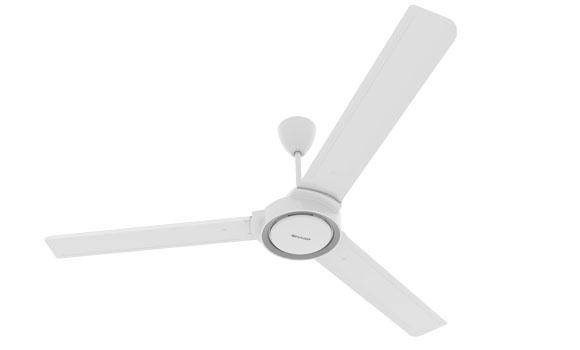 Say goodbye to hot spots and enjoy a consistently comfortable environment with the Sharp PJC60CFKA 60″ Ceiling Fan. With a built-in thermal fuse and safety wire, rest assured that your fan is protected from overheating and safety hazards. Its innovative blade shape ensures maximum air circulation, allowing for more efficient cooling throughout the room. Equipped with a double condenser and ball-bearing motor, this fan combines durability and performance. The double condenser allows for better heat dissipation, ensuring a longer lifespan for your fan. The ball-bearing motor ensures smooth and quiet operation, minimising friction and maximising efficiency.
Experience enhanced airflow with the following features of this ceiling fan:
Built-in safety thermal fuse
Built-in safety wire
Maximum air delivery of 258.84 m³/min
Wider sweeping blade
More cooling power
Quiet operation and no noise distortion
Double condenser and ball bearing motor
10. May Quality DC Motor Ceiling Fan With LED: MQ-C52DCL (52″)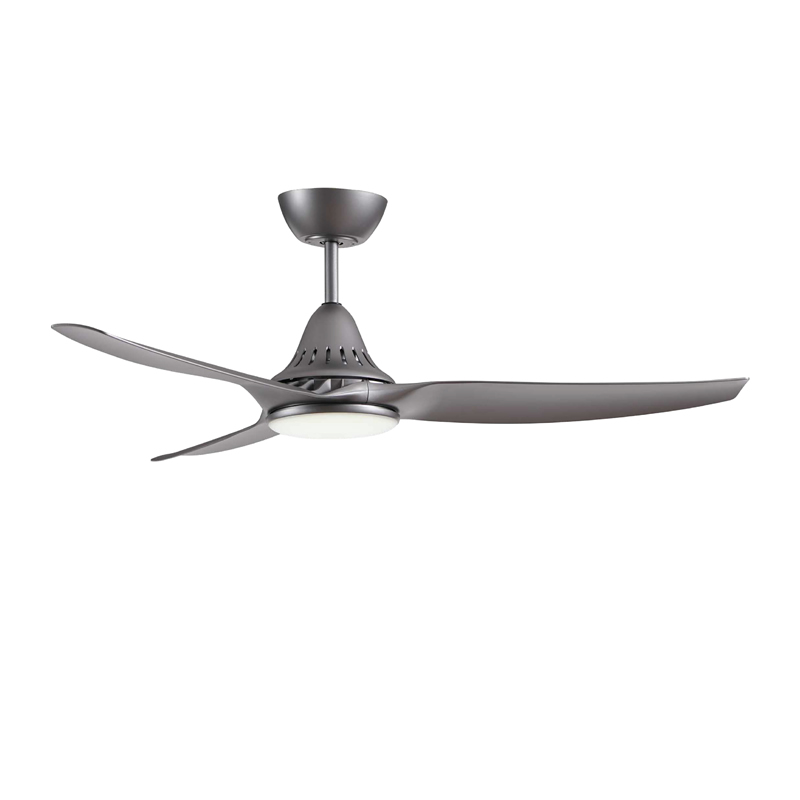 This 52″ DC Motor Ceiling Fan is a stylish and efficient solution for all your cooling needs. The fan is powered by a reliable 53W DC motor that ensures efficient and energy-saving performance. Its sleek gray color goes well with various interior styles. It has a 5-speed selection feature that can be conveniently adjusted using the included remote control. The 1-12 hour timer control feature enables you to set the fan to operate for a specific duration, offering additional convenience and energy efficiency. Rest assured of its quality and safety, as the fan is approved by SIRIM, Suruhanjaya Tenaga, and is IEC certified.
With a range of impressive features, this LED fan is designed to provide optimal comfort in any space. A few of these features are listed below:
53W Power
Highly durable DC motor
Forward and reverse function
3 colors of LED (White, Daylight, and Warm)
5-speed selection with remote control
1-12 hours of timer control
Quiet operation
Approved by SIRIM and Suruhanjaya Tenaga
IEC Certified for quality and safety
11. Midea Ceiling Fan: MFC-150A15 (60″)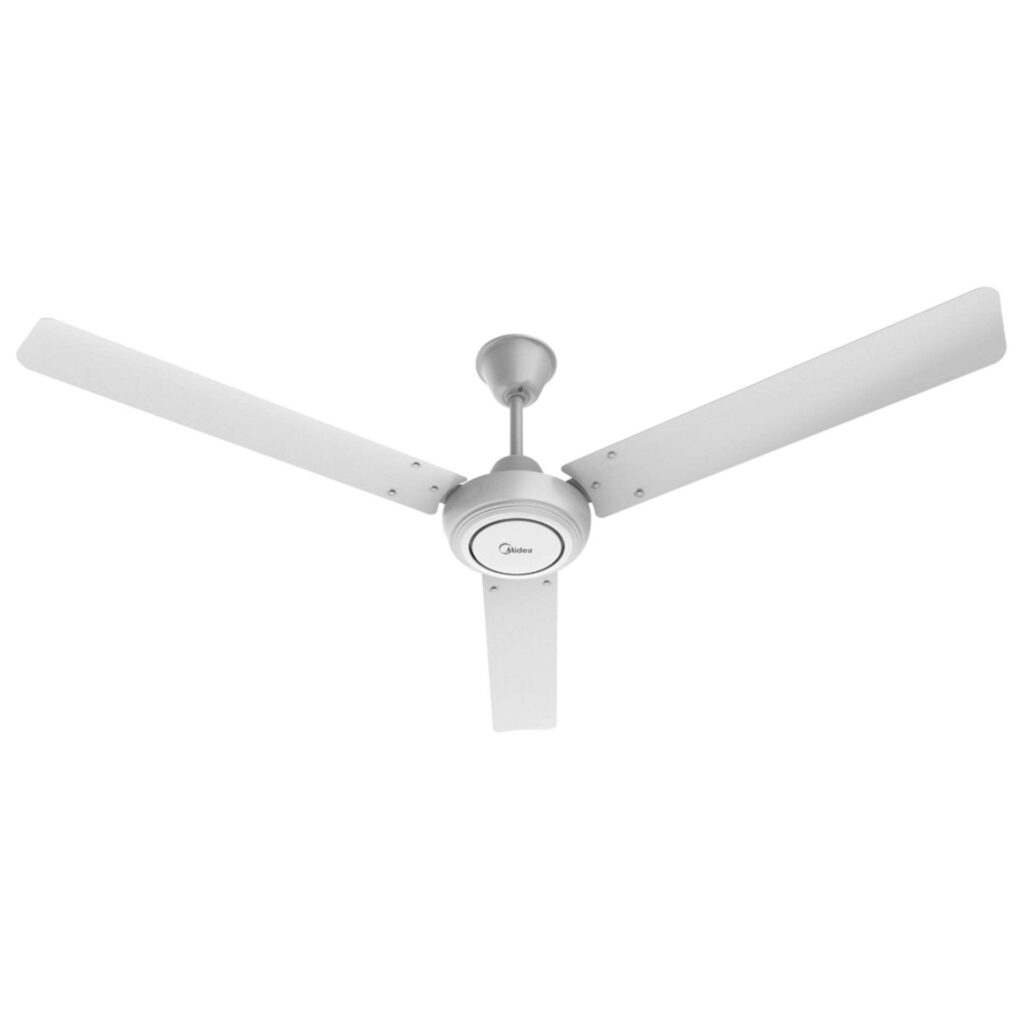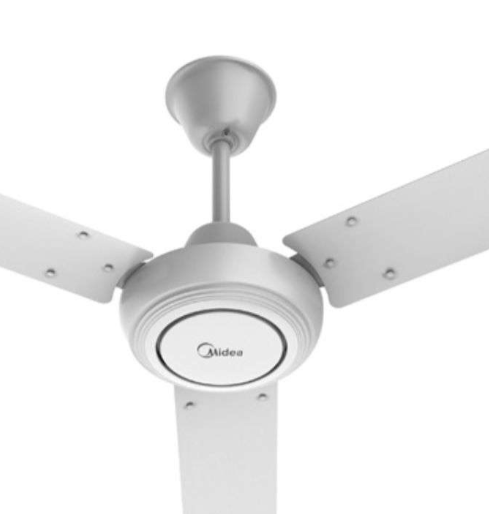 Introducing the ultimate cooling sensation for your space—the Midea MFC-150A15 Ceiling Fan. The fan's 5-speed choices allow you to customise the airflow to your exact preference. It's motor is built to withstand the test of time and guarantee years of uninterrupted performance. The fan has been integrated with not one but two safety mechanisms. Its plastic cover blends seamlessly with any decor. The wider, sweeping blades provide maximum air circulation without leaving any hot spots in your room.
With the following array of features, the Midea MFC-150A15 Ceiling Fan is truly in a league of its own:
5-speed choices
Energy-efficient design
Long-lasting motor
Wider sweeping blades
Uniform air circulation
Double safety mechanism
Plastic cover
12. Khind Ceiling Fan: CF5601R (56″)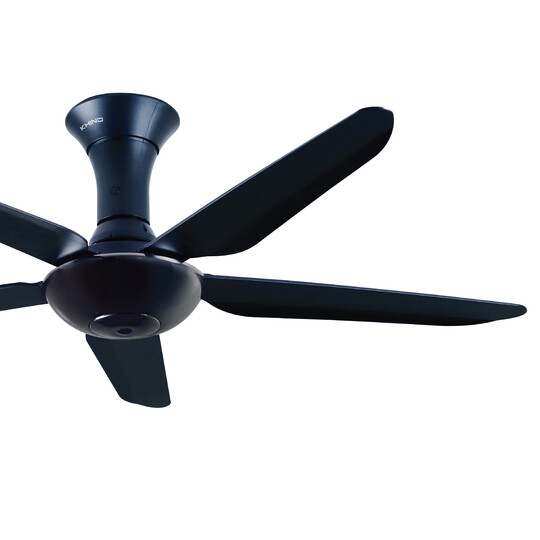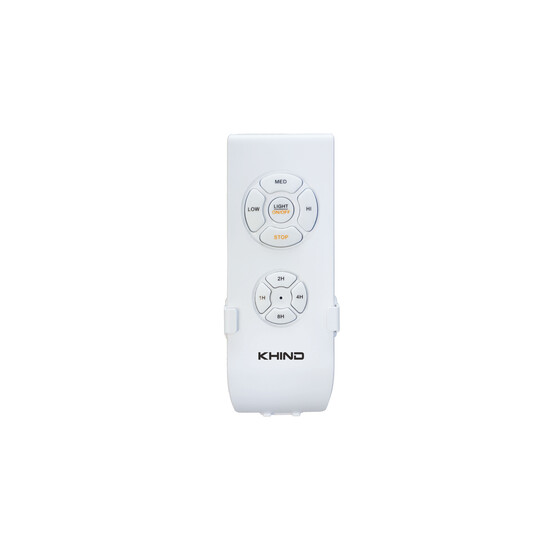 Whether you desire a gentle whisper or a vigorous whirlwind, the Khind CF5601R 56″ Ceiling Fan has you covered! With 5 ABS blades, a 3-speed motor, and efficient air delivery, this fan ensures optimal airflow for any room size. It's 4-star energy rating and low power consumption of 80 W make it both environmentally friendly and cost-effective. The fan timer feature allows you to set automatic shut-off after 1, 2, 4, or 8 hours. It means you don't have to worry about leaving your fan on. It's RF remote control ensures convenient operation from anywhere in the room. 
Embrace the perfect combination of style and efficient cooling with its features below:
56-inch blade size
5 ABS blades
Low noise operation
Low power consumption
3-speed motor
4-star energy ratings
Timer function
Efficient air delivery from 4155CFM up to 6085CFM
RF Technology remote control
Easy to operate
13. Mayer Mistral Ceiling Fan: MCF60LE (60″)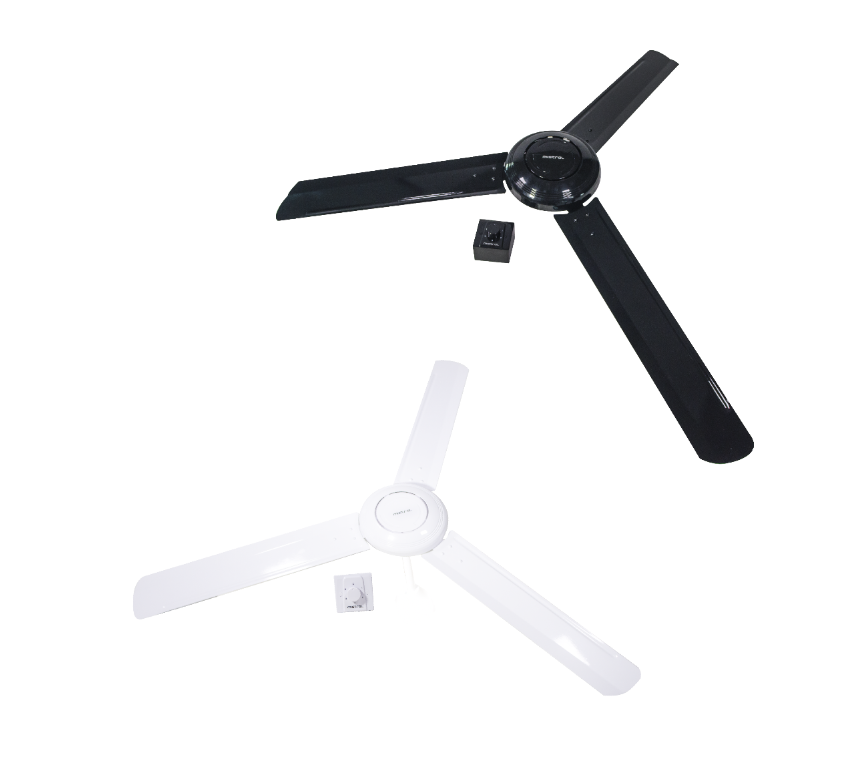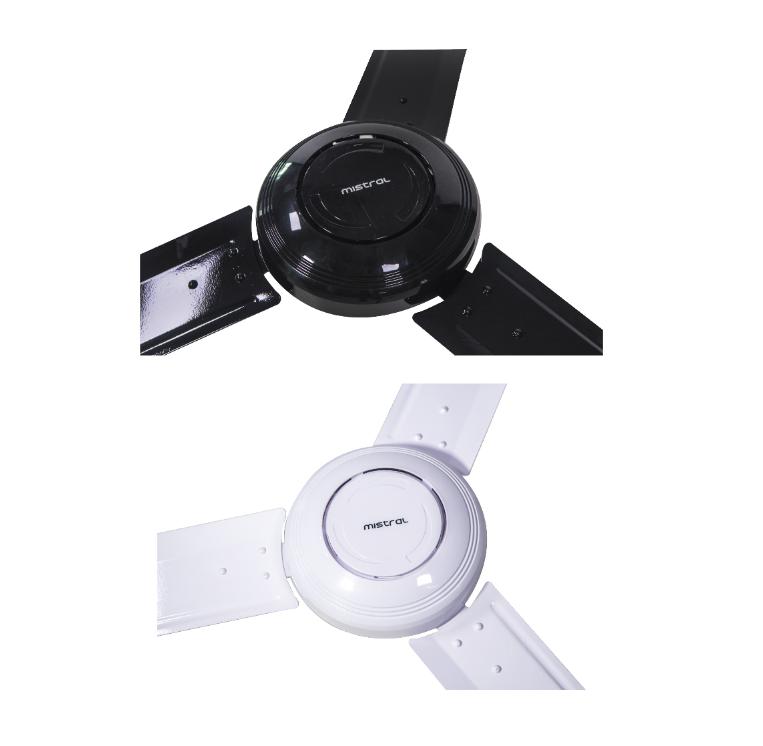 The Mayer Mistral 60″ Ceiling Fan redefines what it means to stay cool. Its 5-speed electronic regulator allows you to easily customise your room's environment. Crafted with durability in mind, this ceiling fan boasts powder-coated metal blades. These blades not only look sleek and modern but are also designed to withstand years of use without losing their efficiency. The fan is equipped with a built-in thermal fuse and a safety cable. These elements provide protection against overheating, ensuring that the fan operates safely. Furthermore, the Mayer Mistral Ceiling Fan meets the C.O.P. (Coefficient of Performance) requirement, showcasing its commitment to energy efficiency.
It offers a range of features that prioritise safety, durability, and energy efficiency. These include:
5-speed electronic regulator
80 W power consumption
Powder-coated metal blades for extra durability
Maximum air delivery: 8314 CFM
Built-in safety thermal fuse and safety cable
Meets C.O.P requirement
14. Rezo Ceiling Fan: S306 (56″)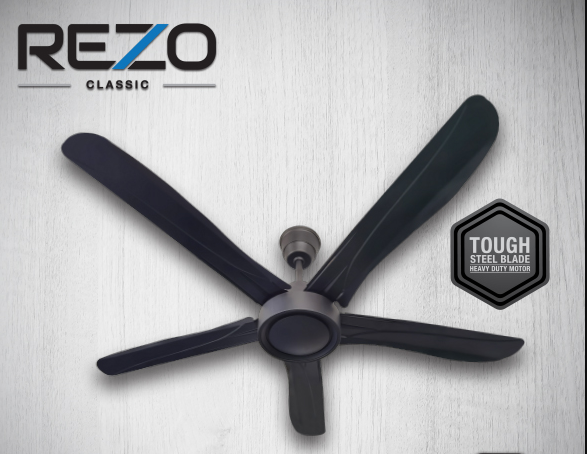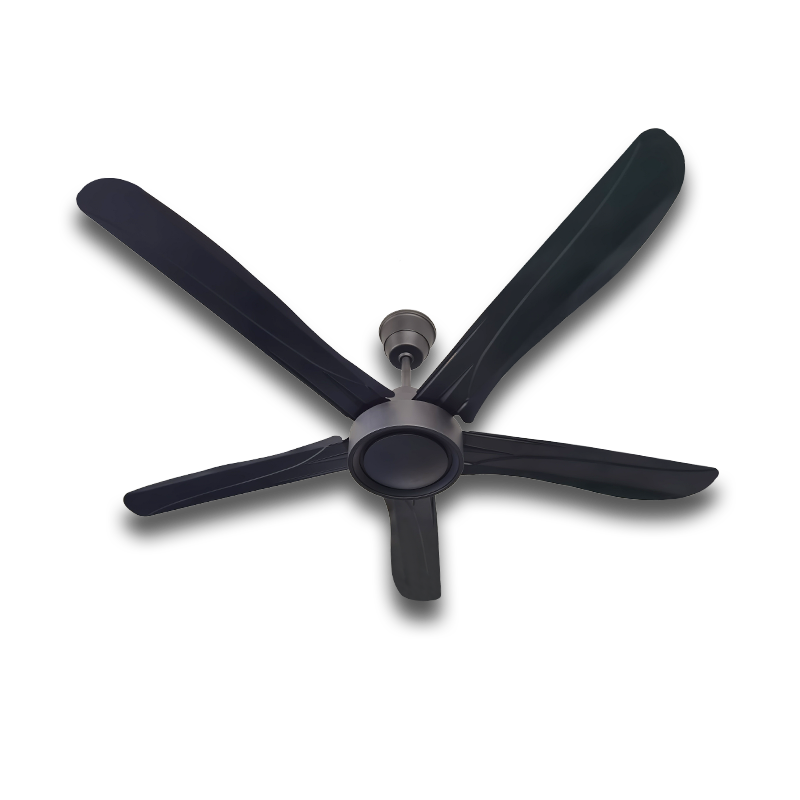 Unleash the power of supreme performance with the Rezo S306 Ceiling Fan. Its impressive CFM and RPM values ensure that you will always feel the refreshing breeze circulating through your space. Even better, the energy-efficient motor consumes only 28 W on the low setting and 80 W when operating at full power, making it an eco-friendly choice. The fan operates at a whisper-quiet 53 dB, allowing you to enjoy the serenity of your surroundings undisturbed. It boasts five steel blades that exude toughness and durability. Its heavy-duty AC motor ensures optimal airflow even in larger spaces.
Due to the following qualities of this fan, we can assure you of its long-lasting performance:
5 durable steel blades
5-speed selection
Heavy-duty AC motor
Remote control
High performance
Energy efficient
15. FANZÓ Ceiling Fan: STORM Series (56″)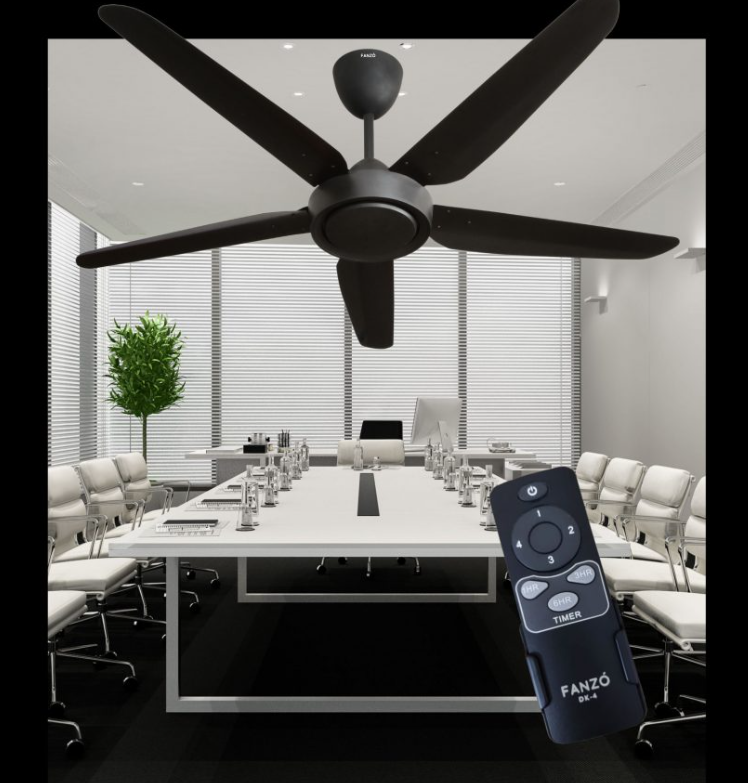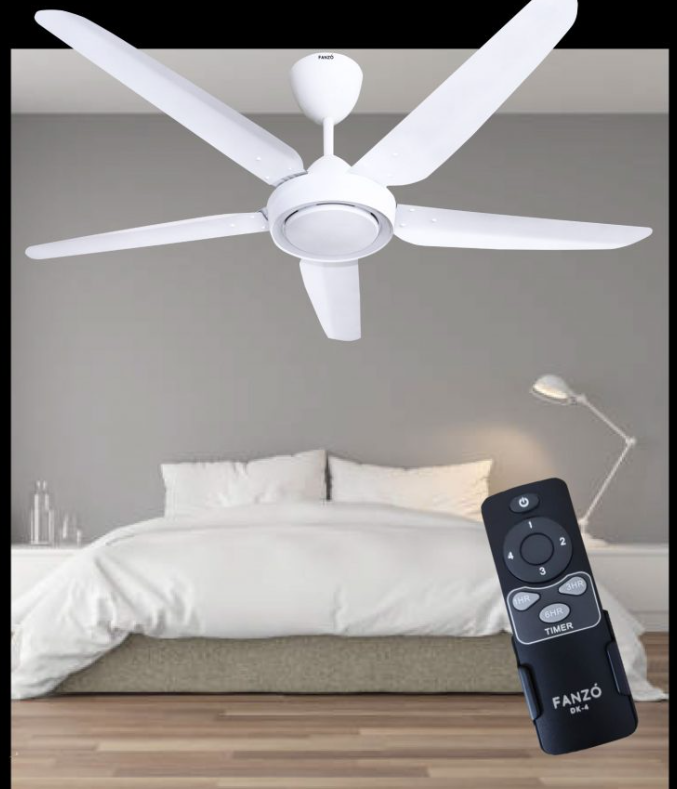 Turn any room into an inviting sanctuary with the FANZÓ STORM Ceiling Fan. This fan boasts a powerful motor that delivers impressive airflow to cool your surroundings efficiently. With four different speed settings, you can easily adjust the fan's intensity to suit your desired comfort level. Additionally, it also supports positive reversal and speed toggling functions. Its aerodynamically balanced 5 finished blades operate without any distracting noise. Thanks to its full-function remote control, you can easily switch between the fan's speed settings, control the rotation direction, and even set a timer for automatic shut-off. Crafted from high-quality materials, the fan ensures utmost durability and longevity for years to come.
The features that make FANZÓ STORM Ceiling Fan a perfect addition to your home or office are:
5 durable blades made of steel epoxy
Finished design
Powerful AC Motor
Timer function: 1,3, and a 6-hour timer
4-speed selection
Positive reversal
Speed toggling function
Radio Frequency (R.F) full-function remote control
Final Thoughts
Finding the best ceiling fan for your Malaysian home can be a breeze with the right information. But with the many models available on the market, it's important to consider factors such as motor power, energy efficiency, air delivery, safety, and control before making your final decision. Whether you're looking for a sleek fan design or want something efficient to save on your electricity bills, this guide has something for you. With our comprehensive list of ceiling fans, you can be sure to find the perfect appliance for your home. So don't let the summer heat slow you down. Elevate your home's cooling system with a top-notch ceiling fan from our carefully curated list today!