Compared to air conditioners, air coolers are much more cost-effective. They consume less energy, resulting in lower electricity bills. In Malaysia's hot climate, where you may need cooling for long hours, an air cooler can be a budget-friendly option without compromising on comfort. Moreover, air coolers are versatile in their usage. They can be used in various settings, such as homes, offices, shops, or even outdoor gatherings. They are portable, easy to move around, and can provide relief wherever you need it the most.
In Malaysia, the heat is no stranger and can reach sweltering levels. Summers here can be downright brutal, with temperatures soaring and humidity levels that make you feel like you're swimming through the air. When the mercury rises and the sweat starts pouring, an air cooler becomes your best buddy. It's a game-changer when it comes to staying cool and comfortable in this tropical paradise. And with temperatures rising day by day in Malaysia, it's time to find the coolest air cooler out there. So, let's go through this guide to find the best air cooler for your space.
Features of a Good Air Cooler
Here are some key features to look out for when searching for a good air cooler:
Sufficient Cooling Capacity: The cooling capacity of an air cooler determines its effectiveness in bringing down the temperature in your space. Look for an air cooler with a higher airflow rate and a larger cooling area to ensure efficient cooling.
Large Water Tank Capacity: The water tank capacity is crucial as it determines how long the air cooler can operate without needing frequent refills. A larger water tank means longer cooling periods without interruption.
Adjustable Fan Speeds: Having adjustable fan speeds allows you to customize the airflow according to your preferences and the temperature in the room.
Portability: Portability is key, especially if you plan on using the air cooler in different areas of your home or office. Look for models with caster wheels or lightweight designs that make it easy to move the air cooler around.
Timer Function: It allows you to set the air cooler to operate for a specific duration. This feature is useful if you want the cooler to turn off automatically after a set period or if you prefer it to start cooling before you arrive home.
Remote Control: Who doesn't love convenience? A remote control allows you to adjust the settings of your air cooler from a distance without having to get up from your cozy spot.
Energy Efficiency: Keep an eye out for air coolers that are energy-efficient to minimize power consumption and reduce your electricity bills. Look for models with energy-saving features like auto-shutdown, eco mode, or good energy efficiency ratings.
Low Noise Operation: Look for models that operate with minimal noise levels, ensuring a quiet and comfortable environment.
Additional Features: Some air coolers come with extra features such as built-in air filters to purify the air, oscillation for wider coverage, or even humidifier functionality for added comfort in dry climates.
Our Selection of 12 Best Air Coolers in Malaysia for Cool Comfort
From sleek designs to powerful cooling capabilities, these 12 are the best air coolers available in Malaysia to help you overcome the hot weather:
1. Dyson Pure Cool™ Air Purifier Fan TP04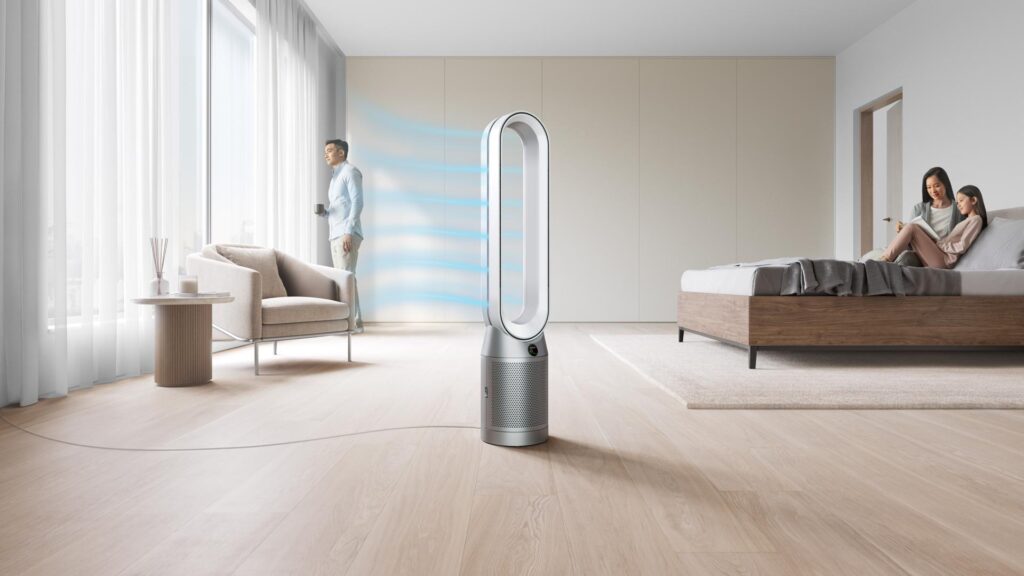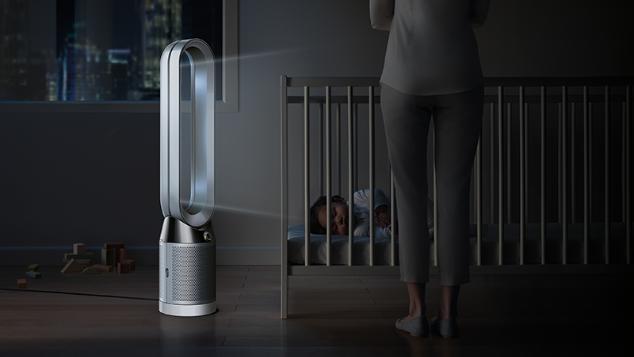 Stay cool and clean all year long in Malaysia with the Dyson Pure Cool™ Air Purifier Fan. Designed to beat the heat and germs at the same time, this sleek and stylish device combines powerful air filtration technology with an adjustable cooling mode. This purifier fan features Air Multiplier™ technology that generates powerful airflow and circulates air throughout the room. The pollutants in this air are trapped using a comprehensive filtration system that includes 360° sealed HEPA filters and activated carbon filters. The fan can be connected to the Dyson Link app, which lets you monitor your room's air quality in real-time. Moreover, its Draught-free diffused mode is designed to clean your room's environment when you don't need a cooler.
Say goodbye to sweltering temperatures and harmful pollutants with the following features of this air cooler and purifier:
Air Multiplier™ technology
Powerful airflow
Glass HEPA filter: captures 99.95% of microscopic allergens and pollutants
Intelligent reporting: senses and displays real-time air quality
Draught-free diffused mode
Low maintenance, easily changeable filters
Remote control
350° degree oscillation
Night-time mode
Certified Asthma and Allergy friendly™
2. Hisense R32 1.0 HP Portable Air Conditioner AP09KVG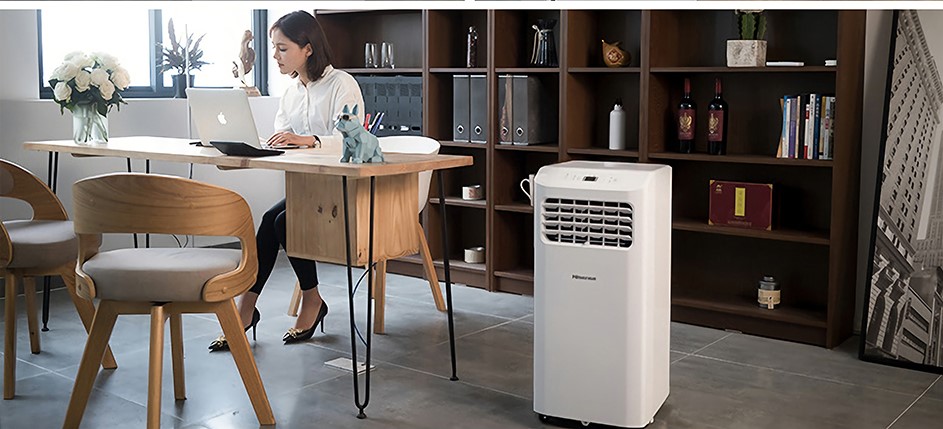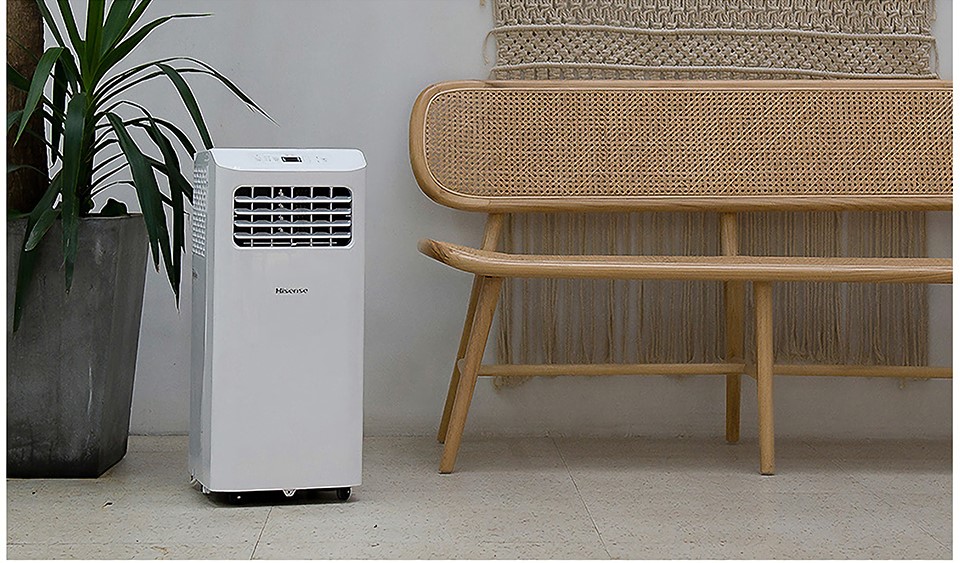 Next, introducing the R32 Portable Air Conditioner from Hisense, the environment-friendly solution to combat scorching summer days. With its Super Cooling system, this device brings a breath of fresh air into your space with only one touch. Its compact and portable design allows you to move it with ease, making it perfect for both indoor and outdoor use. Whether you're working, studying, or simply lounging, this air cooler's Ultra-quiet operation creates a peaceful and comfortable environment for you. The cooler also boasts an intelligent feature called "Smart Mode," which automatically chooses the perfect cooling mode for your room depending on its temperature.
Prepare to be amazed by its amazing features:
Eco-friendly R32 refrigerant
48 dB Ultra-quiet operation
Super Cooling mode
Smart Mode
Strong cooling capacity (9000 BTU)
Strong dehumidification
Remote control
24-hour timer function
Auto evaporative system
Easy to operate with clear panel
360° universal wheel
3. May Quality Mind 4 in 1 Ionizer Air Cooler (20L)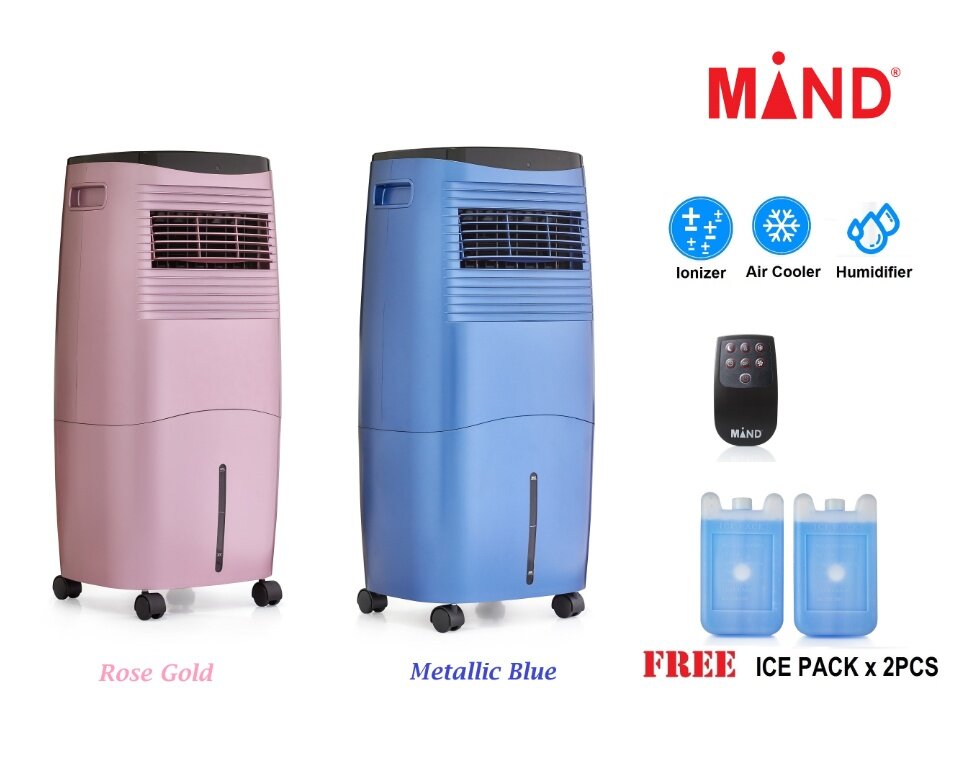 Ready to escape the heat and feel the chill? The May Quality Mind 4 in 1 Ionizer Air Cooler is here to rescue you from the sweltering summer temperatures. It has 4-in-1 features: an air cooler, an ioniser, a fan, and a humidifier. Engineered with advanced cooling technology, this powerful device lowers the temperature in any room within minutes. Its large water tank is detachable and lasts up to 48 hours when filled completely. The cooler's whisper-quiet operation ensures that you can relax, work, or sleep without any distractions. Equipped with a built-in ioniser, it also cleanses the air you breathe, removing pollutants, allergens, and odours. Moreover, its touchscreen panel and remote control ensure that you use this cooler with utmost ease.
Step into a world of coolness and breathe easy with the remarkable features of this air cooler:
4 in 1 function
Quiet operation
20L detachable water tank
Honeycomb cooling pad
Ionizer for improved air quality
4-speed control
8 hours timer function
Low water alarm
Touchscreen control panel
Remote control operation
Energy efficient
Automatic oscillating louvers
Four durable caster wheels
Approved by SIRIM and Suruhanjaya Tenaga
IEC Certified
4. PerySmith Air Cooler Zefer Series T9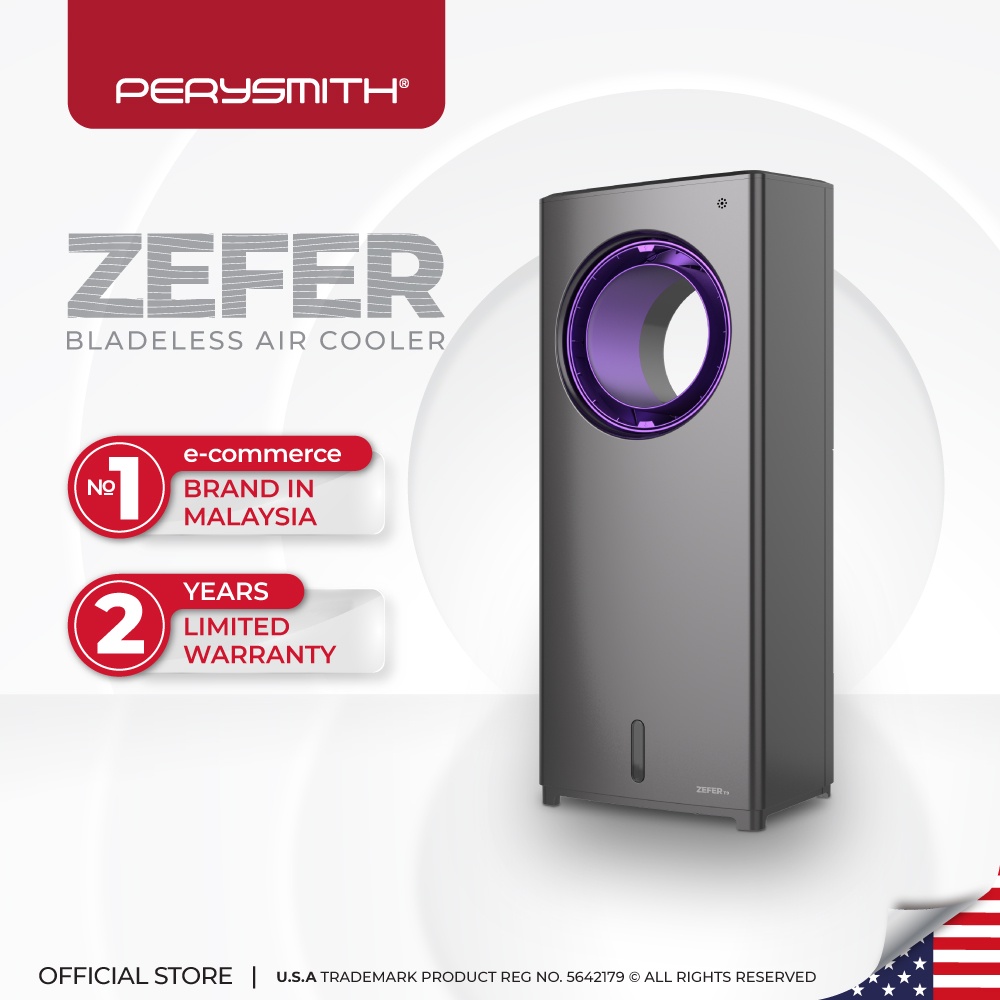 Experience a refreshing breeze like never before with the PerySmith Zefer Series Air Cooler. Designed to be the perfect blend of style and functionality, this appliance is a game-changer in the world of cooling solutions. Zefer's unique cooling technology and powerful DC motor create a gentle breeze indoors using minimal energy and keeping your electricity bills low. It combines with a specific rotating angle for constant air circulation. The air cooler has multiple cooling modes: 3 wind modes and an ice mode. Switching to your preferred mode is easy and effortless with a simple soft touch interface. The cooler also features an LED display that clearly shows the selected mode. It also comprises a honeycomb filter that effectively removes microscopic dust particles from the air, ensuring a safe and refreshing environment.
So, why let the heat bother you when you can upgrade to the PerySmith Zefer Series air cooler and enjoy the features below:
Consistent airflow
Powerful DC motor
Energy efficient
Zefer Technology
Sensitive touch transducer panel
Multiple speed settings
Cool Mode with ice crystal boxes
Timer function
Swing function
Smart memory function
3 wind modes
Honeycomb filter
5. Firenzzi 42L Air Cooler FAC-1848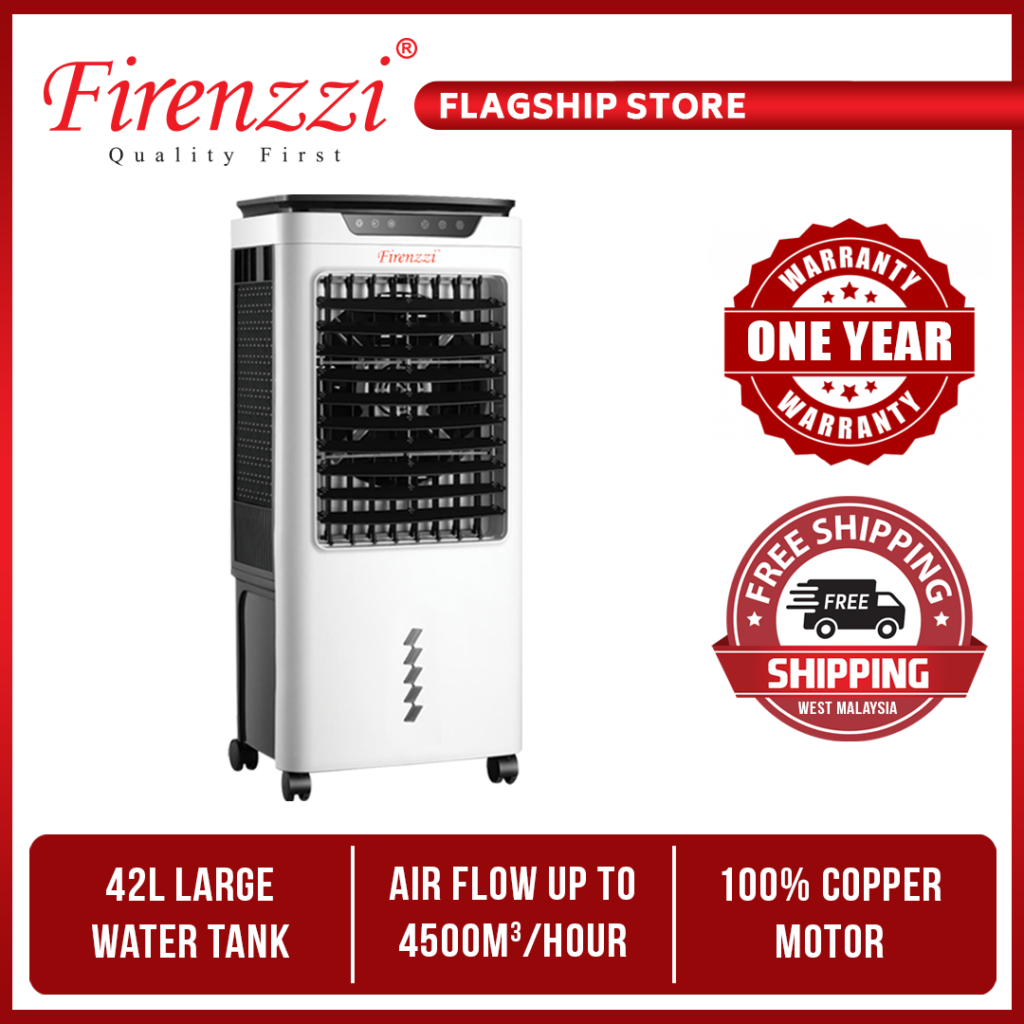 The Firenzzi 42L Air Cooler will make you forget about the heat. This innovative device is your ultimate companion for battling rising temperatures in Malaysia. Its advanced cooling mechanism harnesses the power of its motor and honeycomb cooling pads, ensuring rapid and efficient cooling in any room. Equipped with a large water tank and a 3-way airflow system, it not only cools but also moisturises the air, relieving dryness and creating a healthier environment. Its low-noise operation makes sure you sleep and work peacefully in your room. The cooler also has a safety net on the front that ensures your children remain safe.
Embrace the perfect balance of performance and convenience with its features below:
Low noise operation
Sleep Mode
Swing function
Powerful airflow: up to 4500 m3/hour
42 liters removable water tank
Large coverage area: 25-30 m2
12 hour timer setting
High-efficiency honeycomb cooling pads
Remote control
Water level indicator
Easy to move
Touch screen control
Saves upto 80% on energy costs
6. Mayer Honeywell 30L Evaporative Air Cooler TC30PEUI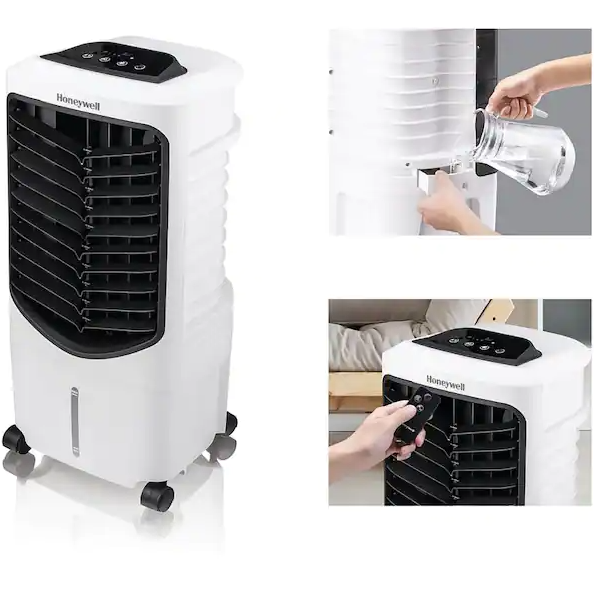 Say goodbye to sweaty days and sleepless nights with the Mayer Honeywell Evaporative Air Cooler. Crafted with precision and engineered to perfection, this appliance is your secret weapon against the heatwave. Its smart cooling technology delivers a refreshing blast of cool air, instantly transforming any space into a soothing sanctuary. With three adjustable speeds and a remote control, you can effortlessly adjust the settings to create your desired climate. It comes with an integrated ioniser that purifies the air you inhale, effectively eliminating pollutants, allergens, and unpleasant odours from your surroundings. And with its oscillating louvers, you can enjoy cool air anywhere in your room.
Experience the bliss of a cool and calm atmosphere with its following amazing features:
Honeycomb cooling media for optimum cooling
Energy efficient
Easy to move
Three adjustable speeds
Remote control
Uniform air circulation with oscillating louvers
Built-in ionizer
30L water capacity
7. Electrova iPure Series Evaporative Air Cooler ET-AC01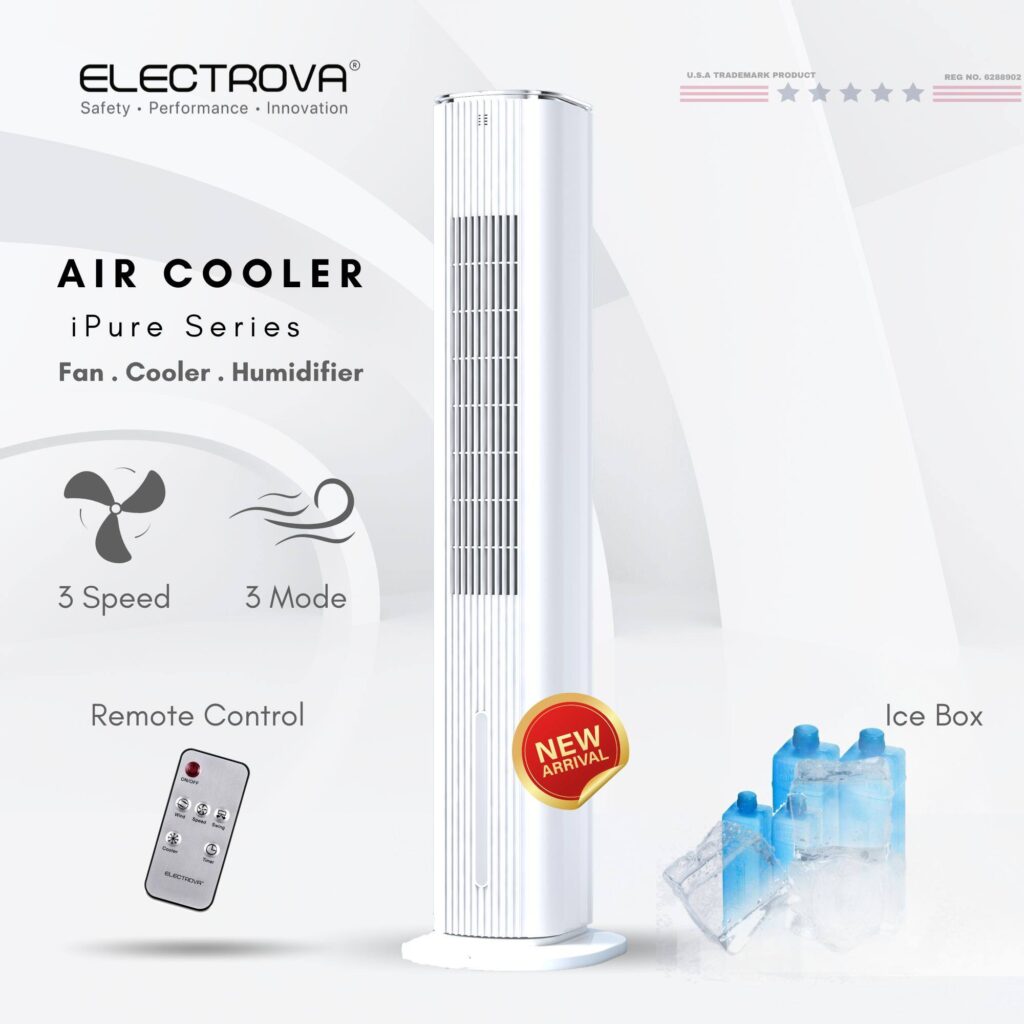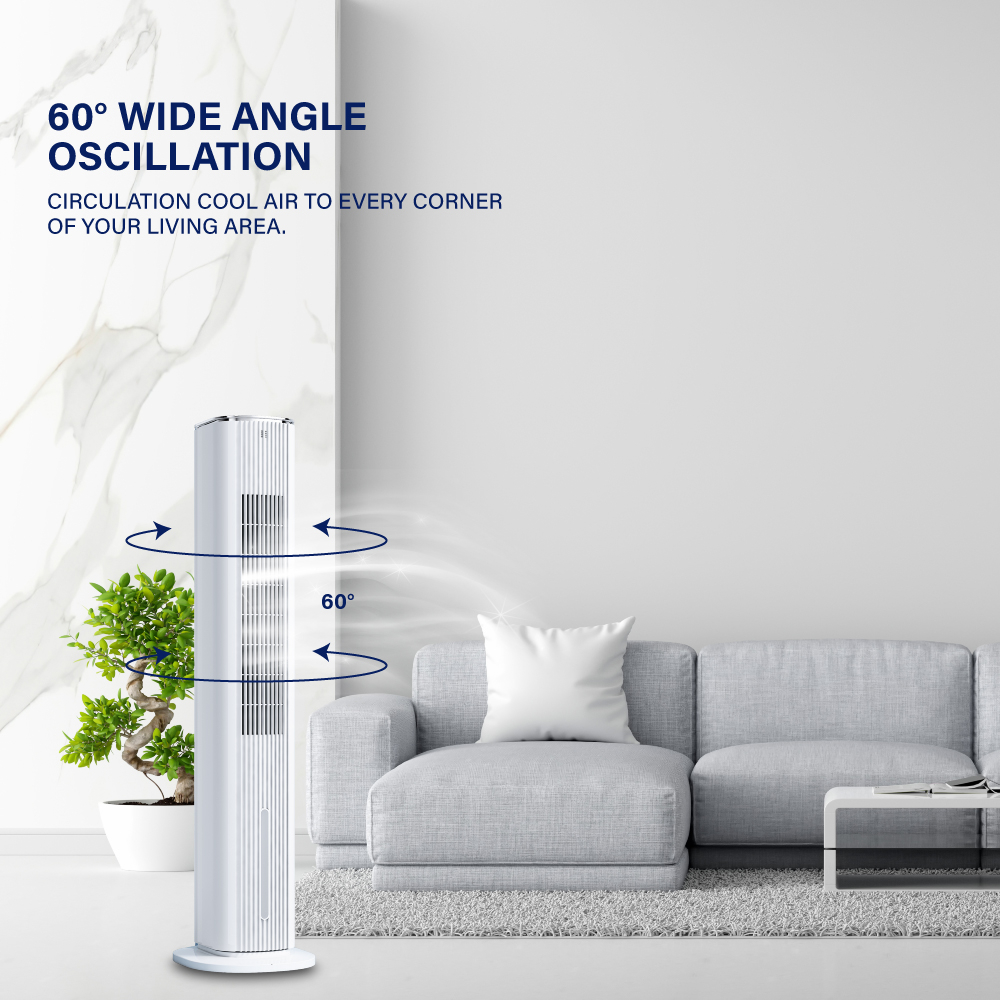 The next cooler on our list is the Electrova iPure Series Evaporative Air Cooler. This cooler combines innovative features with a smart vertical design to deliver unparalleled cooling performance. With a choice of three modes—natural, sleeping, and normal—and three wind speeds—low, medium, and high—you can find the perfect cooling option according to your preferences. Equipped with a state-of-the-art air purification system, it not only cools the air but also removes harmful pollutants, ensuring you breathe in clean and fresh air. It has a timer control that can be set for up to 12 hours, and its oscillating louvers ensure the even distribution of cool air throughout the entire room. The device also features a large water tank that eliminates the need for frequent refills.
Get ready to beat the heat in style with the following features:
3 in 1 functions: air cooler, fan, and humidifier
3 modes: natural, sleeping, and normal
Large-capacity water tank
Digital touch control panel
Remote control
12 hours timer control
Large LED screen display
Built-in narrow front grill: safe for children
Lightweight and portable
Removable and washable water curtain
Wider coverage with whisper-quiet oscillations
Washable filter components
8. Midea MAC-120AR 10L Air Cooler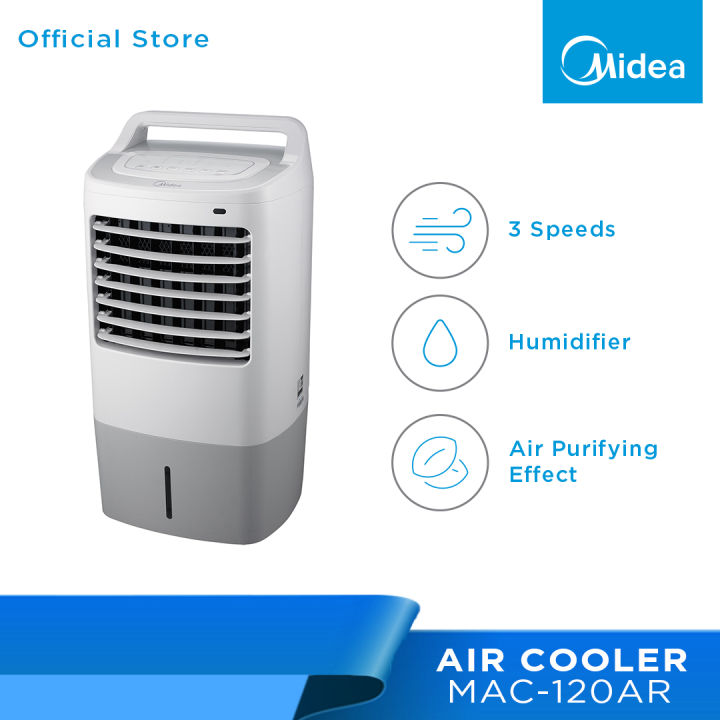 Escape the oppressive heat and embrace a cool and invigorating atmosphere with the Midea MAC-120AR 10L Air Cooler. Powered by a 3-speed multi-functional fan and an advanced airflow system, it quickly and efficiently brings down the temperature, creating a comfortable oasis in the midst of summer. The portable and compact design allows you to easily move it from room to room, while the large water tank reduces the need for frequent refills. With its eco-friendly operation and low energy consumption, you can stay cool while reducing your carbon footprint. Most of all, the cooler boasts an auto shut-off feature, which protects the pump when the water tank is empty.
Don't let the heat slow you down; choose the Midea MAC-120AR Air Cooler for a sustainable cooling solution. Its features include:
Powerful airflow of 410m³/h
Energy-efficient design
3-speed fan
Multi-functional fan
Auto shut-off feature: protects pump when dry
Power-off memory
Air purifier and humidifier
Wide angle oscillation
Large water tank
7-hour time settings
Remote control
9. Sharp Air Cooler PJA36TVB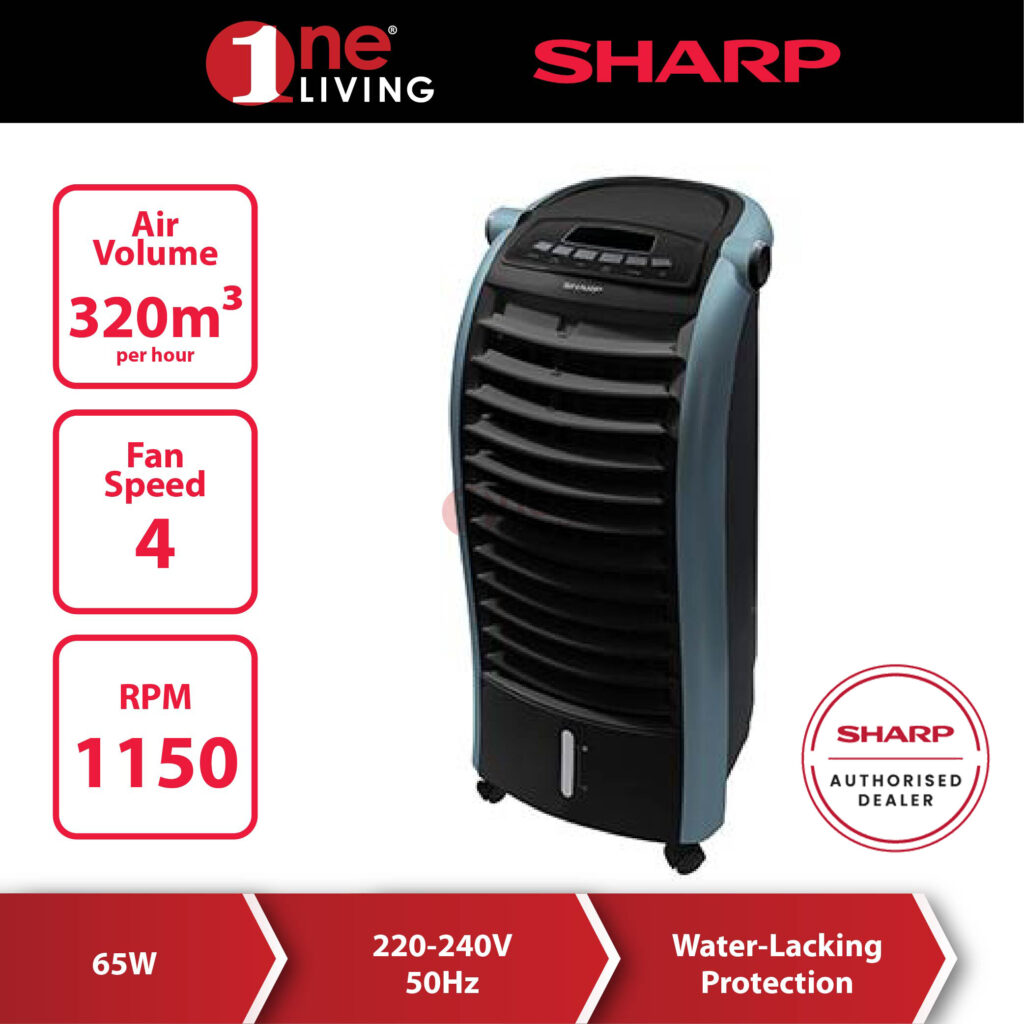 Are you tired of feeling sticky and uncomfortable on hot summer days? This amazing air cooler from Sharp is here to rescue you! With its unique evaporative cooling technology, it creates a cool and pleasant environment without the need for expensive air conditioning units. This cost-effective and energy-efficient solution utilises water evaporation to bring down the temperature, providing relief from the scorching heat. Its sleek and modern design adds a touch of elegance to your space, making it an attractive addition to any room. And with its whisper-quiet operation, it creates a peaceful environment where you can relax, work, or sleep without any disturbances. Moreover, you can select from three wind options, normal, natural, and sleep, depending on your room's temperature.
Say hello to the refreshing breeze with the exceptional features of this air cooler:
Smoother and quieter operation (as low as 55dB)
LED display and remote control
Energy-saving
15 hours timer function
Improved stability and durability
3 wind selections: Normal, Natural, and Sleep
Comes with remote control
6L water tank capacity
4 fan speeds
Evaporative cooling and humidifying
10. OGAWA Air Cooler COOLLALA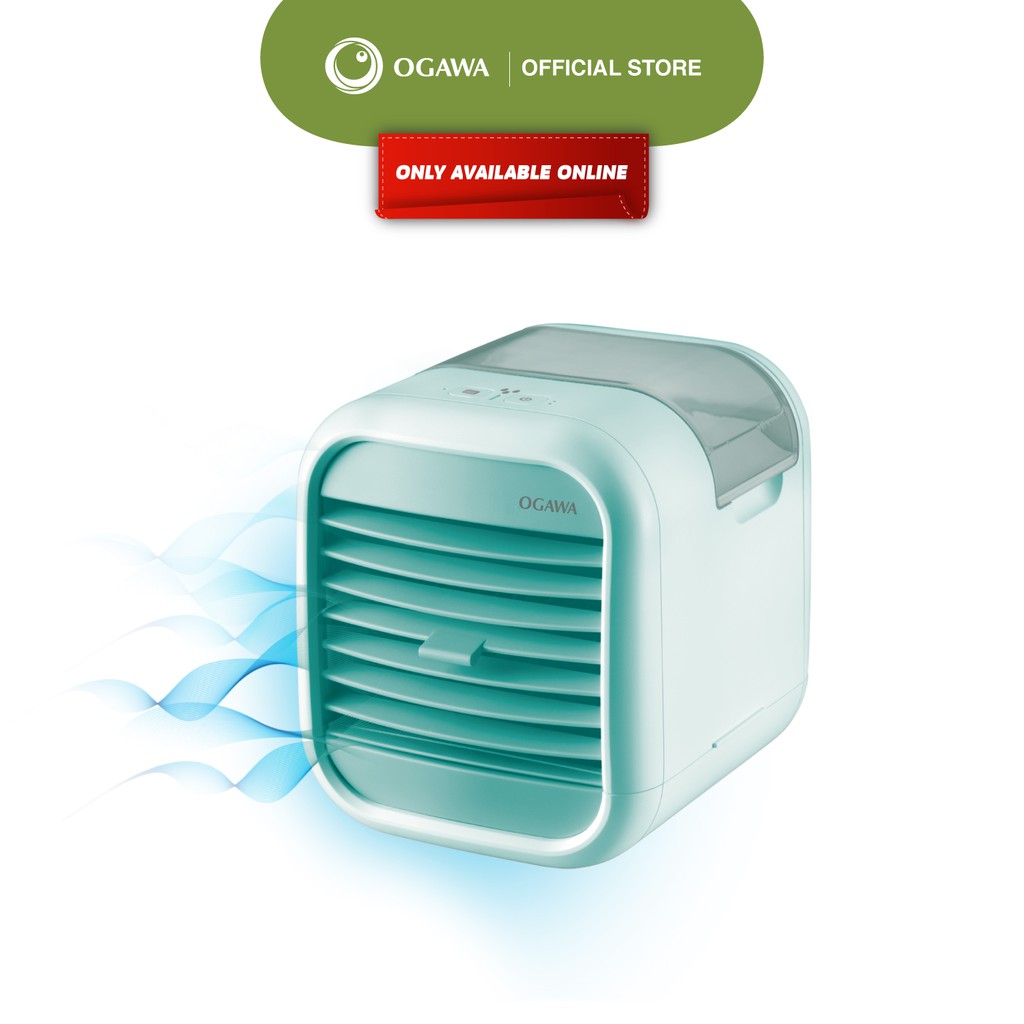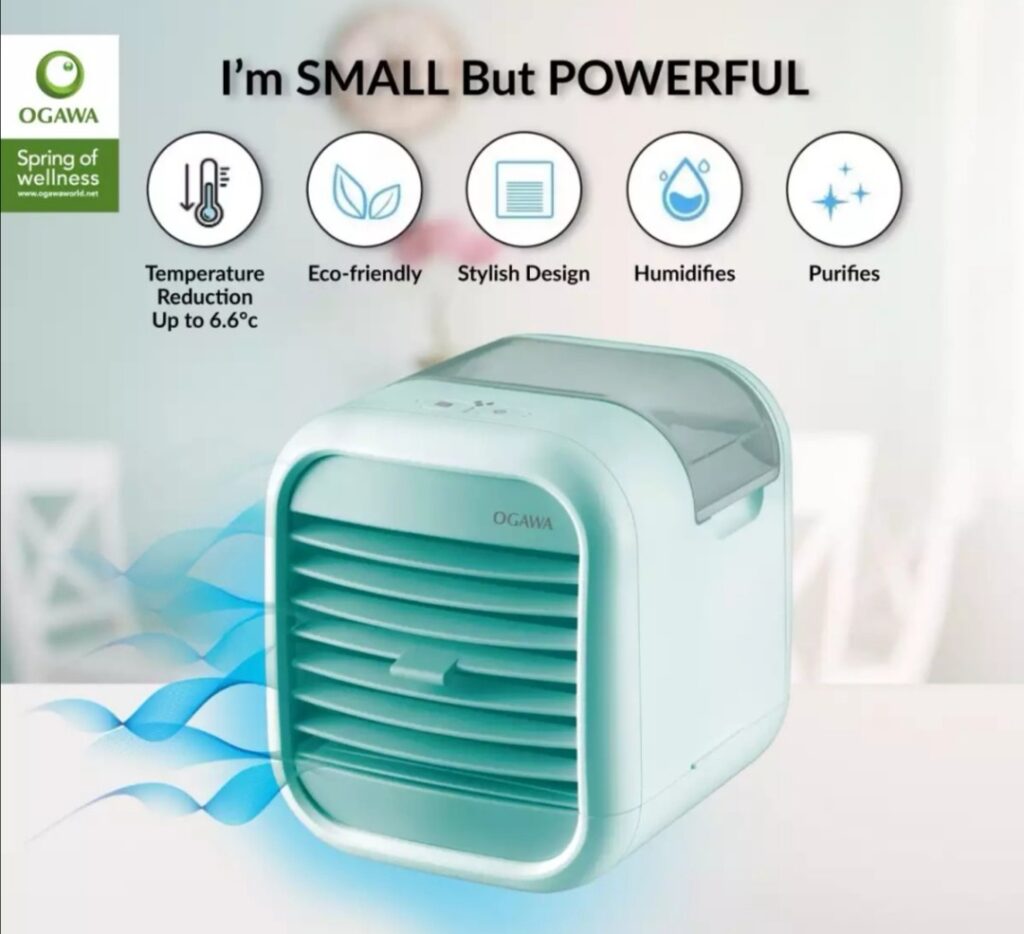 Experience the future of cooling technology with the OGAWA Air Cooler COOLLALA. By employing advanced cooling technology, it draws in hot air and passes it through the cooling cartridge, resulting in cool and refreshing air being released. This portable device serves multiple purposes, including humidifying, purifying, and cooling the air. The compact design of this personal space cooler makes it suitable for placement on desks, nightstands, and even coffee tables. Its extremely light weight makes it convenient for travel as well. And lastly, you have the option to choose between two speed modes. When you are sleeping, you can select the low fan speed mode, while on hot and sunny days, you can opt for the high fan speed mode.
Upgrade to this air cooler and step into a new era of coolness and comfort with the benefits it offers:
Small but powerful
Removable, replaceable, and washable cooling cartridge
Multi-functional: humidifies, purifies, and chills
Compact in design
Travel-friendly
Two speed controls
Easy to use
Low energy consumption
Environmentally friendly
4 hours runtime per fill
11. Pensonic 20L Air Cooler with WiFi PAC-304IW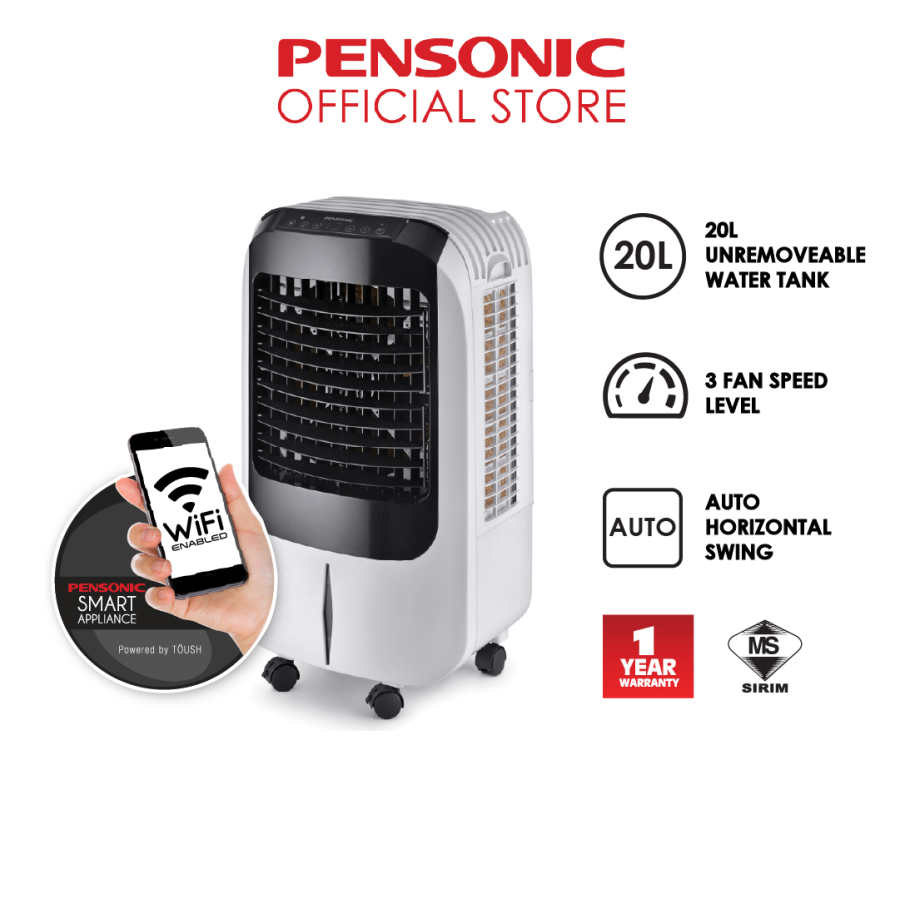 Discover the ultimate cooling companion for your home—the Pensonic PAC-304IW Air Cooler. Designed to provide relief during hot summer days, this appliance boasts various features that make it a standout choice. Equipped with a remote control and Wi-Fi control, you can conveniently adjust the settings from anywhere in the room and even outside the house. Its compact, lightweight design and four durable caster wheels make it easy to move around, catering to your cooling needs wherever you are. The cooler is also equipped with a water level indicator that serves as a reminder to refill the tank when the water level goes down.
Embrace the cool revolution with its intelligent features below:
20L fixed water tank
Water level indicator
3 fan speed levels
Auto horizontal swing
Manual vertical swing
Touch control
LED panel
Remote and Wi-fi control
With 4 caster wheels
12. Alpha BREEZ Air Cooler 7L with Ionizer AC/7L-AC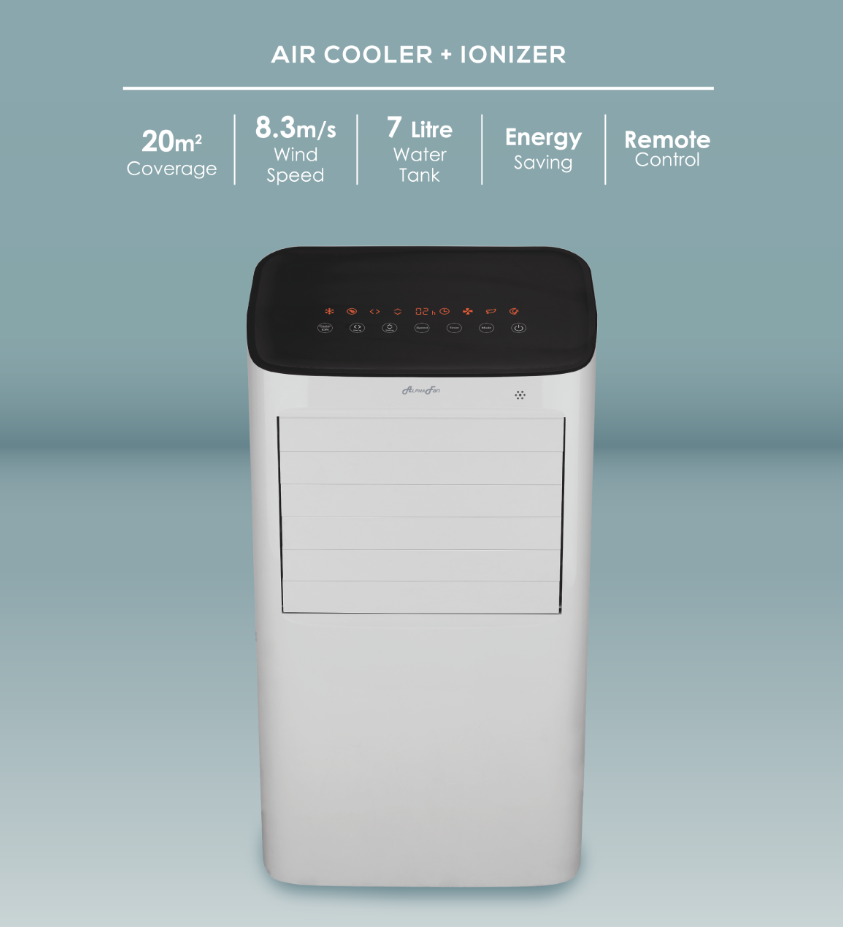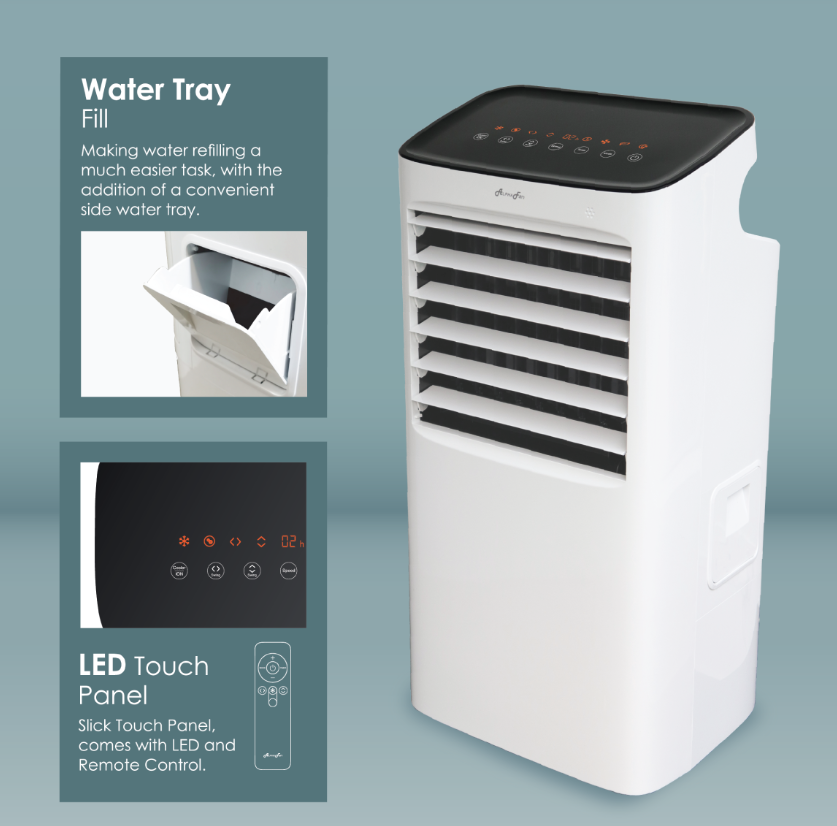 The last air cooler on our list is the Alpha BREEZ Air Cooler. This powerful cooling solution not only keeps you cool and comfortable but also purifies your surroundings to ensure better health. The 4-direction automatic swing oscillates louvers in two planes, providing you with a customizable airflow direction and allowing you to direct the cool breeze exactly where you need it most. The honeycomb cooling pads retain more water and allow for long hours of cooling. The device has multiple features for enhanced safety, including a low water alert, a water tank open and lock switch, and auto power off. The cooler's built-in timer allows you to program the cooler to turn on or off at specific times, ensuring you always come home to a cool and refreshing space.
Some amazing features of this cooler include:
4-speed setting
Honeycomb cooling pads
3 modes: Normal, Natural, and Sleep
Ionizer function
Oscillating louvers
LED display
20m2 coverage area
Remote control
7L water tank with two ice boxes
Multiple safety features
Timer function
Wide angle auto swing: horizontal and vertical
Energy efficient
Conclusion
With scorching temperature levels in Malaysia, finding ways to stay cool during the summer becomes essential. Fortunately, there's a cost-effective and efficient solution that won't break the bank: air coolers. These versatile devices offer a range of usage options, whether you need relief at home, in the office, or even during outdoor gatherings.
To help you make the best buying choice, we've curated the above list of the 12 best air coolers in Malaysia. Each of these coolers comes with unique benefits and features, ensuring you'll find the perfect fit to keep you cool and comfortable. Upgrade to one of these options and bid farewell to sweaty discomfort. Embrace coolness and indulge in a comfortable atmosphere, no matter how high the temperature soars!
Read also: Best of Home Appliances Series