The hipster trend doesn't seem to be dying down anytime soon, and it spread to encompass even your house decor. And if you are a hipster at heart, you will be delighted to know that this look is relatively easy to mimic as it involves anything that is quirky, creative and trendy. It is also more minimalist but you can mix and match a few different styles together to create the look for our own personalized hipster home decor style.
1. Rustic Walls
Hipster trends are heavily influenced by the industrial style, so it is no surprise that you will often mistake the two. While they use much of the same elements such as exposed brick walls and wood furniture, hipster style is a little more polished than the industrial design.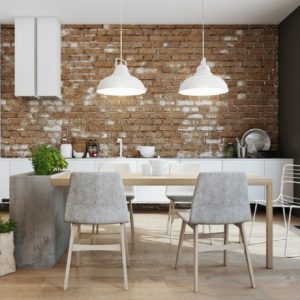 2. Antique Typewriter
While we know nobody really uses a typewriter anymore, a complete hipster home decor wouldn't be complete without at least one piece of obsolete technology. Dust it off, clean it up and your home will soon have that much coveted vintage and quirky feel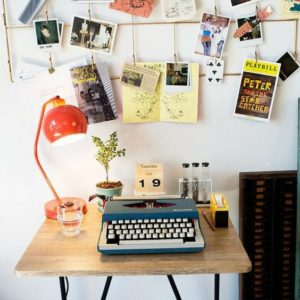 3. Vintage Pop Culture
Express your hipster taste with the some old-school pop culture items such as vinyl records and even a gramophone to play them. Go a step further by framing up old album artwork and don't forget to populate your bookshelves with well-loved classics because the last thing you are anything but mainstream.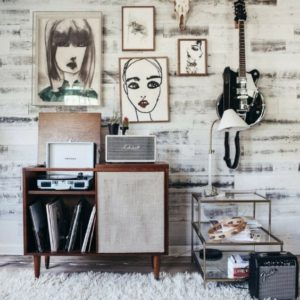 4. Extraordinary Decorations
A hipster's home uses retro furniture, lucky finds from flea markets and upcycling anything you feel like putting as a decoration. You can reuse old jam jars, mason jars or even an old bicycle to decorate your home. Best of all, you are helping the environment at the same time!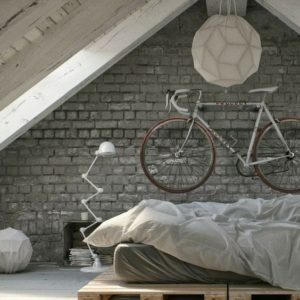 5. Relaxed Chic
The hipster trend focuses on being casual, relaxing and a certain shabby chic. Often looking slightly unfinished, you can translate the look into your bedroom, but make it look more whimsical at the same time. Drape some light, gauzy fabric above your bed as a sort of makeshift canopy and string some fairy lights in between for a good night's sleep.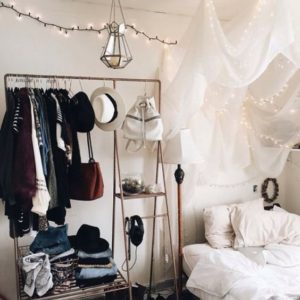 6. Unconventional Lights
When you walk into a hipster's home, you'll notice that their lighting solutions are no ordinary bulbs. No, instead, they'll use ultra funky light bulbs to fit their home or perhaps even DIY some out of mason jars or leave the bubs exposed for a totally cool space.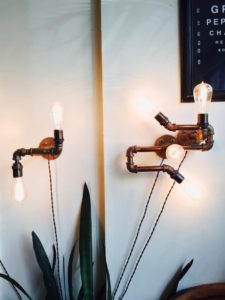 7. White Chalkboard Wall
Black chalkboard walls are getting so mainstream and because you are a hipster, you don't follow the crowd. That's why the white chalkboard wall is perfect for your hipster home, and as a bonus, white also makes the home look bigger and more airy.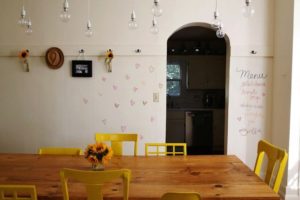 8. Bar Cart
Do you love to relax with some wine or a little cocktail made all by yourself? Then get a bar cart, because the traditional drinks cabinet is so yesterday and you don't like the mainstream stuff because you are a hipster. Fill it with your cool alcohol bottles, some chic glasses and other drink-making paraphernalia and you're good to go.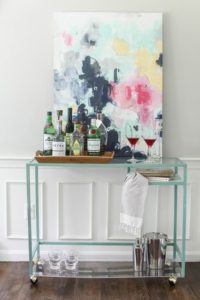 9. Retro Furniture
Hipsters are all about bringing back the classic, with a twist. And there's no better way to do that than by buying some vintage furniture to complete the rest of your carefully mismatched decor.
10. Iconic Throw Pillows
Get some throw pillows for your living room that features some good old irony, or even ones that have those cute little moustaches that were so trendy and a must-have for every self-respecting hipster. And no, just because many people seems to like them, it doesn't make you mainstream at all.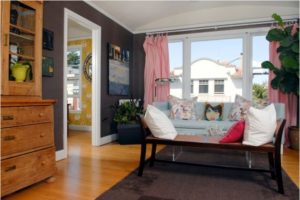 11. Hang Antlers
We all know that a hipster home is not complete without their signature antlers, so make sure you get some that are tasteful and sophisticated. We recommend faux antlers of course, unless you would prefer the real thing.