Peacock blue is a symbol of royalty in some cultures and this royal hue adds a regal touch to any space. The colour is vibrant when paired with warm colours such as orange or pink but can also be toned down to a soothing hue when paired with other blues. Peacock blue works well in contemporary and vintage spaces too. In other words, it's a versatile colour!
Here's how to use peacock blue to level up your home:
1. Paint the entryway blue for a grand entrance
It's the first area everyone passes through in the house so what better place is it to display the royal colour. It sets a luxurious feel to the home the moment you enter.
2. Pair peacock blue with gold accents for a high-end look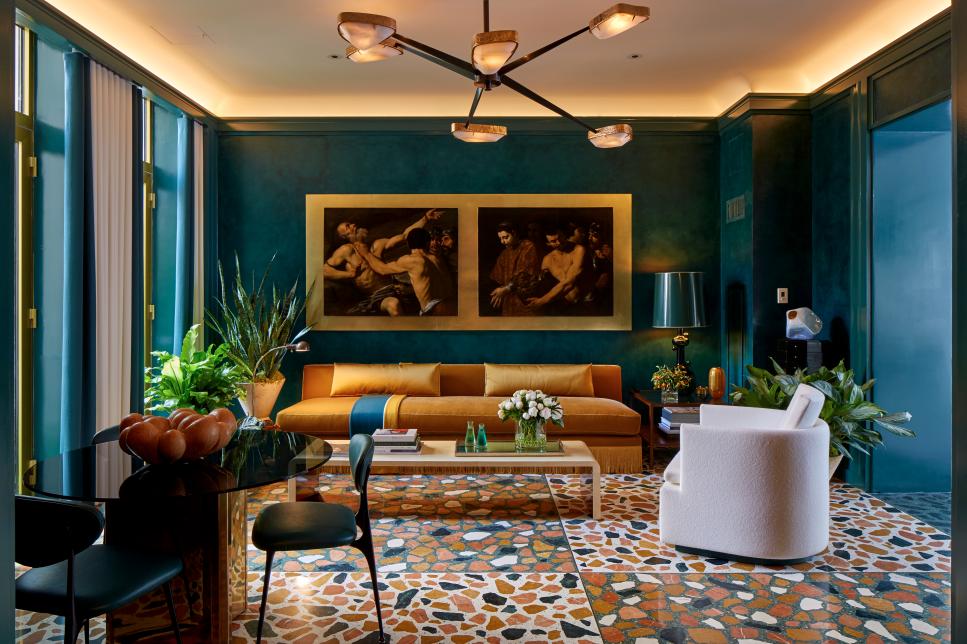 Live like royalty and pair the colour with gold accents to add a luxe element. In the picture above, the wall is painted blue and it brings out the gold colours in the room. The palette can be flipped resulting in a look like in the picture below, a velvet blue couch paired with a gold table, photo frames and light fixture.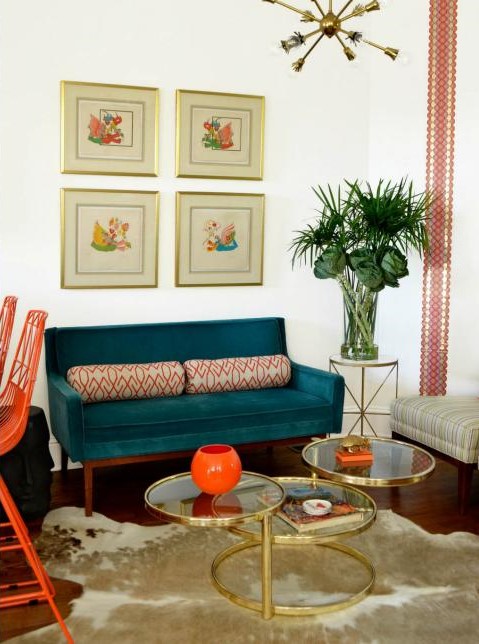 3. Use the colour as accents
If repainting a whole wall feels overwhelming, start small by 'testing' the colour by painting an accent wall. It makes that section of the room pop. It also brings out glassware very well.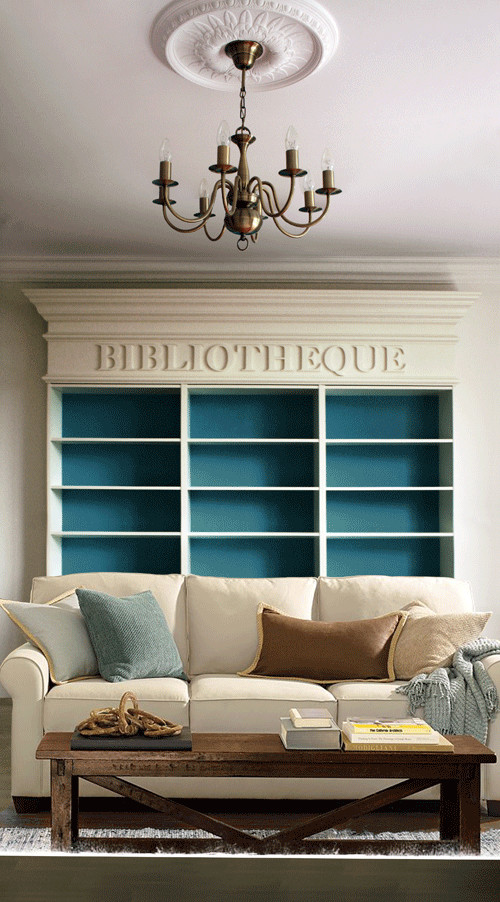 Repainting the interior of a bookcase with this brilliant hue is a good start to bring vibrancy into a room too. It's a subdued strategy yet delivers results.
4. Dress up a neutral palette room
Colour coordination isn't everyone's forte and this is where peacock blue comes in. The bold hue adds depth and interest on its own so placing it in a room with a neutral palette elevates the room. As can be seen in the picture, you don't even need to repaint anything!
5. Dress neutral coloured furniture with peacock blue accessories
If you're not buying new and large furniture, adding smaller touches such as peacock blue pillows, cushions or blankets can raise a room's glam factor. A peacock blue vase can lift a room's profile too.
6. Act as a headboard alternative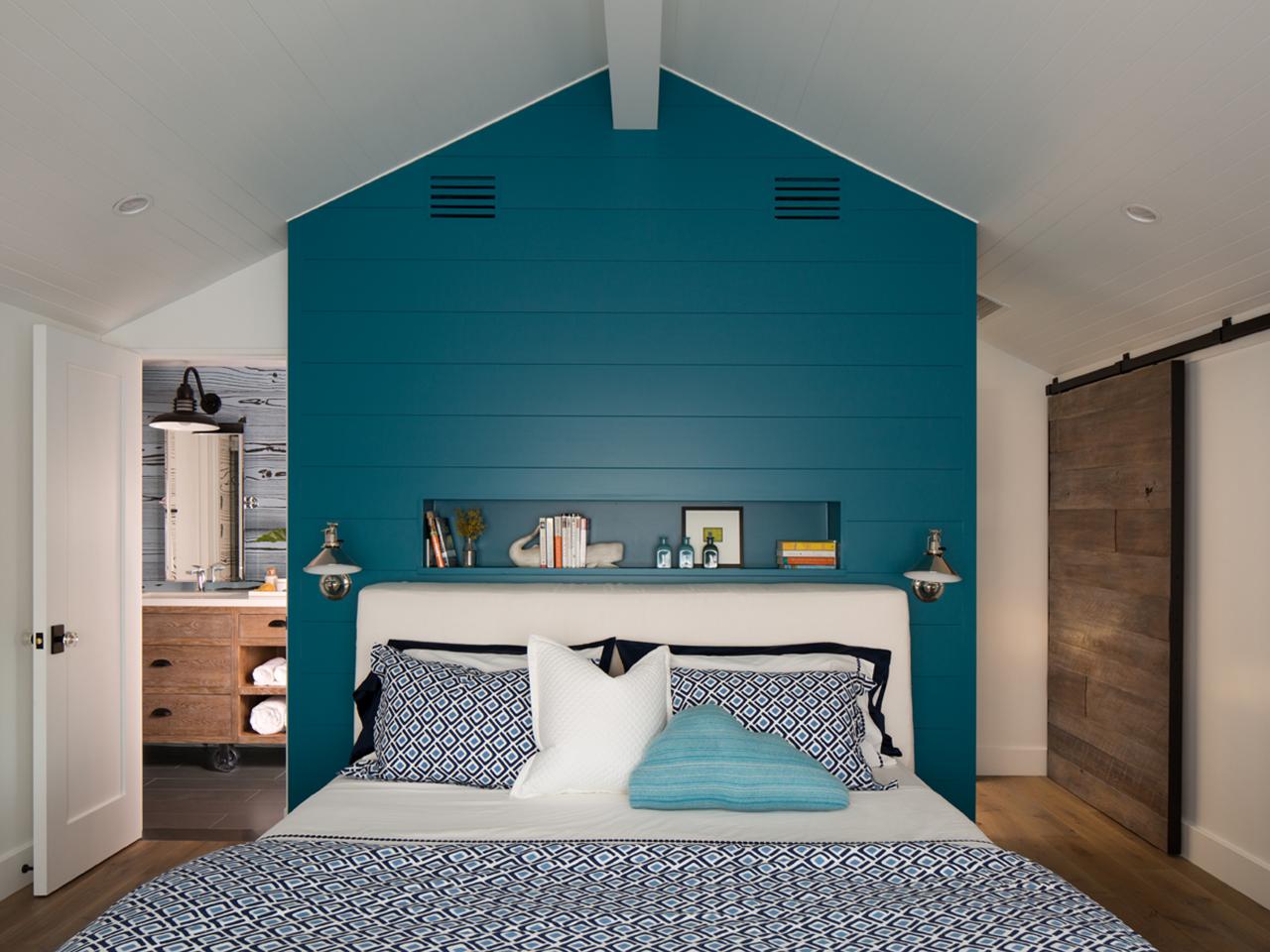 Since the colour stands out on its own, it can be used to distinguish walls or rooms. In the picture above, the blue wall serves as a focal point and separates the bedroom area from the bathroom. The blue also gives off a neater and put together look in the room.
7. Make space look larger
By painting the ceiling and walls in deep peacock blue, it helped make the room look larger. This is because the colour helped blur the lines of the space and this makes the room look spacious.