The doors to your rooms have significant impact on the design of your house as a whole. They provide the ideal friendly welcome to your personal space. These are crucial elements of interior design that also protect your privacy. Therefore, it is important that they are stylish and stand out uniquely in your home.
Why Door Alternatives Instead Of A Door?
However, plain wooden doors are quite simple, monotonous, and out of style. All of these have oddly familiar designs. So it makes sense to look for trendy door options to enhance the overall aesthetics of your home. Fortunately, there are several door alternatives that are better than your normal average doors. They provide you with a sense of individuality as compared to the standard door styles found in all homes.
Are you here looking for some stylish door alternatives you can use instead of a door? We've got your back. After searching around, we have brought you the 8 best alternatives you can use instead of a door. You can install these to add a little bit of spice to your boring indoor environment.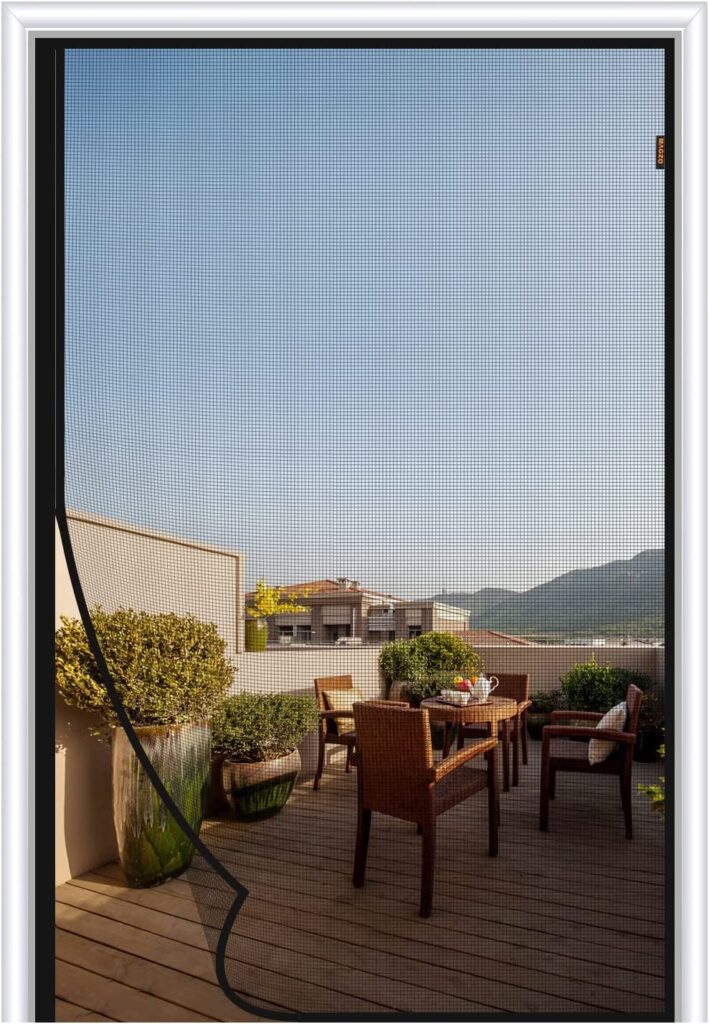 The magnetic screen door from MAGZO is a side-opening mesh curtain made of fiberglass screen. It has magnetic strips on both sides of the screen, which close the door automatically after you enter or exit the room. This is a dual-purpose screen door that can be used as a curtain alongside patio doors or as an actual door to your hallway, bedroom, or kitchen.
Features of this magnetic screen door are:
Reversible with both side opening design: you can fix the closed side with thumbtacks while leaving the open side free
Allows light and fresh air to pass through despite its high mesh density
Does not block vision to the other side
Pet-friendly
Keep all the bugs out: the fine mesh blocks all little critters, making it suitable as a patio door
Durable: resistant to tear and heat (can withstand temperatures up to 300°C)
Easy to install with hook tape, thumbtacks, and an installation manual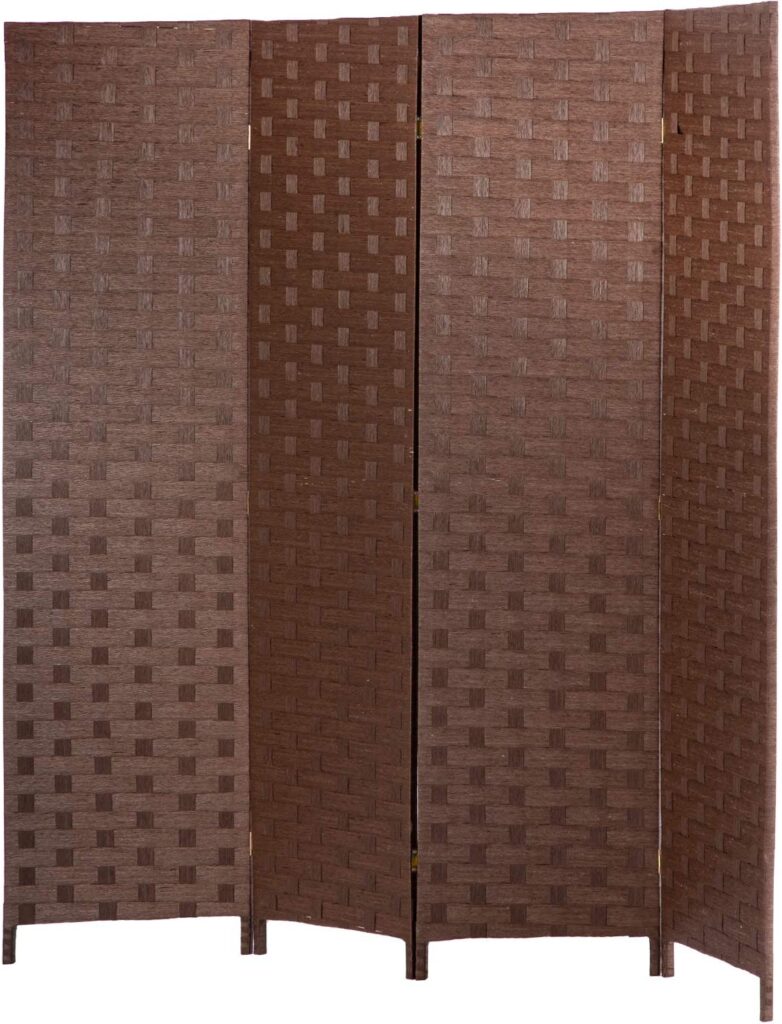 If you want the perfect room separation without using a door, you can go for the FDW room screen divider. It has a wooden screen with four foldable panels. Practical for almost all kinds of settings, this wooden room divider is the best option to add some privacy to a space.
If you live in a co-living environment, this room divider can be used to divide the room between you and your roommates. In homes, it can be used to create a small corridor to direct visitors to a certain place. You may use it to separate the combined dressing in a bedroom or to separate the pet's potty area.
Here are the features of this foldable room divider:
Highly durable material: 100% high-quality woven wooden mesh and tight bamboo arrangement
Stainless steel hinges between panels that are corrosion resistant
Less penetration of sun: suitable to use in summer
Available in plain and patterned varieties to match every interior
Folding privacy screens
Safe and environmental friendly
Lightweight but sturdy
Space saving and easy storage
Easy to move
Zero installation needed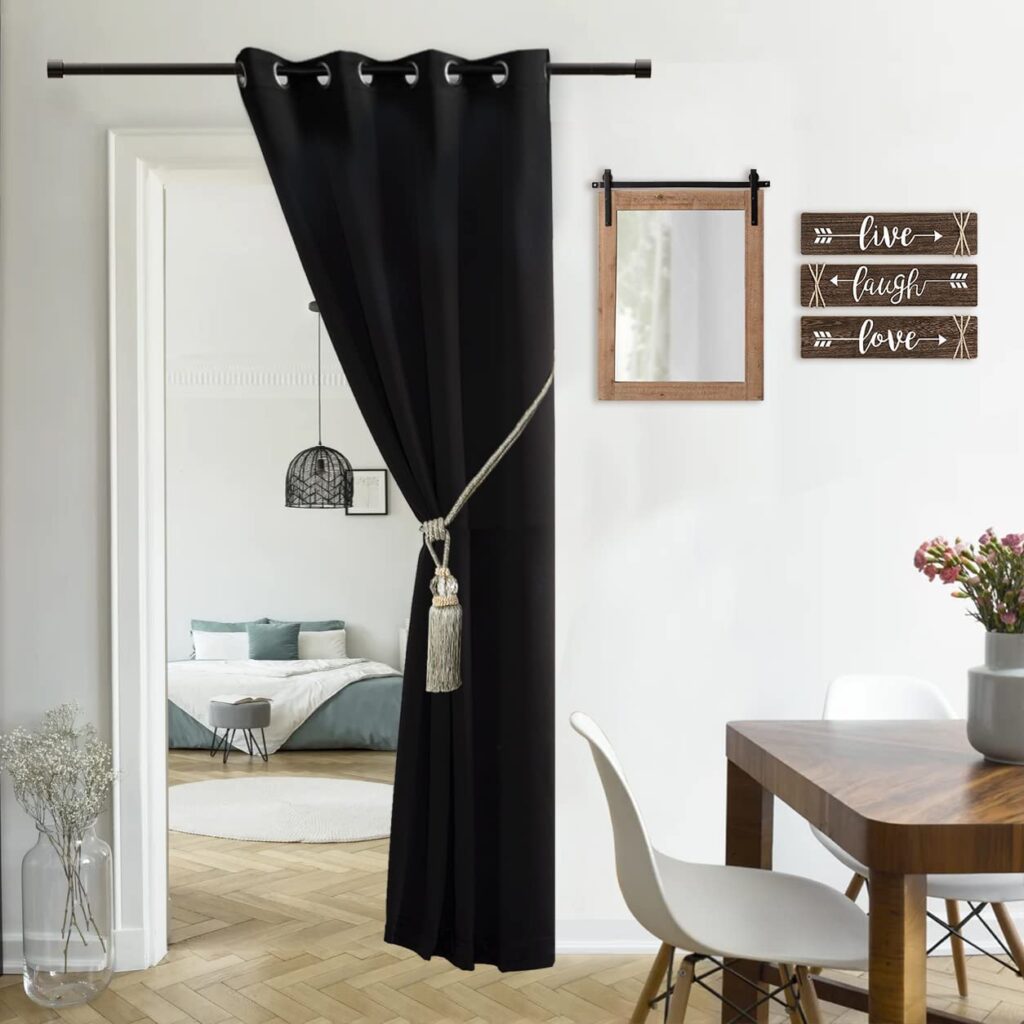 Another great alternative to the wooden door is a set of gorgeously colored drapery curtains from XTMYI. In addition to providing visual privacy, hanging these curtains in the door frame also dampens noise coming from the adjacent room.
These complement your interior while partially reducing the impact of temperature. You can hang some fairy lights along the curtains to transform your place into a dream room.
The benefits of using these curtains instead of a door are:
Multiple ranges of dull and vibrant colors to choose from
Available in custom sizes
A perfect blackout with densely woven microfiber polyester and yarn
Versatile use: can be used as an interior partition or exterior curtains for patio
Can be used as a room decor too
Waterproof and durable material
Sheer and wrinkle-free
Easy to install and pull
Wheelchair and pet friendly
Can be washed in a washing machine
Way more economical than a wooden door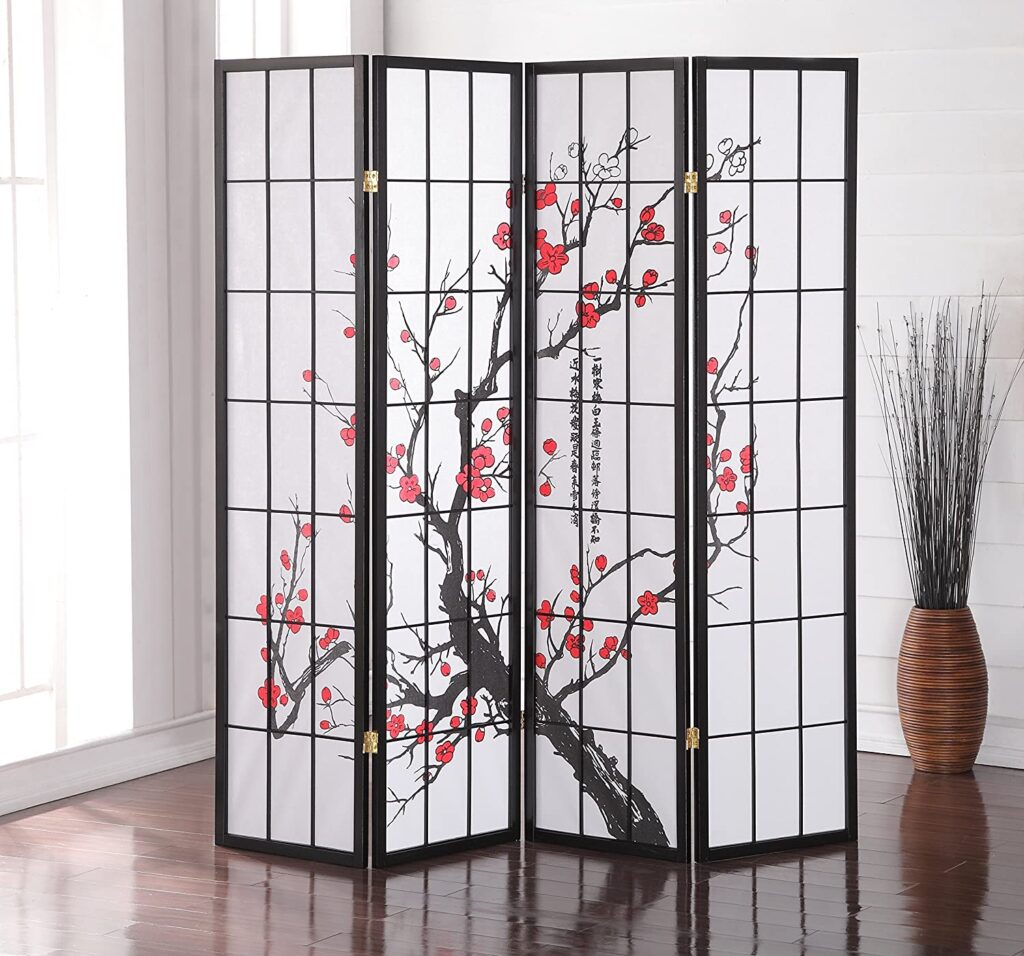 You can bring some antiquity to your room by using these Japanese-style room dividers. These divider screens come with classy floral prints.
Inspired by Japanese history, these dividers bring a touch of elegance to your space. These are perfect alternatives to doors that don't need to be installed. You can move them wherever you want at any time.
Specifications of these Japanese room dividers are:
Portable: 4 foldable panels hinged together
Beautiful floral print: black branches dripping with red cherry blossoms
Highly durable materials: the solid wood frame and heavy-duty rice paper screen
Multi-purpose
Provides privacy by blocking the view
Allows light to pass through: light can diffuse from the rice paper, creating a soft glow
Easily movable and ready to use
Zero installation needed
Space-saving storage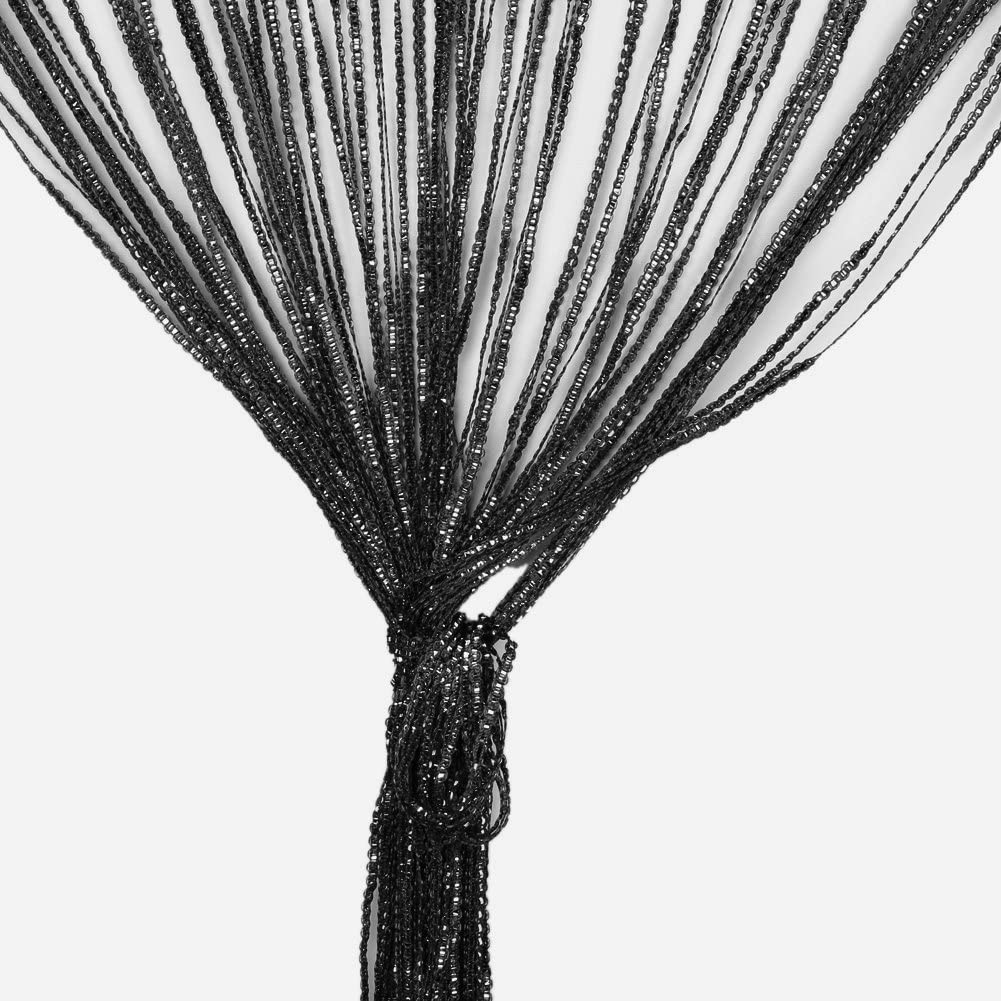 Another excellent way to clearly emphasize the shift from one room to another is to hang string curtains. The hanging strings by Vidillo are quite unique and beautiful. It's always fun to move through them.
Although they are not strong enough, they can be used to add a bit of privacy to a space. If you want a more blocking effect, you can simply add two to three layers of these curtains.
Here are the features to be considered, so you may want to install them in place of a door:
Plain and glittery varieties are available. You can buy one according to your taste
Easy to hang: require any standard curtain rods
Provide decoration and privacy hand in hand
Can be used as room dividers
Add some novelty to your room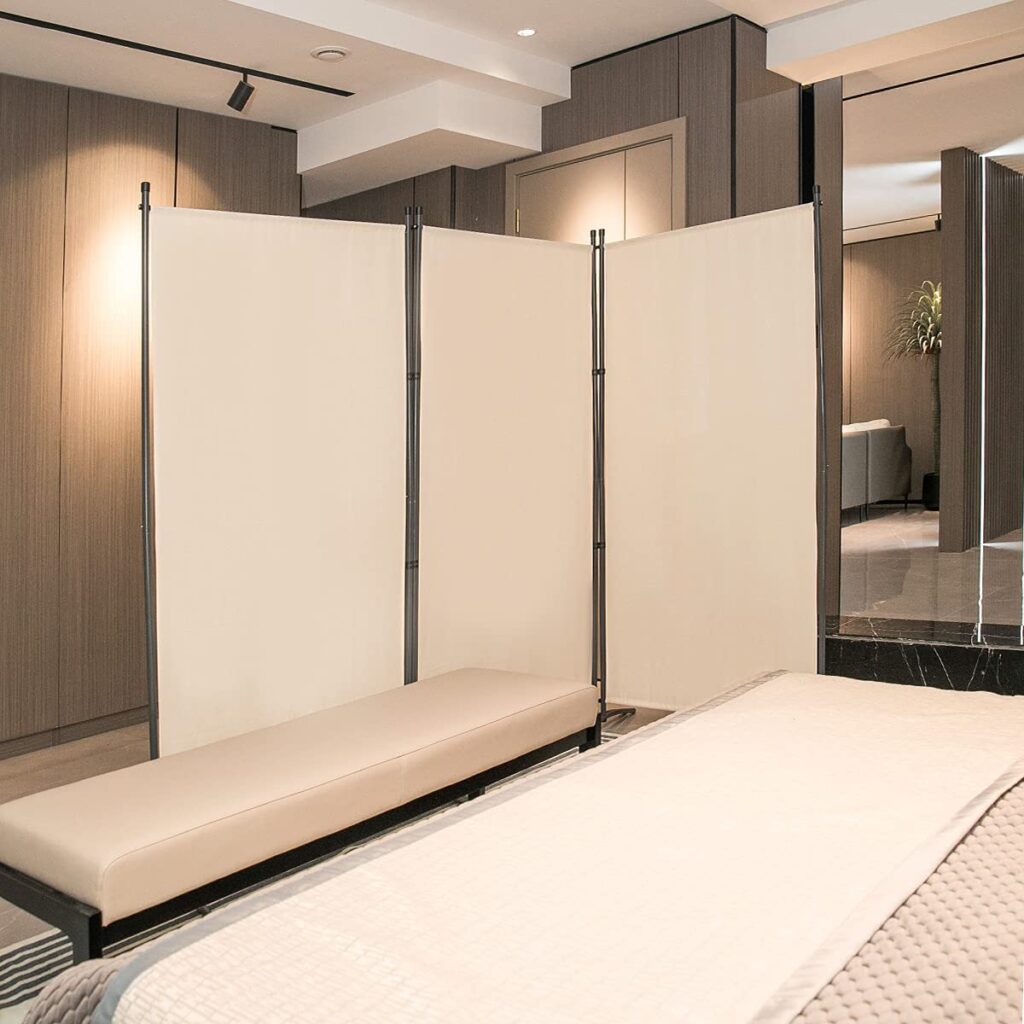 Here's another room divider for separating two spaces in your home. It is a 3-panel room divider by YASRKML. Due to its minimal design, this foldable screen divider can be used as a space separator in both homes and offices. Like other room dividers, it is ready to use and needs no installation.
The benefits of having this room divider are:
High-quality material: sturdy polyester fabric, forged steel frame coated with plastic, corrosion-resistant connection buckles, and heavy metal base
Resistant to water and UV rays
Suitable for indoor and outdoor purposes
Blocks light to some extent
Double hinges between panels to ensure longevity
Easy to fold and move
Space-saving storage: can be stored in a closet when not used
Sturdy but lightweight
Flexible folding
Adjustable foot
Upgraded tube cap: prevents injury from steel pipes in the frame
Easy to assemble: just 15 minutes are required to assemble the whole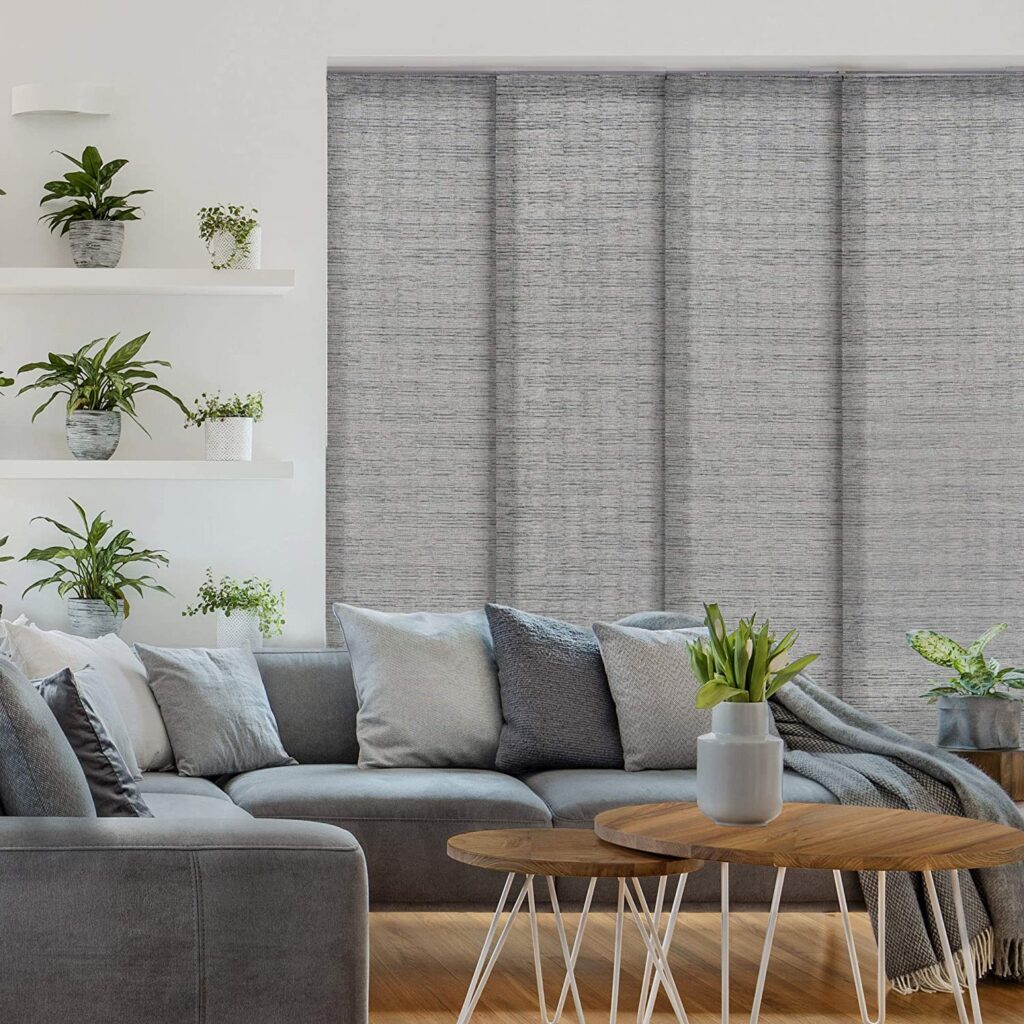 GoDear Design provides you with a novel concept of vertical blinds in the form of their sliding panel blinds. These panels are designed to be used as a door alternative while giving clean look to your interior. Their sleek and elegant woven designs level up the decency of your house. They have a clean look as there are no cords or strings required for installation.
Here are the best features of this sliding panel blind which are:
The versatility of use: can be used as a sliding door, a window shade, a room divider, or a closet cover
Three elegant colors are suitable for every interior
Nature-inspired designs
High-quality woven material: paper and polyester
Filters the light to create a softly lit interior
Multiple stacking options
Three-way easy installation: ceiling mount, wall mount, and bottom bar
Easy pulling and assembly
Trimmable panel height
Adjustable width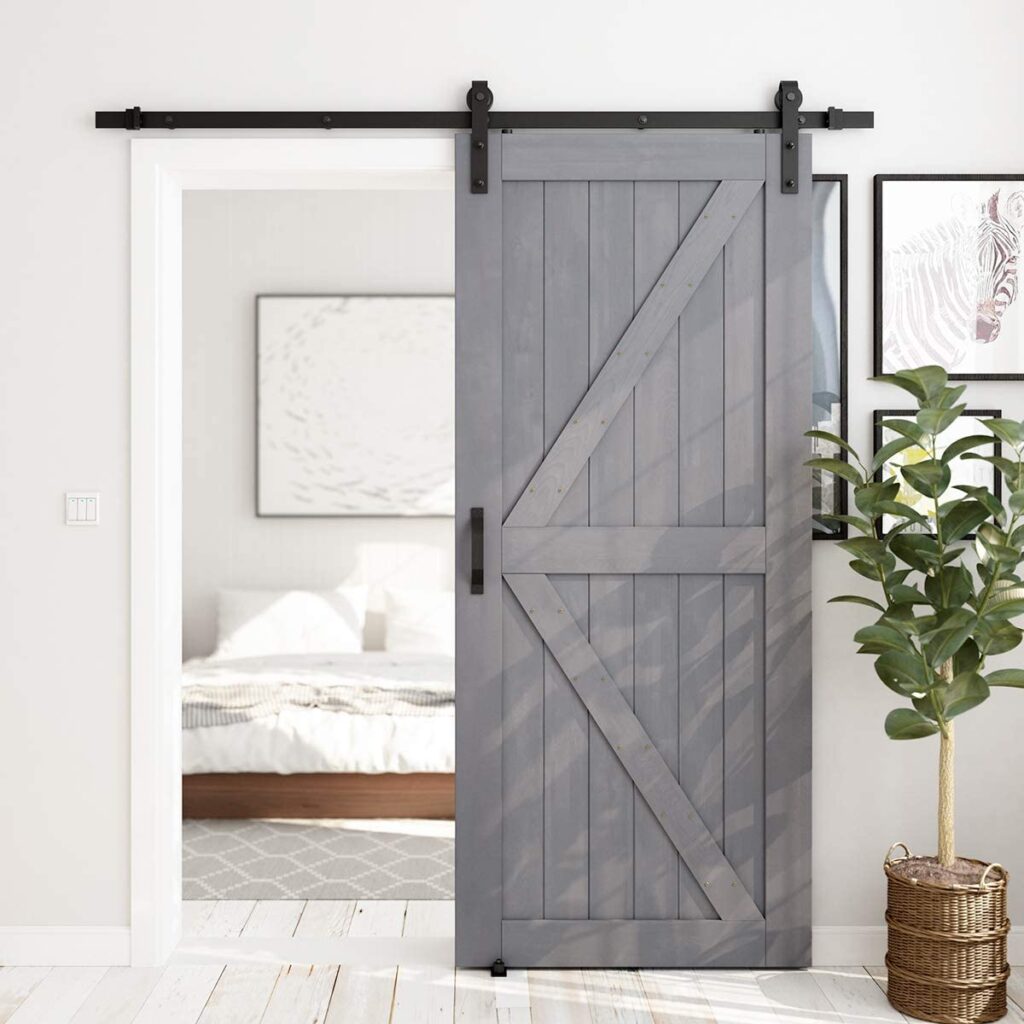 Barn doors are gaining popularity in American homes recently. They are the ultimate solution for replacing your boring doors. Our top pick for barn doors is the SMARTSTANDARD's sliding barn doors. Their exquisite designs, smooth textures, and elegant colors are just perfect for your home. If you are a do-it-yourselfer, you can install it on your own.
Here are the advantages of this sliding barn door which you can consider:
Made of natural spruce wood
Highly durable and sturdy
Insulator of heat and sound
Anti-rot material
Easy to install: the door is pre-drilled and comes with a hardware kit for easy installation
Versatile style: go with any interior design
You may paint the door again according to your taste
Space saving
Final Thoughts
If you want to make a good impression on your guests by livening up your interior a bit, it is essential to have trendy doors at home. We hope our top 8 door alternatives list has helped you in knowing the most popular door options available today. Now all that's left to do on your side is to pick one that goes with the interior of your house. And Ta-da! you're ready to go.