Black and white are staple colours in our lives because they are simply classic colours that go well with anything and everything. While both of these colours are on different ends of the spectrum, they go very well together to make a stunning statement that's minimalist yet dramatic. Here are some gorgeous examples that you will drool over.
1. Bold Black and White Bedroom
The mixture of these two colours make a very striking contrast which is put to good use in this stylish bedroom. The playful horizontal stripes on the walls are complemented by the vague inkblot shapes on the rug and stools.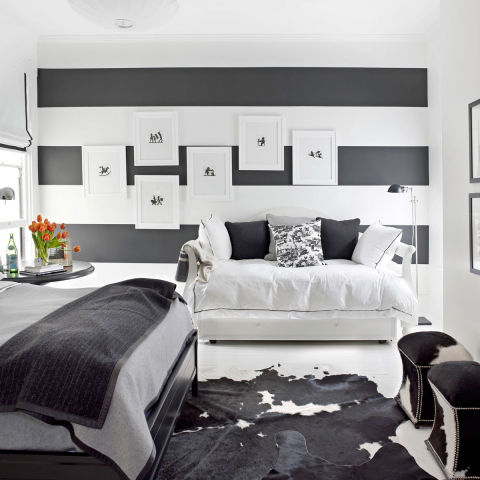 2. Stripey Bathroom
In this elegant bathroom, the walls are adorned with chic stripes to unify the rest of the bathroom's monochrome decor. The black marble used for the bathtub is matched with a similar stone for the counter while white is used to make it more outstanding.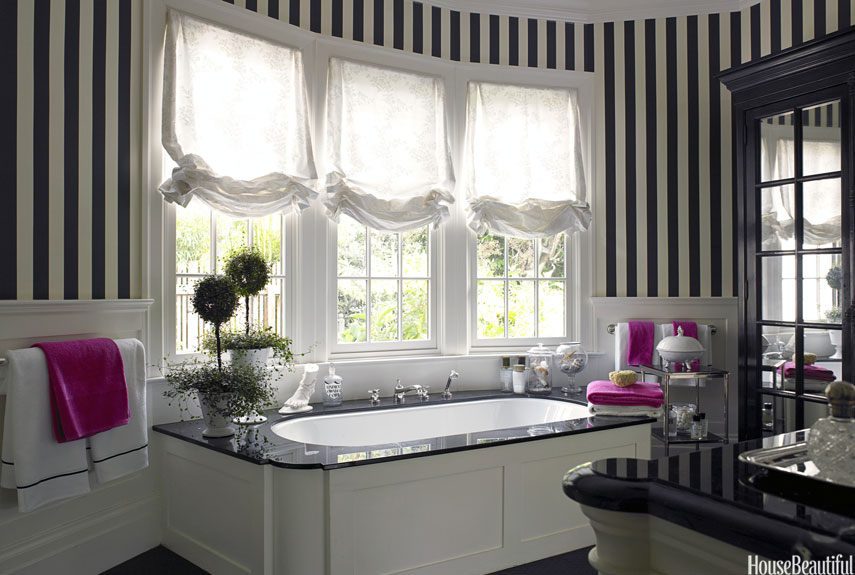 3. Striking Kitchen
In a kitchen that uses predominantly black furniture, the monotony of this colour is broken up by the gleaming countertop and white walls. Meanwhile, the shiny steel gray barstools are classically chic.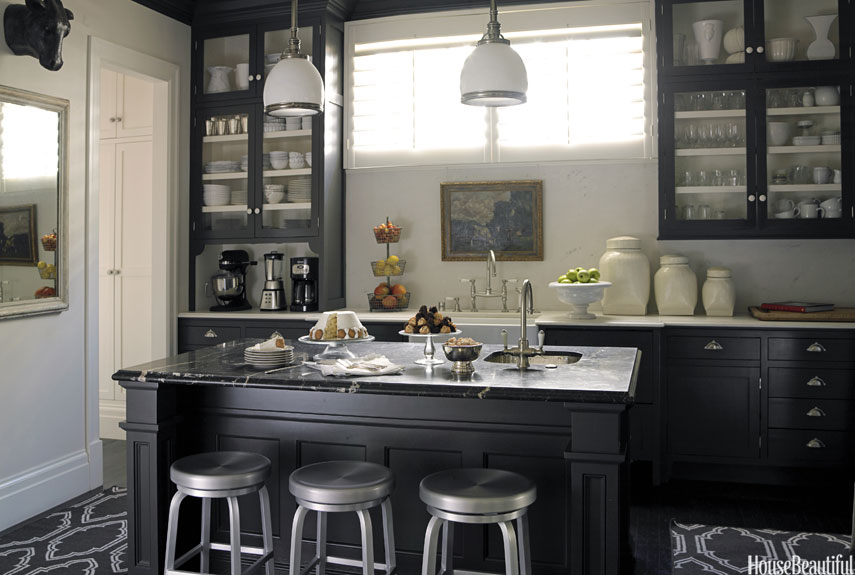 4. Stone Pattern Bathroom
The walls of this bathroom are covered in an interesting faux stone pattern which makes it look fun and quirky, especially when it is used with a matching stone bathroom counter. The big shiny mirror edged in black pulls off the whole look.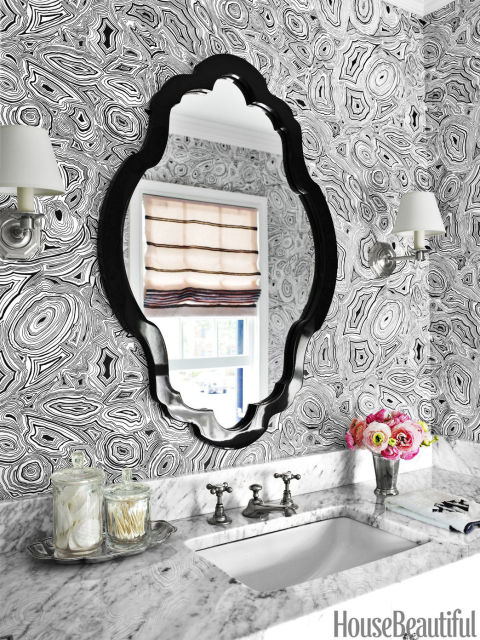 5. Dramatic Black Foyer
The first thing you would notice about this impressive foyer is the alluring white English chairs and pristine floor that is in a stark contrast with the black walls and door. The timeless look is further enhanced by the antique white frames hanging on the wall.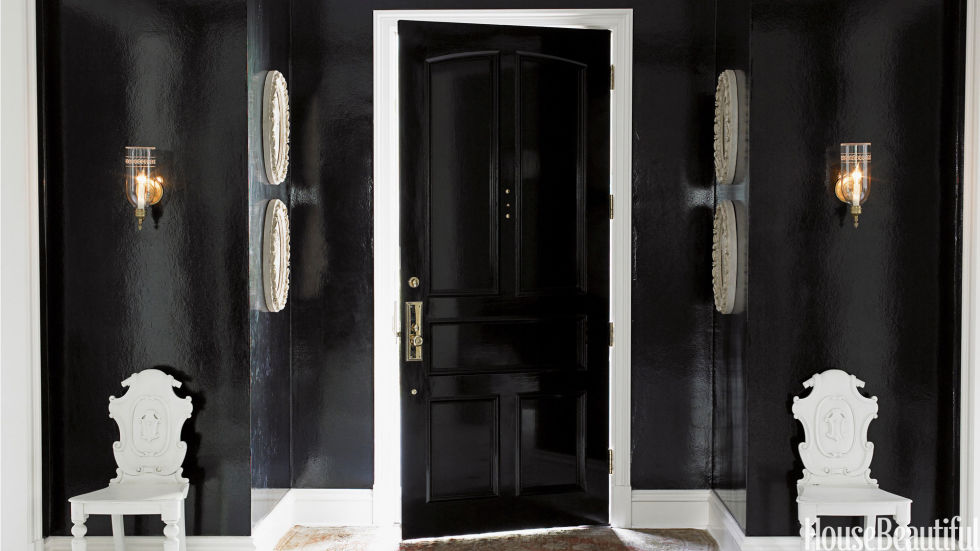 6. Textured Black and White Bedroom
Play around with textures in the bedroom to make this monochrome colour palette really pop. The 3D wall with waves looks awesome with a quilted feature wall directly opposite while the cosy black bedding looks gorgeous with the plush white carpet.
7. Sophisticated Living Room
This living room is a fashionista's dream come true with the custom made sofa upholstered in a plush velvet with other unconventional seating options placed around the space. The beautiful white artwork hanging on the white walls provide a subtle contrast with the black decor.
8. Modern Kitchen
This contemporary kitchen is simply a classic beauty as it utilises sleek and clean lines for its decor. The black granite backsplash and matte kitchen island provides the much needed contrasts against the white shelves.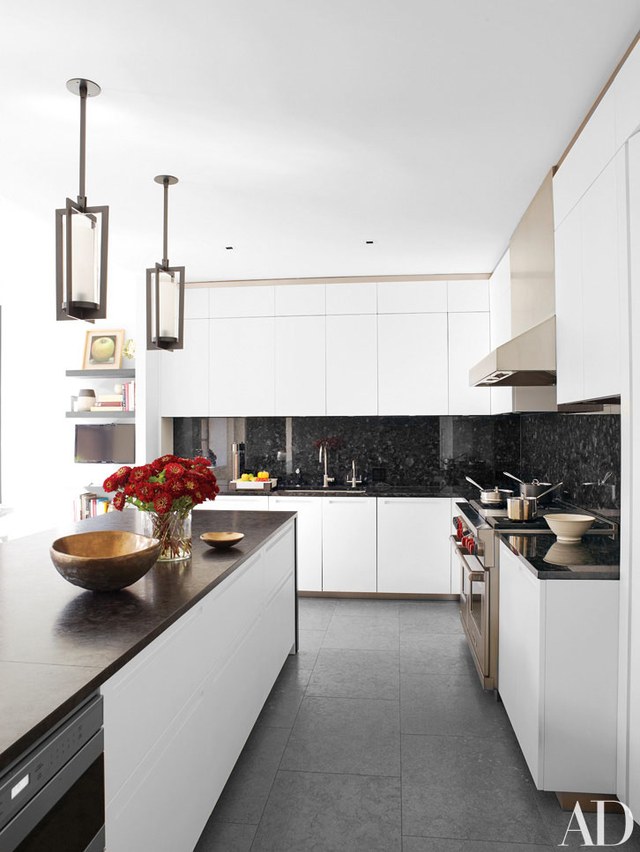 9. Sleek and Contemporary Living Room
This modern living room is a great example of a minimalist space that utilises the monochrome colour palette wonderfully. The predominantly white room is contrasted sharply by the soft and fluffy black carpet along with the glossy coffee and end tables.