Black has returned to interior design, not only for walls but also for cabinets, fireplaces and even floors. Black is bold, elegant, sophisticated, and powerful. It can also make a room look and feel cozy, inviting, romantic, striking, or professional. An important detail to remember when using black is to use neutral colors to create a contrast. A room can be completely transformed when you change the color of the walls. It gives it a different feeling.
What Is Black Interior?
In interior design world, black interior means positive thoughts and feelings. Black or dark walls, decor, cabinets, floors, doors etc. It can be all the walls, one wall, just the bedrooms, only the kitchen, even the floors look stunning in black, or maybe just the bathrooms.
Types of Black Color In Interiors
There are so many different ways to design with black and several shades of black to choose from for example:
Asphalt – a blend of gray and black
Original Black – the darkest color there is
Black Bean – mixture of brown and black
Black Cat – has brown tones
Black Olive – resembles the color of black olives
Charcoal – dark gray color that comes from burnt wood
Charleston Green – Black mixed with blue and yellow
Eerie Black – very dark shade of gray
Gunmetal – dark gray with tints of purple and blue
Jet – dark black with undertones of blue and purple. 
Those are just a few, there are a total of 34 different shades of black. Black interiors work for any age group.
People go for the black interior design look for different reasons, it's a way to show power in an office, elegance at a restaurant, and can give a striking look to any home. When you want a stunning look, pair black with red and white, these two colors together are just amazing! Pair it with chrome and glass to get a sophisticated, sleek look. For a glamorous bathroom black will do the job.
Below, we have already sorted off the top tips which can help you in the journey of designing the best dark interior house:
1. Paint The Right Surfaces Black/Dark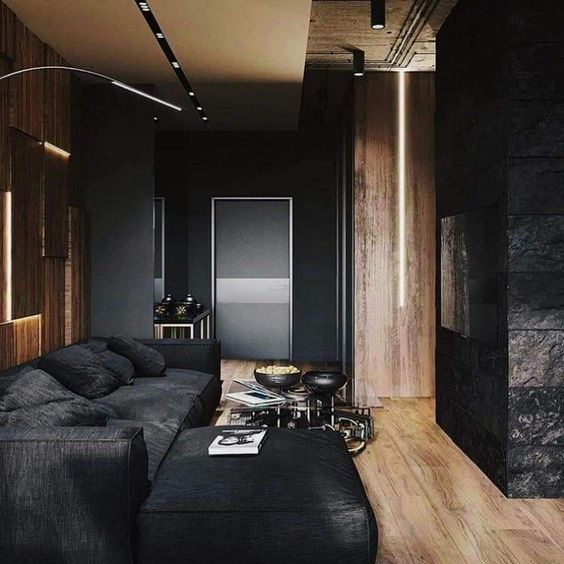 Depending on the size of the room and what kind of look you want for that particular room will help you decide what will be painted black. The walls, a fireplace or doors. Do not paint all in black or you will end up with a room that is too dark and gloomy.
2. Paint A Small Room Or Area First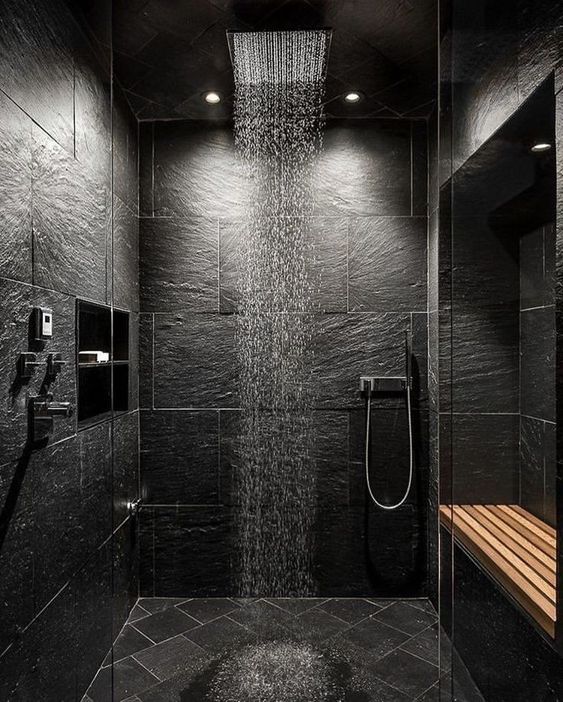 If you have never painted with dark colors, this might be a good option. Start with one or two walls in a room or maybe a small bathroom. Gradually getting the feel for the dark tones and how they fit in your home. From there you might decide on painting more rooms as you get the feel for the color.
3. Use Different Layer of Black Tones
With so many shades of black you have to sample a few to get just the right one. Some blacks are glossy, some are matte, some are more gray than black, etc. You can even combine two different shades of black. Have fun with it don't settle for just plain black or the first one you come across. Sometimes different tones will give a different feel and look. Some shades will look better than other shades when combines with certain colors. It may take a few tries but don't worry, you will get it.
4. Create Contrast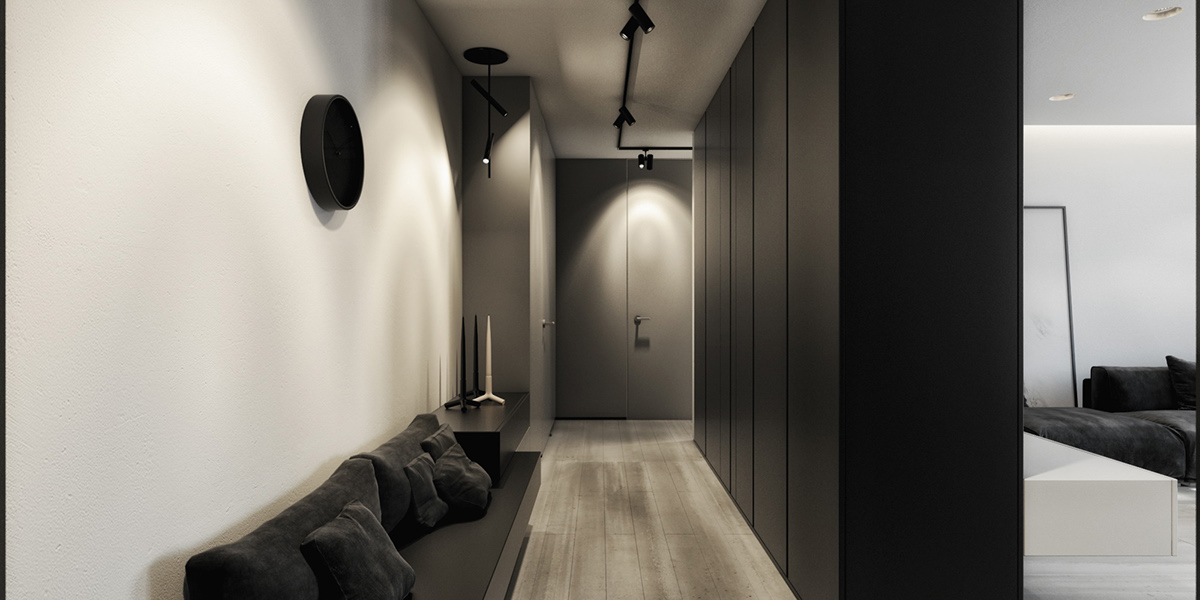 Mix it up with some color with such as white. You can have different colours in artwork, comforter, bedspread, or furniture. This will give the room a nice contrast and prevent the black inspired bedroom from looking too dark.
5. Use Appropriate Lightings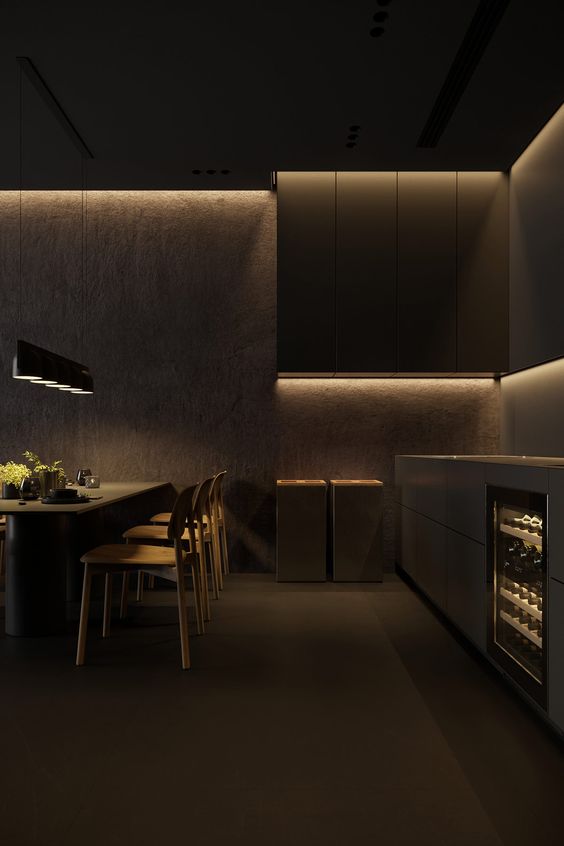 Lightings is important to black interior house because you need to illuminate the areas or rooms in your house. Not too much but enough. The wrong lightings would harm the overall sleek feeling of your aesthetics. When in doubt, use warm white lighting to give a warm, cozy vibe to that area.
6. Introduce Stencil Patterns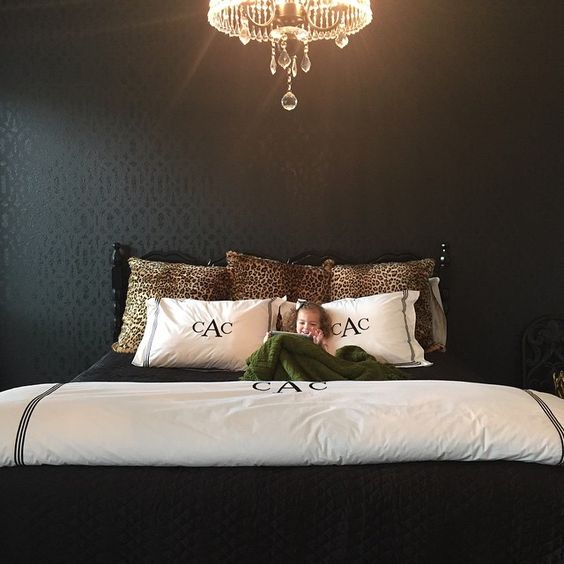 Stencil different patterns on your black walls or wall to add some color in the background. This will keep it from looking dull and boring, It's not too dramatic but enough to do the job.
7. Install Black Flooring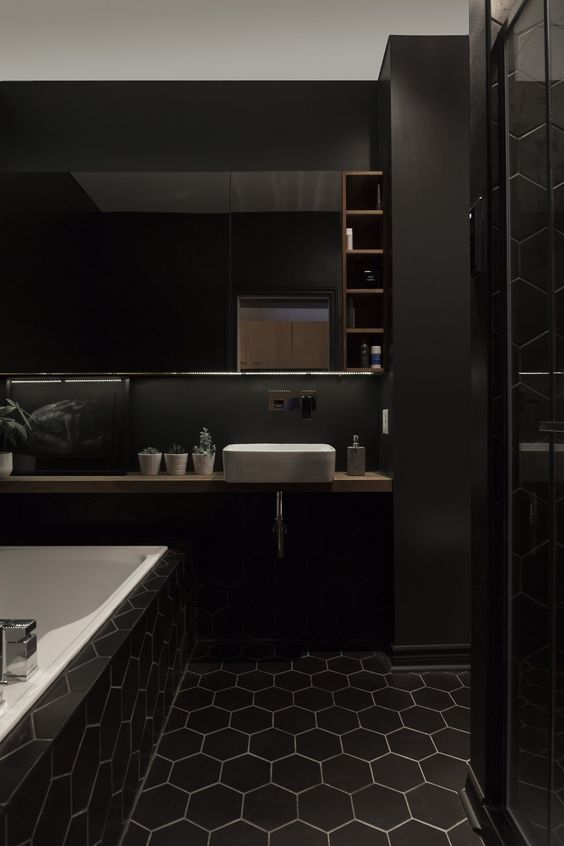 If not the walls, try doing the floors black. This will tie the whole room together and give it a sophisticated look. Remember to keep the walls with a neutral color . This avoids making a room not too overly black.
8. Add In Features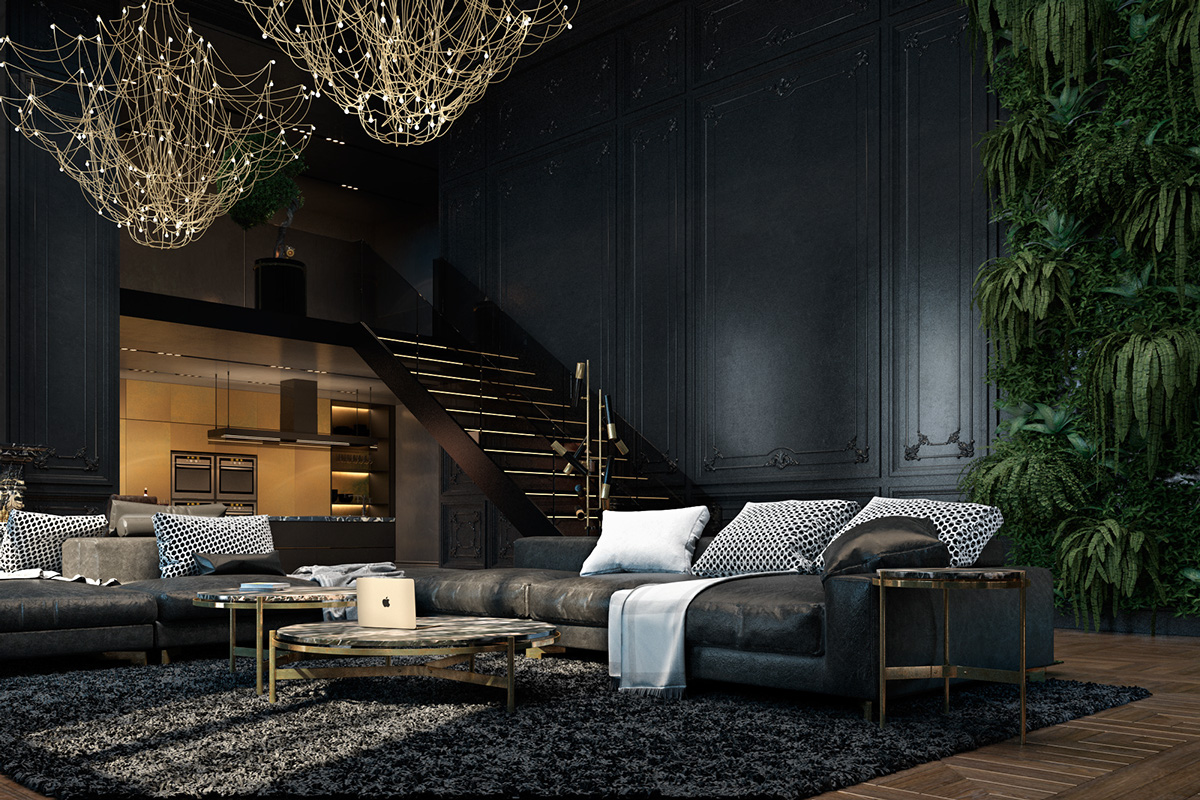 Another great idea is to paint features in your home black such as fireplaces, handrail on staircase, doors, etc.. This will give the room a more modern, sophisticated look. Painting features black gives the room a dramatic change with hardly any work having to be done.
9. Start Small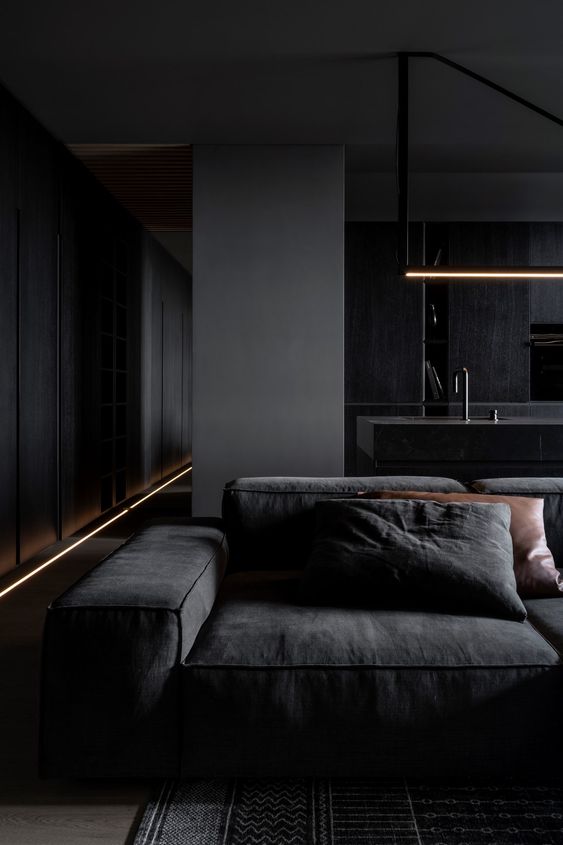 Start small paint one wall from a room and see how that looks, if you used the correct black or if you need to try a different shade of black. Maybe do just the door and see how that looks. Since black is such a bold color it may be overwhelming to go from a completely white room to a completely black room. Starting small gives you an opportunity to adjust to the drastic color change.
10.  Avoid The Ceiling
Avoid painting the ceiling black in order to avoid it from looking as if its walls were caving in. If it is a high ceiling room then you can go ahead and paint it but making sure you do not paint too much of the room black otherwise even with the high ceilings, it would be too much black.
There are many possibilities and options when doing black/dark design. Black helps hide any imperfects that you might not want showing. It also gives a space a very airy, clean, crisp, feel while showing a brand new look! Next time you have a painting project, try black, see what this color can do for your space.
Few other details to keep in mind:
Remember too much clutter can ruin that clean and crisp feel.
Play around combining different colors with the black to see what fits better but being cautious as to not use too many different colors as this would give the opposite effect.
If you have pets, avoid black furniture as the shedding fur will be obvious and it also attracts dust. On the other hand if you do not have pets but do have children black furniture will do a great job in hiding spills and stains.
Creativity and innovations are endless as is the color BLACK.
All images are taken from Pinterest