Microwaves have become one of the staple appliances in our kitchens. They provide us with fast, easy, and endless cooking options every day. Whether it's about warming a cup of coffee in the morning, making a quick lunch, or preparing a full-fledged dinner, a microwave oven can do it all for you. Moreover, amidst the busyness of everyday life, we turn to microwaves for cooking as a means of conserving both time and energy. Therefore, choosing a microwave oven is a task that requires serious thought. After all, you need convenience for yourself and taste for your family!
But with so many brands and models of microwaves in Malaysia to choose from, finding the best oven that fits your cooking needs and budget can be challenging. That's why we've done the hard work for you! After continuous research, taste testing, and analyzing customer feedback, we've put together this list of the best microwaves in Malaysia. We will also advise you on what features to look for in a microwave oven when purchasing one for yourself. So, let's get started!
Features of a Good Microwave Oven
The features that transform an average microwave oven into an extraordinary cooking appliance are the following:
Multiple Cooking Functions: Most modern microwaves come with multiple cooking functions to offer you maximum versatility. These usually include defrosting, grilling, reheating, and baking functions.
Sufficient Capacity: Make sure you select a microwave that offers ample capacity to meet your cooking requirements while taking up only a little space on your kitchen counter. It should be capable of cooking larger dishes like turkey, whole chicken, pizza, lasagna, etc.
Easy to Use: The microwave you choose must have an easy-to-use design. The presence of a clear temperature control, timer, and display simplify the cooking process for everyone.
Energy Efficient: Investing in an energy-efficient microwave can help you save money on your electricity bills over time. These microwave models are more eco-friendly as well.
Multi-level Safety Features: A good microwave oven is not complete without safety features. Some common safety features that keep you and your little ones safe at all times include child lock, automatic shut-off, and overheat protection.
Durable: Make sure the model you choose has a solid and sturdy exterior and interior, and buttons and knobs that can stand up to regular use. It will give you the confidence to cook every day without worrying.
Our Selection of 7 Best Microwave Ovens In Malaysia
After careful research and input from top chefs in Malaysia, we've selected the seven best microwave ovens available on the market. Let's dive into this curated list and find the perfect microwave for you!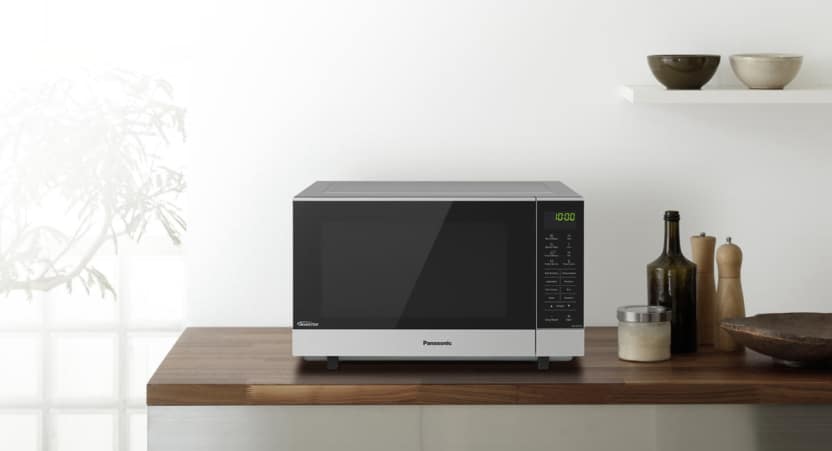 Get the convenience you need in your cooking routine with the Panasonic Inverter Grill Microwave Oven. It provides you with a large 27-liter capacity to cook up all your favorite meals and snacks at once. This dual-action microwave oven speeds up meal preparations by combining two cooking methods in one appliance: microwave and grill. The microwave cooks food faster, whereas the grill gives it a golden brown exterior and a crispy texture.
Some amazing features of the Panasonic Inverter Grill Microwave Oven are:
Flat and Wide design: more cooking space
27 L capacity
Simultaneous combination cooking: combines microwave and grill in one appliance
23 Auto Cook Menus
Inverter Technology for precise power control
Flameless design
LED oven light
Integrated door open button
Visit them via:
Website | Facebook | Instagram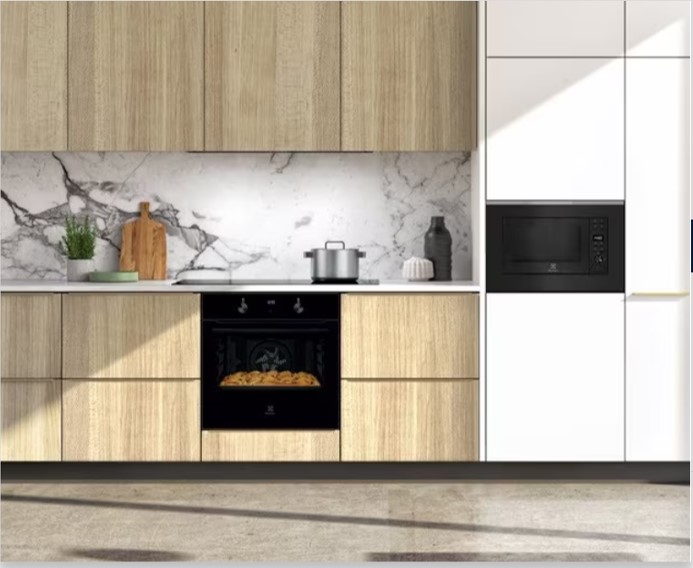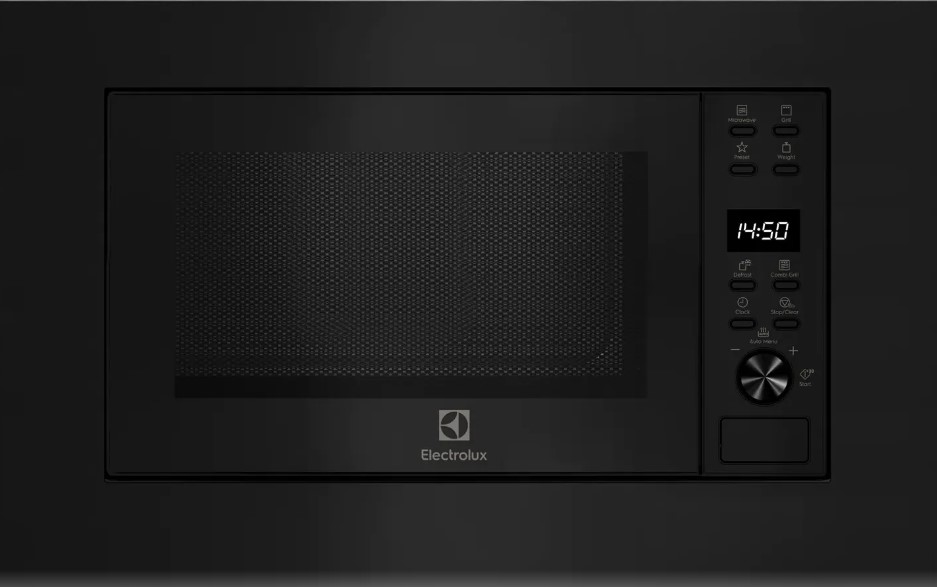 Elevate your cooking game with the UltimateTaste 500 Built-In Grill Microwave Oven from Electrolux. Featuring an easy-to-use design and clear, simple controls, you'll love how quick and convenient this microwave is to use. Say goodbye to bland, rubbery microwaved food with its CombiGrill program, which expertly balances grill and microwave cooking to ensure your meals are both delicious and perfectly cooked. Moreover, its non-stick internal cavity makes cleaning after cooking a breeze.
The features that make the Electrolux UltimateTaste 500 Built-In Grill Microwave Oven our favorite are:
Large cooking capacity: 20L volume and wide turntable 
CombiGrill: grill and microwave in one appliance
Easy to clean
Space friendly with a slimline exterior
Automatic defrost function
Built-in timer
Enhanced safety with child lock and AutoOff
LED light
Double-glazed door for protected heating
Visit them via:
Website | Facebook | Instagram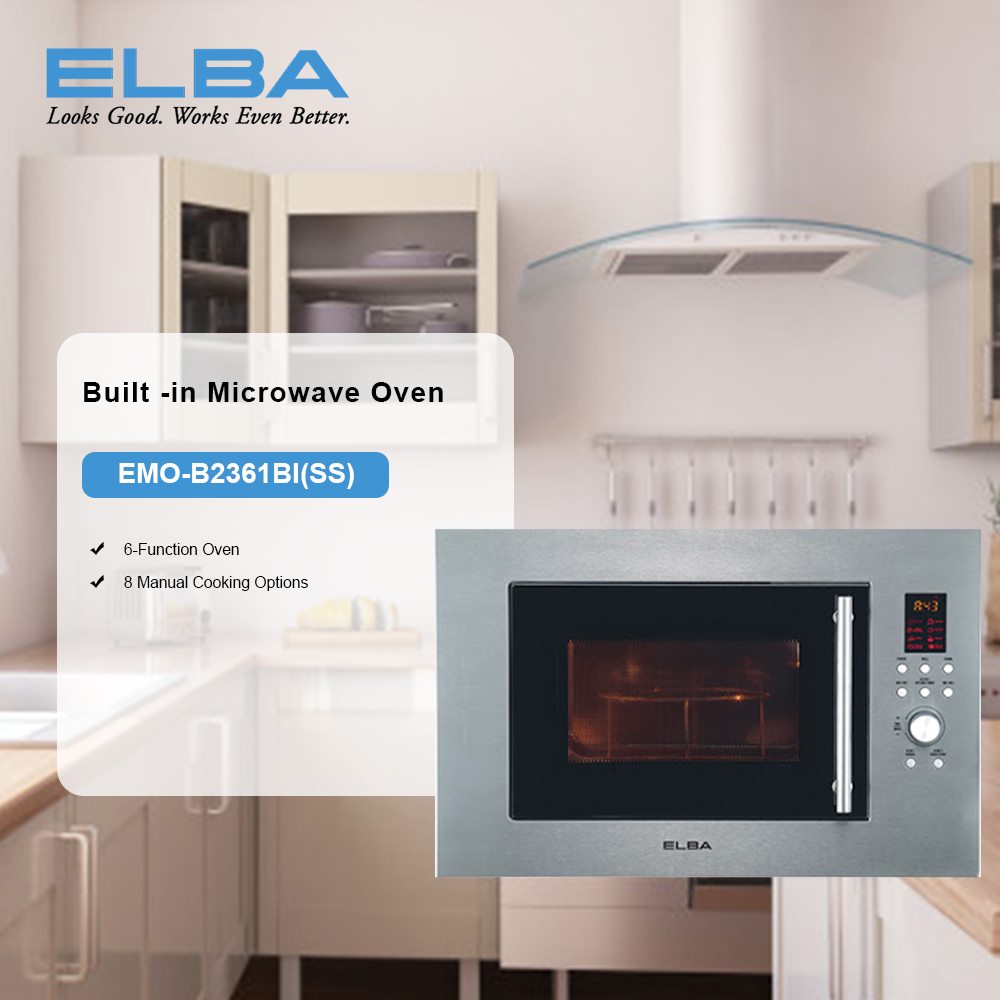 The Elba EMO-B2361BI(SS) Microwave Oven is a must-have appliance for any modern kitchen. With a sleek and stylish built-in design, this microwave is sure to complement any kitchen decor perfectly. Take control of your cooking with six different power levels to choose from. Plus, with eight different cooking options, it's never been easier to defrost, reheat, and cook to perfection.
The Elba EMO-B2361BI(SS) Microwave Oven has many incredible features, some of which are listed below:
23 Litre capacity
Turntable system for uniform cooking
Dual: microwave and electric oven
8 manual cooking options
Cooking end signal and key lock function
6 power levels selection
Digital timer
Visit them via:
Website | Facebook | Instagram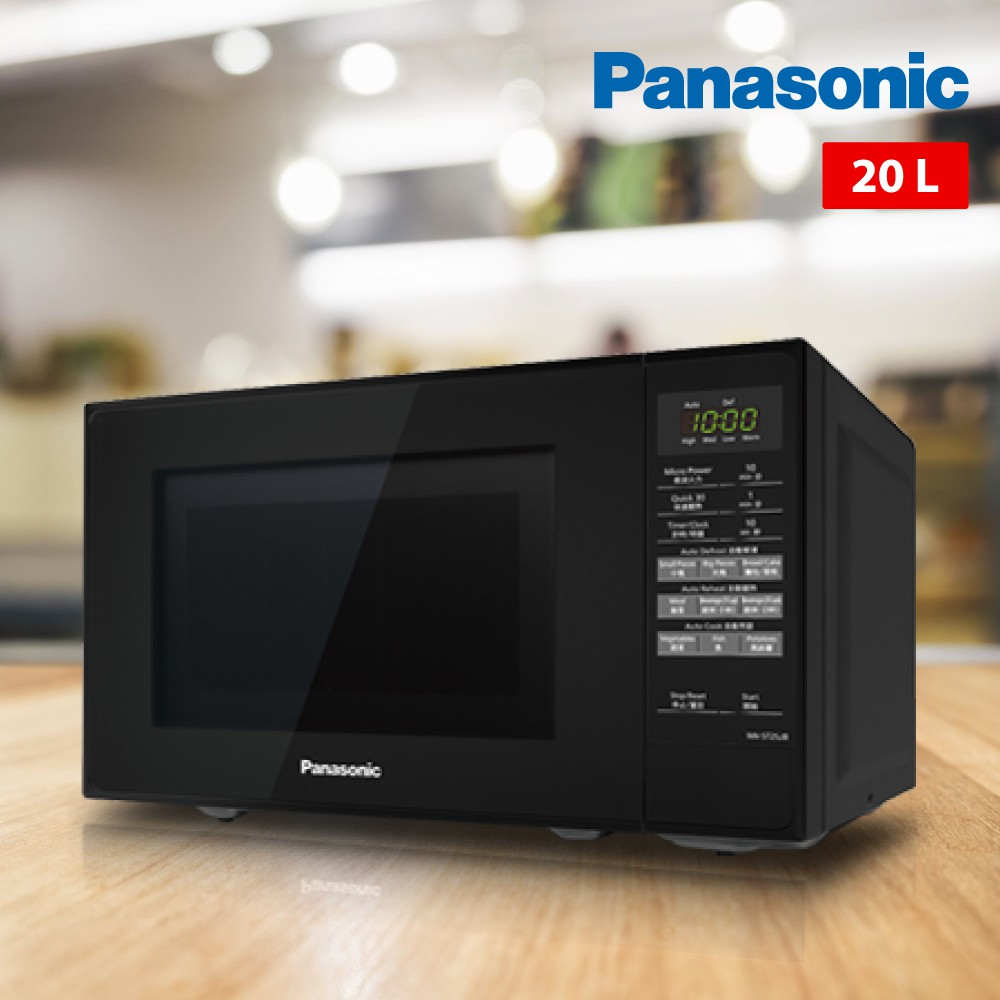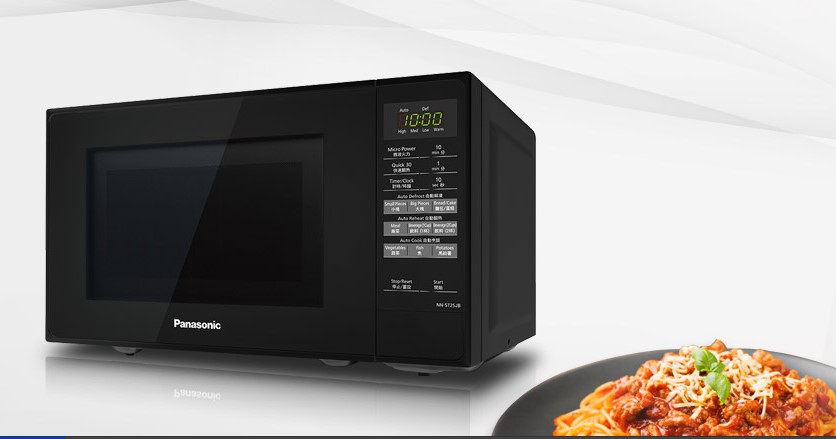 The Panasonic 20L NN-ST25JBMPQ Microwave Oven is an investment in your kitchen that you won't regret. With a durable exterior and interior, this microwave is designed to withstand years of use. And its sleek black design is going to match your kitchen decor seamlessly. Best of all, it has advanced Auto Cooking technology that lets you cook your meals just by setting the weight.
With the following features of the Panasonic NN-ST25JBMPQ Microwave Oven, you'll never have to wait long again for your food to be ready:
20-liter capacity
Quick 30 Function: prepare your food in 30 seconds
9 Auto Cooking menus
800 Watt cooking power
Enhanced safety with child lock feature
Visit them via:
Website | Facebook | Instagram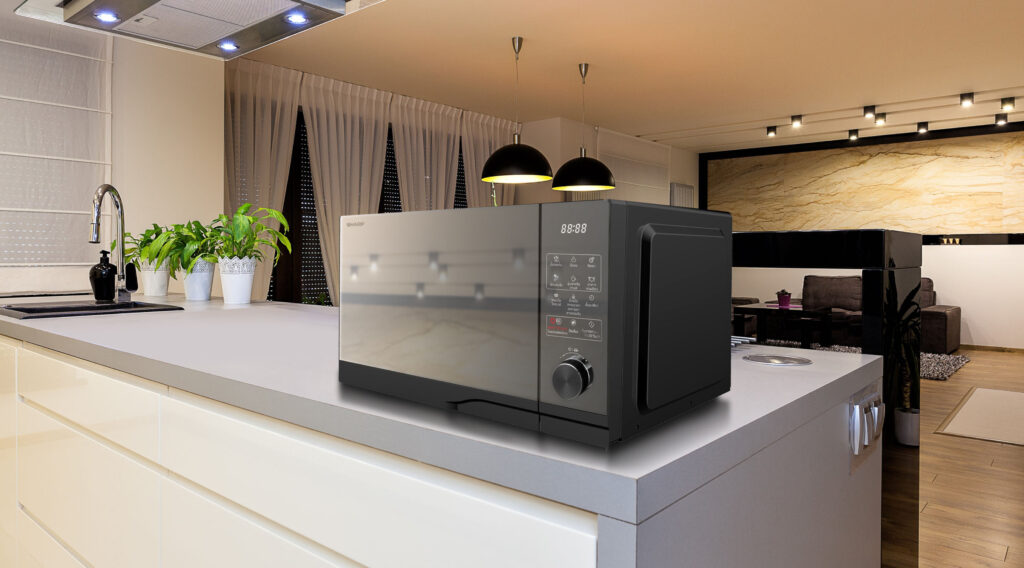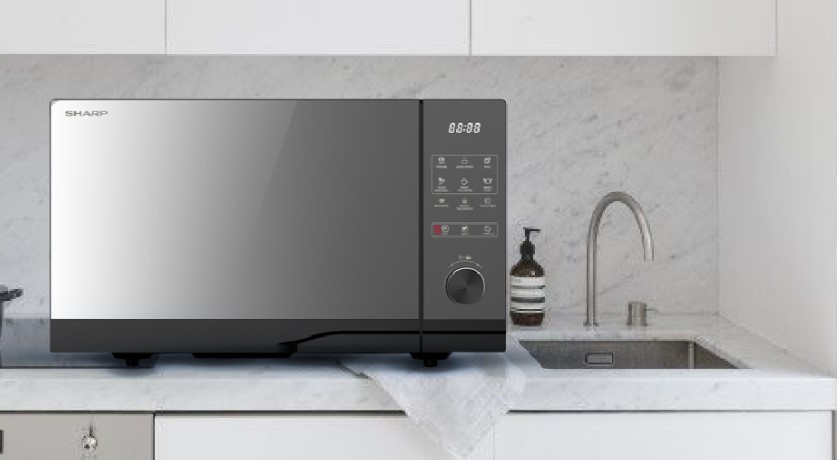 The next article on our list is the Digital Dial Flatbed Microwave Oven from Sharp. This microwave is not just a time-saving cooking appliance, but it's also energy-efficient and eco-friendly. It means you can cook your favorite meals while saving money on electricity bills. With 900 W of microwave power, you'll have a lightning-fast cooking experience, and the 23-liter capacity gives you enough room to cook for your entire family.
The features that make the Sharp Digital Dial Flatbed Microwave Oven the best microwave in Malaysia are:
A large 23L capacity
A wide ceramic flatbed
Uniform cooking even without a turntable
Light up dial control for ease of use 
Easy to clean and maintain
Energy efficient
Enables defrosting by weight or time
Visit them via:
Website | Facebook | Instagram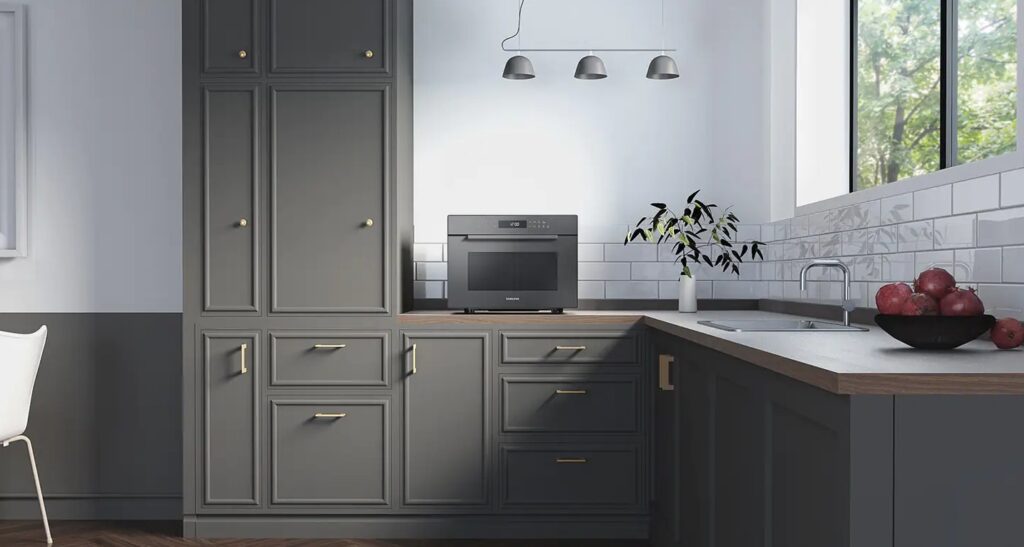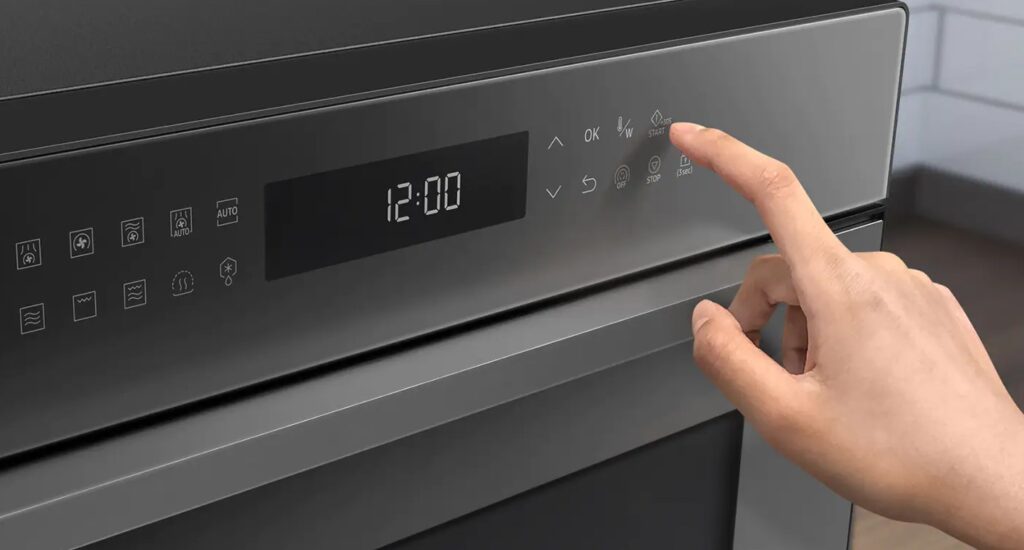 Get the best of both worlds with the Samsung Convection Microwave Oven with a 35-liter capacity. This all-in-one microwave speeds up your meal prep like never before. Imagine biting into perfectly crisp and golden snacks and enjoying a juicy texture with each and every bite of your chicken wings. That's what its HotBlast™ technology does for you! It rapidly circulates hot air through numerous air holes and directly onto your food, resulting in evenly cooked perfection every time.
Get ready to blast your taste buds with deliciousness with the following amazing features of this Convection Microwave Oven from Samsung:
Hygienic and durable interior with the ceramic enamel cavity
35-liter capacity
Easy to keep clean and scratch-free
HotBlast™ technology
Anti-bacterial protection
Air Fry Technology: fry your foods without oil
Easy-to-use glass touch controls
Up to 50% less cooking time compared to air fryers
Three-layered stainless steamer cover 
PowerGrill Duo: grill and microwave in one oven
1600 Watt power and consistent heat distribution
Auto cook function
Visit them via:
Website | Facebook | Instagram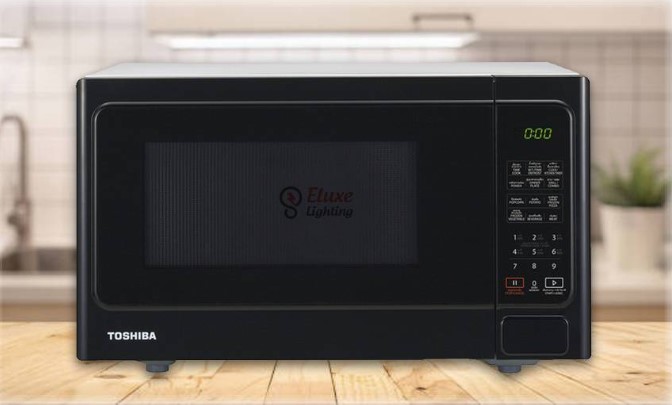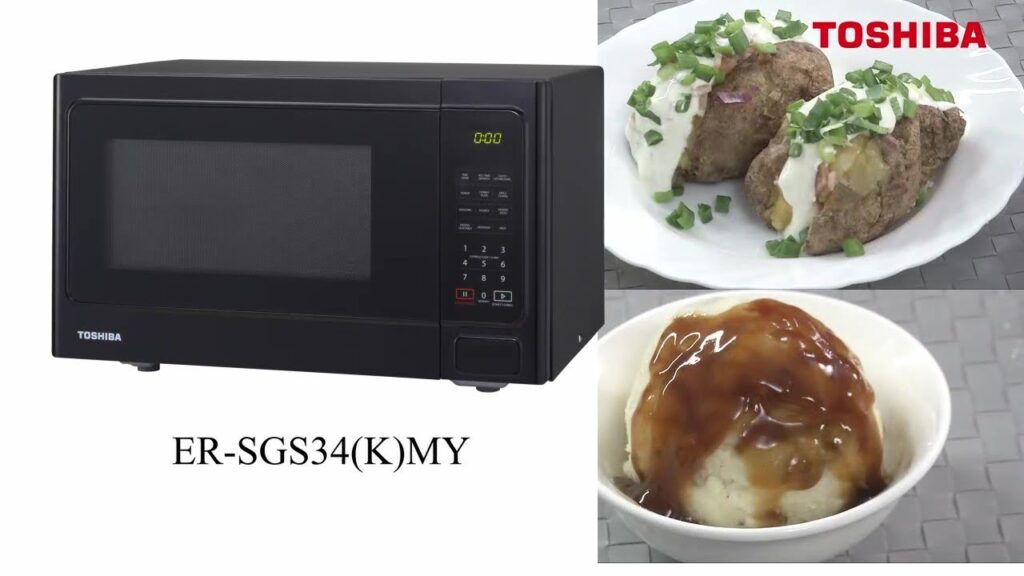 The Toshiba Deluxe Series Grill Touch Microwave Oven is the perfect combination of functionality, tradition, and style. With a simple design, 34 L capacity, multiple operations, and a 9 Auto cooking menu, it's not just a great appliance but also a beautiful addition to your kitchen. And with its 11 power levels, you'll have the speed and convenience you need to make cooking a breeze.
The features that make the Toshiba Deluxe Series Grill Touch Microwave Oven the best are:
Multi-cooking function
Combination cooking with grill and microwave
Net capacity of 34 liters
Up to 11 power levels to suit your different cooking needs
Touch control
9 Auto cooking menu
Child safety lock
Weight and time defrost
Visit them via:
Website | Facebook | Instagram
Final Thoughts
Choosing a suitable microwave for your kitchen can make a big difference in your cooking routine. With so many brands and models in the Malaysian market, it can be overwhelming to pick the best microwave. But with our comprehensive guide, you can now make an informed buying decision. In this guide, we've listed the best microwave models available in Malaysia. Our top picks range from the high-end Samsung Convection Microwave Oven to the simple Toshiba Deluxe Series Grill Touch Microwave Oven. Whether you're a chef looking for convenience in cooking, a family looking for maximum cooking versatility, or a beginner cook, you can find it all on our list. Invest in a good microwave oven today and make your cooking hassle-free and enjoyable tomorrow!