Planning to design your very own customised clothes or want to embark on a crafting project? It's even easier now especially if you have a heat press machine. A heat press machine is a specialized device that helps you transfer designs onto objects such as apparel, bags, mugs, fabrics and much more. Although you can use an iron to transfer these designs, a heat press machine offers more assistance as they are specially designed to handle this task.
Using a heat press machine can also get consistent results, ensuring that every piece you designed becomes a work of art. Once you have created your design and have it cut to the size you need, the heat press machine allows you to easily transfer the design to the preferred surface. However, there are so many choices available for heat press machines that are easy to use that you may get confused. Don't worry though because we have compiled a list of the best heat press machines you can buy in no particular order so you can start designing right away.
Our Selection of 10 Best Heat Press Machine in 2023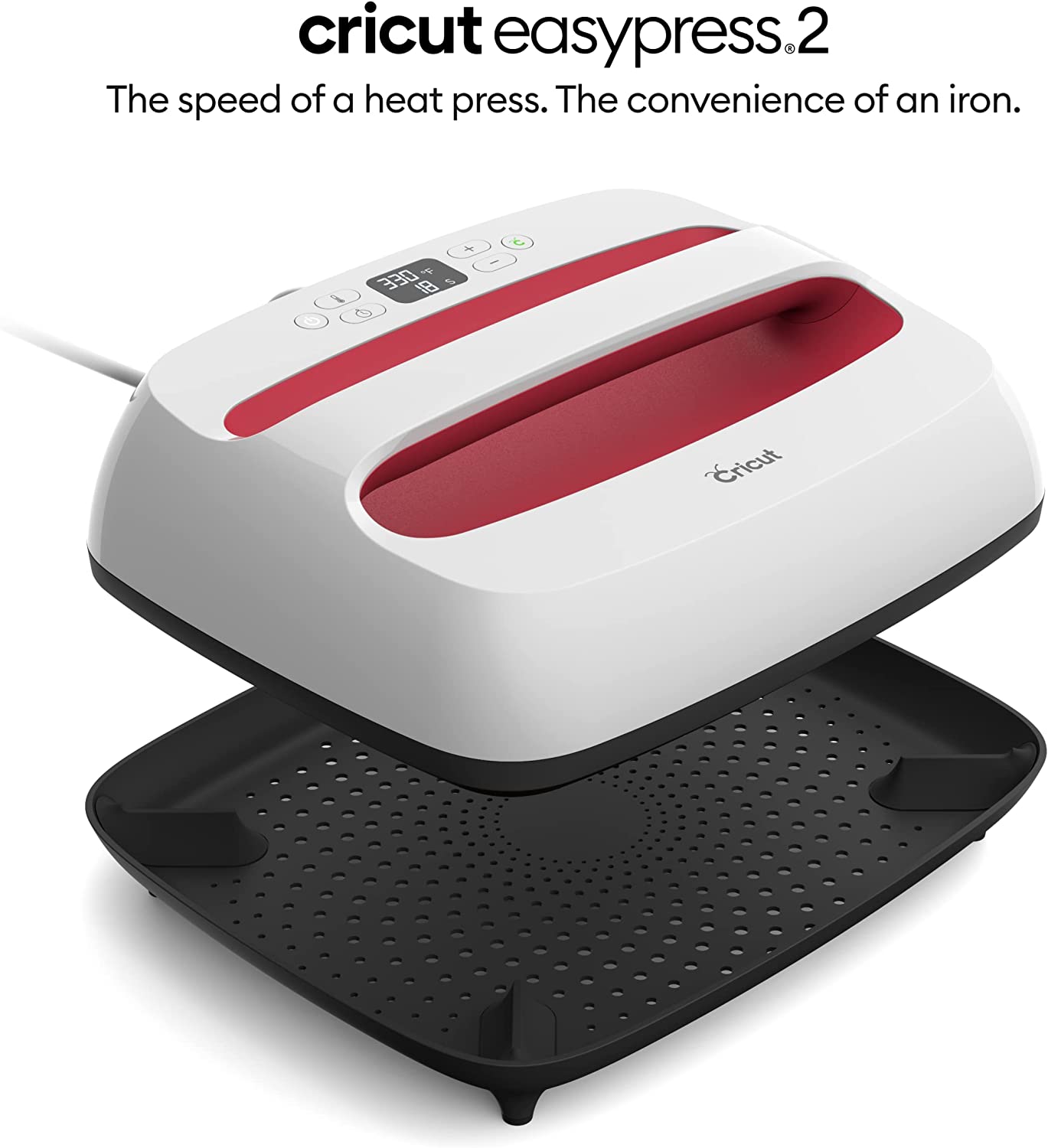 The Cricut EasyPress 2 offers professional heat transfer results without any stress. It's as easy to use as an iron and transfers are durable. Measuring 12″ x 10″, this machine is great for transferring designs onto fabrics such as shirts, tablecloths, blankets and more. It features precise temperature control up to 400 degrees so you can simply adjust the heat based on your needs. Once the machine beeps, your design is properly transferred. The machine has a ceramic-coated surface that can heat up in less than three minutes and finish in about 60 seconds. Best of all, it has safety features such as auto shutoff and an insulated base. It is also portable and lightweight, making it a breeze to store when it's not in use. Features:
Adjustable temperature control
Heats up in minutes
Consistent results
Easy to use
Auto shutoff safety feature
Portable and lightweight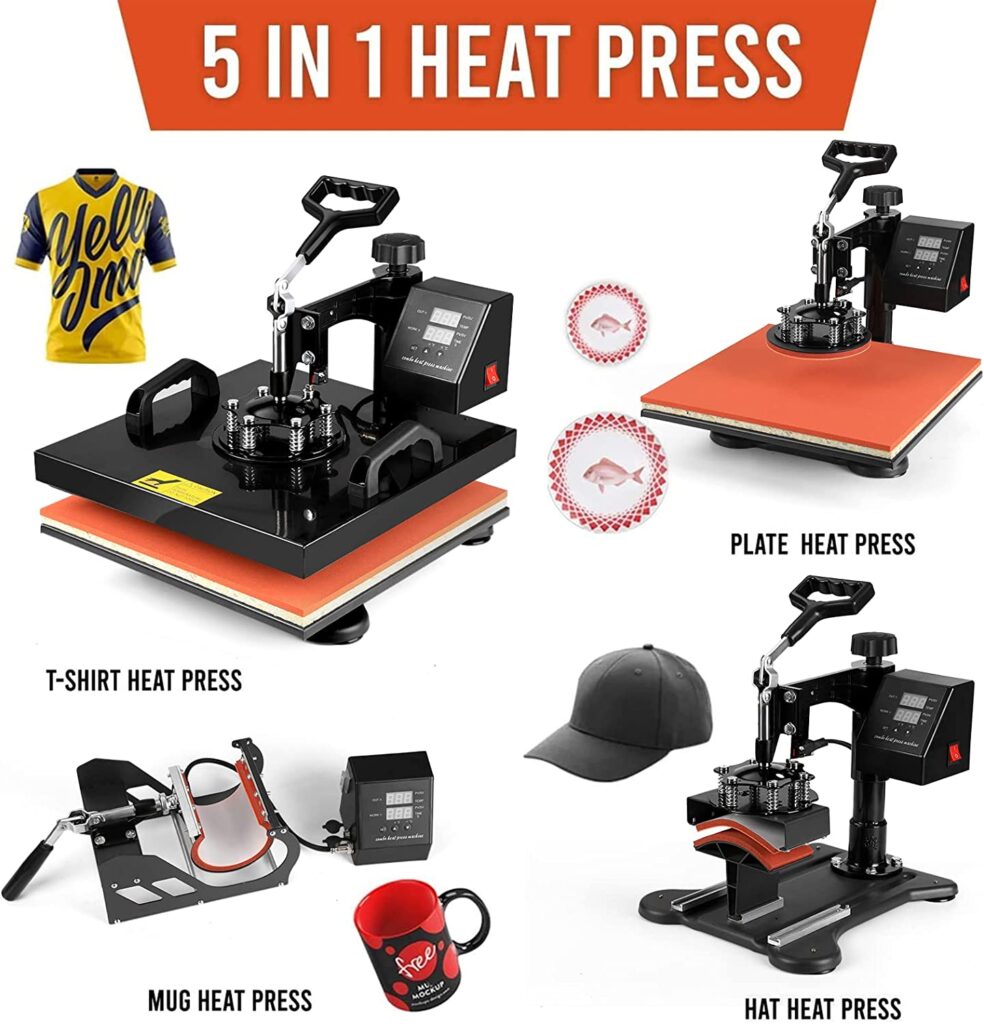 Customize almost anything you want with the TUSY Pro 5 in 1 Heat Press that comes with a Teflon-coated plate. This plate prevents burning and protects your vinyl so you don't need to get another protective layer. It also has a thick silicone and sponge pad and adjustable knob that allows even heating and pressing to transfer your designs. In addition, the swing-away design can rotate 360 degrees which can be adjusted for items of different sizes, preventing accidents. An LCD display shows the time and temperature precisely for better control and can heat up to 482 Fahrenheit. The large 15″ x 15″ inches plate lets you transfer designs on items with larger surfaces and on different types of materials including ceramic and glass but you can switch it out as it comes with five different presses that are ideal for different projects.
Features:
Teflon coated plate
Adjustable knob
360 degrees swing-away design
LCD display for precise control
Comes with five different plate presses for easy customization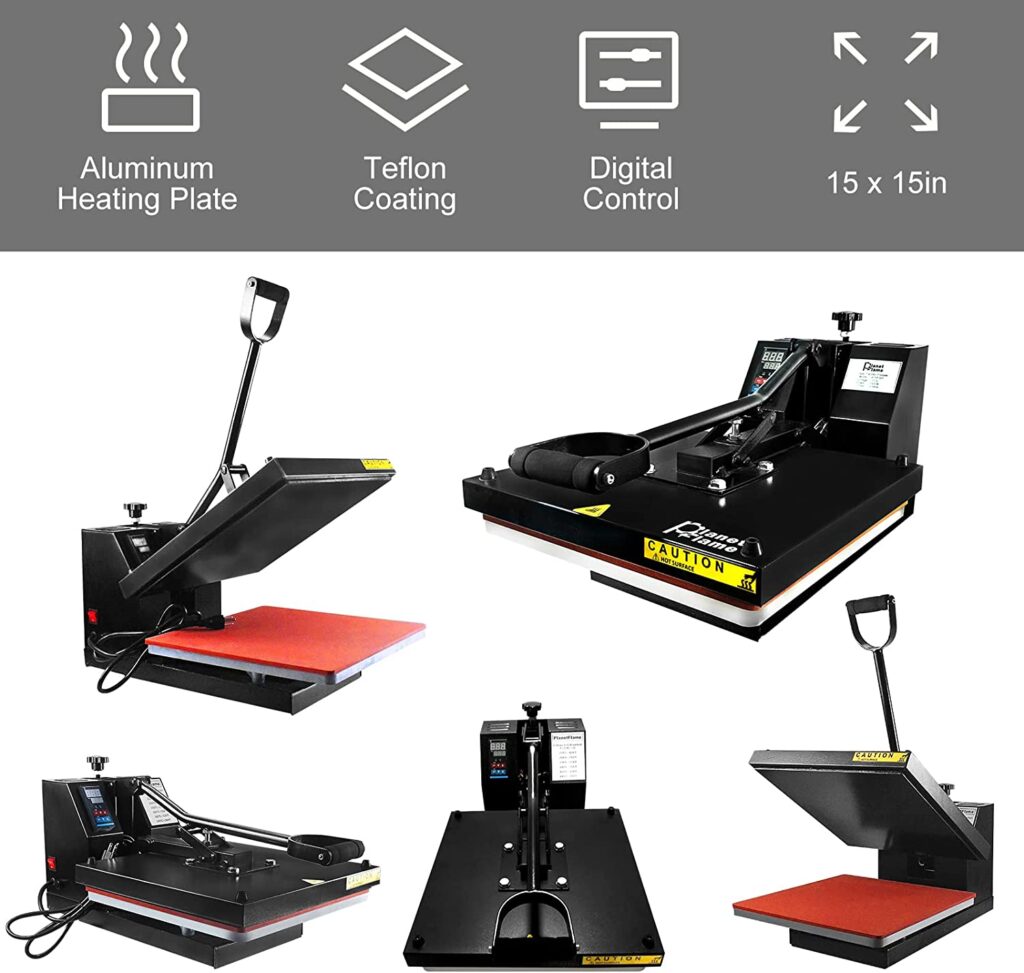 Another great heat press machine you can consider is the PlanetFlame Professional Clamshell Heat Press Machine. It comes with Teflon coated large heating plate that measures 15″ x 15″ so you can transfer designs with ease. The machine has a pressure adjustment knob that lets you control the desired pressure so you won't ruin the item that you're pressing. Moreover, it has a built-in fuse that automatically shuts off when the heating plate overheats to avoid any unwanted accidents from happening. It's ideal for industrial, commercial, business and personal use and can also be used for most flat surfaced items and sublimation coated objects to provide the desired design transfer.
Features:
Large Teflon coated heating plate for better insulation
Sensitive pressure adjustment knob
Auto shutoff
Digital display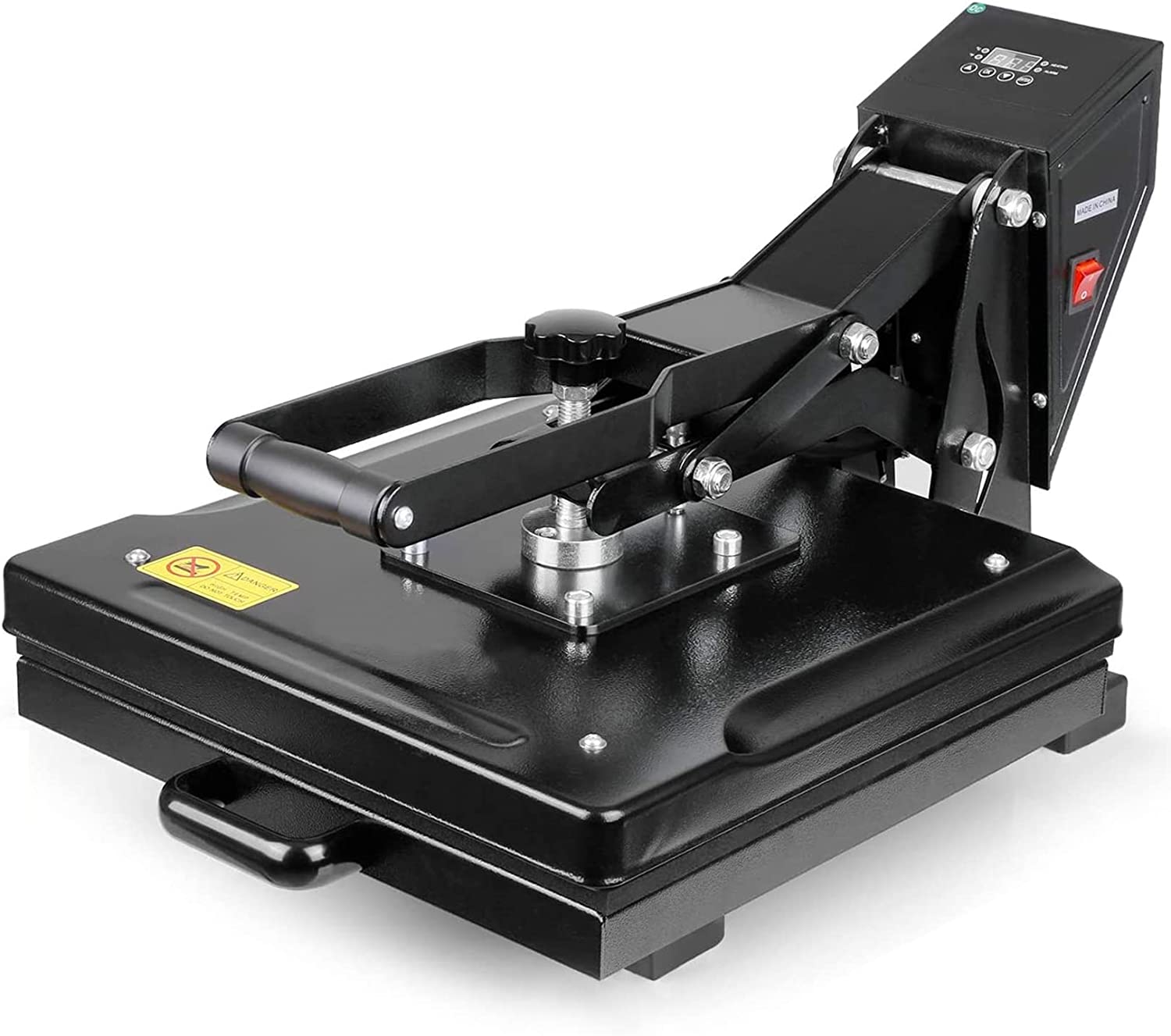 If you're looking for another TUSY option, this one is an ideal choice for your crafting needs. This digital heat press is a user-friendly device that can be used for a variety of projects and has double arms for consistent pressing. It's suitable for use on different types of materials such as cotton, vinyl and more. Sporting an LCD control board that displays the temperature and time, you can set it based on your preference. This is also one of the larger heat press machines out there, measuring 15″ x 15″ which is great for larger items. The full-range pressure adjustment knob helps when you want to press thicker materials and offers better control to achieve desired results. The TUSY 15×15 inch Digital Industrial Sublimation Printer Heat Press has an anti-overheating feature where it automatically shuts off if the temperature is too high.
Features:
Suitable for different types of materials
Double arms
LCD control board
Large heating plate
Full-range pressure adjustment knob
Anti-overheating feature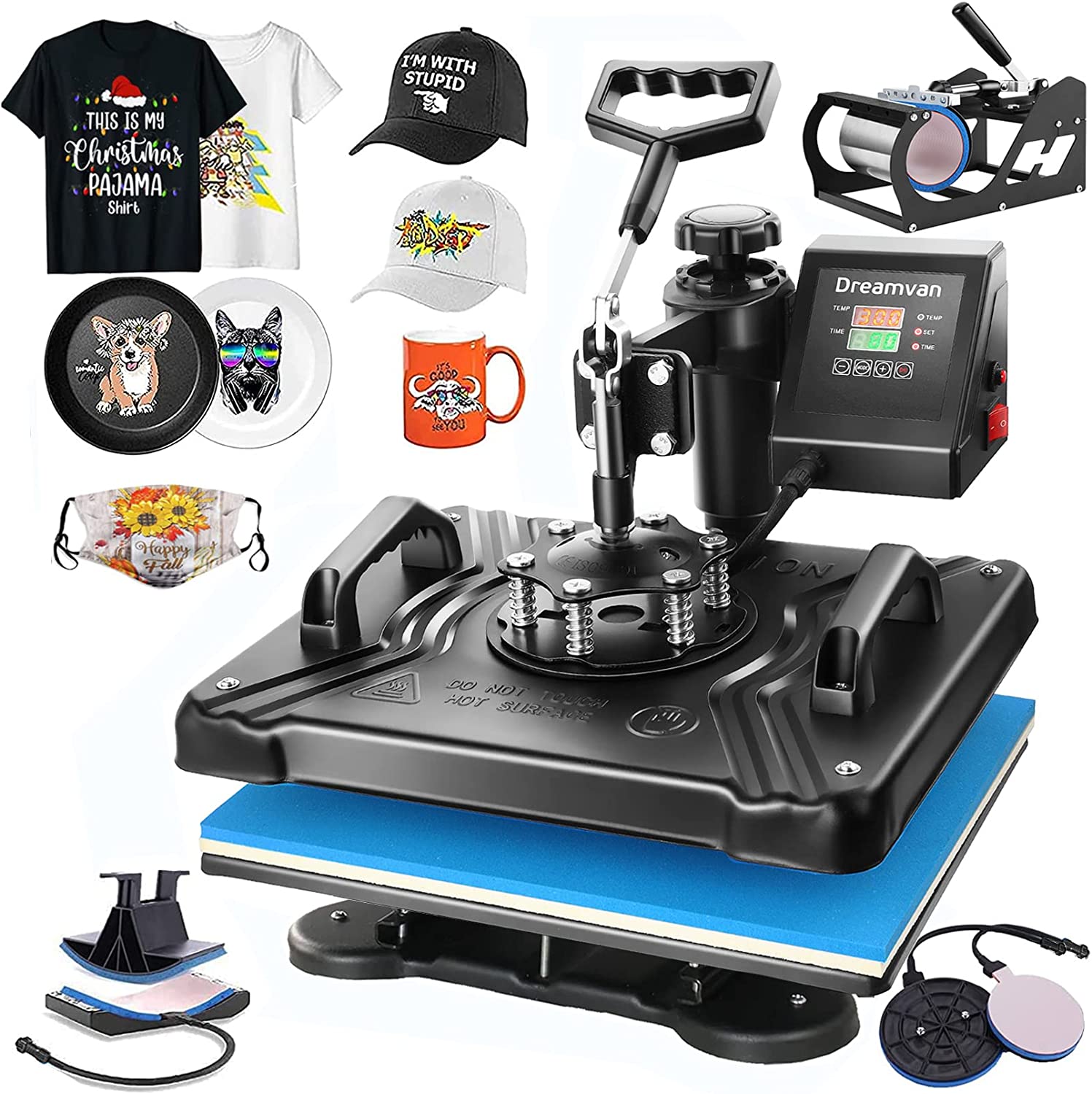 Enjoy the freedom of 360 degrees rotation with the AKEYDIY 5 in 1 Classic Heat Press Machine. The swing-away design and guide rail allows you to control the direction of your transfer to ensure it's even. The plate uses a double heating tube design for faster and better heat distribution. It's easy to operate and perfect for small businesses or individual use due to the precise digital controls and can be used for multiple objects. as it has several press plates The heat press machine's plate has two layers of thermal insulation cotton for better protection against burns and accidents.
Features:
360 degrees swing-away design
Double heating tubes
Precise digital control
Different press plates
Double thermal insulation layers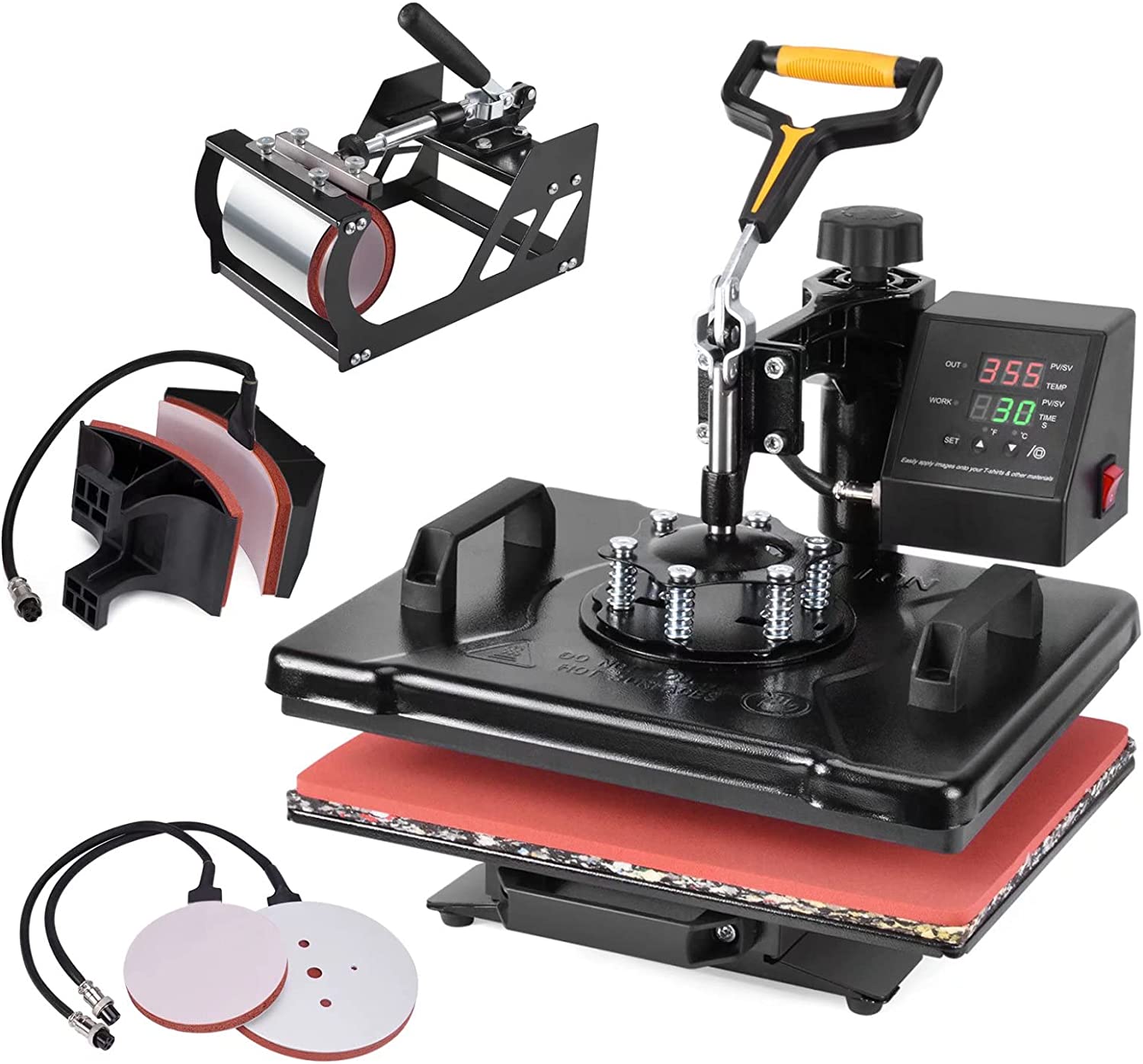 The Slendor 5 in 1 Heat Press Machne comes with an upgraded aluminum heating plate that is protected by Teflon coating, ensuring that your materials will not be harmed. It comes with several accessories so you can rotate between them based on the type and surface of the object that you are coating. Measuring 12″ x 15″, there's more than enough space for larger objects while the 360 degrees swing-away design and pressure knob let you control where and how you want to press the design. You can set the temperature and time with the digital controls and it will beep to let you know when the required time and temperature have been achieved.
Features:
Upgraded aluminum plate
5 in 1 accessories
360 degrees swing-away design
Preset temperature and time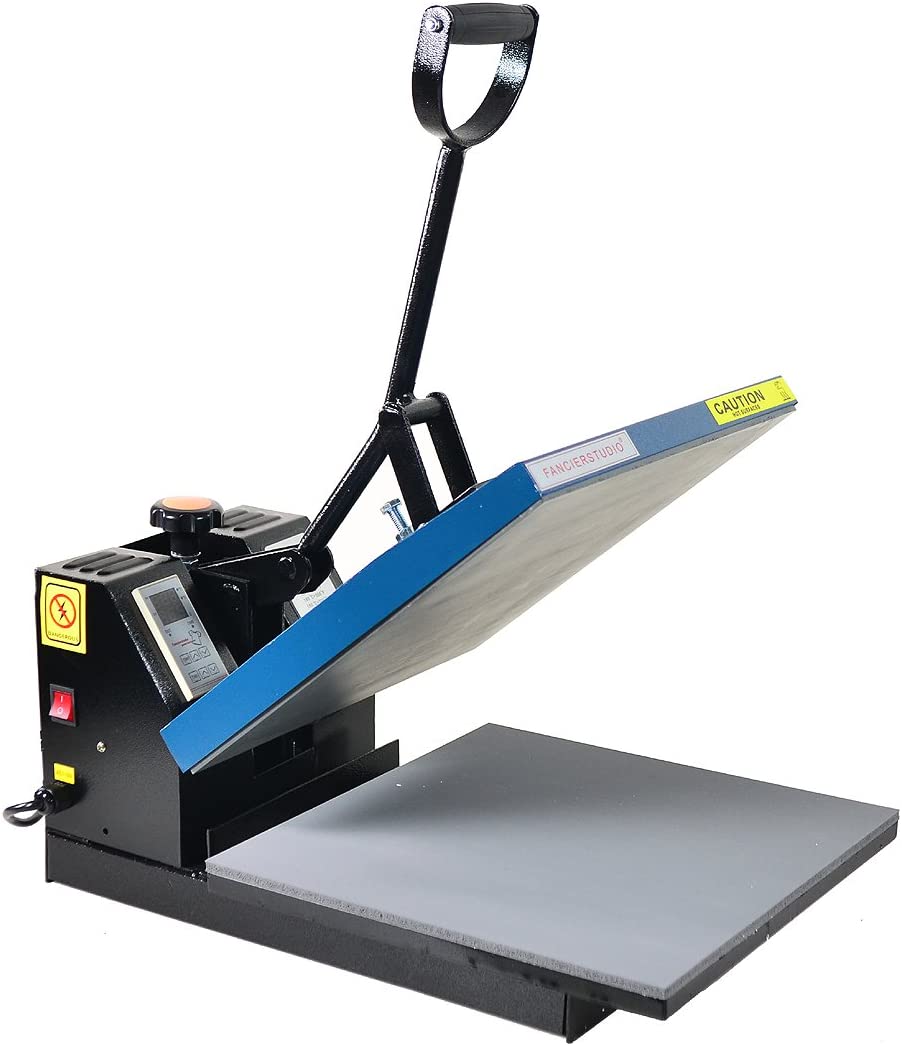 Looking for an industrial-quality heat press that is durable and sturdy? This new model by Fancierstudio boasts a 15″ x 15″ plate that comes with a silicone rubber base. The plate opens upward and is ideal for various designs across a range of items. You can also adjust the pressure with the knob for consistent results.
Features:
Upgraded design
Large 15″ x 15″
Silicone rubber base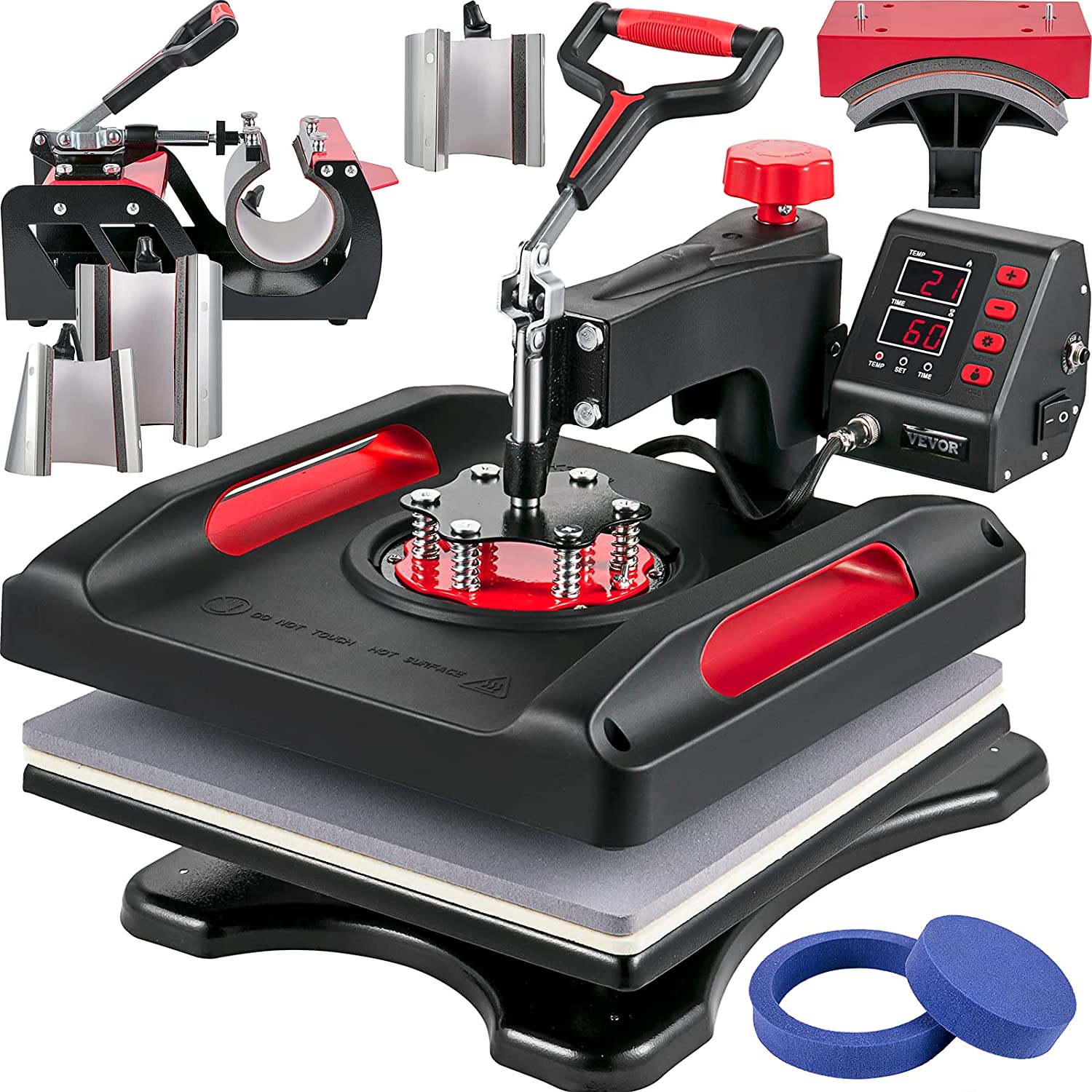 VEVOR has come out with a new version of its heat press which is equipped with digital controls and a built-in dual-screen display that's easy to operate with its silicone keys. This machine utilizes the latest double tube heating technology for more even heat distribution. Similarly, this machine has a 360 degrees swing-away arm as well and a pressure adjustment knob that further improves the result of the transfer. It's also safer to use as there are two layers of insulation that keeps the surface temperature lower than the working temperature so you won't get burned. In addition, this machine has more accessories so it's more versatile to be used with a wider range of products.
Features:
Built-in dual-screen display
Double tube heating technology
360 degrees swing-away design
Dual insulation
More accessories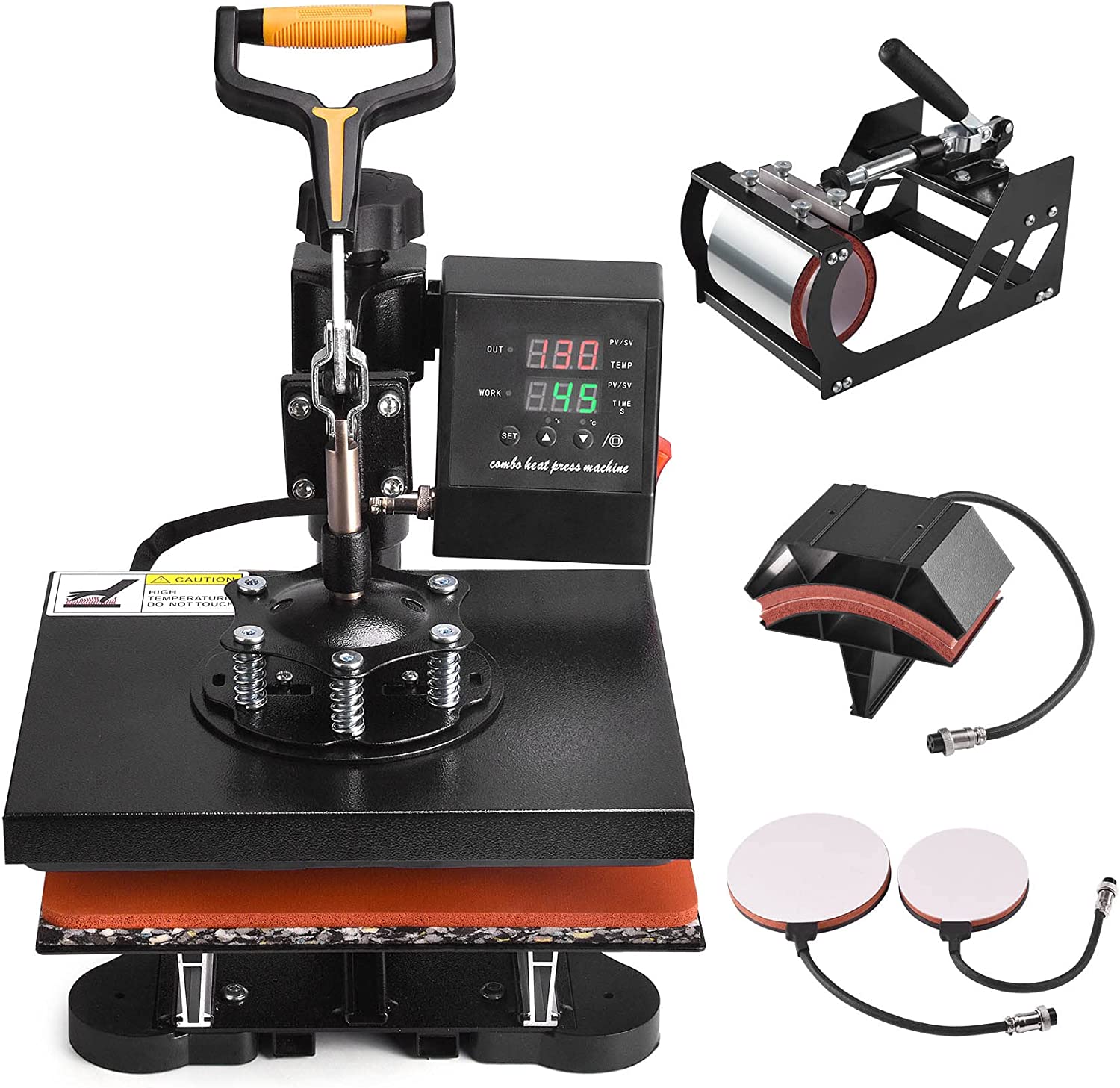 Using Teflon-coated heating plates that are heat resistant and easy to maintain, the Seeutek 5 in 1 Heat Press also has an innovative alloy slide guide rail design for better handling. The handle has an ergonomic design which makes it more comfortable to use. Meanwhile, the double tube heating technology heats up evenly while the 360 degrees swing-away design prevents accidental burns from happening. There are several accessories included in the package as well so you can customize designs to your heart's content.
Features:
Teflon-coated heating plates
Slide guide rail design
Double tube heating
360 degrees swing-away design
Multiple accessories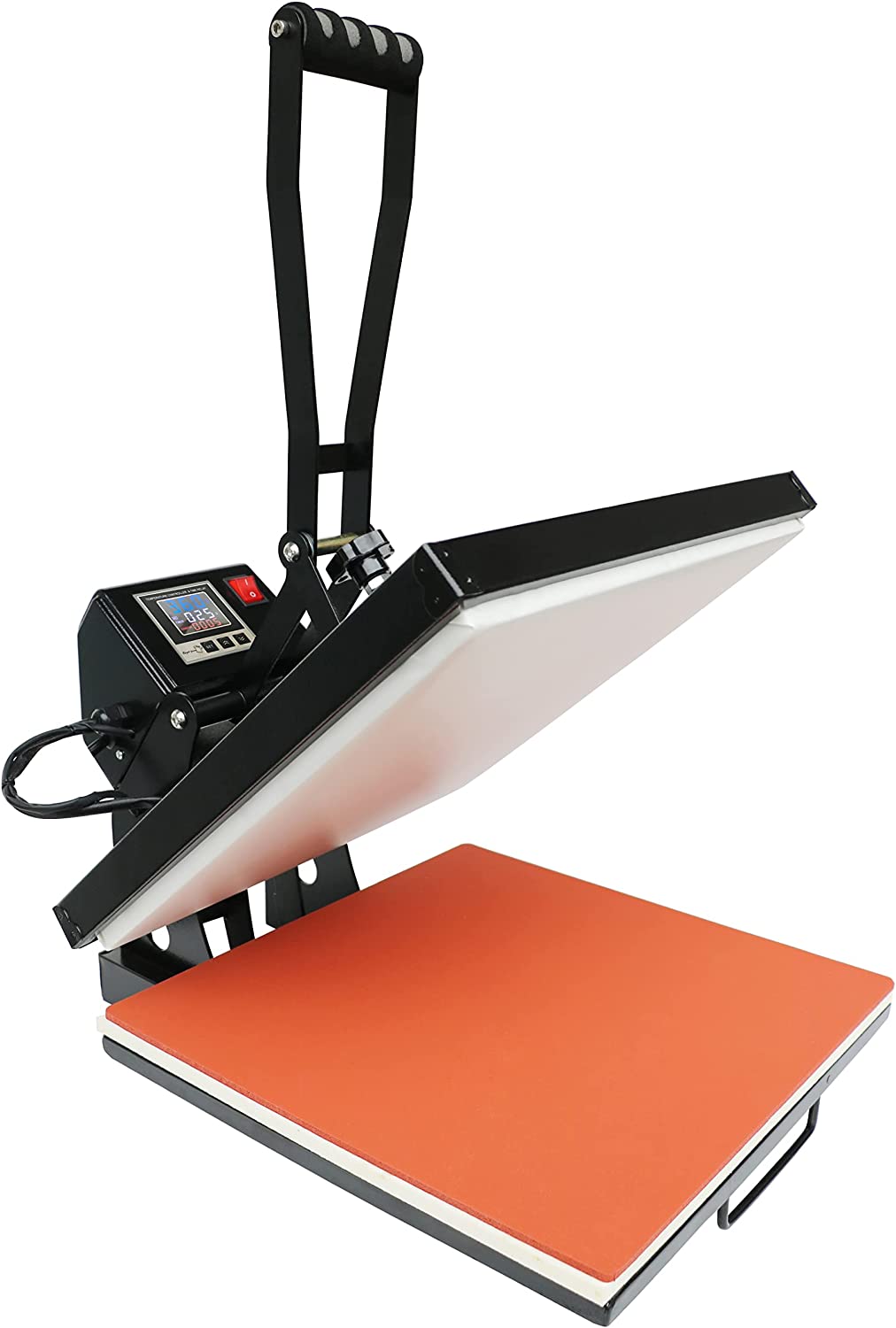 Start designing right away and transfer your designs easily with the RoyalPress 15″ x 15″ Heat press machine that comes with industrial quality press-cast aluminum heating plate. The plate is coated with Teflon, meaning that you don't need to use another coated sheet to protect your designs and is specially thickened to ensure even and stable temperature throughout production. That's not all, the control panel not only allows you to handle the temperature and time, it also calculates the production counter so you can keep track of how many pieces you have already printed.
Features:
Industrial quality press-cast aluminum heating plate
Teflon-coated plate
Triple function control panel
While there are undoubtedly a lot of heat press machines available, each of these machines have its own features that makes it stand out. Choose the right heat press based on your needs so you can achieve the results you want easily whether it's your custom design on a mug, T-shirt, pillow case, table cloth and much more.