Mosquitoes are the reason behind multiple mild to severe diseases, including dengue, malaria, yellow fever, and more. Their bites can cause swelling, redness, and itching. It's important to keep them away from your living space. Not just outdoors, but these flies can also inhabit your living rooms and bedrooms. Their constant whisper wouldn't let you sleep peacefully at night. Hence, keeping a mosquito repellent system at your home is necessary. It's better than coating your skin with sticky body lotions. The mosquito repellers function in several ways. A few use repellent liquid, and some function on fuel cartridges. At the same time, many have UV bulbs to attract and electrocute mosquitoes. We have searched and reviewed 7 such best outdoor mosquito repellent systems. They would help you keep annoying flies away. Before starting, let's overview a few necessary features of a good mosquito repeller.
Mosquito protection for pets is essential for keeping our furry friends safe and healthy. Mosquito bites can cause a range of problems for pets, from mild irritation to more serious issues like heartworm disease. To protect pets from mosquitoes, pet owners should use mosquito repellents specifically designed for animals, such as sprays or collars. They should also make sure to keep their pets indoors during peak mosquito activity, which is typically at dawn and dusk. By taking these steps, pet owners can help keep their beloved pets protected from the risks of mosquito bites and enjoy their time outdoors without worry. 
Features Of A Good Mosquito Repellent System
An insect repellent system has one job of killing mosquitoes and flies. However, multiple factors combine to make it a practical pick. Let's discuss the features of a good mosquito repeller.
Composition
Health always comes first when choosing mosquito repellent. A good repellent should never contain chemical-based ingredients. It can cause long-term health effects. Instead, many plant-based organic alternatives are available, like eucalyptus and citronella. They perform with similar efficacy and are less toxic to the human body than chemicals like DEET.
Protection zone
An excellent mosquito repellent protects a huge area from insects and flies. For example, a bug zapper has an average range of attracting mosquitoes from a place of up to 15 feet. Similarly, liquid-repellent-based devices have different coverage. However, an ideal repeller must kill mosquitoes in the range of at least 20 feet.
Scent
You must consider their fragrance if you buy a liquid-based repellent device to keep mosquitoes away. Although many brands sell odor-free products, you should still investigate them. A strong aroma can make you uncomfortable. Many repelling liquids also have essential oils giving them a characteristically pleasant smell.
Duration
An ideal mosquito repellent system must work 12 hours before needing a liquid refill. You can also buy a bug zapper that requires a power source to function. It would do its job as long as there is electricity. Some bug zappers also operate on battery, with an average duration of 5 hours on a single charge. Similarly, an incense stick only lasts for 45 minutes. Only repellers running on fuel cartridges have a longer working duration of 12 hours.
Reviewing the Leading Outdoor Mosquito Repellent Systems of 2022
1.   FVOAI Outdoor Mosquito Repellent System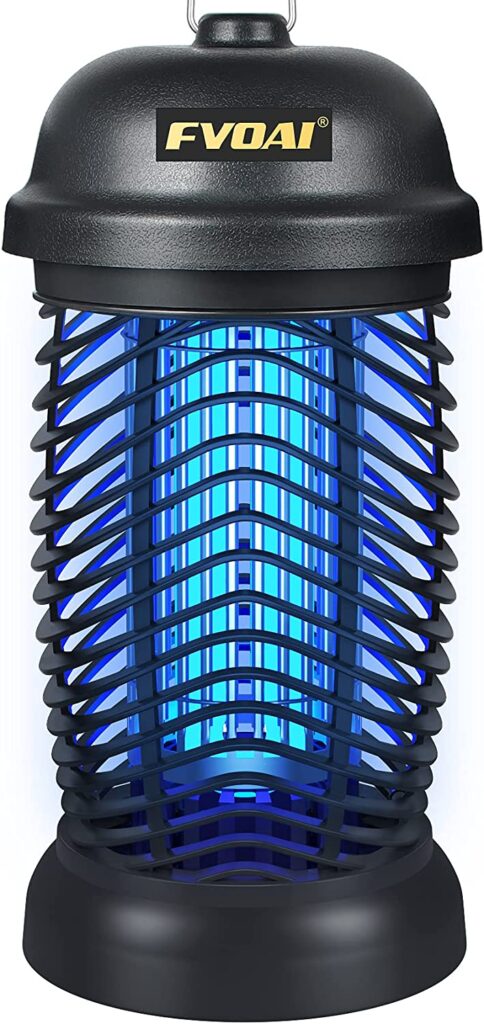 The FVOAI Mosquito Repellent is a practical bug zapper for indoors and outdoors. Its bulb with an ultraviolet light source quickly attracts all insects, bugs, and flies in broad parameters. There are high-voltage grills to kill them through electrocution. EPA approves this system as a safe choice for outdoor use. It shows higher functionality levels, especially at night when mosquitoes disturb your sleep.
Let's have an overview of this mosquito repellent's features that makes it our top choice.
It can attract mosquitoes from an area of 1,500 square feet. You can conveniently hang it in a central space to keep the whole outdoor flies-free.
This repellent system is easy to install with hanging rings. It's easy to hang it anywhere, including indoors and outdoors.
Cleaning the dead mosquitoes and their debris isn't tricky or messy. A tray with a brush makes it easier for you to clean this device regularly.
Hyacinthine light shines from the bulb to attract the mosquitoes to the system in a few seconds.
The body of this mosquito-killing system is durable to last long, even if you place it outdoors. Thanks to ABS plastic that provides a protective housing to the whole system.
2.   Thermacell Outdoor E-series Mosquito Repellent System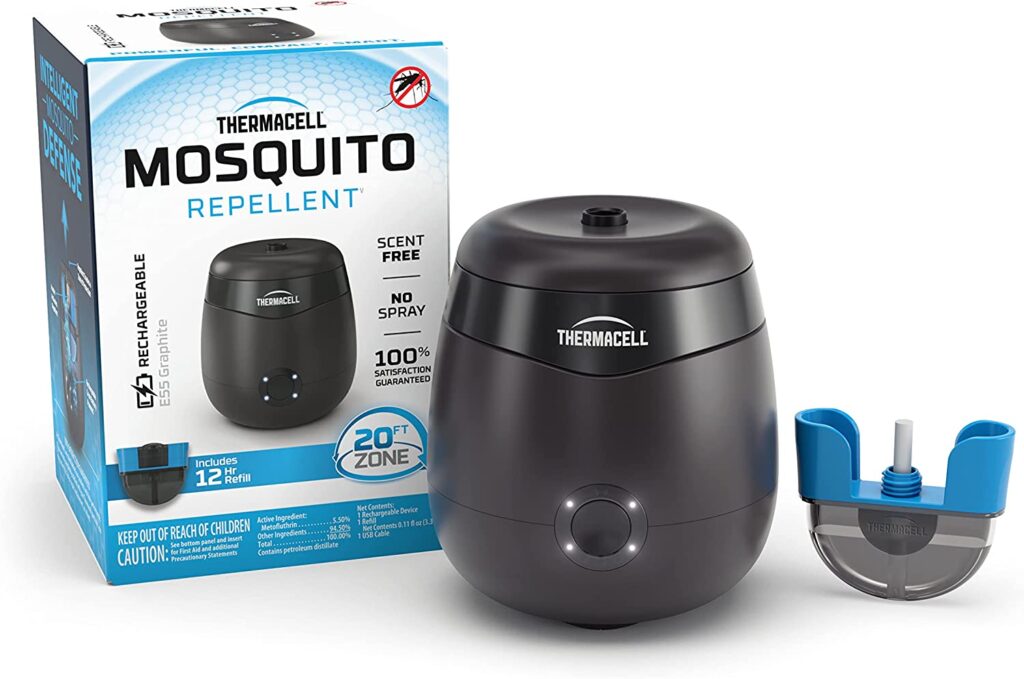 Thermacell is known for manufacturing top-notch mosquito-repellent systems. Their E-Series Outdoor Mosquito Repeller is one of the widely preferred products for multiple reasons. It functions on a battery through heat-activated technology. This system forms a safety zone of up to 20 feet through the mosquito-killing liquid. It kills all the mosquitoes in the range in under 15 minutes. The liquid is scent-free and much better than the strong sprays that can trigger allergies.
Here are some of its features:
This system is easy to use. You can activate it using a single pushable button.
The powerful lithium-ion battery runs for at least five and a half hours on a single full charge.
You can easily replace the liquid cartridge by removing the refill cap. A single refill repellent can last for at least 12 hours when constantly activated. 
The EPA-approved liquid is safe for use while protecting against multiple disease-causing mosquitoes and insects.
This mosquito killing system has a three-year warranty. However, you must register to avail of it.
3.   Thermacell Radius Zone Outdoor Mosquito Repellent System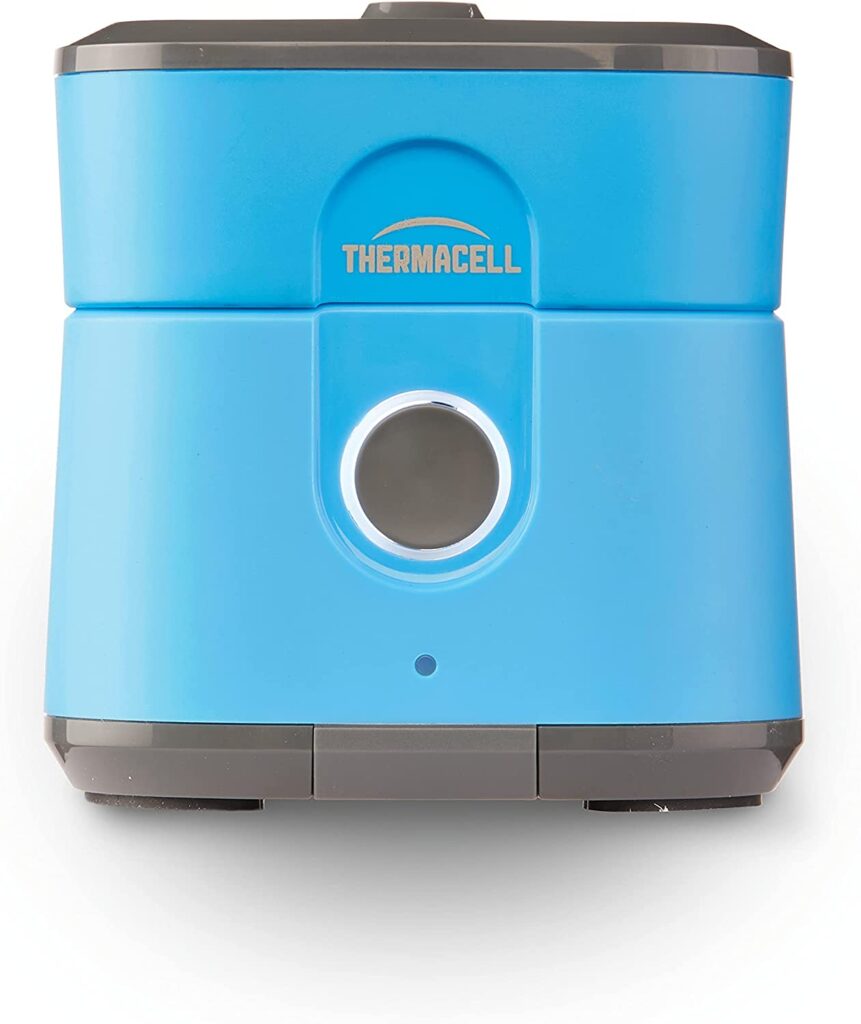 This Radius Zone Mosquito Repellent System by Thermacell can be an ideal alternative to body lotions and air sprays with strong smells. Its mosquito-killing zone is as wide as 15 feet. With a compact structure, it's easy to carry around. You can even pack it in your camping luggage. No power source is needed to activate this system. Pushing a single button puts this battery-powered device at its work.
We have mentioned some exceptional features that make it achieve a spot in our top picks.
The liquid contains no tough scents to annoy your senses or make you uncomfortable.
This mosquito repellent stays activated for more than six hours after a full charge.
You don't have to go through extraordinary struggles while replacing its liquid cartridge. It's pretty simple to refill the liquid repellent. A single refill can work for 12 to 40 hours. It depends upon the refill size and the device's running duration.
You can also activate a lock mode in this repeller. The device won't work unless you deactivate this mode.
This repeller takes only 15 minutes to form a protection zone in an area of almost 15 feet.
4.   Thermacell Patio Shield Outdoor Mosquito Repellent System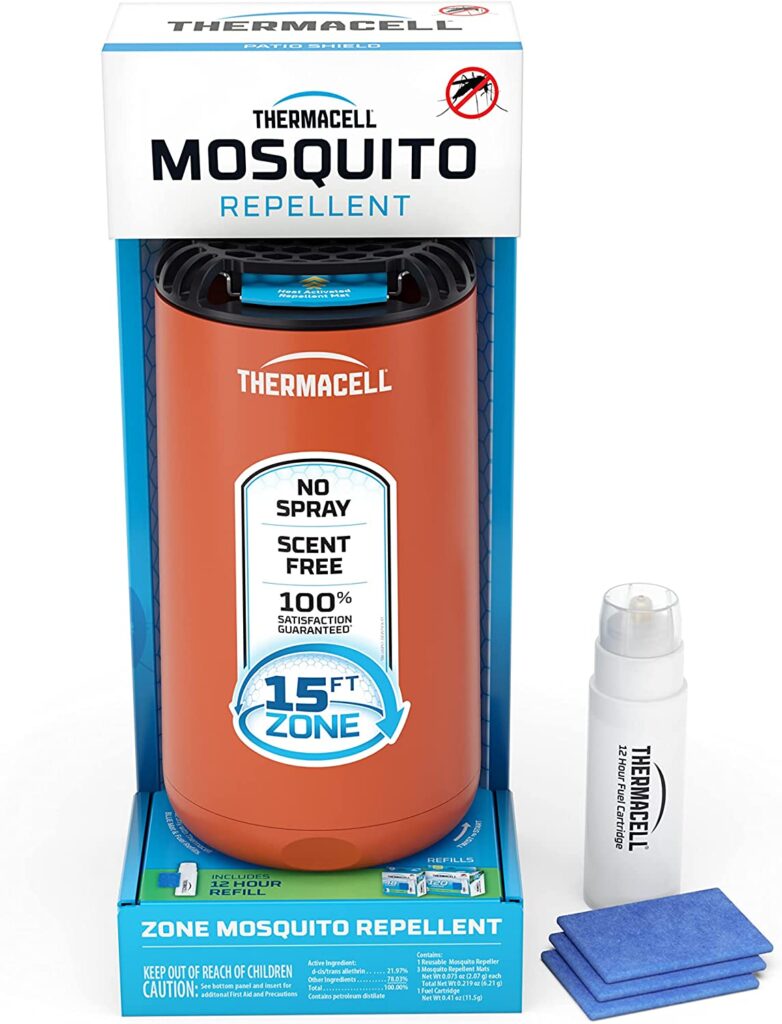 The Thermacell Patio Repellent is a perfect cordless mosquito killing system. It functions on a fuel cartridge which lasts around half a day with a single refill. This system is ideal for outdoor use, including patios, swimming pools, and gardens. The mosquito-killing liquid is hypoallergenic with safe use around children and pets. Thanks to a plant-based composition that makes the repellent liquid breathing-friendly. EPA also approves of its composition.
Here are a few more features of this fuel-driven system:
This repellant sets up the protection zone in less than 15 minutes.
Its compact structure makes it easy to carry on outdoor trips.
The package also contains a fuel cartridge and three repellant mats. The cartridge works for 12 hours, while the lasting duration of the mats is around 4 hours each.
This device is highly flexible, as you can use any fuel type for a refill. Even a multi-insect repellant can work effectively.
You get a free one-year warranty on this repeller. Registering with the brand extends this duration to three years.
5.   Thermacell Lantern Outdoor Mosquito Repellant System*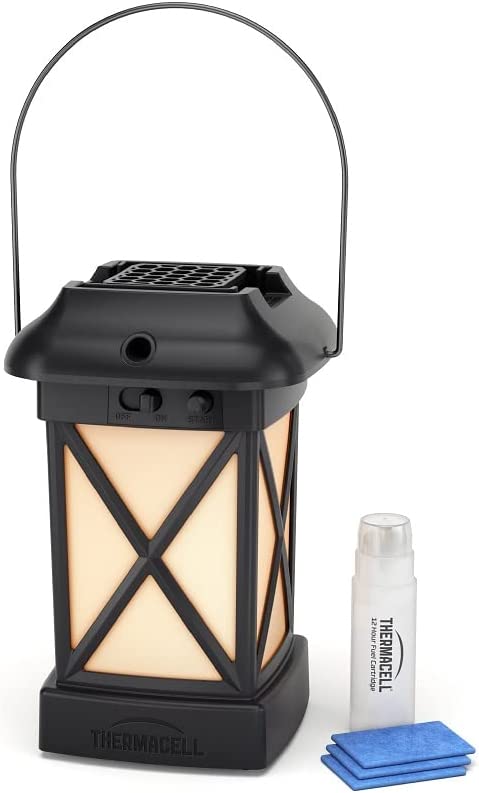 If you want to own a repeller of classic style with modern functionality, you are at the right place. Buying the Thermacell Lantern Outdoor Mosquito Repellant System can fulfill the goal. You will get a lantern-style repeller, a fuel cartridge, and three repellent mats in the box. This repeller is ideal for outdoor use, like on patios. As soon as you activate it, heat generates, putting the device into action. All this takes almost 15 minutes, and a mosquito protection zone surrounds an area of nearly 15 feet.
Some of its other remarkable features are:
The lantern lights up, making it perfect for use outdoors at night. You can also carry it on camping trips to stay safe from mosquito attacks. It helps, especially when sleeping.
It doesn't require any battery or power source to function. You can conveniently refill the cartridge with fuel, which will work for the next 12 hours.
All the ingredients of the repellent mats are highly organic. EPA approves them for safe use around children and pets. Every item has a plant-based origin, which makes it safe to use in the long term.
This Thermacell product has a two-year warranty. An additional one-year is complimentary with registration.
6.   GOOTOP Outdoor Mosquito Repellent System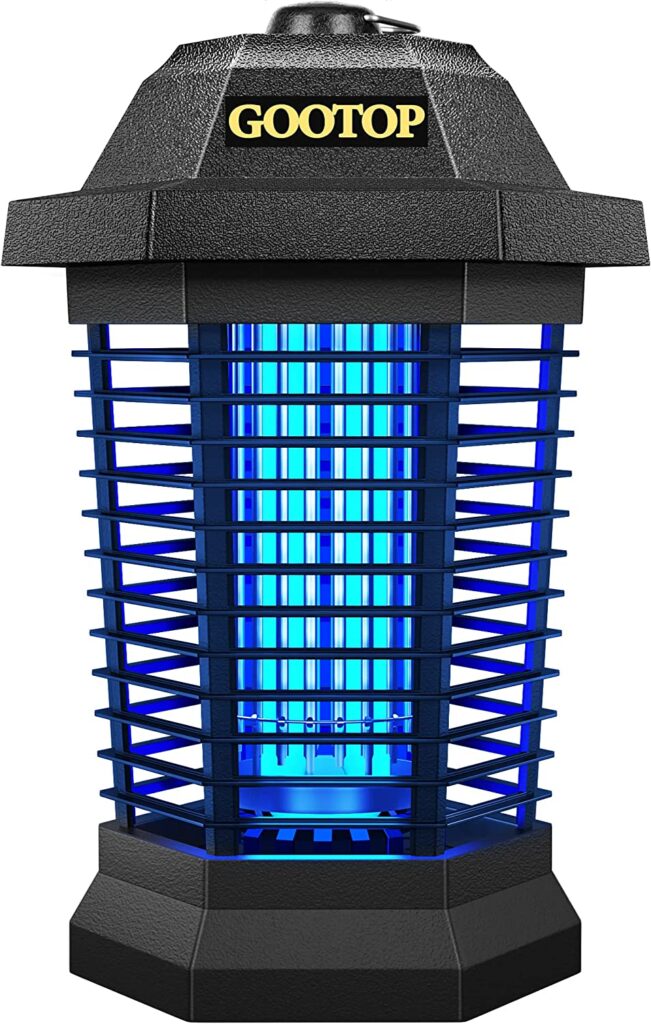 This GOOTOP Mosquito Repeller is ideal for killing various flying insects. It can get rid of mosquitoes, flies, aedes, moths, etc., in a few minutes of its activation. The ABS plastic material makes this repeller a robust device that lasts for years. With blue ultraviolet light, this device attracts mosquitoes. It then kills them by electrocuting with high voltage. You can easily hang it anywhere through a loop on top. Moreover, cleaning the tray with dead insects is also easy with a built-in brush.
Some of its other features are:
It requires no extra fuel, batteries, or repellant liquid. Even the bulb is replaceable and available at low prices in the market.
The plastic housing keeps children and pets safe from high-voltage grids.
You can also hang this device inside your house for an undisturbing sleep.
Its protection zone is as wide as half an acre.
7.   Deartagnan Anti-Mosquito Mosquito Repellent System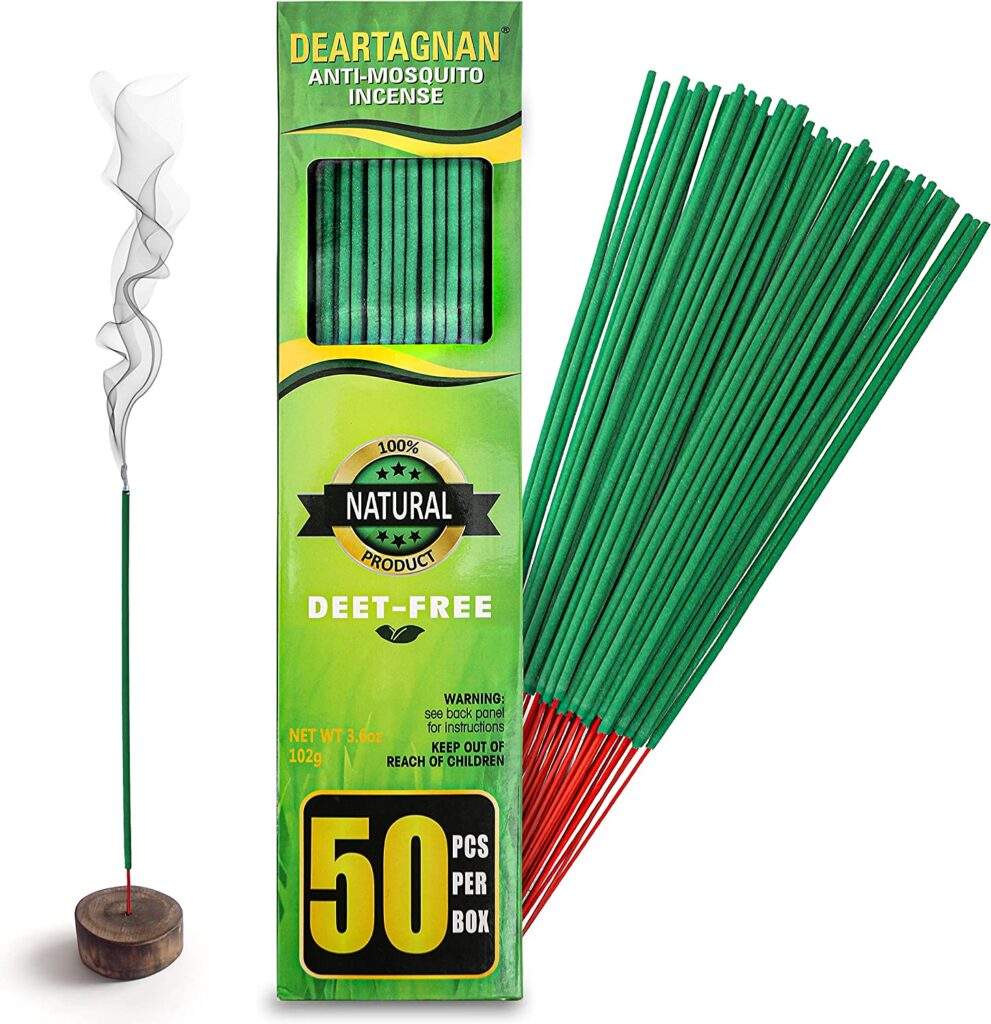 The Deartagnan Anti-Mosquito System is a natural ingredients-based incense stick. Each pack contains 50 DEET-free sticks. You must burn the stick's tip to activate its mosquito-repelling power. A single stick creates a protection zone for at least 45 minutes. It contains no toxic or allergy-inducing ingredients. Only organic essential oils are a part of its composition. It even gets the status of being a pet-friendly mosquito repeller.
Some features are:
You can use it both indoors and outdoors. It includes backyards, patios, pools, or even when camping.
It produces a fresh and moderate scent that feels pleasant. This fragrance is due to the composition of the essential oils.
Using these herbal sticks is 100% safe for kids. It wouldn't produce any respiratory side effects.
Wrapping Up
Mosquitoes are annoying creatures. They won't only destroy your night's sleep but can also give you multiple diseases. Outdoors are more susceptible to these creatures. Hence it would help if you had an outdoor mosquito repeller to keep them away from your backyard. Our top 7 picks of best outdoor mosquito repellent can help you choose the perfect product.