The standing desk is an important part of the office environment. It is a great way to provide much-needed comfort, convenience, and productivity by allowing you to stand while working. If your lifestyle or work requires you to move around a lot, you need to invest in a standing desk. The benefits of having this type of desk are innumerable.
We are here to unveil the top standing desk options available in Malaysia that are designed to transform your work routine. Whether you're a dedicated professional, a student, or a remote worker, get ready to discover the key to a healthier and more productive work environment. Prepare to take a stand and unlock the potential of the best standing desks in Malaysia!
Features of a Good Standing Desk
The following are the features that an ideal standing desk should have:
Ergonomic Design for Optimal Comfort: Discover standing desks that prioritise your comfort with adjustable height settings, allowing you to find the perfect position for your body. Look for desks with smooth transitions between sitting and standing modes, ensuring a seamless experience throughout your workday.
Height Customisation for All Users: The best standing desks cater to individuals of different heights. Find desks that offer a wide range of height adjustments, accommodating both shorter and taller individuals, and promoting proper posture and alignment. Make sure height adjustments are smooth and quiet.
Sturdy and Durable Construction: Invest in a standing desk that is built to last. Look for desks made from high-quality materials such as steel or solid wood, ensuring stability and durability even during height adjustments or when loaded with multiple monitors and equipment.
Spacious Work Surface: A clutter-free workspace enhances productivity. Look for standing desks that offer ample surface area to accommodate your laptop, monitor(s), keyboard, and other essential work tools. Additional features like built-in cable management systems help keep your workspace organised.
Integrated Health and Wellness Features: Some standing desks go the extra mile by integrating health and wellness features. Look for desks with built-in reminders to change positions, monitor your standing time, or even track calories burned to support your overall well-being.
Our Selection of 12 Best Standing Desk in Malaysia
Standing desks have gained popularity due to the potential health benefits associated with reducing sedentary behaviour and promoting movement throughout the day. Here's our selection of the best standing desk in Malaysia which you can refer to:
1. FlexiSpot Electric Height Adjustable Standing Desk-E7 Premium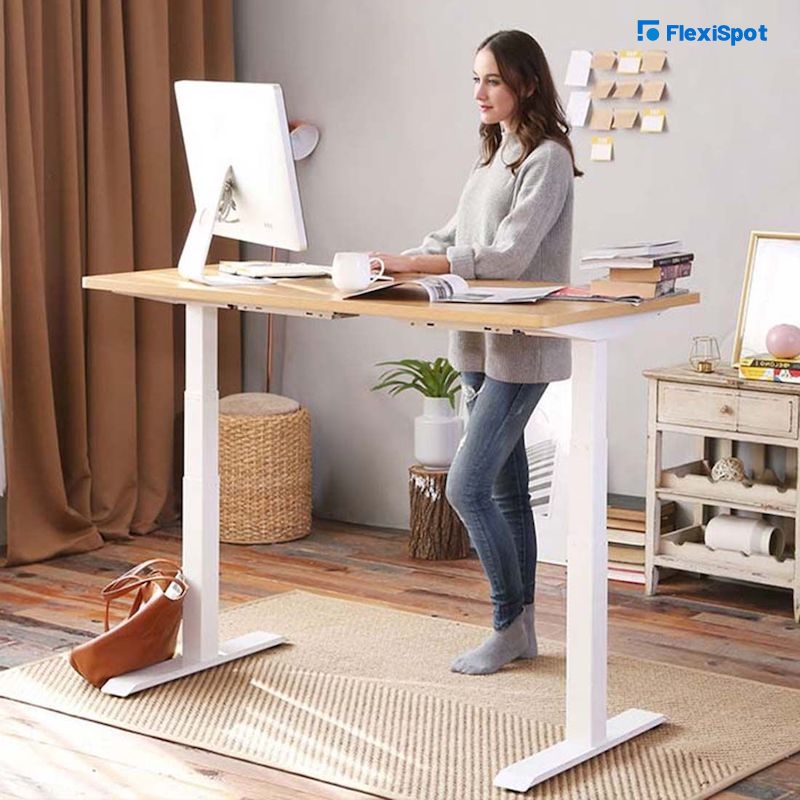 Equipped with a premium 3-stage electric height adjustment mechanism, E7 Premium ensures smooth and seamless transitions, while the optional digital display shows your exact height and saves your favourite presets. The all-in-one touchscreen keypad with four programmable presets allows you to easily save your preferred seated, standing, under-desk cycling, and kid-sitting heights. The energy-efficient LED display provides accurate desk height information and enters sleep mode when the desk is stationary, reducing power usage. There's a child lock function too.
The desk features anti-collision technology with three sensitivity levels. It automatically reverses if it encounters an obstacle. The dual motor system ensures increased stability and faster adjustment, with a maximum lifting speed of 38 mm/s even under a full weight capacity of 125 kg. Crafted with a sturdy 3-stage telescopic column system that tapers towards the top, this desk guarantees maximum stability and durability. Its height range of 60.5 to 125.5 cm caters to individuals of all ages.
Here are the highlights of the FlexiSpot Electric Height Adjustable Standing Desk-E7 Premium's amazing features:
Quick & smooth adjustment
Premium touchscreen keypad
Four programmable presets
LED display
Child lock function
Anti-collision technology
Dual motor system
Height range: 60.5-125.5cm
2. ANEW Standard Smart Desk Lite Set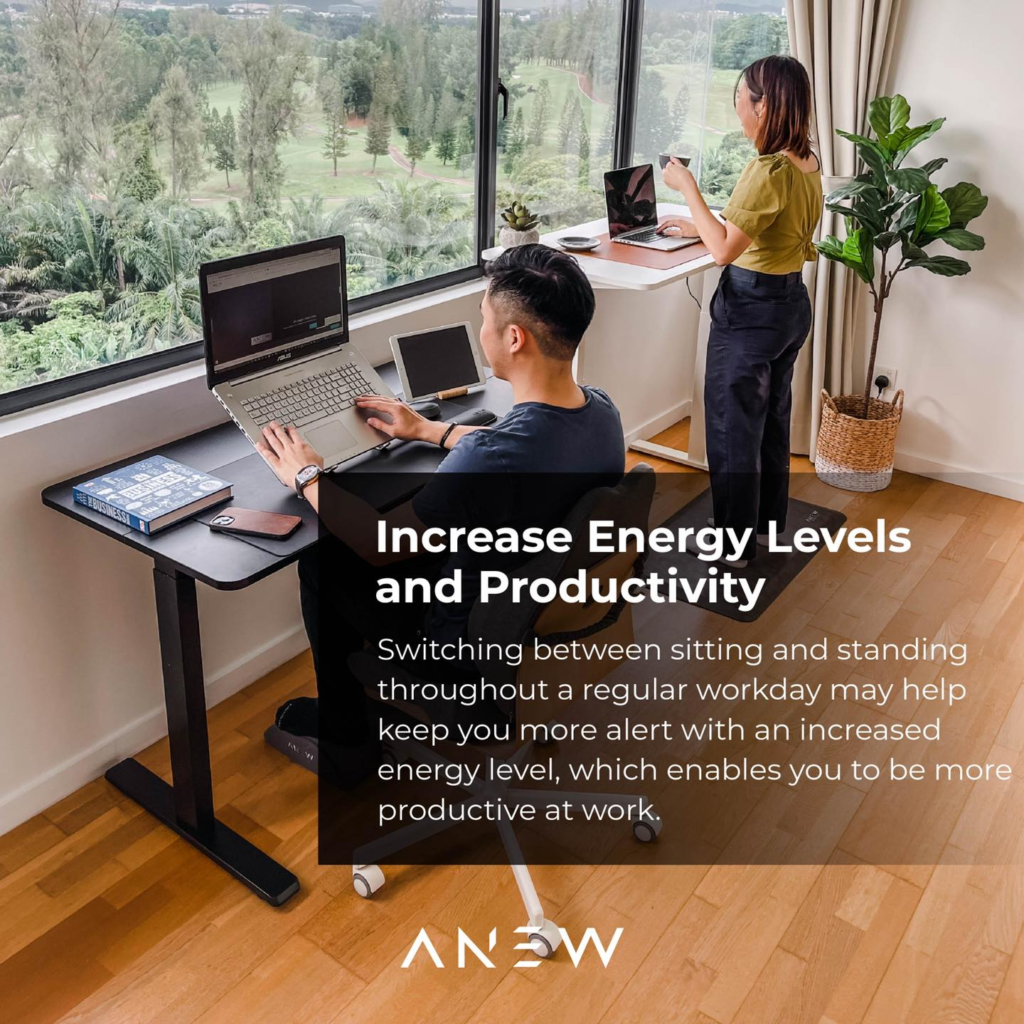 With its advanced memory controller and timer reminder, this smart desk allows you to effortlessly switch between sitting and standing positions with a click of a button. The three smart memory programmable presets ensure that you find your ideal position for maximum comfort and adaptability throughout your busy day. It also features powerlifting columns that provide smooth and quiet movement, while the strong reliable motor ensures stable transitions. The levelling feet allow for easy adaptation to uneven surfaces, while the high-quality melamine top with rounded edges creates a safer environment, especially for children.
Backed by a generous 5-year warranty, this desk offers a spacious tabletop of 1200 x 600mm, accommodating your work essentials with ease. With a height range of 730mm to 1210mm, a weight capacity of 70kg, and a maximum speed of 25mm/s, this desk is built to meet your needs. Available in sleek black or pristine white, the ANEW Standard Smart Desk Lite Set is flat-packed for convenient storage and transport. With easy installation and simple guidelines, transforming your workspace has never been easier. Upgrade to the ANEW Standard Smart Desk Lite Set and experience the perfect blend of functionality, style, and comfort.
Here are the highlights of the ANEW Standard Smart Desk Lite Set's amazing features:
Advanced memory controller
Timer reminder function
Three programmable presets
Height range: 730mm – 1210mm
Stable and adaptable
Strong reliable motor
Levelling feet for uneven surfaces
High-quality melamine top
Rounded edges for safety
5-year warranty
Spacious tabletop: 1200 x 600mm
Weight capacity: 70kg / 154lbs
Max. speed: 25mm/s
3. ENDESK MAX Dual Motor 140×70 Ergonomic Sit Stand Dual Motor Desk/Height Adjustable Desk
This standing desk is the perfect companion for a versatile and ergonomic workspace. Featuring a stain-proof melamine top available in two woodgrain shades, and a powder white or polished black steel frame with adjustable feet, the ENDESK MAX is as stylish as it is functional. The built-in dual-motor system ensures smooth and effortless height adjustment, while the SmartStop collision-proof mechanism provides added safety. Enjoy the convenience of four programmable height presets, which allow you to easily switch between preferred positions.
Experience quiet and seamless height adjustment with the <45dB dual-motor system, featuring a swift 2cm/s movement. The ENDESK MAX boasts a desktop dimension of 60 x 120 cm and a weight capacity of 100 kg, providing ample space for your work essentials. Designed for worry-free delivery, the ENDESK MAX is drop-tested to withstand transportation challenges. It arrives flat-packed, allowing for easy storage and transport. The desk comes with a two-year limited warranty specifically covering motor defects.
Here are the highlights of the ENDESK MAX Dual Motor 140×70 Ergonomic Sit Stand Dual Motor Desk/Height Adjustable Desk's amazing features:
Stain-proof melamine top
Adjustable steel frame
Dual-motor support
SmartStop collision-proof mechanism
4 programmable height presets
2-year limited warranty
Drop-tested for durability
Quiet <45dB operation
UK 3-pin plug
Desktop dimensions: 60 x 120 cm
Height range: 73.5 cm – 123.5 cm
Travel speed: 2 cm per second
Weight capacity: 100 kg
4. ORION Electric Standing Desk
ORION Electric Standing Desk is equipped with single motor technology, delivering powerful and smooth height adjustments to cater to your ergonomic needs. The 2-tier square table legs column ensures stability and durability throughout your workday. With a height adjustment range of 73cm to 123cm and an impressive adjustment speed of approximately 25mm/second, you can effortlessly find your ideal working position. The low noise level is under 50 dB. Take advantage of the 4 preset heights, conveniently programmed through the memory setting.
For your safety, the ORION Electric Standing Desk features an anti-collision system, ensuring worry-free operation. With a tabletop dimension of 120cm (L) x 60cm (W) x 1.8cm (H) and an overall dimension of 120cm (L) x 60cm (W) x 73cm – 123cm (H), this desk offers ample space for your work essentials. With a maximum nett weight capacity load of 50 KG (exclusive of tabletop weight) and a gross weight of approximately 36 KG, the ORION Electric Standing Desk is designed to support your productivity.
Here are the highlights of the ORION Electric Standing Desk's amazing features:
Single motor technology
2-tier square table legs
Height range: 73cm to 123cm
Adjustment speed: 25mm/second
Low noise level
Right touch controller
LCD screen display
4 preset height options
Anti-collision system
Tabletop dimension: 120cm x 60cm x 1.8cm
Overall dimension: 120cm x 60cm x 73cm – 123cm
Gross weight: 36 KG
Maximum weight capacity: 50 KG
5. SPACE Ergonomic Smart Desk
The signature table top of SPACE Ergonomic Smart Desk is crafted with industrial-grade materials, featuring a unique micro-textured powder-coated surface that ensures optimal workspace usability. It uses environmentally friendly materials in its construction. Experience ultimate comfort with the ergonomic curve, promoting a natural position for maximum productivity and work health. The dual linear actuator motor enables 50% faster and quieter movement. With the advanced smart controller, you can reduce power consumption and personalise your desk height preferences with three smart memory programmable profiles.
The industrial forged steel structure and rubberised feet provide 50% increased lateral stability, while the anti-collision system ensures safety for items placed underneath the desk. Enjoy a clutter-free workspace with the signature ergonomic tray designed for cable management. The SPACE Ergonomic Smart Desk is built with state-of-the-art materials, certified by BIFMA, CE, UL, SAA, and KC, and backed by a 5-year extended warranty. Its weight holding capacity is up to 130 kg. Take control of your health with the sedentary reminder feature, promoting a healthy and active work routine.
Here are the highlights of the SPACE Ergonomic Smart Desk's amazing features:
Signature table top
Ergonomic curve
Dual linear actuator motor
Desk feet with levelling studs
Anti-collision system
Cable management tray
Fully adjustable height
Wobble-free movement
Weight capacity: 130kg
Sedentary reminder
6. TTRacing Titus Smart Desk
TTRacing Titus Smart Desk meets the BIFMA safety standards, ensuring a secure and reliable workspace. The ergonomically curved table top features a robust, scratch-resistant matte powder-coated surface, while the industrial-grade steel frame can support weights up to 80kg. With its sleek matte powder-coated finish, this desk not only exudes sophistication but also offers exceptional resistance against scratches and water spills. Choose from different sizes, with the Small and Medium-sized desks offering a generous 75cm width, while the Large and Extra Large options boast an impressive 80cm width. The extendable legs accommodate table tops up to 2m in length.
It allows you to customise your desk height from a standard 76cm to an elevated 121cm. The stand and sit reminder feature sends customisable alerts at 30, 45, and 60-minute intervals. Take advantage of the sit-to-stand memory presets and ergonomic contour design with cut-in edges. Accessories are made easy with the retractable headphone and mug holder, keeping your essentials within reach. Declutter your workspace with the optional cable management add-on, ensuring a tidy and organised environment.
Here are the highlights of the TTRacing Titus Smart Desk's amazing features:
BIFMA safety standards
Ergonomically curved tabletop
Robust and scratch-resistant
Industrial-grade steel frame
Matte powder-coated finish
Multiple size options
Extendable legs
Electric height adjustment
Stand and sit reminder
Ergonomic contour design
Sit-to-stand memory presets
2-year warranty coverage
7. FlexiSpot WISE Quick-Install Electric Height Adjustable Desk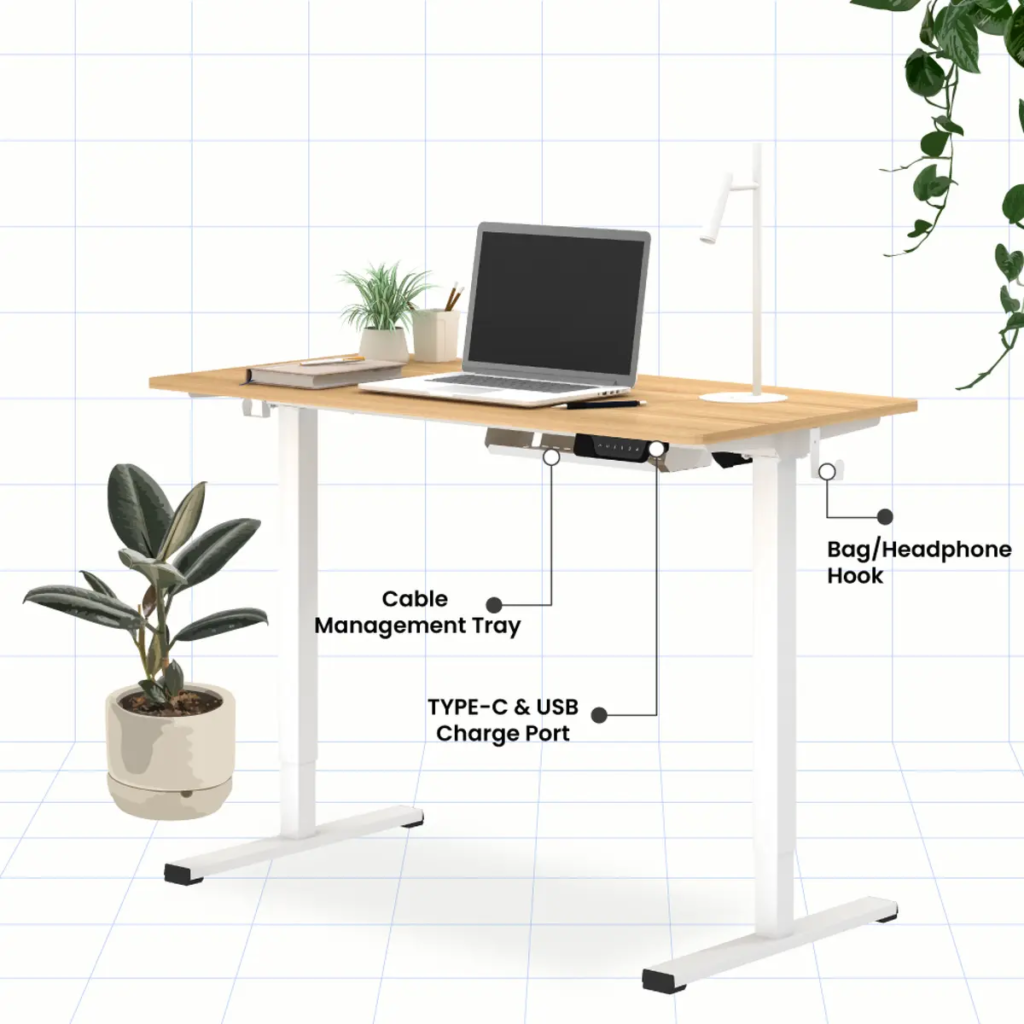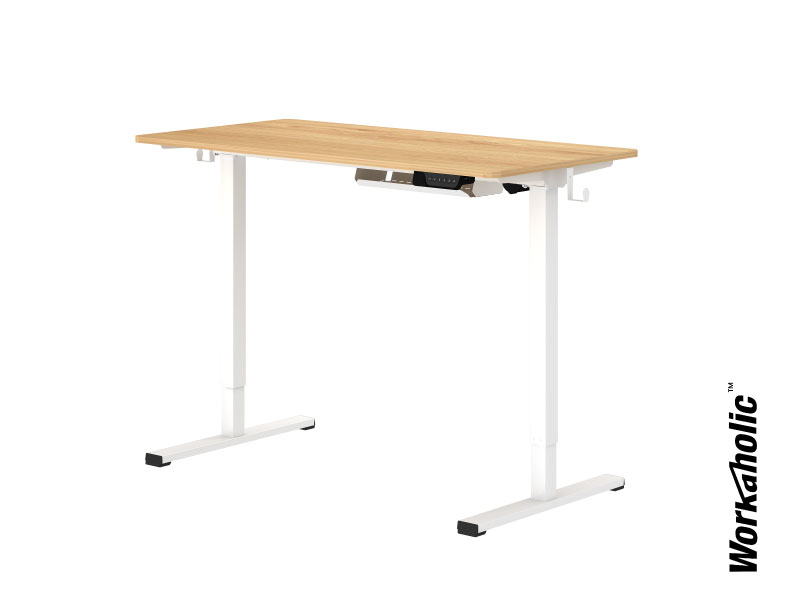 With a single motor lifting mechanism and a 2-stage leg stage, this desk offers smooth and reliable height adjustments ranging from 730mm to 1230mm, providing a stroke of 500mm. The lift speed of 25mm/sec ensures quick and effortless transitions. While this desk does not have memory presets, it features a convenient 6-button control panel, allowing easy up/down adjustments and offering 4 programmable memory settings. The minimalist one-piece desktop, measuring 120x60cm, is constructed with 18mm thick MFC material, ensuring durability and style.
Experience enhanced functionality with the built-in cord management system, keeping your cables organised and tidy. Two hooks are provided for hanging headphones, bags, or other essentials, maximising your workspace efficiency. Certified by FCC and UL, this desk meets rigorous quality and safety standards. With a noise level under 50 dBs, it provides a quiet working environment. Additionally, the desk comes with 3+2 years extended warranty.
Here are the highlights of the FlexiSpot WISE Quick-Install Electric Height Adjustable Desk's amazing features:
Single Motor Lifting Mechanism
2-Stage Leg Stage
Height Adjustments: 730-1230mm
Lift Speed: 25mm/sec
Weight Capacity: 50kg
Minimalist One-Piece Desktop
6-Button Control Panel
FCC and UL Certified
3+2 Years Warranty
8. EVIS Smart Desk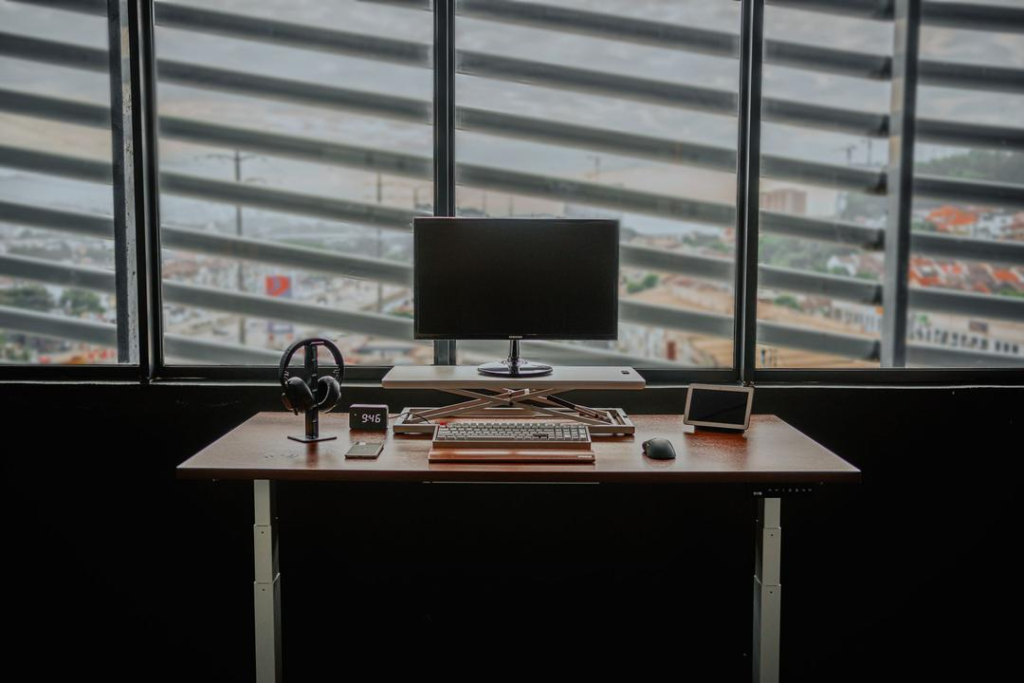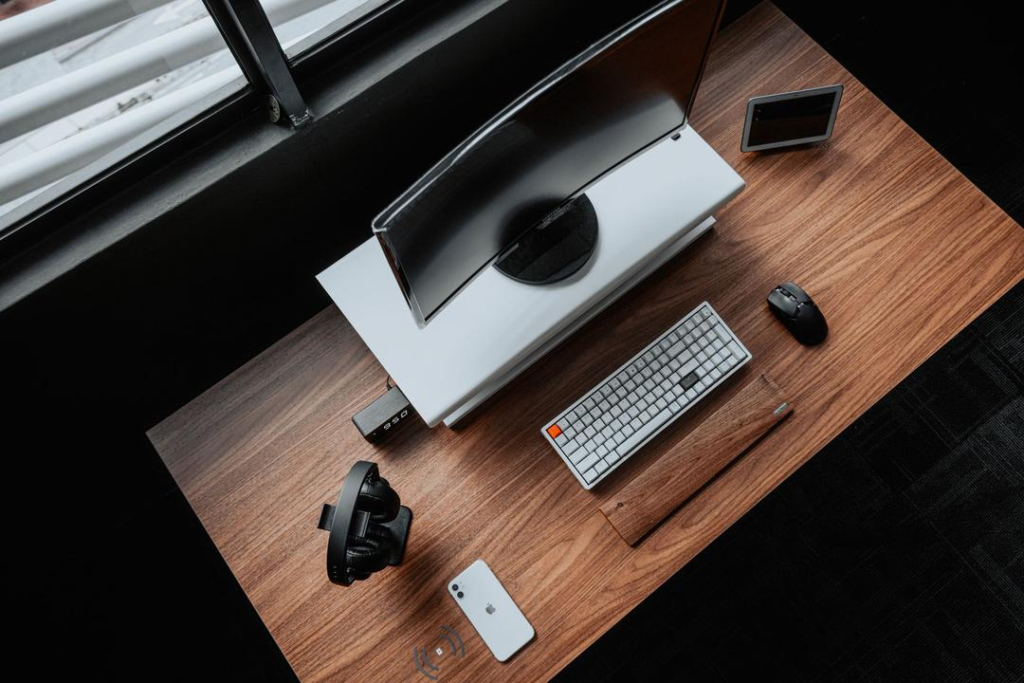 This electrically height-adjustable desk allows you to effortlessly transition between 60cm and 125cm, ensuring optimal comfort and productivity. Say goodbye to tangled charging cables with the rapid built-in wireless mobile charger, providing convenient and efficient charging for your devices. Experience a clutter-free workspace with advanced cable management solutions. Save your preferred heights with the 4 programmable buttons, allowing easy adjustment with a single touch. The enhanced anti-collision technology ensures safety by stopping the desk's movement when it encounters an obstacle.
The desktop is crafted from superior-quality MFC material, offering durability and a sleek aesthetic. Customisable desktop sizes allow you to tailor the desk to your specific needs. Its weight capacity is up to 150kg. It comes with a 5-year warranty that covers all parts of the frame, as well as electrical and mechanical components.
Here are the highlights of the EVIS Smart Desk's amazing features:
Electric height adjustable (60-125cm)
Built-in wireless mobile charger
Advanced cable management
4 programmable preset heights
Enhanced anti-collision technology
Superior quality MFC desktop
Supports up to 150kg load
5-year warranty coverage
9. Balak's Solidwood Hand-Crank Adjustable Standing Desk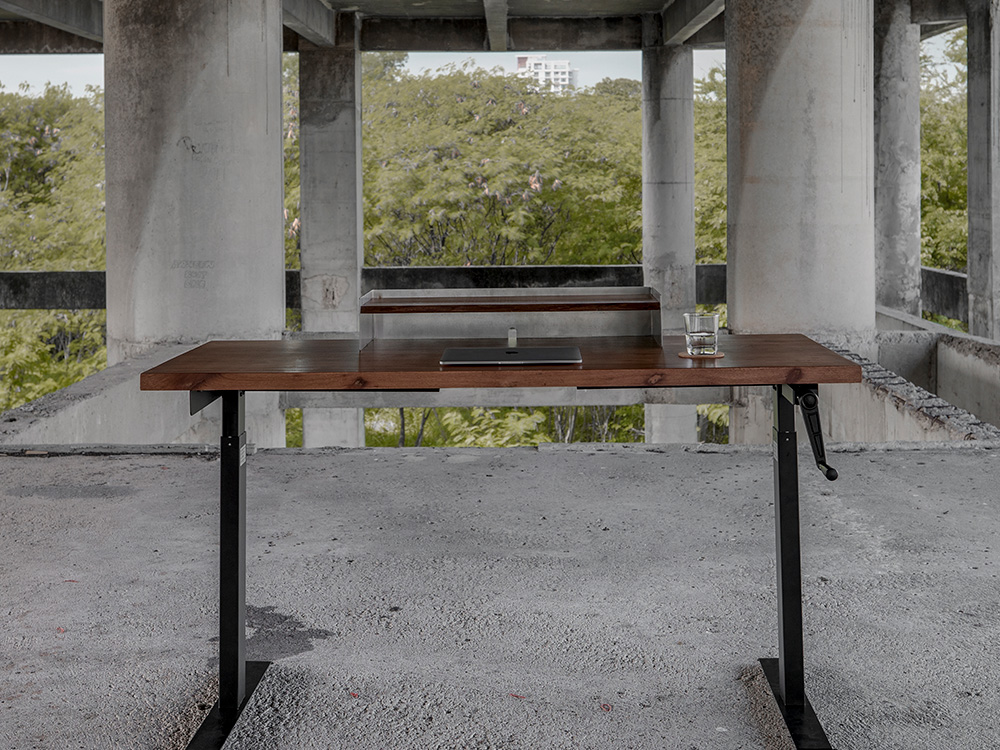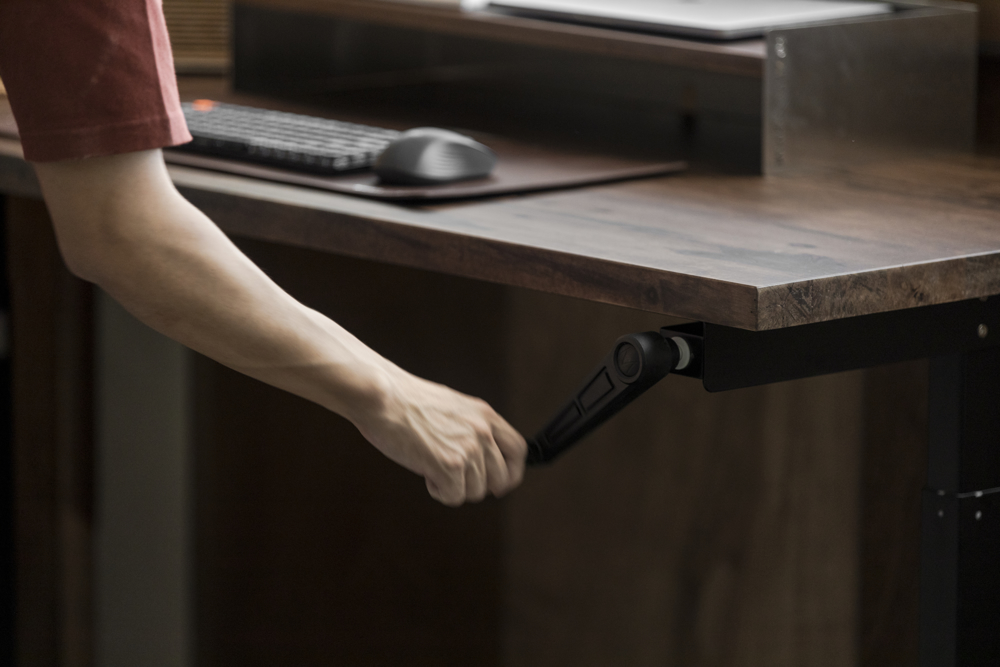 The Balak's Solidwood Hand-Crank Adjustable Standing Desk is a unique and eco-friendly solution for a versatile workspace. Crafted from 100% solid wood sourced in Asia, this desk showcases the beauty and durability of natural materials. With no power source required, you have the freedom to place it anywhere without the constraints of cords or outlets. The 34mm tabletop thickness ensures a sturdy and reliable surface for your work or projects. The desk is height-adjustable, ranging from 75cm to 115cm, allowing you to find the perfect ergonomic position for your comfort.
Operating the desk is a breeze with the hand crank system, providing easy and smooth adjustments to suit your desired height. The desk has a robust 100kg load capacity, accommodating your equipment and accessories. For your convenience, the desk comes pre-drilled, making installation a hassle-free process. Choose from different tabletop sizes to fit your specific needs: Short (27″ x 60″), Tall (33″ x 60″), or Grande (33″ x 72″).
Here are the highlights of the Balak's Solidwood Hand-Crank Adjustable Standing Desk's amazing features:
100% solid wood
No power source required
 34mm tabletop thickness
Height-adjustable (75-115cm)
Hand crank system
100kg load capacity
Pre-drilled for easy installation
Multiple tabletop sizes
10. UGL Athena 2.0 SE Standing Desk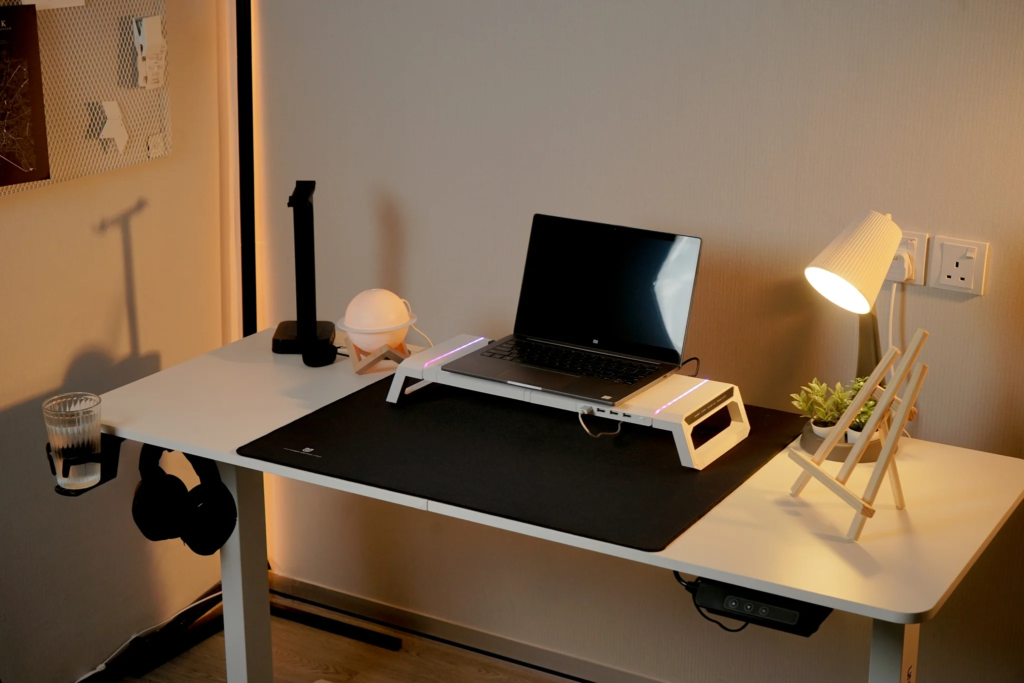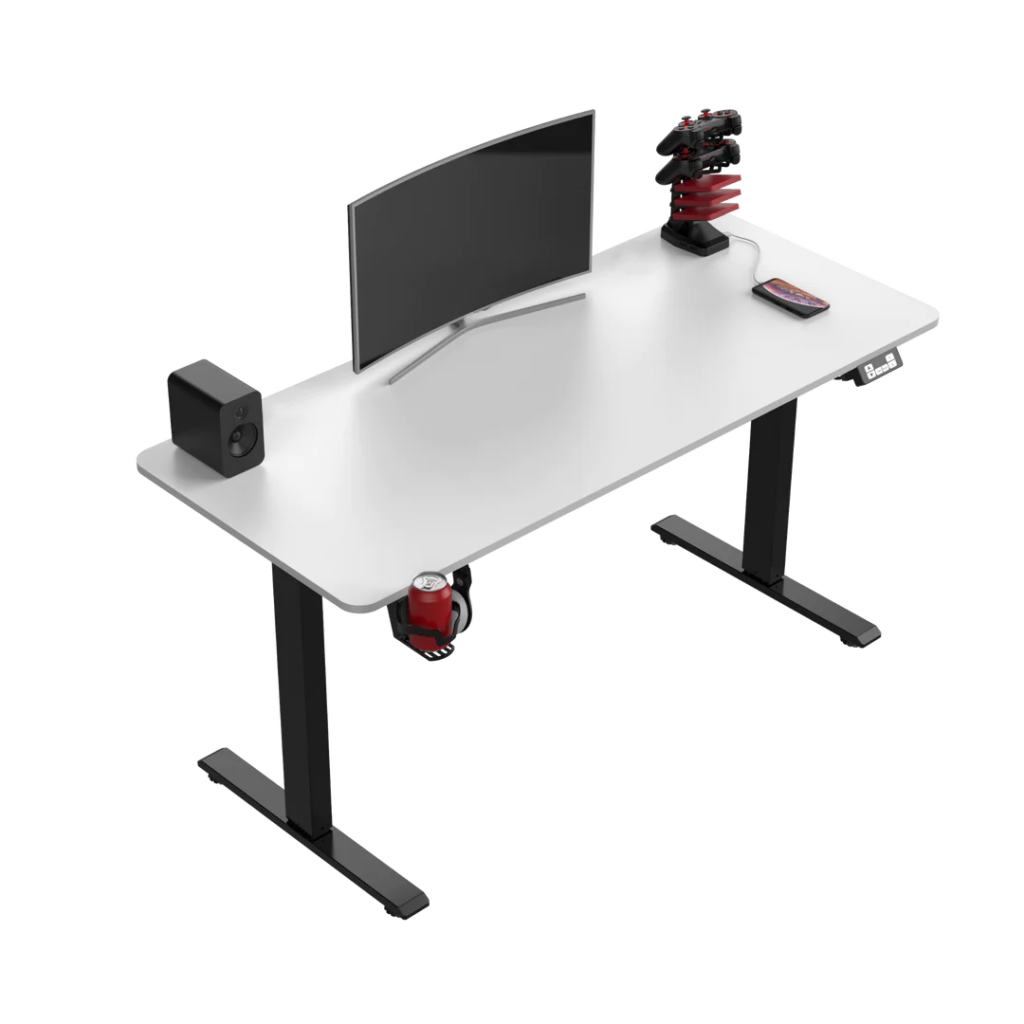 Powered by a 3-pin plug, the control panel of this desk features 6 keys, including 2 memory settings for effortless height adjustments. With the up/down button, you can easily find your preferred height, while the timer button and reset button help you stay productive and active throughout the day. Equipped with a silent motor, it can handle a maximum load of up to 80kg. The electric-height adjustable feature allows you to customise the desk height from 73cm to 118cm. Take advantage of the intelligent height memory with two preset height settings for quick adjustments. The desk offers an intelligent sedentary reminder with timer reminders at intervals of 30, 45, and 60 minutes.
Safety is prioritised with the emergency stop function, which halts the desk's movement upon encountering obstructions. The table top is available in two colour options: white and carbon fibre, both featuring a 15mm thick P2PB construction. Choose from three table top sizes: 120cm x 60cm, 140cm x 70cm, or 160cm x 70cm. The adjustable frame is designed to fit table tops ranging from 110cm to 160cm. Weighing just 25kg, it offers portability and ease of use.
Here are the highlights of the UGL Athena 2.0 SE Standing Desk's amazing features:
Powered by 3-Pin Plug
6 Keys, 2 Memory Settings
Electric-Height Adjustable
Intelligent Height Memory
Sedentary Reminder Timer
Silent Motor
Max Load: 80KG
Emergency Stop Function
15mm Thick Table Top
Multiple Table Top Sizes
Lightweight: 25KG
11. Armaggeddon Revolver T1 Manual Gaming Table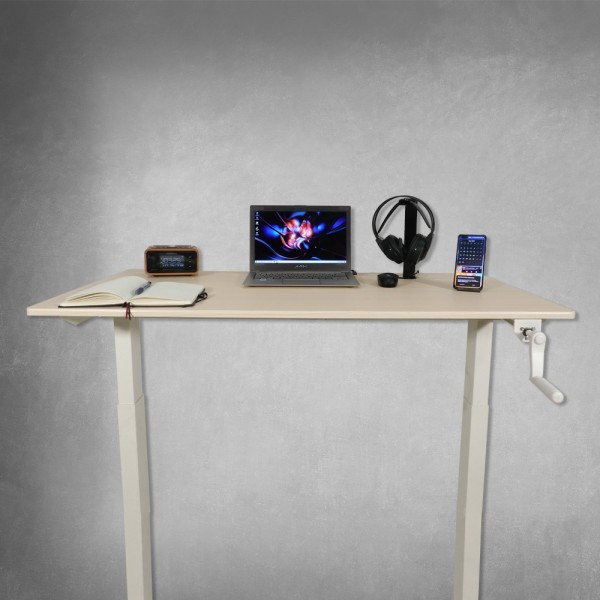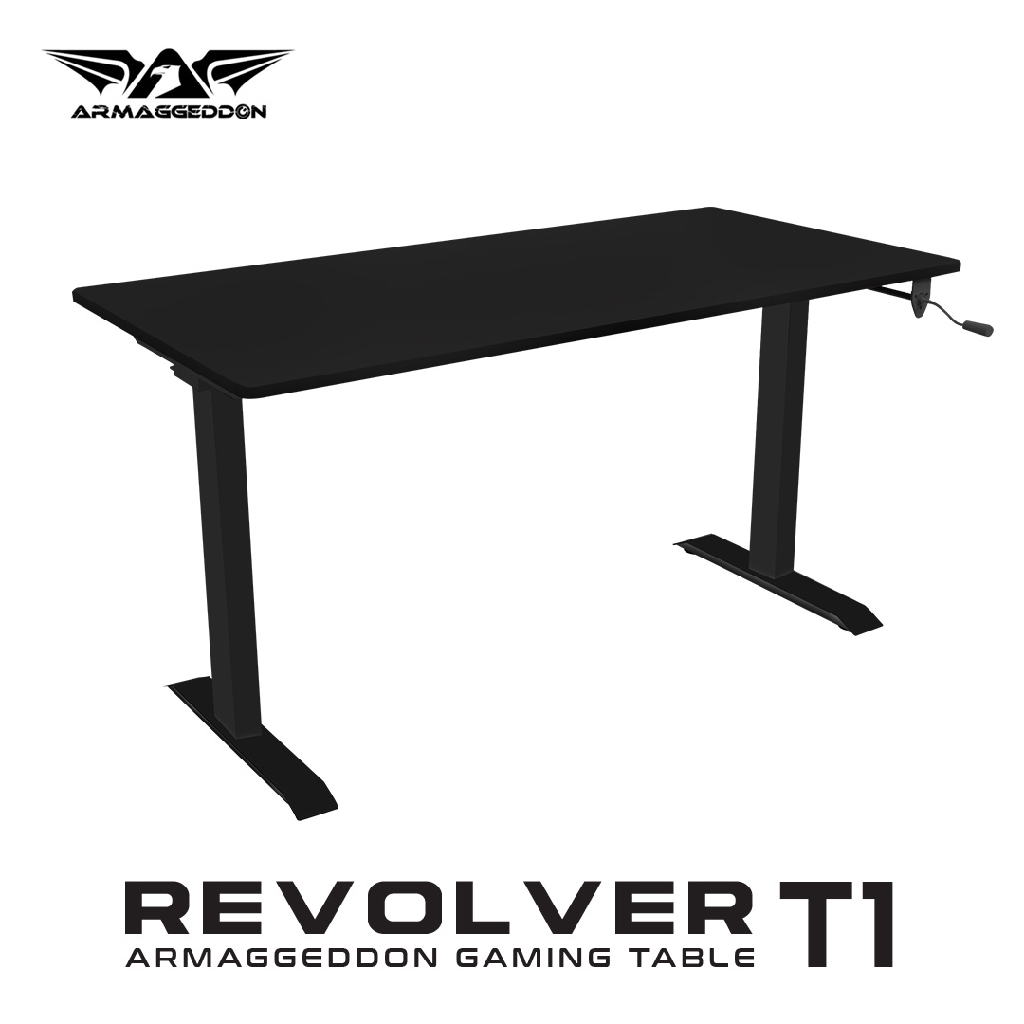 Introducing the Armaggeddon Revolver T1 Manual Gaming Table, the ultimate gaming companion for an immersive and customisable gaming experience. With a spacious desktop size of 600 x 1200mm, you'll have ample space for your gaming setup and accessories.
The table offers a lifting range from 695mm at its lowest point to 1095mm at its highest, allowing you to find the perfect ergonomic height that suits your gaming style. The sturdy construction ensures a weight capacity of up to 80 kg, accommodating your gaming equipment and peripherals with ease. Please note that the Armaggeddon Revolver T1 is available for delivery in Klang Valley only and it comes with a 1-year warranty.
Here are the highlights of the Armaggeddon Revolver T1 Manual Gaming Table's amazing features:
Spacious desktop size
Adjustable height range
Strong weight capacity
Manual gaming table
Klang Valley delivery
1-year warranty
12. Noc Loc Smart Lifting Desk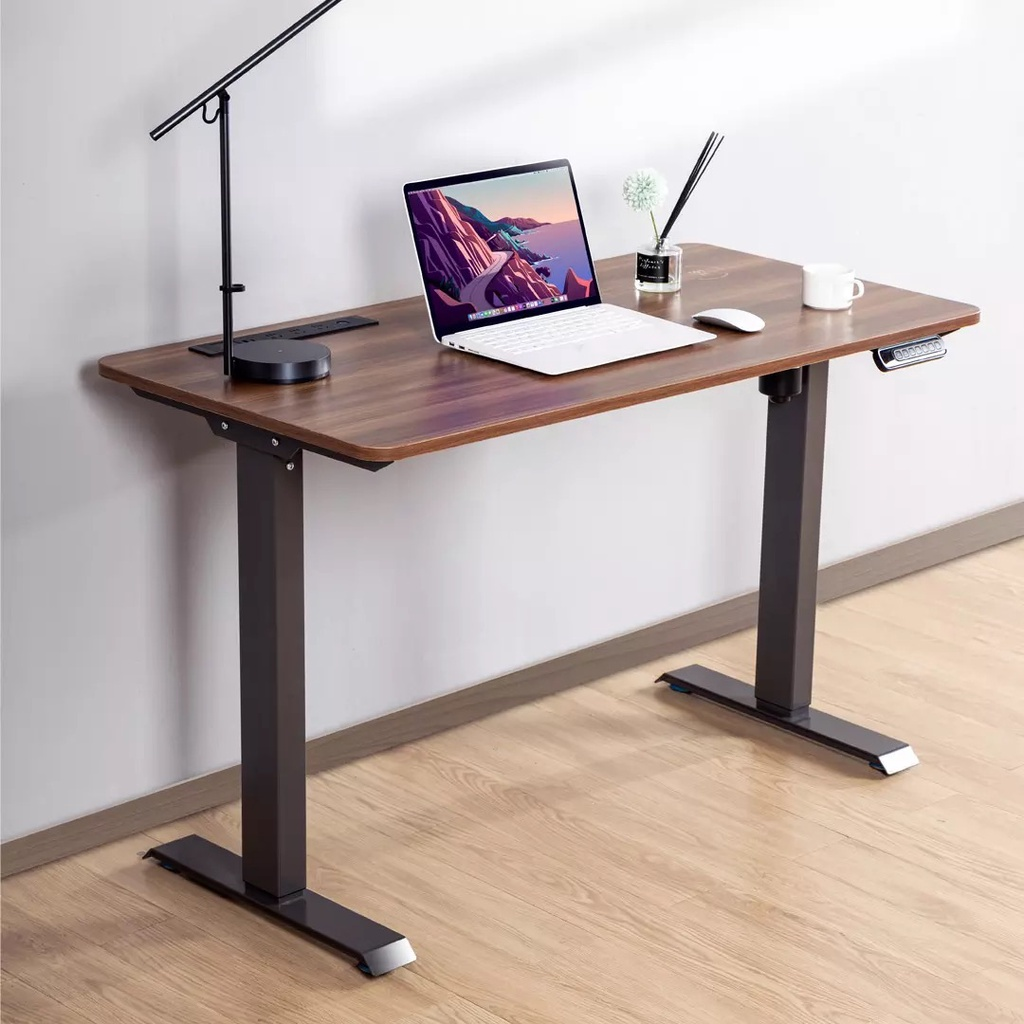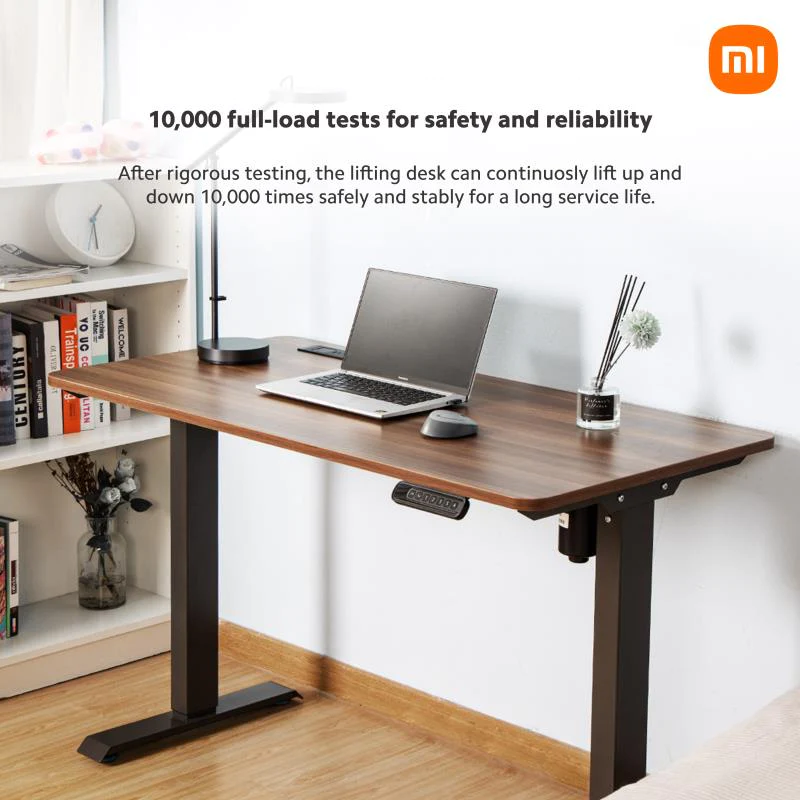 With a size of 120 x 60 x 121cm, this desk offers ample surface area for your work. The height is adjustable, ranging from 73cm to 121cm, allowing you to find the perfect ergonomic position. With a weight capacity of 80kg, the Noc Loc Smart Lifting Desk can accommodate your equipment and essentials. The digital display and 4 memory preset options make height adjustments convenient.
Experience the convenience of Qi wireless charging with the built-in feature, compatible with Qi-compatible mobile devices. Additionally, the desk includes a built-in power outlet, enabling you to connect and charge your electronic devices in one centralized location. The quiet motor ensures smooth and silent height adjustments, maintaining a peaceful and focused work environment. The collision detection design prevents any harm or damage by detecting obstacles and stopping the desk's movement.
Here are the highlights of the Noc Loc Smart Lifting Desk's amazing features:
Adjustable height range
Digital display with memory presets
Qi wireless charging
Built-in power outlet
Quiet motor operation
Collision detection design
Conclusion
The world of standing desks in Malaysia offers a range of options to suit every need and preference. From ergonomic designs to advanced features, these standing desks are revolutionising the way we work and promoting a healthier and more productive lifestyle. Whether you're looking for a sleek and minimalist design, a sturdy and spacious workstation, or innovative features like wireless charging and intelligent app control, there is a standing desk in Malaysia that will meet your requirements.