Located in the heart of the city, THER Ladprao 93 currently comprises two types of homes – Gather and Further.
The facade of the structures has simple, earthy tones of greenish-gray and beige. Plants adorn the balcony and rooftop terraces, connecting them with nature. The clubhouse has a pool, gym, and other recreational facilities.
Project: THER Ladprao 93
Location: Thailand
Exterior Design: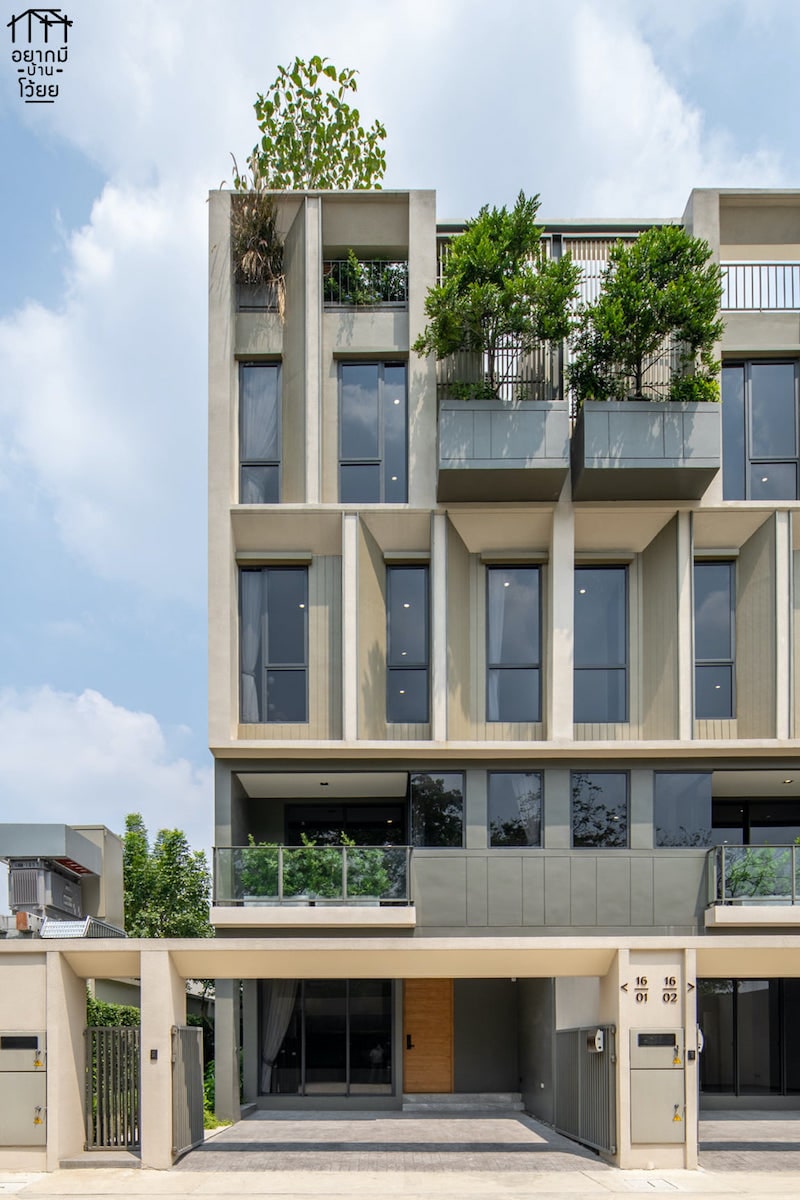 Interior Design: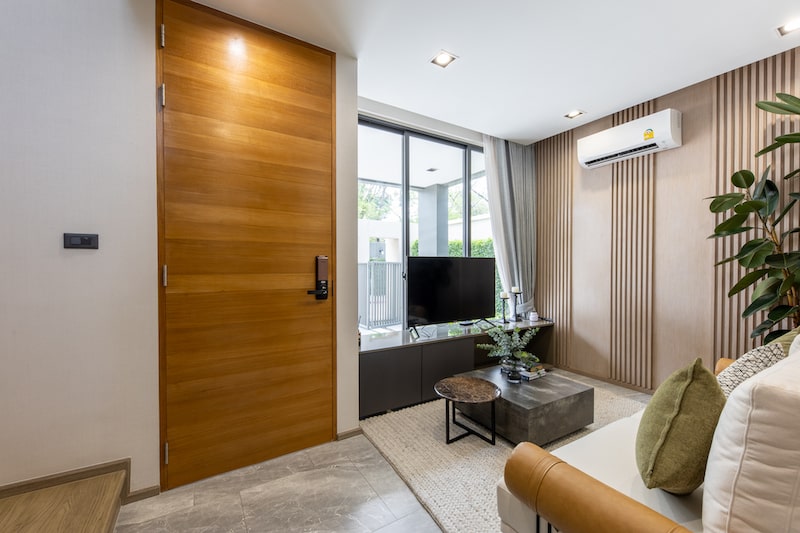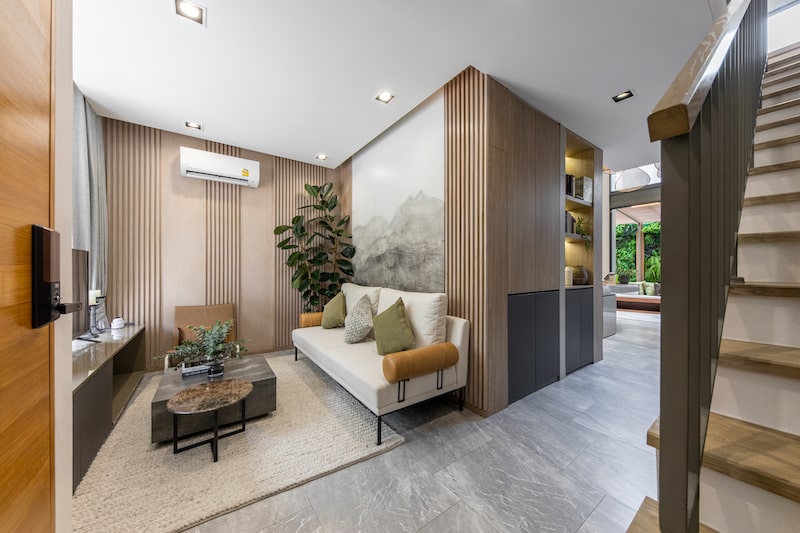 The living room is a small, cozy space, with a mural that depicts Thailand's natural landscape.
A colour palette of earthy browns and greens pair well with the gray marble flooring.  A corridor lined with shelves opposite a textured wall leads into the dining area.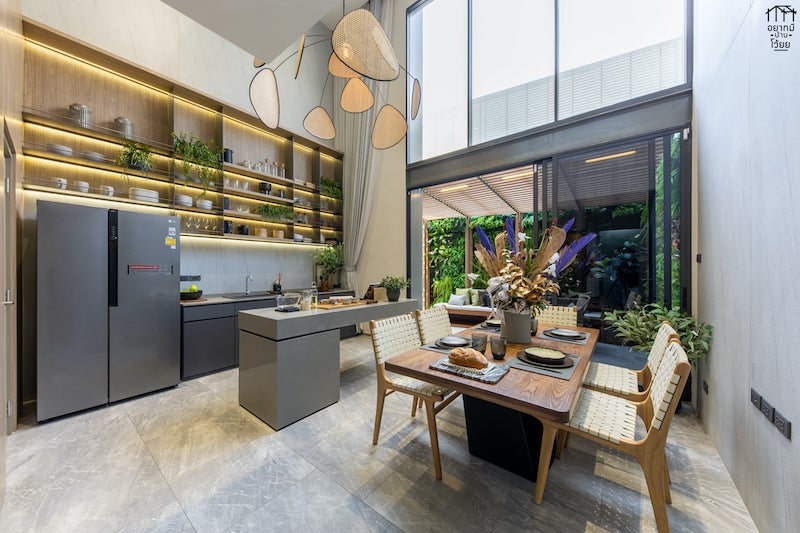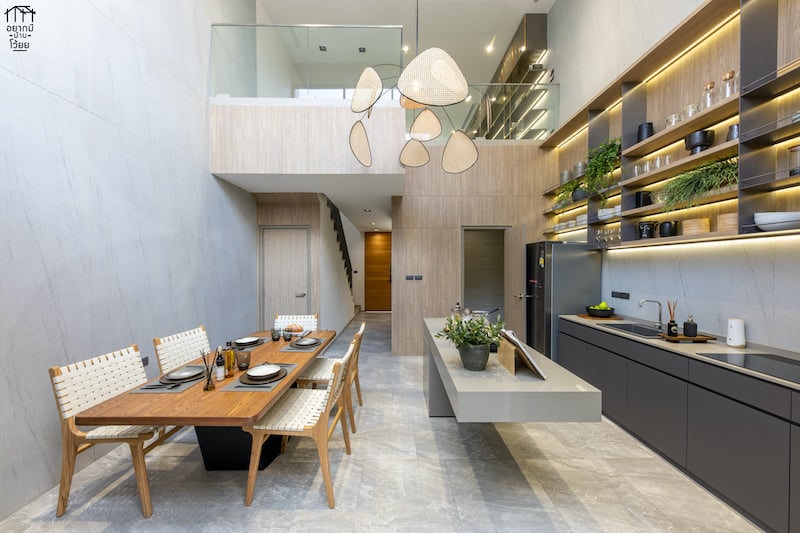 Conceived as a space for family bonding and connections, the kitchen and dining area have a grand, welcoming ambiance.
Its double-height volume pours in natural light and a stunning chandelier inspired by the Reuleaux triangle add a gorgeous edge to the space.
Built-in shelves, a gray breakfast island, and a wooden dining set inspired by Thai culture make the area a masterpiece.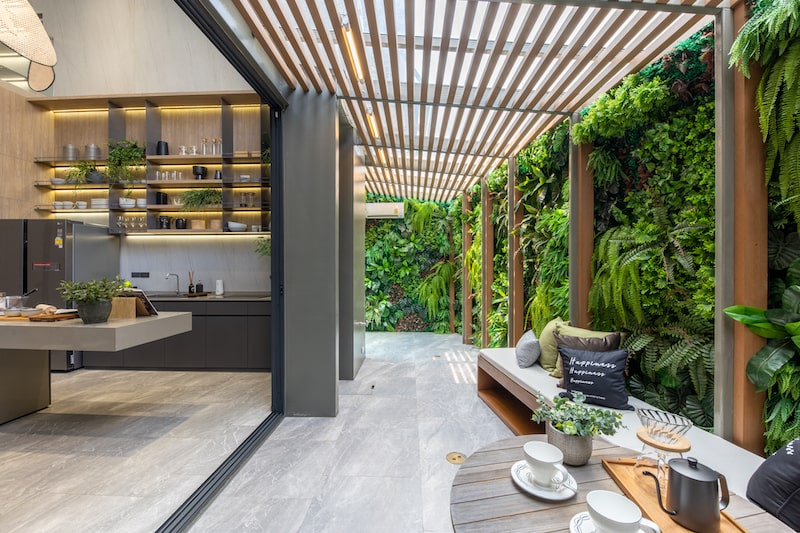 A cozy garden area at the back is the epitome of balance between contemporary architecture and nature. Its pergola and vertical garden induce an innate connection with natural ecosystems.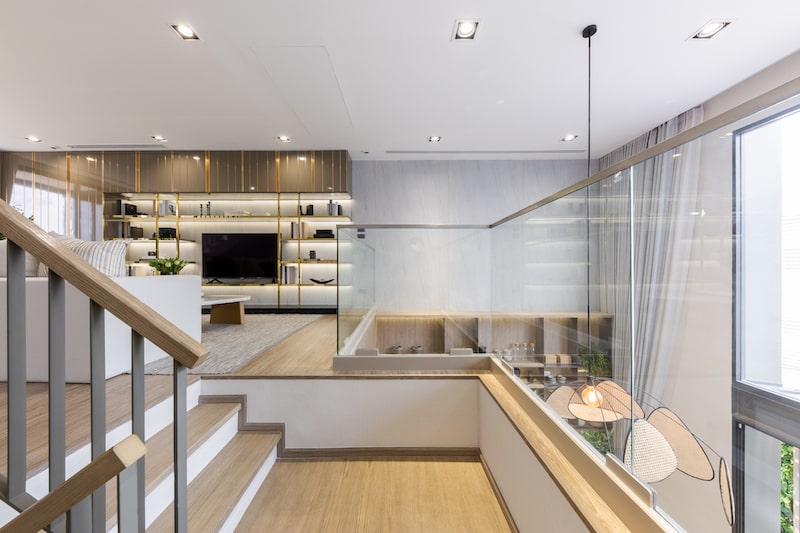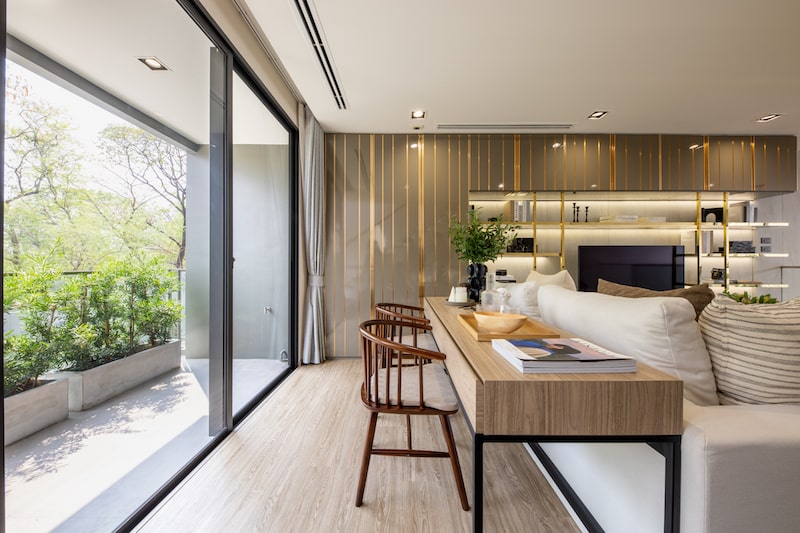 The mezzanine floor comprises a more formal and sophisticated living area, where earthy tones take a backseat to let contemporary classics like white, tan, and beige shine.
It opens into a landscaped balcony, serving as the perfect backdrop for a productive work session.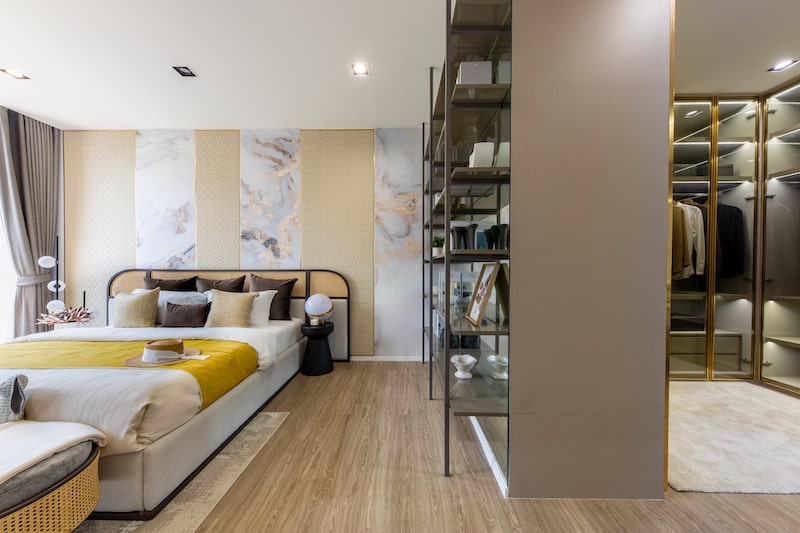 The spacious, bright primary suite on the first floor features a gorgeous Calacatta Gold Marble accent wall with pastel yellow fabric strips.
The warmer furnishings of this room pair well with the wooden flooring and warm gray shelving.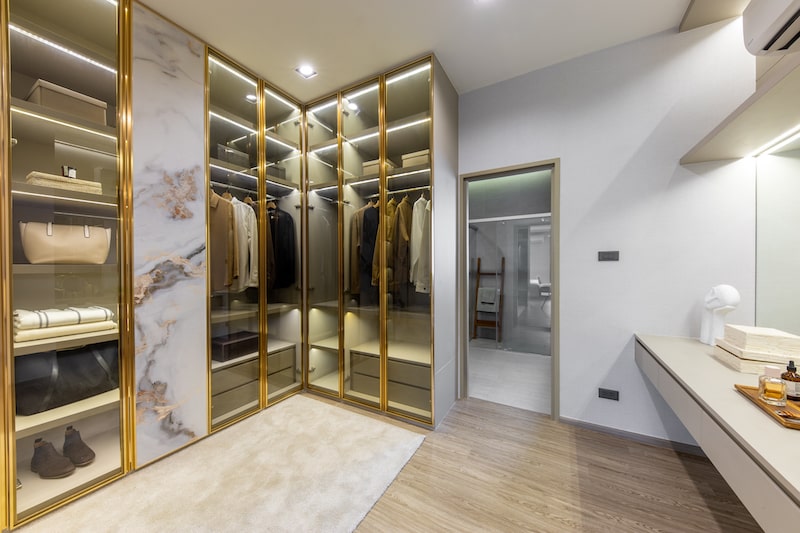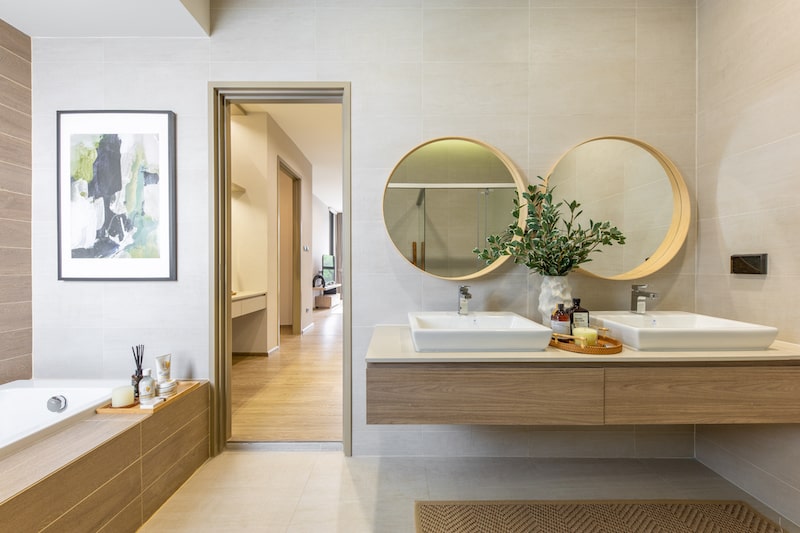 A built-in glass wardrobe with a lustrous gold frame forms a walk-in closet before the ensuite bathroom.
With strategically-placed plants and natural tones laced with elegant whites, the bathroom redefines luxury.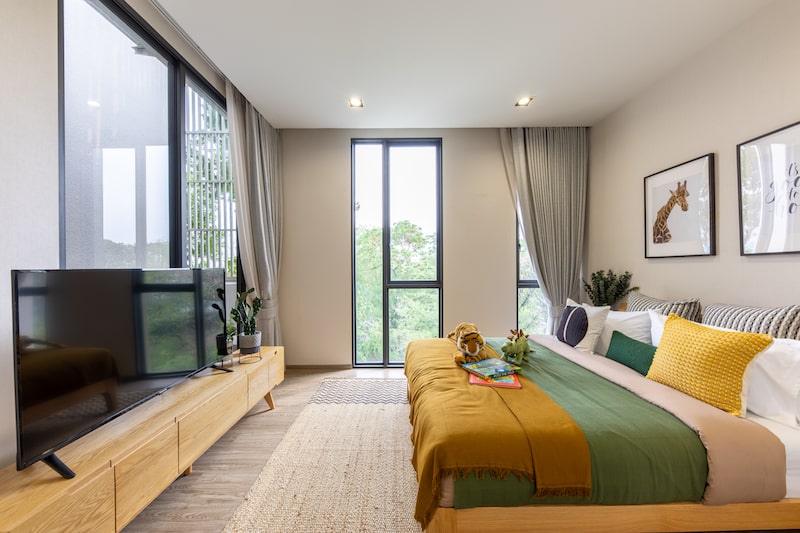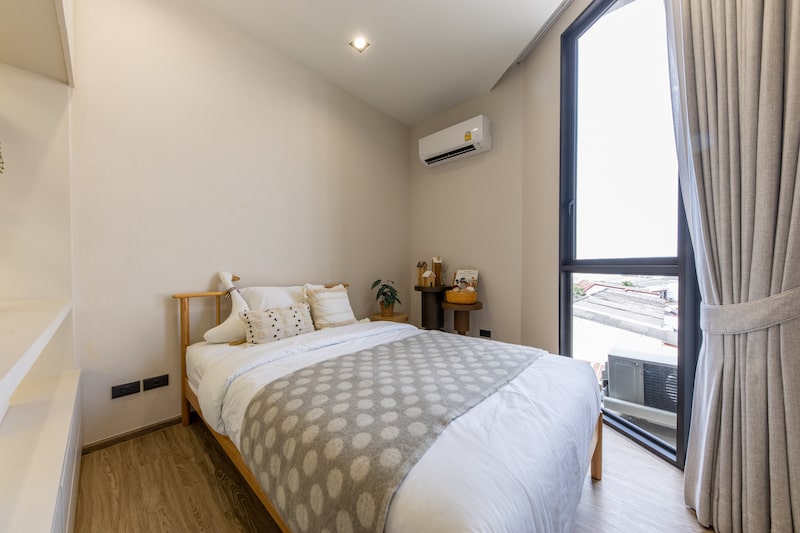 The guest bedroom resembles the primary suite in terms of the base colors but has deeper-colored furnishings to complement the stream of natural light pouring in.
The children's bedroom has been minimally furnished to make use of the limited space.
The community housing project offers flexible spaces, that cater to different tastes.
While certain elements bind the two townhomes together, they each have a unique edge that imparts a charming personality to them.
All images are taken from THER Ladprao 93 unless otherwise stated.
Interested for more amazing house designs? Check out our collection of house design articles now.