There are plenty of beautiful houses located in Kuala Lumpur but this one situated in Bukit Tunku is an architectural delight surrounded by nature. It's a spacious and modern bungalow that is filled with all the necessary amenities (and more) that the residents want so that they can relax and recharge at home.
But perhaps one of the things that catch your attention the most is the installation of various quality aluminium doors and windows by Window Elements that are not just for show, they are very convenient, useful and best of all, they keep the residents of the house safe and improve the overall quality of life for the inhabitants. Here's how:
1. It's Aesthetically Appealing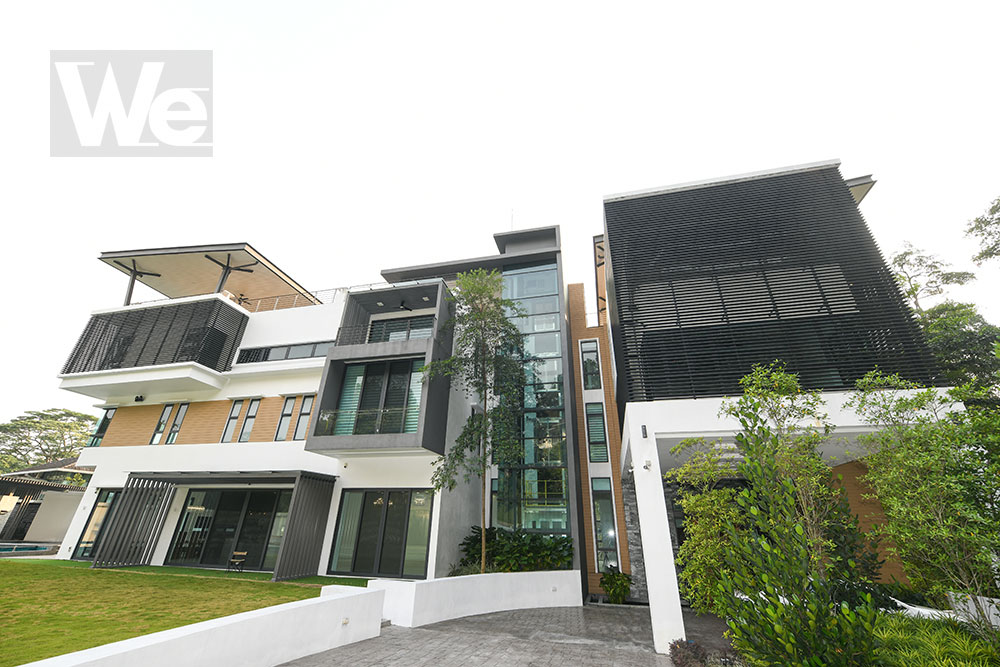 The house is designed with a clean, contemporary look and the different types of aluminium doors, windows and screens only serve to enhance its aesthetic. This serene home is elegant and sleek, with every inch carefully created and designed with a specific purpose, including these openings.
Beautiful casement windows, which boasts clean-cut design was used for all the windows to complement the facade of the house.  In addition, reinforced Aluminium Louvre grills are used which contrast with verdant greenery outdoors for a unique look.
2. Safer for Children and the Elderly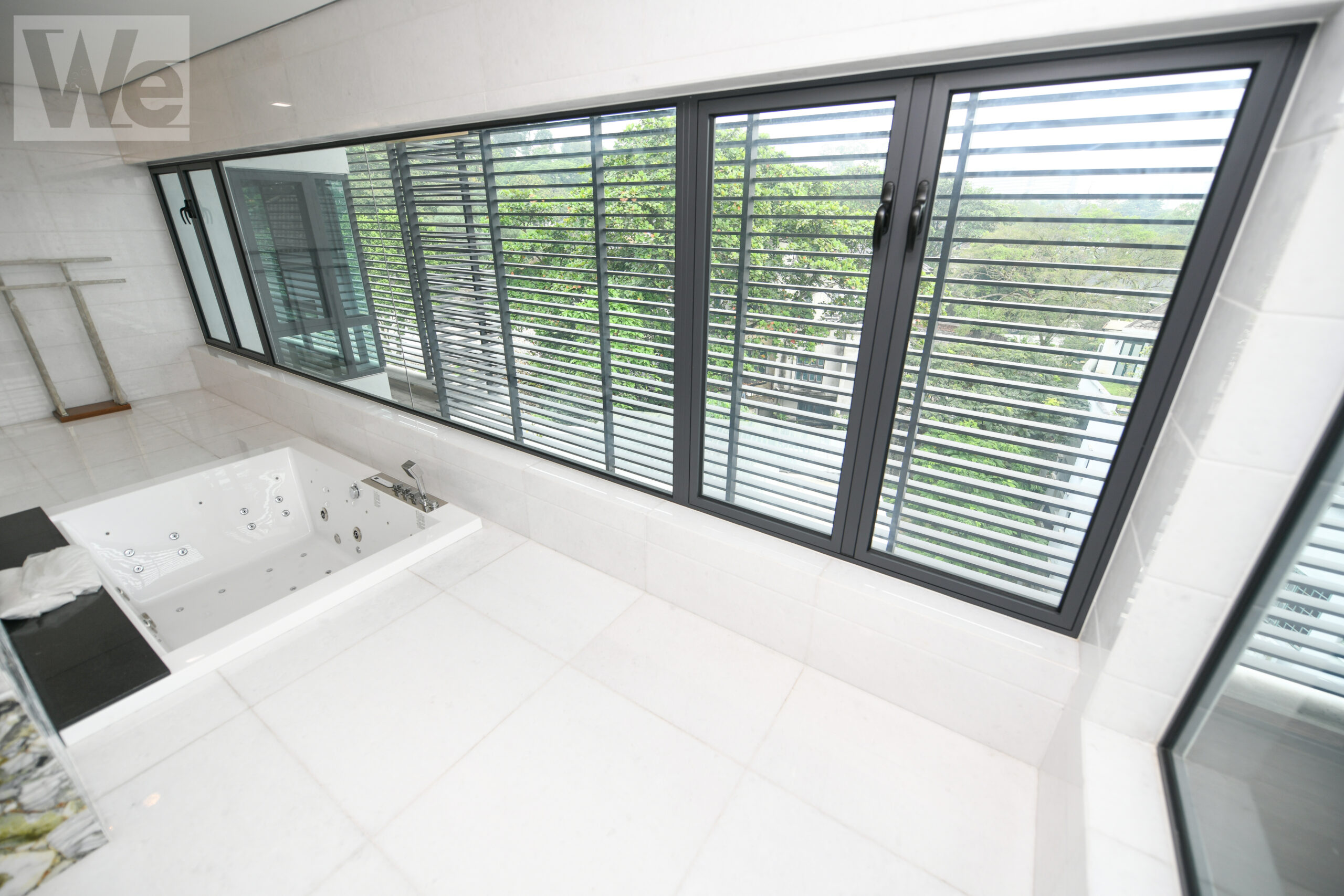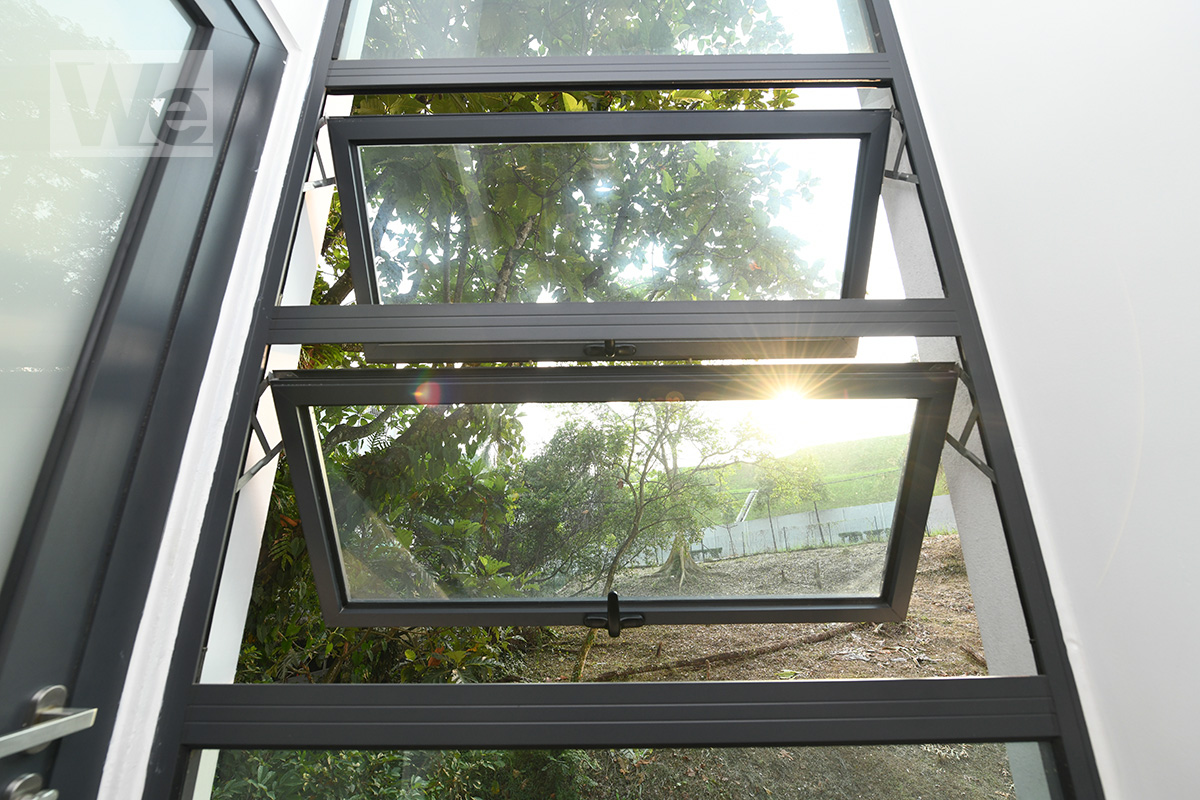 Often, you may hear of doors and windows that can cause accidents for inhabitants of the house, especially for little ones and older people. This is why the owners of Bukit Tunku house installed Optima Windows which are completely customisable with its parts imported, after passing through stringent quality controls to ensure they open smoothly and with little effort, ensuring that those who have lesser strength can open them easily.
3. Improve Energy Efficiency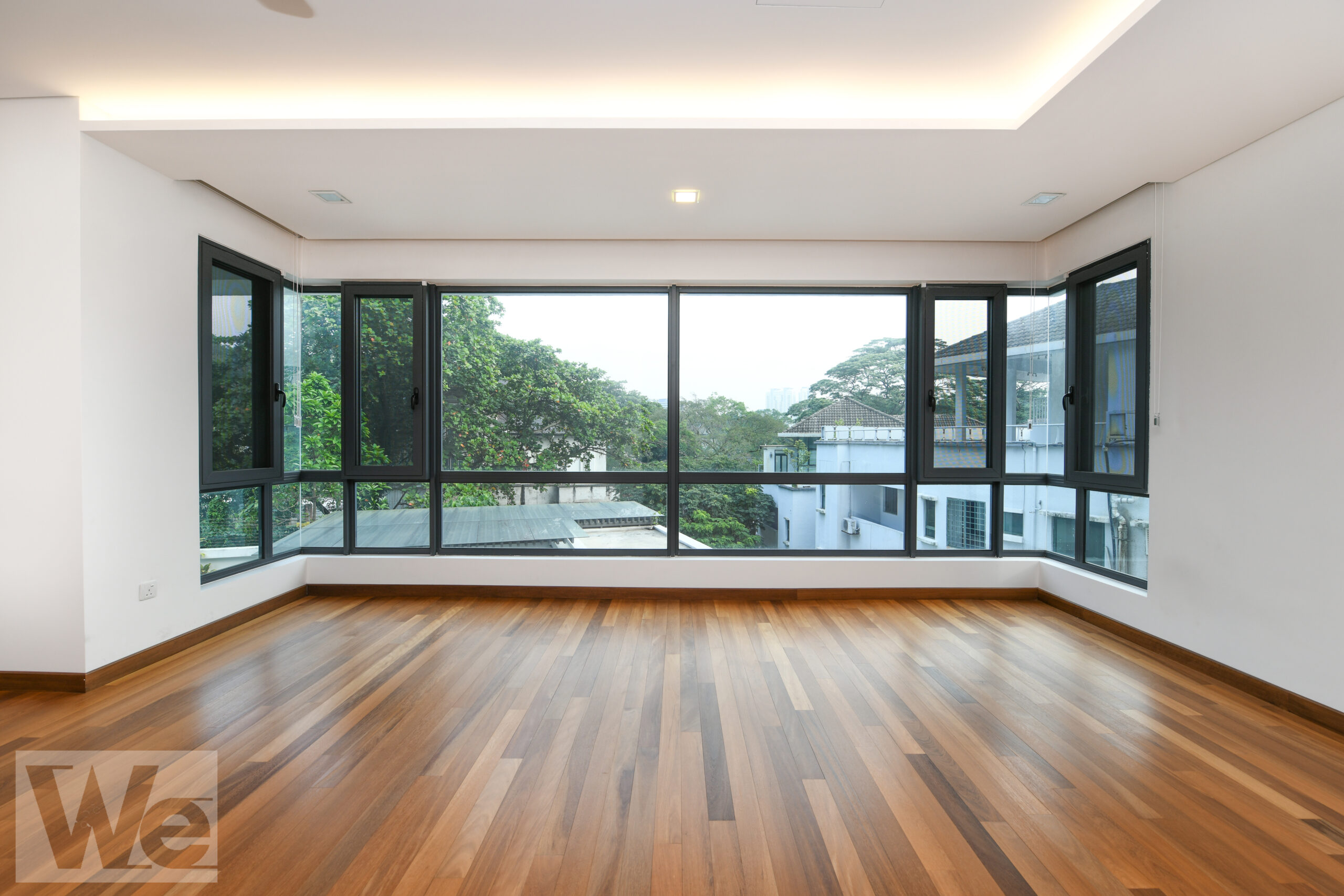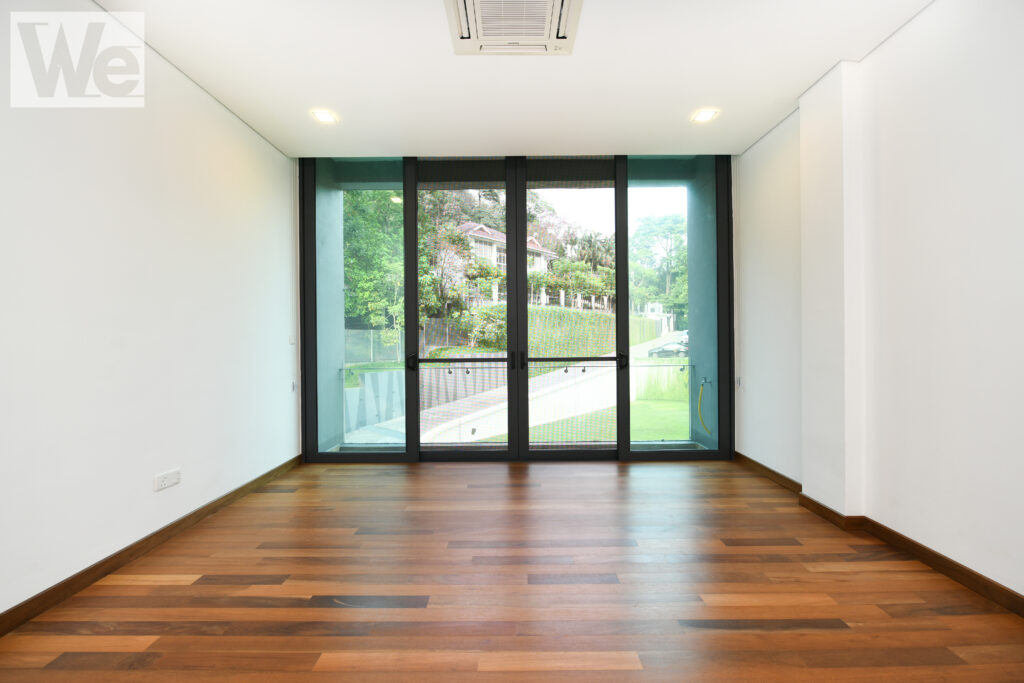 With the installation of these amazing windows and sliding doors, this actually helps the owners of the house to save more money on electricity. That's because the windows and doors allow more light and air to enter the home, decreasing the need to turn on unnecessary lamps or air-conditioners. By opening these energy efficient windows and doors, you can cool down the house with the circulating breeze.
4. Increases Natural Light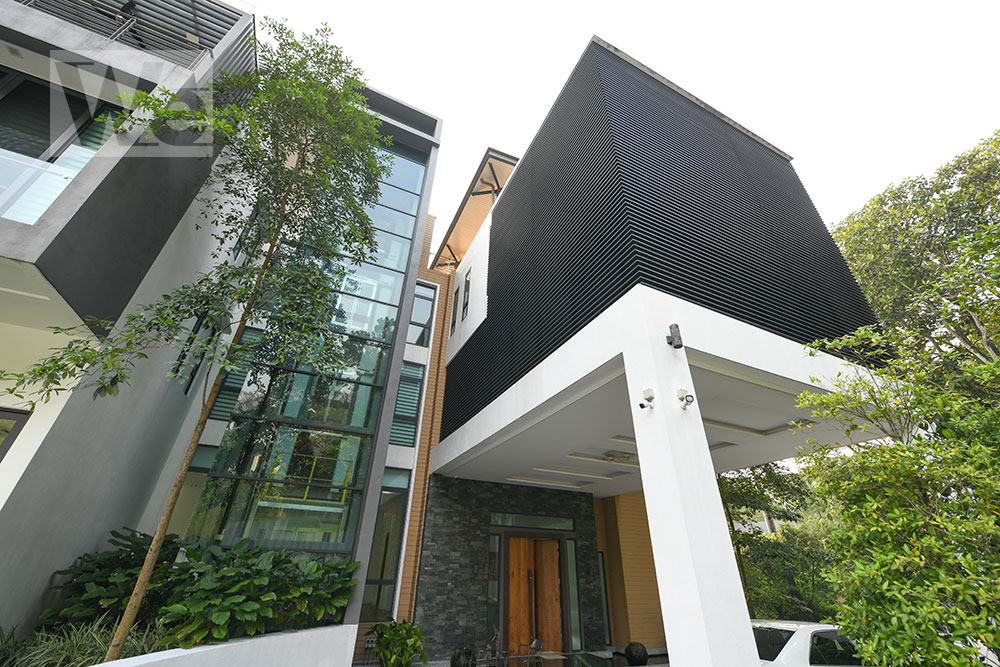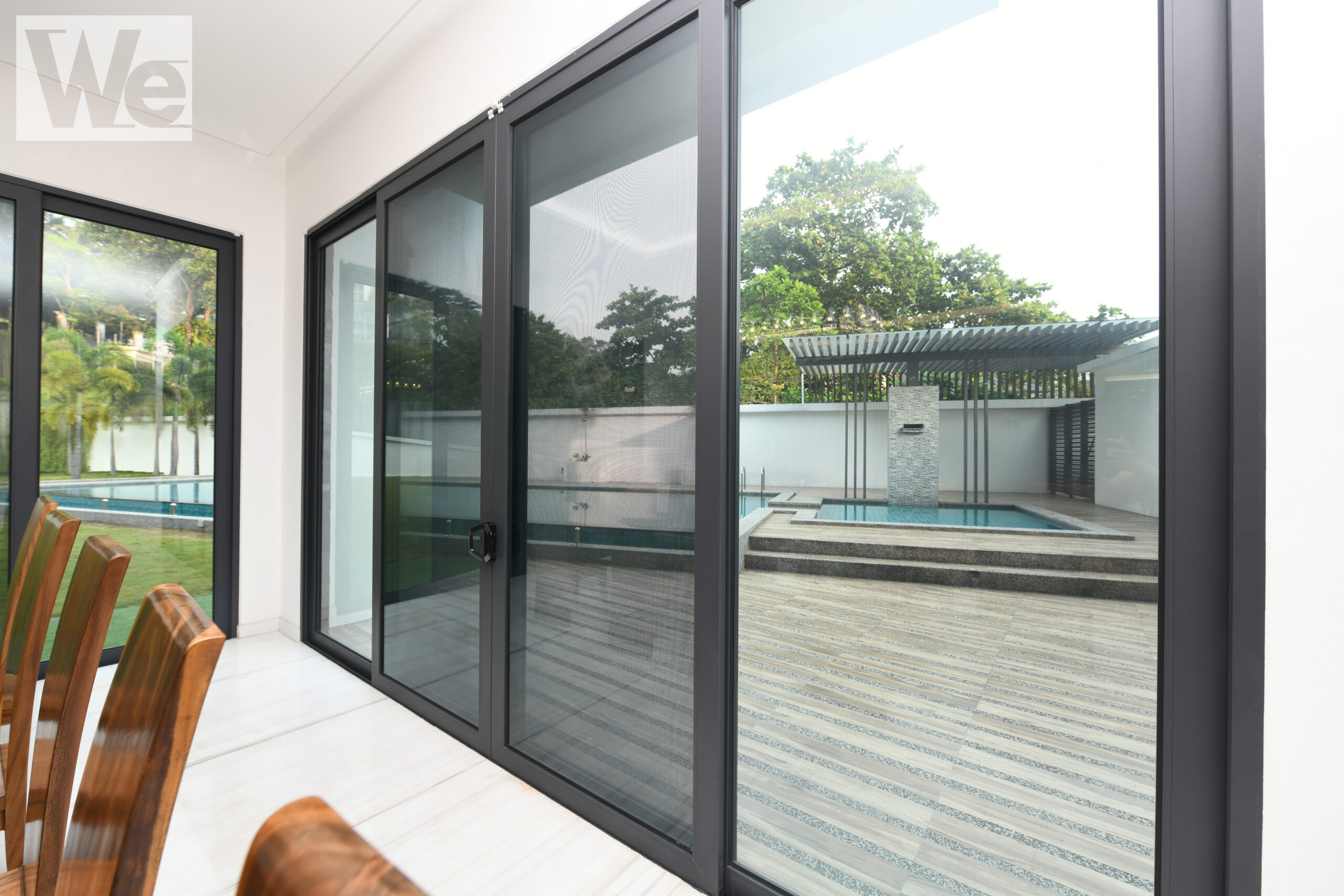 As mentioned above, the beautiful doors and windows allow the natural light to illuminate the home, thereby ensuring that the inhabitants get to enjoy the stunning view outside as well. For example, in one corner of the house, the dining area overlooks the lush green yard and sparkling pool which is visible due to the Arxtech Sliding Doors that block 68.8% of harmful UV rays. These doors allow the seamless connection of the interior and exterior, making it the perfect entertainment space and are customisable to your preference.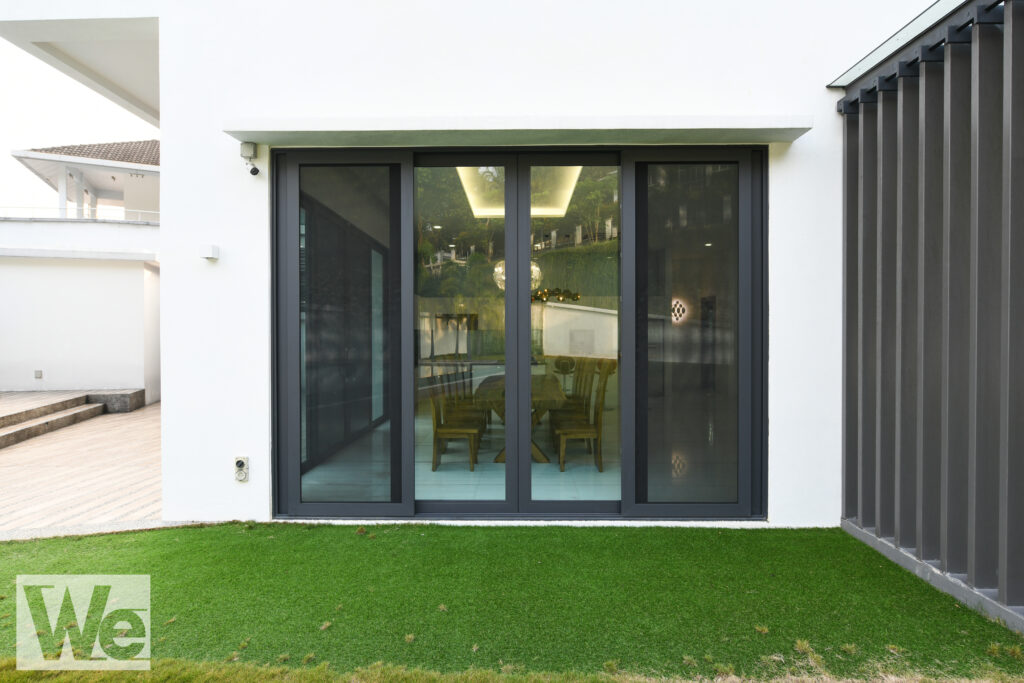 5. Enhances Home Security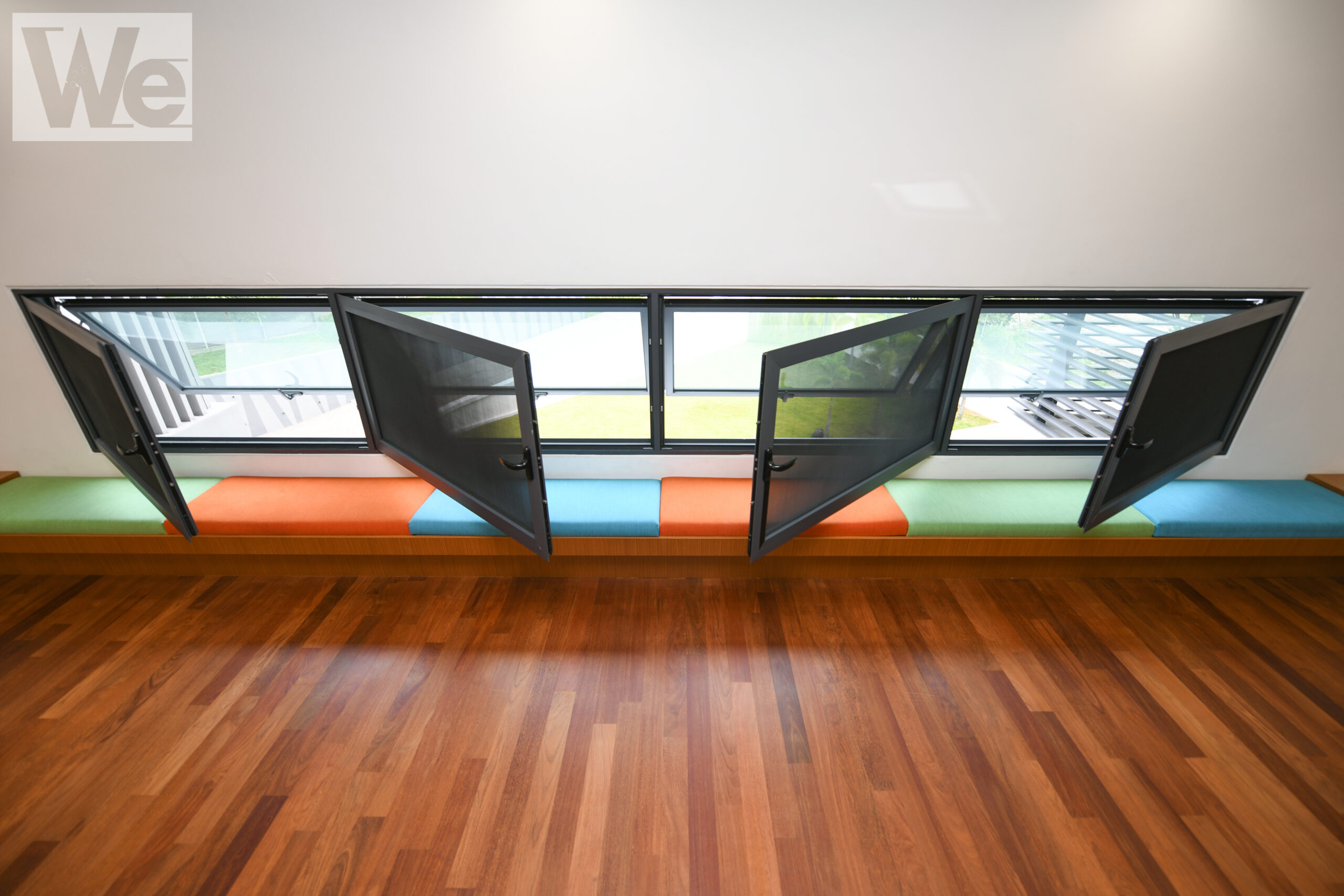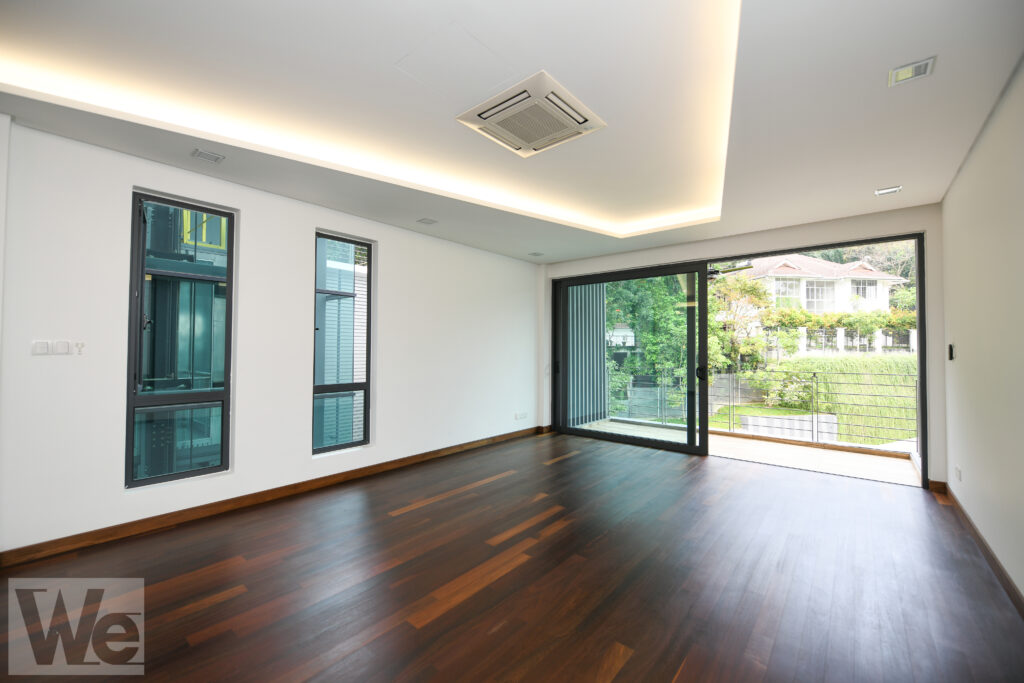 One of the most important things you're looking for in a house? The privacy and security of course. That's why choosing the right doors and windows for your home is essential, as they are the first point of defence in your home to secure your openings.
Other than just looking good, the openings at this Bukit Tunku house prioritises security as well. Sliding doors and windows in the building are installed with Arxtech security mesh and safety glass to prevent break-ins, robberies and other unwanted intruders. This security mesh is made from high tensile stainless steel wire which is thicker than the market standard, making it highly resistant and tough.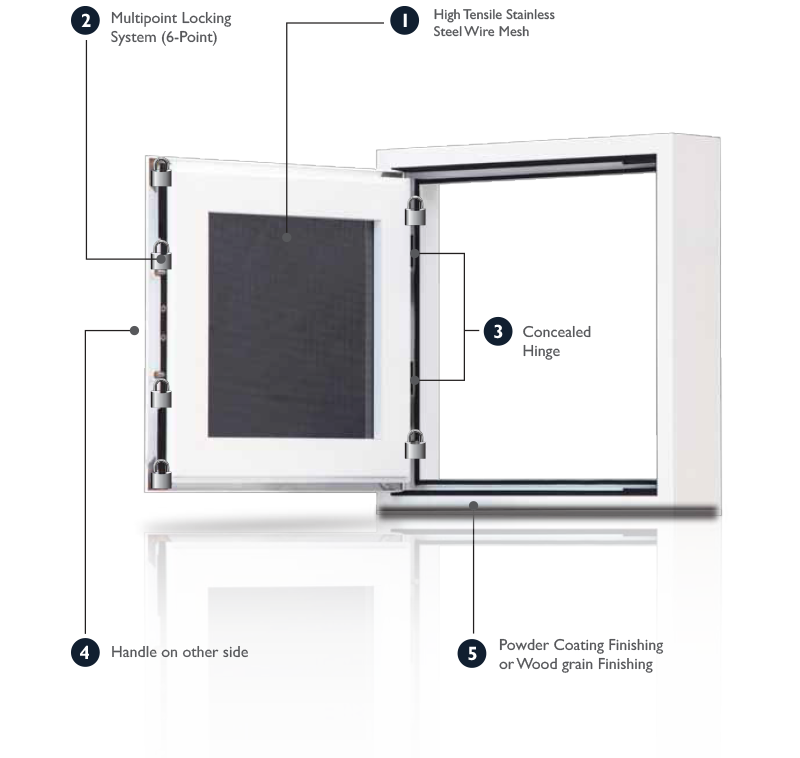 There is also a six-point locking system for the top and bottom of the doors and windows, one of the strongest in the industry, which adds another layer of security for your home 24/7. The concealed copper hinges on either side of the door are solidly built make it harder for robbers to break in, as they cannot unscrew the hinges.
6. Minimise Maintenance Costs and Time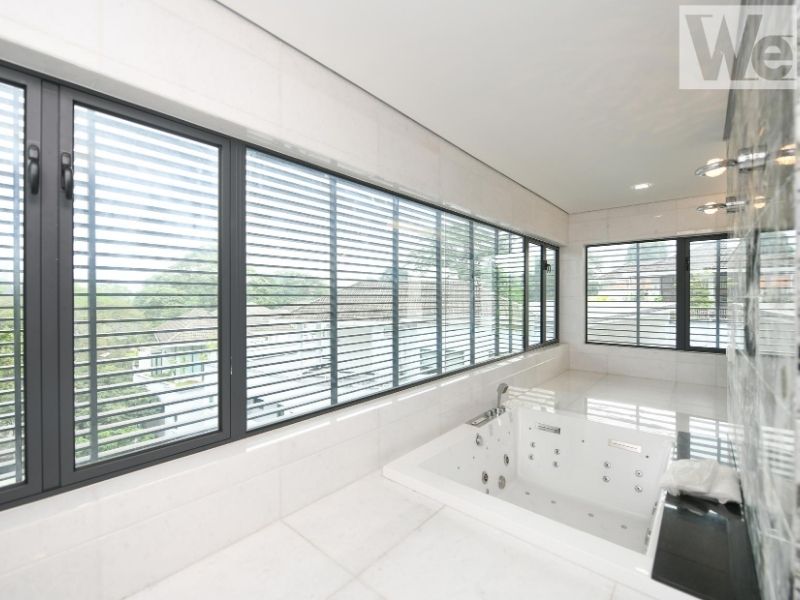 Installing good quality windows and doors mean that you can save money over the long run. With quality doors and windows that can withstand wear and tear, the owners do not have to repair or replace them anytime soon as they can last for many years. Plus, even if there is any need for repairs, the manufacturer, Window Elements, promises a six-year warranty for security lock and accessories on Optima products while Arxtech comes with a 12-year security warranty which lessens any maintenance costs.
7. Reduce Noise Levels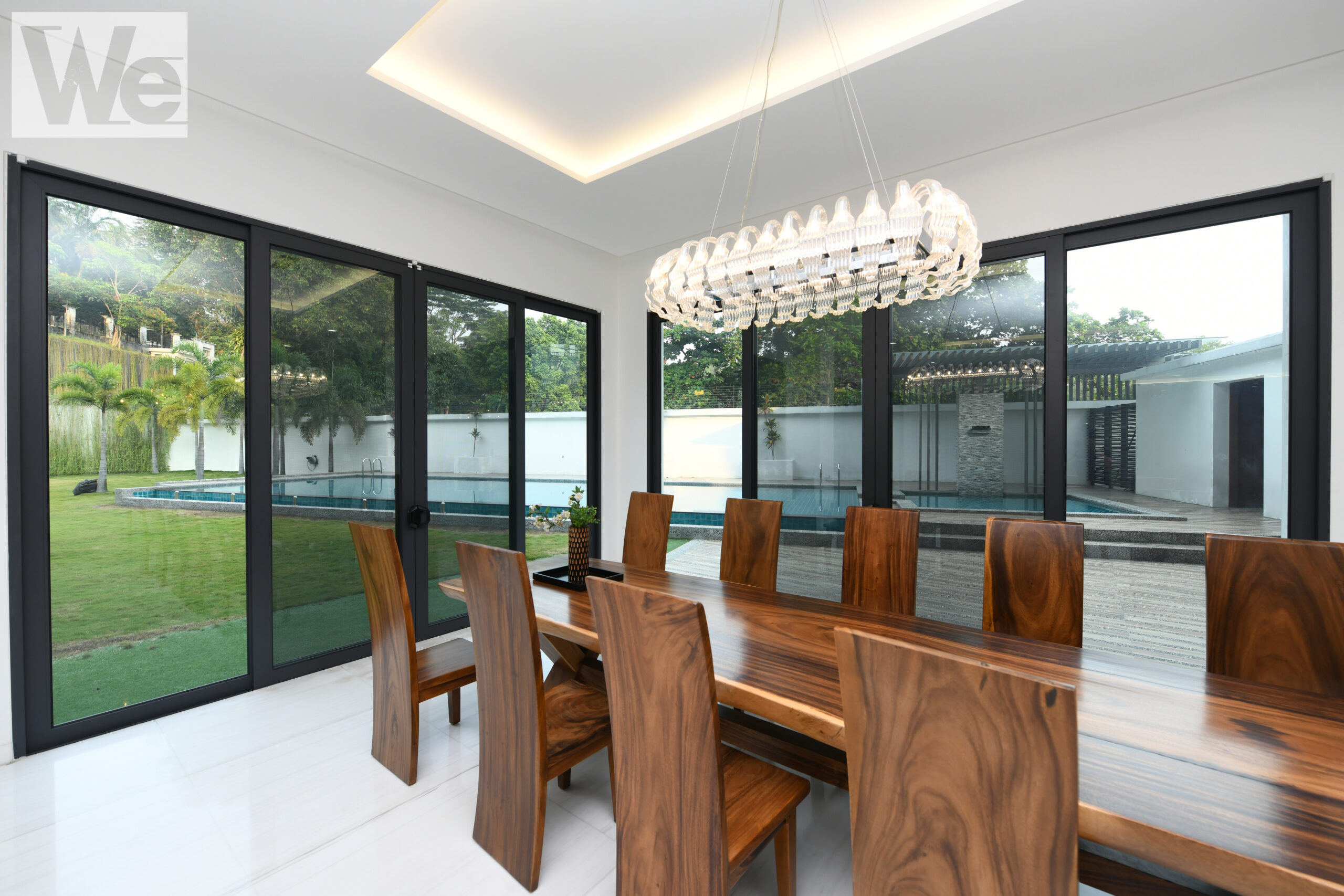 Sliding doors also play an important part in blocking out unnecessary noises from the street and surrounding areas, ensuring that the inhabitants are able to have a quiet and peaceful time inside their home.
That's why sliding door is the superior choice to reduce noise pollution from the outside thanks to its fine combs of wool hair at the frame gaps that help with sound insulation.
Want to know more about how these aluminium doors and windows work? Watch this video below:
Based on the above, all of these show that having proper and good quality aluminium doors and windows really do help to improve the quality of life for the inhabitants. The Bukit Tunku house looks more stylish thanks to these amazing products as they are also functional as well. The beautiful aluminium doors and windows used in this house are provided by Window Elements Sdn. Bhd, a professional windows and doors manufacturing company that has been in the industry for over 20 years.
 You can enquire about their service or connect to them through our business listing
They specialise in providing ultra-modern and trendy aluminium doors and windows for your home and have a wide range of products available. These consist of:
Optima Doors and Windows: They are a clever range of louvres, casement windows, swing doors, folding doors and swing and slide doors made of a sturdy and secure mix of aluminium and glass that can be customised for any interior style
ArxTech Premium Home Security Solutions: Feel more secure in your own home and prevent any unwanted crime by using ArxTech, which is stylish and has some of the best security features you'll ever need (and want)
Winblind: A stylish innovation, these mini blinds are low in maintenance and built within insulated double glazing glass. It is operated using a magnetic operating system that is hassle free
Breezway Louvre Windows: Energy efficient, these windows have no fixed panes and blades that open almost horizontally in an aluminium window and aluminium door. This means they can open twice as wide as regular windows to maximise ventilation and allow precise control of airflow into your home
Aluminium Louvre: Simple and fuss-free for when you need an extra layer of protection
They are one of the pioneers in the industry and focuses on crafting the best for their customers. Window Elements believes that these aluminium doors and windows are an eco-friendly and sustainable alternative which can turn a house into a safe and secure home.
Thanks to their customer-centric approach, they are a market leader who has gained the trust of other industry players and forged a great working relationship with them. This esteemed company has completed thousands of residential projects and more in the Klang Valley. Find out more about Window Elements' awesome products and services on their website.