Having a cosy little studio apartment doesn't mean that you can't have a stylish home too as there are so many ways to make it look good. Just because it's small doesn't mean you can make it look functional and aesthetically pleasing as well. Here are a few great ways to take advantage of every inch of space in your little home to create the look you want.
1. Hotel Inspired
You know that sense of luxury and comfort you get when you're in a high-end hotel room? Recreate that in your beautiful little studio apartment and you may find that you never want to leave your home. This is a great example as the home puts the bed prominently centre stage while the rest of the features are more basic but has everything you need.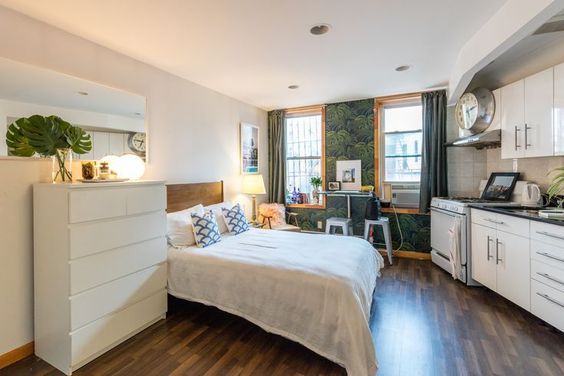 2. Keeping it Low
If you are fortunate enough to own a studio apartment that has high ceilings then you're in luck. However, don't fret if your ceilings are slightly lower. You can still make it work by using low furniture that looks chic yet functional. There's no need for dividers that hang at your ceiling but you should use other items like shelves to define your space.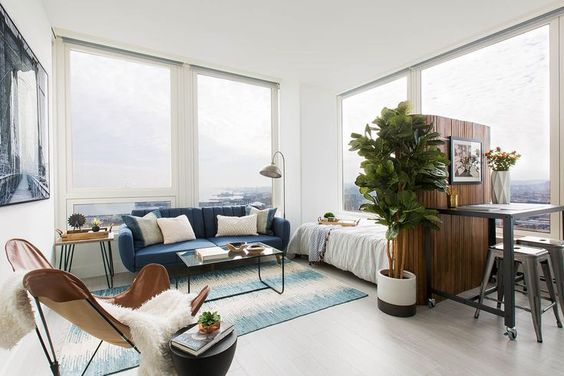 3. Curtain Call
One of the bad things about having a studio apartment is the lack of privacy but you can get around that by having your own dividers. We recommend using curtains as it is simple, easy to fix and you can change it anytime. Plus, because it is soft and flowy fabric, it looks less rigid and makes your home look more spacious.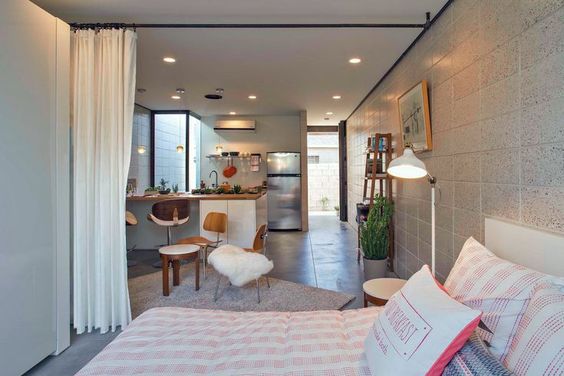 4. Bold Accents
You may have heard that having a small space means that you should keep your decor minimal so that it will not look too busy. However, you can actually incorporate a few key pieces without making it look too overpowering as long as you keep the rest of the decor plain.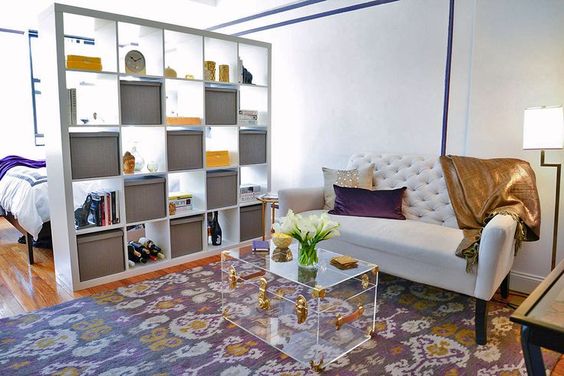 5. Glass Walls
Since a studio apartment is open plan, everything is laid out in one area but if you like some privacy, then you can consider putting in some foldable glass walls to partition off your space. It neatly divides certain sections for different uses but because it is glass, it doesn't make the space look small.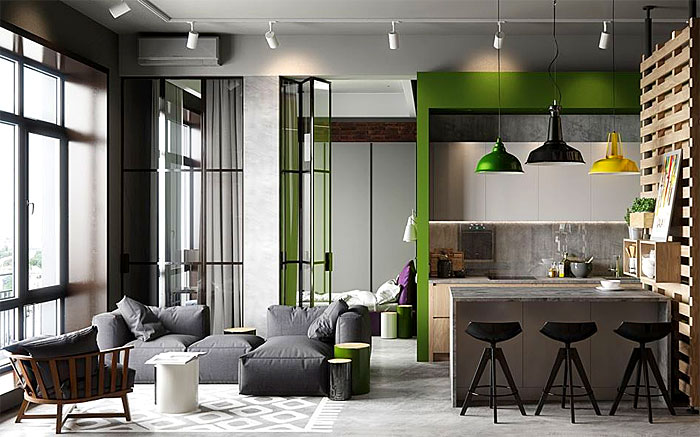 6. Suspended Bed
If your studio apartment has tall ceilings, you may consider "hiding" your bed high up so that it can be kept away from prying eyes. Plus, this actually helps u save floor space but do make sure that it is sturdy enough!