Having a walk-in wardrobe is a dream for many because it's like having your own mall! Whether you're planning to redesign your wardrobe or planning to build a walk-in closet, this guideline will help you uncover what you want and don't want for your custom closet.
1. Know the dimensions of your clothes
You don't want to design a closet that looks good but doesn't fit your clothes. To make sure this doesn't happen, measure the width of your clothes. Most clothes such as shirts and jackets will fit inside a 24-inch deep area. Pants and jeans will require up to 50 inches of vertical space and half of that when folded.
2. Find out how many double and single-hang sections you require
Another reason to measure your clothes is so you're able to plan how many double or single-hang sections you need. Clothes with shorter lengths such as shirts and skirts belong on double-hangs. Longer clothes such as pants and dresses will go on single-hangs. A pant rack like the one in the picture above is a convenient way to store jeans as well.
3. Don't forget shoe space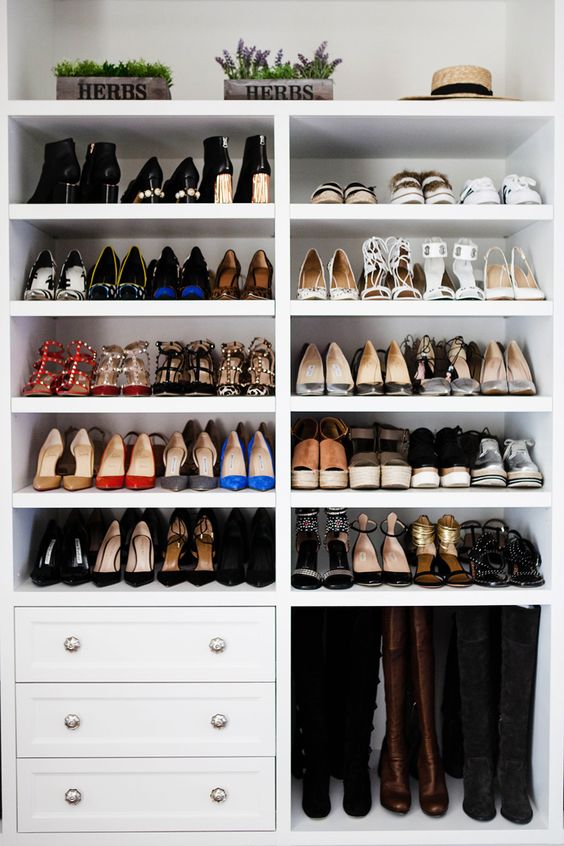 If you're planning to store shoes in the same walk-in wardrobe, you'll need to make space accommodations for your shoes and clothes. Most ladies' shoes will fit 5 ½ to 10 inches wide while men's shoes fit 6 ½ to 10 ½ inches. Ankle boots start at 3 inches high while mid-calf and knee-high boots go from 9 to 17 inches high.
4. Figure out the best solution for corners
We can't run away from corners in a house. The corners can be used to hang or store loose items such as accessories, purses and suitcases. A corner rack can help hold smaller items. Another option is to have an overlap (see picture above). It'll be trickier to reach for items so only store items of clothing that you don't wear frequently such as winter coats.
5. Consider an island in the walk-in closet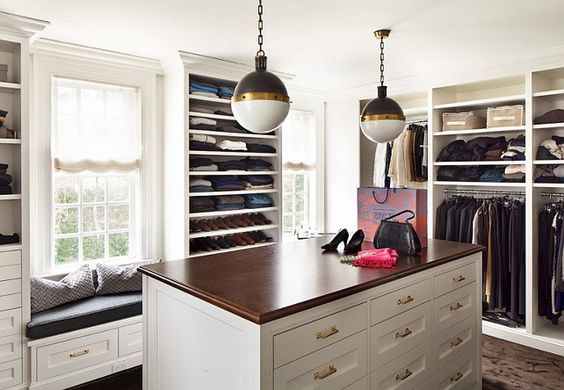 If you have the luxury of space, consider getting an island. An island is great to store pieces of jewellery, socks or scarves. Designers recommend a 36-inch walkway on each side of the island for enough walking space and to open drawers. The minimum space you need is 24 to 30 inches but it'll be a tight fit.
6. Think about sitting places or a place for the vanity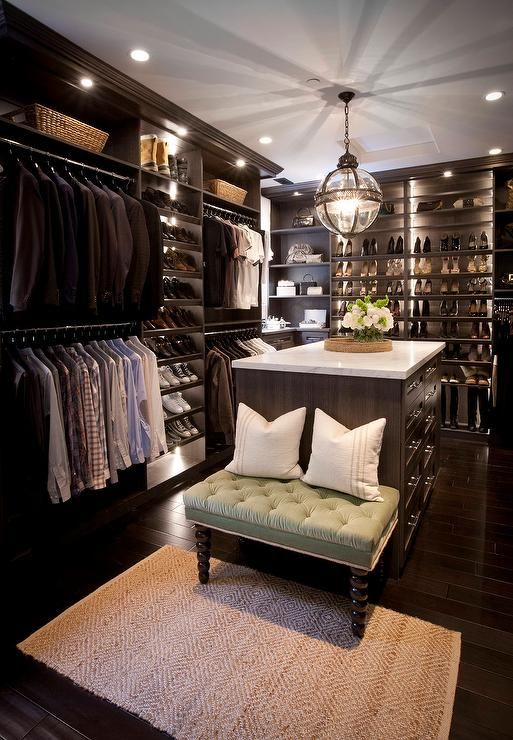 A mini bench or stool is helpful when you're getting ready such as tying up shoes. It can be placed next to the island to save space or along an unused wall.
If you're able to get a vanity area set up, it's even better so you can get your makeup done in the same room. No fighting for mirrors in the household too!
7. Take stock of your accessories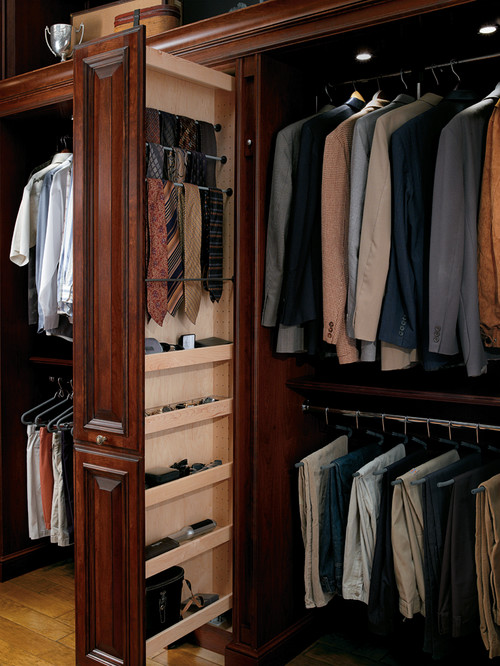 We've settled the clothes and shoes so it's time to look for space for the accessories such as belts, jewellery, ties and bags. You can never go wrong with accessories, as they can make such a difference to any outfit. There are
rings for every occasion and necklaces too, so taking your time to sort though your collection might be worth it. Belt and tie racks can be hung from a belt or tie hanger along with the clothes or mounted on an empty wall.
Purses and bags can be hung along the wall for an easier way to look for and swap bags. The wooden rack in the picture above was designed by Tim Wood to mimic the shape of a client's shoulder to keep the shape of the bag intact.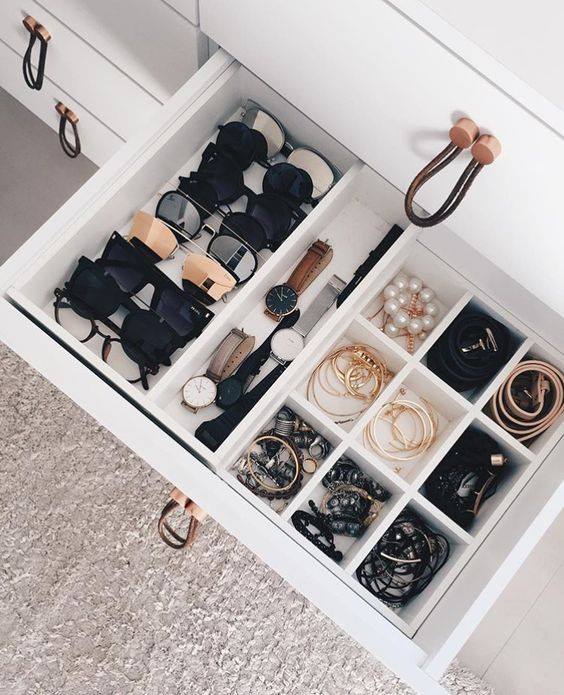 A jewellery tray keeps necklaces and rings neat and organized. Don't forget a space for the sunglasses and watches too! The tray can be placed or built into a drawer to 'hide' them away.