Rose gold decor is a very glamorous and sweet colour that unites the wonderful sophistication of a gold sheen with an amazing pinkish tone. It is also very versatile and can be used in various parts of the house to give it an elegant and stylish look. Here are some lovely styles to get you inspired.
1. Rose Gold Mirror
In this delicate bathroom that is dressed in a shade of gorgeous pink, the addition of several rose gold elements make it look more luxurious. The elaborate mirror hanging on the wall and the shining light is complemented well with the bright white sink.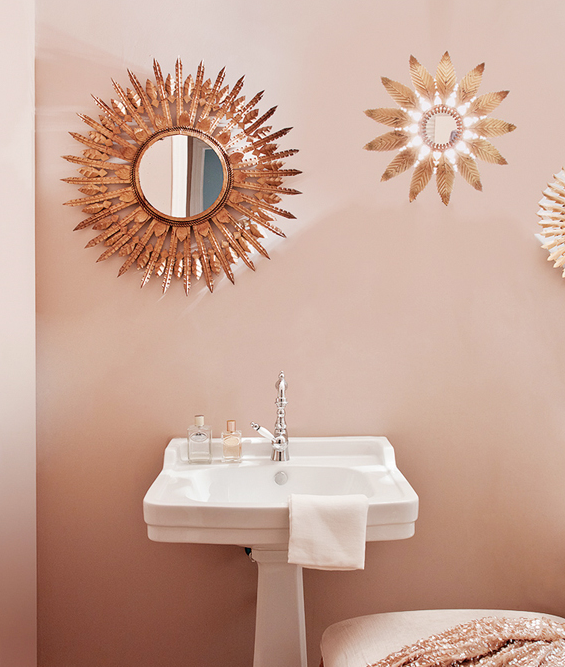 2. Rose Gold Wall
Spice up a bland bedroom with this gorgeous chevron pattern on a feature wall that is done in a sophisticated rose gold colour that will make it the focal point of the room. The light pink of the other walls and the white elements complete the look.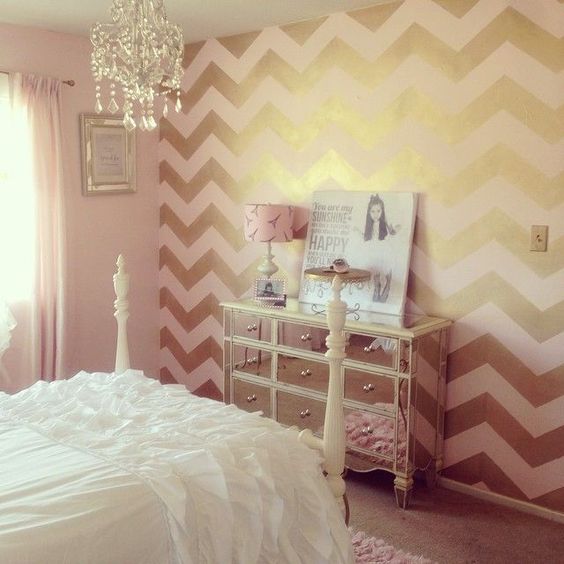 3. Rose Gold Lip Mirror
Inject a little fun and quirkiness into your home with this cute little lip mirror that is perfect for a piece of outstanding decor that dresses up your walls. Keep the rest of the decor simple so that the mirror can be the center of attention.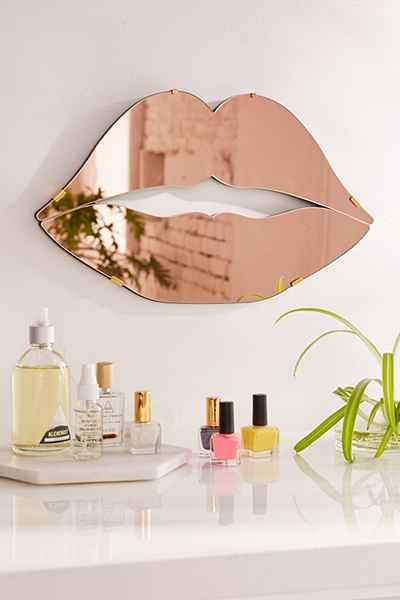 4. Rose Gold Bed Frame
This comfy and classy bedroom is the perfect place to rest and relax after a long day especially with that lovely rose gold four poster bed. The rest of the room is in soft grey and white with various textures to make it look more luxurious.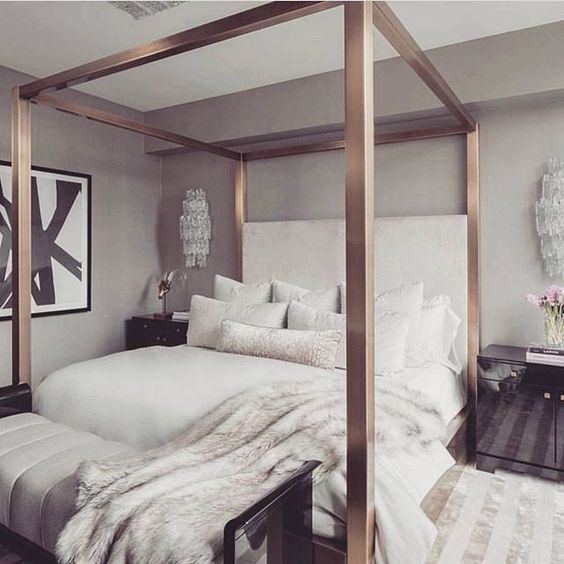 5. Luxurious Rose Gold Living Room
This amazing looking living room is decorated very lavishly with a good play on rich textures and designs that makes it very opulent. The various rose gold elements shine through while the big windows let in plenty of natural light to brighten up the room.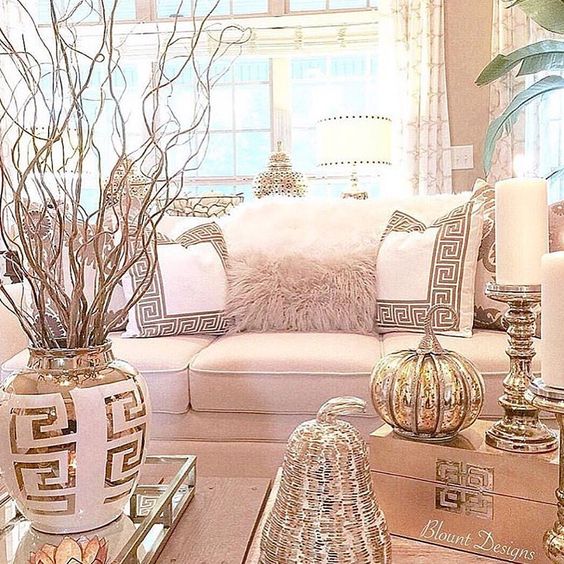 6. Rose Gold Kitchen Decor
This modern kitchen using a white palette may be rather stark if it isn't brightened up with the trendy rose gold kitchen decor. From the kitchen appliances to the hanging pendant lights, the look is brought together by the stylish wire stools with a lush throw on it.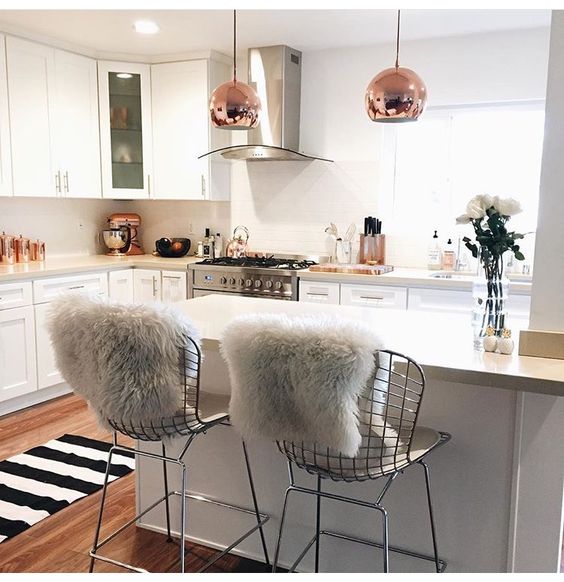 7. Rose Gold Bathroom Decor
This sleek bathroom is already stylish enough with the black tiles on the floor and marble wall tiles but the rose gold elements elevate it even further. The taps, shower head and towel rack make it look even more classy.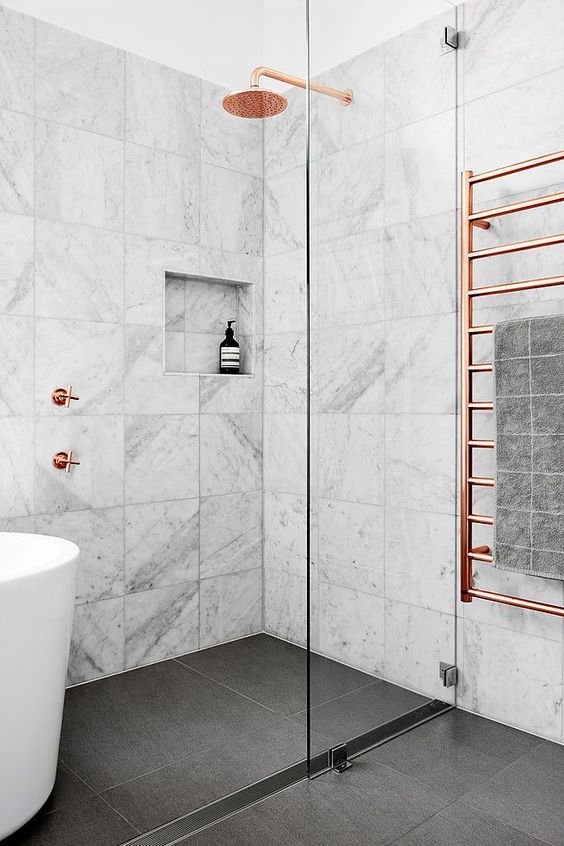 8. Rose Gold Patterned Wallpaper
This whimsical living room incorporates several hipster trends which makes it look incredibly photo-worthy; with the rustic coffee table and owl patterned cushion. However, the most eye catching detail in this room is the rose gold patterns on the subtle grey wallpaper.