Do you want to avoid eating greasy and unhealthy fried food? Do you want to stop making compromises with your health anymore? Or would you like some low-fat alternatives for your go-to fried meals? If so, we have a quick and easy solution to let you enjoy all your favorite fried treats without any guilt. Here's the answer to all your frying woes: the best air fryer in Malaysia. With an air fryer in your kitchen, you can turn from those oily and calorie-packed fried foods towards crisp and delicious meals cooked with little or no oil.
Whether it's nuggets, chicken wings, french fries, or even desserts, an air fryer is the perfect kitchen appliance to let you enjoy every food without compromising on your health! In this guide, we'll take you on a journey to discover the top air fryers available in Malaysia. You may use these features to choose the air fryer that suits your kitchen needs and budget range the best. Are you ready to level up your frying game and make healthier choices in the kitchen? Then let's get started!
Features of a Good Air Fryer
A good air fryer should have the following features:
Adequate Capacity: A good air fryer should have a large capacity so that you can cook more food at once. This is especially useful when cooking for the whole family or when you have a larger household.
Multiple Cooking Programs: Some modern air fryers in the market come with multiple cooking programs. These different cooking modes, like frying, baking, grilling, and roasting, make it easy for you to cook different types of food.
Adjustable Temperature Settings: A good air fryer must provide you with temperature control. It allows you to cook a wide range of dishes, each at the right temperature. Moreover, it prevents your food from burning and ensures that it's cooked to perfection.
Adjustable Timer: An adjustable timer in the air fryer helps you monitor your cooking times and prevents your food from overcooking or burning.
Easy to Clean: Some air fryers also come with non-stick baskets and drip trays that are dishwasher safe. These features make cleaning easy and time-saving.
Affordable Price: A good air fryer should be reasonably priced, but not so inexpensive that it is missing out on essential features, quality, or reliability.
Our Selection of 7 Best Air Fryers in Malaysia
Now, there's no need to sacrifice your taste for your health anymore! Let's fry smarter and not harder with our favorite seven air fryers in Malaysia.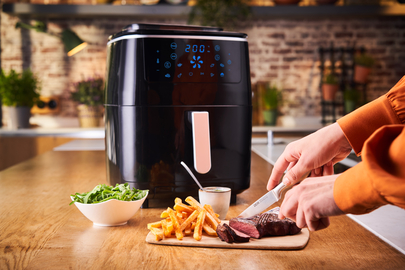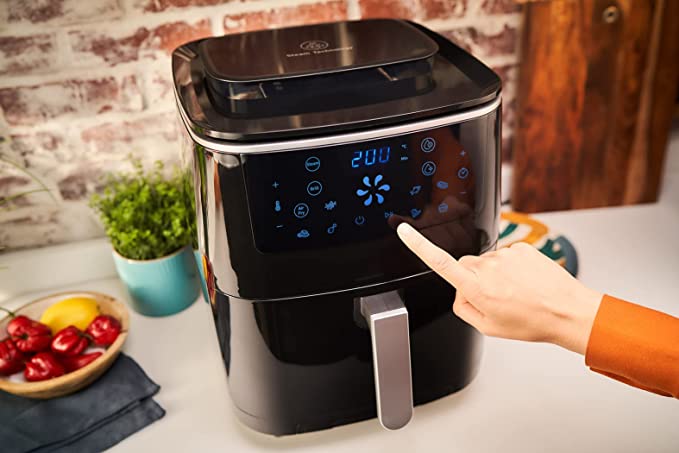 Get healthier, tastier, and crispier meals with the Easy Fry Steam & Grill Air Fryer from Tefal. With its innovative 3-in-1 technology, you can fry, grill, and steam all your favorite foods with little to no oil. This air fryer lets you enjoy perfectly grilled meat every time with its die-cast aluminum grid. The digital control panel and seven pre-programmed cooking options make it effortless to cook a range of dishes to mouth-watering perfection. With its ingeniously simple-to-clean design, cooking in the kitchen has never been so effortless!
Bring a healthy and effortless frying experience to your fingertips with the following features of the Tefal Easy Fry Steam & Grill Air Fryer:
Space-saving: the 3-in-1 design combining air frying, grilling, and steaming functions in one appliance
Steam Technology: preserves the nutritional value of your food
Die-cast aluminum grid
7 automatic programs and 3 manual modes for endless cooking options 
No pre-heating needed
Intuitive digital control panel
XXL 6,5 liters capacity
Easy-to-clean design
2-year warranty
Visit them via:
Website | Facebook | Instagram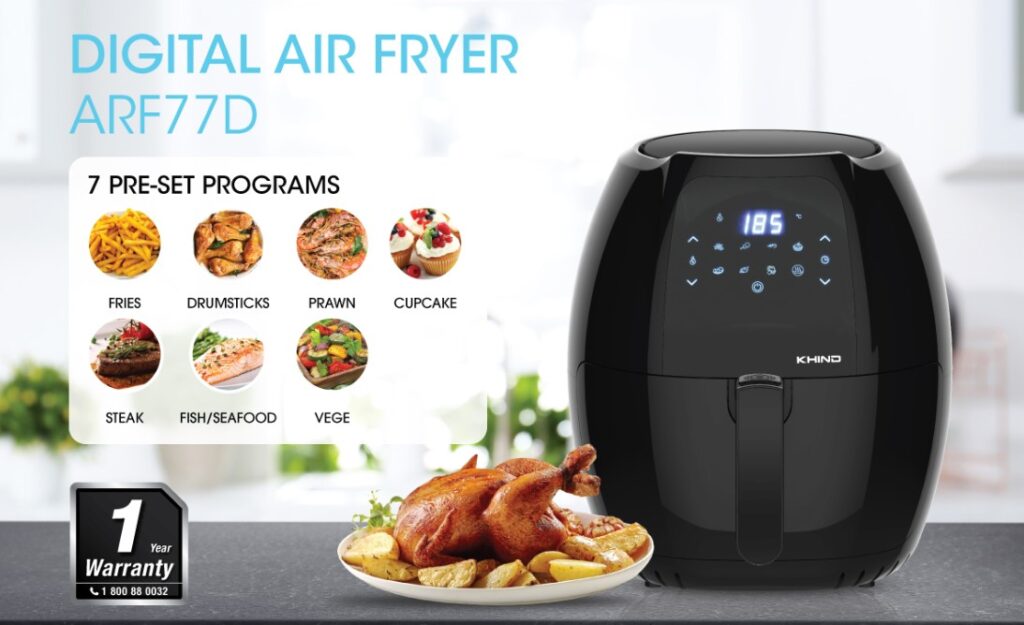 Bring home the Khind's Digital Air Fryer and bid farewell to greasy and unhealthy frying. Its High-Speed Air Circulation Technology ensures that your food is fried evenly and nicely, giving it the taste and texture of traditional deep-fried foods (without the unhealthy fats). Its digital control panel and multiple preset programs make it easy for you to monitor different cooking processes. The non-stick and detachable frying basket makes clean-up after cooking a breeze. It means you can spend more time enjoying your favorite fried meals.
The Khind 7.7L Digital Air Fryer offers many amazing features, some of which are listed below:
High-Speed Air Circulation Technology: healthy, tasty, and thorough cooking
7.7L cooking capacity
Auto shutdown heater switch: provides you with additional protection
Digital control panel and sensor touch control panel
Non-stick, detachable, and easy-to-clean frying basket
Adjustable temperature up to 200 °C
1-year warranty
Visit them via:
Website | Facebook | Instagram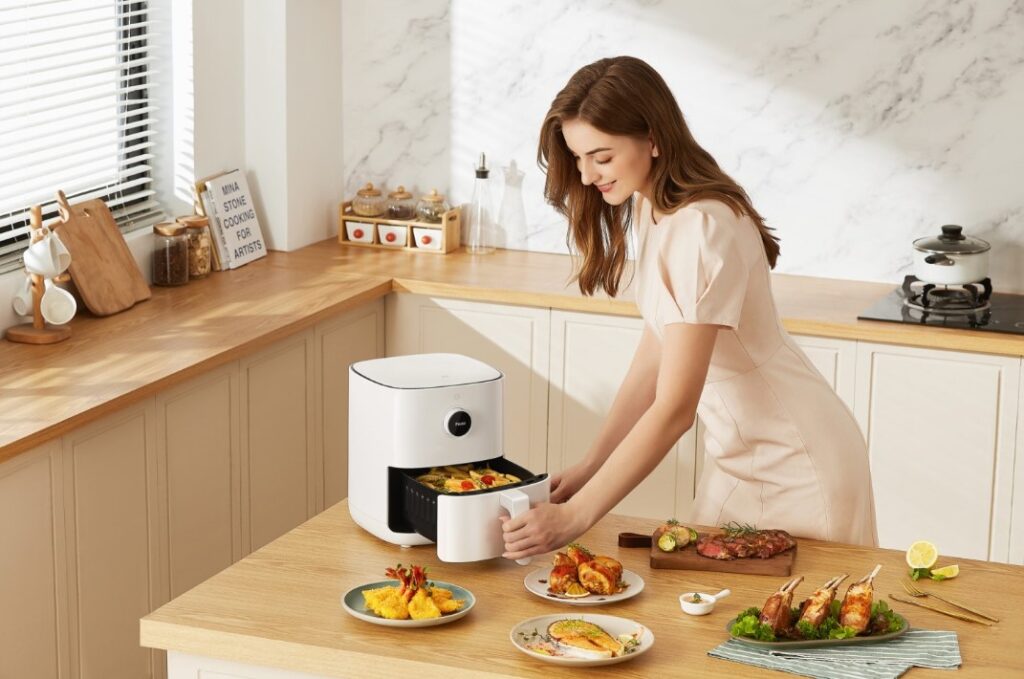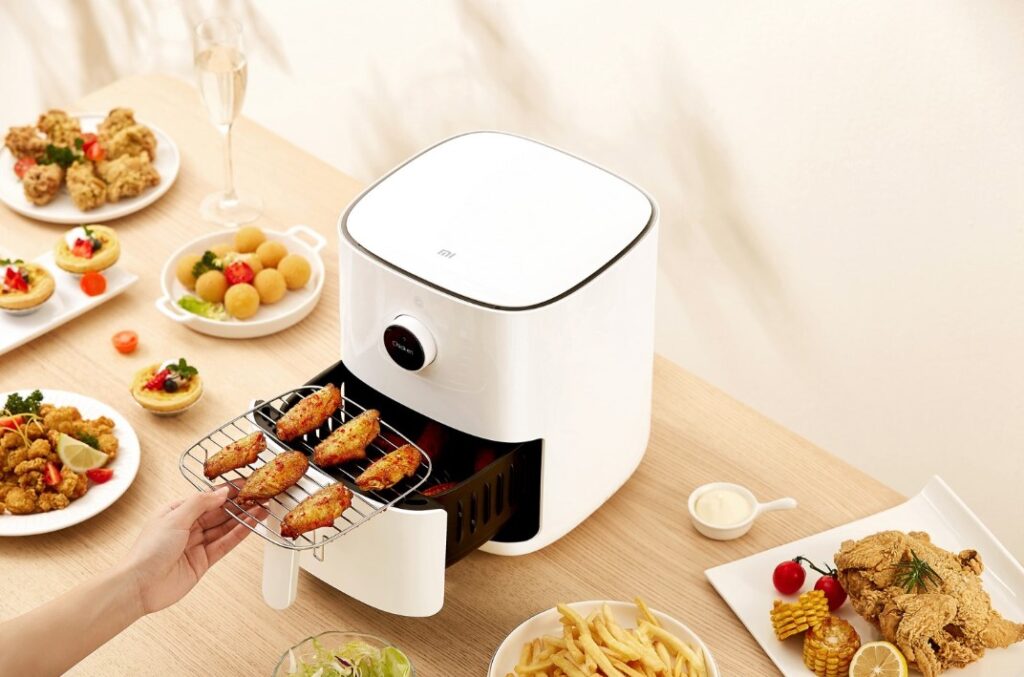 Take your cooking experience one step further with the Mi Smart Air Fryer (MAF02).
With its large capacity, adjustable temperature range, over 100 smart recipes, and multiple cooking modes, you can cook for every member of your family without any hassle. After cooking, the oil can be seen filtered at the bottom, leaving the food delectable and low in fat. The Mi Smart Air Fryer is more than just an air fryer. You can use it as a yogurt maker, a fruit dryer, a microwave oven, or an electric oven. Most of all, its dishwasher-safe components make clean-up effortless.
Enjoy quick and healthy frying with the following features of the Mi Smart Air Fryer:
3.5L optimal cooking volume
360° heated air circulation: cooks food evenly and quickly
Adjustable temperature, ranging from 40°C to 200°C: enables frying, defrosting, fermentation, and much more 
24h long continuous cooking time
1500W heating power: rapid heating that saves you time
More than 100 smart recipes
Smart scheduling up to 24h
Voice control
Pull out the basket to power off
OLED customized touchscreen display
Double-layer non-stick coating: durable, wear-resistant, and easy to clean
Small and space-saving
Visit them via:
Website | Facebook | Instagram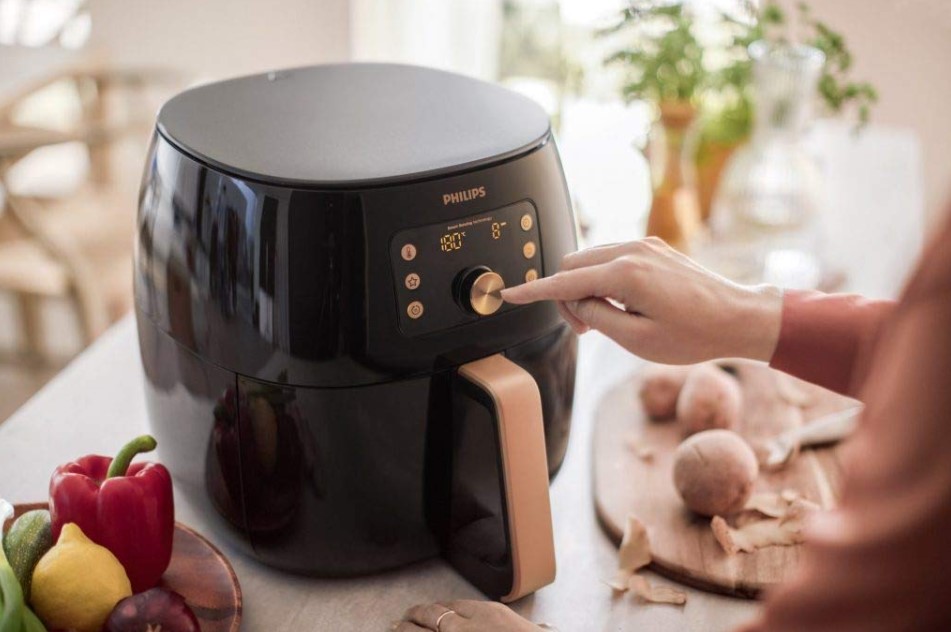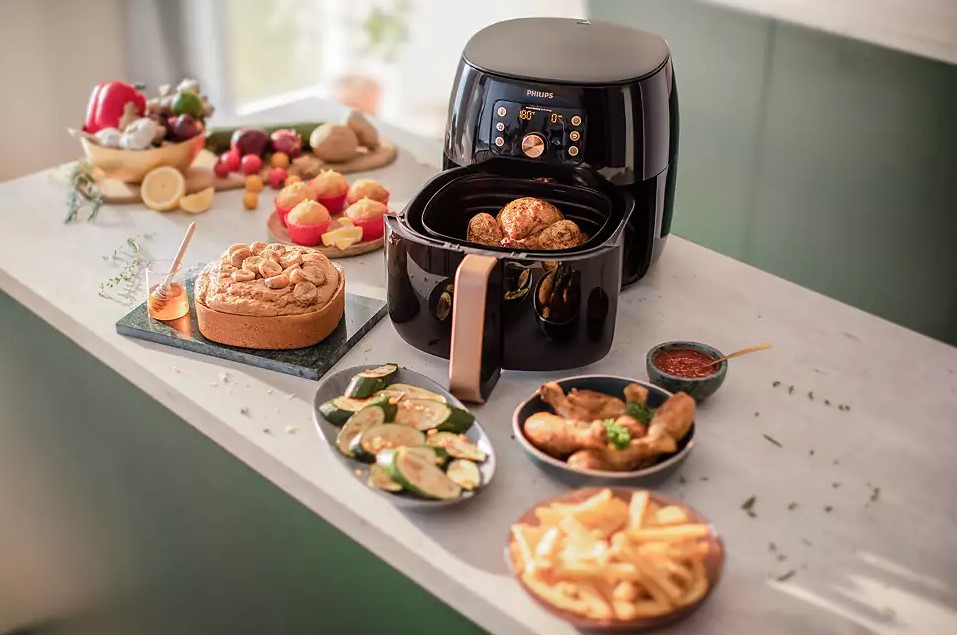 Imagine biting into crispy, golden goodness with every bite bursting with flavor. And guess the best part? No greasy flavors, oil residues, or health issues—just pure deliciousness! That's what you get when you cook with the Philips Premium XXL Airfryer. It utilizes Smart Sensing Technology to precisely adjust the cooking time and temperature, ensuring perfectly cooked meals every time. With its innovative Rapid Air Technology, you can enjoy the taste of deep-fried food with up to 90% less fat. It generates seven times faster airflow, resulting in perfectly crispy and delicious food.
Some truly amazing features of the Philips Premium XXL Airfryer are:
Smart Sensing technology
XXL capacity: you can cook a whole chicken or 1.4kg of fries at once
Smart Chef programs for popular dishes
Fat Removal technology: removes excess fat for healthy cooking
Versatile function: frying, baking, grilling, roasting and even reheating
Rapid Air Technology: 7x faster airflow that increases the food's crispiness
Quick and easy cleaning: dishwasher-safe for all removable parts
Time and energy efficient
Visit them via:
Website | Facebook | Instagram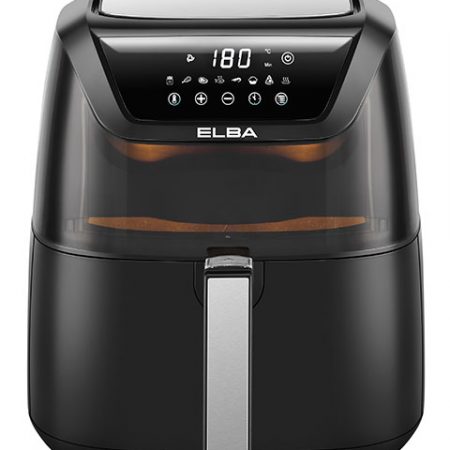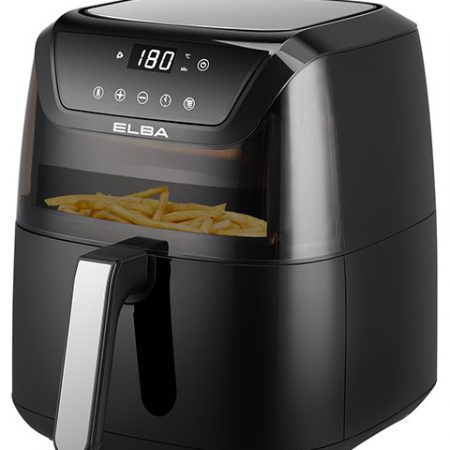 Experience the convenience and versatility of air frying with the Elba Air Fryer EAF-N7517D(BK). This air fryer is made to provide you with the most healthy way of frying food. Whether you want to cook for your whole family or a large number of guests, the air fryer's large capacity makes it easy to cook it all at once. The 360° High-Speed Hot Air Circulation Technology ensures that your food is cooked evenly, giving it the taste and wholesomeness you want.
You can easily prepare a range of food items to perfection every time with the Elba Air Fryer EAF-N7517D(BK), thanks to its following features:
A large 7.5L capacity
Versatile cooking options: oil-free frying, roasting, grilling, baking, and BBQ
The visible window for easy viewing
Touch control panel with an LED display
Controllable temperature settings
360° High-Speed Hot Air Circulation Technology: cooks food thoroughly and quickly
"Keep Warm" function for up to 120 minutes
Overheating protection
Removable non-stick frying tray that makes cleaning easy
Visit them via:
Website | Facebook | Instagram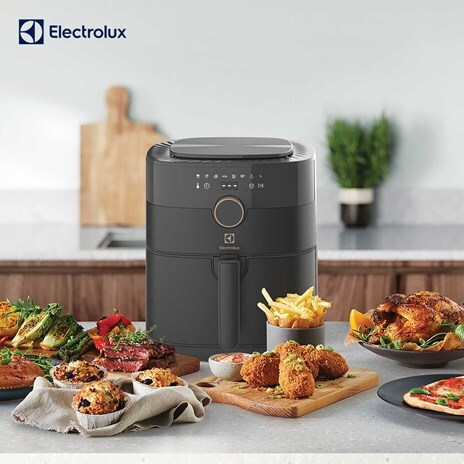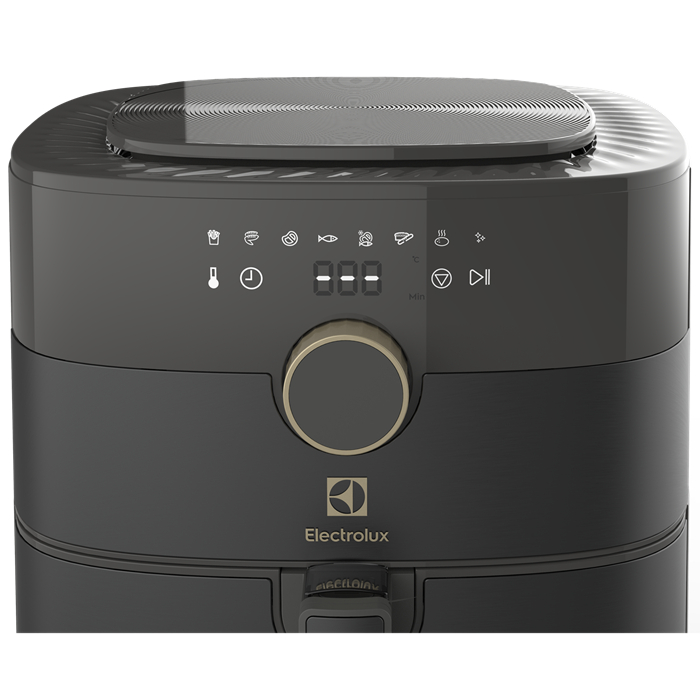 Now you can enjoy guilt-free frying with the UltimateTaste 500 Air Fryer from Electrolux. With rapidly circulating high-temperature air, this air fryer seals your food for the ultimate crispy exterior and succulent, juicy interior. Take control of your cooking with ease! The digital control panel puts the power of perfectly cooked meals right at your fingertips. You can easily air fry, grill, and roast your favorite foods with the touch of a button. Its detachable frying basket is dishwasher-safe, making it not only user-friendly in the kitchen but also easy to clean afterward.
The following are some features of the Electrolux UltimateTaste 500 Air Fryer that are worth mentioning:
A large 5L capacity
Rapid hot air circulation: delivers a perfectly crisp texture to your food
Easy-to-use digital controls
Detachable frying basket
Multiple pre-set programs
Compact three-mode cooking
Dishwasher-safe basket for easy cleaning
AutoOff function for enhanced safety
Visit them via:
Website | Facebook | Instagram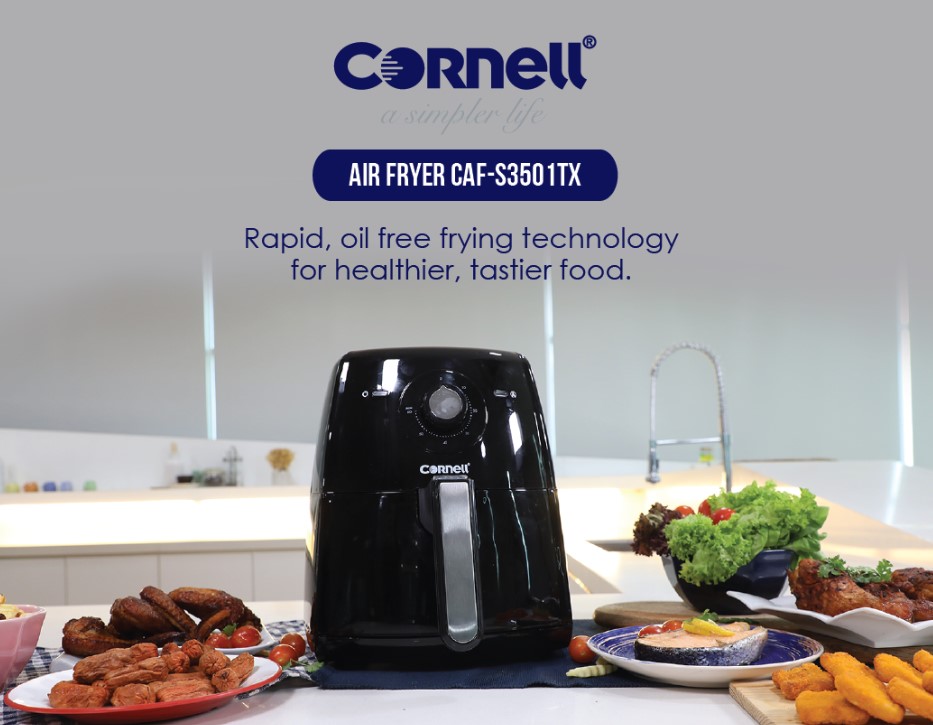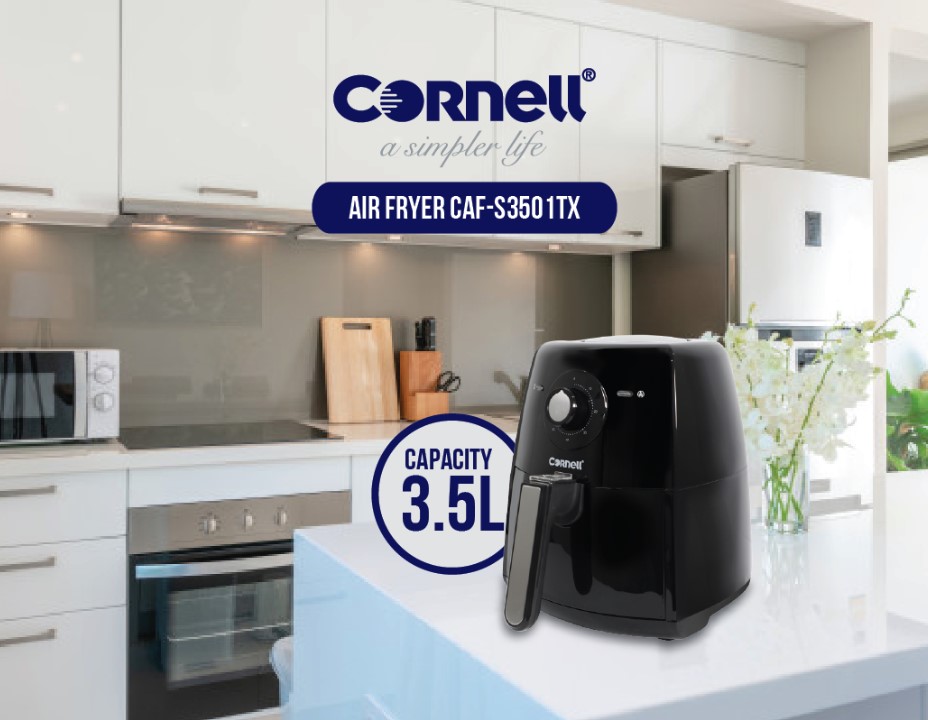 Frying food has never been this easy and healthy with the Cornell Air Fryer CAF-S3501TX. Its adjustable temperature settings, safety features, and user-friendly design make it perfect even for those who are new to the kitchen. Its oil-free frying technology ensures that your food is cooked in its own juices without using too much oil. The non-stick parts and dishwasher-safe frying basket make clean-up easy for beginners.
The features that make this air fryer perfect for both novice and professional chefs are:
3.5L capacity
Oil-free frying technology
Faster frying: saves you time and energy by 50%
Automatic steam vaporing feature: renders the food crispy
Temperature up to 200 °C
360° overall hot air circulation
Overheating protection function
60 mins timer
Automatic shut off
Dishwasher-safe frying basket
Visit them via:
Website | Facebook | Instagram
Final Thoughts
An air fryer is a must-have kitchen appliance for those who want to enjoy their favorite fried foods without compromising their health. We hope our guide has helped you find the perfect air fryer for your kitchen that fits your cooking needs and budget. From the Tefal Easy Fry Steam & Grill Air Fryer to the Cornell Air Fryer, each product on our list has versatile cooking programs, adjustable temperature control, and easy-to-clean features. Now it's time to say goodbye to greasy and unhealthy fried food. Go ahead and make a smart choice today! Upgrade your kitchen with the best air fryer in Malaysia and start cooking healthier.