Everyone wants to keep their kitchen in top condition. Luxury walls, floor, and ceiling interiors will help you achieve this goal. However, you should also focus on the kitchen cabinets as they are also a significant part. Painting cabinets with shiny colors and custom designs can hugely influence your cooking space. Hiring any professional to do the job can be costly. But you can do the job yourself and save a lot of money.
The paint you choose matters highly for that purpose. You must consider its type, finish, durability, moisture-proofing, and more. Also, it should be easy to spread. Many factors combine to produce the best cabinet paint. Considering them, we have searched and reviewed the top 7 cabinet paints of 2022. You can go through the list and select the one suiting your requirements. Each pick produces exceptional after-paint results and won't disappoint you. Let's get started.
Features of A Good Cabinet Paint
It's important to select high-quality paint to provide a luxurious finish to your kitchen cabinets. Considering the below factors can help you ensure it.
A good cabinet paint must have an average consistency making it easy to spread. Too diluted or too concentrated paints can make it challenging to apply correctly.
The cabinet paint should offer more coverage to get good value for money. If not, you will waste several cans on a single set of cabinets, which proves a not-so-budget-friendly idea.
It should comprise high-quality, small, and pure pigments. Such paints do an adequate job of filling the surface accurately, leaving no ugly marks behind.
The binders or resins should be of high quality as it contributes to the durability of the paint. For example, acrylic paints have small particles which stick firmly to wooden surfaces. Hence, they last for a longer period.
There must be a few additives to enhance the paint's quality. Thickeners allow stroking an even and thick coat on the surface. Similarly, stabilizers increase the adhesion between paint and cabinet. Moreover, there could be fungicides, too, to prevent mold and mildew growth.
Reviewing the Best Cabinet Paints For Your Kitchen – Of 2022
1.   Rust-Oleum Milk Paint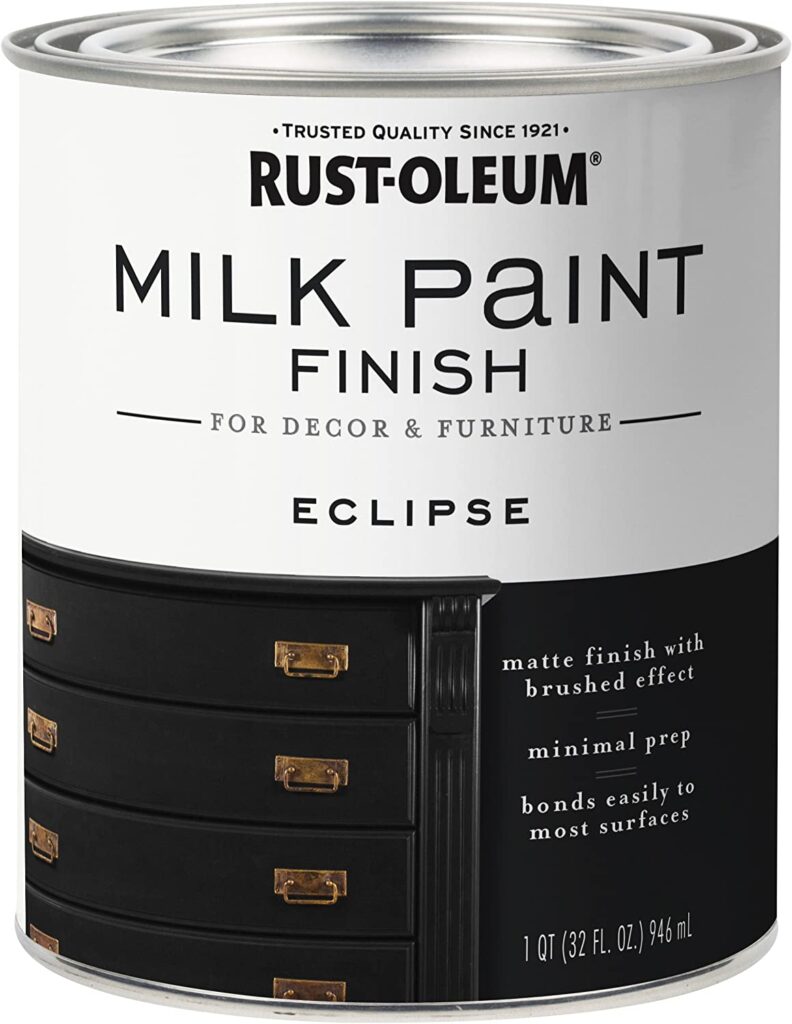 The Rust-Oleum Milk Paint has several qualities that make it our top choice. You can add creative details on the cabinet surface through this paint's brushed effect. Its water-based composition is non-toxic and doesn't leave a harsh smell of chemicals. Moreover, it sticks well to the surface without multiple layering. A single layer of its thick coat is enough to do the job. Besides painting cabinets and doors, you can also use it to provide a matte finish to antique items.
Let's have a brief overview of this paint's other features:
It's neither too thick nor too diluted. The moderate consistency makes it easy to apply on cabinets.
A single can of paint has an average coverage area of 125 square feet.
This paint's dried-to-touch duration lies between 30 minutes to one hour.
You can also sand the edges to give a casual look to your cabinets.
2.   Majic Paints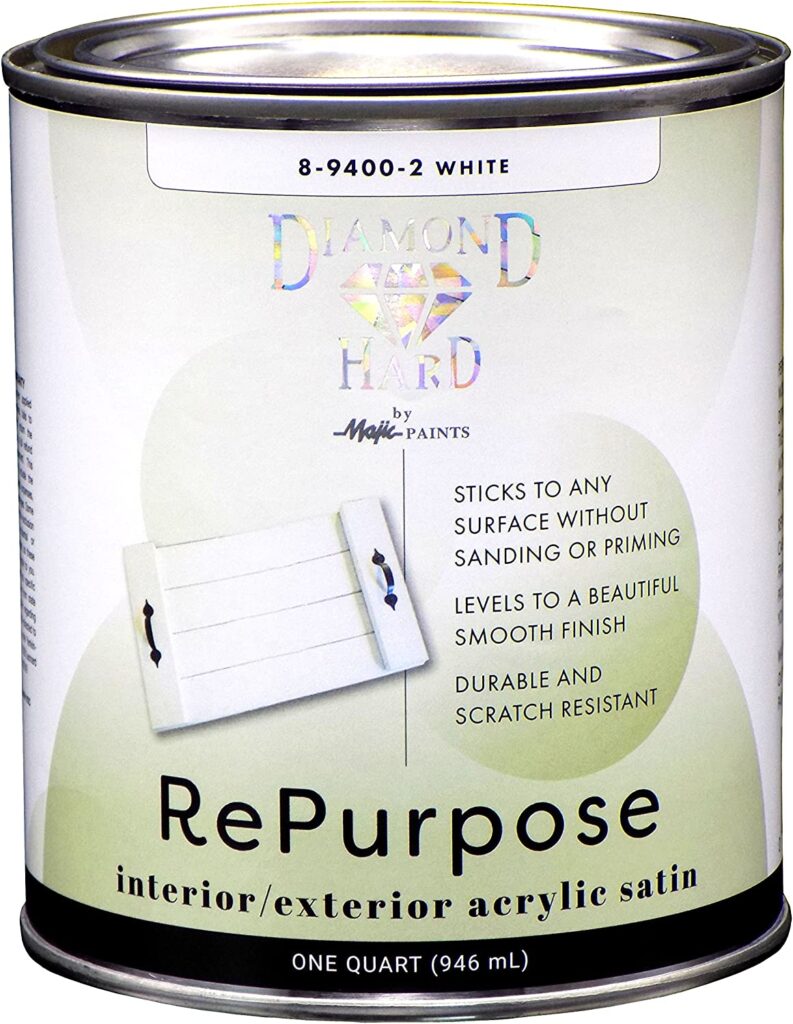 Your hunt for high-quality repurpose paint can end with the Majic Paints for Cabinet. This solid white pigment can help you immensely when renovating your kitchen. It's easy to use and a perfect choice for DIY projects. The adhesion power of this paint is superior, making it your long-term investment. You can even use it on unique surfaces like vinyl, tile, aluminum, etc.
Here are some of its features:
It quickly sticks to almost every surface. You don't have to spend time on sanding or priming.
Since this paint has a top-notch adhesion, it's highly scratch-resistant. It won't peel for years.
It's an enamel-based paint that is known for its durability. Moreover, such paint types offer a polished and vibrant look to the surface.
You can choose from a variety of colors besides classic white. It includes sangria, olive, serenity, mocha, and more.
3.   Heirloom Traditions All-in-One Paint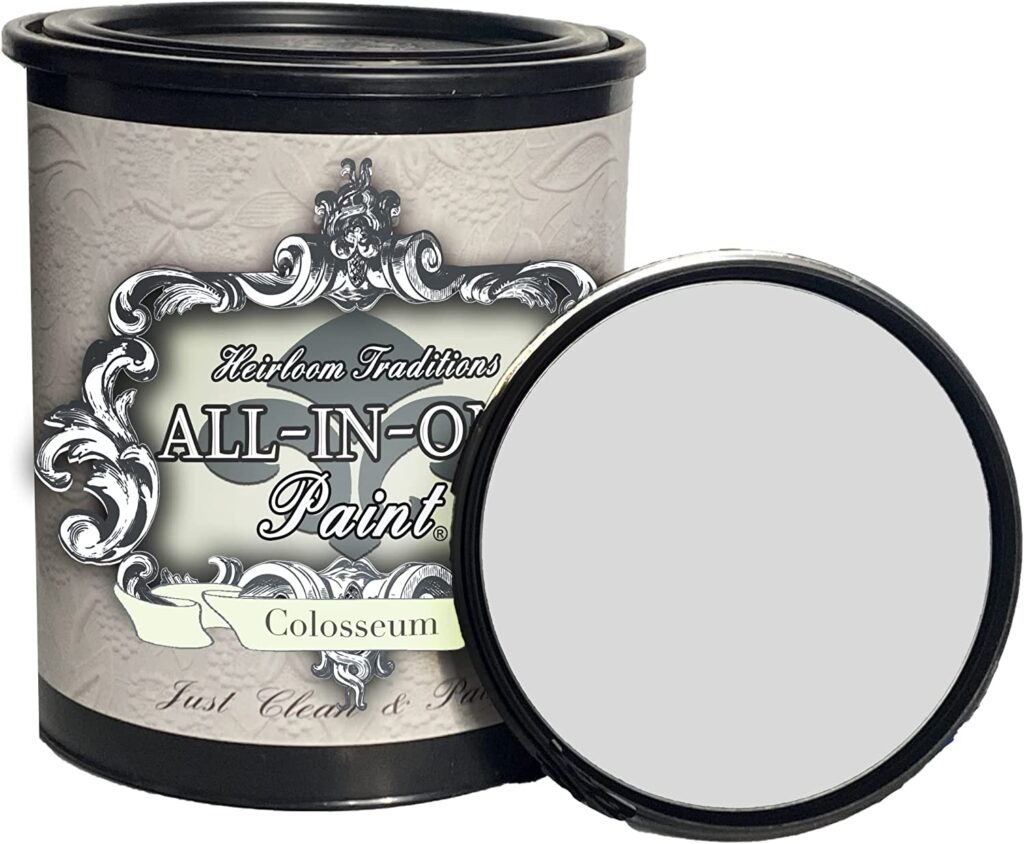 Our third pick by Heirloom Traditions does three jobs altogether at a reasonable price. Applying this paint, you won't have to sand, prime or top coat the surface. It is ideal for both interiors and exteriors of the kitchen cabinet set. The Heirloom Traditions All-in-One Paint will show top-quality after-paint effects on multiple items. Whether ceramics, furniture, doors, counters, or cabinets, it's the ideal painting solution for all.
Let's discuss some features that make this paint our top third pick.
Although this paint is stretchable, there is no compromise on its durability. This stretchability comes in handy to paint fabrics and leather.
It's available in three sizes, including 8, 32, and 123 fluid ounces. They can cover 35, 100, and 500 square feet respectively.
The velvet sheen finish with low luster gives your painting project a subtle and not-too-sharp look.
4.   Nuvo Cabinet Paint
It isn't easy to find paints displaying equally effective results on multiple surfaces. However, the Nuvi Cabinet Paint ended our search for such a paint. Its performance is top-notch on wood, laminate, plastic, and metal cabinets. Be it for a complete kitchen makeover or painting a set of cabinets, this paint is a perfect option. You can get stress free after applying this paint for several years. There is no doubt about its extraordinary durability.
Let's discuss some of its other features below.
A single 31 oz. can of this paint easily covers an area of 100 square feet.
Besides two paint cans, you will also get a roller arm, two roller covers, and an angled paint brush to make DIY painting easier and more fun.
There's no need to strip, prime, or remove the cabinet doors. Renovating with this paint is easier as it requires little to no preparation.
The satin finish of this acrylic paint is easy to clean, moisture-resistant, and durable enough to sustain longer.
5.   Country Chic Chalk Style Paint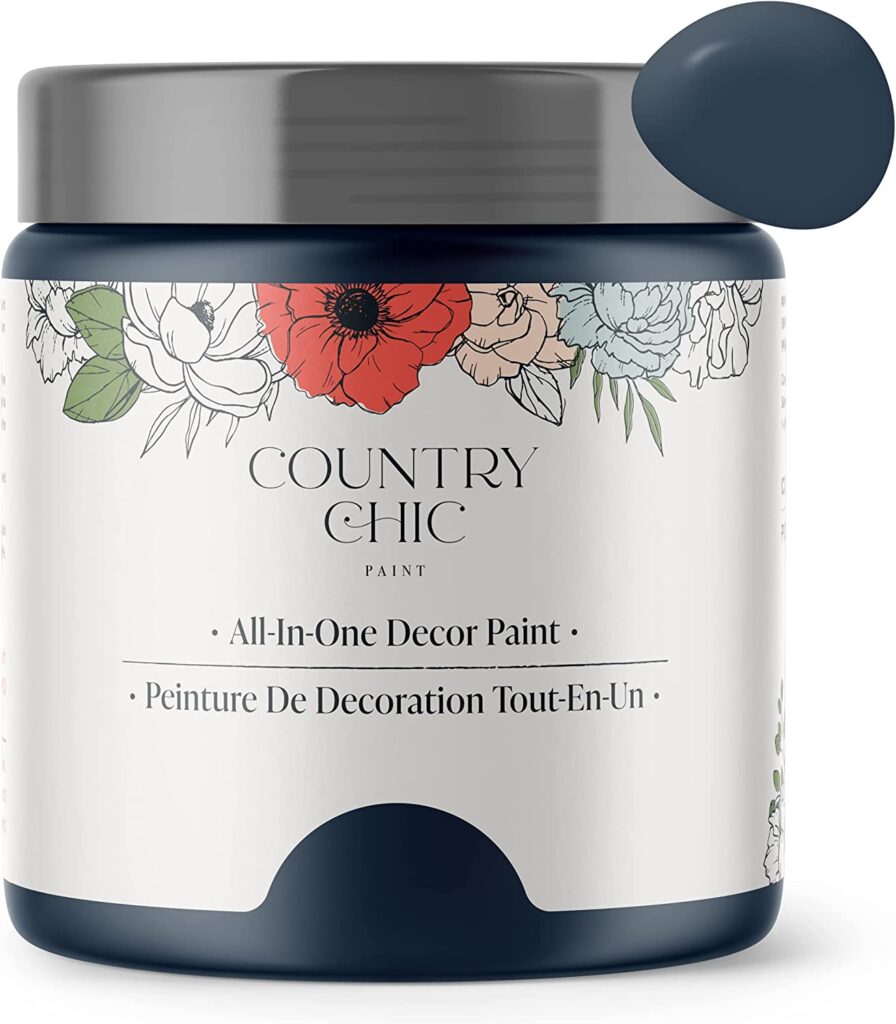 Buying the Country Chic Chalk Style Paint can help if you are searching for an all-in-one tint. It performs three jobs singlehandedly. Besides coloring different surfaces, this paint works as a primer and a top coat. This brand is highly trustable as it has been serving the paint industry for 80 years. There are no questions about this paint's quality. It offers excellent coverage, so you can effectively cover vast areas with little paint. Moreover, the drying time is just 30 minutes, the lowest of all.
Some of its other attributes include:
You can easily distress the paint layer if needed. This action doesn't affect its durability at all.
It produces high-quality results on almost all surfaces, including glass, metal, wood, etc. You can even color the toys of your kids with this easy-to-spread paint.
Since this paint has a chalky structure, self-leveling is easier. You can achieve smooth results effortlessly.
The finish is highly durable. It wouldn't scratch off for years if you care for it properly.
You don't have to make any preparations before painting. Cleaning the cabinet surface is enough.
6.   Backdrop Premium Paint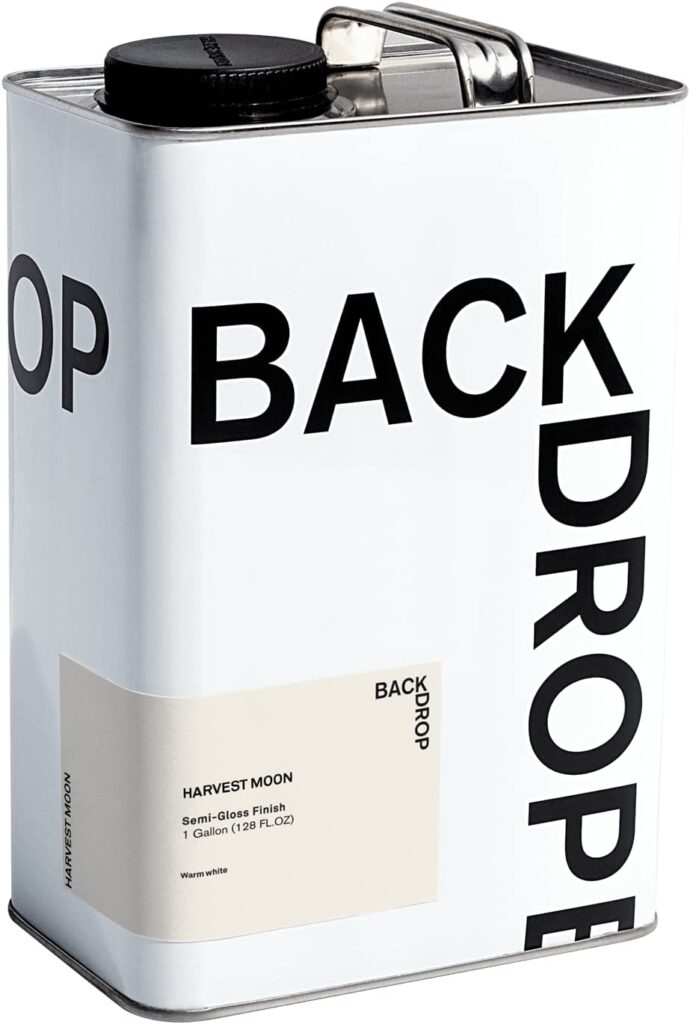 White is the color of choice for painting kitchen cabinets as it provides a luxurious look. Hence, we have brought you the Backdrop Premium Paint. Its harvest moon shade of white will transform your kitchen's interiors beautifully. The mix of sheen and semi-gloss finish offers exceptional performance and durability. Although it doesn't leave a shiny touch, but the smooth finish does an effective job.
To know more about this cabinet paint, read the below features:
Its single container comprises one gallon of paint, covering 400 square feet of area.
Green Wise has certified this paint for safe use since there are no health-harming contents.
The paint can is simple to open and close. You don't require any tools to start the cabinet painting session.
It is a latex acrylic paint with multiple benefits, including stain resistance, maximum coverage, and top-notch durability. 
The drying time of this paint is almost an hour. You can recoat after three hours of applying the first layer.
7.   The One Paint and Primer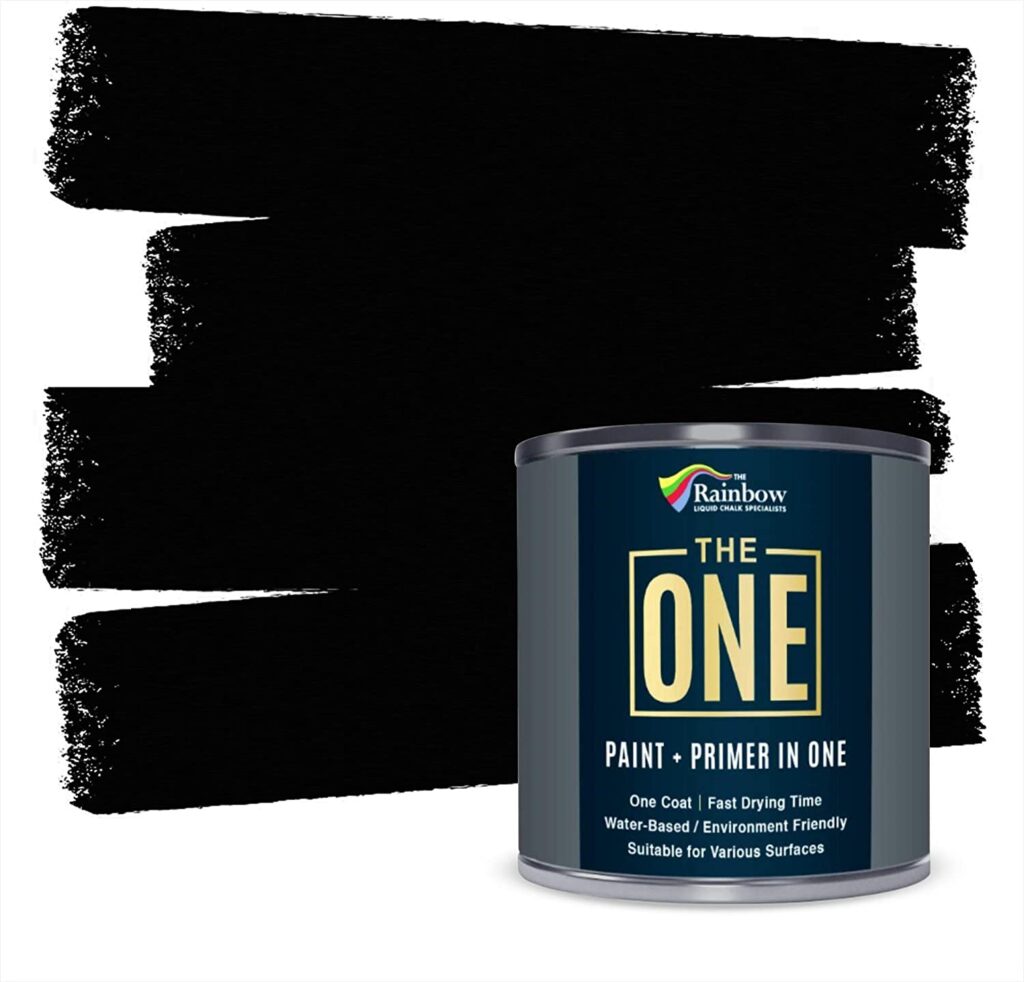 The One Paint and Primer is our most economical pick. It has excellent coverage, as little paint covers a large area. You can not only save your money but also a lot of time if painting by yourself. It doesn't require any extra preparations before application. You just have to ensure the cabinets' exterior is clean. The performance of this paint isn't limited to a single surface. Whether wood, metal, stone, or plastic, it will produce high-quality results in each case.
Some of its exceptional features are:
You can buy this cabinet paint with various finishes, including matte, satin, and gloss.
This paint comes in three differently-sized containers, including 250ml, 1, and 2.5 liters. You can buy the one according to the size of areas you want to paint.
Its composition is 100% safe. There are no harmful items, like phthalates, formaldehyde, or heavy metals.
This rich pigment is available in 12 shiny colors. These include white, off-white, blue, grey, red, green, and more.
Since this paint is water-based, it produces no chemical odors to annoy your senses while you color the cabinets.
Wrapping Up
If you plan to DIY a cabinet painting project, you must choose the paint wisely. If not, you will end up with unsatisfactory results. It wastes time and money. To save you from it, we reviewed the 7 best paint for the cabinet so you can use a high-quality product. We hope the list helps you find the right can of paint to fulfill your requirements.