A healthy lawn is sure to prevent soil erosion, provide plenty of oxygen, and clean the surrounding air. And the most important way of keeping it healthy is to fertilize the soil using the appropriate fertilizers. In fact, fertilizers are the lifeblood of a lawn. So, if you really want to keep your trees and plants in top shape, you need to feed your lawn at least three times a year with fertilizer.
How to Choose The Right Fertilizer?
But choosing the right fertilizer can be confusing—especially when a lot of products claim to be equal to or better than others. Some fertilizers are liquid; others are available in solid granular form. Their compositions also differ from one product to another. They may be mineral fertilizers, nitrogen fertilizers, ammonium fertilizers, potassium fertilizers, or any other. You need to know what kind of nutrients you are looking for to make sure that you get the results you want.
So here are the 10 best fertilizers for lawns that we have personally used over a long period of time. From gardening professionals to experienced home gardeners like us, all rate these as the best products available on the market.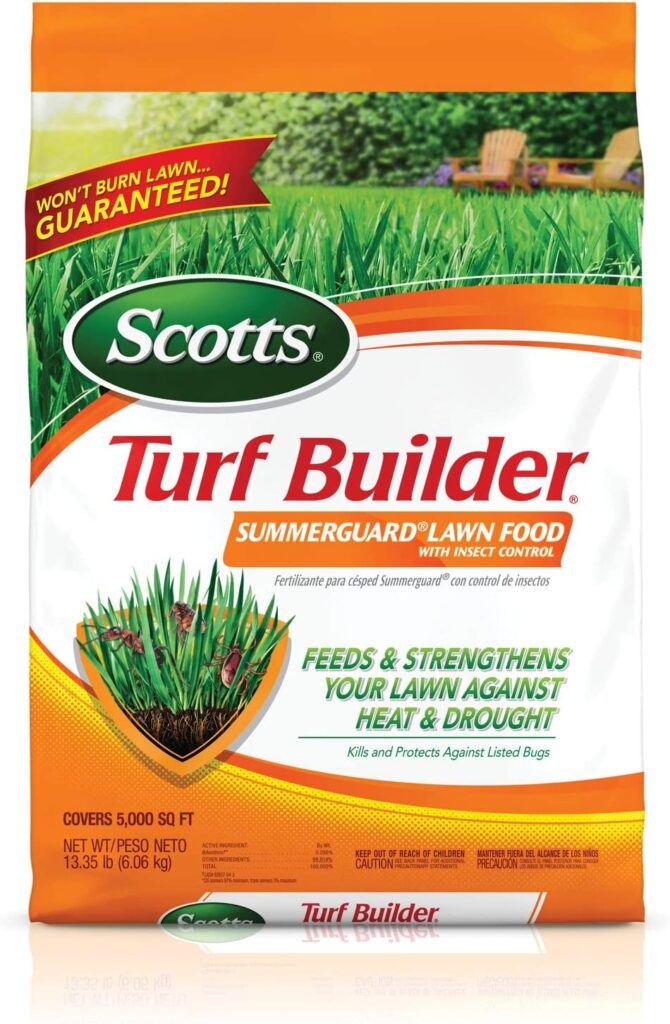 The Scotts are the leading manufacturers of all lawn care products worldwide. They offer a large variety of products for the maintenance of your lawn. These include lawn foods, fertilizers, grass seeds, and mulches.
Scotts Turf Builder Summerguard Lawn Food is the perfect food for every type of lawn. This fertilizer from Scotts comes with insect control chemicals that don't burn your lawn. Apart from insects, it is an ultimate remedy to protect your lawn against different other stresses, whether they be heat, drought, or weeds. You just need to know your lawn size and buy the suitable size pack according to it.
Here are the reasons why you should be buying this lawn food:
Easy to use and spread
Feeds your soil well
Protects your lawn against summer stresses like heat and drought
Kills bugs like armyworms, ants, ticks, and fleas: no need for additional pesticides
Improves a lawn's water absorption ability
Doesn't burn a lawn
My Lawn App: helps you select the right fertilizer by finding your lawn size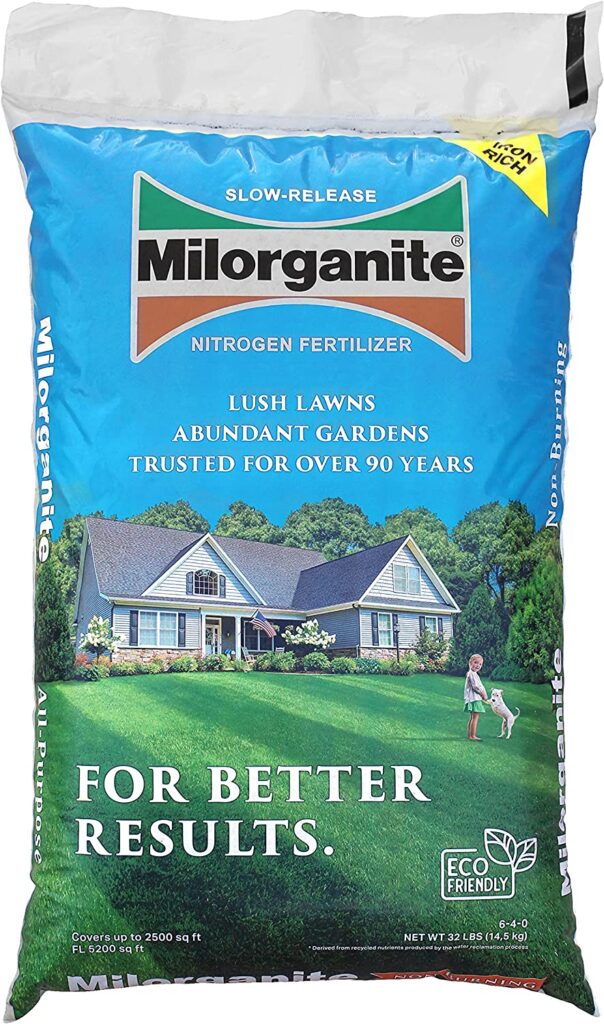 Milorganite has been working to beautify lawns and golf courses since 1926. The company manufactures slow-release, all-purpose nitrogen fertilizers that not only feed the soil and plants but also protect them from burning.
Milorganite Slow-Release Nitrogen Fertilizers come with a slow-release formula. It means that only one application of the fertilizer is enough to feed the lawn for 8-10 weeks. Moreover, Milorganite's nutrients are released at a rate that only plants can utilize. It makes this fertilizer eco-friendly as it reduces the likelihood of groundwater contamination.
The qualities which make the Milorganite nitrogen fertilizer the best pick are:
Safe and eco-friendly
Contains no synthetics or mined resources
Almost 85% of the contents are organic
The organic matter feeds the soil and soil-inhabiting good bacteria
Slow release: long-lasting nutrition without leaching into the ground
Feeds up to 10 weeks
Helps in root development
Contains Iron that helps in lawn greening
Non-burning formula
Fertilizer analysis is 6-4-0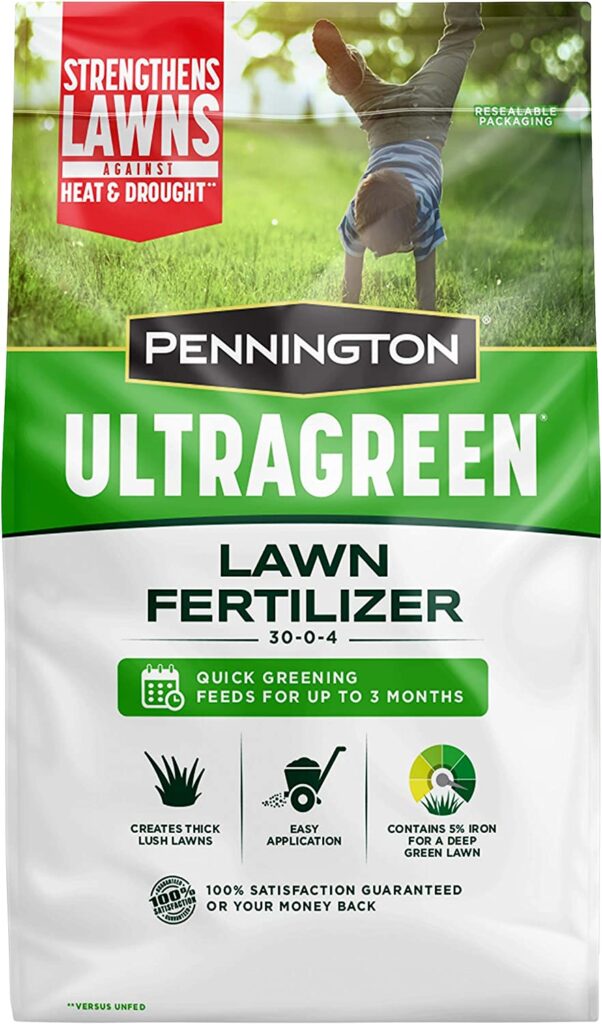 Pennington has a huge variety of products to fulfill all of your lawn care needs. It sells lawn fertilizers, weed prevention products, soil supplements, and plant foods. Each Pennington product is specifically formulated by chemical experts.
Just like Pennington's other fertilizers, its UltraGreen lawn fertilizer delivers the perfect combination of nutrients and minerals to your lawn soil and plants. This Slow-release Nitrogen fertilizer is sufficient to feed your plant for about 3 months.
Here's all that you need to know about this lawn fertilizer:
Multi-purpose use: can be applied to all types of lawns
Strengthens the plants and soil against heat and drought
Contains 5% Iron: provides extra lush to your lawn
Quick and deep greening
Prevents the growth of crabgrass for 5 months after application
Both fast-acting and slow-release nitrogen
10.5% slow release nitrogen: long-lasting nutrition
Comes in a resealable packaging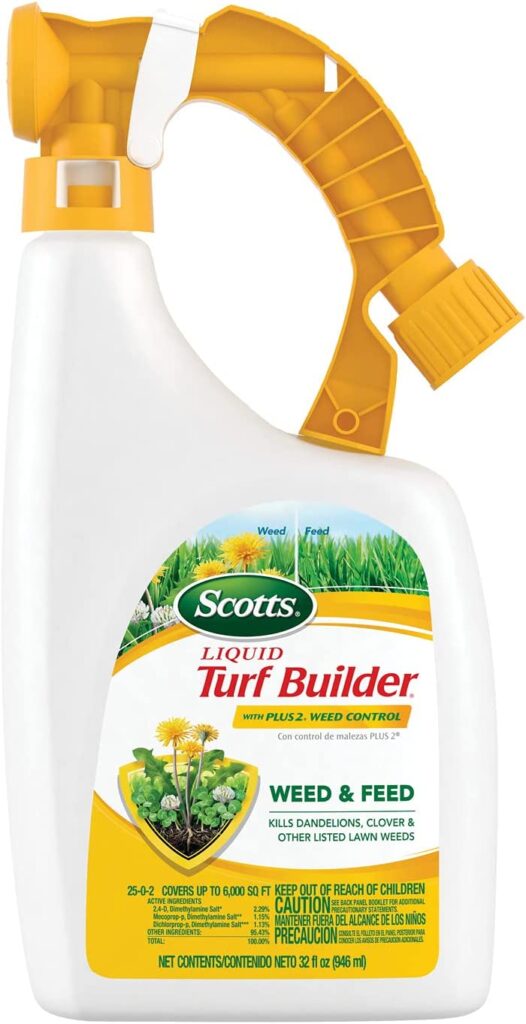 Here's another fertilizer from Scotts, the Liquid Turf Builder. With a Plus 2 weed control formula, this fertilizer provides both nutrition and protection. It is very easy to use. The formula comes in a spray bottle with a lever. All you need to do is connect the sprayer with a hose and it's ready to use.
Here are some benefits of using Liquid Turf Builder on your lawn:
Weed and Feed formula: provides the lawn with nitrogenous feed while preventing the growth of listed lawn weeds like dandelions, buckhorn, clover, poison ivy, etc.
Quick fertilization in only 24 hours
Kills dandelions, clover, and other major lawn weeds
Easy application: simply attach the hose to the spray bottle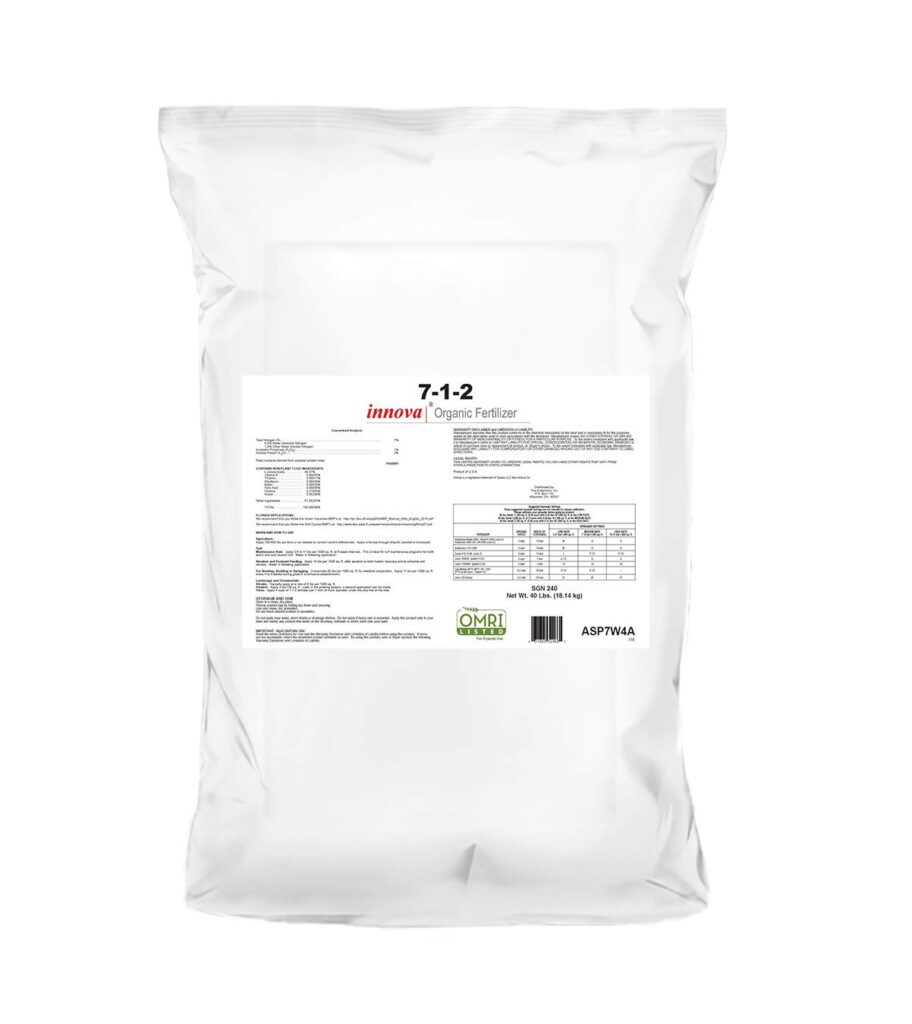 The Andersons were established in 1947 in Maumee, Ohio. It is a well-reputed agribusiness that serves across the globe. It has a variety of holdings in the industries of renewable energy and plant fertilizers. 
The best of Anderson's all-natural fertilizers is the Innova Premium Organic Fertilizer (7-1-2). Its rich plant-based nitrogen source is odorless and pleasant to use. In addition to nitrogen, the fertilizer contains other important nutrients too. These include phosphorus, potassium, and amino acids.
The key features of this fertilizer are:
An all-weather fertilizer
100% slow-release nitrogen: non-leaching and long-lasting
No synthetics or toxins
Safe to apply around children and pets
No risk of burning the lawn
6:1 carbon to nitrogen ratio: perfect to improve soil's health
Provides diet for beneficial soil microbes
Low dust due to homogeneous granules
Suitable for all types of grass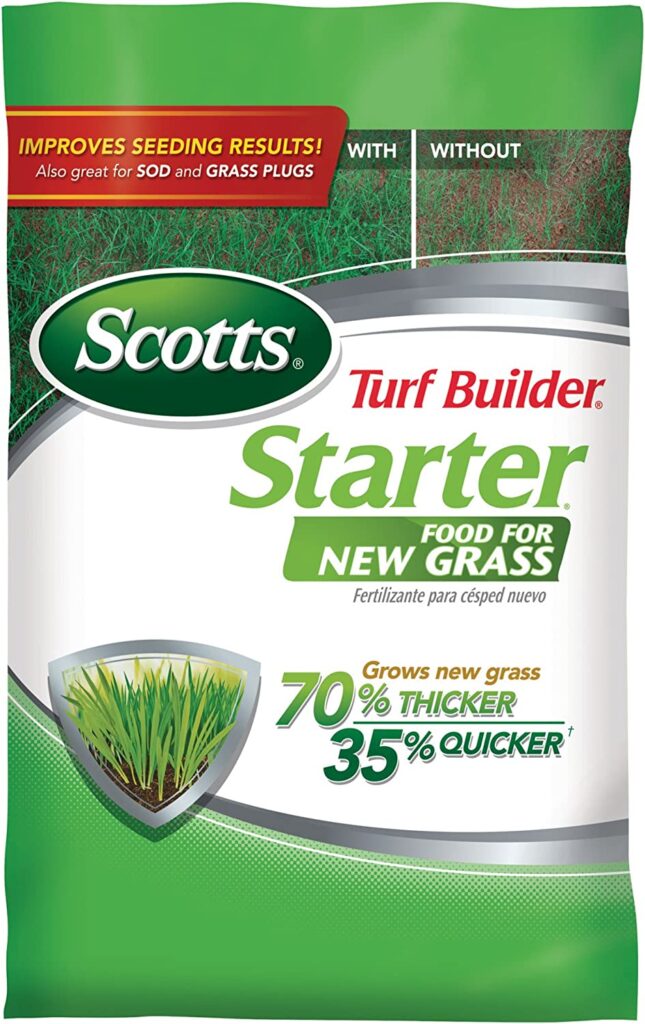 Here's another product from Scotts that's specifically formulated for all the beginners out there. This is the Turf Builder Starter Food for new grass. Besides being perfect for newly planted grass, the formula of this fertilizer is also perfect for sod and grass plugs. Its 15 pounds packaging covers almost 5,000 square feet of a lawn.
The reasons that make it suitable as a beginner's lawn fertilizer are:
Enhances the results of seeding
Grows 70% thicker grass in 35% less time
Faster development of roots and leaves
24-25-4 fertilizer ratio: the perfect ratio of nutrients for all types of lawns
Safe for all types of grass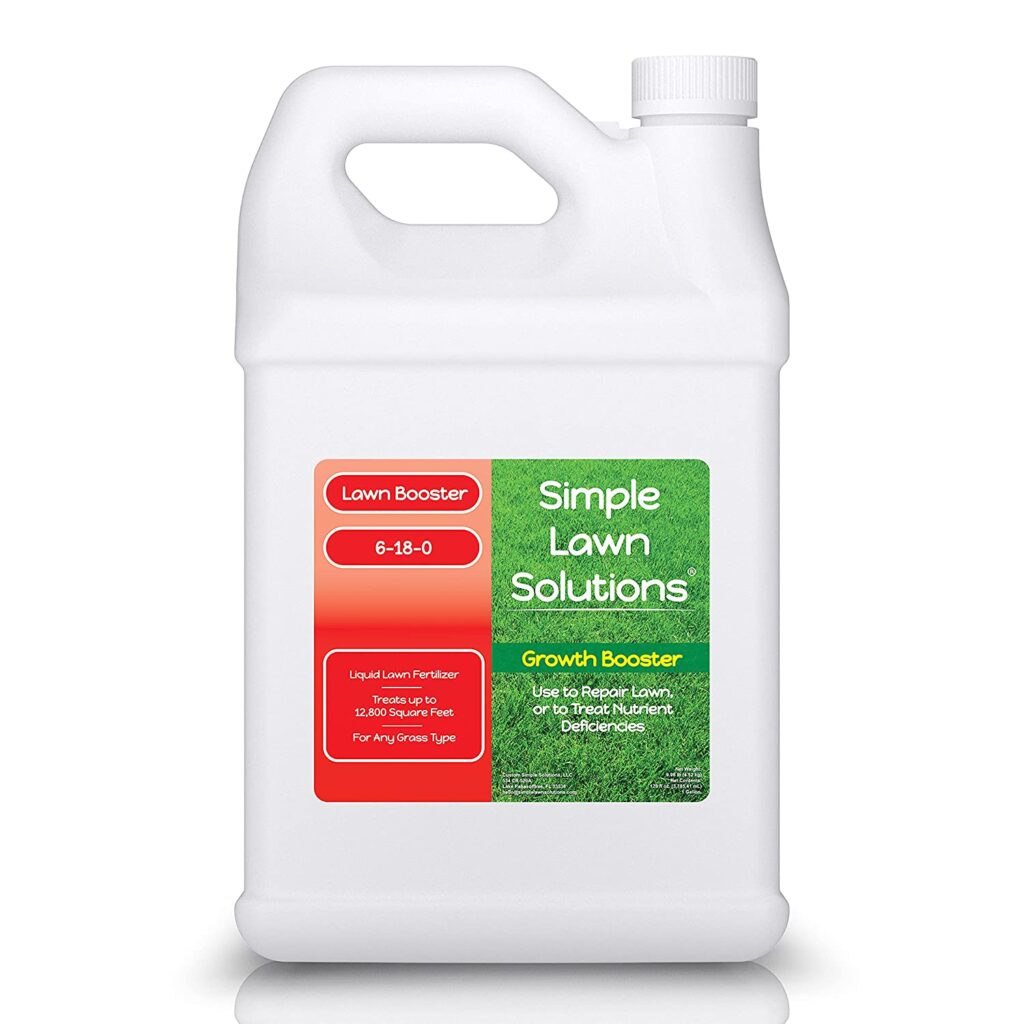 Simple Lawn Solutions are agro experts that manufacture high-quality lawn care products. The goal of this company is to make lawn maintenance easy. Their high nutritional fertilizers enable your lawn to live as healthily as possible.
Their Extreme Grass Growth Lawn Booster is a concentrated liquid fertilizer that is applied in spray form. Its formula contains humic acid that binds to plant roots and enhances their ability to absorb water and nutrients from the soil. This liquid fertilizer is the simplest lawn solution for everyone.
A few important qualities of this growth-boosting fertilizer are:
Suitability for any grass type
Easy to use
Improves new sod and seeding: the formula stimulates both vertical and lateral growth
Great fertilizer for beginners
Contains 6% nitrogen and 18% phosphorus
Contains humic acid
Help with the soil's mineral deficiencies
Comes in an economical size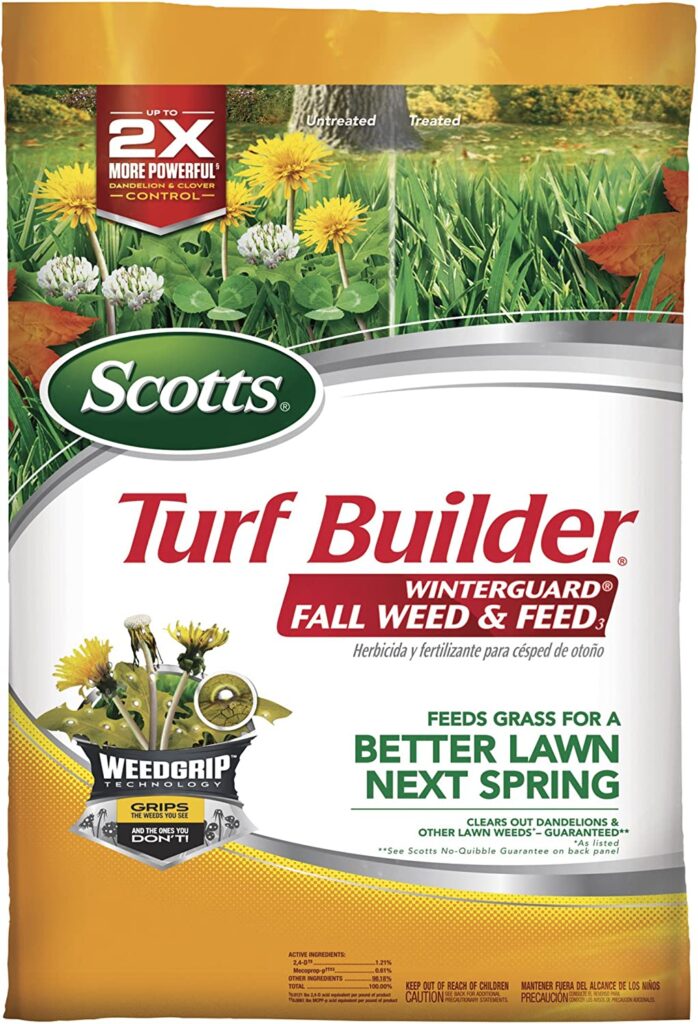 Just like Scott's SummerGuard lawn food, here's another product from the company that protects your lawn against cold stress in winter. This Turf Builder WinterGuard 3 gives a nicer and greener lawn next spring by feeding and maintaining the grass during the whole fall. It not only feeds the soil and plants but also prevents the growth of listed weeds.
Here are some noteworthy qualities of the Scotts Turf Builder WinterGuard Fall Weed & Feed:
Provides nutrition and protection hand in hand
Two times better weed control: kills 50 types of listed weeds
Helps the lawn deal with fall and winter stresses
Non-burning formula
Easy to spread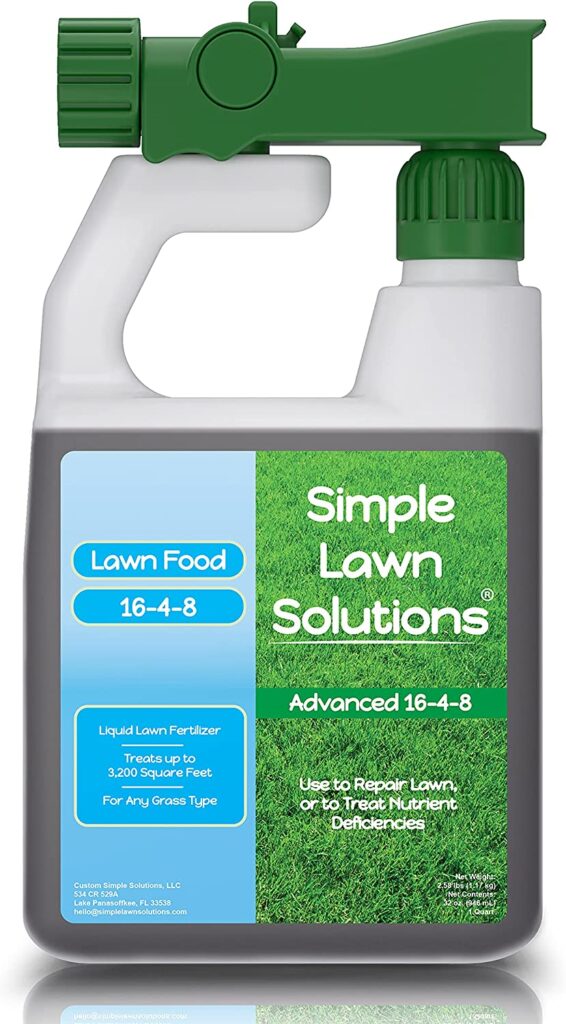 The Advanced 16-4-8 Balanced fertilizer by Simple Lawn Solutions is a unique blend of nitrogen, phosphorus, and potassium nutrients. This liquid fertilizer comes in a handy spray bottle that is attachable to the hose for easy application. This concentrated liquid spray is an all-weather fertilizer suitable for any grass type.
Here are some specifications of this NPK fertilizer:
Source of all key macronutrients
Enhance both vertical and lateral plant growth
Strengthen roots
High-quality feed containing seaweed and fish emulsion
Organic sources of nutrients
Easy application with the sprayer
Ready to use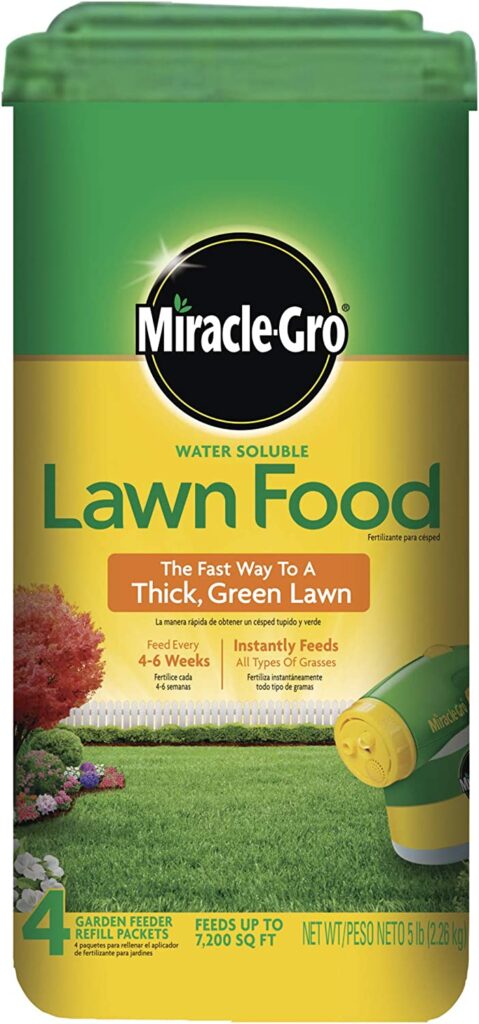 Miracle-Gro® Water Soluble Lawn Food is packed with all the vital nutrients needed for plant growth. This all-purpose plant food rapidly nourishes trees, plants, and grass on your lawn. Feeding it only once every two weeks will bring incredible growth results for your lawn.
Here are the features of this product that make it the best fertilizer for your lawn:
Safe and non-burning formula
Suitable for all grass types
Chelated iron for quick greening
One box can cover up to 4000 sq. ft. of area
Wrapping Up
Whether you're just starting out or have been growing a lawn for years, there is always a need to fertilize it. But if you don't have the right fertilizer, even the best equipment and techniques can fall short in your lawn care. We hope this article has helped you learn which products will work best for your lawn. Now all you need to do is bring in the right fertilizer and feed your soil a little bit!