Do you want to achieve the most precise cutting level while woodworking? Then getting yourself a router table would help. This equipment is highly beneficial for cutting wood and joints and sharpening edges. It ensures maximum safety level when you're handling larger workpieces. Although you can also get a handheld router, a table is preferred for better control while machining. This unique tool lets you craft many things, including picture frames, bookshelves, wine racks, and more. It's also valuable if you're a professional woodworker. We have searched and reviewed the 7 best router tables of 2022 to simplify your hunt for this tool.
Let's get started.
Features of a Good Router Table
A router table is an exceptional tool that allows heavy-duty woodworking with precision. You should follow some specific criteria to purchase a functional router table.
Let's briefly overview them.
Cost
The price of the router table matters a lot. A good table must fall under an economical range while providing all the basic features. Also, the brand must guarantee the table's durability for it to last longer; otherwise, you'd waste your money. If you have some extra bucks in your budget, you can buy a table with unique add-ons that make cutting easier and more functional.
Size
You must look for a large-sized router table to invest in. On the contrary, a small working surface won't prove as beneficial as it will restrict you to only cutting miniature wood pieces. However, you can manage almost all sizes conveniently on a large table.
Tabletop
The top surface of a good router table stays flat even after you mount the router. An inconsistent surface won't let you cut accurately. You can go for laminated medium-density fibreboard or phenolic resin surface. These two are the most rigid choices for a router table's top surfaces.
Fence
The fence of a good router table must be adjustable to allow cutting in multiple diameters. However, it shouldn't move a bit when you fix it once. A tall fence is ideal as you will get more support while machining the wooden corners.
Our Pick of 7 Best Router Tables of 2022
1.   Bosch RA1181 Router Table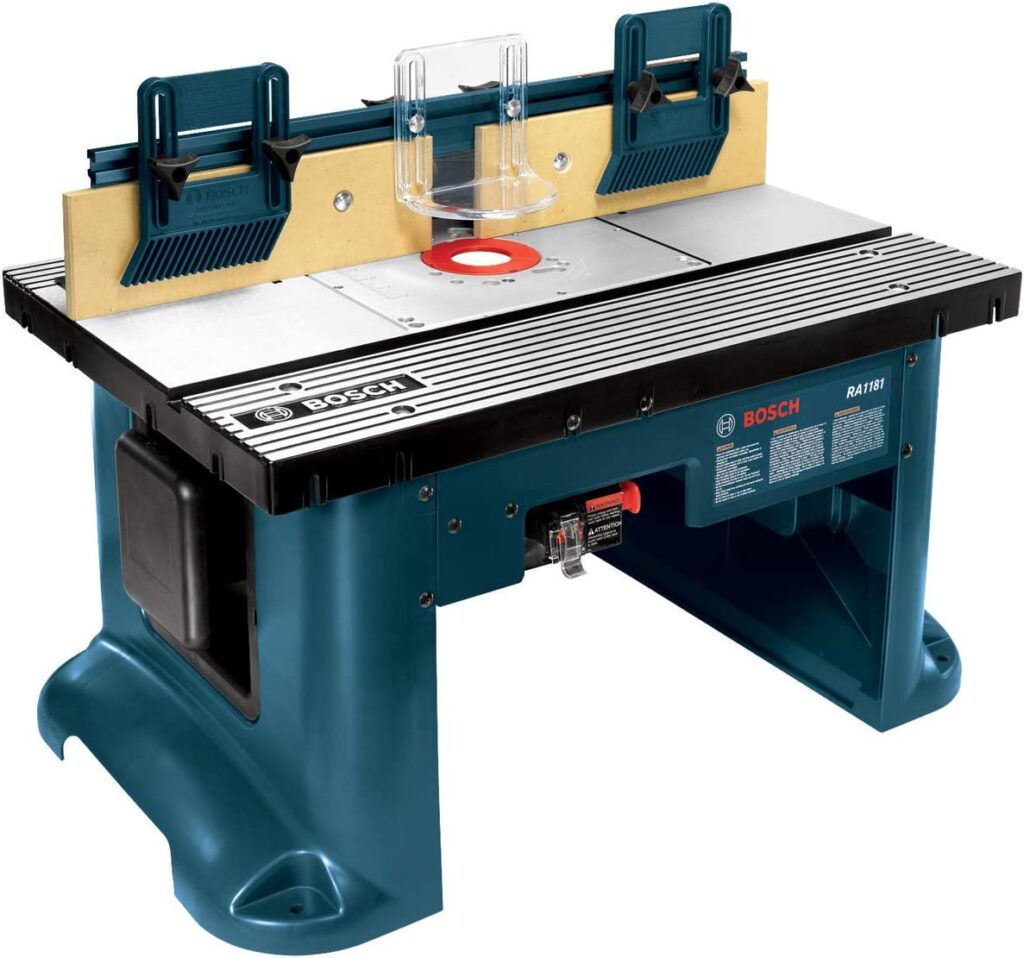 The Bosch RA1181 Router Table provides a large working area. Its aluminum surface is highly durable and lets you complete all woodworking tasks with extreme precision. Thanks to an adjustable feather board, you can use it for multi-purpose machining. The fence has a considerable height for accurate adjustment of the board.
The below features combine to qualify this router table as our first pick.
Its sturdy aluminum plate is drilled, allowing connecting a wide range of routers.
There's a dust collecting section with compatibility for vacuum hose attachment. You can use it to work in a neat and clean environment.
The accessory slot of this router table is also versatile. Besides feather boards, it can also attach a miter gauge and other similar accessories of 3/4 inches.
A cord wrap storing region ensures top-notch safety from electrical hazards. You can lock the power cord when the table is not in use.
The laminated top is ideal for accurate and precise woodwork and DIY tasks.
2.   Leegol Electric Router Table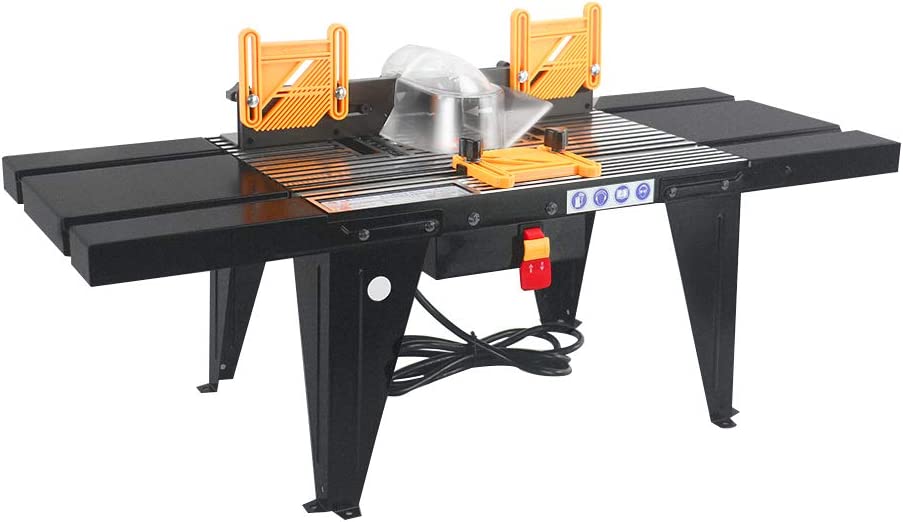 Your search for a functional router table can end with Leegol Electric's top-notch product in this category. It has a large sized working area. At the same time, the two-sided extension tables provide extra space for precise machining. Moreover, it's easy to slide the surface, adding to your ultra-convenience.
Its fence has two-in-one functioning. Besides supporting the workpiece on the table, it also features a vertical feather board for versatile functionality.
This highly durable router table has several exceptional features, which we have discussed below.
The aluminum alloy body makes it one of the most rigid equipments for woodworking. Even the steel material of side tables is highly rugged to ensure maximum durability.
It's lightweight, allowing you to move it around as per your needs quickly.
There's also a miter gauge that promotes precise cutting of the wood. It helps measure angles before making any straight or cross cuts.
The transparent fence guard is perfect for keeping the work area clean.
Six inches or below-diameter router can easily fit inside this table's base plate.
3.   Bosch RA1141 Router Table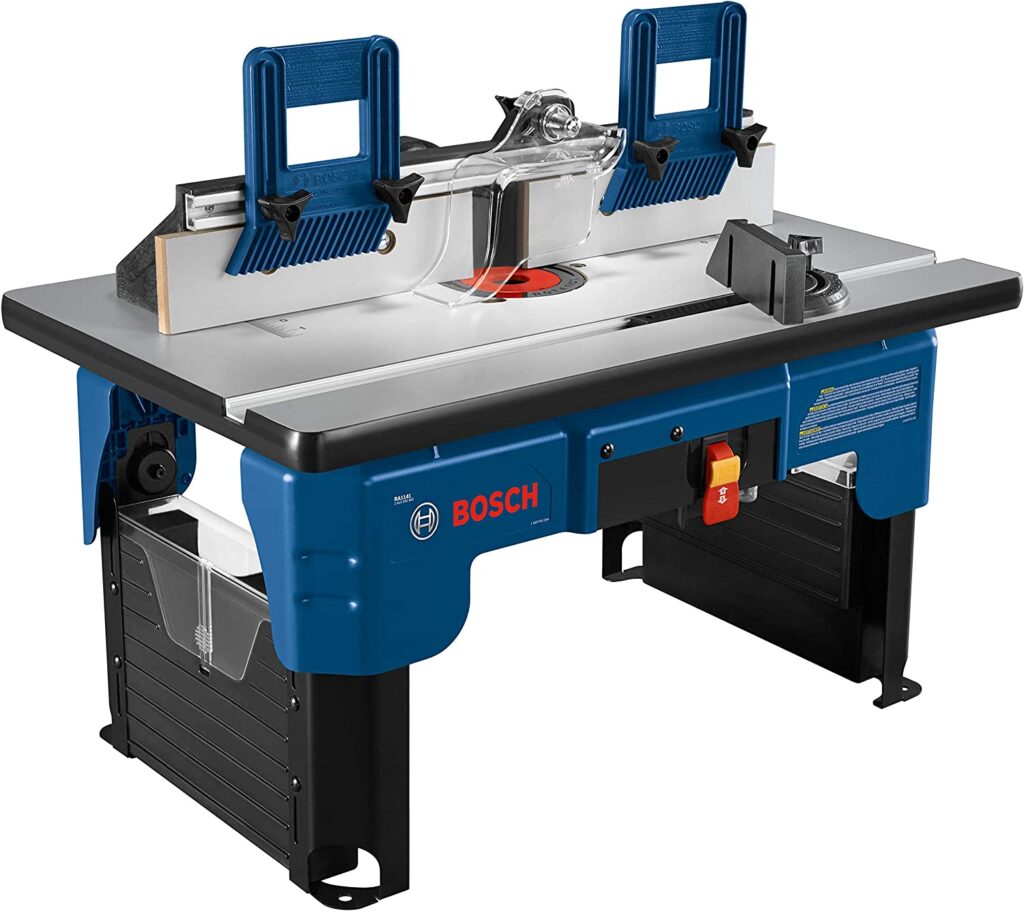 If you're looking for a portable woodworking tool, buying the Bosch RA1141 Router Table can help. You can easily fold it in a compact shape. It's easy to store and carry this router table to other working areas. The top surface is laminated for smooth, accurate, and safe cutting. It also features two outlets for simultaneously functioning the router and vacuum. This functionality helps keep the work space clean from wood chips.
Here are some of its other features:
The fence of this router table is tall and heightened. It also features two feather boards which you can easily adjust as per workpiece requirements.
Mounting a router on this table is not a complicated task. Thanks to an easy-click system that allows quick attaching and detaching of the tool.
You don't have to waste multiple hours assembling this table. It comes preassembled, saving you from struggling during its installation.
The miter gauge has an accurate height to allow precise cutting.
A dust port also attaches a vacuum hose to keep the area clean from wood debris.
You will also find a separate area for storing spare parts securely.
4.   Grizzly Router Table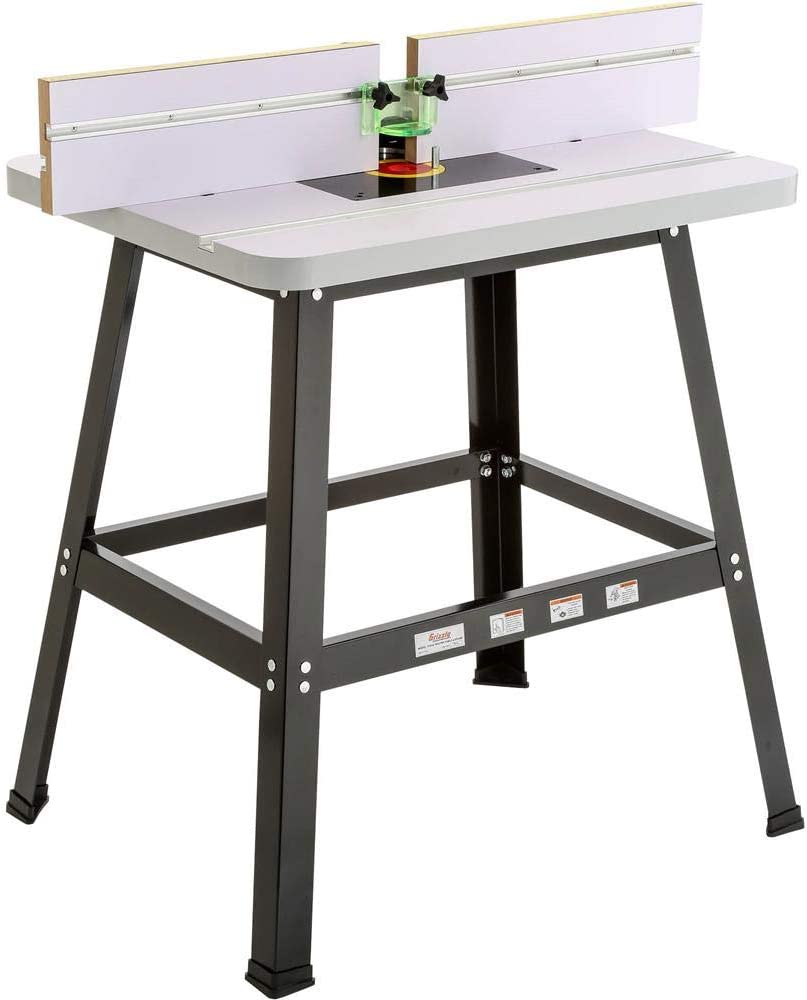 The Grizzly Router Table with a rigid MDF top can be your long-term wood-cutting and edging equipment. Its durable frame is meant to last longer even if you subject it to an extra workload. An adjustable fence can cut several diameters according to the requirements. The large-sized platform promotes versatility. It lets you craft small, medium, and big items effortlessly.
Let's overview some features of this one of our top 4 router tables of 2022.
The 12 by 9 inches plate allows mounting of almost all router types.
You can also perform routing with a free hand, thanks to detachable inserts and a pin.
The split fence type also comprises MDF material. At the same time, its aluminum bracket is ideal for accurate cuttings.
Its fence features some unique slots allowing versatile feather board installation.
You will also find a measuring tape on the fence for easy readings from both sides.
5.   KREG Router Table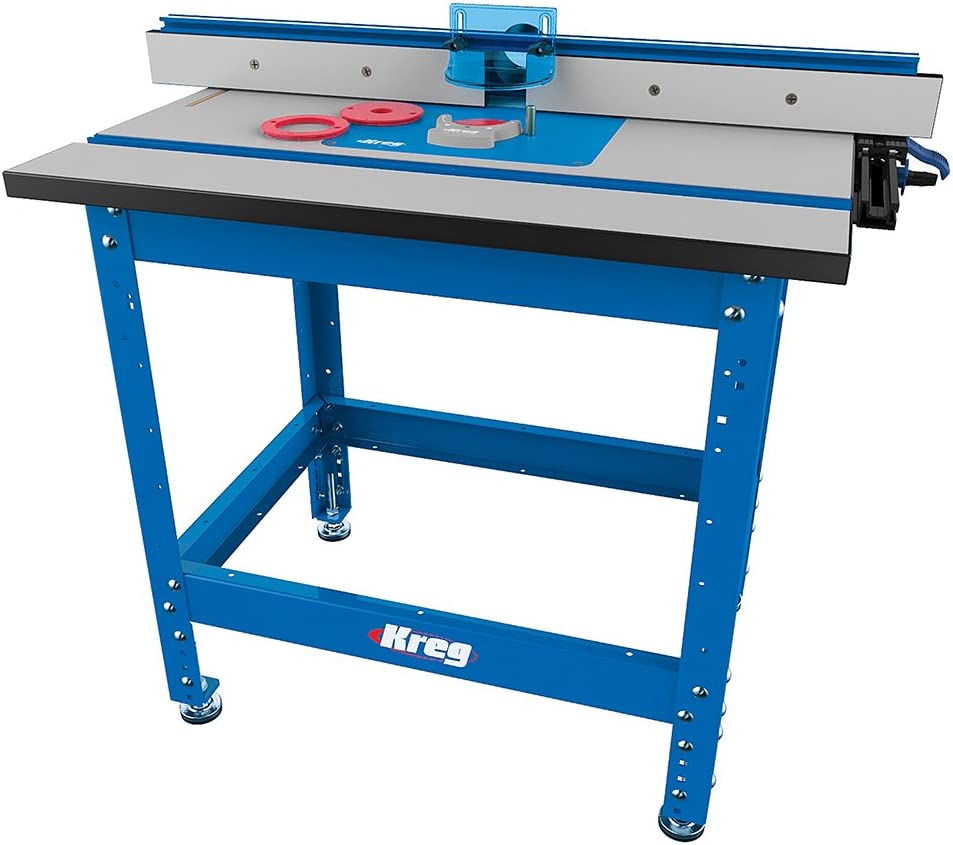 KREG produces some of the most durable and functional router tables. This equipment by the brand is no lesser. It features a large-sized space for the versatile cutting of workpieces. You can easily assemble it for quick use.
Its router-attaching region is highly flexible. Any router type is easily mountable in this table.
Here are some features that make this router table stand unique amongst our other picks:
The fence has a T-shaped slot to support the attachment of various accessories.
It also comes with a multipurpose steel stand. You can adjust it according to your comfort and the task's need.
An adjustable wheel on the fence helps you cut precise diameters safely.
The L-shaped aluminum space lets you cut wood with zero clearance support.
6.   Bosch RA1171 Router Table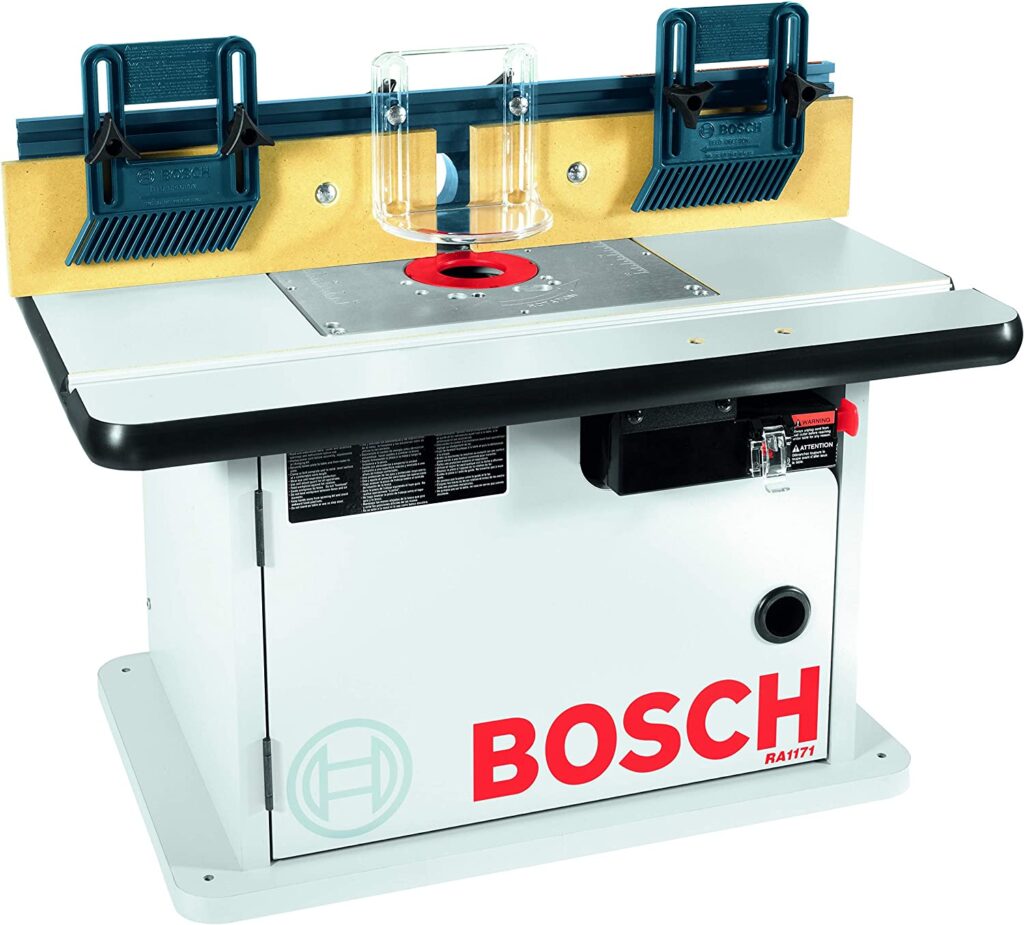 Your search for easy-to-use woodcutting equipment can end with the Bosch RA1171 Router Table. Its fence has two hooks for attaching feather boards. The flexibility of this feature makes the table compatible with various work pieces. It also prevents kickback injuries during work. You can attach a miter gauge or similar accessories in a separate slot for better functioning.
The dual outlet ensures the simultaneous operation of the router and vacuum. It ensures cleanliness around the workplace without making extra efforts to clear the debris and wooden mess.
We have listed a few more features of this router table below.
The pre-drilled aluminum router plate is rigid. It's also versatile in attaching multiple router types.
This table's surface has an MDF finish, which allows higher levels of precise cutting.
You can attach a vacuum hose to its dust collection spot to simultaneously clean the working space. There are two such spots for collecting all the debris.
The fence has a considerable height to handle tall work pieces effectively.
7.   Skil Router Table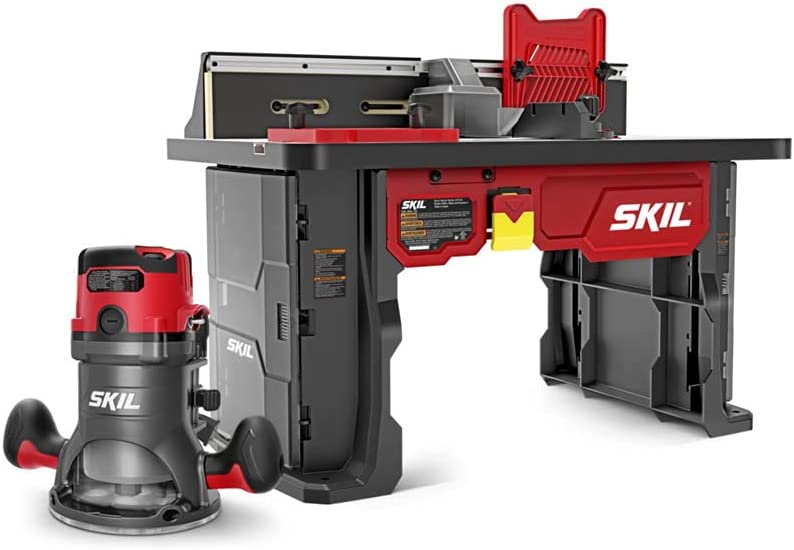 The Router Table Kit by Skil is a high-power equipment with extraordinary features providing great value for the money. Its fence has taller and broader dimensions to support massive workpieces singlehandedly. Similarly, the MDF laminated face plates promote precise cutting as it holds the wood piece for a circular action.
You will also receive a 10 AMP corded router with the table in this combo kit. It has a heavy-duty engine that facilitates smooth and accurate cutting the way you like.
Some of its other features are:
The router has a fixed base allowing high-speed cutting and shaping of workpieces.
You can store spare parts and important tools in a separate storage area.
Its installation is pretty simple, thanks to the quick-set screws and an easy-to-understand manual.
You can control the router's speed easily through a variable speed dial.
Wrapping Up
A router table can make woodworking easier for you. However, you must opt for a functional product to get maximum outputs. We have discussed the features of a good router table in this article, and all our picks follow the criteria. Buying any of our choices of 7 best router tables of 2022 won't disappoint you. You'd definitely love the smooth and precise working power.