Weeds are parasitic, which can damage your lawn's beautiful landscape. It affects the valuable plantation in your garden as they compete with them for vital resources like water, light, and nutrition. Similarly, they can also inhabit hard surfaces like patios, driveways, or gravel-based areas. It happens when there's even a slight crack in the hardscape. Besides its unsightly appearance, the unstoppable growth of weed roots can break up these surfaces.
Weeds are unrequired; hence you must kill them as soon as you see a single sign of their inhabitation. For this purpose, a strong weed killer works the best. Therefore, to simplify your hunt, we have searched and reviewed the 7 best weed killers of 2022. Using them will kill the current weed growth and prevent its relapse for several months.
Let's get started.
Features of a Good Weed Killer
Besides being potent against weed growth, there are multiple things that a good weed killer should cover. Let's briefly overview them.
Effectiveness
As discussed above, the first thing that matters the most is a weed killer's efficacy level. A high-quality herbicide shouldn't only kill the existing weeds but also prevent their re-growth for at least a few months.
Ingredients
A good weed killer must contain some potent ingredients to do the weed-killing job properly. Glyphosate or imazapyr are the top two choices in this case. Both are extremely powerful against stubborn weed growth.
Safety
Using a potent weed killer is necessary for productive results, but it should never compromise your or your pets' safety. A good weed killer contains no health-harming ingredients. In case of any precautions, the weed killer packaging should state them clearly.
Rainproof
Suppose you apply a weed killer on affected areas and it starts raining immediately. If the weed killer isn't rainproof, it would easily wash away. It's also not possible to sprinkle such weed killers on wet surfaces. You must wait for them to dry before application. Instead of going through these hassles, you should expand your budget and buy a rainproof weed killer.
Reviewing the Leading Weed Killers of 2022
1.   Roundup Ready-To-Use Weed & Grass Killer III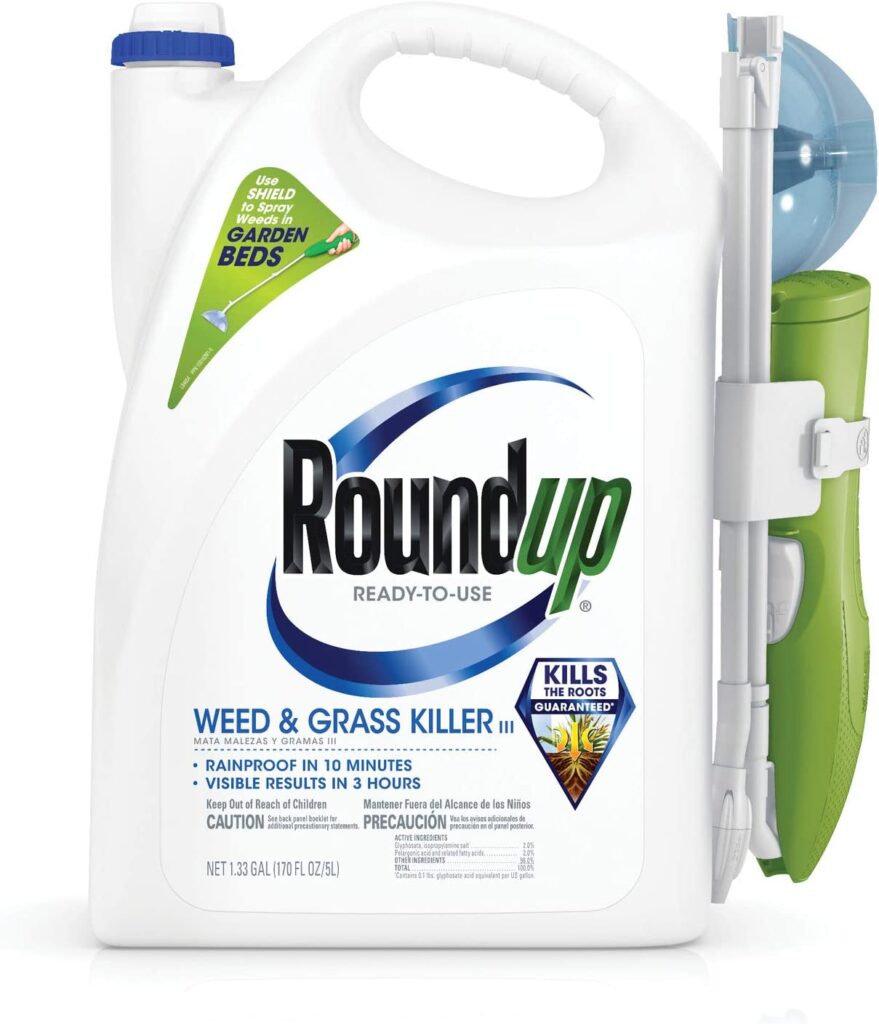 If you're looking for a ready-to-use liquid for killing weed, go for the Roundup Ready-To-Use Weed & Grass Killer III. There are multiple reasons behind it being our top pick. It displays immediate results in less than three hours. Moreover, a combination of potent ingredients, including glyphosate, pelargonic acid, and isopropylamine, eliminates the wild grass growth deep from its roots. It's perfect for clearing off landscape weeds. However, it's a bit costly, but all the exceptional features make your spending worthwhile.
Some of its valuable features are:
This weed killer is waterproof. Rain or moisture from other sources won't affect its efficacy at all.
It is entirely safe to use around humans and pets.
You can get worry-free for at least a few months after spraying it once, as it kills the weed roots.
The landscape coverage of this weed killer is broad, including patios, driveways, fences, sidewalks, and lawn pathways.
2.   Ortho Weed Killer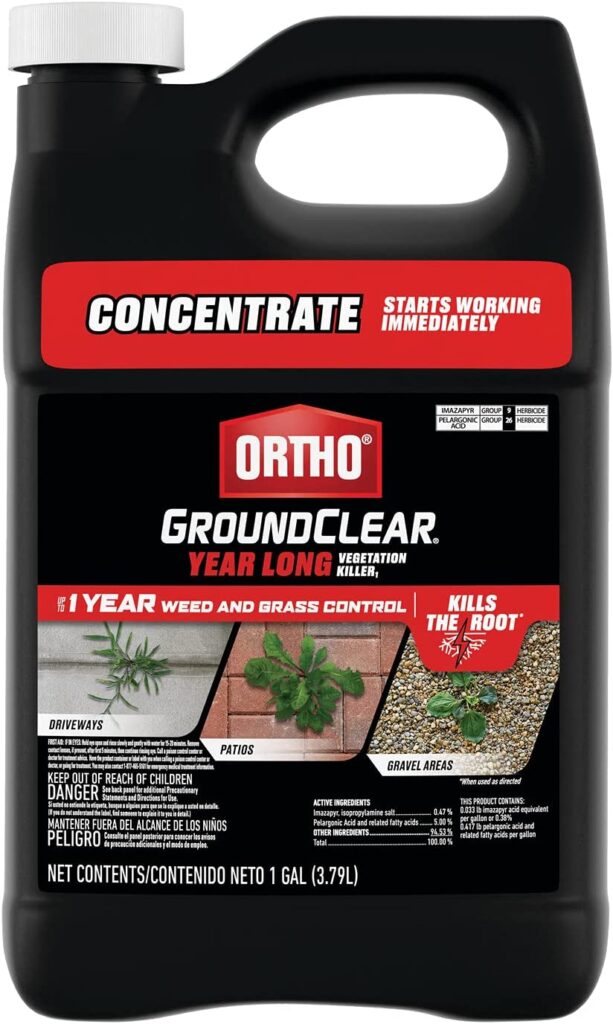 The Ortho Weed Killer is one of the best choices if you want to stop weed growth for at least a year. Its concentrated formula is behind this long-term effectiveness. However, you must follow the proper instructions to get productive results. There are no hard and fast rules for it. You can use a tank sprayer to sprinkle this weed-killing liquid on any area. This cleaner shows equally effective results whether you apply it on hard sidewalks or sandy landscapes.
Let's overview a few unique attributes of this weed cleaner that comes under our top three picks.
The concentrated formula acts quickly to eliminate unwanted growth in your lawn.
It attacks the actively growing weed and kills the base of weed growth, i.e., roots.
A single one-gallon container easily covers up to 300 square feet of hardscapes. It includes patios, parking slots, fences, and more.
After only three hours of this weed killer's application, you will observe effective results.
Although it's not ready to use the product, you can quickly mix it with water in a spray bottle and use it on affected areas.
3.   Spectracide Weed & Grass Killer Concentrate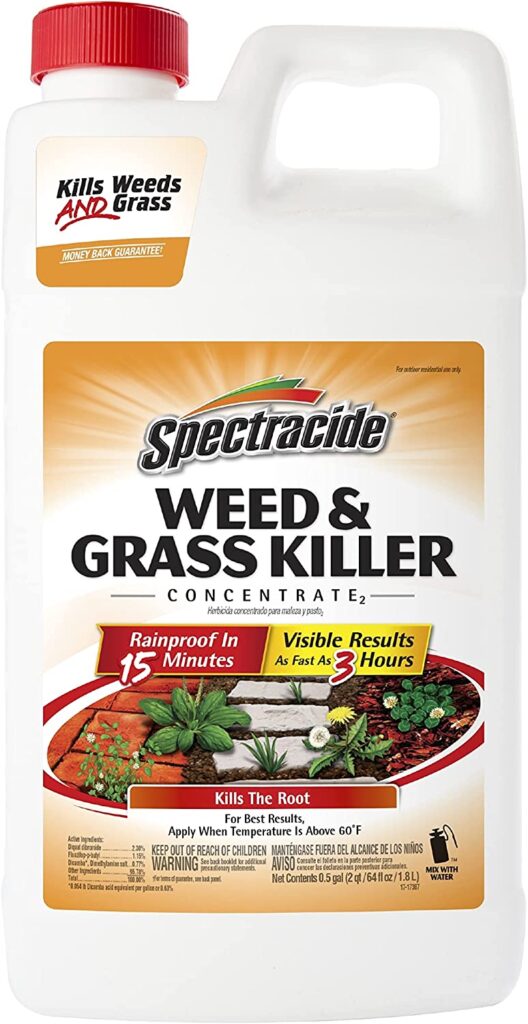 Your search for a two-in-one weed and grass-eliminating liquid can end with this Spectracide Weed & Grass Killer Concentrate. It takes only 15 minutes to become rainproof. After that, no moisture source can stop this potent liquid from killing the weed. You will start seeing the effective results after three hours of spraying it. However, it takes 24 hours to eradicate the weed and unwanted grass completely. Multiple factors influence this timing, including the type of weed, temperature, etc.
It's time to discuss some of the amazing features of this weed killer.
It can easily kill weeds from constricted areas that a mower usually can't reach, including fences, curbs, etc.
The large-sized container comes in handy during lawn renovation or replacement. You can use it to kill the wild growth before seeding fresh plants.
Using the trigger spray, you can directly shower the liquid on growth spots. It doesn't require water mixing before use.
The liquid formula is moderately concentrated, making it safe to use around living things.
You will get an AcuShot power sprayer with an extendable wand to ensure convenient application. It helps target narrow spaces easily.
4.   Roundup Ready-To-Use Extended Control Weed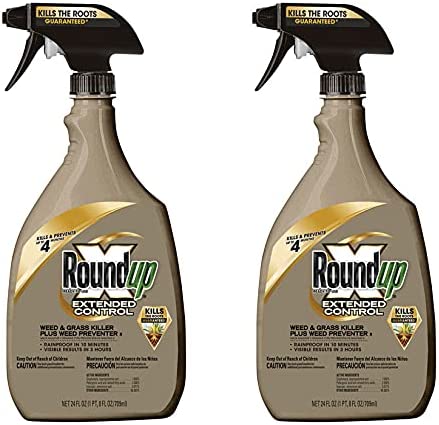 Roundup, a famous brand, sells almost four types of weed killers. The Roundup Ready-To-Use Extended Control Weed, one of them, is perfect for extended wild growth control. It kills the existing weed while ensuring no re-growth occurs for the next four months. This liquid takes an average duration of three to six hours to show visible results. It also gets rainproof only ten minutes after application.
Here are some of its features:
The unique spray allows this weed killer's continuous application for ten minutes.
Addition of aluminum salt in its composition makes it a two-in-one weed-killing agent. It can kill the active weed and ensures no re-growth occurs for an extended period.
Refilling the spray tanker is simple as it requires no pre-measurements. The broad opening of the containers ensures a convenient no-spill refill.
A single container provides wide weed-killing coverage of almost 400 square feet.
You can use this weed killer around tree rings, mulches, etc. It also works efficiently on hardscapes like patios, driveways, footpaths, and more.
5.   The Andersons Weed Killer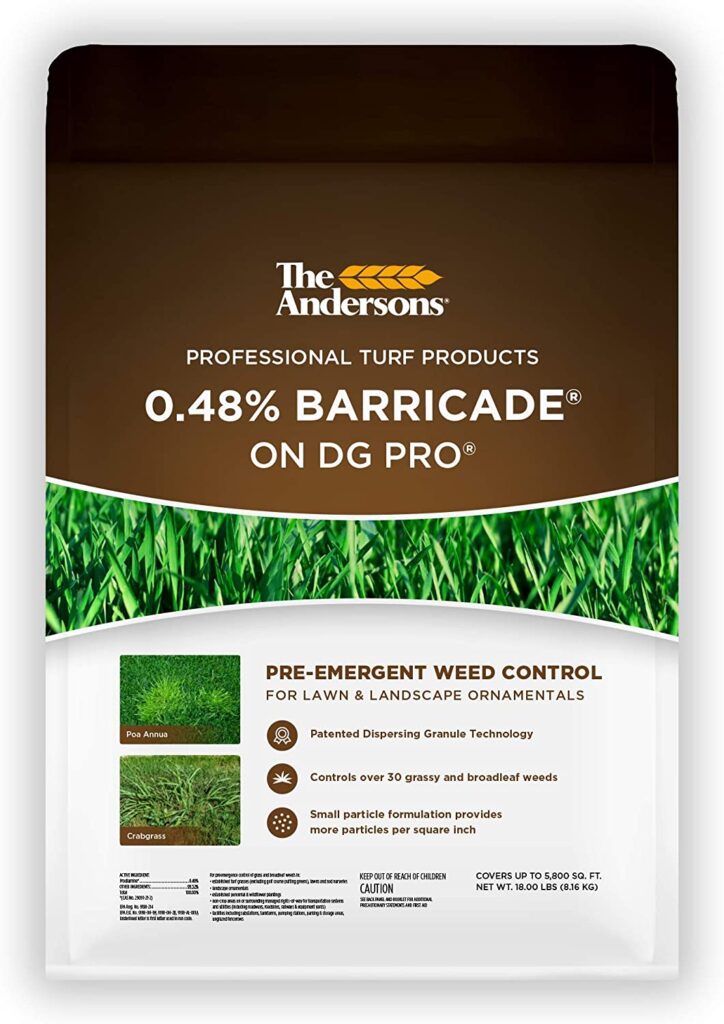 This granular Andersons Weed Killer is a highly potent herbicide. It has the largest coverage area among all our picks, which is almost 5,800 square feet. Small-sized particles ensure more granules are spread per square inch. This characteristic makes it a quickly-effective weed killer. 
The involvement of modern granule dispersing technology allows its quick dispersion. All the particles break down into thousands of fine granules when they come in contact with water.
Let's overview its some other features below:
This weed killer has a broad spectrum, as it can kill almost 30 different types of grassy weeds. It's also effective against wild broadleaf herbs.
This weed killer quickly penetrates the soil to kill the weed with its deeper roots.
It shows its powerful effects only against unnecessary herbs. It won't harm the desirable plants at any cost.
You can use it on all types of landscape ornamentals. It also effectively destroys weed growth inside your garden without harming helpful growth. 
6.   ECO Garden PRO Weed Killer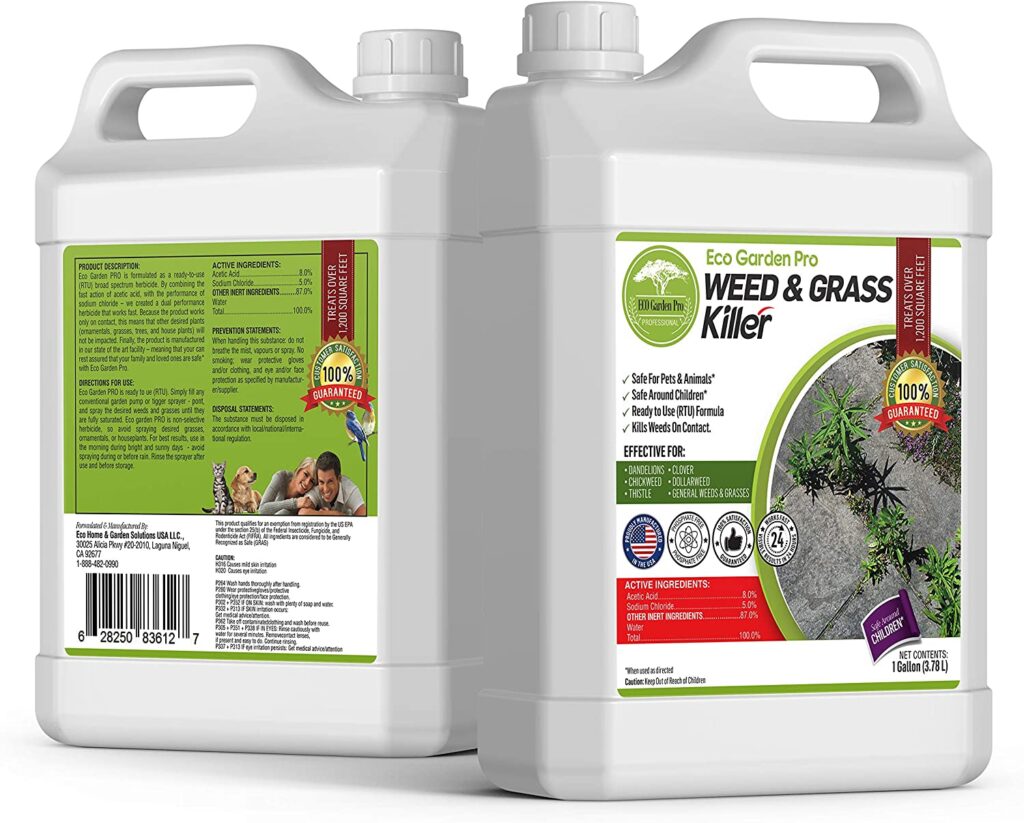 Are you searching for a glyphosate-free herbicide to prevent weed growth? Then buying the ECO Garden PRO Weed Killer can help. It is entirely safe to spray around humans and pets as no harmful ingredients are in its composition. This organic weed killer produces top-notch results in 24 hours. It's also safe for groundwater and biodegrades quickly since no toxic elements like phosphate exist.
Some of its other features include:
It is a ready-to-use weed killer saving you from the struggles of mixing water to dilute the liquid.
Food and Drug Administration has given all its ingredients the status of Generally Regarded as Safe.
It can destroy many weeds, including moss, dollar weed, crabgrass, clover, dandelions, and more.
Natural vinegar, in combination with other organic ingredients like rock salt, plant activators, and multiple co-factors, ensures a quick weed-killing process.
7.   Southern Ag Weed Killer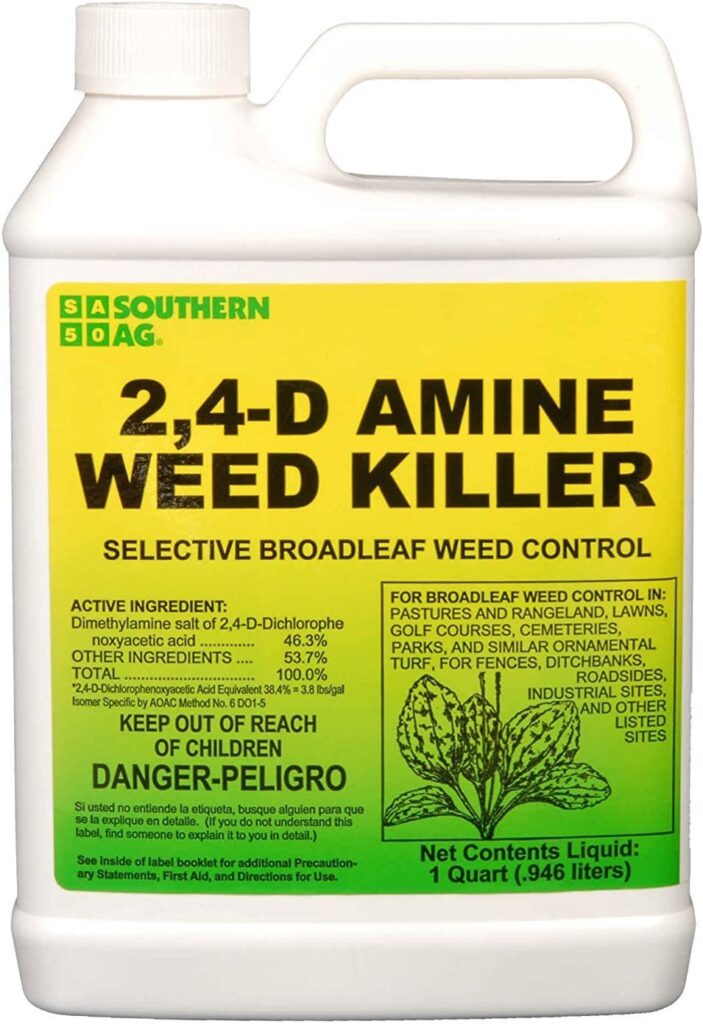 Last but not least, Southern Ag Weed Killer shows strong results against broadleaf weeds. Its active ingredient, ag amine, is highly effective on pastures, golf courses, cemeteries, and other similar hardscapes. You can also use it for weed-killing on industrial premises.
To know more about the specialties of this weed killer, read the below features.
It is a pre and post-emergent herbicide, killing weed seeds and outer growth.
You can easily cover one acre of the weed-affected area with one to four pints of this liquid. It makes this weed killer the most economical choice among our chosen 7 best weed killers.
Although it's not ready to use, you can prepare the liquid by following a simple process. Mix three tablespoons in at least five gallons of water, and it's ready. It can cover a wide area of at least 1,000 square feet.
Wrapping Up
Killing weed is necessary as its overgrowth can harm the natural vegetation. It can also crack open hard surfaces. Hence, you must not think much and buy a potent weed killer to avoid these consequences. Our 7 best weed killer picks can help you choose the one that best suits your needs.