Unlike traditional gas or electric cooktops, which use direct heat to cook food, an induction cooker operates through a process called electromagnetic induction. It has an electromagnetic coil located beneath the smooth, glass-ceramic surface. When you place induction-compatible cookware (usually made of ferromagnetic materials like cast iron or stainless steel) on the cooktop, an alternating electric current flows through the coil, generating a fluctuating magnetic field. This magnetic field induces an electrical current in the base of the cookware, which, in turn, produces heat. The heat is transferred directly to the food or liquid within the cookware, heating it up quickly and efficiently.
Gone are the days of waiting endlessly for pots to boil or struggling to maintain the perfect temperature. With the right induction cooker by your side, you can transform your cooking experience and become the maestro of your kitchen. Induction cookers are innovative kitchen appliances that are becoming popular for their efficiency, precision, and safety. In Malaysia, where food is a cherished part of the culture, the search for the best induction cooker becomes a quest for culinary excellence. Therefore, we are here to unveil our carefully curated selection of the 12 best induction cookers available in Malaysia. These are sure to revolutionise the way you cook!
Features of a Good Induction Cooker
Before we dive into our top picks, let's see what makes an induction cooker truly exceptional.
Power and Heating Efficiency: Look for cookers with high wattage ratings, as they tend to heat up faster and provide more precise temperature control. Higher wattage also means the cooker can handle a wider range of cooking tasks, from gentle simmering to high-heat searing.
Uniform Heating: Efficient induction cookers utilise advanced heating technology to distribute heat evenly across the cookware, ensuring consistent cooking results.
Cooking Zones and Flexibility: A good induction cooker will offer multiple cooking zones of varying sizes, allowing you to use different-sized cookware simultaneously. Some cookers also feature flexible cooking zones that can be combined to accommodate larger pots and pans.
Precise Temperature Control: Look for cookers with a wide range of temperature settings and the ability to make incremental adjustments. Some models even offer specific temperature presets for different cooking methods like simmering, boiling, frying, or grilling.
Safety Features: Look for cookers with safety features such as auto-shutoff timers and overheat protection, which turn off the cooker after a certain period of inactivity. It prevents accidents if you accidentally leave the cooker on. Child-lock functions are also essential to prevent young children from accidentally operating the cooker.
Ease of Use and Maintenance: A good induction cooker should be easy to operate. Look for intuitive control interfaces with clear labelling and responsive controls. Cookers with easy-to-clean surfaces and spill-resistant designs make maintenance hassle-free.
Energy Efficiency: Induction cookers are known for their energy efficiency compared to traditional cooktops. Still, look for cookers with energy-saving features such as power management systems that optimise energy usage.
Our Selection of 12 Best Induction Cookers in Malaysia
Now that we've set the stage, let's explore our selection of the best induction cookers in Malaysia.
1. Philips Induction Cooker: HD4902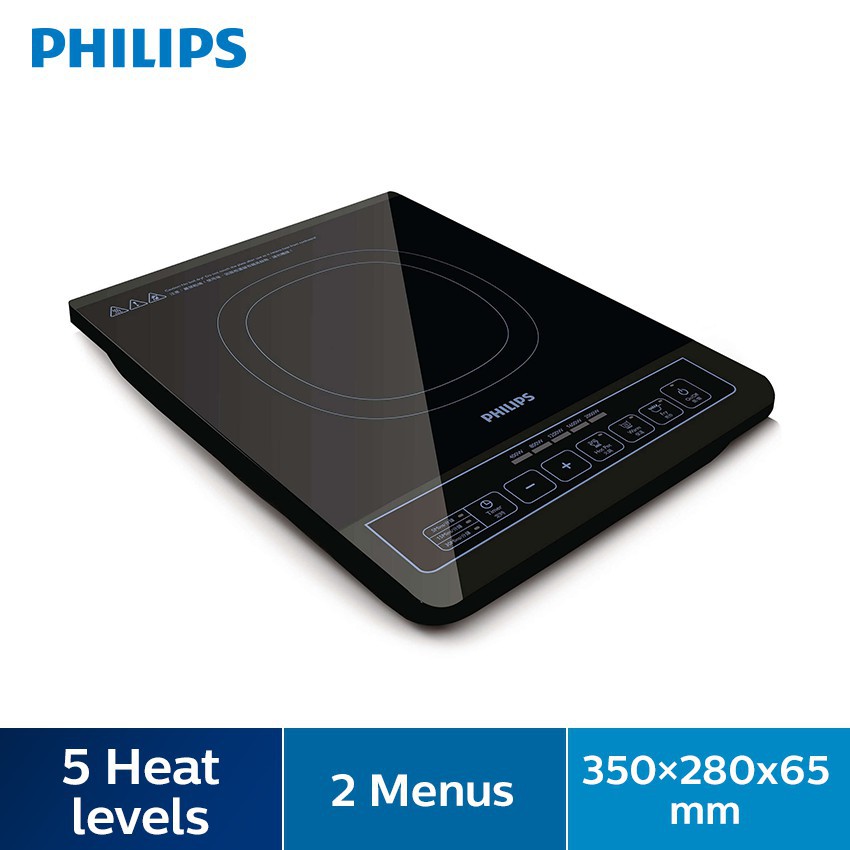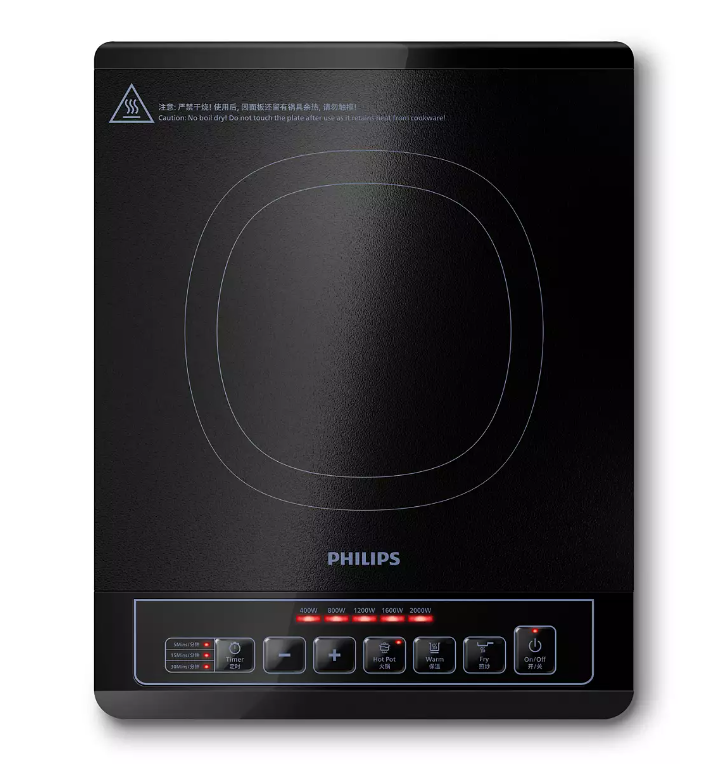 Let's start our list with the Philips Induction Cooker HD4902. This cooker boasts a sleek design and a host of advanced features. Its powerful heating technology ensures rapid and uniform cooking, while the 3 different cooking menus make your culinary experience even better. With its wide range of power levels, you can simmer delicate sauces or sear a juicy steak with equal ease. The HD4902's safety features, including overheating protection and automatic shut-off, make it perfect for busy households.
Some amazing features of this induction cooker are summarised below:
Efficient heating
2000W high power
5 power levels
3 cooking menus
Overheating protection and automatic shut-off
Glossy glass plate
Easy to clean
2. Tefal Induction Hob Express Slim: IH7208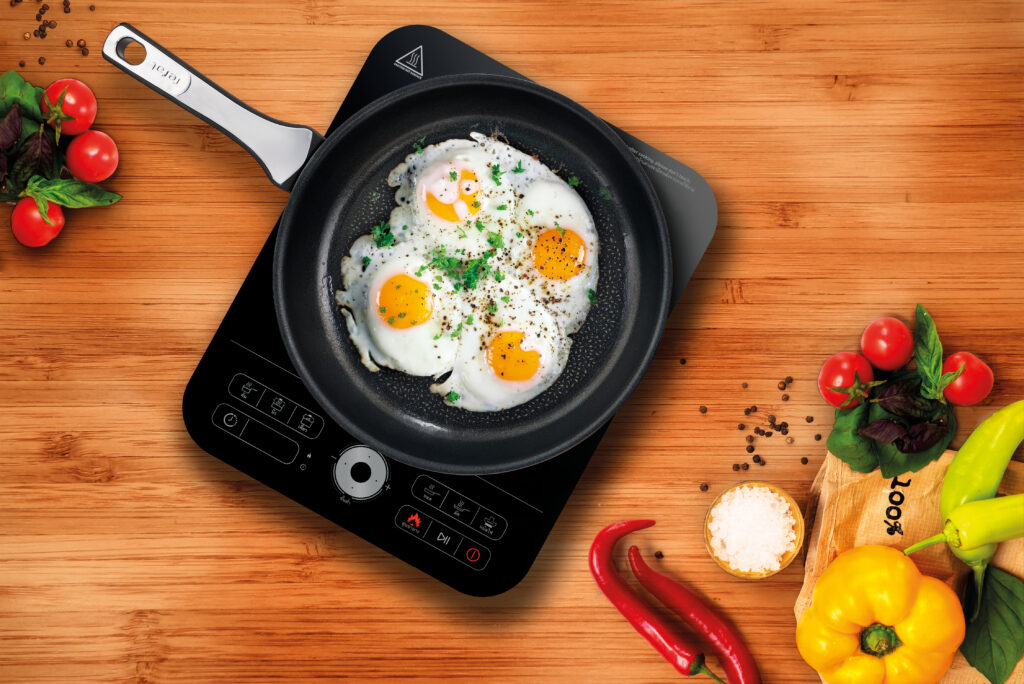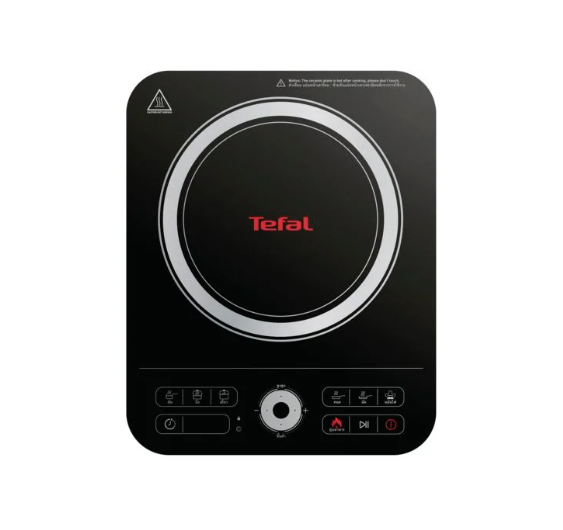 If space is at a premium in your kitchen, the Tefal Induction Hob Express Slim (IH7208) is a game-changer. Its slim and elegant design seamlessly blends with any countertop, while its induction technology guarantees efficient and precise cooking. This hob features 10 heating levels from 100W to 2100W, allowing you to fine-tune the heat to suit your culinary masterpiece. The IH7208's touch controls and 6 cooking functions make it a joy to use, while its easy-to-clean surface ensures that your kitchen remains a pristine sanctuary.
The following features of this induction cooker ensure easy and fast cooking:
6 cooking functions (boil, steam, soup, fry, stir-fry, hotpot) to fulfil unique cooking needs
High heating power boost mode
10 heating levels from 100W to 2100W
Convenient timer
Precise heat control
Touch and rotating technology for easy timer or temperature adjustment
Easy-to-clean ceramic panel
Comes with a Shabu Pot
3. Electrolux Induction Cooker: ETD42SKA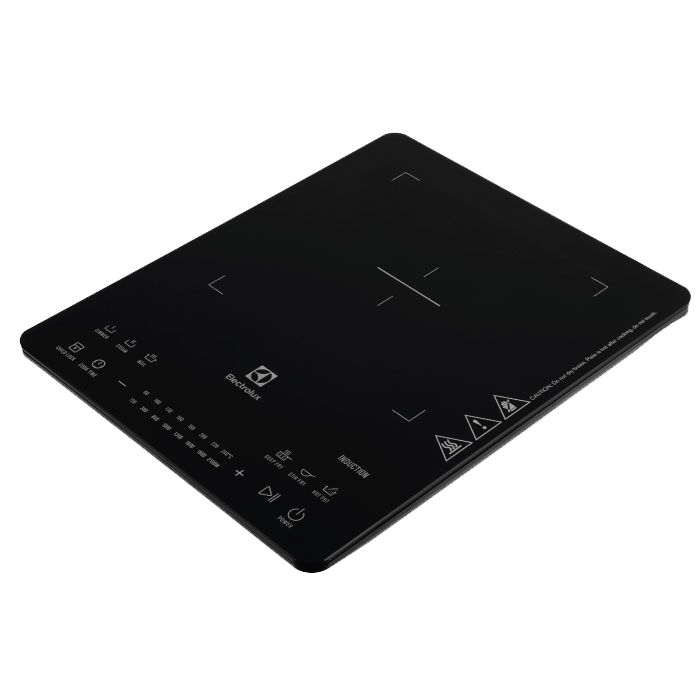 For the tech-savvy home chef, the Electrolux ETD42SKA Induction Cooker is a dream come true. This intelligent cooker comes equipped with an array of smart features, including multiple power settings and a cool touch. The ETD42SKA's premium, cool surface not only enhances safety and aesthetic appeal but also ensures effortless cleaning. The cooker can boil 1 litre of water in just 3 minutes. With its fast and precise cooking capabilities, this Electrolux induction cooker takes your culinary creations to new heights.
Some really hot features of this induction cooker include:
Cool touch
Safety control
Multiple power settings
Powerful performance
Easy to clean
Easy to use
Child lock
Energy efficient
Precise power control
4. HETCH Induction Cooker (Ultra Slim): IDC-1705-HC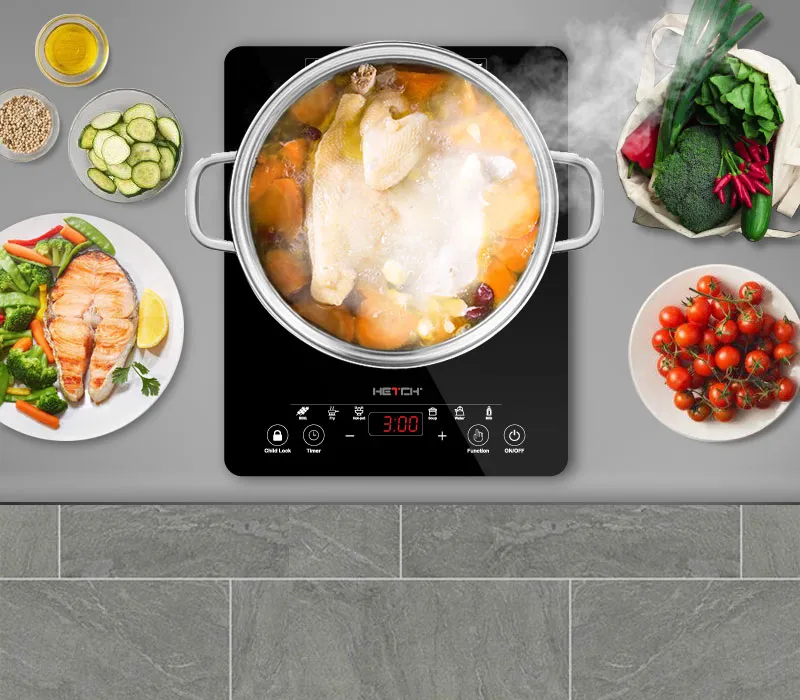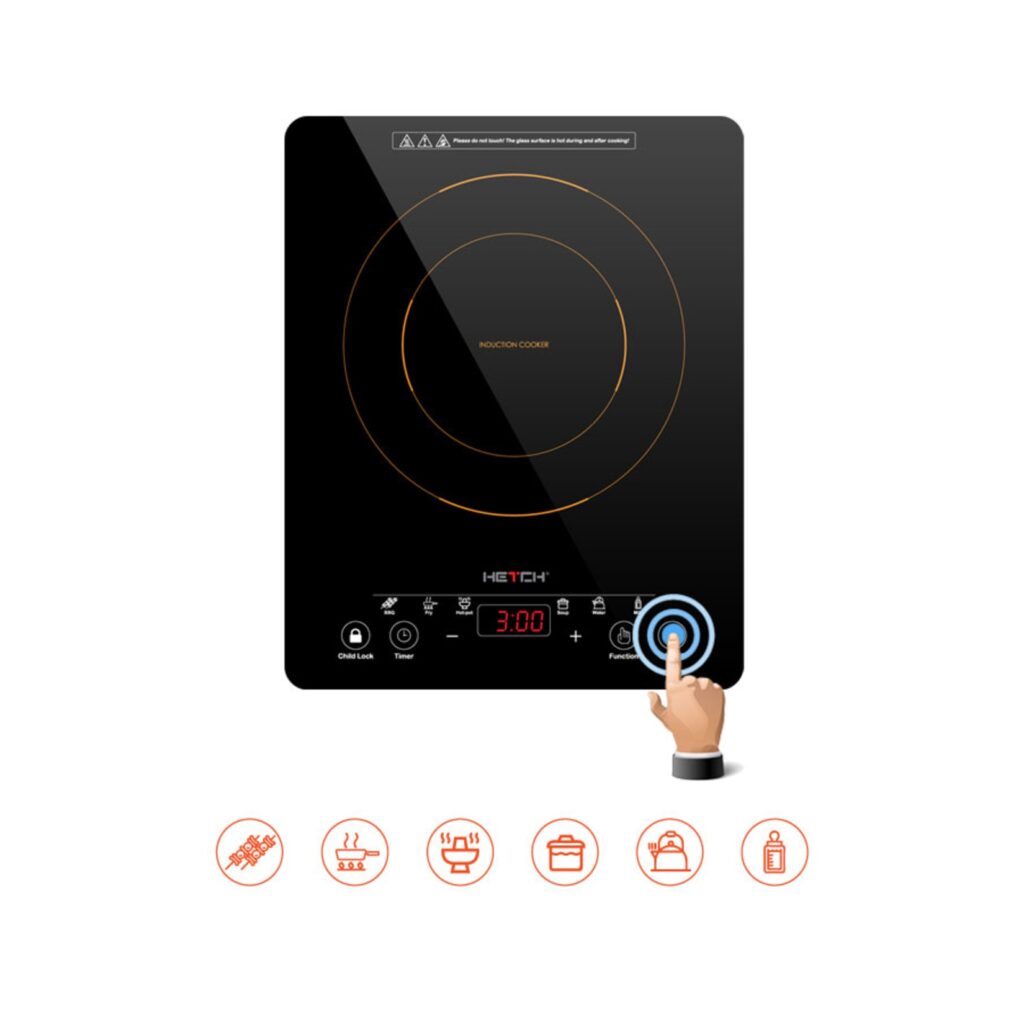 The Hetch Induction Cooker (Ultra Slim) IDC-1705-HC is a sleek and ultra-thin cooker that packs a punch with its powerful heating technology and precise temperature control. Its multi-function control panel and LED indicators provide a user-friendly experience, while the safety features, such as overheating protection and child lock, prioritise your well-being. The IDC-1705-HC's slim profile saves precious countertop space, making it a top choice for those seeking efficiency without sacrificing style. Moreover, it features six pre-programmed cooking functions that make cooking easier for beginners.
Prepare to be dazzled by the following features of this induction cooker:
Ultra slim and lightweight
2000W high power
Highly durable: scratch-resistant, heat-resistant, and easy to clean
Tempered glass top
Silver side panel
Overheating protection
Cooking timer up to 3 hours
6 pre-programmed cooking functions
Timer function
Child lock feature
Multi-function control panel with LED indicators
5. Cornell Induction Cooker: CIC-EM2011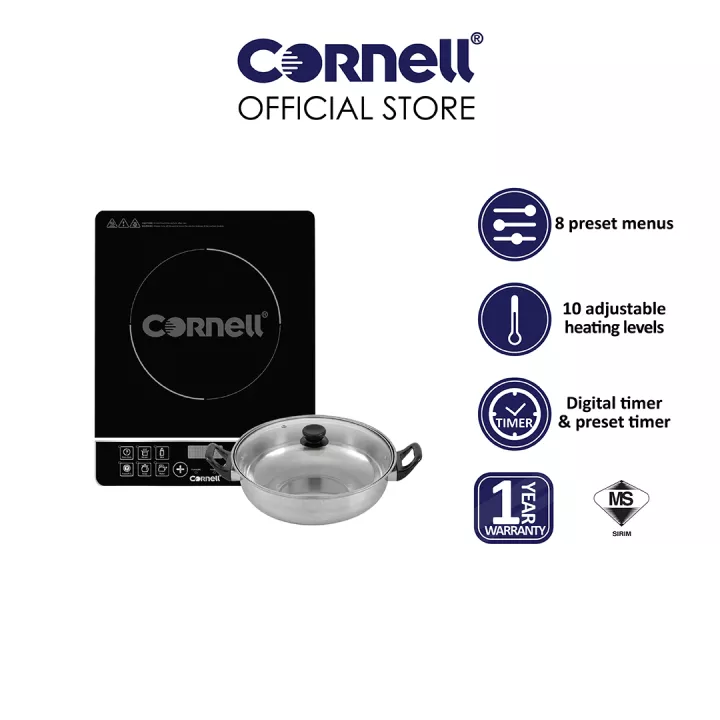 The Cornell CIC-EM2011 Induction Cooker combines functionality and affordability. With its compact, ultra-slim design and easy-to-use controls, this cooker is perfect for small kitchens or individuals seeking a reliable and budget-friendly option. Despite its size, it doesn't compromise performance. The cooker offers rapid heating and precise temperature adjustment. Moreover, with 8 cooking functions and 10 heating levels, the CIC-EM2011 is a reliable companion for everyday cooking needs.
The following are important specifications for this induction cooker:
Ultra slim design with only 36mm thickness
Soft press button control
318 x 312mm black crystal panel
Adjustable temperature from 60°C to 280°C
8 direct and fast cooking functions
10 heating levels
4 hours digital timer and 24-hour preset timer
4-digit LED display shows hour/min and temperature/power
Comes with a stainless steel pot with cover
High power of 2000W
6. Riino Tempered Glass Induction Cooker Shining Grey (A37)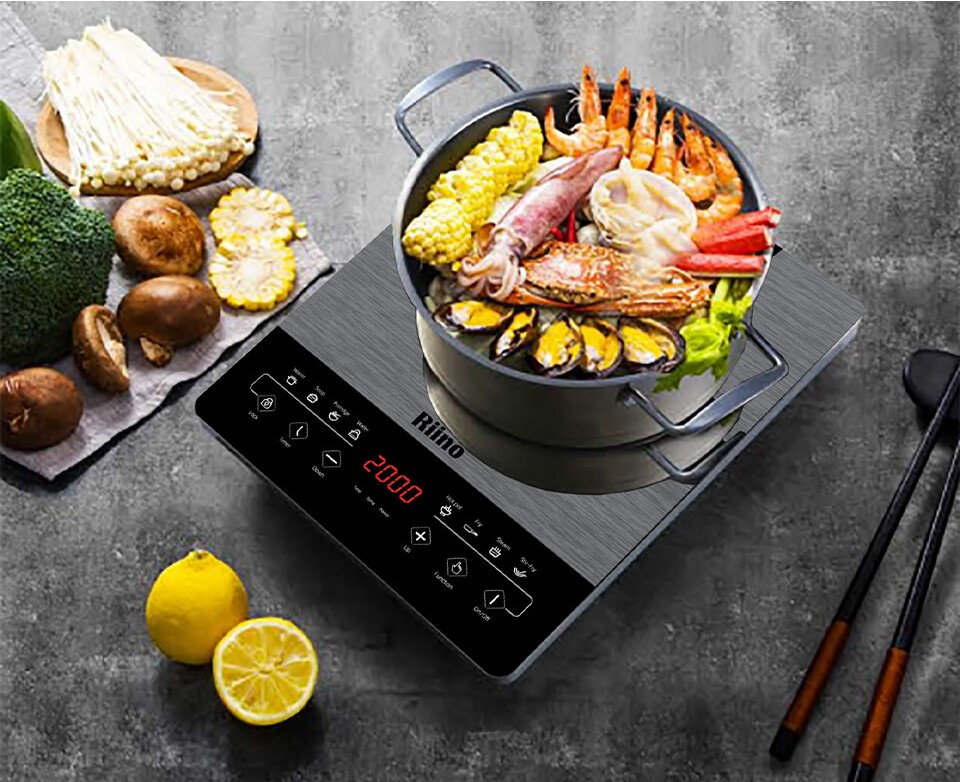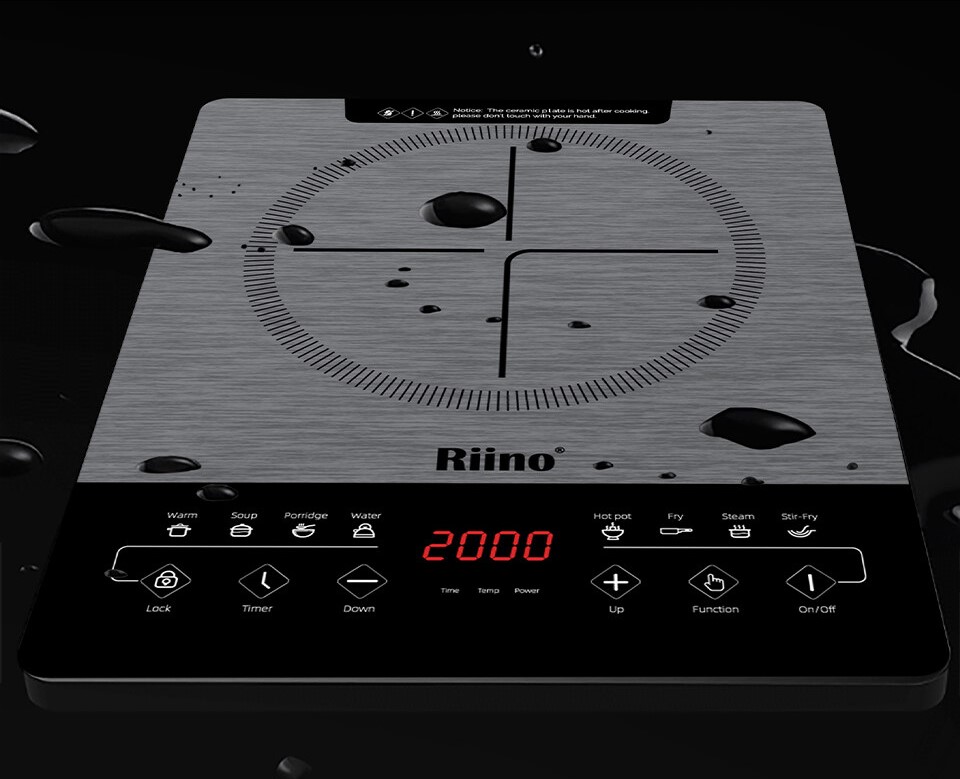 Indulge in elegance with this tempered glass induction cooker from Riino. This cooker stands out with its striking design, featuring a sleek tempered glass surface in a captivating shade of grey. Beyond its aesthetic appeal, the A37 delivers exceptional cooking performance as well. It's advanced heating technology and preset cooking functions make this cooker a no-regret choice for Malaysian homeowners. And designed with German technology, this cooker is a true showstopper that will elevate the style quotient of your kitchen.
The features that make this induction cooker different from others are:
Elegant design
Black crystal glass panel
2000W high power
German Technology
6 preset cooking functions
Ultra slim body
Easy to clean
7. Khind Infrared Cooker: IRC2000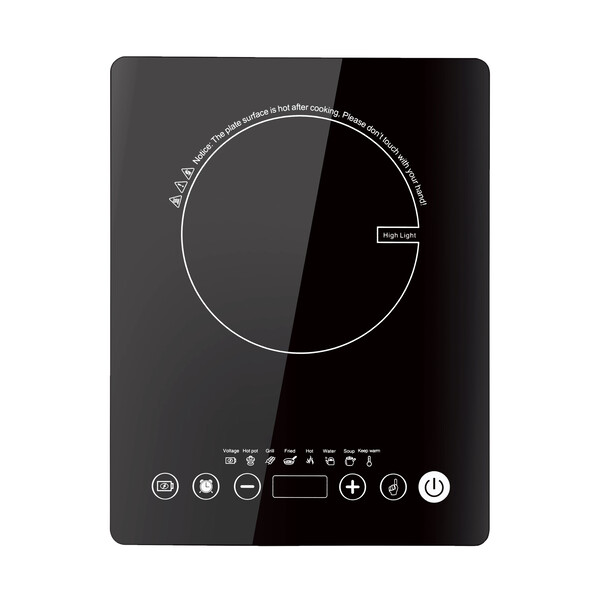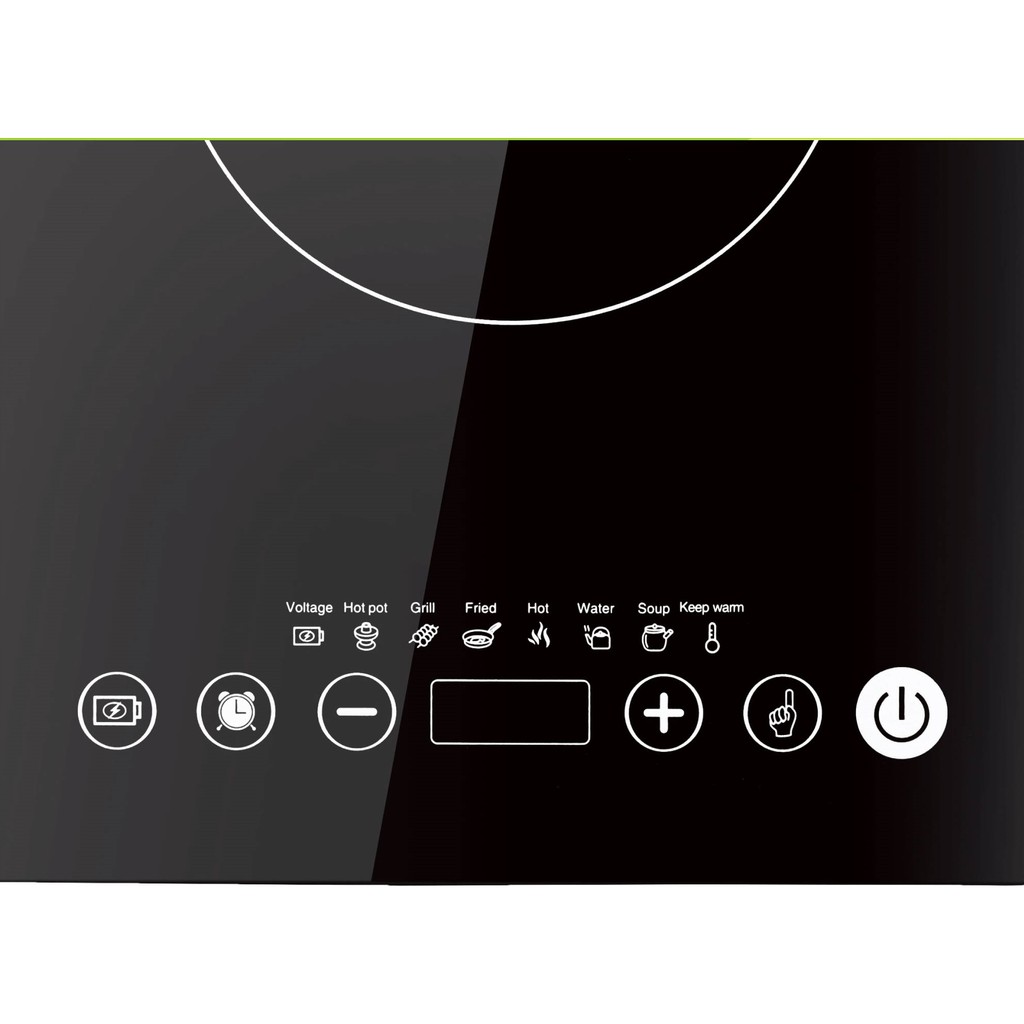 If versatility is what you seek, look no further than the Khind Infrared Cooker IRC2000. This cooker offers the best of both worlds: the speed and efficiency of induction cooking combined with the traditional charm of a glass plate. The IRC2000's multiple cooking functions allow you to cook multiple dishes using one appliance, making it ideal for larger families or those who love hosting dinner parties. With its user-friendly touchscreen interface and durable construction, the Khind IRC2000 is a reliable choice for all your culinary adventures. And its multi-level safety features make this appliance safe to use in houses with children.
The key features of this Infrared Cooker are described below:
6 functions in one appliance: Hot Pot, Grill, Fried, Water, Soup, Keep Warm
Toughened black crystalline glass plate
Touch screen control
Auto switch off protection
Electromagnetic radiation
Overheating protection device
Boil-dry protection
Easy to clean
Usable pot: clay pot, ceramic, glass, copper, cast iron, stainless steel, normal steel, aluminum non-stick
Free BBQ stainless grills top
8. Mistral Ceramic Cooker: MCC317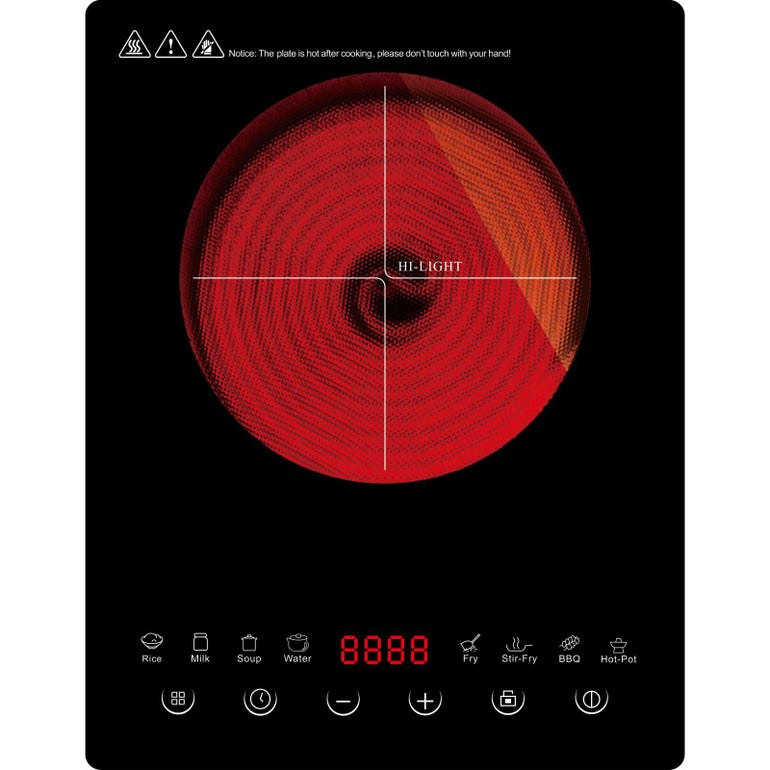 Experience culinary perfection with the Mayer Mistral MCC317 Ceramic Cooker. This cooker boasts a smooth and scratch-resistant ceramic plate that not only ensures even heat distribution but also adds a touch of elegance to your kitchen. With its wide temperature range, 8 intelligent cooking functions, easy-to-use controls, and a timer function, the MCC317 empowers you to experiment with a variety of cooking techniques. Whether you're simmering a fragrant curry or stir-frying vegetables, this cooker delivers exceptional results every time.
The important features of this induction cooker are listed here:
Digital display
Safety child lock function
4 hours timer
24-hour preset functions
8 intelligent cooking functions
Without radiation
85% high efficiency
Overheating protection
9. Gaabor Induction Cooker: GI-M22A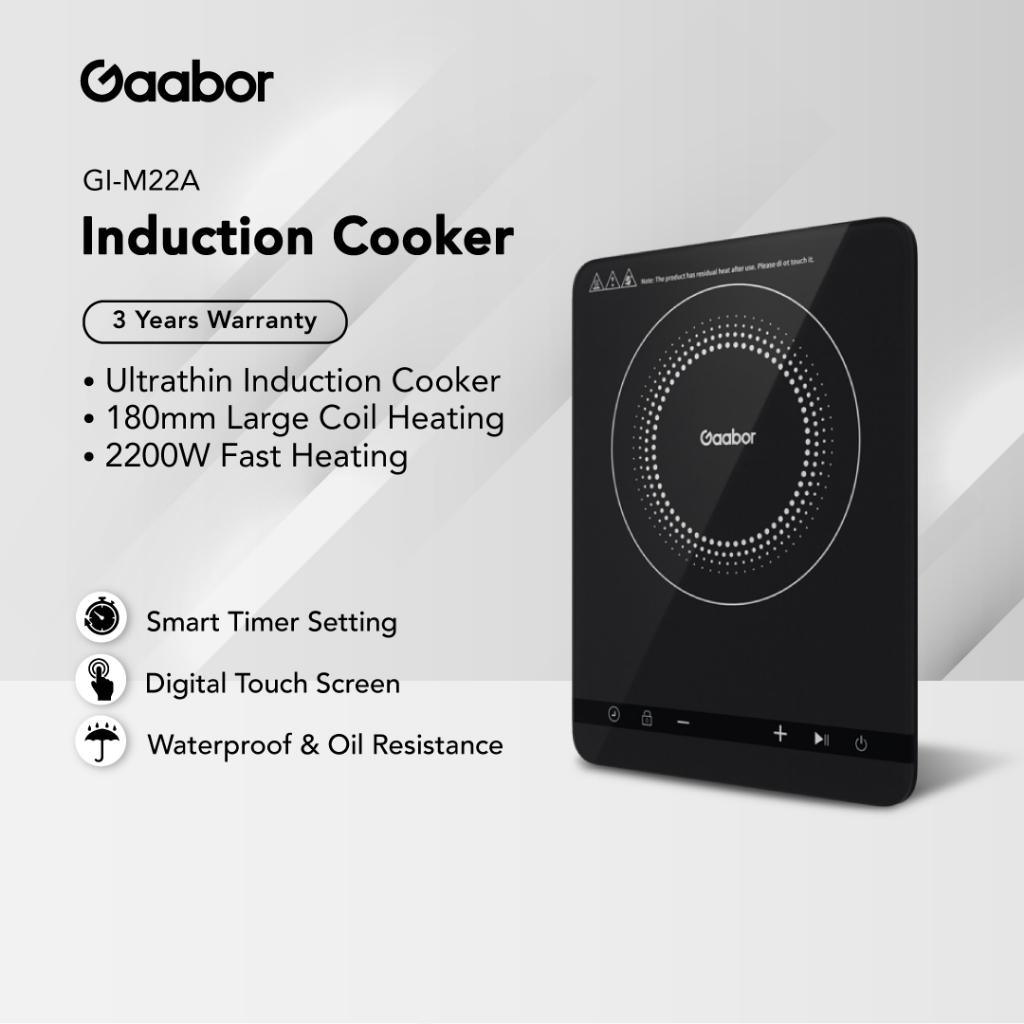 The Gaabor GI-M22A Induction Cooker beautifully combines aesthetics and functionality. With its sleek and modern design, this cooker adds a touch of sophistication to any kitchen. The GI-M22A's powerful induction technology and 2200W of high power ensure quick and efficient cooking. Its user-friendly display and smart touchscreen control panel make operation a breeze. Safety features like overheating protection and a smart child lock further enhance its appeal. Most of all, the lightweight body of this induction cooker makes it easy to store.
Elevate your cooking game with the following features of this cooker:
2200W rapid heating
Smart touch screen
Multi level temperature control
Easy-to-read digital display
Smart timer setting
Industry food-grade solid
Durable tempered glass
Waterproof and oil resistant
Smart safety child lock
Smart cooking memory reservation
Lightweight body for easy storage
10. Electrova ecoTouch Series Ultra-Thin Induction Cooker: ET-IC01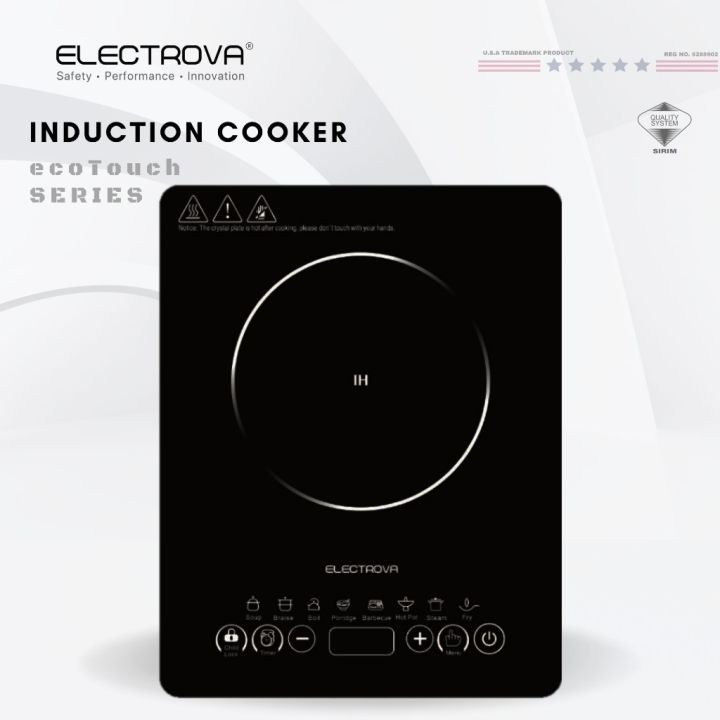 Step into the future with the Electrova ecoTouch Series Ultra-Thin Induction Cooker. This cutting-edge cooker features an ultra-thin profile and a minimalist design that will make any tech enthusiast swoon. Equipped with touch-sensitive controls, precise temperature adjustment, and a timer button, the ecoTouch Series offers a seamless cooking experience. Its energy-efficient operation and rapid heating capabilities make it an eco-friendly choice that doesn't compromise on performance.
The features that make this induction cooker different from others are:
A+ grade black crystal glass surface
Touch sensor
8 presets menu
Various cookware size
Child lock
Precise temperature adjustment
Timer function
Overheating protection
11. PerySmith Induction Cooker EasyCooking Series: PS2310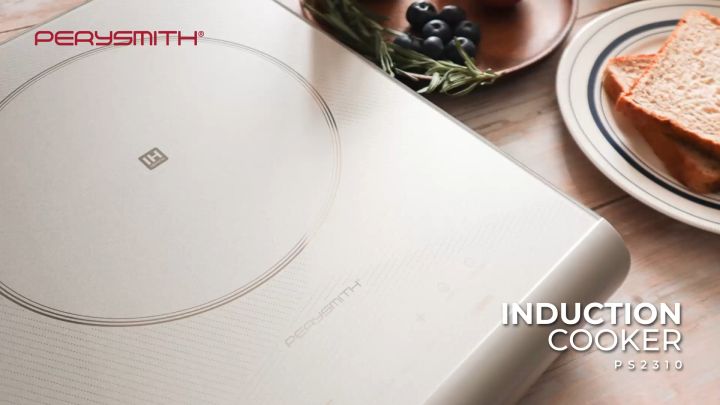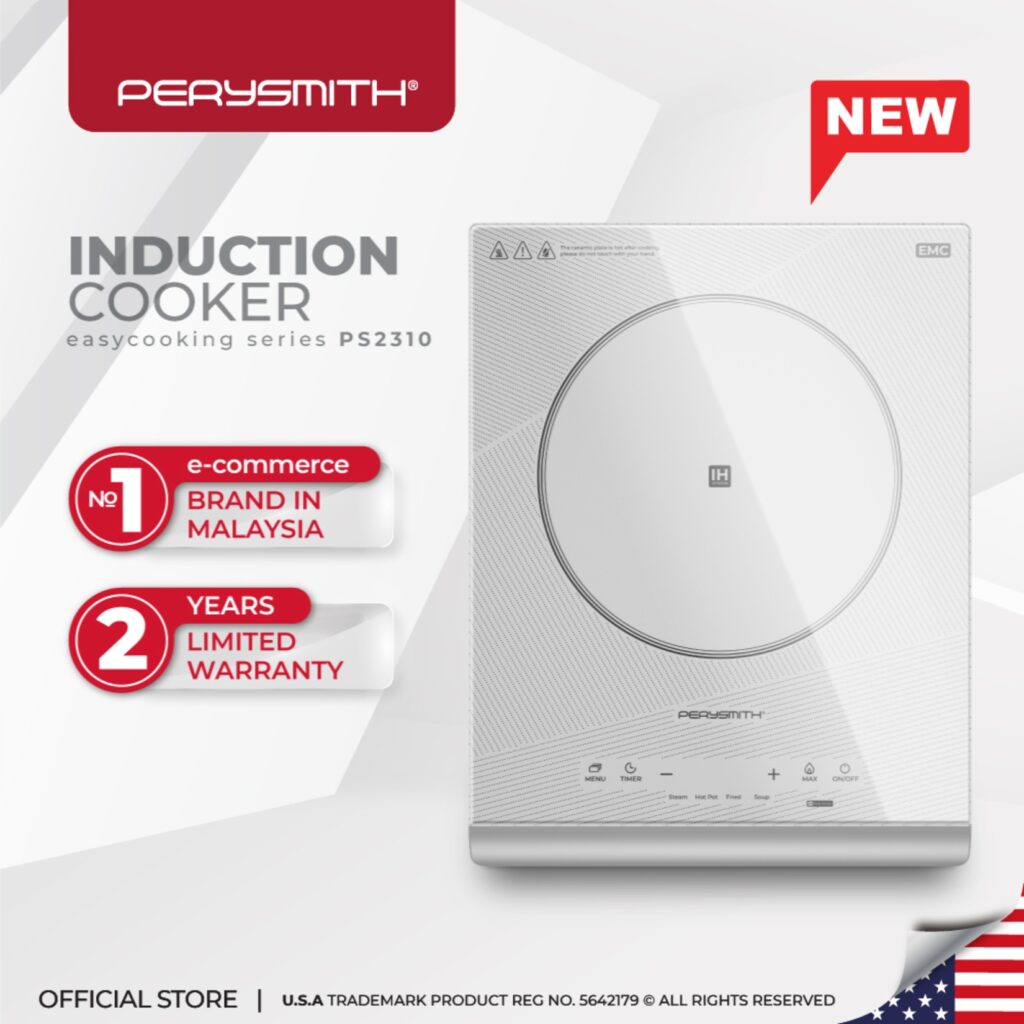 For those seeking convenience without sacrificing functionality, the PerySmith Induction Cooker EasyCooking Series PS2310 is a perfect match. This cooker prioritises ease of use with its intuitive controls and preset cooking menus, making it an excellent choice for beginners or those with a busy lifestyle. It has an innovative IH heat sensor to monitor cooking temperatures accurately. It prevents overheating by detecting the ideal temperature, ensuring consistent and high-quality cooking every time. The PS2310's compact size and portable design make it ideal for small spaces or outdoor cooking adventures.
Don't let its simplicity fool you—the PerySmith EasyCooking Series packs a punch when it comes to performance. The following are its amazing features:
Innovated IH heat sensor
Ultra-strong NEG crystal glass panel
Smart built-in touch-sensitive sensor
Easy-to-use operational panel
4 advanced preset menus
Portable and Slim design
High-powered 2100W dual-layer coil system
Enhanced electromagnetic compatibility
12. Pensonic Woodgrain Design Induction Cooker: PEN-PIC2007X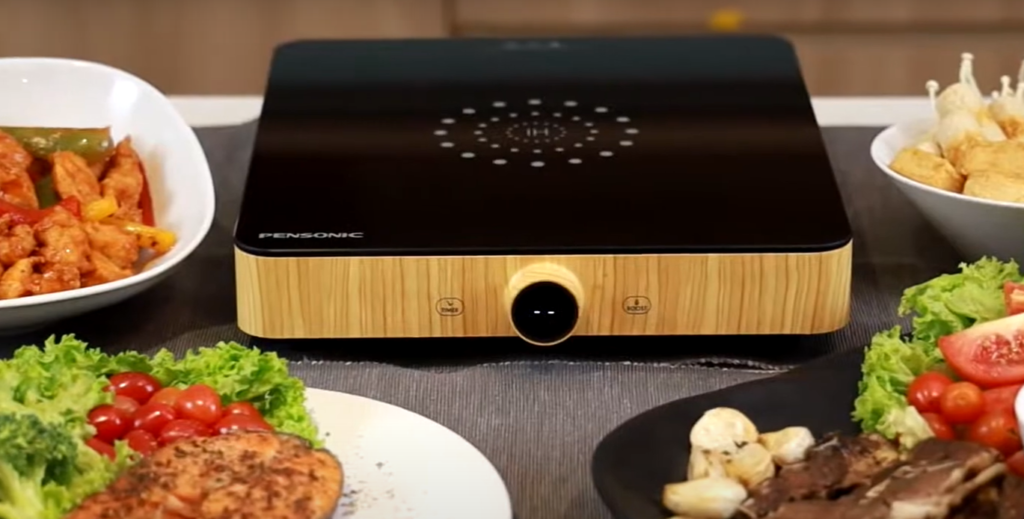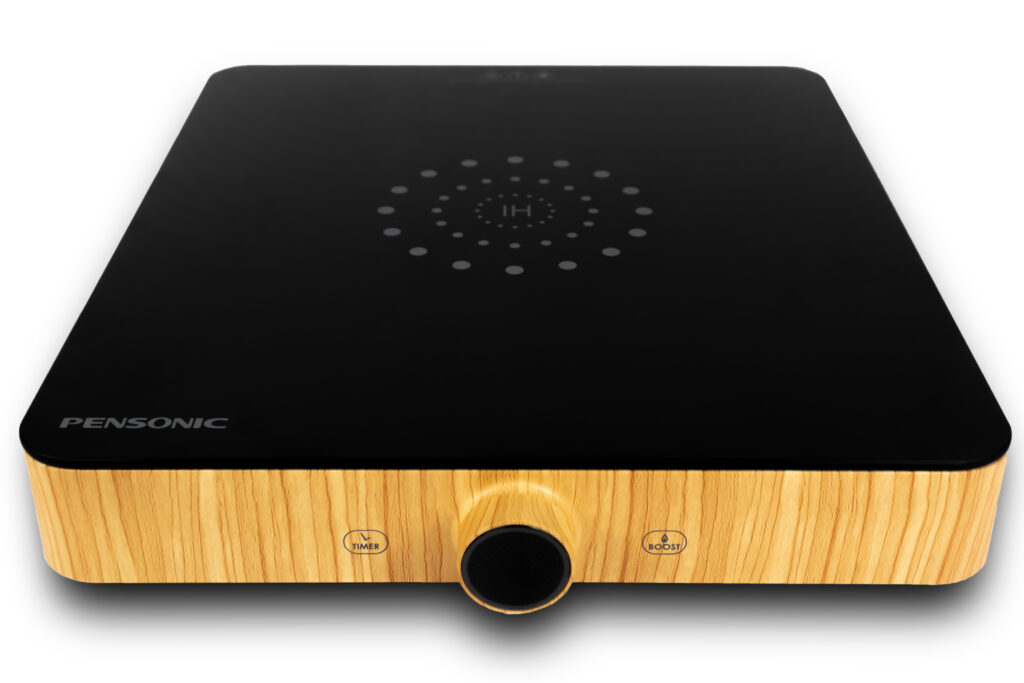 The last product on our list is the Pensonic Woodgrain Design Induction Cooker PEN-PIC2007X. This cooker stands out with its unique woodgrain design, adding a touch of warmth and elegance to your kitchen. Beyond its aesthetics, the PEN-PIC2007X delivers exceptional cooking performance with its powerful induction technology and multiple levels of power and temperature selection. Its digital LED display, touch and rotary knob controls, and easy-to-clean surface make it a practical choice for busy households.
The Pensonic Woodgrain Design Induction Cooker combines style and functionality, making it a standout option for those who appreciate the finer details. Below are its important features:
Touch and rotary knob control
Digital LED display
10 levels of power selections
10 levels of temperature selections
A grade black polished crystal plate
High/ low heating protection
High/ low voltage protection
99 minutes timer setting
Pure copper coil
Germany Siemens technology IGBT
Conclusion
The world of induction cookers in Malaysia offers a plethora of options to suit every home chef's needs. From sleek designs to advanced features, these cookers bring efficiency, precision, and safety to your cooking experience. Whether you prioritise space-saving solutions, cutting-edge technology, or budget-friendly options, there's an induction cooker on our list that will ignite your culinary passion. So, say goodbye to long waiting times and hello to the best induction cookers in Malaysia that will transform your kitchen into a culinary haven!
Read also: Best of Home Appliances Series