Are you sick of sitting in the same chair all the time and becoming fatigued when playing games? You may be looking for the best gaming chairs so you can kick back while gaming. If you're having trouble choosing a gaming chair from the numerous options available, don't worry! We've got your back.
Some aspects which must be kept in mind when choosing the best gaming chair are customizability, comfort, ergonomics, and reclining capacity. Of course, design and aesthetics matter too. But, if all you need is a comfortable chair to sit in during extended gaming sessions, these things don't matter as much. Gaming enthusiasts may compromise on aesthetics, but not on reliability.
We tested a number of gaming chairs by playing games for hours while seated in them. Of these, we've chosen the best gaming chairs that strike the perfect combination of comfort and style. Our list of the best gaming chairs has a full range of features, from mid-range to pricey ones, and from basic to stylish ones. If you've already decided to invest in a gaming chair, it's better to save some money ahead. You will probably get additional features if you are willing to spend more money.
Here are the 10 best gaming chairs in Malaysia that promise to level up your gaming experience:
1. Razer Iskur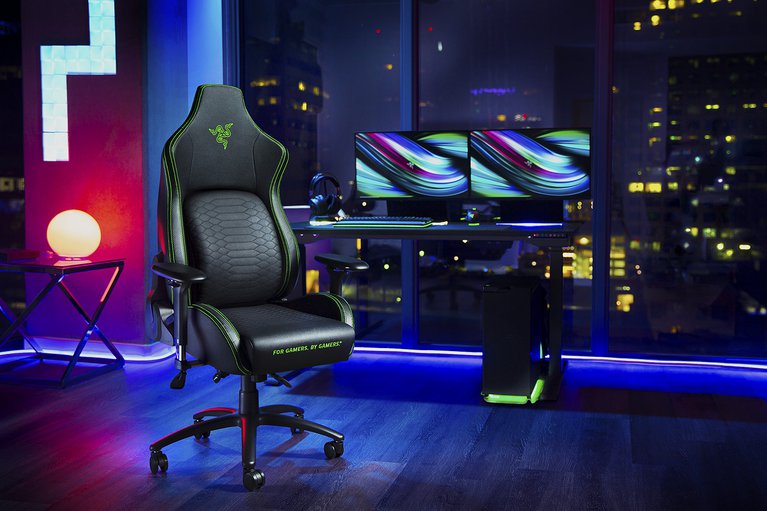 There isn't a gamer living today who doesn't recognise Razer's triple-headed snake trademark. The company is owned by professional gamers who provide gaming gear and software. It has long been a global leader in the gaming business.
You can find amazing gaming chairs in Razer's lifestyle items category. Of these, the Razer Iskur gaming chair is an award-winning chair from Razer. The ergonomic design of the chair makes it perfect for professionals who remain all day long in front of their computers.
Key Features
An integrated and adjustable lumbar support system
Denser cushioning
Ergonomic design
Improves posture
Reduces fatigue and muscular strain
Recliner: stable and supportive even when reclining
4D armrests and a head cushion
Two types of seat materials: synthetic leather and fabric
Available in 12 innovative designs with different colour schemes
2. Secretlab TITAN Evo 2022 Series
Secretlab is the most widely used brand of gaming chairs worldwide. It is trusted by gaming enthusiasts and office workers in different countries all over the world. Since 2015, it has started producing gaming chairs in Malaysia.
The Secretlab Titan Evo 2022 gaming chair is one of its kind. Based on advanced ergonomics, it is designed to provide the utmost comfort. The design of the chair is backed by adequate research to provide greater durability.
Key Features
Ergonomic design
Head pillow with cooling gel to regulate the temperature
Customizable
A lumbar support system that can move up and down, in and out
4-directional armrests
Available in three sizes and a wide range of colours
The largest size can bear as much as 180 kg of weight
Steel frame and aluminium alloy wheelbase
Available in three upholstery materials:  hybrid leatherette, fabric, and NAPA leather
Visit them via:
Website | Facebook | Instagram
3. Tomaz Blaze X Pro
Tomaz deals with the manufacturing and selling of shoes, bags, furniture, and gaming chairs. Although its gaming chairs are not as popular as Razer or Secretlab, they are quite affordable.
The Tomaz Blaze X Pro gaming chair is specially designed for hardcore gamers. This recliner features a large VR racing bucket seat.
Key Features
Backrest with a head pillow
2D Padded armrest and lumbar support
Ergonomic and adjustable
Recliner: can be turned from 90 to 160 degrees
The footrest is rotatable and retractable
Cold-cure upholstery to regulate temperature
A strong metal base and castor wheels
Heavy duty: can bear as much as 150 kg of weight
Affordable Price
4. IKEA: MATCHSPEL
IKEA is a well-known retailer of furniture for homes. It sells a wide range of goods across the globe, from furniture to kitchen appliances to work-from-home appliances. IKEA presently has hundreds of locations worldwide, including Malaysia.
The "desk chairs" section of IKEA contains some high-end gaming chairs. The MATCHSPEL gaming chair is our top choice among these. It boasts a meshy structure that is the ideal fusion of comfort and style. It allows you to sit in it for hours comfortably during extended gaming or work sessions.
Key Features
Meshy material for neck support and back
Light in weight
Breathable and suitable for rigorous gaming sessions
Armrest, chair height, back, headrest, and neck support can be adjusted to fit one's body
Back tilt with a lock: you can rest as you play
Plushy seat with polyurethane foam
Leather-like upholstery: easy to wipe
Durable with steel and plywood frame
Visit them via:
Website | Facebook | Instagram
5. TTRacing Maxx
TTRacing is exclusively a gaming chair manufacturing company. In the Malaysian, Singaporean, and Philippine gaming chair markets, it is renowned for its effectiveness and productivity.
TTRacing is committed to producing ergonomic chairs of the finest quality possible. TTRacing Maxx is our top pick among their gaming chairs. It provides gamers with a comfortable and healthy sitting space.
Key Features
Multi-tilt recliner with a maximum of 155° of full recline
Spacious seat made of faux leather
Cold cure foam to dissipate heat
4-directional and adjustable armrest
A plush lumbar pillow
Powerful hydraulics that can support a large weight
Sturdy aluminium body for greater durability
Rust and corrosion-resistant wheelbase
Visit them via:
Website | Facebook | Instagram
6. GT Gamez PANTHER
Kitchenz is the flagship brand of a production chain called SPF Home Deco Sdn.Bhd. These furniture suppliers, who were established in 2015, concentrate on architectural furniture designs that are accessible at low costs.
The GT Gamez PANTHER gaming chair from Kitchenz is one of our favourite pieces of furniture. It functions as a gaming chair as well as an office chair. The chair's ergonomic design allows customers to sit in it all day long without compromising their health.
Key Features
Moulded stereotypical foam
PU leather sheet which is easy to clean
Comfortable seat
Height adjustable
High backrest to support the sitter's spine
Soft and comfy seat
Recliner with a lean-back lock
Leg rest to allow the user to lie down in between gaming sessions
External supports: headrest and a lumbar pillow
Noiseless and rotating castor wheels
Visit them via:
Website | Facebook | Instagram
7. Gaming Freak's Naga Throne
Gaming Freak is a line of gaming peripherals that offers high-end gaming gear to players. All of the gaming chairs by this brand are loved by "gaming freaks."
The Naga Throne gaming chair is exactly as its name shows. It is exactly like a throne embellishing your battle station. It is available in a single elegant design and colour combination. The chair is highly customizable according to a gamer's needs.
Key Features
An adjustable armrest
Leg rest to provide comfort while lying down
A backrest tilt of up to 165 degrees
Ergonomically engineered hardware
Super elegant design with red and black colour
A great blend of comfort and well-being
Offer greater mobility due to XL castor wheels
Can be easily moved from one room to another despite its large size
Premium quality PU upholstery
Supported by a class 4 gas lift
Can bear weight up to 150kg
Visit them via:
Website | Facebook | Instagram
8. MUSSO Aeolus Series
MUSSO is a manufacturer of gaming chairs in North America and Southeast Asia.
Established in 2017, the company specialises in the manufacturing and sales of ergonomic gaming chairs. All gaming chairs from this brand have received favourable reviews from professionals all over the world.
The MUSSO Aeolus Series consists of professional gaming chairs that are perfect for your battle station. These offer soft and comfortable seats, and their elegance is comparable to that of a throne. The chairs are designed to correct your sitting posture, remove strain from your legs during sitting, and enhance blood circulation in the lower body.
Key Features
Basic but graceful design
Seats covered in a breathable fabric
Ergonomic design
An adjustable backrest
Recliner
A free headrest lumbar pillow set that comes with each chair
2D armrest
Height adjustable seat
Single XL size with a wide seat cushion and a large seat
Weight capacity is up to 150 kg
Visit them via:
Website | Facebook | Instagram
9. Caliber R2C
Cooler Master is an innovative manufacturing company that focuses on building personalized PCs and computer peripherals. The goal of Cooler Master is to achieve thermal excellence in its hardware and technology.
Cooler Master brings some amazing gaming chairs, like the Caliber R2C, which is based on the company's COOL-IN Fabric Technology. Caliber R2C is 1-2°C cooler than every standard gaming chair out there. It is designed to maximize heat dissipation and prevent sweat accumulation during prolonged gaming sessions.
Key Features
Prevent heat and moisture accumulation
Dust repellency
Scratch resistance
Reclining ability
Ergonomic design
Hydraulic support
Heavy duty
Highly durable
Environment-friendly material
Visit them via:
Website | Facebook | Instagram
10. Predator by Acer
The only brand of its kind is Acer. This is a name that every tech enthusiast is familiar with. It is a hardware and electronics company that manufactures PCs, laptops, and other electronic equipment. Acer's gaming chairs are unmatched, just like its gaming laptops are.
The Predator is the latest design of a gaming chair by Acer. This recliner is made of cushions covered in PU leather. The chair is made to hug a gamer while reducing the strain on his/her body.
Key Features
Ergonomic design
A detachable headrest and lumbar support
The backrest is tiltable from 90° to 160° with a lock paddle
4D Armrests which adjust according to the height of the user
Super durable with sturdy material and a metal base
Class 3 100mm gas lift
Can support as much as 150 kg of weight
Visit them via:
Final Thoughts
From Razer Iskur to Acer's Predator, these 10 are our picks for the best gaming chairs in Malaysia. All of these chairs have an ergonomic design to provide you with long hours of comfort while gaming. Almost all of these are recliners, so you can lie down during a break. You can level up your gaming experience by bringing any of these chairs to your battle station.