Taiwan Expo 2023 recently took place at the Kuala Lumpur Convention Centre (KLCC) from 24 August to 26 August 2023. It is an eye-opening event that brought Taiwan's rich creativity and innovative spirit to Malaysia. The exceptional expo offers an integrated platform for the global marketing of Taiwan products with 170 companies and 220 booths to showcase their offerings. Taiwan Expo 2023 is jointly organised by the Bureau of Foreign Trade and TAITRA, Taiwan's foremost nonprofit trade-promoting organisation.
This exciting expo's opening ceremony is planned around the ascent of two majestic peaks – Jade Mountain, Taiwan's highest peak in Northeast Asia, and Mount Kinabalu, Malaysia's highest peak in Southeast Asia. By bringing together the two peaks, this expo serves as a testament to the harmonious collaboration between the two nations and symbolises the theme, "Together, Reach New Heights". During the opening ceremony, TAITRA Chairman James Huang and Malaysian hiker, Sasa held a discussion that captured the audience's attention. 20 Malaysian chambers of commerce and industry, including the National Chamber of Commerce and Industry Malaysia (NCCIM), the Federation of Malaysian Manufacturers (FMM), and the SME Association of Malaysia (SMEAM) were also in attendance to further cement the trade relationship between Taiwan and Malaysia.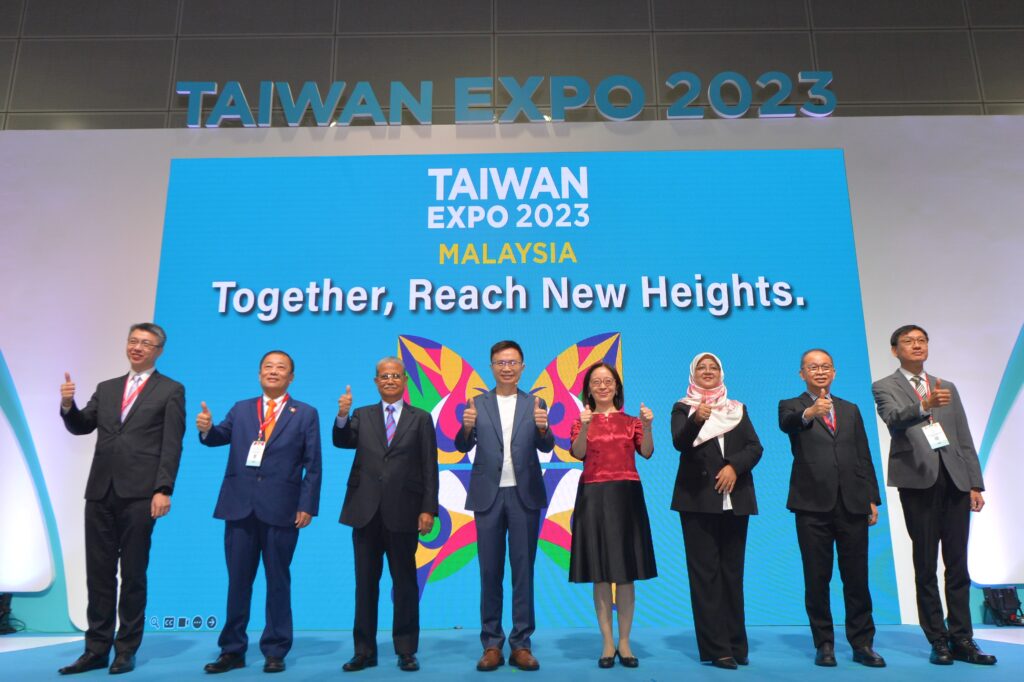 Taiwan Expo is now in its seventh consecutive year in Malaysia, signifying the strong partnership between Taiwan and Malaysia. During this expo, over 1,080 one-on-one business matchmaking sessions were arranged beforehand, with an estimated business opportunity value of 48 million USD. It is believed that Taiwan's expertise in utilising advanced technologies can help Malaysia to further develop Industry 4.0 locally and move towards net-zero carbon emissions.
Key Details about Taiwan Expo 2023
This year, the expo focuses on five key themes – Industry 4.0, Smart Medical, Halal, Circular Economy and Intelligent Lifestyle which encompasses a wide range of industries. There were also nine interesting pavilions available at the expo which consist of the Taiwan Excellence Pavilion, Digital Commerce Pavilion, Taiwan Healthcare Pavilion, Net Zero Pavilion, Technology Industrial Park, Taiwan Halal Pavilion, Taipei, Your Partner Pavilion, Taoyuan City Government and Taiwan Product Center. Moreover, visitors were able to explore five exhibit zones comprising ICT & Smart Solutions, Stylish Lifestyle, Agriculture & Food, Makeup & Skincare and Medical & Healthcare.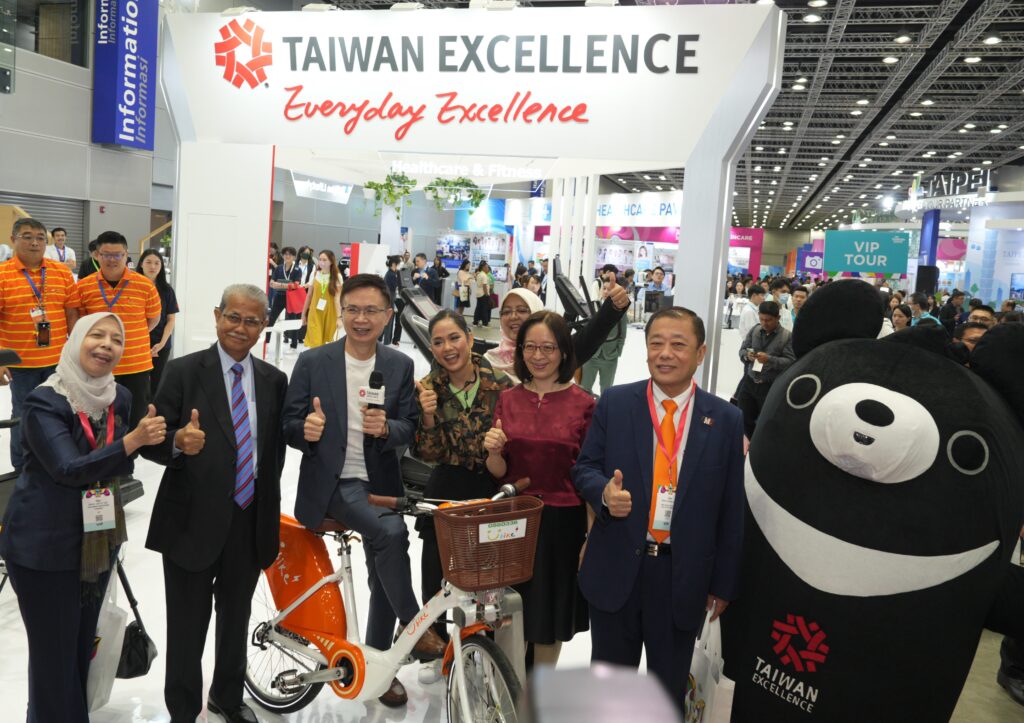 One of the notable product exhibitions by the Taiwan Excellence Pavilion is the Medical Grade PTZ Camera by AVer, which is designed to meet the demands of remote healthcare and precise medical applications. Another innovative product on display is the Industrial Gas Sensor by ICP DAS, which helps monitor carbon emissions in manufacturing or road transportation to reduce the carbon footprint of businesses.
In addition, the audience was impressed with the efficient heat-blocking films that fit electric buses and the world's only smart AI-enabled water quality sensor located at the Net Zero Pavilion, For consumers who were looking for smarter lifestyle choices, they were treated to the display of AcerPure, an air purification system that detects CO2 intelligently. The Intelligent Lifestyle category features JPP's electronic rearview system that's equipped with a comprehensive detection system.
Another outstanding exhibit is the Taiwan Healthcare Pavilion, which features the theme "Medical Aesthetics and Healthcare." Here, consumers were able to delve into 22 of Taiwan's most representative medical, aesthetic, and biotechnology healthcare companies that offer both inner and outer health and beauty products.
Opportunities for Halal Businesses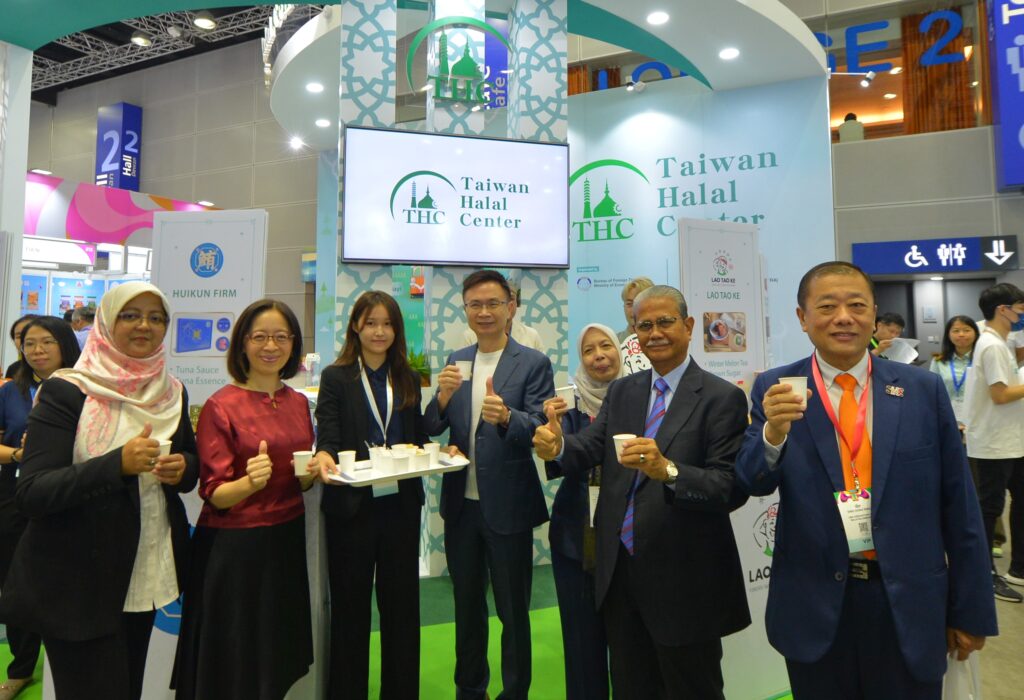 Since Malaysia has a major Muslim market, the Taiwan Halal Center helped foster business collaborations and promote cultural exchanges between the two nations, catering to the needs of the Muslim community and creating new opportunities for Halal businesses. A Taiwan Halal Food Festival was also held during the three-day exhibition by partnering with Malaysia's 7-Eleven retail outlets. On the last day of the event, the 2nd Taiwanese Halal Food Cooking Contest with participants from Universiti Malaysia Kelantan (UMK) and Universiti Putra Malaysia (UPM) competed to win the coveted championship title. Famous Malaysian chefs, Chef Jo and Chef Riz served as the judges.
During this time, TAITRA also signed a memorandum of understanding (MOU) to improve cross-border e-commerce collaboration with the Malaysian e-commerce platform Youbeli. In line with the themes, product launches, forums, business matchmaking events and seminars were organised to strengthen the exchange of ideas between the two countries. As the finale, the exhilarating Taiwan Excellence Zumba Fest was held to encourage Malaysians to get moving and dance their hearts out.
The Taiwan Expo 2023 took place from Thursday, August 24th to Saturday, August 26th at the Kuala Lumpur Convention Centre (KLCC) in Halls 1 and 2 from 10:00 AM to 6:00 PM.
For more information on other upcoming expos, you can visit the official Taiwan Expo website or follow their Facebook page
There's no doubt that Taiwan Expo 2023 at KLCC was not just an ordinary expo; it is a platform that celebrates Taiwan and Malaysia's shared values and aspirations. From the latest advancements in Industry 4.0 and Smart Medical to the promotion of Halal and the Circular Economy, Taiwan Expo 2023 is indeed a remarkable event that inspires innovation, fosters business collaborations and strengthens cultural ties.