This amazing, warm studio apartment is suitable for young couple or aspiring bachelor who are looking to explore a minimalist lifestyle.
Blended with earthy colour palette with emphasis on white and warm colours – be it walls or wooden elements – everything converges to deliver a warm and cosy environment for a simple, yet fulfilling lifestyle. 
The Concept: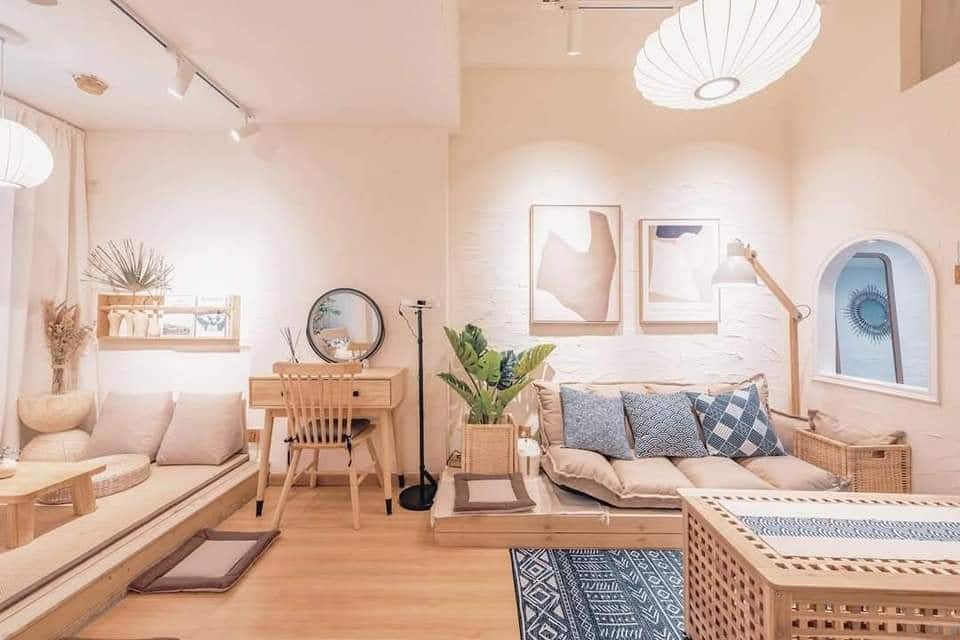 The abode is designed simple and yet extraordinary in overall layout and detailing. It delivers nicely all the required elements and spaces for a complete home.
The designers turn the disadvantages of limited space with the creative usage of every corner of the house to deliver an amazing living space for the occupants.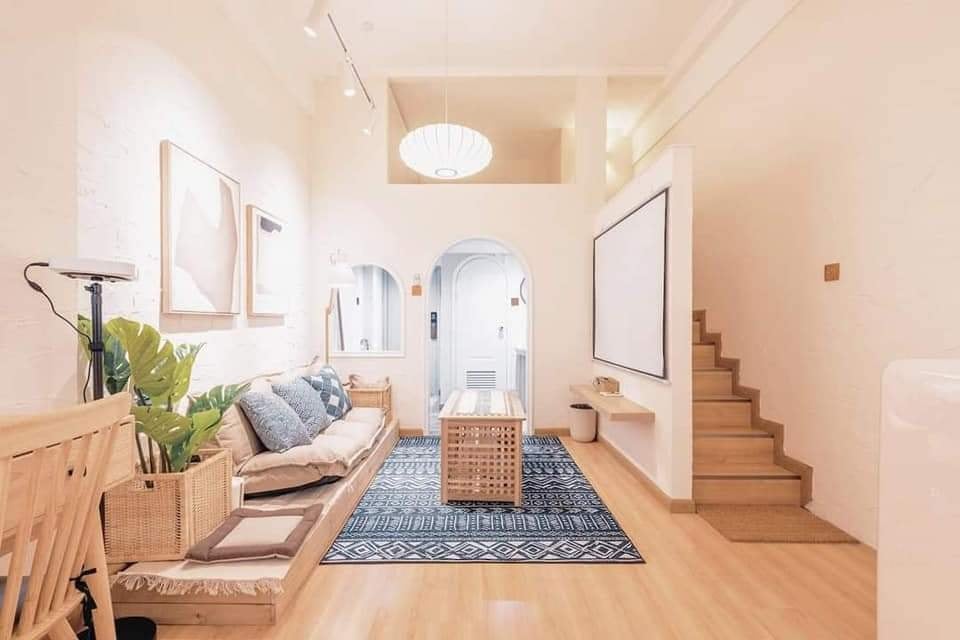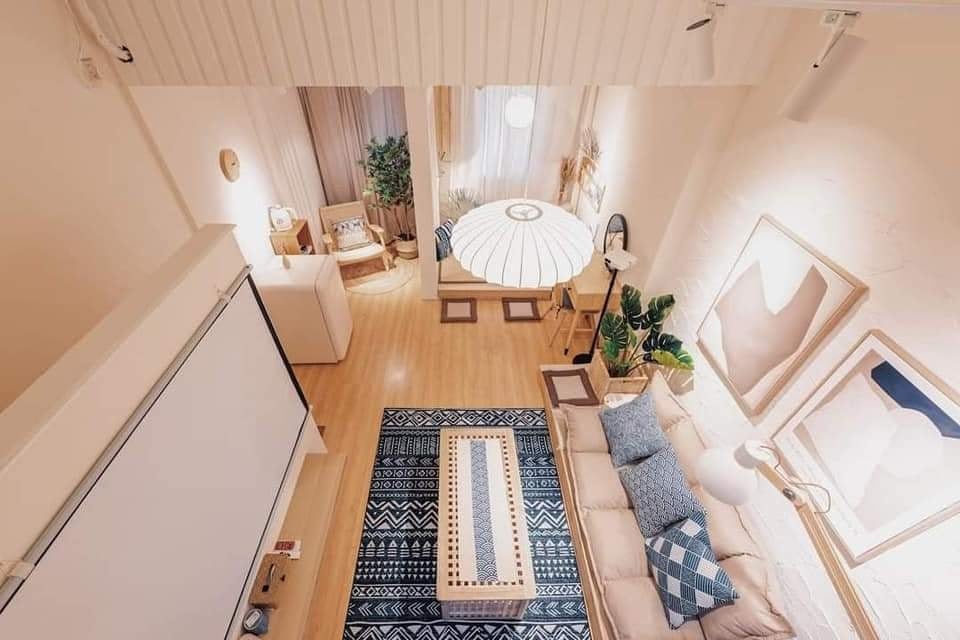 This cosy apartment welcomes you with spaces dedicated to multi-purpose activities. It has a comfy sofa bed with fluffy cushions and a cute coffee table.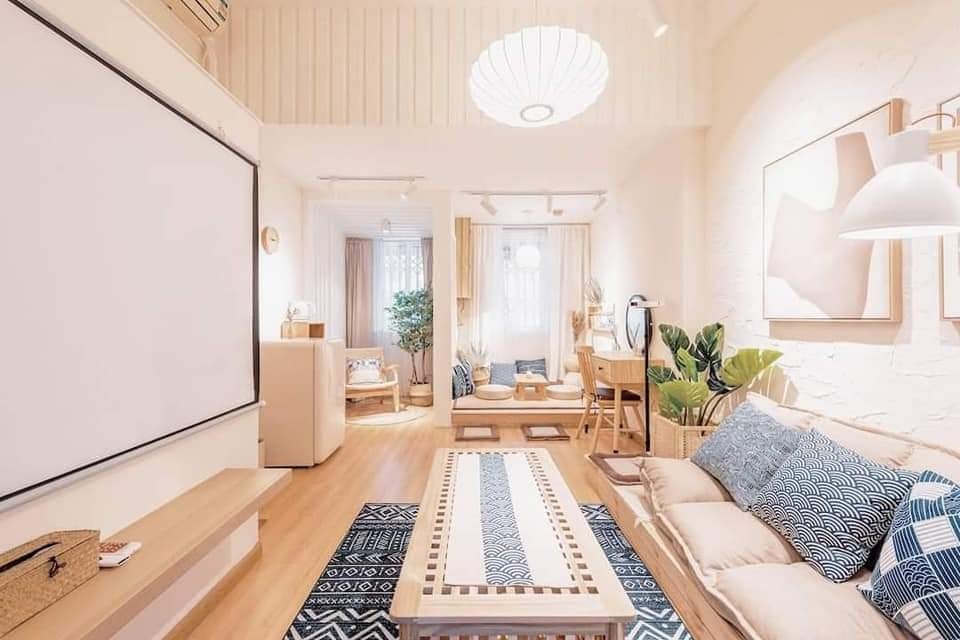 The golden touch is the big projector screen on the wall for a fantastic movie time or just binge-watching Netflix. This definitely save cost as you don't need to purchase a large TV to enjoy a cinema-like experience.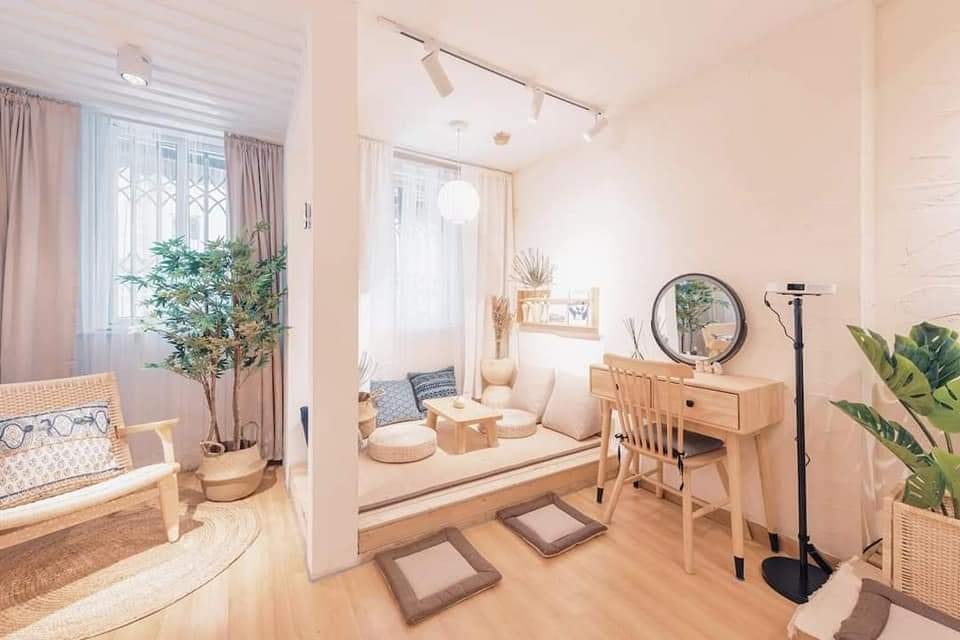 Parallel to the living room is a compact dressing table with a round mirror. The dressing table has two cupboards with sliding drawers to accommodate the necessary items that one needs.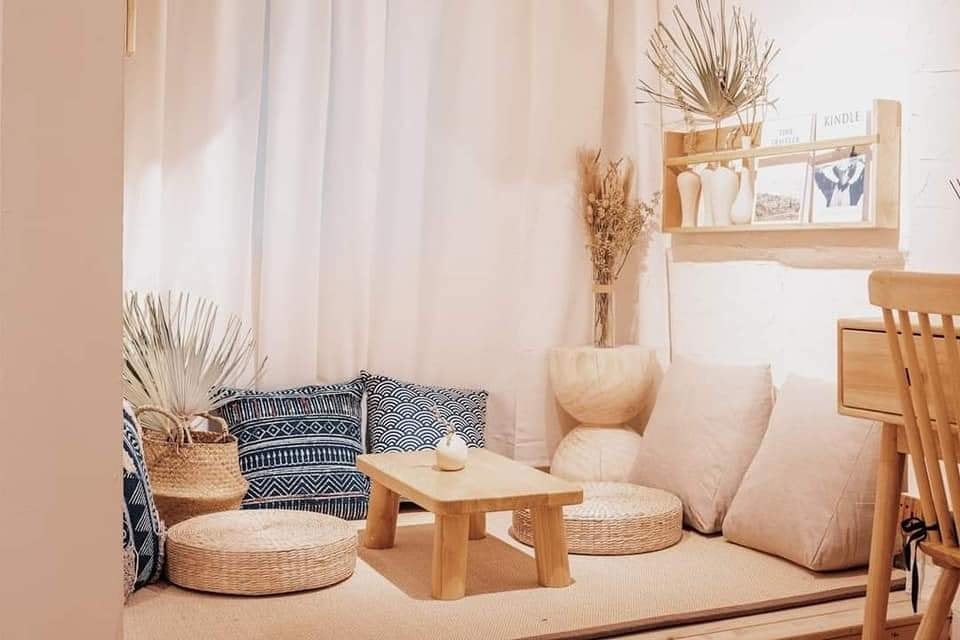 Next to it is another surprising space with a cushioned base and a wooden table on the top. The window seat area is best for two people enjoying a romantic tea-time or for a wonderful reading session.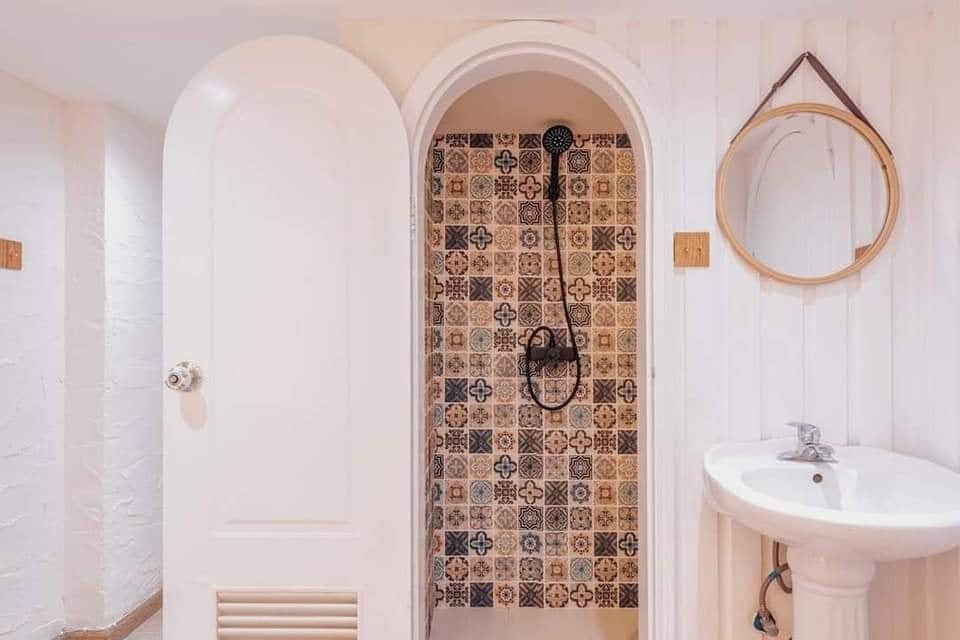 Moving ahead, the bathroom consists of multi-coloured tiles on the walls up to the ceiling and white floor tiles give a spacious and feel-good ambiance to the washing area.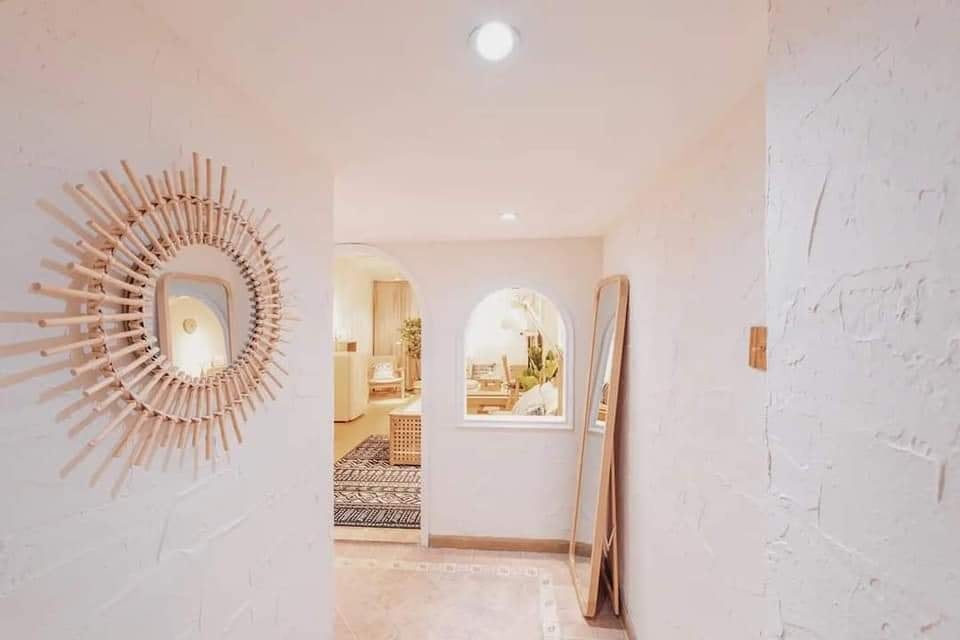 The small hallway up front is unique as it has a small mirror and a big full-size mirror for dressing up before heading out.
Besides, the textured walls elevate the feel of the home. It is one of the best spots for OOTD photographs which you can update in your social medias.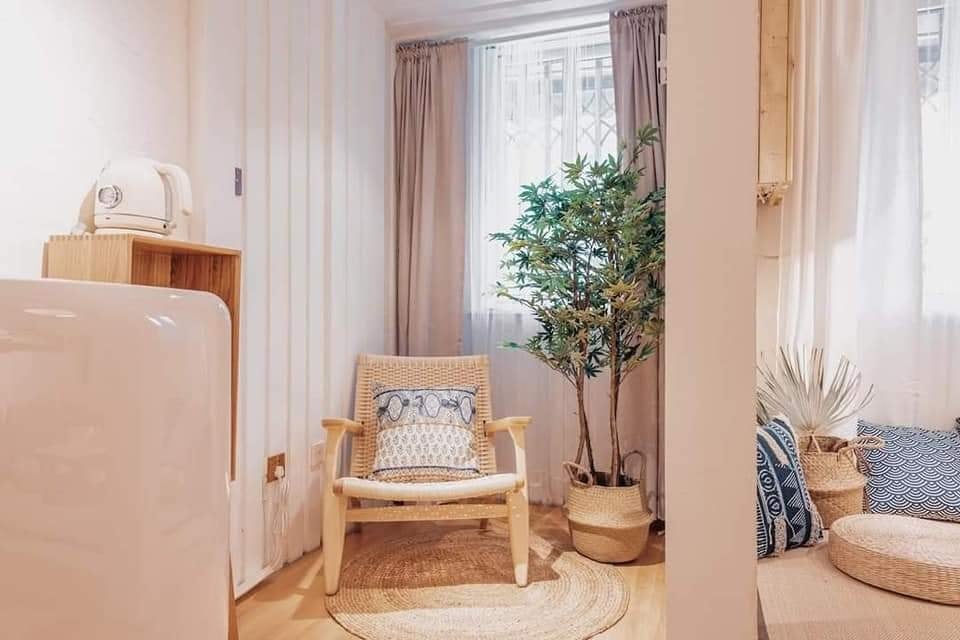 In addition, there is a tiny, serene space in the corner which is dedicated to me-time. With a window in the back and a plant beside it, the wooden jute chair with cushion is perfect for thinking and reflecting about life.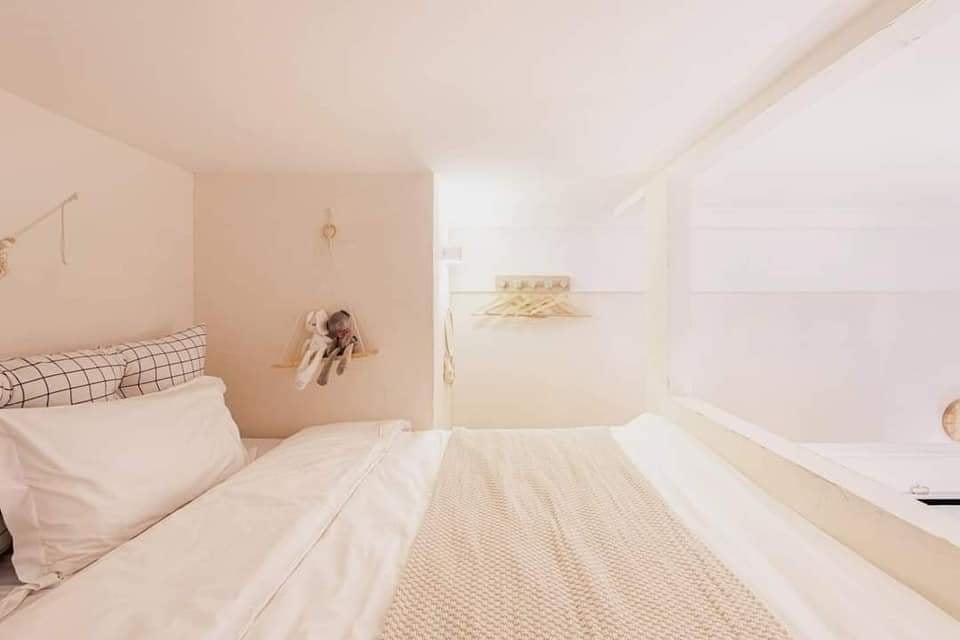 Lastly, the bedroom is a space that one can not overlook. It is a compact area which projects a sense of security and is designed for a sound sleep. 
With a comfy mattress and fluffy pillows, the bed certainly provides a peaceful time. After a tiring day, it is the best place to plunge in.
Overall, this studio apartment embeds the serene, simple lifestyle which ones crave living in. Although the space is limited, the designers make sure that the house can provided equally fulfilling living space with all the necessities inside.
Interested in more amazing house designs? Check out our collection of house design articles now.