When you first glance upon this house built keeping in mind the Muji philosophy, it seems inconspicuous.
It perfectly blends in with the context, with its cream walls and lean-to roof which features blank shingle roofing. When you enter the home, the magic of Muji unravels.
The Concept: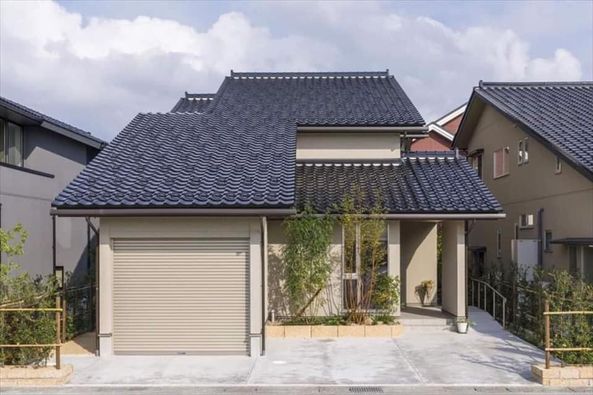 To free up space, and make optimal use of the limited buildable area available, the architects opted to go for an open floor plan on the ground floor, for the living area, dining, and kitchen.
These spaces flow into one another and are united in harmony by the yellow-hued brown wood flooring and the white walls and false ceiling.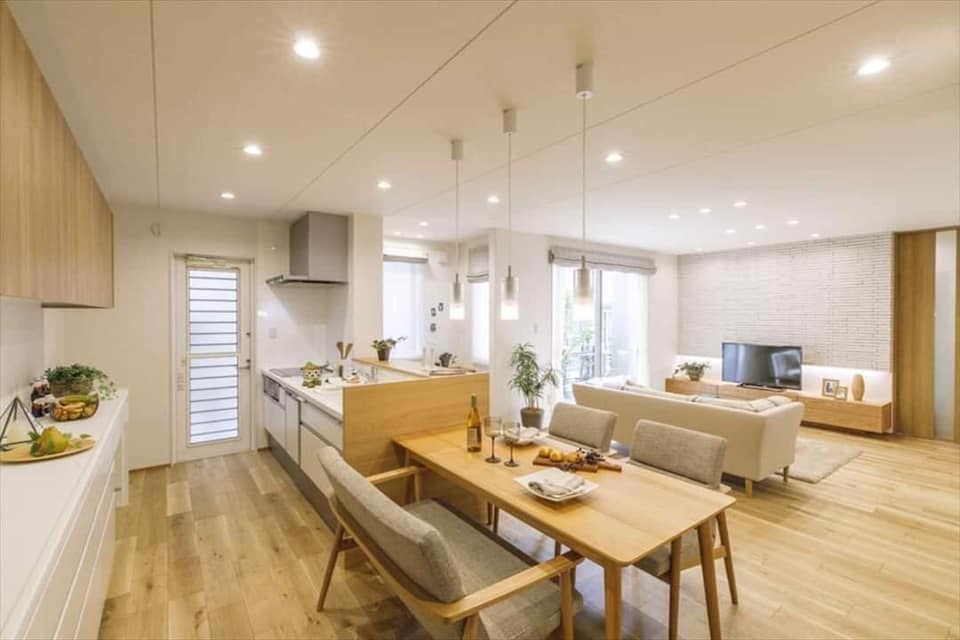 The brightly-lit living room offers a sense of peace, rejuvenation, and balance, with its white sofa, grey faux-fur carpet, and the fabric-textured wall behind the TV cabinet.
A wide sliding French door offers a serene view of the mini-garden beyond. Recessed ceiling lighting illuminates the space at night, akin to the stars.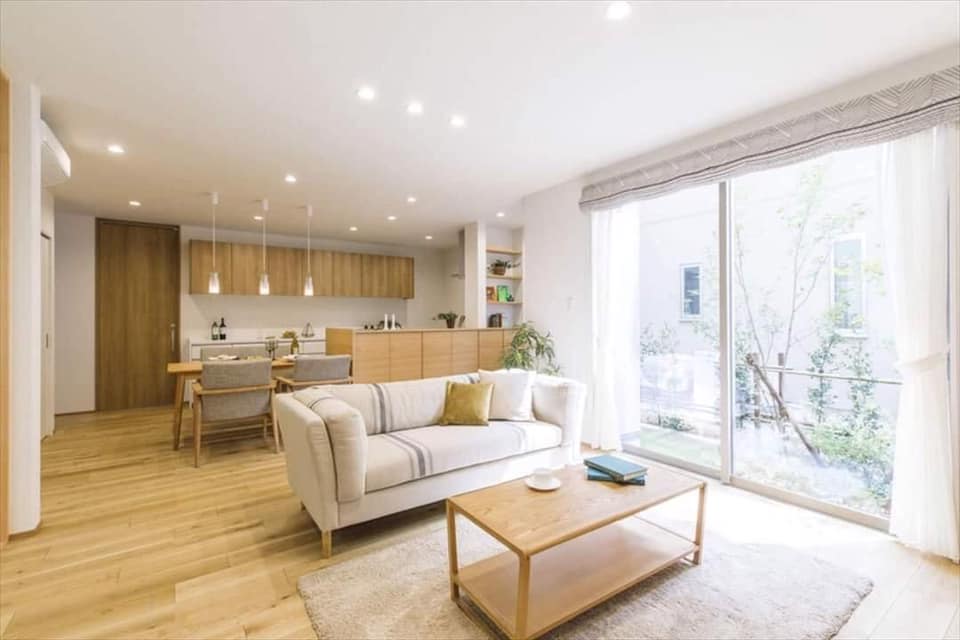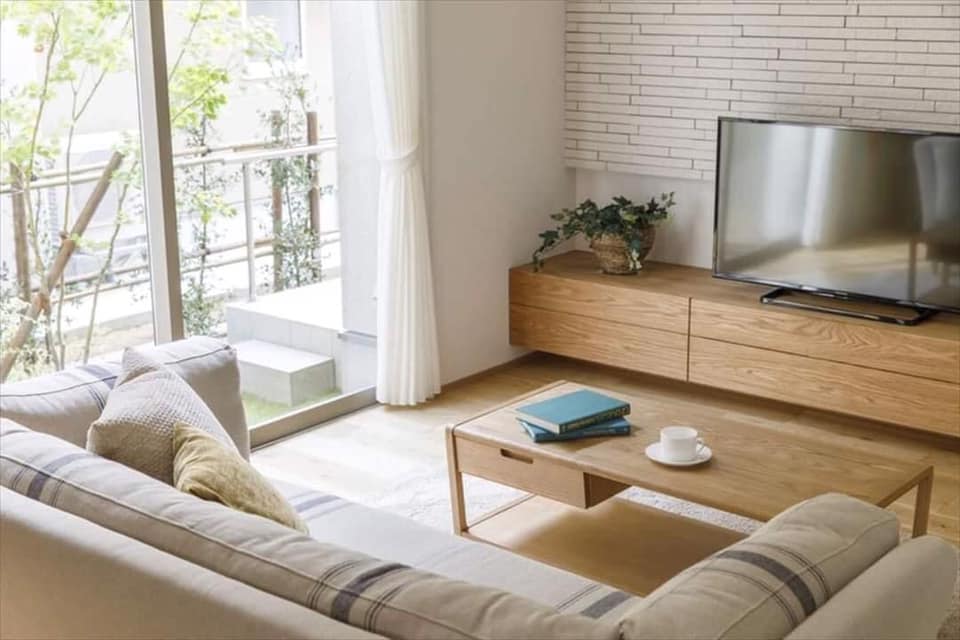 The kitchen and dining area perfectly capture the essence of Muji philosophy – making every inch in the home count.
The wooden breakfast counter doubles up as a storage space, and also makes for an amazing decor element with its sleek cabinetry joints. Adjacent to it is a four-seater dining set, with grey-cushions chairs.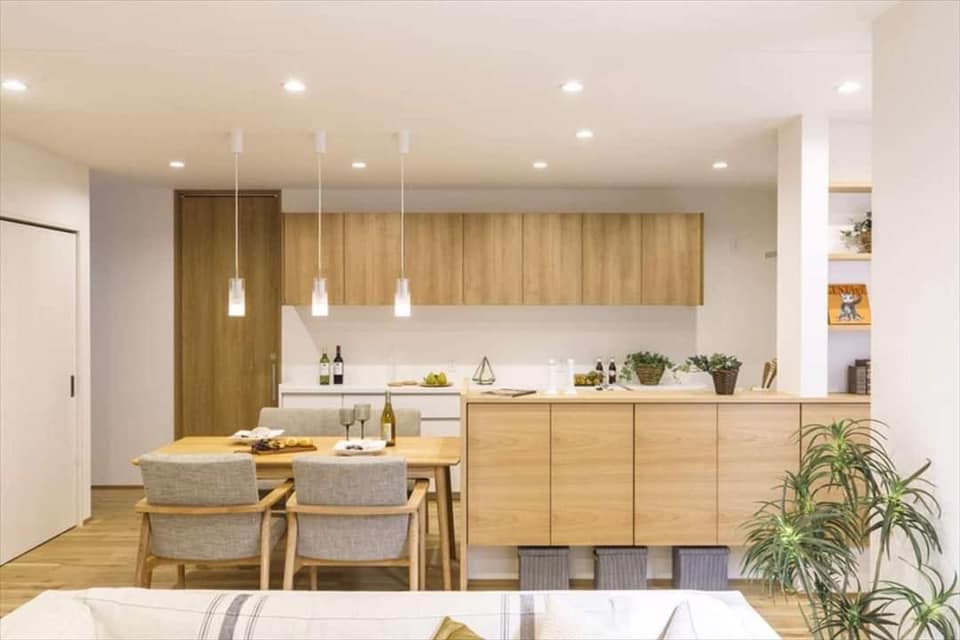 The kitchen is partly hidden behind a wall, to offer some privacy while cooking. Its all-white countertop, backsplash, and bottom cabinets are peppered with sleek silver finishes and wooden overhead cabinets.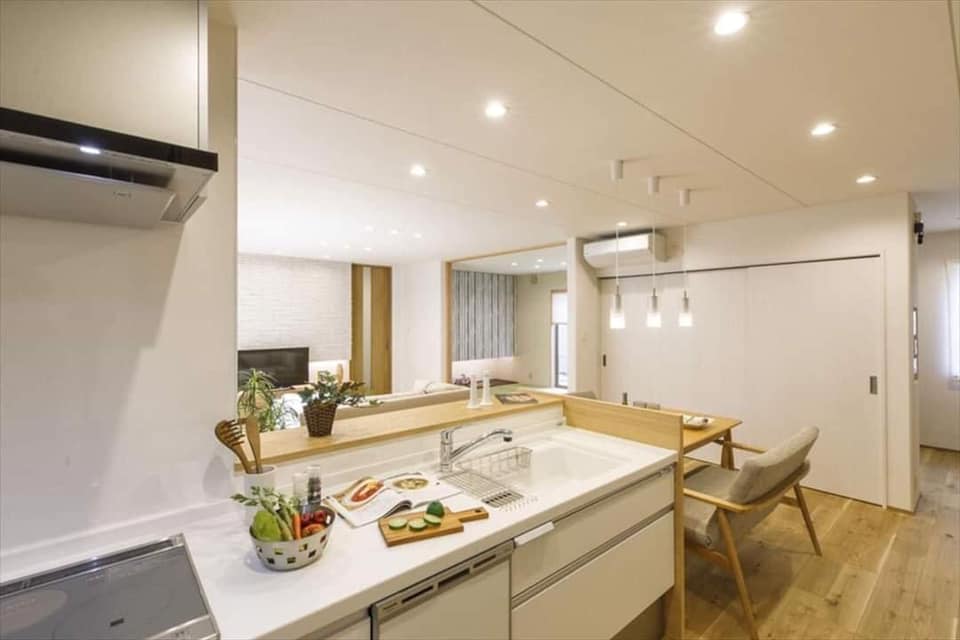 In between the kitchen and living room, is a comfy, private niche that serves as a study or work area. A wooden table extends out as a part of the breakfast counter, and a chair that matches the dining set completes the nook.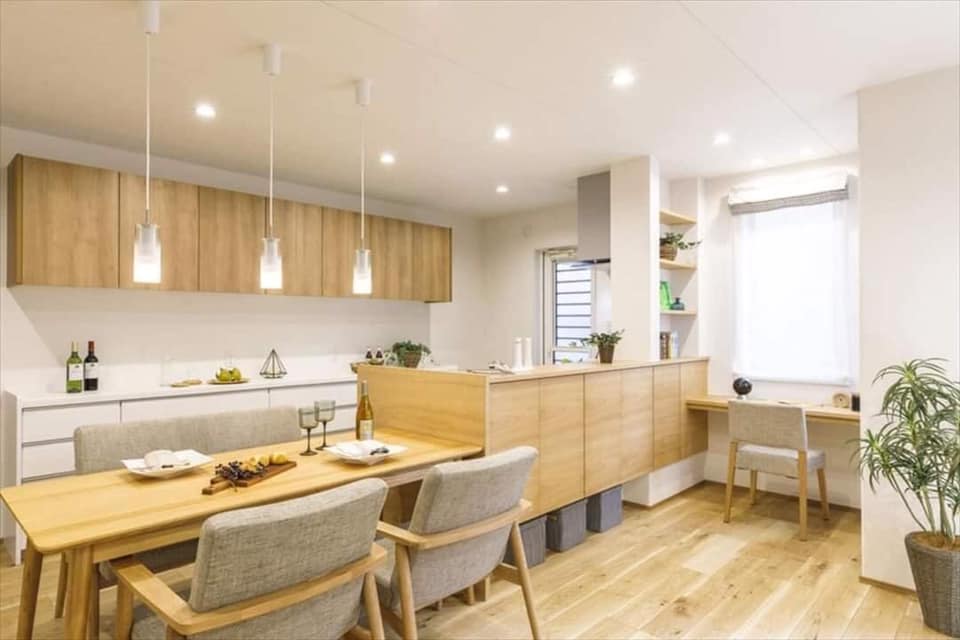 Ample storage space has been provided in the form of a walk-in pantry and utensil shelf, next to the dining area. It can also be cleverly concealed by opaque, white sliding doors that make it seem like just an ordinary blank wall.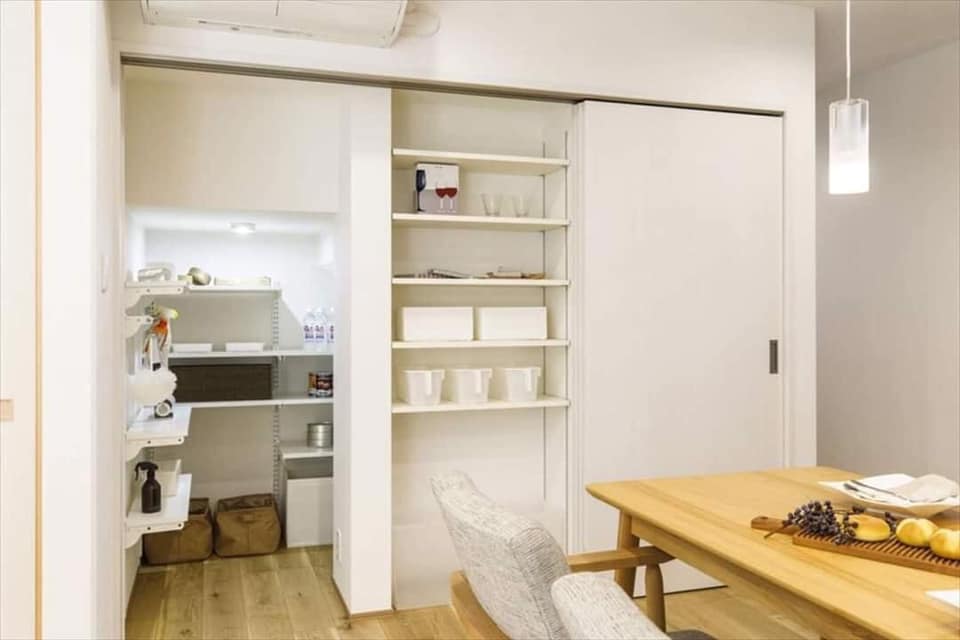 A muted timber staircase leads upstairs to the bedrooms, and its wide landing has also been retrofitted as a small storage space, with the help of white open shelves, and cardboard boxes to neatly stow things away.
The master bedroom has an inviting and peaceful ambiance that's accentuated with its soothing color scheme of white walls that are punctuated by a dark brown matte headboard, and wooden flooring. 
The earthy tones create a cozy and calm environment, that's perfect for relaxing in, after a stressful day. It opens out into a private balcony that has a few potted plants and a high pier wall, elevating into a cozy nook to read in.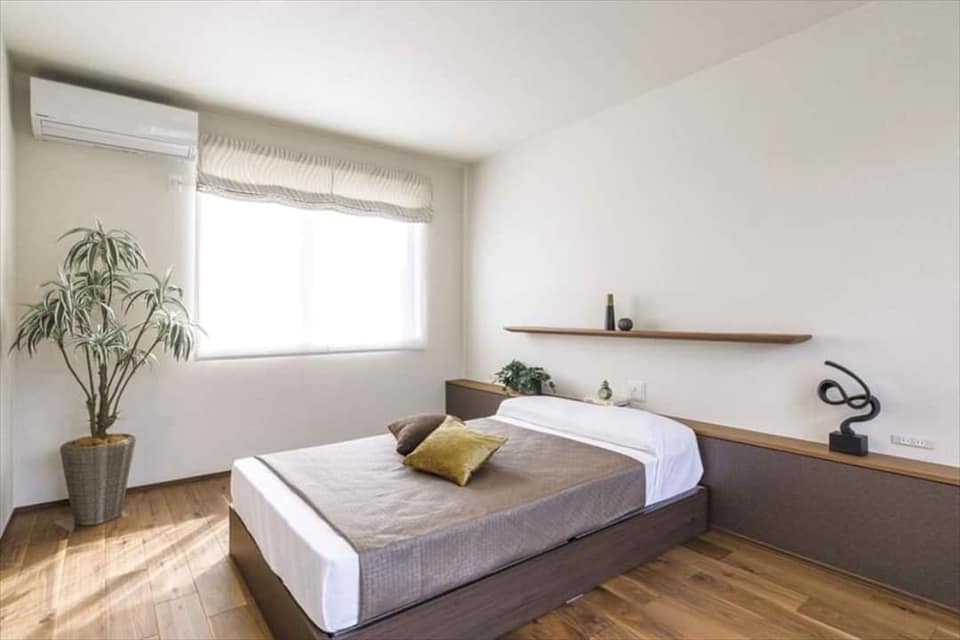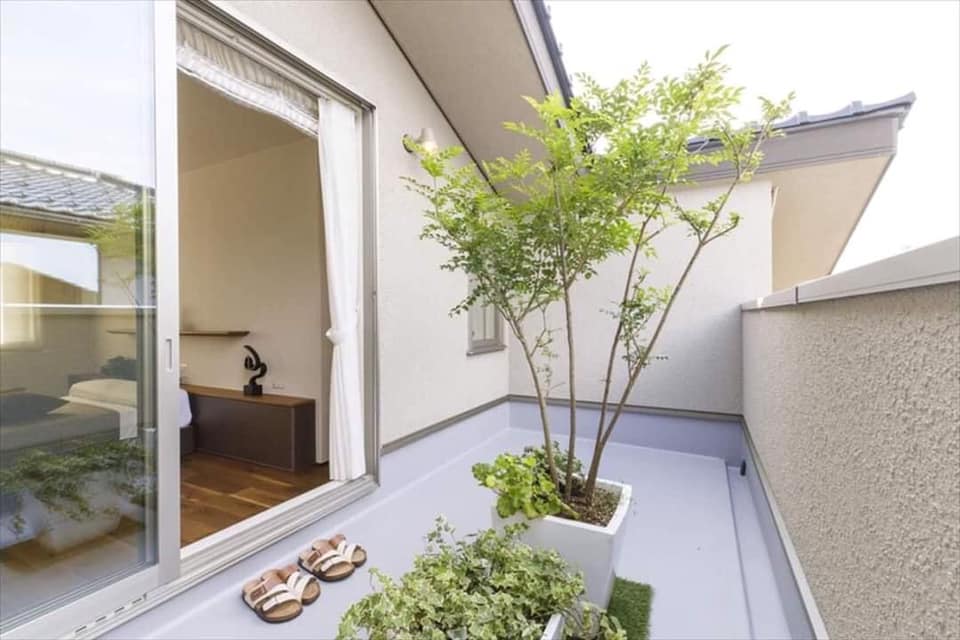 The bathrooms and walk-in closet have a white and cool gray palette that visually lightens the space and makes it pleasing to the eye. Here too, ample hidden storage has been incorporated, to make it functional.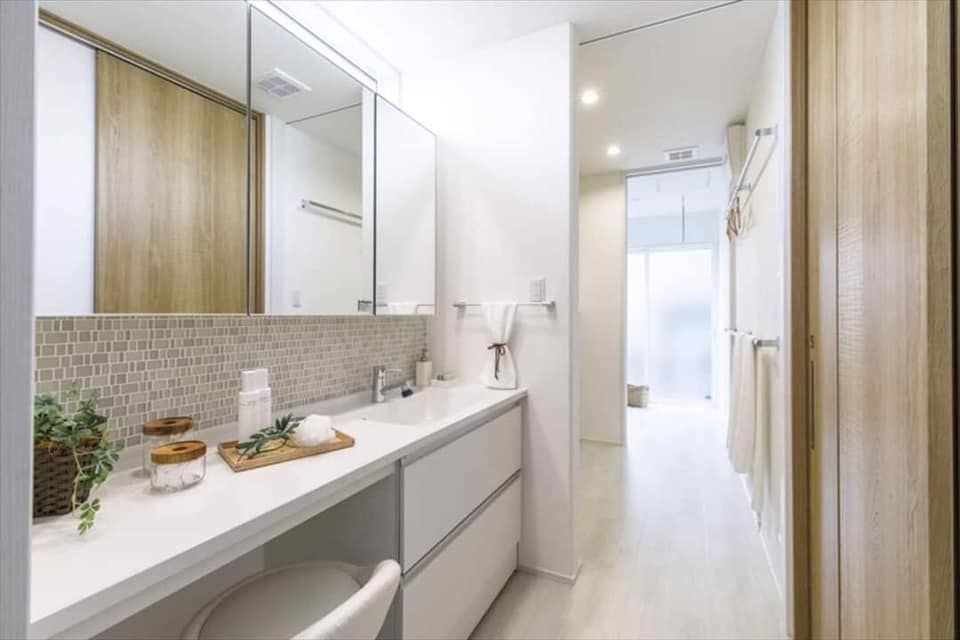 This Muji-inspired home compliments everyday living with its calm and soothing environment. Its well-designed, custom-made elements brilliantly optimise the home, making it functional and cozy.
Interested for more amazing house designs? Check out our collection of house design articles now.