It is always a much healthier and cheaper option to cook your own meals rather than going out to eat. But sometimes your tiny kitchen in your small apartment makes it rather hard for you to cook up a storm. Especially since you don't have an appropriate kitchen island to prep and put your ingredients. Don't panic though, there are lots of easy and stylish ways to utilise the space in your kitchen.
1. Kitchen Island On Wheels
This type of kitchen island is super convenient for your cosy kitchen, as it has wheels so you can fit it anywhere. And you can simply roll it away into a corner when you need more space or when it is not in use. Get one with lockable wheels so that you can prepare your food with ease.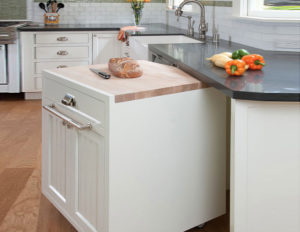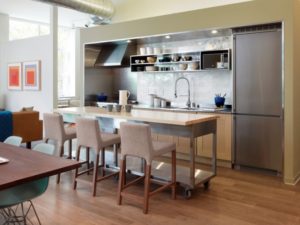 2. Drop Leaf Kitchen Island
Because you need to save space in your kitchen, you can consider getting one that has a drop leaf on the island itself. When you are not using it, just unlock it and let it fold down, so that your kitchen will be more spacious. It is also great for when you have company over and need more space, it can serve as an extra dining table.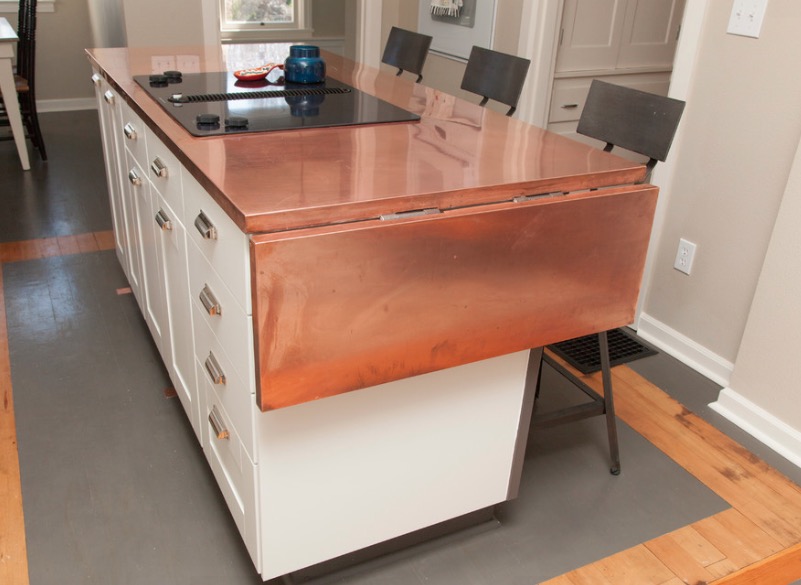 3. Floating Island
Getting a ledge to function as a kitchen island makes your kitchen more modern and doesn't take up much space either. It doesn't have to be too big or bulky, just a thin ledge nailed to an unobtrusive part of your kitchen will serve its duty as a counter for you to put your foodstuffs. Get one that matches with the colour scheme of your kitchen!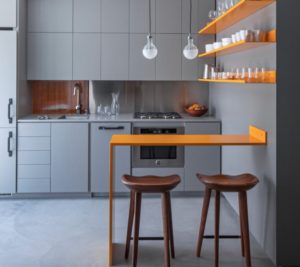 4. Re-purposed Furniture Island
This is a really clever idea for a multi-functional kitchen island. Not only can you prepare your food on the top, but if you use a glass cabinet as shown in the image below, you can even use it to store your crockery and utensils. Space saving and storage all in one!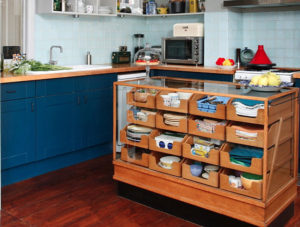 5. Elegant and Whimsical Kitchen Island
If you want an aesthetically pleasing and functional kitchen counter, try getting an elegant table that can be the focal point of your kitchen. Depending on the style of your kitchen's decor, get one that truly stands out and gives a whole new vibe to your kitchen. Cooking up your next meal will be so much more fun!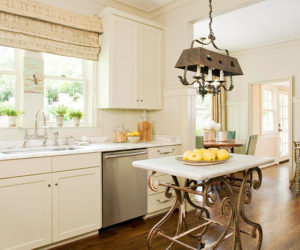 6. Small and Functional Kitchen Island
Kitchen islands don't have to be long and bulky to serve its purpose. In fact, you can use a simple square table and top it with a sturdy chop block for your kitchen. Make sure it matches with the rest of your kitchen's fittings so that it looks nicely integrated.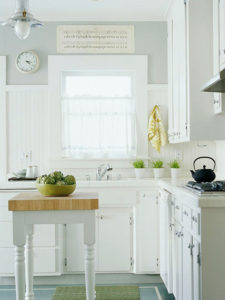 7. Open Storage Kitchen Island
Generally, kitchen islands are meant to be tall, for easy food preparation. And all that space under the kitchen island is simply wasted! Why not fully utilise it and store your frequently used items under the kitchen island instead? That way, you know your crockery and ingredients are within easy reach while you are busy making your next delicious meal.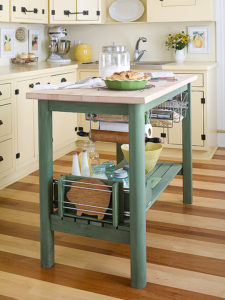 8. Round Kitchen Island
Contrary to popular belief, kitchen islands don't have to be all squares and rectangles. Think out of the box and get a round, petite table as an extra space for your kitchen, especially if the rest of your kitchen decor looks rather boxy. The round table can break the monotony and add a little extra quirkiness to the vibe.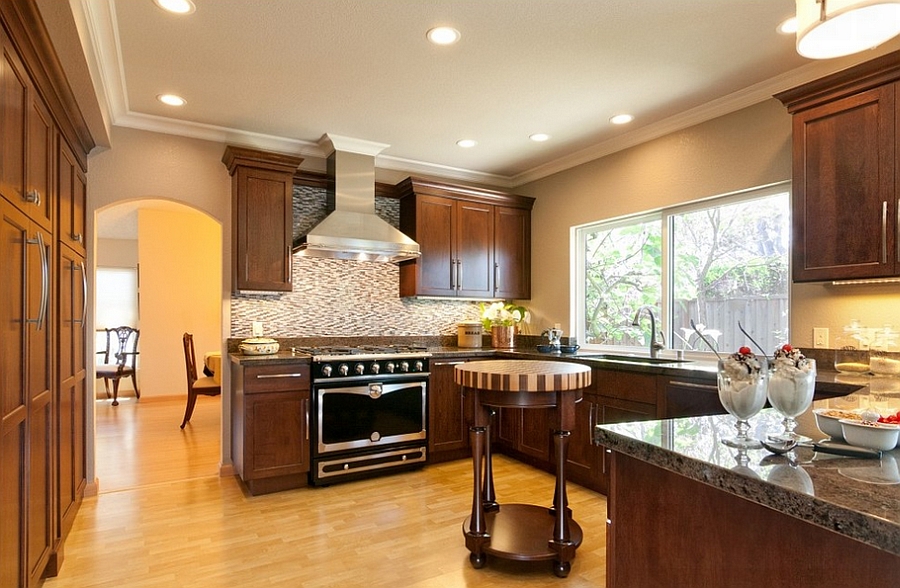 9. Kitchenette Island
If you are serious about remodelling your tiny kitchen, you can shop for the perfect kitchenette to fit your kitchen. Remember that dollhouse with the cute little kitchen fitted inside you saw when you were younger? You can now have the adult version that's way cooler and more functional. The doors all fold in neatly when it is not use, so your kitchen looks tidy, while the built in microwave means you save even more space.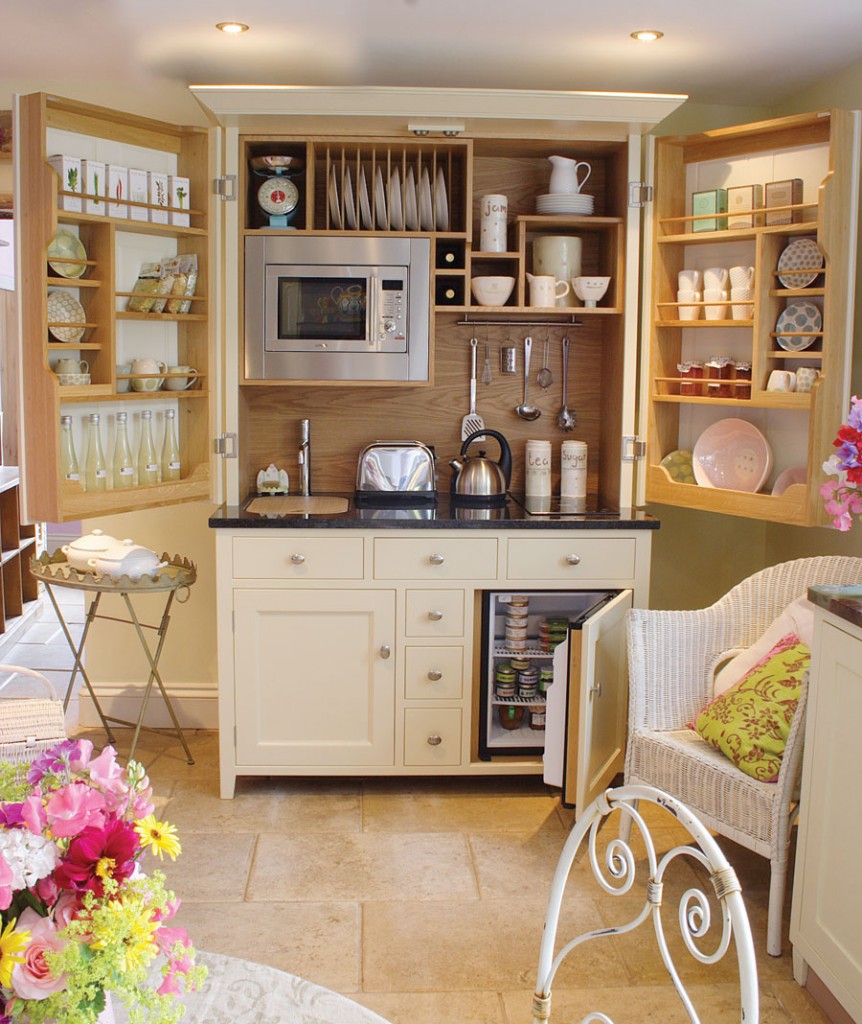 10. Minimalist Kitchen Island
Make your kitchen look neat and sleek with a kitchen island that is minimalist but also has storage built in at the side. Killing two birds with one stone! The stools matching the kitchen island slides in neatly under the table when not in use, so you don't have to worry that it will take up too much space.