Planning your kitchen cabinet is always a tedious and long process. From what types of material used in your kitchen cabinet to what is the most popular kitchen cabinet colour, you will need to do tons of research on the subject before even consulting with local kitchen experts. Fret not, as I have compile these information so that you won't have to spend your precious time to go through all these knowledge one by one.
The most popular kitchen cabinet colour right now is all white colour. Due to rising trend of minimalism, white colour has always been seen clean, neat and clutter-free and is perfect for house owners who have a small kitchen layout. You can also go for wood colour if you adore MUJI style decoration. For trendy house owners who wish to be even more creative, I would recommend going for blue or black colour which are totally amazing for your overall kitchen design.
Let's find out which popular kitchen cabinet colour is your favourite and how to decorate your kitchen cabinets with your desired colour:
White Colour Kitchen Cabinet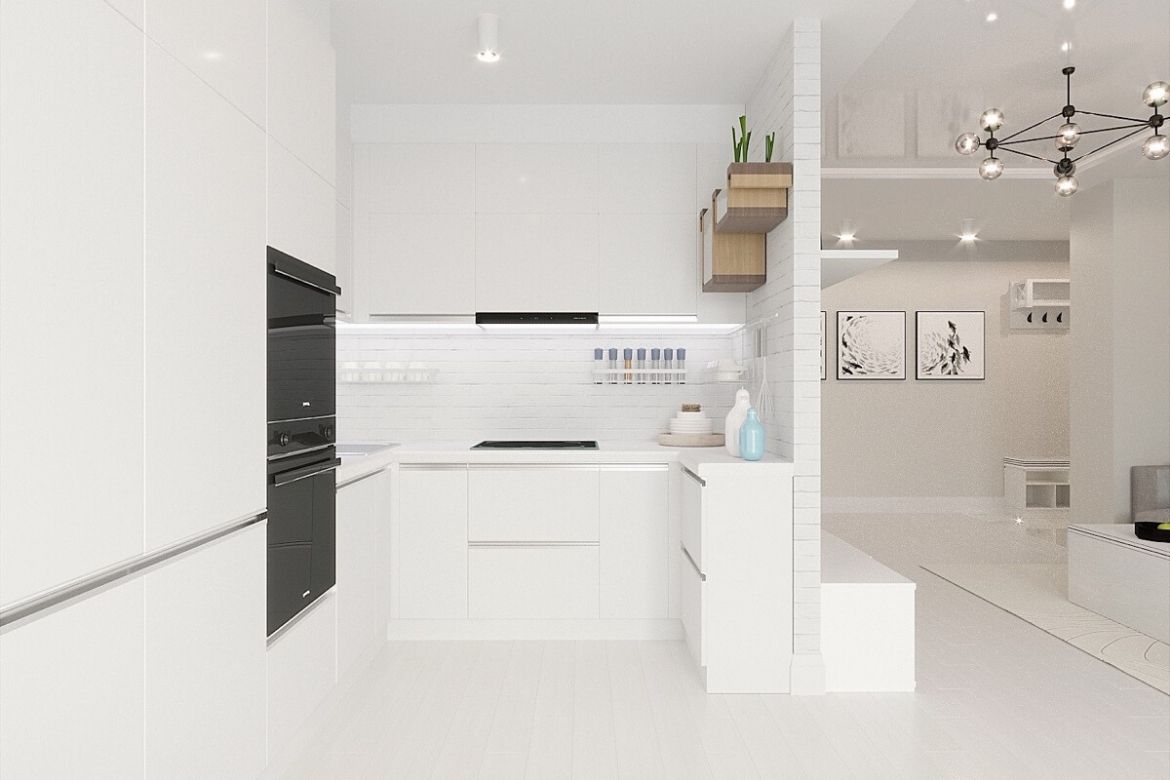 The most appealing colour for your kitchen cabinet is white colour. This is where majority of the house owners would go for if this is the first time they are planning for kitchen renovation. White colour kitchen cabinet can bring cleanliness while making your kitchen design looks neat with minimal effort. Furthermore, it makes your kitchen looks visually bigger especially if you have a small kitchen layout.
Designing your white kitchen cabinet won't be too hard if you are using melamine chipboard as your main material to build your kitchen cabinet. Melamine chipboard usually comes in white colour and is fairly affordable for house owners with limited budget especially first time house owners.
You should also replace all visible kitchen cabinet door handles by installing push-to-open hinges. This would conceal any eyesore such as door handles that are not suitable for your design. Simply just push the door gently and the door will popped up easily for you to store dry goods or pots and pans.
Other Parts of the Kitchen: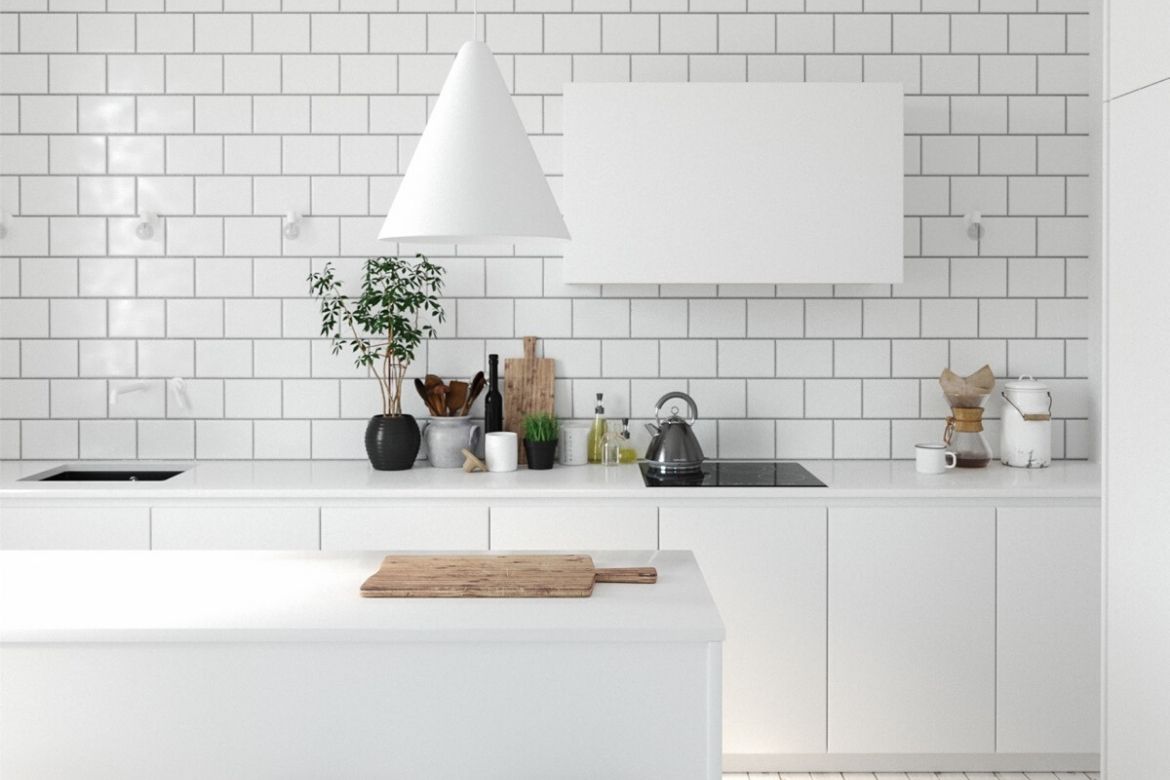 The kitchen countertop and backsplash are parts of the kitchen design that you will need to look into as well. For white countertop, I am recommending solid surface countertop if you are going for affordable countertop for your kitchen. Solid surface countertop is easy to clean and non-porous which will definitely keep the bacteria out. However they are not impact and scratch resistant as you might have scratches and dents all over your countertop if you are not being careful.
If you have a bit more budget, I would recommend going for quartz countertop. Quartz countertop retains all the good benefits of a solid surface countertop but adds in impact and scratch resistant. It will be the perfect combination with your white kitchen cabinet as it is also more glossy as compare to solid surface countertop. If you are looking to know about kitchen countertops, I have also written an article about it here.
For kitchen backsplash, I would recommend going for white subway tiles as they are aesthetically beautiful and easy to maintain. These timeless ceramic tiles are extremely durable and resistant to water and stain damage especially when you are cooking. You can also find more amazing inspiration about subway tiles for your home here.
Wood Colour Kitchen Cabinet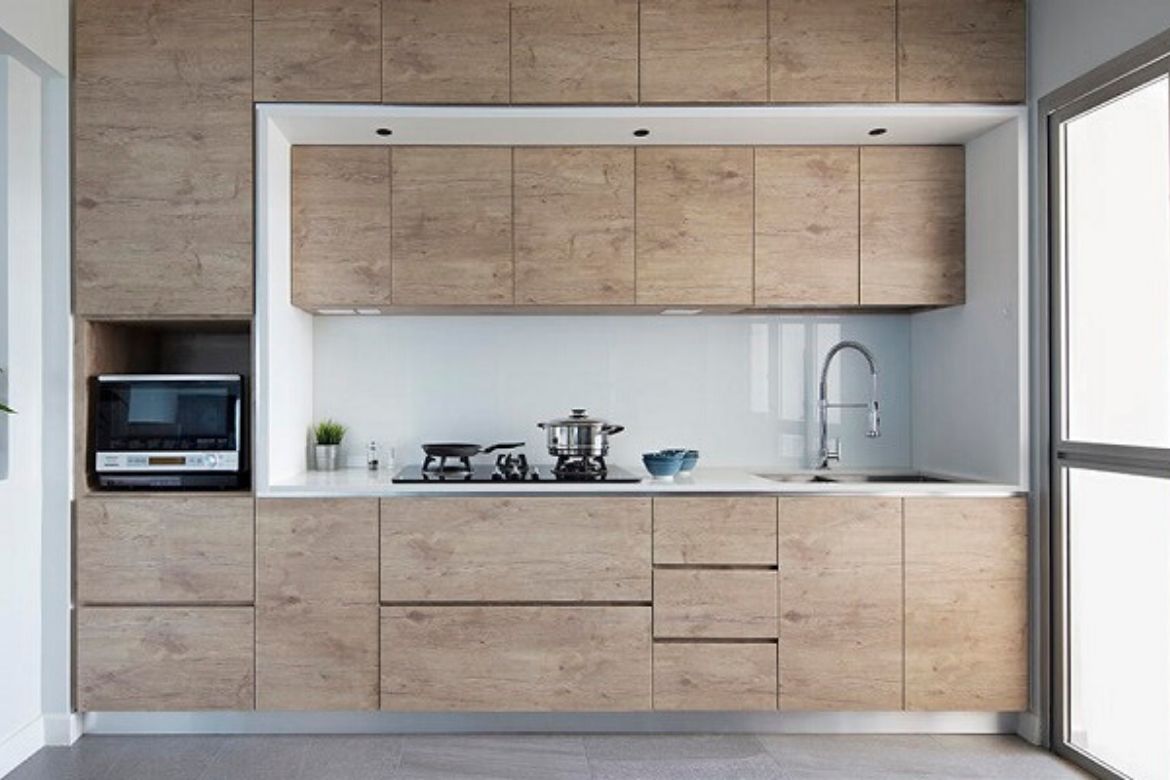 For house owners who are into MUJI style decoration, wood colour kitchen cabinet will be your main choice if you are looking for ideas to design your kitchen. Wood colour kitchen cabinet provides beautiful natural appearance with its amazing wood grain texture. If done correctly, it can also achieve minimalist style concept for your kitchen besides making your home warm and cosy.
The best way to build up this style of kitchen cabinet is by using plywood with veneer. You can see thin layers of veneer strips attached to plywood, creating a real wood texture when you touched it. Although the cost is slightly higher compare to other materials, the end results will definitely make you breathless with its beauty. Veneer finishing brings out exceptional wood grain texture on your kitchen cabinet, as compare to other finishings in the market.
However if you want an affordable option, I would recommend to go for plywood with laminate. If you are not fussy with real wood texture on your kitchen cabinet, printed laminate wood surface with plywood is good enough to achieve the outlook that you desired. You can also customise the colour and the wood texture easily with laminate plywood.
Other Parts of the Kitchen:
For countertop, we don't recommend going for wood-based countertop as it will wear and stained easily when expose to food. The best way to match your wood colour kitchen cabinet is with white coloured countertops. It will work exceptional well with either quartz or granite. Keep the design minimal and clutter-free so that you can achieve the MUJI look that you wanted.
Blue Colour Kitchen Cabinet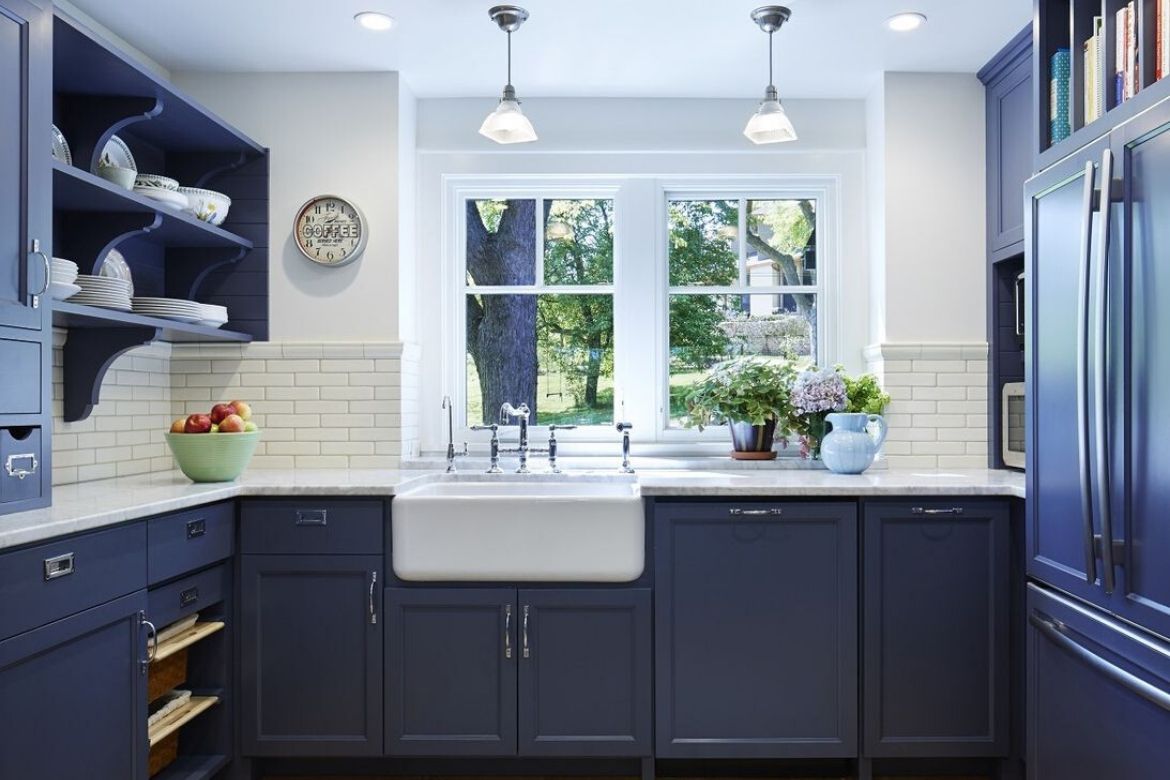 If you are feeling trendy and adventurous, you can tryout blue colour as the main colour for your kitchen cabinet. Navy blue kitchen cabinet works well if you are going for traditional or modern contemporary kitchen design. It represents the colour of sky and ocean where you will feel relax and warmth flowing through the room.
In order to create the perfect blue colour kitchen, I recommend going for plywood with laminate as it is much durable as compare to melamine chipboard. You can even get various shades of blue as laminate is easy to customise according to your liking. If you are refurbishing your current kitchen, you can also DIY by applying layers of blue paints to give your kitchen cabinets a complete makeover.
Other Parts of the Kitchen:
You will need to install a white colour countertop to actually make your kitchen cabinet stand out. Having a blue kitchen countertop is not advisable; as you will need to do a lot of cutting and food preparation on them. You should instead choose a non-porous material such as quartz and granite; for your countertop so that it's won't be easily smudged and stained.
Black Colour Kitchen Cabinet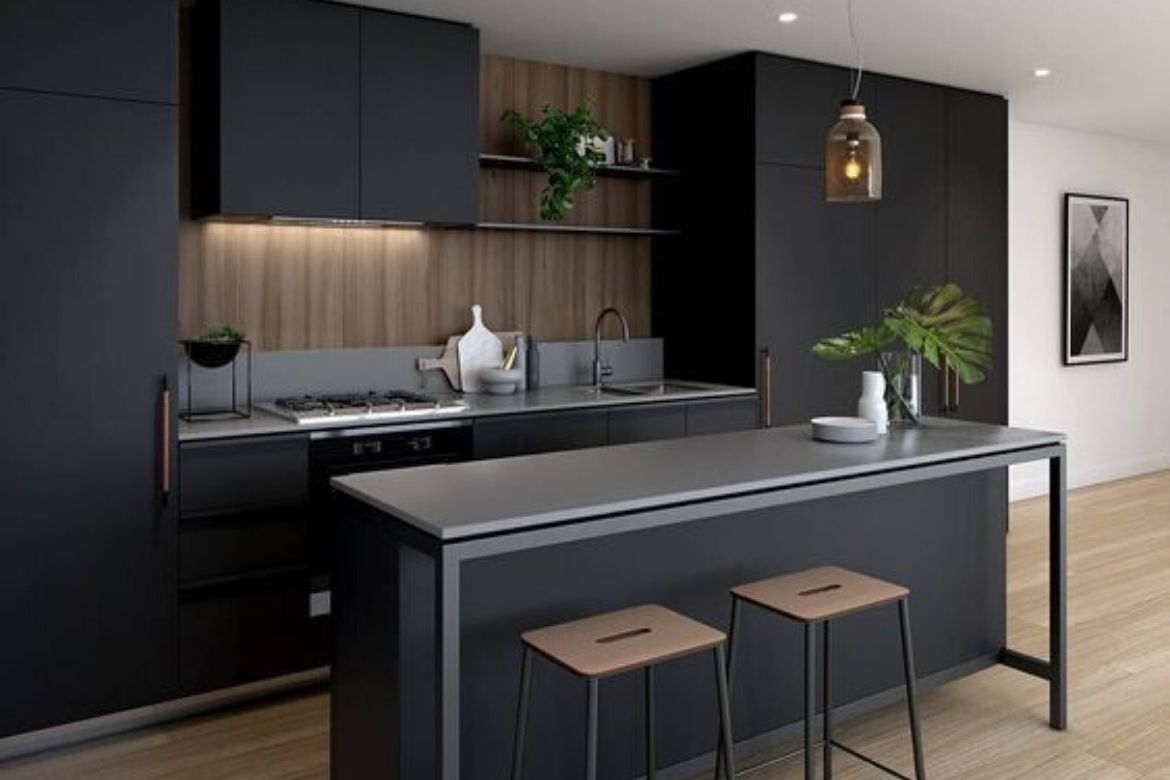 For house owners that fancy dark style concept for their home, black colour is the best colour to go to for your kitchen cabinets. Black colour breaks away from the norm while turning your kitchen modern and elegant instantly. You will be surprised that black colour kitchen cabinet are actually timeless designs and can withstand the test of time.
For the best black colour finishing on your kitchen cabinet,  plywood with laminate is highly recommended as it has sleek and smooth texture onto it. You can even select different tones of black according to your liking as it is machine manufactured. Having a black colour kitchen cabinet also takes away the headache of cleaning as dirts and stains are hard to detect without close inspection.
Other Parts of the Kitchen:
Combined with white countertops such as marble or granite, you can highlight the uniqueness of your black kitchen cabinet design. To further enhance the beauty of your black colour kitchen cabinet, you can also install gold door handles onto the cabinet doors. These gold hardwares work really well especially with black accents, to complete a modern look for your kitchen design.
Other Kitchen Cabinet Option: Stainless Steel Kitchen Cabinet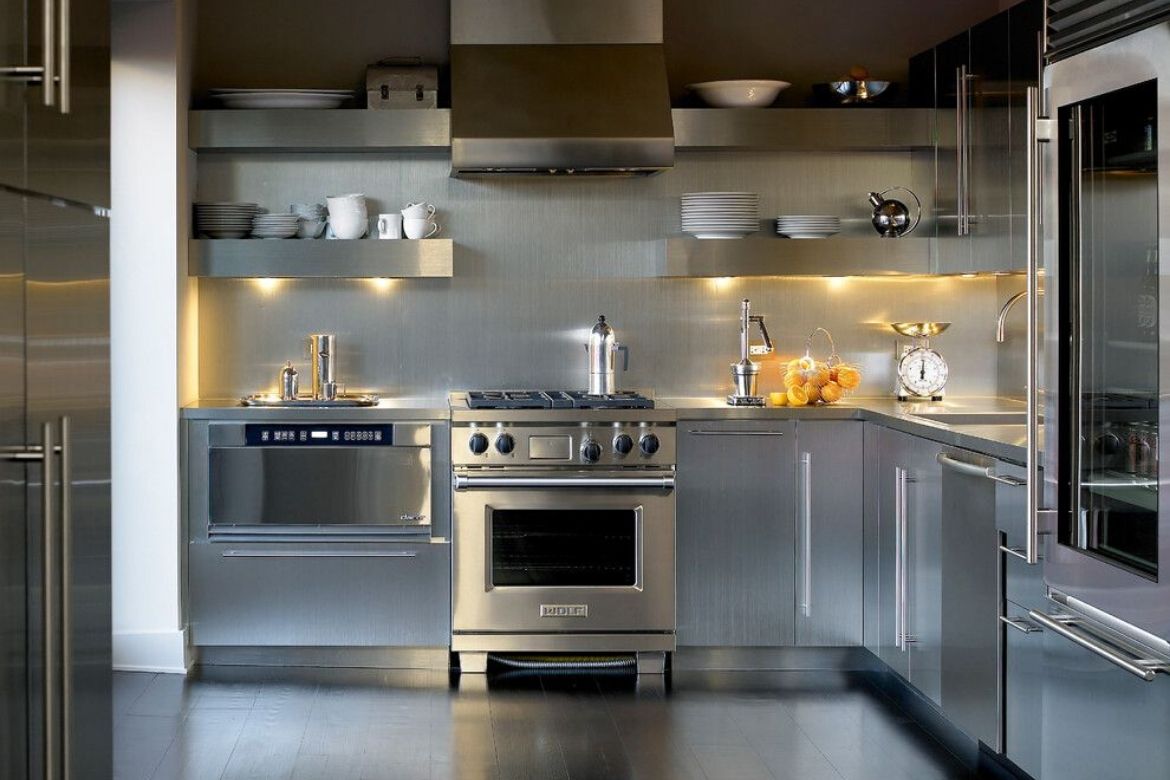 Besides standard wood-based kitchen cabinets, you can also explore stainless steel kitchen cabinets which are fantastic for your home.  Stainless steel is easy to clean, resistant to wear and tear, and highly durable if used in your kitchen cabinetry. You can often find these cabinets in hotels or restaurants where there are heavy amounts of cooking involved.
However the high cost hinders most house owners from actually installing these beautiful kitchen cabinets in their home. If you don't mind in investing in your kitchen, stainless steel kitchen cabinet would be the perfect choice for your home.
Consult With Local Kitchen Experts
Upon deciding on which kitchen cabinet colour for your kitchen, it is important to consult with your local kitchen experts. This is to find out the process of building it and the breakdown of cost. Feel free to ask lots of questions before engaging them as you will be investing most of your renovation money on kitchen cabinets,
If you are looking for reputable kitchen experts, feel free to engage our kitchen professionals through our business listings here.