You don't have to own a big, spacious home to make it warm and inviting. Sometimes a small apartment is sufficient for your needs, especially if there's not many people living together. If you think the decor in your bedroom is looking a little tired and is way overdue for an update, get some ideas from these gorgeous modern contemporary styles below.
1. Add Feature Details
As much as black is famed for slimming or making a space look smaller, white is also known for making a space much more airy and spacious. The key to making your white bedroom more interesting is adding some interesting details such as red bedspread, a red patterned wall and red doors to make it look more homey.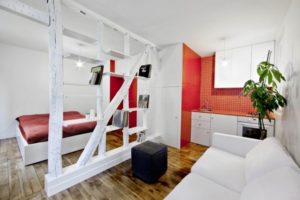 2. Stick To The Same Colour Family
Adding too much colours in one space can make it look cluttered and this will make your bedroom look cramped. Since the objective in a small apartment is to maximise your space, choose a colour palette and only use colours from there or add neutral colours so that it won't be too jarring.
3. Utilise Warm Lights
Lights can really add depth and space to your pint-sized bedroom which tricks the eye into thinking that it is bigger than it actually is. In addition, putting lights that emit a warm glow will make the room feel cosy and inviting.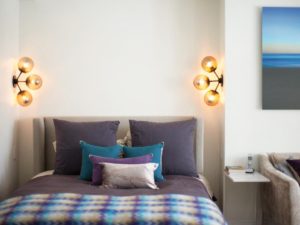 4. Murphy Beds
Murphy beds may seem kind of old school but it is actually a godsend for owners of small apartments. It is super space saving, as you can just push it back up into its space when you don't need it, making your apartment look much bigger.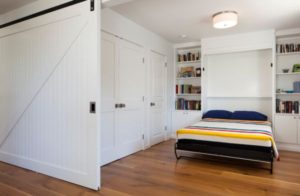 5. Use Mirrors
You use mirrors in your daily life to check whether you look presentable or not. But installing a huge mirror in your tiny bedroom has the added function of instantly making your room looks twice as big, thanks to its light reflecting properties.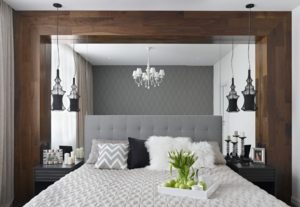 6. Modern Levitating Bed
Imagine sleeping on a bed that floats! The awesome dreams that you will experience when you drift off into slumberland. Contrasting details keep the futuristic from looking too cold and helps make it look more charming and warm.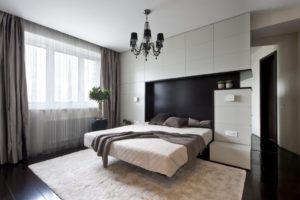 7. Make Use Of Glass
If your apartment uses an open floor plan, you can consider installing glass doors that offers a semblance of privacy to the residents sleeping inside but doesn't make your room look any smaller. How cool is that?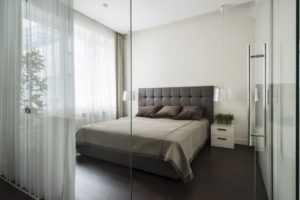 8. Open Up Your Room With Windows
Letting in more natural light into your bedroom will make it more roomy and spacious. Consider making the windows in your bedroom into a floor to ceiling size and it has the plus point of letting you enjoy the view. You don't even need a picture frame!
9. Decorate Your Ceiling
Do you have an oddly angled ceiling that causes your room to look much smaller than it actually is? Let your ceiling make a statement instead. Put some stylish stencils on the ceiling to draw the eye upward, thus elevating the appearance of the room.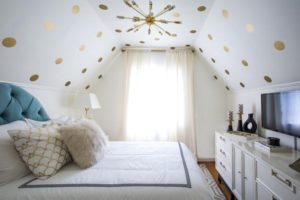 10. Get A Feature Wall
Paint or put up wallpaper on one of your walls to make it the center of attention when one enters your room. Adding these eye-catching details to your room distracts from the size and makes it look more interesting.