Everyone tries to have a work-life balance but still end up bringing work home. To help lift your spirits a little and provide some motivation, why not beautify your personal home office? Time to move away from the dining table and the bed!
Here is a list of basic things to look out for when designing a home office or study:
1. Decide how much space you need
The storage and organisation are to keep the papers, files and stationery neat. If you only have a small space, think of vertical storages. You may even need space for the printer and scanner. We often plan for laptop space but forget about our writing space!
Some would go for wooden interiors and adopt a minimalist approach by having a floating desk and shelves. Floating desk and shelves are trendy and take up less space, a good option to consider if you're working in a small space. The owner of the workspace in the picture above even managed to have drawers installed. They had a blackboard wall and allowed the kids to scribble under the desk.
With some planning, you can avoid being this guy even if you don't have a room for an office.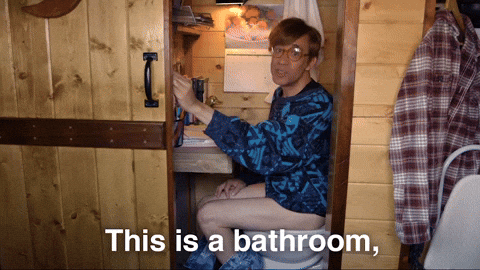 2. Balance the whites with some colour
Colours are important as it can encourage productivity. However, bright combinations such as bold reds and blues can be a distraction. Just plain white may be alright for some but it is boring.
Depending on your preference, you can easily glitter up your stationery or invest in something gold, like a gold stapler or a table lamp with a gold stand.
3. Add some fun with small artwork or decorations
A nice plant, a framed family photo or a chic stationery holder can improve the look of the desk. Remember to keep the numbers small to minimise clutter!
If you're averse to creating dust traps, try drawing some patterns on a small section of the wall. The simple décor immediately levelled up her home office with tiny effort.
If drawing is too much work, you can fill the blank walls with strings of photos or framed art pieces. It is also another easy way to bring colour to the study. You can cover old or damaged surfaces to create a cool and eye-catching feature!
4. Keep everything modern and elegant
If you want your workspace to look glamorous, the furniture needs to be modern. Think of metal bookcases and Ikea furniture. Playing with textures help add a touch of elegance to the space as shown in the picture below. The walls are made of hemp grass cloth and its colour and texture give some vibrancy to the room.
As touched before in the previous article on ways to make the bedroom luxurious, the light fixtures for your personal study play a huge role too. Change the shape of the light bulbs or the shades to something much more trendy. The statement light fixture, black lamp shade and soothing colour palette exude elegance in the picture below.
It's easy to drag an extra dining chair to double as a computer chair but remember, you've been sitting for hours in the office and now at home. Try to get an ergonomic chair to reduce bad postures so you don't get aches and pains! Repeated bad posture can greatly damage your spine and back health, and a bad chair doesn't help! This goes for kids, too, who can sit for hours on an Xbox in a slouched position. Having to visit Medical City Kids Orthopedics due to a serious back issue because of a bad chair and seating position is not desired!
As a final note, remember to keep things simple so you can work with ease and high efficiency.