Dressing tables are usually placed in the bedroom, or if you have a big enough house, it will probably be placed in your walk-in wardrobe area or bathroom. No matter the size of your home, having a dressing table is essential as you need a space to keep all that stuff that makes you look good. Here are some great ideas for a dressing table that will be the envy of many.
1. Fairytale Dressing Table
If you always had a dream to be a Disney princess since you were young these vintage dressing tables are perfect for you. This gorgeous table is functional yet elegant at the same time and just waiting for you to transform into a magical princess in front of its mirror.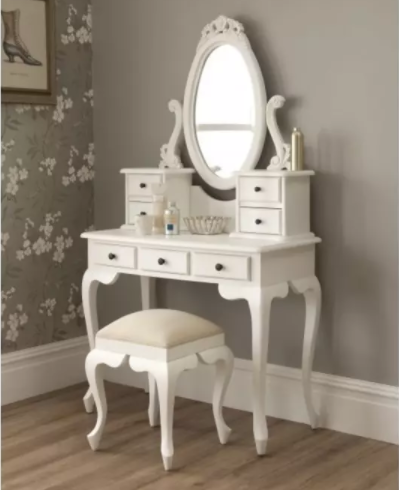 2. Mirrored Dressing Table
Choosing a table that is clad in mirrored tiles can really brighten up your room and make it look suitably stylish. The additional wings design on the wall makes it look more whimsical while the vintage-like decor on top of it just adds more to its glamour.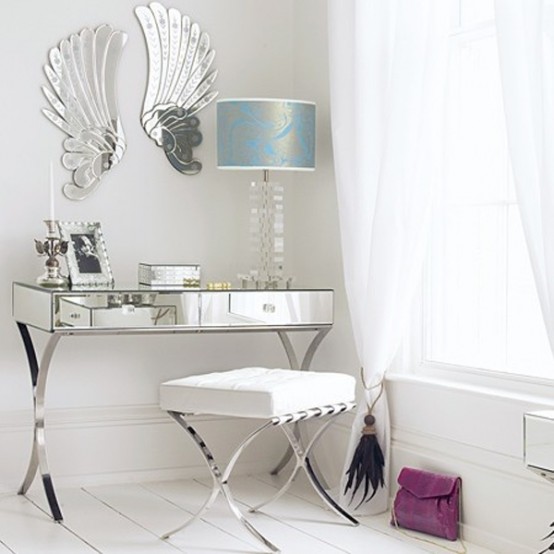 3. Compact Dressing Table
When you do not have much space in your bedroom but still crave a dressing table then you should consider getting a compact and foldable dressing table. The chair fits neatly into the space beneath the table while the mirror closes when not in use.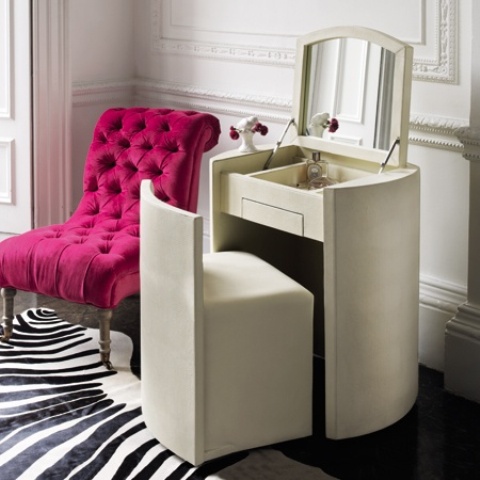 4. Transparent Dressing Table
You don't necessarily have to have shelves and drawers on your dressing table to turn it into one. In fact, this stylish transparent table looks charming with some pastel accessories and a luxurious chair while the natural light streaming in the windows allows you to put on your makeup perfectly.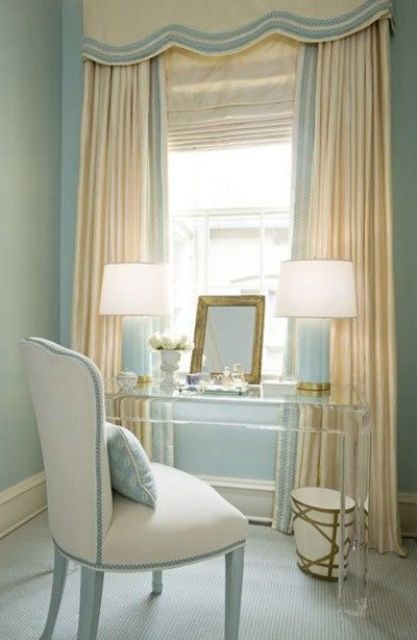 5. Elegant Dressing Table
A simple but luxurious-looking mirror is the centerpiece of this dressing table while the drawers at the sides allows more space for storing your vanity items. Other stunning details such as the shimmering chair and marble tabletop keeps it from being bland.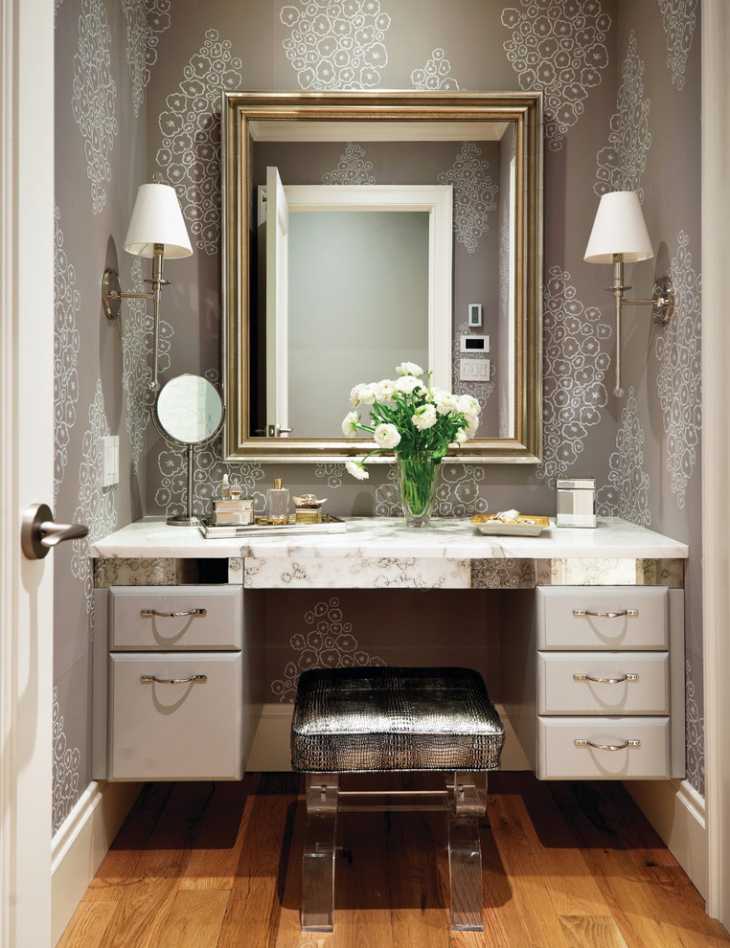 6. Vintage Dressing Table
This antique dressing table is paired perfectly with an elaborate, heavy mirror and an equally unique table lamp. The little intricate carvings on the table also makes the table look more interesting.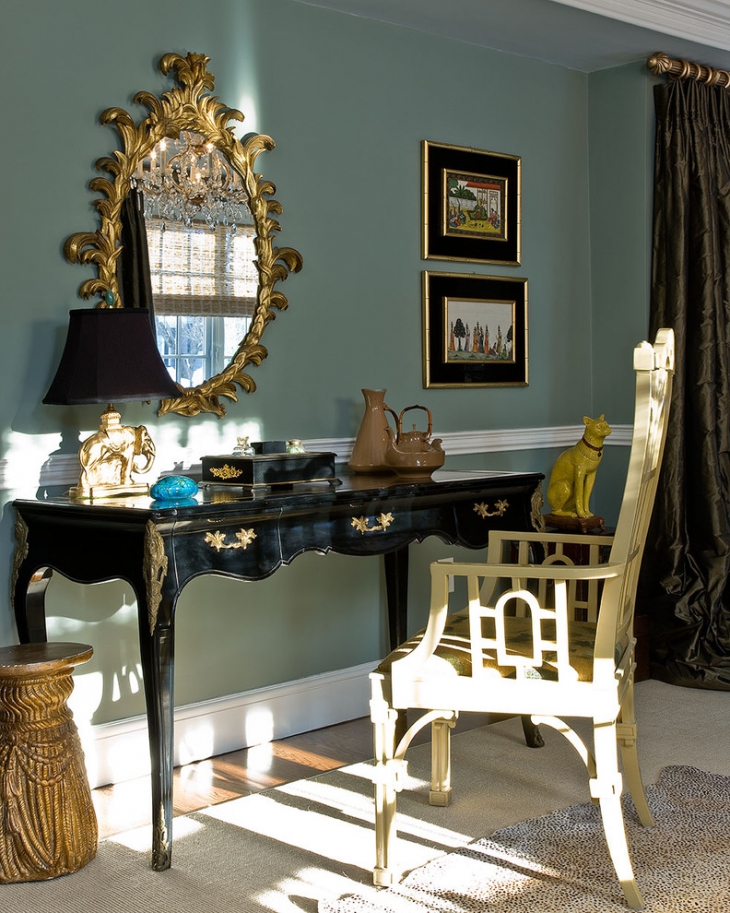 7. Stunning White Dressing Table
If your room has an all-white decor then getting an white dressing table is a good idea. Place it in front of this huge round mirror so that you won't miss any angle when preparing your daily toilet. Adding the black chair is a stroke of genius, because it adds more character to the room.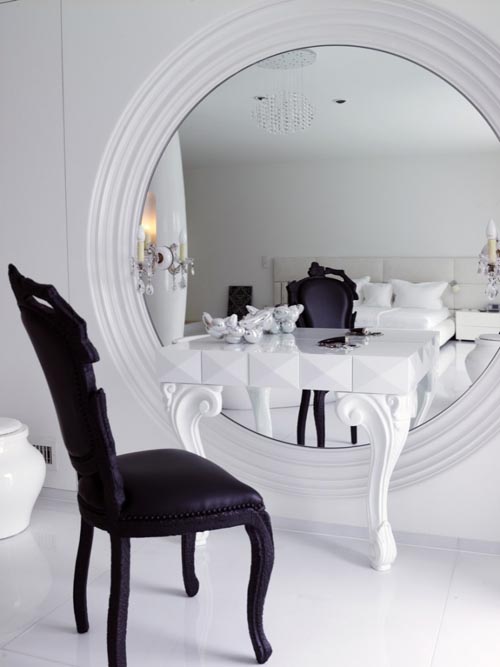 8. Modern Dressing Table
The sleek, clean lines of the modern style is favoured by many for its minimalistic feel which makes the home look much neater. In keeping with this theme, this simple dressing table takes up little space but still has storage for you to keep your vanity items and plenty of mirrors to help you make sure your look is on point.