Are you tired of restacking pots and pans in the kitchen after getting the one pot you need? Are the items inside threatening to fall over once you open the cabinet? If you're like me, I prefer having everything visible and at reach in front of me when I open my kitchen drawers and cabinets. I can stick to just one pot and a pan but for bigger families, this is just not possible. Check out some of the more creative ways to store pots and pans in your kitchen.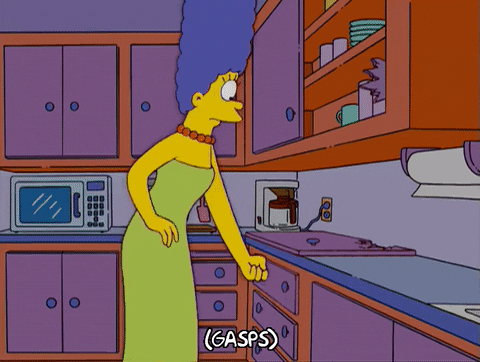 1. Frame it like an art piece
When it comes to hanging up utensils, we think of the usual metal bars or the classic screw sticking out from the wall. A spin to this is to frame the hanging area like an art piece. This can be achieved by using wooden boards such as a blackboard or a patterned ironwork. It gives a neater look in the kitchen.
2. Use a pantry pegboard
A pantry pegboard enables kitchen utensils to be arranged however you see fit. You can even trace the outlines of your hung utensils with a white paint pen to remind yourself where to hang it back. The white outlines also make the pegboard look like an art piece at a cafe.
Another option is to place the pegboard in the drawer and hang utensils vertically.
3. Use deep drawers
My first encounter with deep drawers was when I stayed at an Airbnb owned by a chef so he must know his way around organizing his kitchen! I had an easier time unloading and getting the pots and pans I needed although it was all stacked.
Deep drawers can also be partitioned to store flatter and wider pans.
4. Consider pull-out organisers
These are not the ordinary drawers we're used to.  These organizers let us hang and store pots and pans vertically. Again, this makes it easier to select the pots we want to use when we see all of them from the side.
5. Install lazy susans
Lazy susans are perfect for the weird corners of our cabinet. The pots still remain stacked but we don't need to reach in deeper into the cabinets or play a version of Tetris battle just to get pot we want. We just spin the lazy susan.
A lazy susan can also be installed upside down or suspend a wagon wheel for hanging kitchen utensils.
6. Get an open wire rack or a tiered pot rack
If there's space to spare, make decision making easier by having everything visible by using an open wire or a tiered pot rack. The tiered rack can be a nice decor at the corner of the kitchen or counter.
7. Ladder
Add S-hooks to the rungs of the ladder to hang pots and pans. The plus side is it's mobile: it can be moved outdoors for outdoor cooking.
8. Hang using bars
If hanging is still the only option, it doesn't mean we have to take the traditional route. Get creative and hang them on the sides of cabinets, under the kitchen island or along the walls. You can even hideaway the hung pots and pans inside a cupboard by installing a bar.