Is your bathroom becoming a center of fungal growth while musty odors annoy your senses? An exhaust fan is all it needs. The fan is responsible for removing extra moisture from the area by ventilating it. No mold or mildew can grow again if there's no humidity excess. Besides improving the air quality, an exhaust fan also eliminates bathroom odors. Moreover, modern technology has made them pretty convenient and efficient to use. For example, you wouldn't have to bear annoying sounds as the fan operates.
The inclusion of humidity and motion sensors in some fans makes them energy-efficient. Many exhaust fans now come with a proper lighting system. However, the air exchange quality should remain your priority in the exhaust for your bathroom. You can buy one of the best bathroom exhaust fans from our 9 picks to ensure constant entry of fresh air.
Let's get started.
Criteria of Good Bathroom Exhaust Fan
There are several things to consider when purchasing a bathroom exhaust fan. From style to functionality and add-ons, everything is important. Let's briefly explore all factors in the criteria for a good bathroom exhaust fan.
1. Fan's Size
It's essential to consider the exhaust fan's size depending upon the square feet area of your bathroom. CFM, cubic feet per meter, is the standard way of measuring a fan's size and ventilating capacity. A small fan with lesser CFM ratings can be ideal if your bathroom is small-sized. However, installing a similar fan in large bathrooms may result in ineffective ventilation. You must buy a large-sized fan with higher CFM ratings. It ensures your large bathroom keeps receiving fresh air.
2. Noise Levels
Considering a fan's noise level is crucial if you want a quietly operating machine. Hence, always buy fans running on 1.5 or lower sones. It's a sound measurement unit. Missing out on this feature can snatch off your peaceful me-time in the bath.
3. Additional Features
Although an exhaust fan's main task is to bring in fresh air to ventilate the area. Many modern technology fans now come with some additional features. You can consider whether you need the add-ons before purchasing a fan. A few common ones are:
Customized lighting system with different themes
Heater
Energy-saving sensors
4. Installation Type
Almost all exhaust fans are easy to install unless you require access to the attic. It's better to buy a ceiling or wall fan that allows room-side installation. You won't need any professional help to do the job.
9 Best Bathroom Exhaust Fan For Better Air Circulation
1.   Harrier Hardware Bathroom Exhaust Fan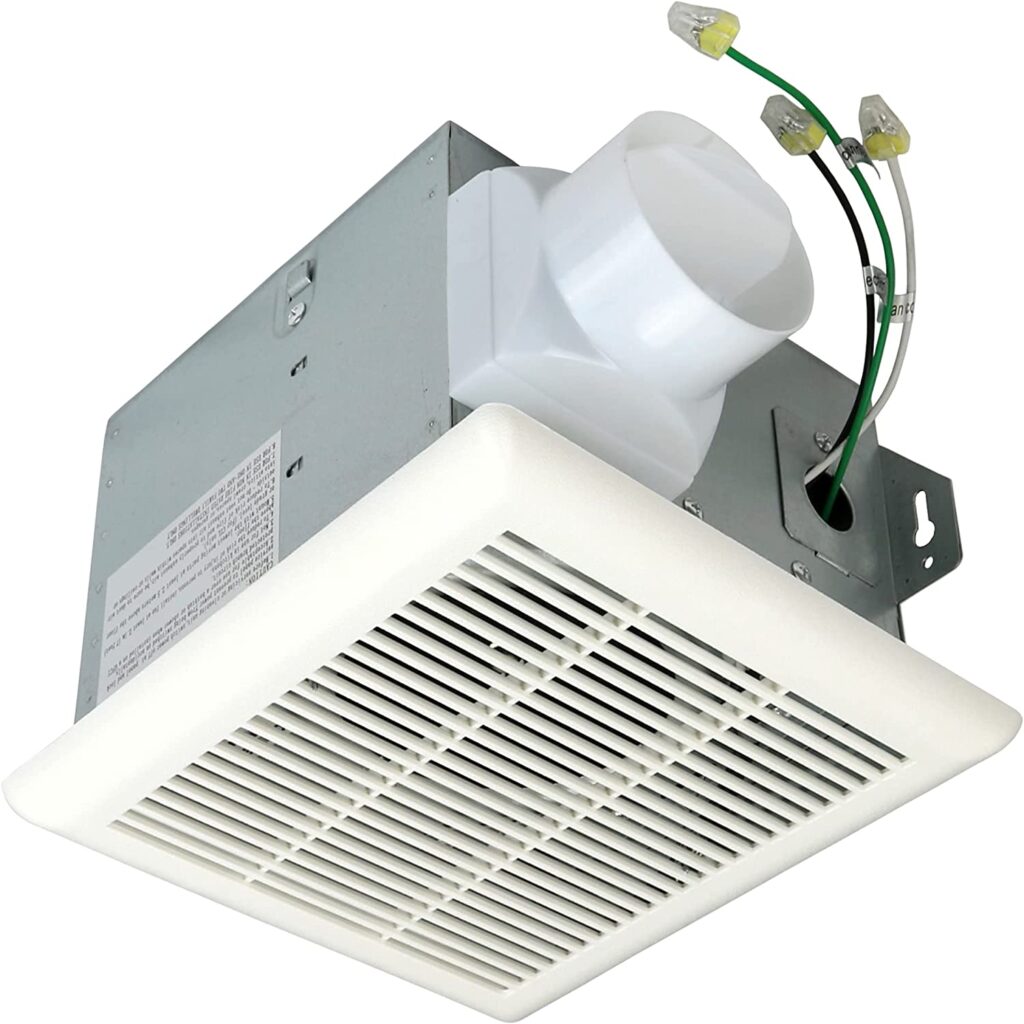 Are you looking to improve your bathroom's ventilation? The Harrier Hardware Exhaust Fan can help. Its white color can go well with your house's interior, while the functionality is also top-notch. This fan's quiet functioning is highly impressive. Its alloy-steel body is durable and offers high performance. The galvanized steel wire is perfect for increased conductivity and minimum voltage loss. Let's discuss a few other important features of this ventilation machine.
You can install this fan over the tub or shower with a ground fault circuit interrupter. Underwriter's Laboratories has listed this exhaust fan as a 100% safe choice.
It's easy to install through a joist mount hanger. The average time required for its installation is around five to ten minutes.
The airflow rate of this fan is ideal for small bathrooms, i.e., 70 cubic feet per minute.
The quick-connect wiring contributes to its easy and safe installation.
2.   Broan-NuTone 678 Bathroom Exhaust Fan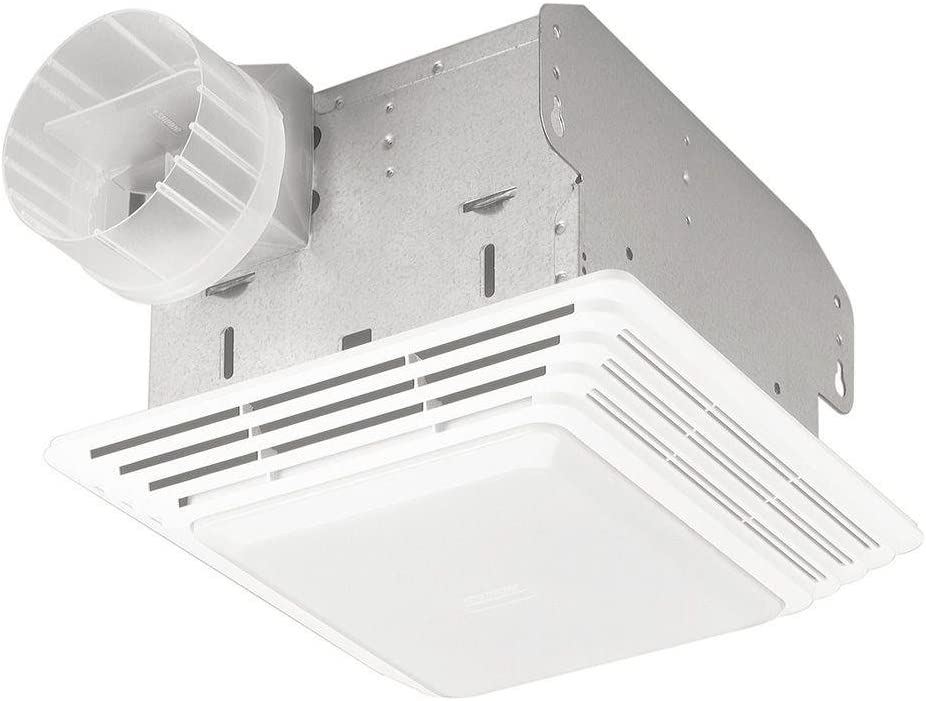 The two-in-one Broan-NuTone Bathroom Exhaust Fan has a robust ventilation system and a light source. It's the best bathroom exhaust fan with light. This combination works ideally for small rooms of at least 45 square feet, including your bathrooms. It's time to say goodbye to musty odors by purchasing this exhaust fan, which doesn't require professional help for installation. Polymeric duct connectors make it easier to connect the fan's wiring system. You can read some additional top-notch features of this bathroom exhaust fan below.
Its color and design are interior-friendly, perfectly complementing the decor of your bathroom's walls.
The motor is permanently lubricated, making this machine more durable and reliable for long-term use.
Besides a fan that offers high-performance ventilation, you can also take advantage of the powerful light bulb. You can buy and fit a bulb of 100-watt capacity to enjoy this feature.
The 2.5 sones frequency makes the fan produce low noise while operating.
3.   Broan-NuTone AE110 Bathroom Exhaust Fan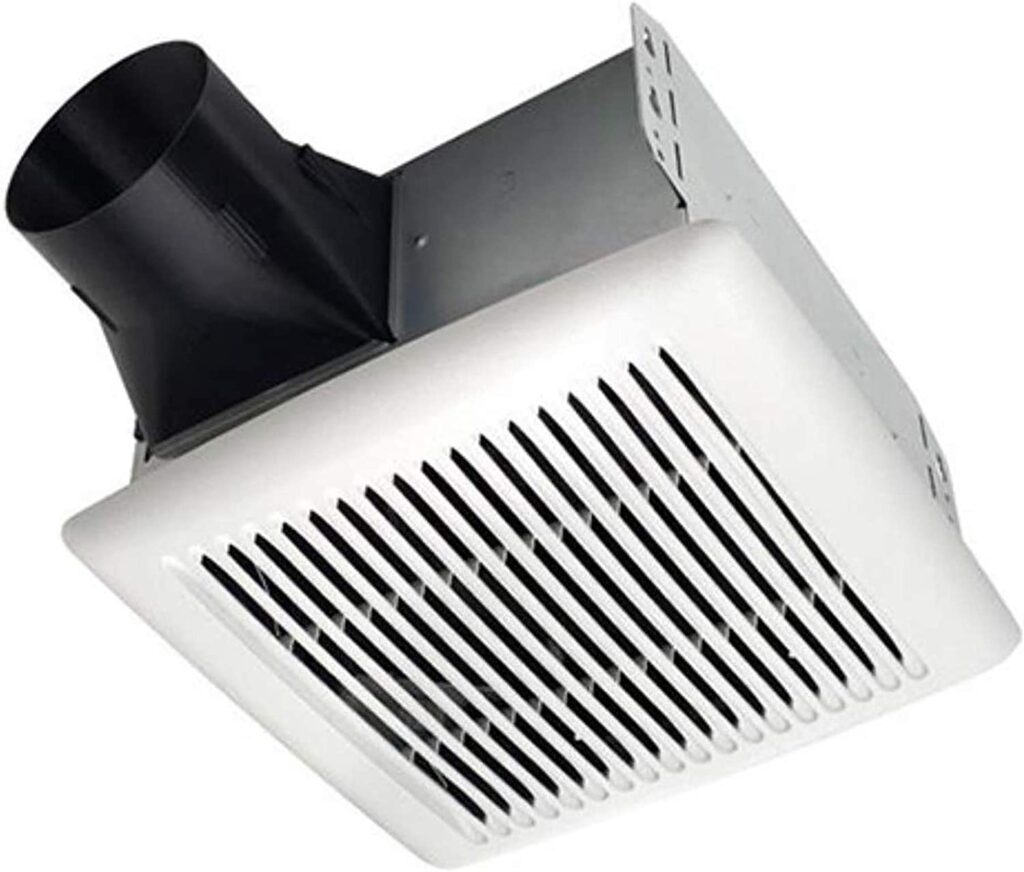 Are you tired of a noisy exhaust fan in your restroom? It's time to replace it with the Broan-NuTone AE100 Exhaust Fan. Its functionality of operating at 1.0 sones ensures a quieter operation. The fan's motor is highly energy-efficient, providing high-performance ventilation without consuming too much electricity. There's no need to access the bathroom's attic to install this fan. You can conveniently do so from the room's side. Here are some exceptional features of this exhaust fan that let it achieve a spot in our top three picks.
The airflow rate of 110 cubics per meter is ideal for keeping bacteria-producing moisture away from your bathroom. There'd be no foggy mirrors or vision anymore.
A high-power motor can ventilate a room of up to 105 square feet.
TrueSeal's Damper Technology reduces 50% less air leakage, promoting a higher performance quality.
The innovative white-colored structure is versatile and goes well with almost any decor.
4.   Homewerks Bathroom Exhaust Fan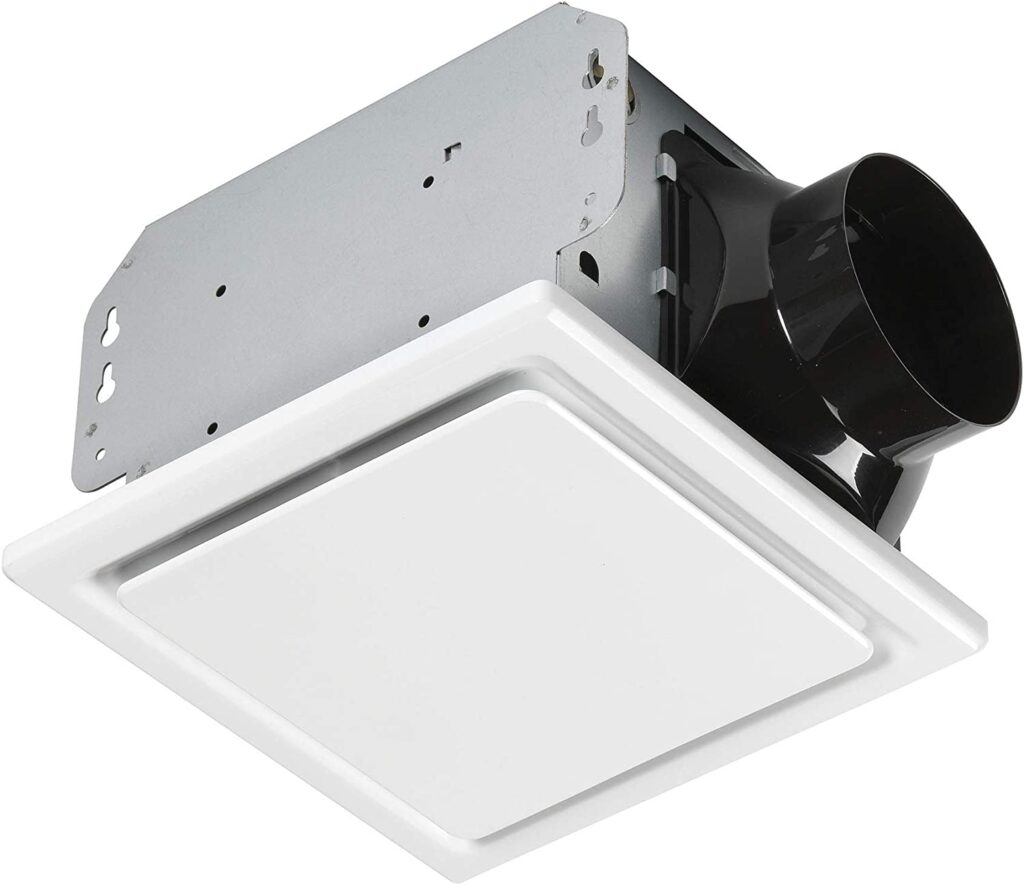 The Homewerks Bathroom Exhaust Fan is a high-quality machine that can ventilate your bathroom ideally. Its 1.5 sones frequency ensures no annoying sound to disturb your relaxing me-time during showers. This fan serves a two-in-one purpose. It welcomes fresh air inside the room while eliminating tough odors as well. Multiple things make it a quality purchase. Let's briefly explore them.
The grille style can go well with your bathroom's interior of any type.
It has a tough, rust-proof, and long-lasting body. Thanks to the galvanized steel, this fan's build quality is top-notch.
You can install it easily without any professional help. The no-cut design allows a hassle-free installation by the ceiling mount.
With this fan running, the air in your bathroom can move at the speed of 110 CFM.
It works smoothly for rooms spread up to an area of 110 square feet.
5.   Broan NuTone SPK110 Bathroom Exhaust Fan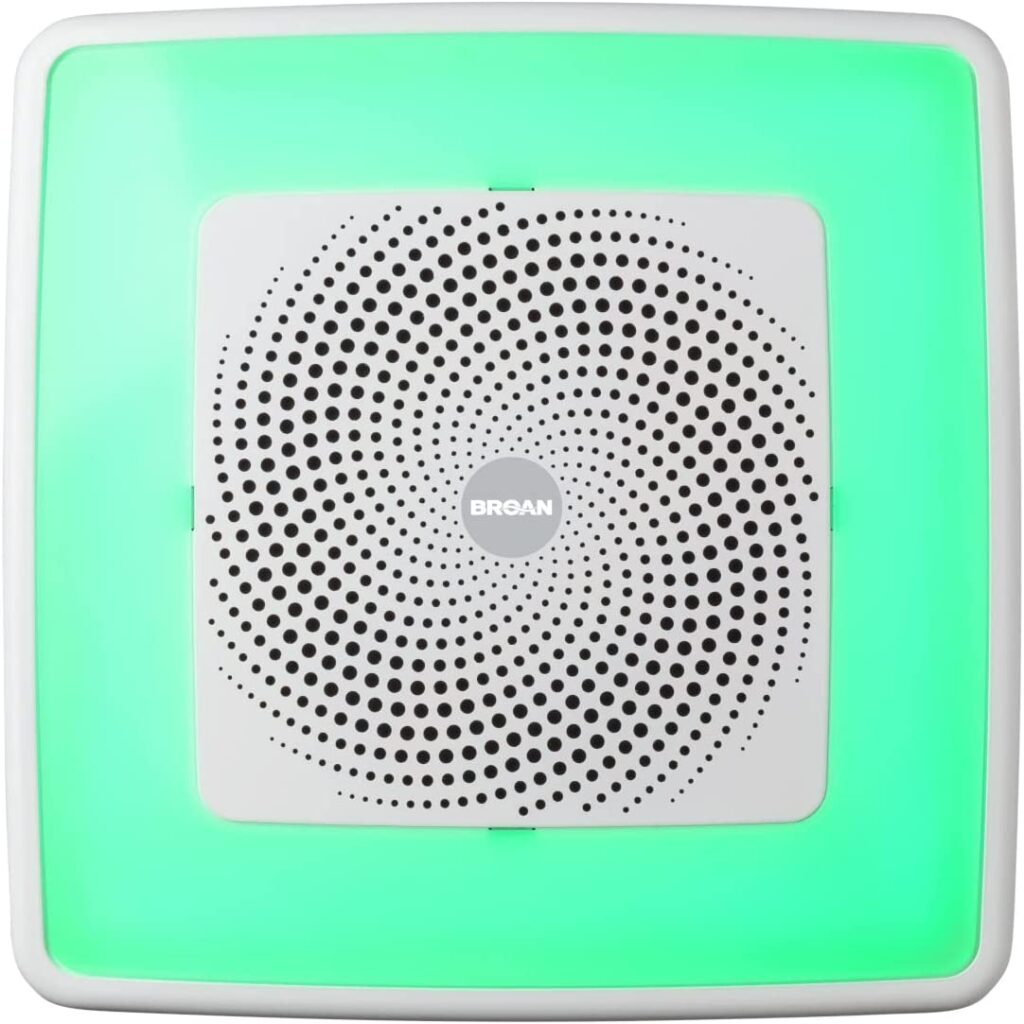 Are you looking for a ventilation system with ultra-advanced technology? Your search ends well with Broan NuTone SPK110 Bathroom Exhaust Fan. It comes with a Bluetooth speaker and a unique lighting system. We consider it the best bathroom exhaust fan with light and Bluetooth speaker. This ChromaComfort model is popular for multiple reasons. There are no doubts about its exceptional ventilating power of 110 CFM at 1.5 sones. However, the reason behind its popularity is the 24-colored LED lights. You can customize their themes according to your preferences through a mobile phone application. Let's look at some of the similar features that make it one of the favorite choices of buyers.
This fan can improve the air quality of rooms with an approximate area of 105 square feet.
There's 53% lesser air leakage, thanks to an improved TrueSeal Damper Technology.
The Sensonic Bluetooth speaker delivers supremely clear voice quality. It runs on a 2AA battery.
You can use the android or iOS application to customize the exhaust fan's settings. It includes changing the light themes, adjusting the fan's intensity, or playing the music of your choice.
It's straightforward to fix this with an EZDuct connector and room-side installation.
6.   BV Bathroom Exhaust Fan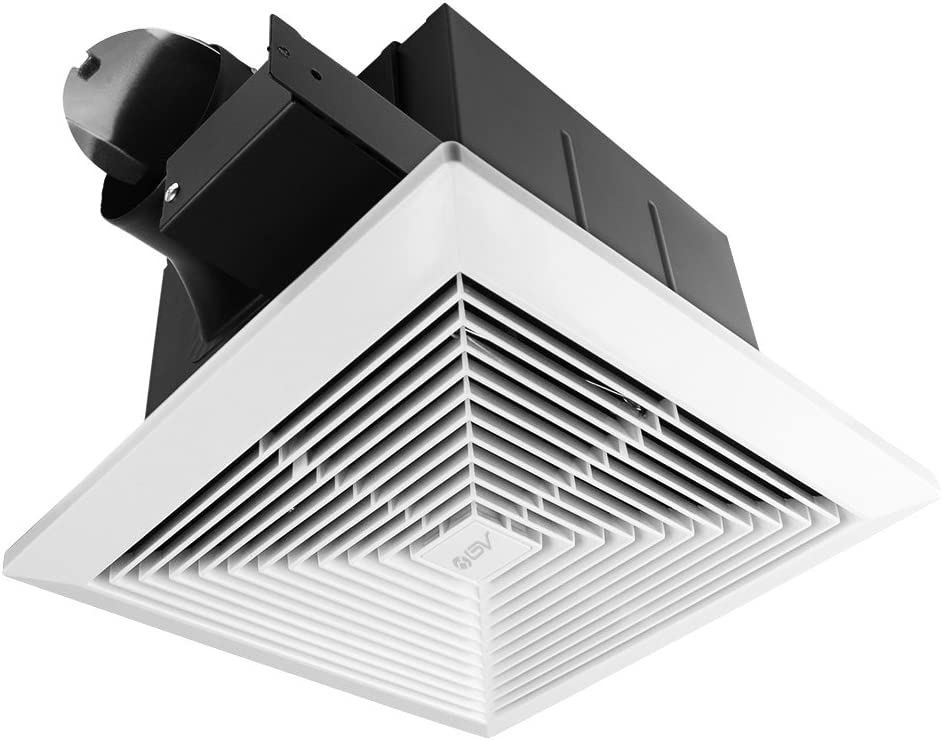 The BV Bathroom Exhaust Fan is one of the quietest room ventilating machines that functions only on 0.8 sones. Its stainless steel body is pretty sturdy, qualifying it as one long-lasting purchase. With exceptional Silent-Clever Technology comes a super strong motor. It can handle the ventilation of 90 square feet like a pro. Let's overview some of the additional features of this ultra-quiet exhaust fan.
Through joist mounting, you can easily install this fan inside your bathroom.
It can ventilate the area at an airflow rate of 90 CFM.
The product comes with one year warranty. You can also take technical support from the brand in case of any problem before or after its installation.
UL's approval is evident for this fan's top-notch build quality and performance.
7.   Panasonic Bathroom Exhaust Fan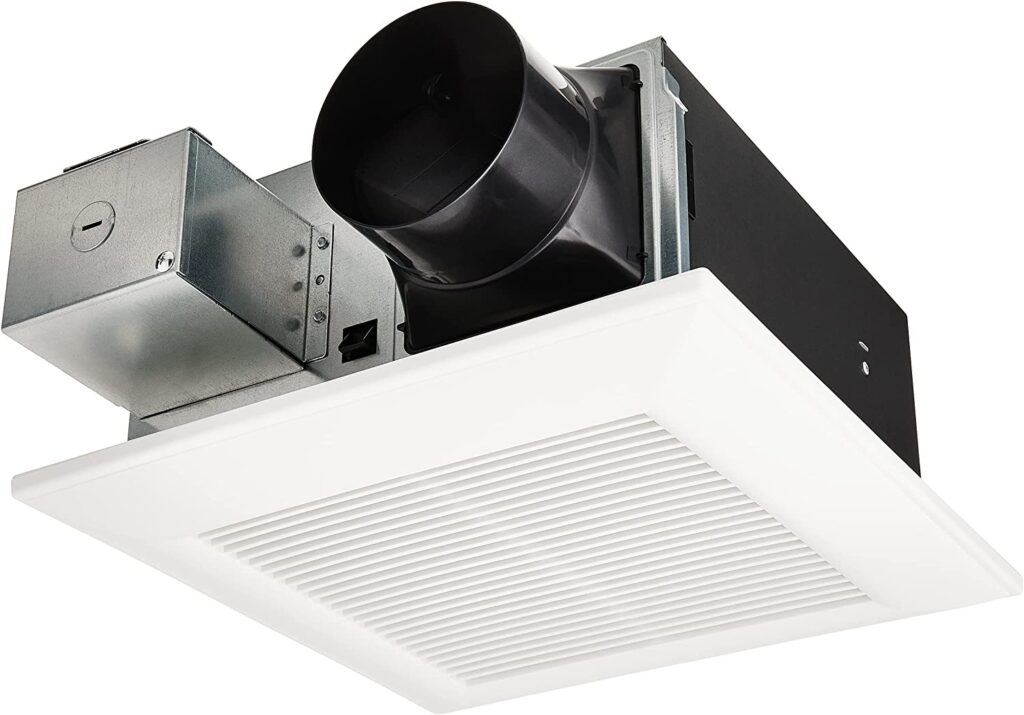 If you want to be the controller of your bathroom exhaust's airflow rate, purchase Panasonic's Exhaust Fan. A built-in airflow selector allows you to adjust the speed at 50, 80, or 110 CFM. You can change these settings easily through a switch. Besides this unique feature, this fan's motor performance is also exceptional. The electrical motor ensures optimal airflow to keep your bathroom ventilated and moisture-free. It's time to look for the features of this exhaust fan in the list below.
You can flexibly install it with the help of a Flex-Z bracket.
It has an energy-saving feature. It ensures limited energy consumption without compromising the fan's performance. 
The direct wiring and duct contribute to an easy installation. You can quickly do the task even if you don't have basic machine mounting knowledge.
A low-profile housing design is versatile to fit any area with a depth of 5 to ⅝.
8.   KAZE Bathroom Exhaust Fan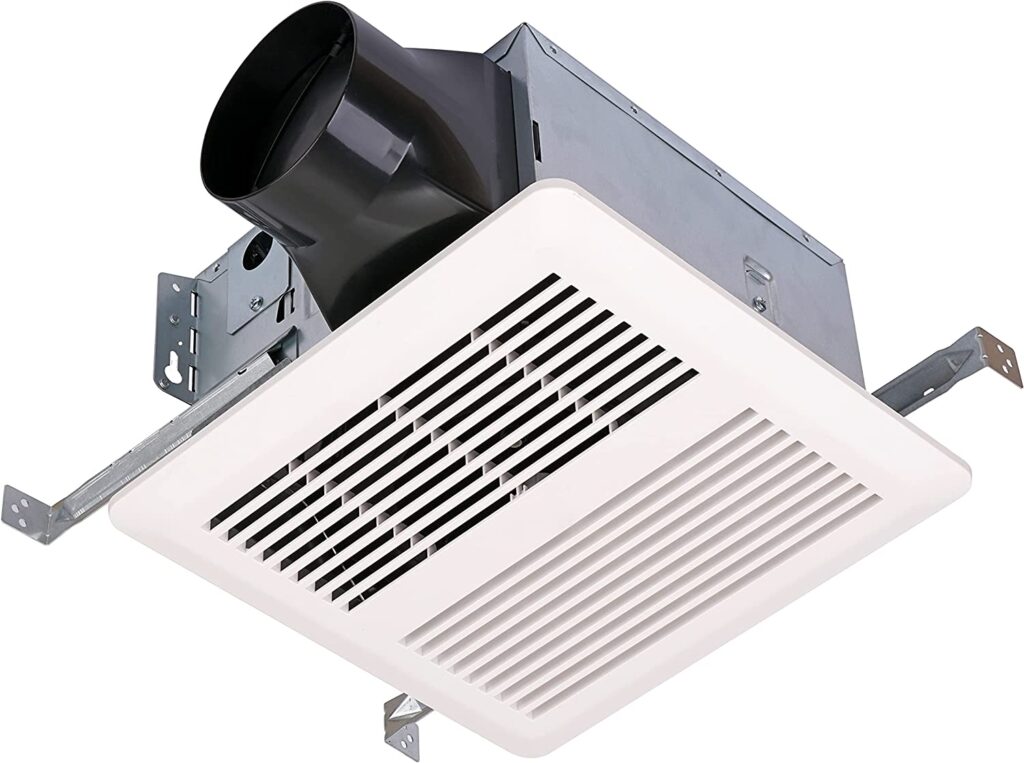 You can't get a better option than the KAZE Bathroom Exhaust Fan with a quieter and more functional operation. It functions on as low as 0.8 sones. Moreover, the CFM rate is almost 100, ideal for mid-sized rooms. Its housing size makes it easier to install, even in other rooms of your house. It's time to say goodbye to mold, mildew, and tough odors by welcoming a fresh aroma into your bathroom through an easy installation of this fan. We have discussed some of its other appreciation-worthy aspects below.
A manual can help you with installation. It's an easy and quick process if you follow the proper steps.
The Back Draft Damper Technology allows proper flow of contaminated air without letting it make its way back to your bathroom.
It gets almost full ratings for being an energy-efficient choice. You can quit worrying about paying extraordinary energy charges monthly after its installation.
The suction power of this exhaust is also good. It can quickly eliminate foul odors and dust particles from the air, letting the fresh breeze enter your bathroom.
9.   Zeyzer Bathroom Exhaust Fan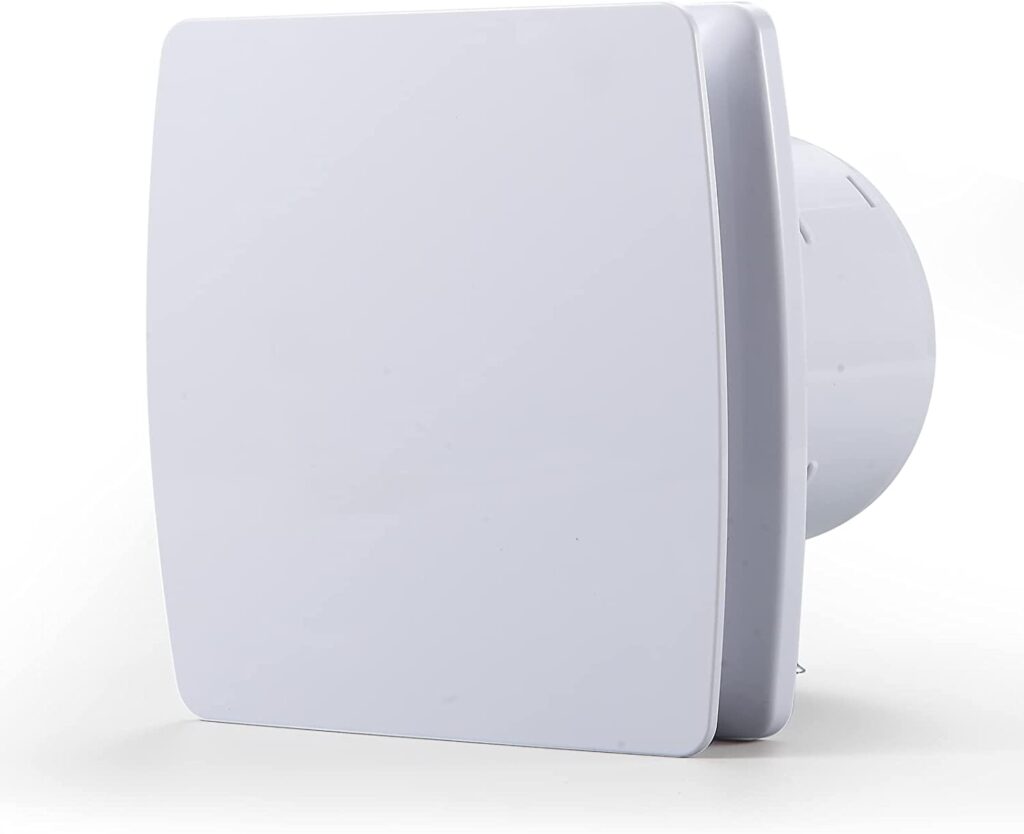 The modern-style Zeyzer Bathroom Exhaust Fan is highly functional with multiple advanced technologies in a single piece of machinery. It has a Film Baffle Design to prevent filtered air from entering back in the room. Similarly, the supreme motor of this fan has two-in-one functionality of a powerful exhaust running at low noise. It moves the air at a rate of 110 CFM while functioning at only 1.0 sones. This fan has a list of similar beneficial features discussed below.
A self-designed engine delivers 100% stability while running smoothly throughout the machine's life.
The panel-based structures can complement your bathroom's interior while delivering top-notch functionality. It promotes an increased rate of air exchange.
Its body and wheels are made from ABS plastic, which is thermal-resistant. There are no risks of overheating, thanks to this exceptional build quality.
The ball motor works at a quieter pace than any other exhaust fan at this price. It operates at almost 1.5 sones.
It is perfect for ceiling and wall installation, which you can do by following a few easy steps.
Conclusion
Moisture in bathrooms allows the fungi to live in the area. Moreover, the lack of fresh air can cause stale odors to occupy the space. You can eliminate this problem by installing an exhaust fan. We have discussed the top 9 bathroom exhaust fans of 2022. It can help you purchase a functional fan with a high-quality ventilation rate.