Indulging in a rich, aromatic cup of coffee is an exquisite pleasure that Malaysians hold dear. From bustling cities to serene coastal towns, the love for this caffeinated elixir unites people nationwide. But what if you could savour a steaming cup of java, crafted to perfection, in the comfort of your own home?
Whether you're a dedicated espresso aficionado or crave the velvety smoothness of a cappuccino, join us as we explore the best coffee machines Malaysia has to offer, promising to elevate your coffee experience to new heights. Get ready to immerse yourself in a world of tantalising aromas, impeccable craftsmanship, and the art of brewing excellence.
Features of a Good Coffee Machine
A good coffee machine should have the following features:
Advanced Brewing Technology: Experience coffee nirvana with cutting-edge brewing technology that ensures optimal extraction, capturing the full spectrum of flavours and aromas in every cup.
Customizable Brewing Options: Tailor your coffee to perfection with a wide range of brewing options, from adjustable brew strength to customizable temperature settings, allowing you to achieve your preferred taste profile with ease.
User-Friendly Interface: Navigate through the brewing process effortlessly with an intuitive user interface, featuring touch controls or a user-friendly display, making your coffee-making experience seamless and enjoyable.
Versatile Beverage Selection: Unlock a world of possibilities with a coffee machine that offers versatility beyond traditional coffee, enabling you to brew a variety of beverages like espresso, cappuccino, latte, and more, all at the touch of a button.
Easy Maintenance and Cleaning: Simplify your coffee machine's upkeep with convenient features like removable parts, automatic cleaning cycles, and descaling programs, ensuring hassle-free maintenance and longevity for your beloved brewing companion.
Our Selection of 8 Best Coffee Machines in Malaysia
With insights from renowned coffee connoisseurs and experts in Malaysia, we've handpicked the crème de la crème of coffee makers to bring you our exclusive list. Let's dive right in:
1. illy Y3.3 iperEspresso Coffee Machine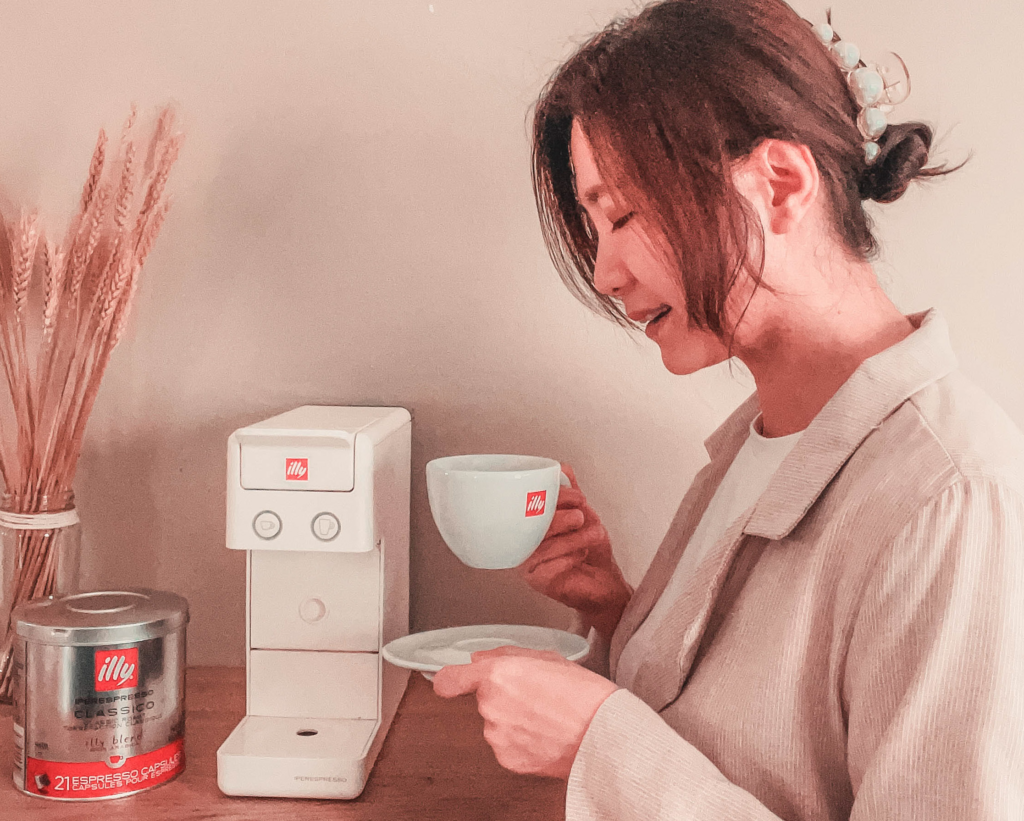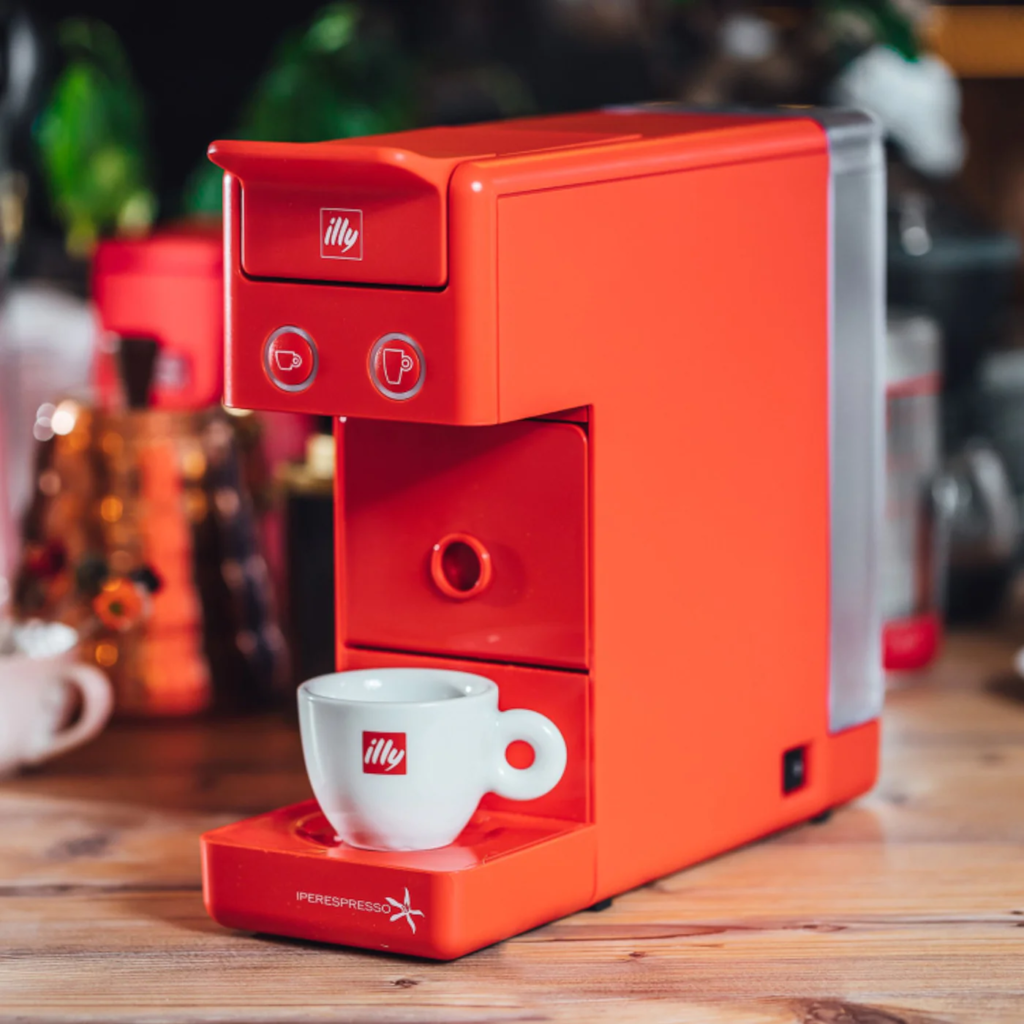 This innovative coffee machine brings the authentic illy experience to your home, allowing you to indulge in both espresso and Americano coffee with just a touch. With customisable options for temperature and cup volume, you have full control over your coffee preferences. Designed by renowned architect and designer Piero Lissoni, its sleek and clean lines add a touch of sophistication to any space. The Y3.3's compact form makes it ideal for kitchens, living rooms, and even offices, without compromising on quality.
Its high-pressure pump of 19 bars ensures a perfect extraction every time. Compatible with iperEspresso capsules, this machine delivers an unparalleled aromatic Italian coffee experience at the push of a button. With features like adjustable cup sizes, a 0.75 L water reservoir, and a convenient drip tray, the illy Y3.3 provides both functionality and elegance. Last, but not least, it's backed by a 1-year warranty.
Here are the highlights of the illy Y3.3 iperEspresso Coffee Machine's amazing features:
Espresso and Americano options
Customisable temperature and volume
19-bar high-pressure pump
Compatible with iperEspresso capsules
Adjustable cup sizes
0.75 L water reservoir
Convenient drip tray
Power-saving feature
1-year warranty
2. Petrus Coffee Maker Espresso Coffee Machine PE3320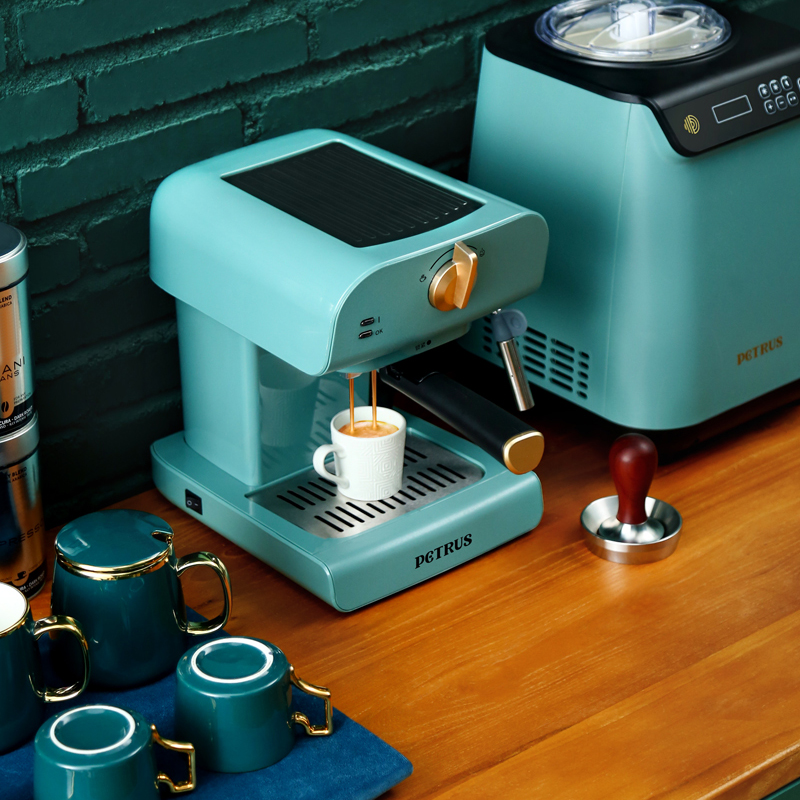 With a powerful 20-bar high-performance pump, this coffee machine ensures maximum flavour extraction for the perfect espresso every time. The precise temperature control of 92°C guarantees even heating during the extraction process.  Featuring a stainless steel steam wand, the PE3320 allows you to froth milk effortlessly, perfect for crafting a variety of delightful drinks like cappuccinos, lattes, and mochas. The adjustable steam knob provides the flexibility to tailor the frothing process to suit your personal taste preferences.
With its sleek and space-saving design, this coffee machine seamlessly fits on any kitchen countertop, bringing elegance to your brewing experience. The cup warming tray ensures your espresso cups are ready for a warm and indulgent sip. The 0.8L detachable water tank with a transparent design makes it easy to monitor and refill, while the removable drip tray simplifies cleanup after use.
Here are the highlights of the Petrus Coffee Maker Espresso Coffee Machine PE3320's amazing features:
20-bar high-performance pump
Precise temperature control
Stainless steel steam wand
Adjustable steam knob
Cup warming tray
0.8L detachable water tank
Transparent water level design
Removable drip tray
3. PHILIPS Series 1200 Fully Automatic Espresso Coffee Machine EP1220/00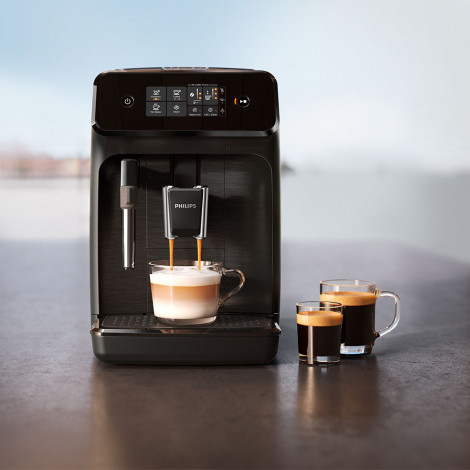 With its intuitive touch display, you can easily select from a variety of two beverages and indulge in the irresistible taste and aroma of freshly brewed coffee. The Classic Milk Frother dispenses steam, allowing you to effortlessly create silky smooth milk froth for your cappuccinos. Thanks to AquaClean technology, you can enjoy up to 5000 cups without the need for descaling, while the My Coffee Choice menu allows you to adjust the aroma strength and quantity according to your preferences.
With 12-step grinder levels, you can easily customise the grind to your desired consistency. The Aroma Extract system ensures the perfect temperature, aroma, and crema cup after cup, while the durable ceramic grinders bring out the full flavour of your coffee for at least 20,000 cups. Cleaning is a breeze with the fully removable brew group and dishwasher-safe parts.
Here are the highlights of the PHILIPS Series 1200 Fully Automatic Espresso Coffee Machine EP1220/00's amazing features:
2 beverages selection
Classic Milk Frother
Intuitive touch display
AquaClean technology
Adjustable aroma strength
12-step grinder levels
Aroma Extract system
Durable ceramic grinders
Fully removable brew group
Automatic descaling
Dishwasher-safe parts
4. Nespresso Lattissima Touch Black Coffee Machine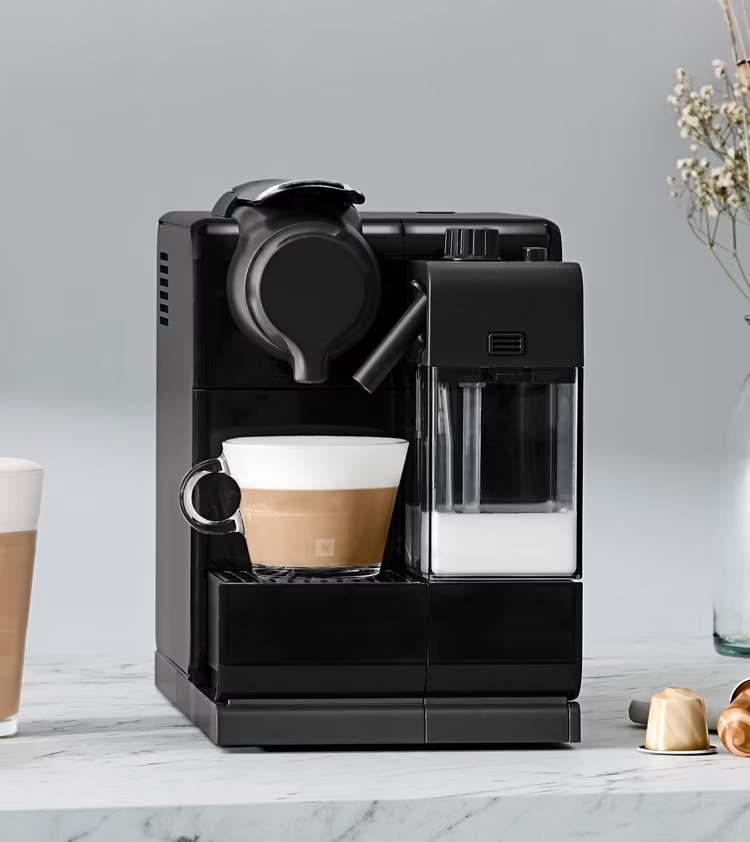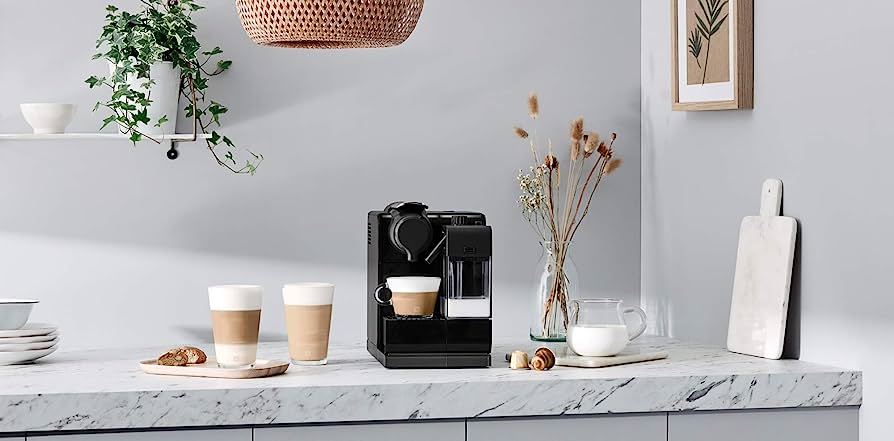 Introducing the Nespresso Lattissima Touch Black Coffee Machine, the ultimate one-touch system for coffee and milk recipes. With six convenient one-touch button recipes, this coffee maker delivers exceptional convenience in the comfort of your own home. Enjoy a wide range of delightful beverages such as Espresso, Lungo, Cappuccino, Latte Macchiato, Milky Latte, or warm milk froth for various coffee and milk recipes. The intuitive descaling and cleaning alerts ensure optimal machine performance and a perfect coffee experience every time.
The pluggable descaling pipe simplifies the descaling process even further. With a fast heat-up time of just 25 seconds, you can savour your favourite coffee quickly. The removable fresh milk container holds up to 0.35 L of milk, while the water tank has a capacity of 0.9 L. Additionally, the machine includes a 14-capsule assortment for you to sample a selection of our finest coffees. With a sleek black design and a 2-year warranty, the Nespresso Lattissima Touch offers both style and functionality for coffee enthusiasts.
Here are the highlights of the Nespresso Lattissima Touch Black Coffee Machine's amazing features:
6 one-touch recipes
Descaling alerts
Simplified clean system
Fast heat-up time (25 sec)
Automatic power off
Removable fresh milk container (0.35 L)
Water tank capacity (0.9 L)
Used capsule container capacity (9)
2-year warranty
5. illy X7.1 iperEspresso Capsule Coffee Machine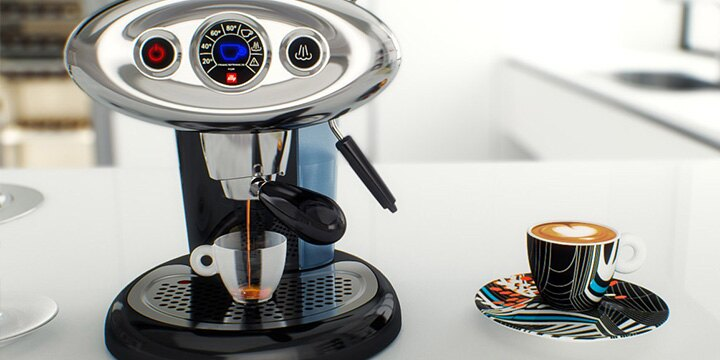 Created by Luca Trazzi, this best-selling machine from the Iperespresso family is a delight for espresso enthusiasts who also crave indulgent cappuccinos. The Francis Francis X7.1 Espresso machine combines style and functionality, utilising the revolutionary iperEspresso capsule system to effortlessly create full-bodied espresso. With its steel internal thermoblock and the Pannarello steam wand, this beautifully-designed machine froths milk to perfection. Available in striking red or black, the X7.1 makes a bold statement in any kitchen, paying homage to the iconic Italian design of the 1960s. The modem control panel with soft-touch buttons seamlessly integrates into its vintage-inspired round yet slender shape.
Experience exceptional versatility with the X7.1, whether you desire a rich, full-bodied cup of espresso or prefer to indulge in creamy cappuccinos and lattes. The machine is compatible with iperEspresso capsules, offering a convenient and mess-free brewing experience. With a 40-ounce water tank capacity, automatic volume control, a built-in cup warmer, and a one-year warranty, the illy X7.1 iperEspresso Capsule Coffee Machine brings together style, simplicity, and indulgence for an elevated coffee experience.
Here are the highlights of the illy X7.1 iperEspresso Capsule Coffee Machine's amazing features:
Retro-inspired design
Revolutionary iperEspresso capsule system
Steel internal thermoblock
Pannarello steam wand
Vintage-inspired shape
Simple touch control panel
Versatile espresso and milk frothing options
Compatible with iperEspresso capsules
40-ounce water tank capacity
Automatic volume control
Built-in cup warmer
1-year warranty
6. Delonghi Dedica Manual Pump Driven Coffee Machine EC685.M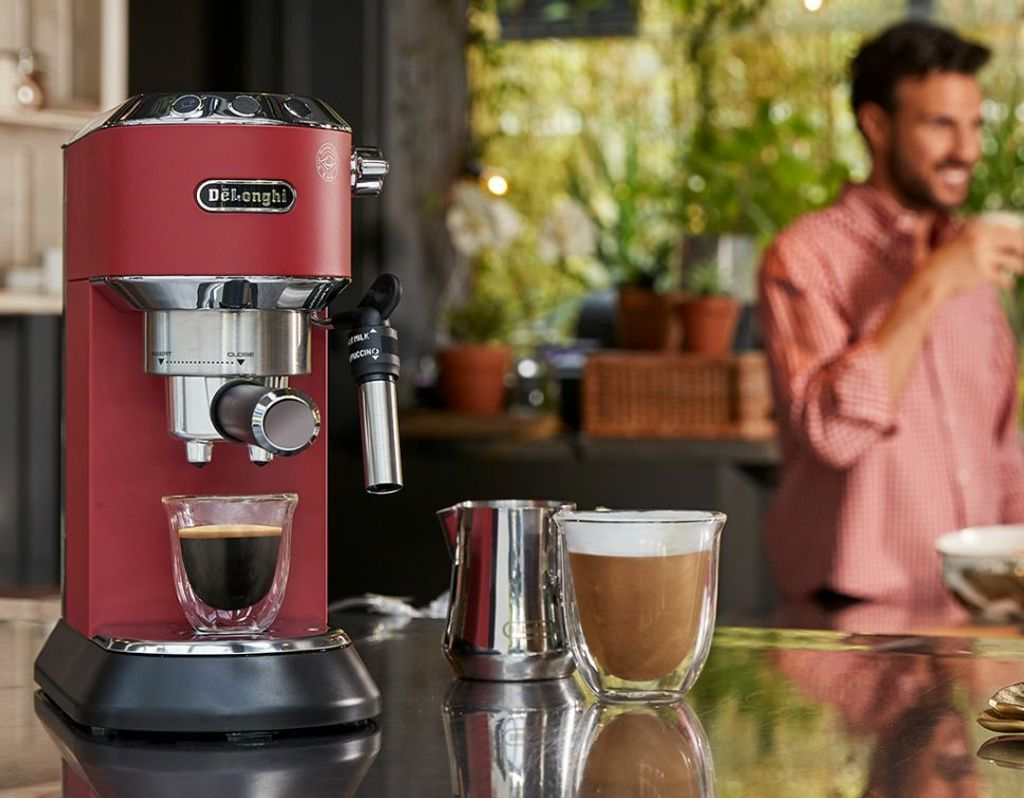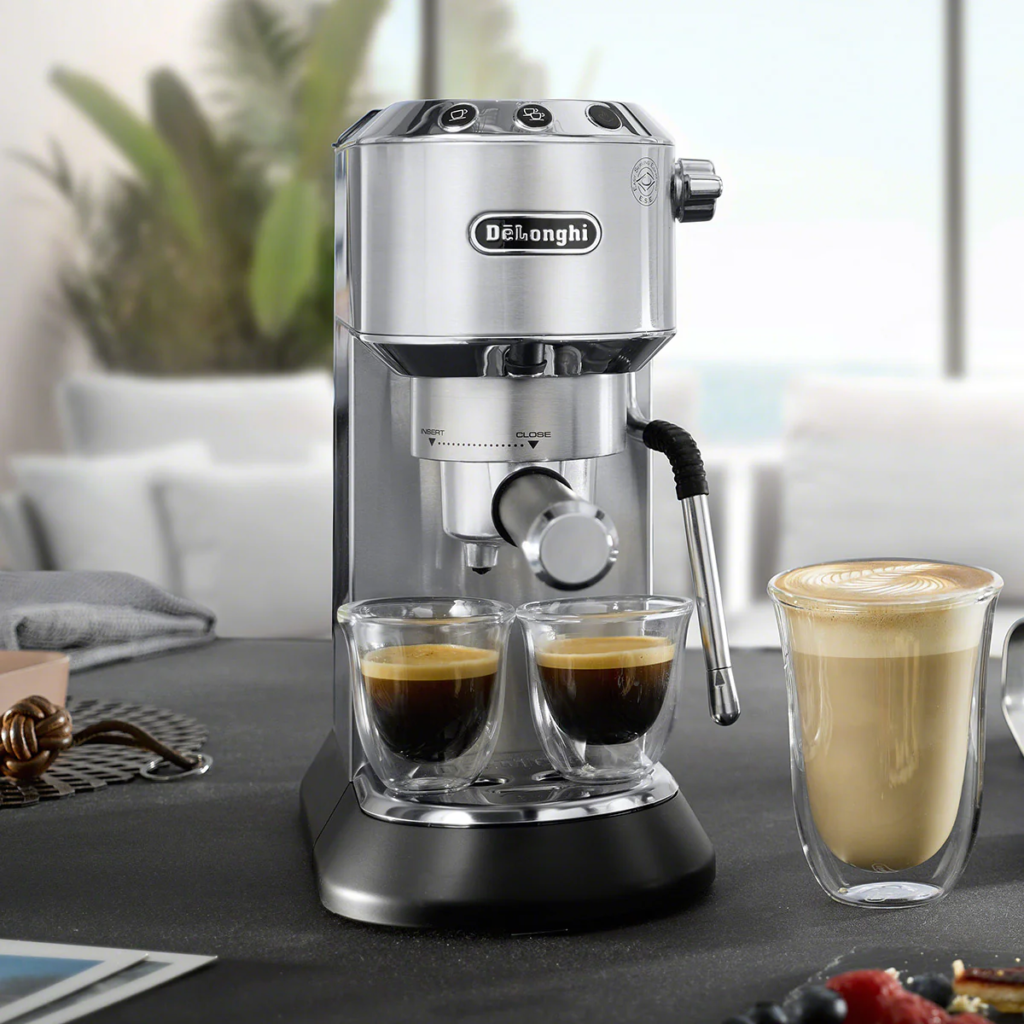 Experience the art of handcrafted speciality coffee with the Delonghi Dedica Manual Pump Driven Coffee Machine EC685.M. Designed to bring the café experience into your home, this compact and high-quality coffee machine is equipped with advanced technologies for extracting the perfect coffee every time. The adjustable cappuccino system allows you to effortlessly create creamy milk froth for your favourite coffee recipes, while the convenient cup warmer ensures optimal temperature for rich flavours.
With the pressurised portafilter, achieving the perfect shot with a velvety crema is a breeze. The Dedica offers versatility and customisation options, allowing you to tailor your coffee to your preferred taste and explore a variety of flavours. With its thoughtful features like descaling alerts and removable components, this coffee machine makes the brewing process easy and enjoyable. Elevate your coffee experience with the Dedica and savour the flavours of a barista-quality brew at home.
Here are the highlights of the Delonghi Dedica Manual Pump Driven Coffee Machine EC685.M's amazing features:
Handcrafted speciality coffee
Adjustable cappuccino system
Compact and high-quality
Convenient cup warmer
Pressurized portafilter
Versatile and customizable
Descaling alerts
Removable components
Thermoblock heating system
3 filter baskets
7. Nespresso Essenza Mini Coffee Machine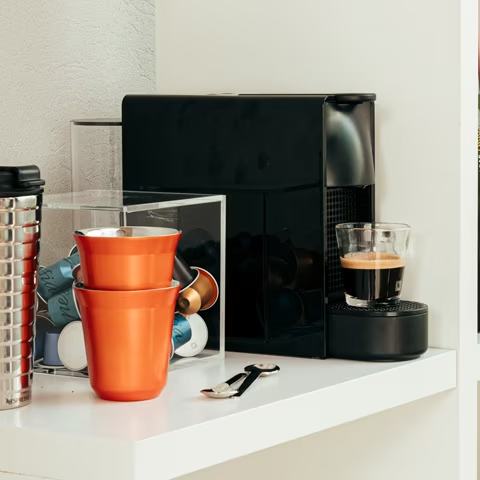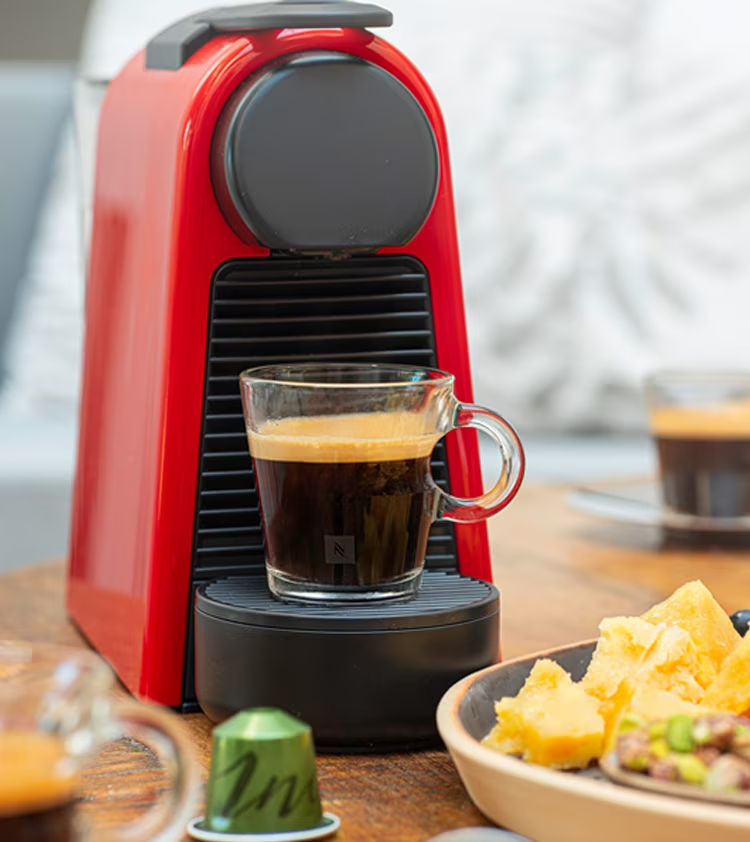 Experience the Nespresso Essenza Mini Coffee Machine, the smallest yet most powerful addition to the Nespresso family. This compact machine delivers exceptional coffee without compromising on quality. With 2 programmable cup sizes, you can customise your coffee just the way you like it. Choose from two contemporary shapes and four stylish colours to match your personal style and space. The Essenza Mini is designed to provide big coffee moments in a small package.
With a 19-bar pressure system, this machine ensures optimal extraction for rich and flavourful coffee. It's minimalist design and compact size make it a perfect fit for any kitchen or home. The eco mode feature helps conserve energy, making it environmentally friendly. Whether you prefer a classic espresso or a creamy cappuccino, the Essenza Mini delivers outstanding results every time.
Here are the highlights of the Nespresso Essenza Mini Coffee Machine's amazing features:
Smallest Nespresso machine
2 programmable cup sizes
19-bar pressure
Compact size
Eco mode
Minimalist design
Two distinctive shapes
Four stylish colours
Optimal size and portability
Endless coffee recipes
8. Hibrew 4 in 1 Multiple Capsule Coffee Machine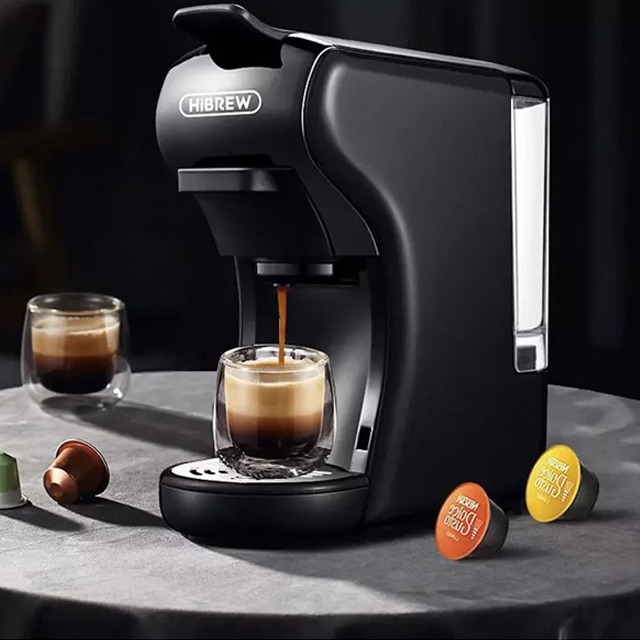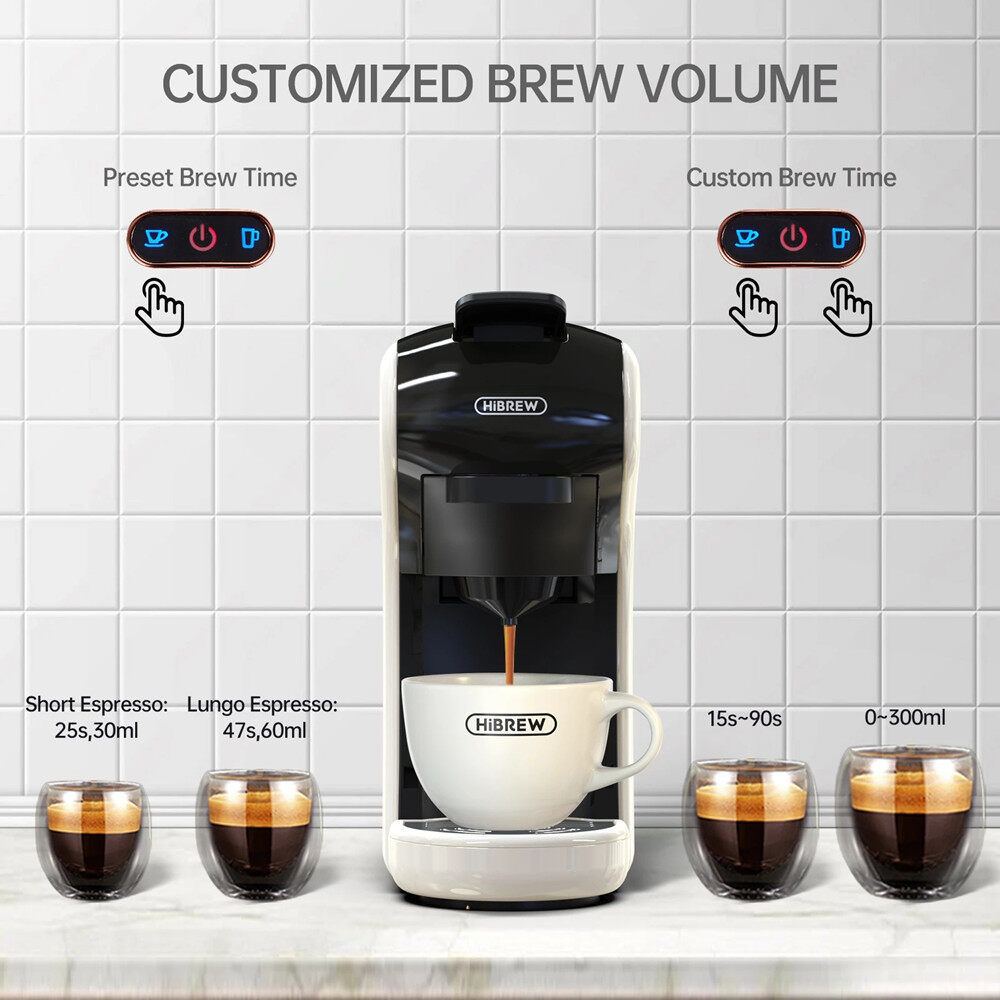 With a powerful 19-bar pump from Italy, this machine delivers rich and creamy coffee with ease, just like a professional coffee machine. Its compact size and elegant design make it a perfect fit for both home and office use. The Hibrew coffee machine is incredibly user-friendly, allowing you to brew coffee in just one minute after turning it on. It offers dual extraction systems, giving you the flexibility to adjust the coffee strength manually according to your preferences. With a spacious 0.6L water tank featuring a wide mouth, cleaning is a breeze.
For added convenience, this coffee machine can store discarded capsules, keeping your countertop tidy. It also comes with multiple compatibility options, including Nespresso, Dolce Gusto, and ground coffee adapters, ensuring you can enjoy a wide variety of coffee choices. Safety is paramount, and the Hibrew machine is equipped with anti-dry protection, automatically shutting off after 15 minutes of inactivity.
Here are the highlights of the Hibrew 4 in 1 Multiple Capsule Coffee Machine's amazing features:
Rich coffee extraction
19-bar pump pressure
Stores discarded capsules
0.6L water tank
Dual extraction system
Adjustable coffee strength
Multiple compatibility options
Anti-dry protection
Automatic shut-off
Nespresso, Dolce Gusto, Ground Coffee, and K Cup adapters
Conclusion
Selecting the best coffee machine requires considering individual preferences and specific needs. Various coffee machines in the market offer impressive features and performance, catering to a range of user requirements. Factors such as intuitive controls, milk frothing capabilities, water purification systems, customisation options, and compact designs are crucial considerations. Additionally, the availability of multiple cup sizes, energy-saving features, and compatibility with different coffee capsules add to the overall appeal of a coffee machine.
Ultimately, the choice of the best coffee machine depends on personal taste, desired functionality, and budget. Exploring different options and reading user reviews can provide valuable insights to make an informed decision. Whether it's for home or office use, a well-chosen coffee machine can elevate the coffee brewing experience and ensure a delightful cup of coffee every time.
Read also: Best of Home Appliances Series