Are you struggling with maintaining a clean home? We are aware of how difficult it may be, especially when working a 9-to-5 job. Moreover, if you keep delaying the cleaning chores throughout the week, you will be busy on the weekends as well. In all this fuss, when are you going to get some rest? Don't worry! We have a solution to maintaining a clean home regularly: simply buy a good vacuum cleaner. It'll not only make cleaning up easier but also help you save time and effort in the long run.
So, are you planning to get the best vacuum for your home? Although it can be difficult to choose which of the many vacuum cleaner models and features is best for your needs, we've already done the research for you. We've put together this informative guide to help you find the best cordless vacuum cleaner in Malaysia. We'll also discuss what features in a vacuum cleaner model must be considered before buying. So let's get started!
Things to Consider When Buying a Cordless Vacuum Cleaner
A good cordless vacuum cleaner should offer a combination of comfort, cleaning power, and affordability. When buying one for your home, there are many important factors to consider, like:
Weight is one of the main considerations, as a lightweight vacuum is easier to move around and can be used with one hand.
Motor power is also important, as this will determine how powerful the vacuum is and how effective it is at cleaning. 
Battery life is another important factor, as you want a vacuum that runs for a useful length of time and doesn't take too long to charge. Some may need to be charged overnight, while others have much less charging time.
Finally, it's also worth looking at the specifications of the vacuum, as some may come with additional attachments or other features that could make cleaning easier.
Our Selection of 15 Best Cordless Vacuum Cleaners in Malaysia
To help you keep your home clean and tidy, we've compiled this list of the top 15 cordless vacuum cleaners available in Malaysia.
1. Philips Cordless Stick Vacuum Cleaner Speedpro Aqua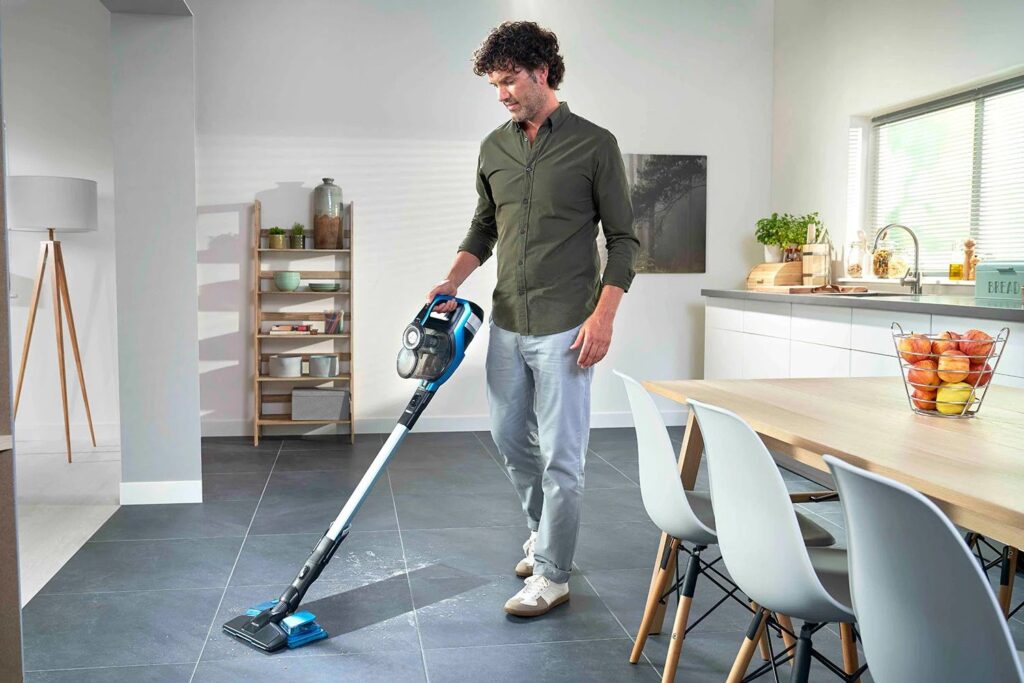 Philips is one of the largest electronics companies in the world. The main interest of the company is currently in the area of health technology. This is why Philips vacuum cleaners offer more health and hygiene benefits.
The Philips Speedpro Aqua is number one on our list of the best vacuum cleaners. This cordless stick vacuum cleaner is the best choice for your home as it offers a great combination of features like strong suction power, long battery life, and useful attachments. You can clean anything with the help of this multipurpose vacuum cleaner, from your floor to your couches.
Some features of the Philips Cordless Stick Vacuum Cleaner Speedpro Aqua are:
Fast clean
Powerful reach and easy to manoeuvre
Unique suction nozzle: built-in LED lights that reveal dust and dirt
PowerBlade motor and PowerCyclone 7 technology: more airspeed and stronger performance
Run time of up to 50 minutes
Multiple forms: vacuum, mop, and handheld
Up to 99% bacteria removal
Multiple accessories for easy cleaning:  a 180° suction nozzle, a microfiber pad, an integrated handheld unit, a crevice tool, a brush, and a wall mount
2. Dyson Cyclone V10™ Fluffy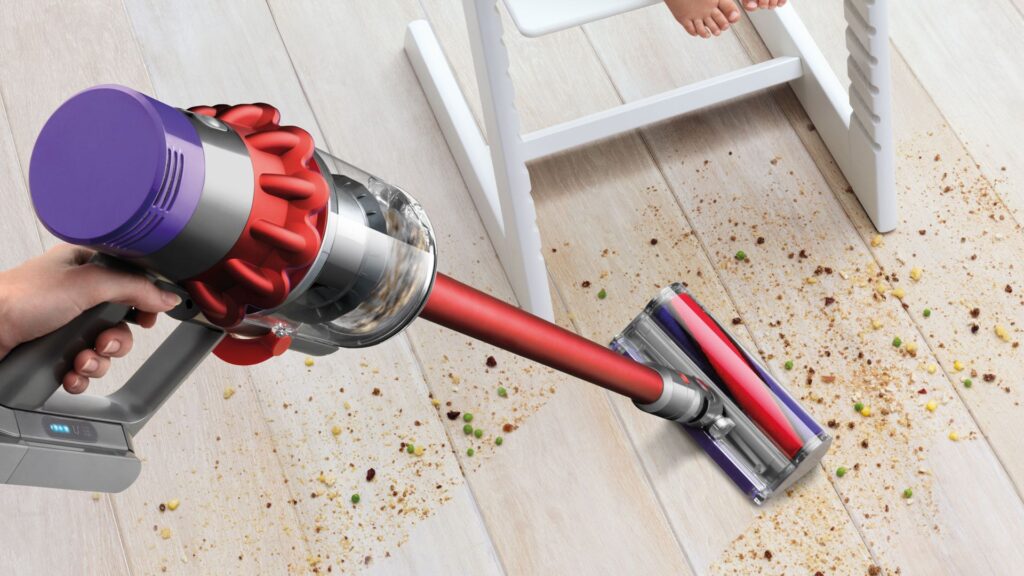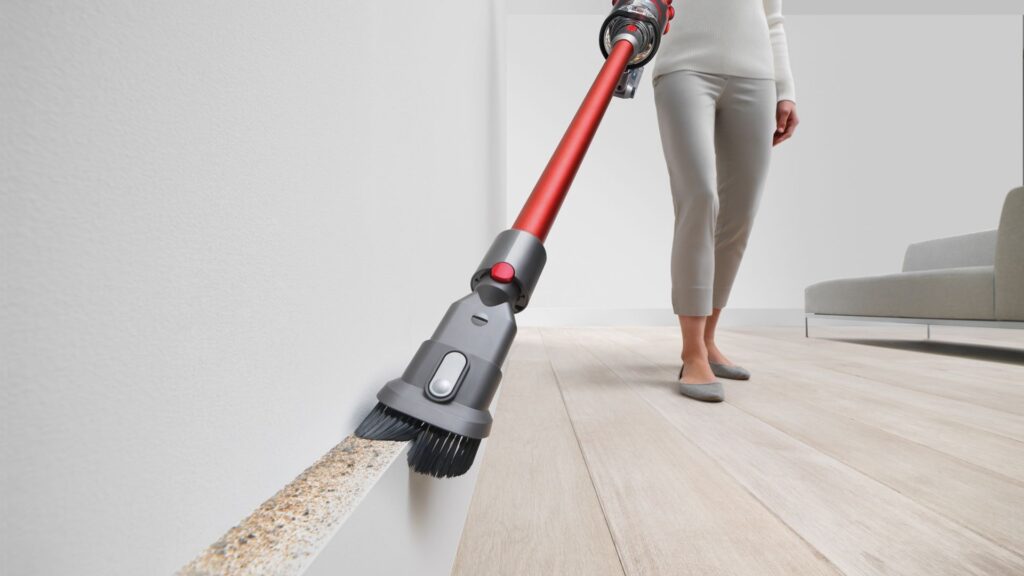 The electronic appliance manufacturer based in Singapore, Dyson, serves homeowners all over the world. It produces some of the industry's top desk fans, air purifiers, and vacuum cleaners. All Dyson vacuums are quite effective at cleaning thoroughly. They are adjustable to various cleaning activities and are simple to move around. 
Our top pick from Dyson is the Cyclone V10™ Fluffy Cordless Vacuum Cleaner. For those looking for more power, this vacuum is the ideal choice, with its powerful suction, long run time, laser dust detection technology, and fluffy cleaner head. You can also convert it into a handheld version with a single click for light cleaning.
The features that make the Dyson Cyclone V10™ Fluffy an amazing vacuum are:
Soft woven nylon cleaner head: designed to completely clean hard floors
Multiple heads for all-purpose cleaning
Powerful suction by the Dyson digital motor V10
14 cyclones: strong suction to thoroughly clean all types of surfaces
Whole machine filtration
Hygienic point-and-shoot bin emptying system
Acoustically engineered
Drop-in docking: ready to grab and go
Three power modes to choose from
Long-lasting battery
Run time of up to 60 minutes
3. Panasonic Lightweight Cyclone Cordless Stick Vacuum Cleaner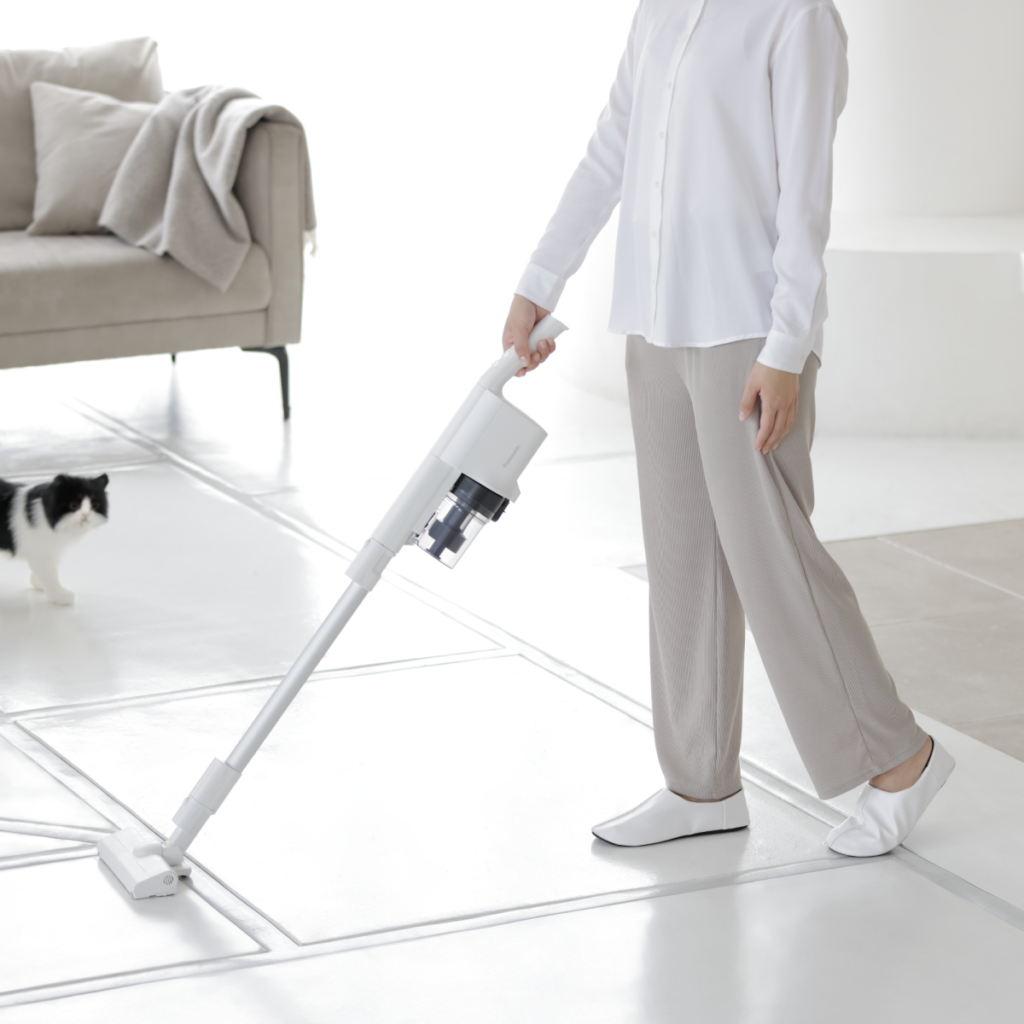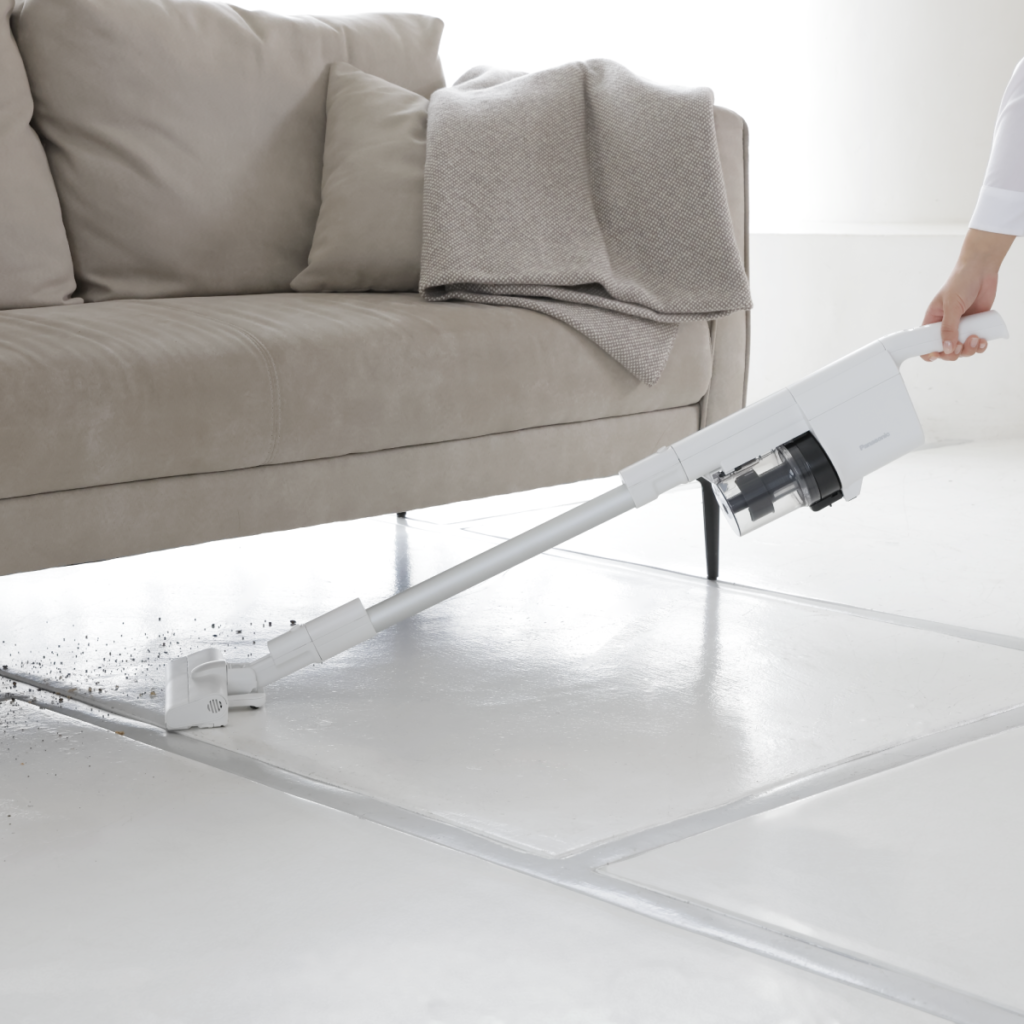 Panasonic, a renowned global electronics company, is dedicated to creating top-notch household appliances that make everyday life a breeze. Among their impressive lineup, their vacuum cleaners genuinely shine. These innovative cleaning devices harness the power of AI, sensing technology, robotics, and clean energy to deliver the ultimate cleaning experience for any home.
With the Panasonic Lightweight Cyclone Cordless Stick Vacuum Cleaner, you can expect nothing short of exceptional cleaning performance. This lightweight vacuum is equipped with Float-Lite Technology, which ensures exceptional suction power and easy manoeuvrability. It boasts a generous 0.3 L dust capacity, allowing you to tackle extensive cleaning tasks without frequent emptying.
The features that make this cordless vacuum from Panasonic different from others are:
Lightweight: weighs only 1.3 kg
Float-lite Technology
Large dust capacity of 0.3 liters
Incredible running time: min 6 min/max 30 min
Comes with a 2-way dusting brush
4. Electrolux Well Q7P Self-standing Cordless Vacuum Cleaner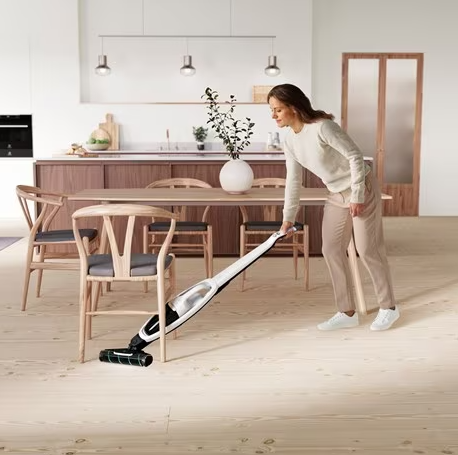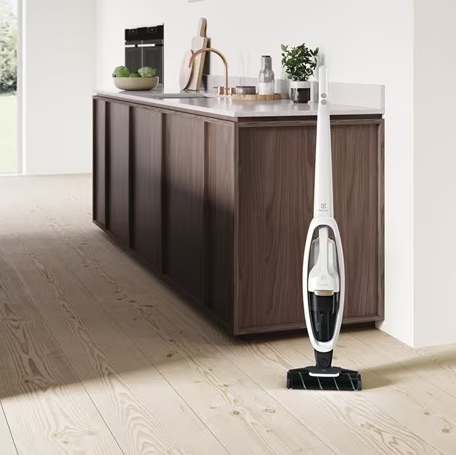 The Electrolux Group is a well-established appliance company that works globally. It has been dedicated to enhancing the quality of life for over a century. Recognised both in Malaysia and around the world, Electrolux has earned a reputation for excellence. With an impressive annual sales figure of about 60 million household appliances, the company caters to more than 150 markets worldwide. In 2022, Electrolux Group achieved sales of SEK 135 billion and boasted a global workforce of 51,000 employees.
Electrolux has all the variety you may need, from self-standing cordless vacuum cleaners to canisters. Among our top recommendations is the Electrolux Well Q7P Self-standing Cordless Vacuum Cleaner which stands out for its exceptional performance. Its PowerPro roller is specifically designed for cleaning and polishing hard floors, making it an ideal choice for homeowners.
The Electrolux Well Q7P Self-standing Cordless Vacuum Cleaner has some really cool features. Some of these are listed below:
Grab and Go design for quick and convenient cleaning
PowerPro roller
5-step filtration system
Cyclonic system: maintains suction even when full
5 different accessories included
Ultra-low weight
13 minutes run time at high speed and 50 minutes at low speed
5. Bosch Series 6 Rechargeable Vacuum Cleaner Unlimited White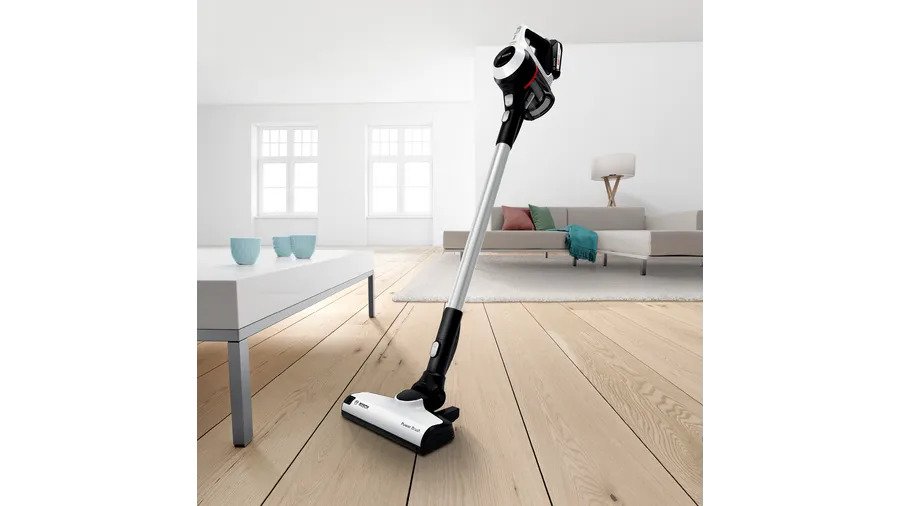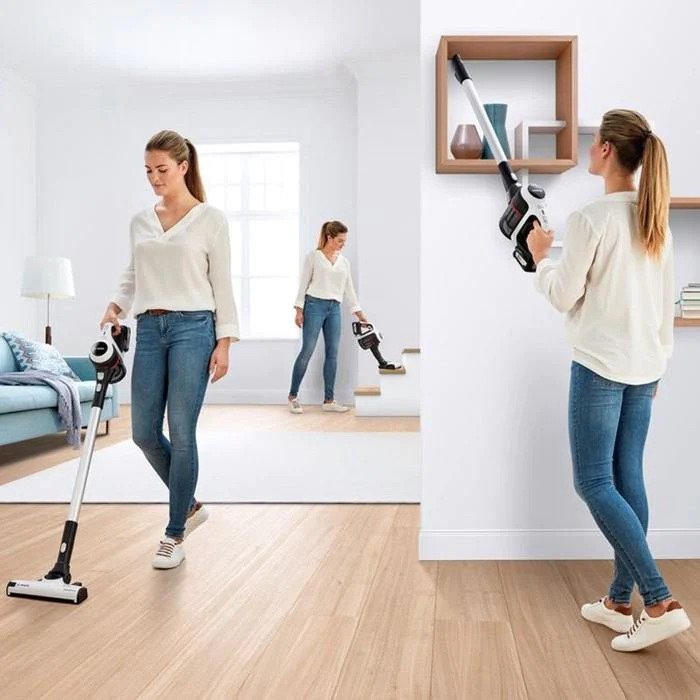 The next vacuum cleaners on our list are made in Germany and powered by Bosch. These are Bosch Series 6 Rechargeable Vacuum Cleaners from Bosch. Built with a new brushless motor, these are powerful and efficient, yet incredibly quiet. The low noise levels of these vacuums make them perfect for those who are sensitive to noise.
With the Bosch AllFloor Power Brush, the Series 6 is the perfect cleaning companion for all types of floors. With a weight of just 2.3 kg, it's extremely easy to handle and can be converted into a handheld form of 1.4 kg – you can use it for several small cleaning tasks. Best of all: it has a wide-reach motorised floor nozzle that's extra reliable, so you'll get deep cleaning wherever it needs to go!
The Series 6 features vacuums that are small in size and efficient in performance. Here are the specifications of these vacuum cleaners:
AllFloor Power Brush and TurboSpin Motor
Compact and lightweight
Original Bosch battery: delivers guaranteed high-quality performance with extended runtime
Multi-purpose: can be used on all floors
Pure Air membrane, and Hygienic filter: exhaust clean air
Easy and hygienic emptying
Docking station for convenient storage
Useful accessories
6. Dibea G22 Dual Usage Bendable Mop & Cordless Vacuum Floor Cleaner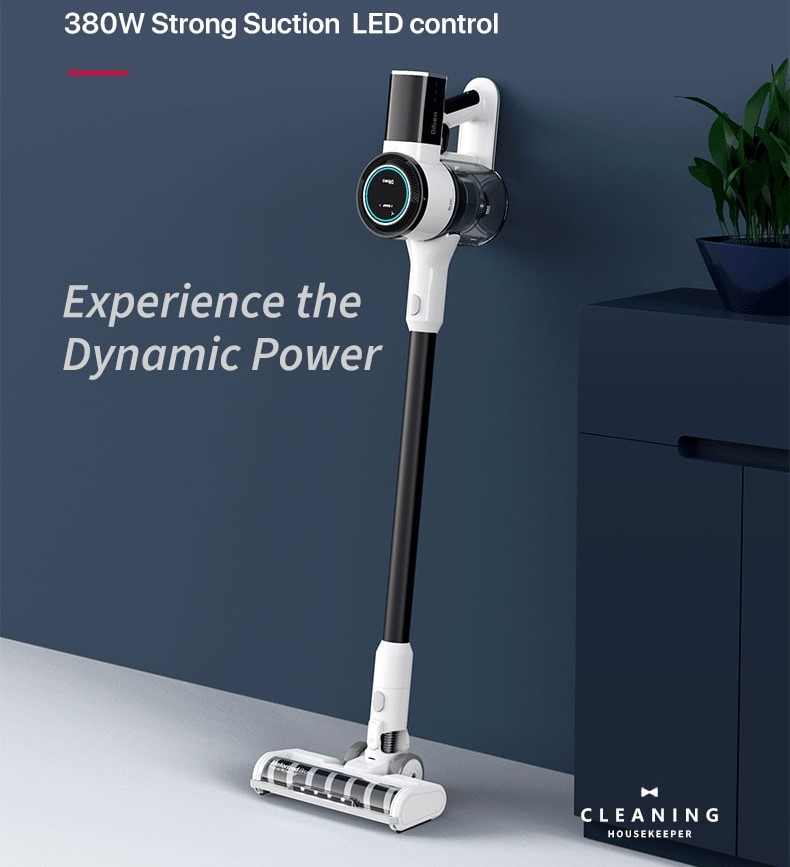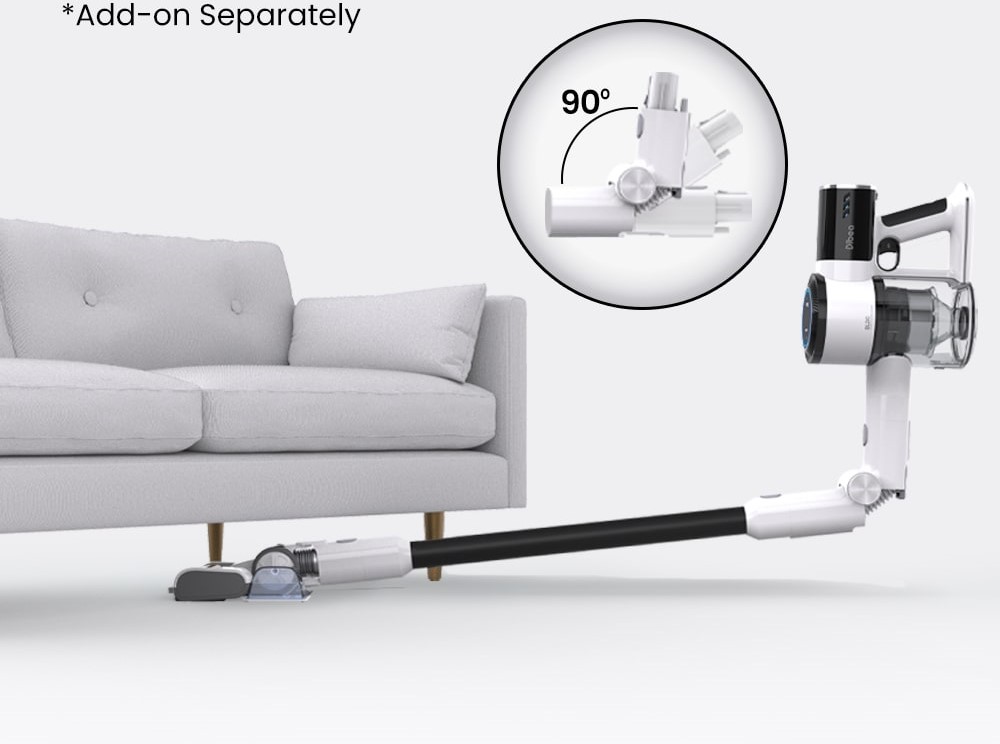 The Dibea G22 Cordless Vacuum Floor Cleaner is a great, affordable choice with good handling and sufficient power. It is designed to be more durable and last longer than other vacuums in this price range. This bendable mop and cleaner have the genuine capacity to pick up more than just dust from the floor. 
In high-performance mode, it can generate up to 29,000 PA of suction power to handle the majority of dirt and dust. This vacuum is designed with the Dibea D.SOC 2.1 new integrated chip, which stabilises the cleaning function and reduces the failure rate of the battery system. The unique bend pipe of this vacuum can be folded in multiple angles to meet your cleaning requirements.
Some features of the Dibea G22 Dual Usage Bendable Mop & Cordless Vacuum Floor Cleaner are:
Extensible tube: allows cleaning in multiple angles
Multiple speed control
Working time: ranges from 48 minutes to 10 minutes depending on the cleaning mode you are using 
Fast charging
Stable suction without heating the body
Large dust tank capacity of 0.7 liters
Lightweight design: 1.5 kg for handheld and 2.4 kg for the whole unit
Smart LED display screen
Brushless motor
Advanced multi-stage filtration system and high-efficiency HEPA filter
Sweep and mop together
Build-in docking system
7. Beko VRT 94929 VI: Cordless Vacuum Cleaner (450 W)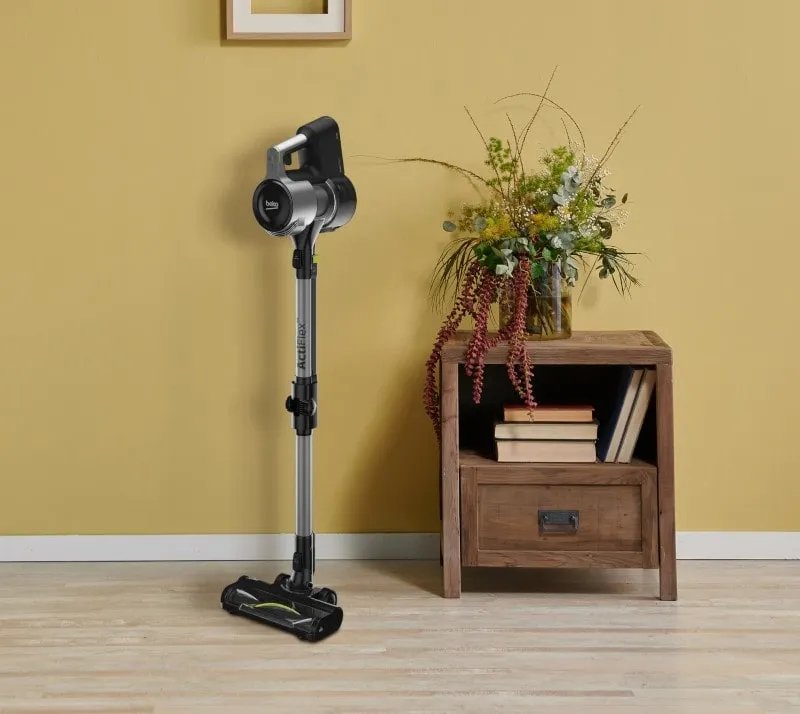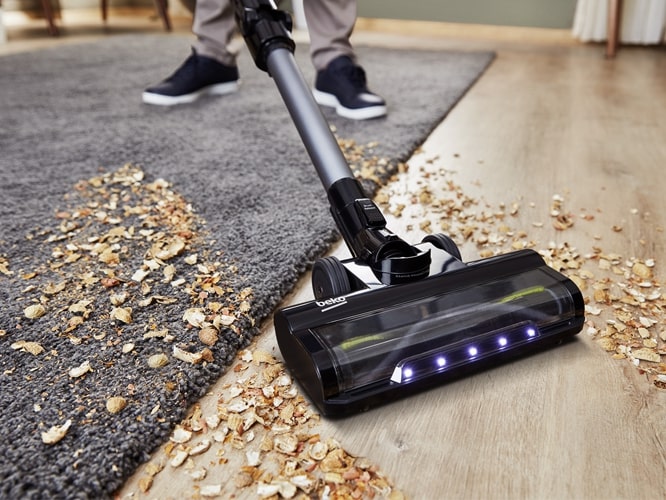 Beko is a popular European brand that operates in several locations, including Malaysia. They want to encourage the next generation to lead healthier lives by manufacturing goods that support healthy living. From vacuums that save you time to refrigerators that store food more efficiently, they have everything you could possibly need for your family or yourself.
Our all-time favourite from Beko is the VRT 94929 VI Cordless Vacuum Cleaner. This self-standing vacuum has a foldable tube body that allows you to clean at a lower angle, such as under the sofa. It's sizable and readily washable dust container is designed for your convenience when doing cleaning tasks.
A few truly cool features of this vacuum include:
0.9 L dust capacity: allows for non-stop cleaning
45-minute operating time
Self-standing
Charges fully in just 4 hours
Acoustically engineered: keep noise and vibrations at the minimum possible level
Suction power adjustment control 
Easy cleaning dust container
Multiple attachments to make cleaning easy: crevice tool, upholstery tool, dusting brush, soft brush, etc.
8. Kärcher Handheld Vacuum Cleaner VC 4s Cordless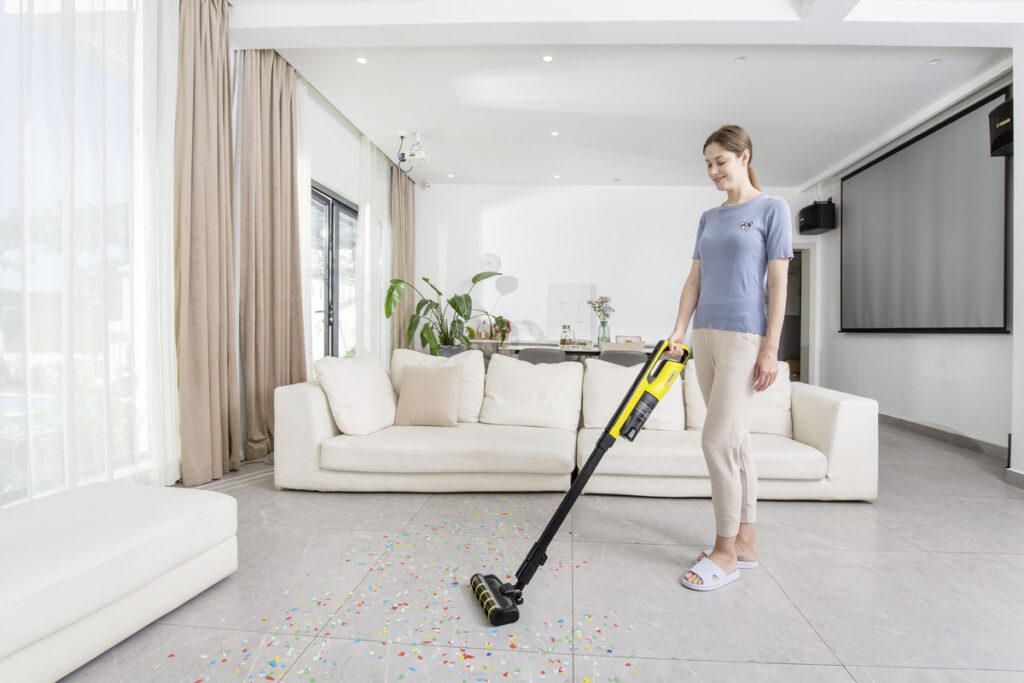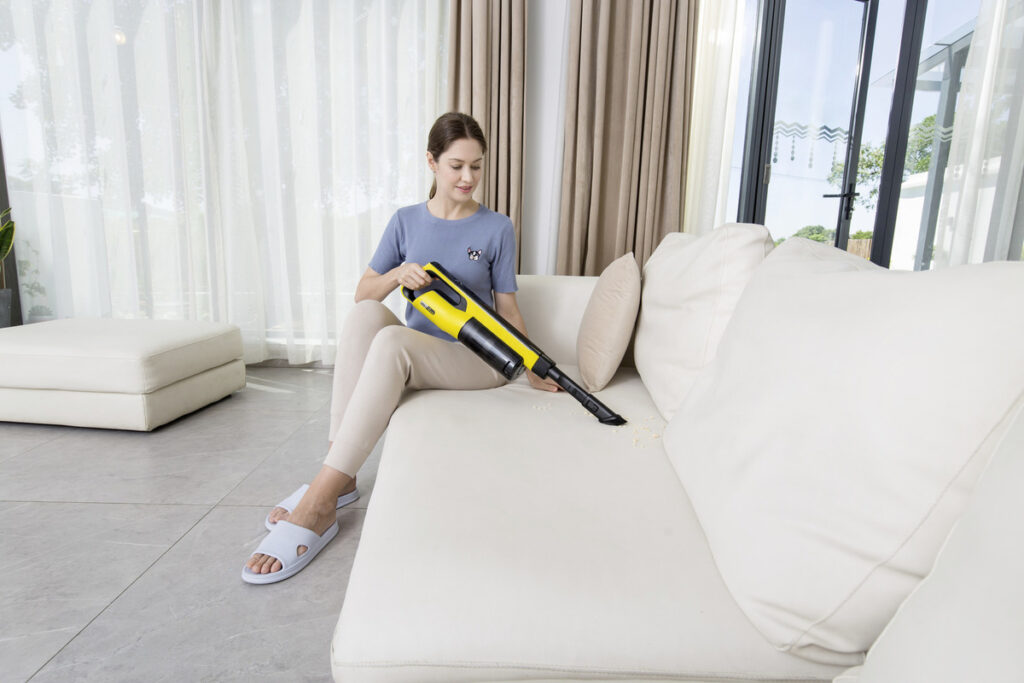 The VC 4s Cordless *Sea Handheld Vacuum Cleaner from Kärcher is another great choice for budget shoppers, as it offers good handling and suction power for a more affordable price. Kärcher has always been the leader in cleaning technology in Malaysia, and the reason is evident in its vacuum cleaners.
The Kärcher VC 4s Cordless *Sea Handheld Vacuum Cleaner is a 2-in-1 vacuum that can be customised to meet your cleaning needs. You can change the upright cleaner into a handheld one in a matter of seconds. Its lightweight body and slimline design allow you to clean even the most difficult-to-reach areas with ease.
The features that make this vacuum cleaner a versatile and useful cleaning device are:
180° hinge: easy to manoeuver around furniture
Brushless high-speed motor with multi-cyclone cleaning system
The constant suction power of 15,000 Pa
Large motorised floor nozzle
HEPA filter and EPA 12 filter to capture even the minute dust particles
Up to 60-minute run time in Eco mode
Self-standing storage and charging station
Special accessories for all cleaning needs
9. Dyson V15 Detect™ Absolute (HEPA)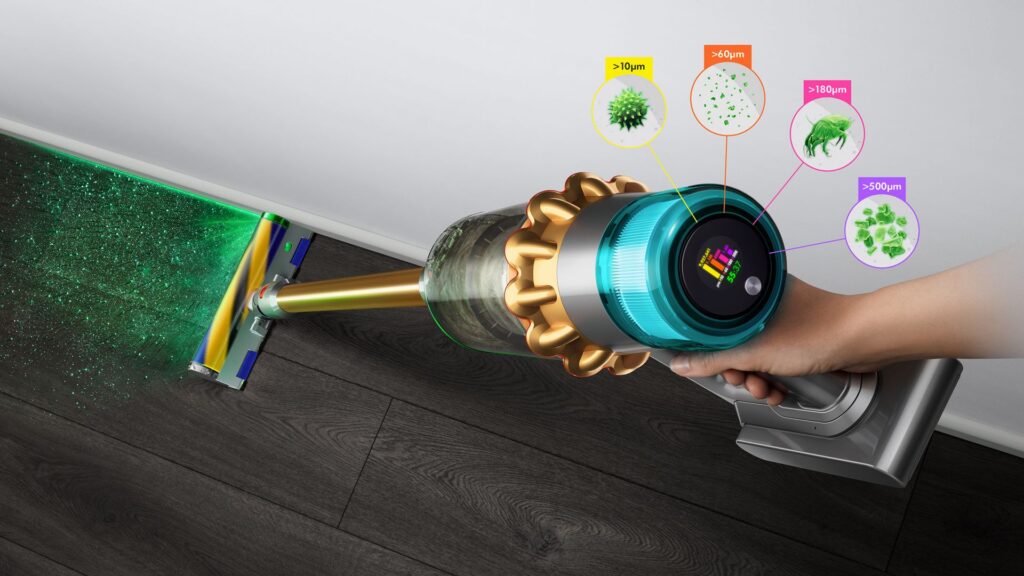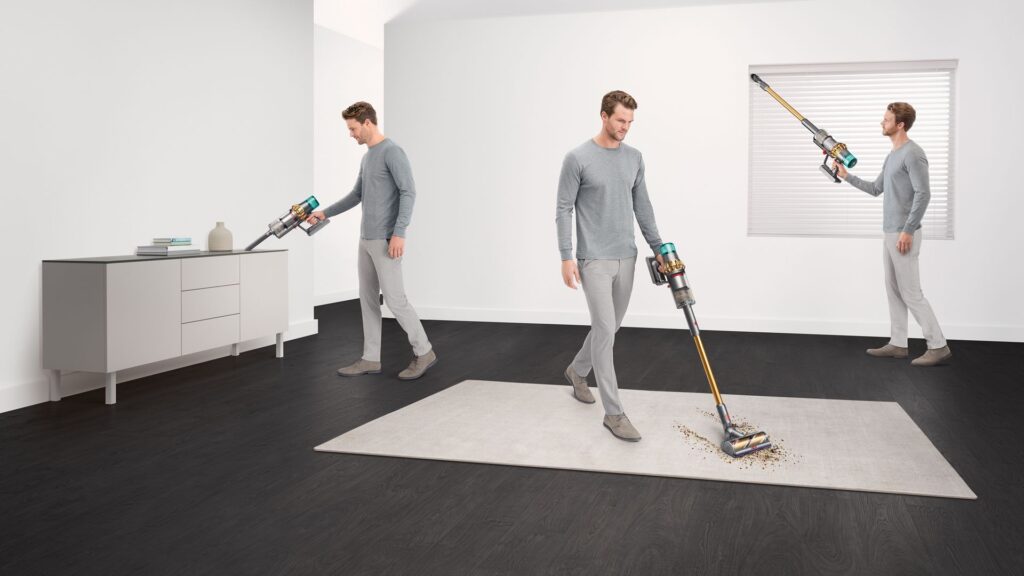 Here comes another amazing vacuum cleaner from Dyson: the V15 Detect™ Absolute. It is an intelligent cordless vacuum cleaner boasting a whole-machine HEPA filtration system. Its highly efficient HEPA filters trap even minute particles with ultimate precision. Designed with your pets in mind, its tools de-tangle all the hair automatically while cleaning. Its meticulously positioned laser reveals hidden dust on hard floors, ensuring no speck goes unnoticed.
The specifications that make this vacuum truly intelligent are:
Multi-stage HEPA filtration: traps particles as small as 0.1 microns
Motorbar™ cleaner heads with the latest de-tangling technology
Laser detection of dust particles
LCD screen displays real-time proof of a deep clean
Dyson Hyperdymium™ motor: generates 230AW of powerful suction
Root Cyclone™ Technology
Energy-dense click-in battery
Carbon fibre filaments
Built-in dusting and crevice tool
Three power modes
Easy to maintain
Expert guides on the MyDyson™ app
10. Dreame H12 Wet and Dry Cordless Vacuum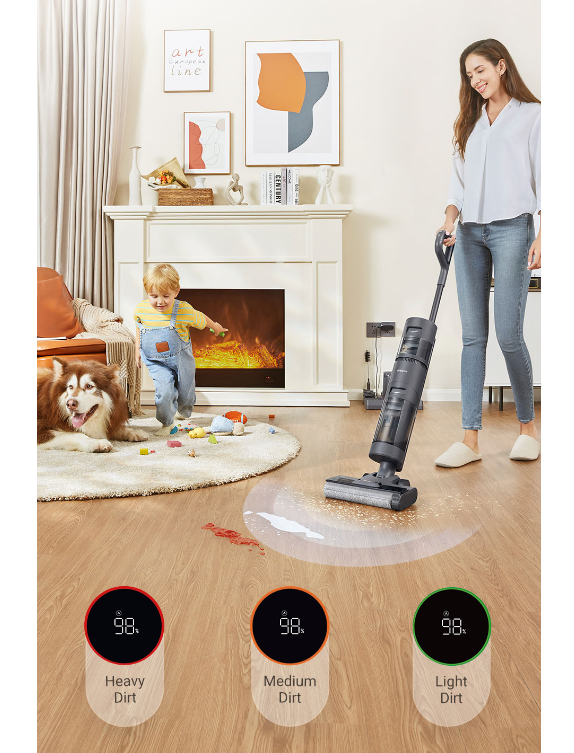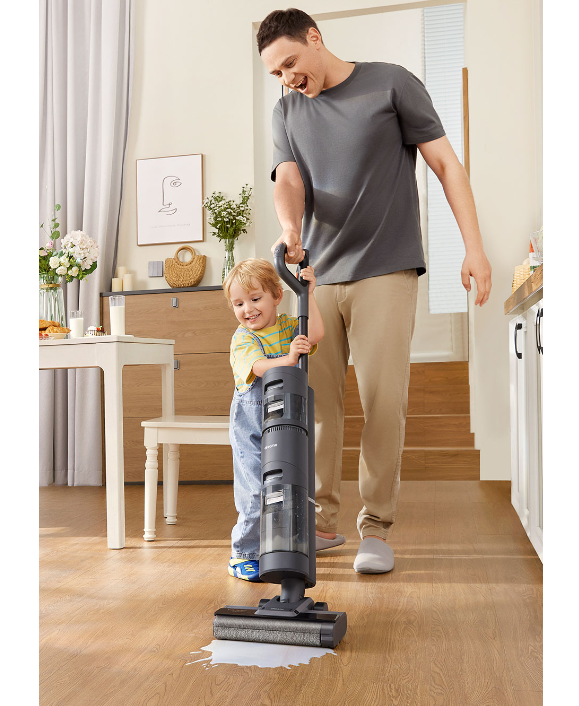 Dreame Technology is a leading-edge company established in 2015 with the goal of improving the lives of people all over the world. They are experts at developing cutting-edge cleaning tools that use astrodynamics-inspired technology. Their primary aim is to offer powerful and effective products that make cleaning tasks easier for customers everywhere.
The Dreame H12 Wet and Dry Cordless Vacuum is a versatile cleaning tool that can clean both wet and dry messes at the same time. It has a strong motor that provides exceptional suction power, making it a breeze to remove dirt and dust, even from hard-to-reach areas. The vacuum cleaner also features a user-friendly LED display that provides you with real-time cleaning status. It also has an intelligent voice prompt, allowing you to have easy control over its settings and functions.
The features of this smart vacuum cleaner are summarised below:
Cleans up both wet and dry messes
Edge-cleaning brush roller
Smart mess detection: optimizes suction and cleaning efficiency
Real-time water circulation system
Large water and dust tanks
Long runtime
LED display and voice control
Easy to maneuver
11. Roborock Dyad Pro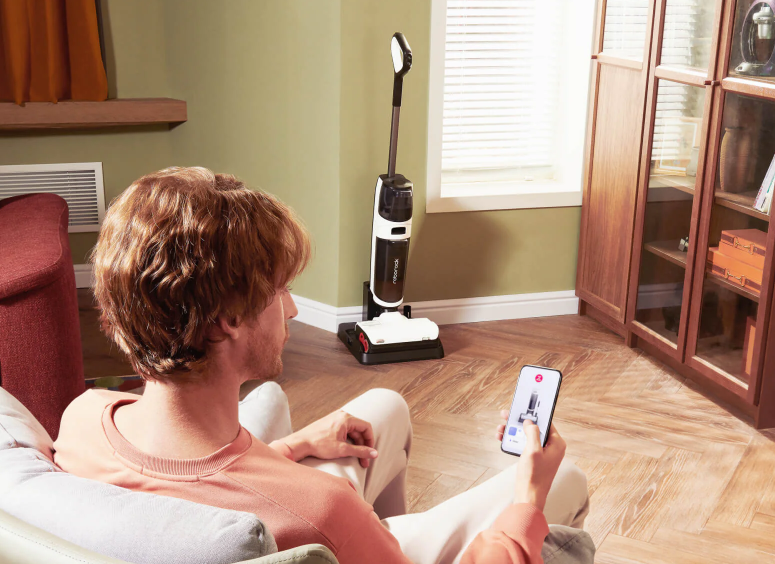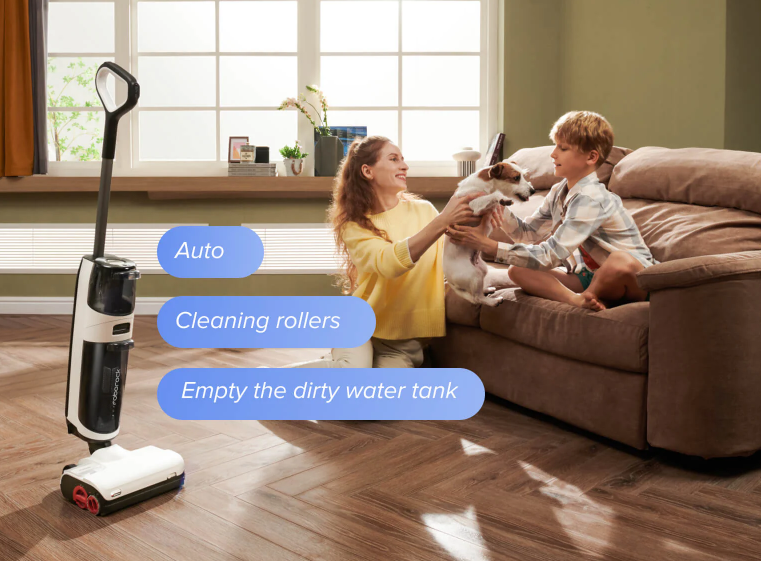 Beijing Roborock Technology Co., Ltd. (Roborock) was established in July 2014. They focus on creating products that enhance people's lives by making them more comfortable. Their expertise lies in researching, developing, and manufacturing robot vacuums and cordless stick vacuums. These products are designed to work exceptionally well, enabling users to dedicate more time to their passions and reduce the time spent on household chores.
Roborock's Dyad Pro is a vacuum cleaner every Malaysian should have in their home. This multi-purpose vacuum cleans wet and dry messes in seconds. The device uses multiple rollers that enable enhanced edge-to-edge cleaning. And maintaining this vacuum is not a thing: its automatic self-cleaning and drying functions can turn your filthy vacuum into a new one in just a few seconds.
This robotic vacuum is an all-in-one smart cleaning device with the following features:
DyadPower: cleans wet and dry messes instantly
Multiple rollers for improved cleaning in narrow spaces
RevoBrush self-cleaning and drying system
DirTect Smart Sensor
On-screen LED indicator
Automatic dispenser
App connectivity
Voice alerts
Durable but lightweight design
12. Tineco iFloor – Wet Dry Vacuum Cleaner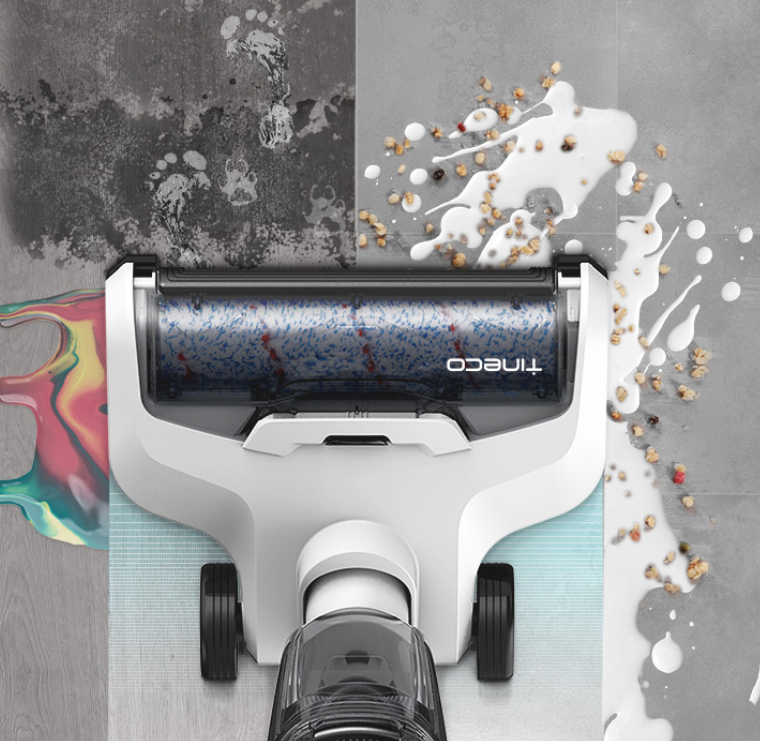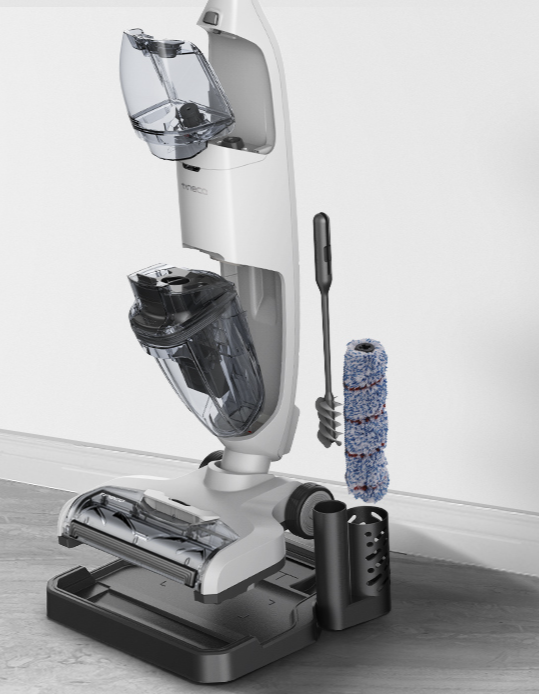 Tineco, a reputable Malaysian brand, has gained recognition for producing exceptional vacuum cleaners. Their line of cordless vacuum cleaners has achieved an impressive rank as the second most-sold vacuum cleaners on Amazon in the United States. Their stick vacuums have also garnered significant acclaim among consumers in Malaysia. It highlights Tineco's commitment to delivering superior performance and meeting the needs of diverse households.
Our favourite vacuum from Tineco is their iFloor Wet Dry Vacuum Cleaner. It effortlessly picks up large particles and liquids, eliminating the need for sweeping beforehand. With its flexible brush head, it reaches corners and tight spaces with ease. The Spot Mode provides extra power to tackle stubborn dirt and stains. Suitable for all sealed hard floors, it offers a lightweight and portable design for easy lifting and carrying. The dual tank system separates clean and dirty water, while the spray trigger allows precise application of cleaning solution.
Experience convenient and efficient cleaning with the following features of the Tineco iFloor:
Vacuum and wash at the same time
Cordless design
Flexible and rotatable brush head
Lightweight and manoeuverable
Spot Mode
Deodorising and cleaning solution
For all kinds of hard surfaces
Self-cleaning function
Dual tank and spray trigger
3-in-1 cleaning tool
Easy maintenance and storage
13. Perysmith XS20 Cordless Vacuum Cleaner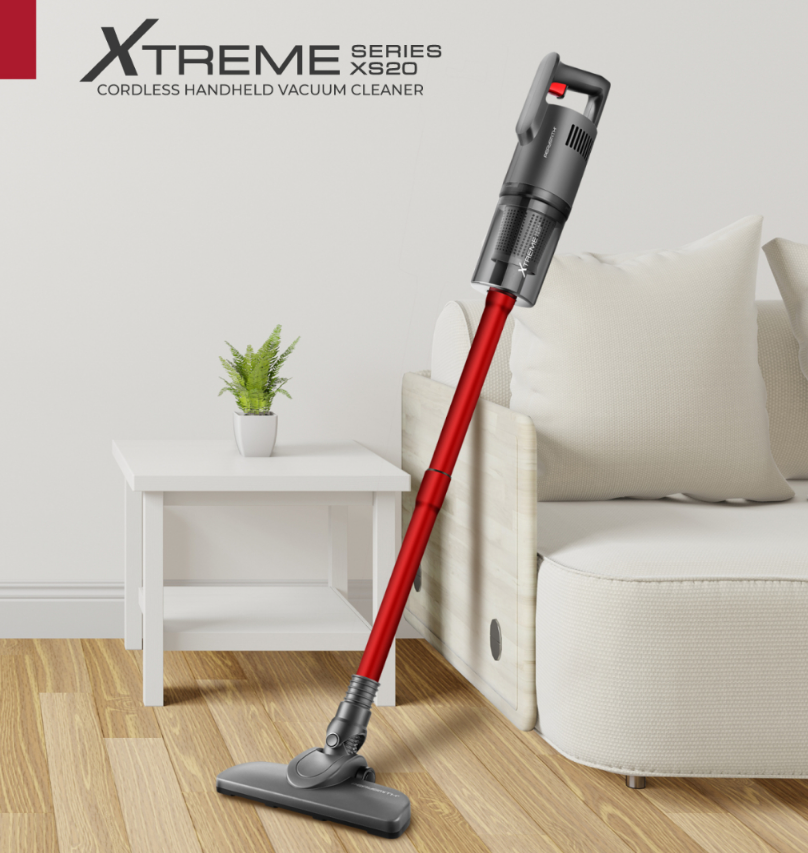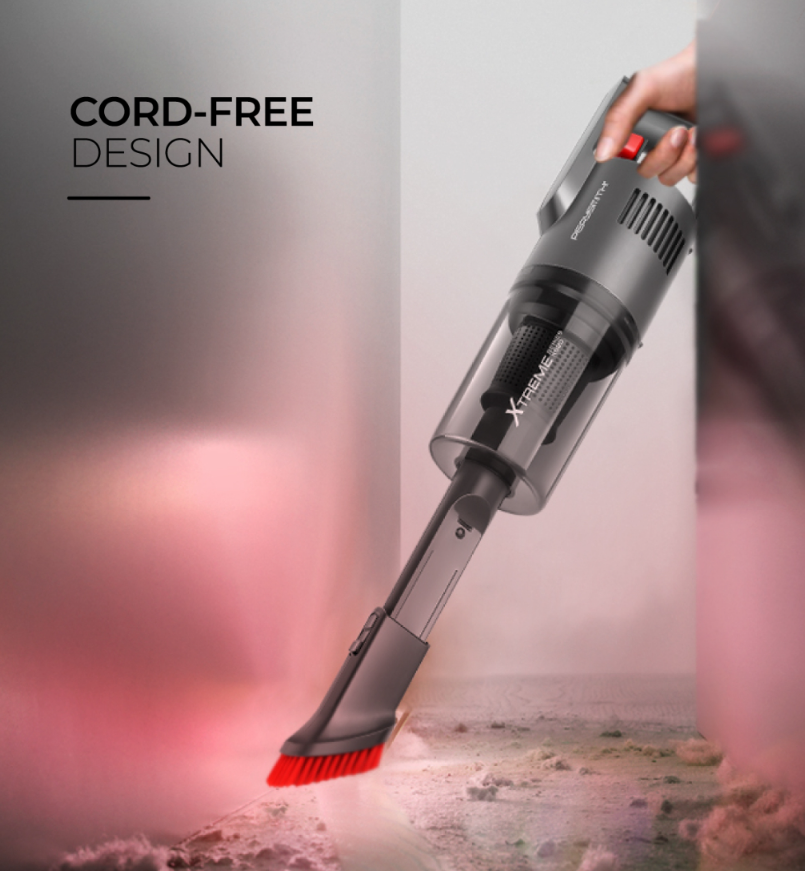 PerySmith specialises in manufacturing cost-effective home appliances that excel in both performance and quality. They offer a selection of premium vacuum cleaner models that are specifically engineered to handle various types of mess, ranging from pet hair to dust and debris. Equipped with advanced features like HEPA filtration and powerful suction capabilities, these vacuums present an ideal cleaning solution for any household.
Among PerySmith's offerings, our top pick is the XS20 Cordless Vacuum Cleaner. It boasts a sturdy yet lightweight design, making it user-friendly for individuals of all ages. With its multi-stage filtration system and a 0.25-micron HEPA filter, this vacuum guarantees that even the tiniest dust is effectively eliminated, leaving no traces behind.
The following are the distinguishing features of this cordless vacuum:
Best in class 200 Watt Boost Motor
0.8 L dust capacity
The maximum suction power of 18,000 Pa
Powerful 22.2 V Li-ion battery
Swivel steering
Robust but lightweight cordless design
One push bin emptying
4-way adjustable floor brush
Smart overheat protection
Multi-stage filtration system
0.25-micron HEPA filter
Super lightweight with BUNA® durable body
Easy to clean
Upgraded version with the mop pad
14. Khind Cordless Vacuum Cleaner VC9692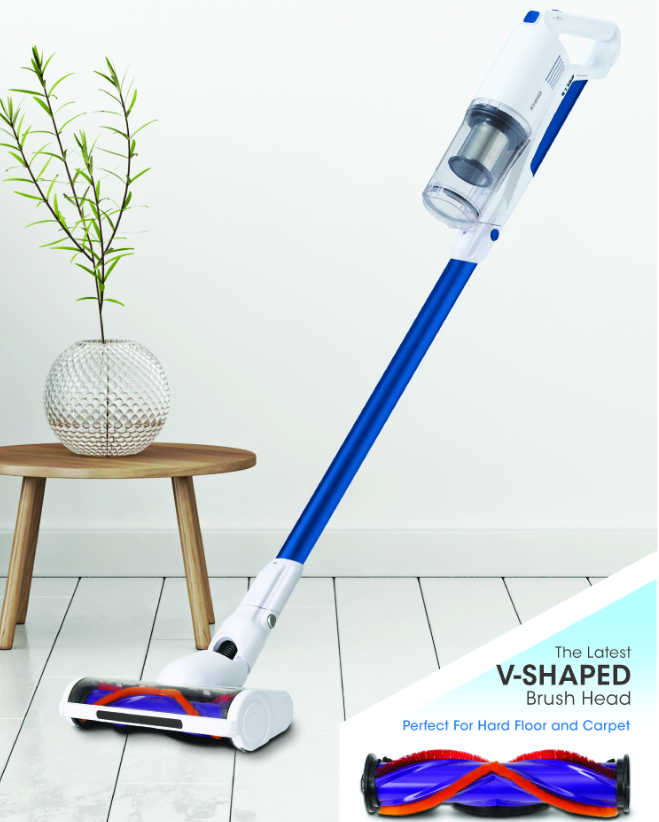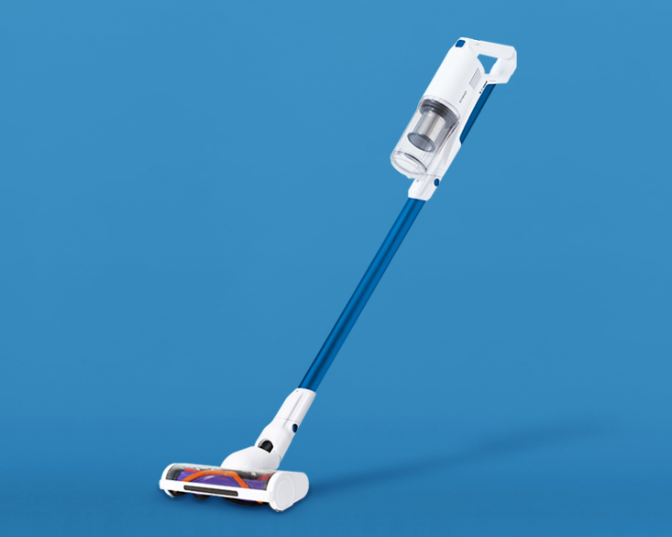 Khind is a prominent Malaysian electronics company that has gained a reputation for its high-quality products. With a strong presence in the electronics industry, the company has been serving the Malaysian market and beyond for several decades. Founded in 1961, Khind has continually evolved and adapted to meet the ever-changing demands of consumers in the digital age. Now it specialises in manufacturing a diverse range of vacuum cleaners catering to both home and office cleaning needs.
The best vacuum cleaner from Khind is their VC9692 Vacuum Cleaner. With an impressive 8 kPa suction power, it effortlessly captures dust from various surfaces, ensuring a thorough cleaning experience. The vacuum cleaner is designed with a metal mesh and HEPA filtration system, which combine to trap fine particles and allergens effectively. It promotes a healthier environment for you and your family.
Some incredible features of this vacuum cleaner are listed below:
Powerful 8kPa suction power
Effective filtration with the metal mesh and HEPA filters
Easy assembly
42 minutes running time
LED power brush for carpet and hard floor
Detachable lithium-ion battery
Single-press POWER button
3 different speed modes
Battery indicator
Latest V-shaped brush head
15. Morse Cordless Vacuum G10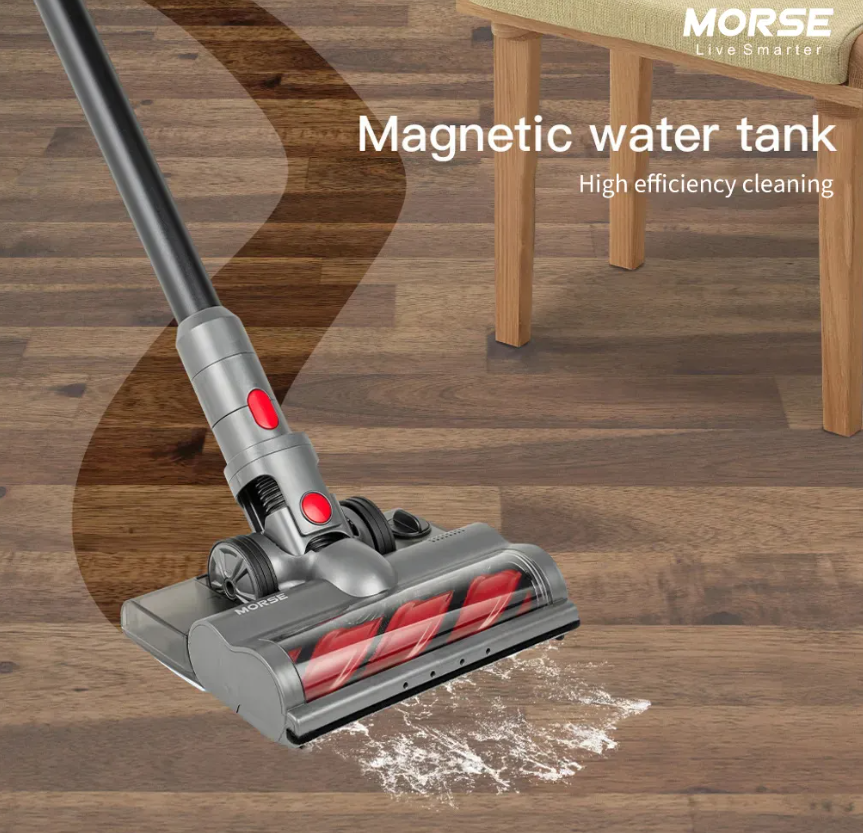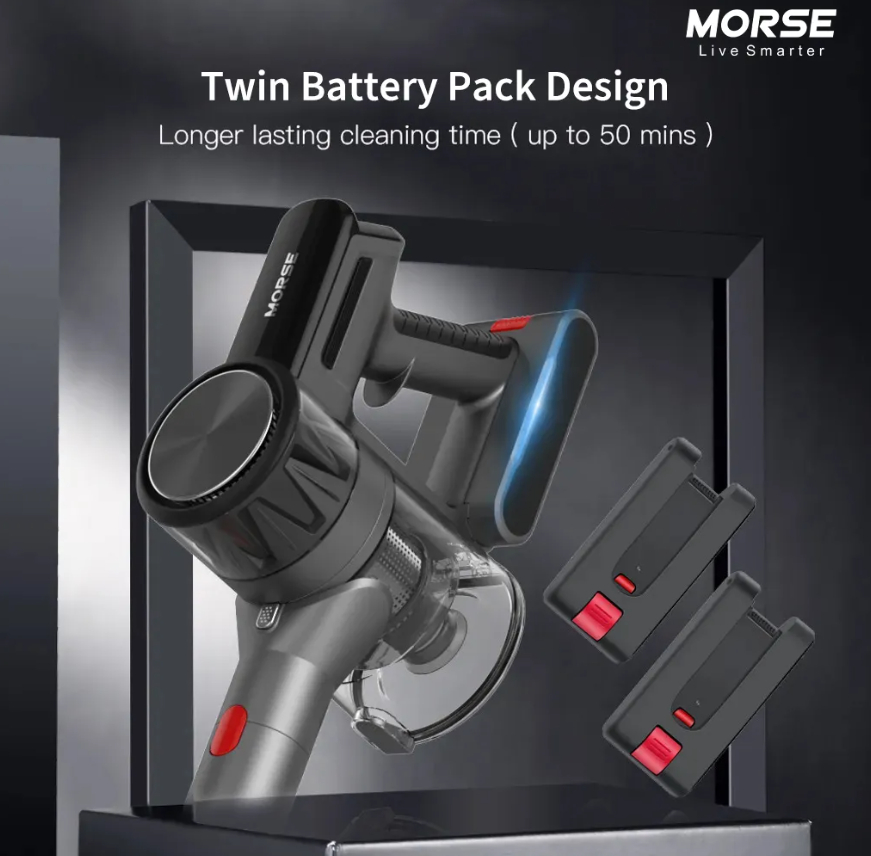 The last vacuum on our list is from Morse Electronics: an innovative Malaysian company at the forefront of smart cleaning solutions. Founded in 2018, the company has achieved consistent progress and now offers a diverse array of intelligent vacuum cleaners across different categories.
One standout product from Morse is their remarkable Cordless Vacuum G10. Boasting formidable suction power and a versatile range of attachments, this vacuum is tailor-made for tackling various surfaces such as carpets, hardwood floors, and even confined areas. Moreover, its sleek design and user-friendly controls add an extra touch of sophistication, making it an essential addition to any household.
Notable features of this exceptional vacuum cleaner include:
Twin battery pack design
Upto 50 minutes runtime
Strong suction power
Mopping function
New generation brushless motor
Lightweight and easy to lift
Magnetic water tank
Quiet operation
Variety of tools for multiple purposes
Cleaning your house floors, car seats, carpets, and sofas is no longer a challenge as we've brought you the top 16 cordless vacuum cleaners in Malaysia. All the vacuums listed above are versatile products that can be used for different cleaning purposes. These are all intelligently designed to help you clean your home more effectively. All of these vacuum cleaners are battery-operated,  lightweight, easy to manoeuvre, energy efficient, and convertible into handheld forms. After buying any of these, you can maintain a clean home regularly. So, hopefully, your next weekend won't be wasted on doing the cleaning chores.