Water, the elixir of life, is a fundamental necessity for our existence. It's what keeps us going, revitalising our bodies and quenching our thirst. However, in a world filled with pollutants and contaminants, the water that flows from our taps may not always be as pure as we'd like it to be. Moreover, the need for safe and clean water is increased when you have to prepare your baby's milk, administer medication, or wash food. So ensuring thorough water purification allows you to lead a life free from worries and concerns. That's where water filters and purifiers come to the rescue.
Water filters and purifiers ensure that every sip you take is a refreshing and clean experience. But with the diverse range of options available, choosing the right water filter and purifier can sometimes feel like a challenging task. But fear not, Malaysians, if you're tired of that funky taste in your tap water or concerned about impurities lurking beneath the surface, we've got you covered. We have curated a list of the ten best water filters and purifiers that will bring clean drinking water right to your fingertips. Let's get started!
Features of a Good Water Filter and Purifier
Here are some key features to look for when buying a water purifier or filter:
Advanced Filtration Technology: A top-notch water filter or purifier incorporates advanced filtration technologies, such as activated carbon filters, reverse osmosis membranes, UV sterilization, or combination systems. These technologies work together to effectively remove impurities, including chlorine, sediments, bacteria, viruses, heavy metals, and other contaminants, ensuring the purified water is safe for consumption.
Multiple Filtration Stages: An excellent water filter or purifier typically consists of multiple filtration stages. Each stage is designed to target specific types of impurities, providing thorough purification. This multi-stage filtration process enhances the water's quality and taste, leaving it pure and free from unwanted odors.
High Flow Rate: A desirable feature in water filters and purifiers is a high flow rate. This means the purifier can deliver purified water at a rapid rate, allowing for quick and convenient access to clean drinking water. A high flow rate ensures that you don't have to wait too long to fill up a glass or a bottle.
User-Friendly Design: Ease of use is an essential aspect of a good water purifier or filter. It should feature a user-friendly design with intuitive controls, clear indicators, and easy installation and maintenance processes. Such features make it convenient for individuals of all ages to operate and maintain the appliance.
Indicator Systems: Some really good water filters and purifiers often include indicator systems to keep users informed about filter life, water quality, and system performance. These indicators can be in the form of LED lights, digital displays, or audible alerts, providing timely reminders for filter replacement or maintenance requirements.
Durability: A good water filter and purifier should be built with high-quality materials and robust construction to ensure long-lasting performance. A durable purifier can withstand regular usage and environmental factors, providing reliable purification for an extended period.
Energy Efficiency: A good water filter or purifier also focuses on energy efficiency. It should be designed to consume minimal energy while delivering optimal purification results. Energy-efficient purifiers contribute to lower electricity bills and environmental sustainability.
Compact and Space-Saving: A compact and space-saving design is beneficial, especially for those with limited kitchen or countertop space. A well-designed water purifier/filter optimizes space utilization without compromising functionality or filtration capacity.
Our Selection of 10 Best Water Filters and Purifiers in Malaysia
Let's look at the top ten best water filters and purifiers that Malaysia has to offer.
1. SK Magic JIK.SOO Rich Water Purifier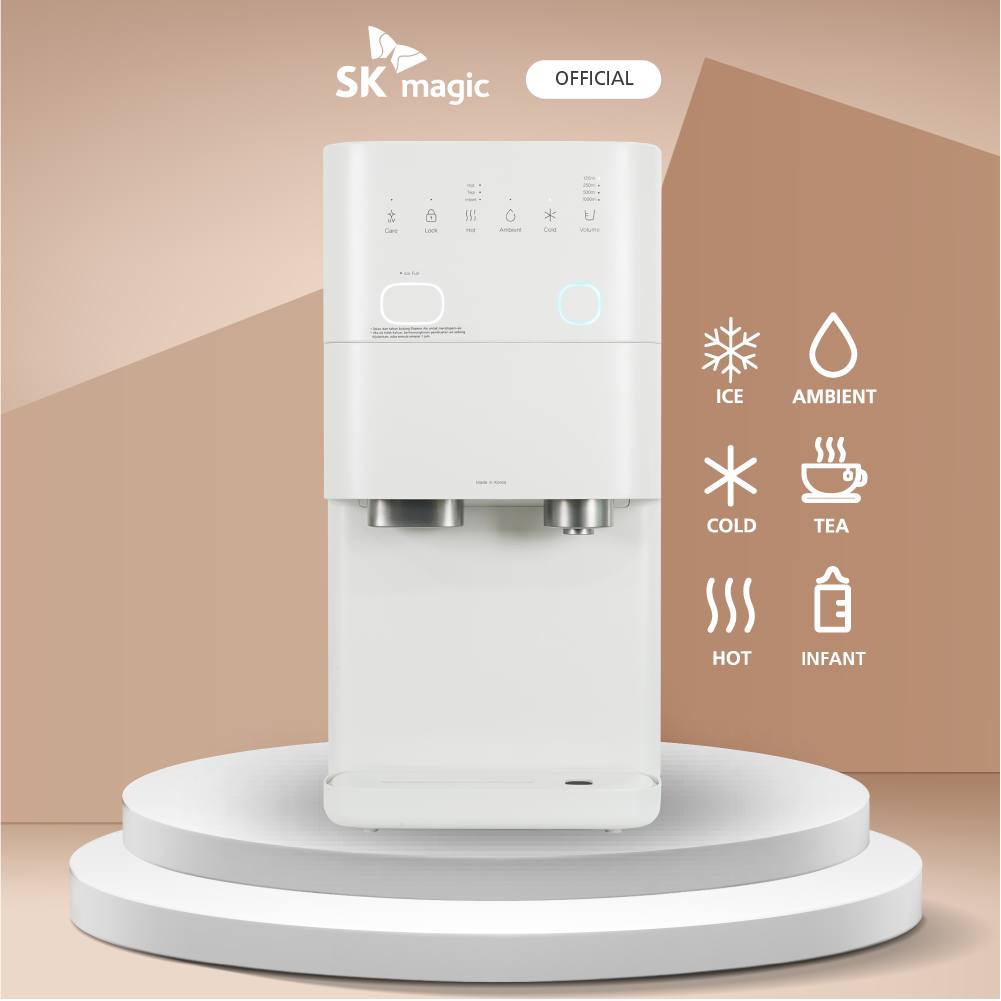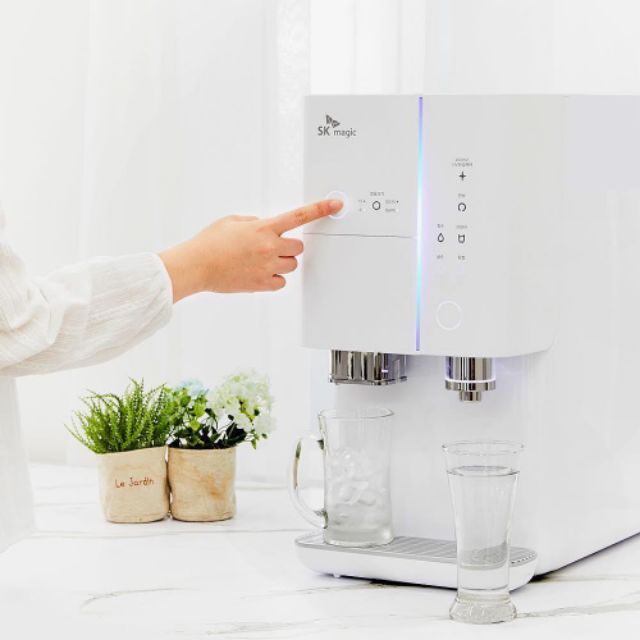 First up on our list is the SK Magic JIK.SOO Rich Water Purifier – where purity meets innovation. This advanced water purifier offers crystal-clear ice cubes and pure, mineral-rich water at the same time. With features like UV Safe-Care self-sterilization, optimised temperature settings for infants, high-tech nano-filters, and a 304 stainless steel waterway, the JIK.SOO water purifier ensures safe and hygienic water at any desired temperature. With this appliance, you can enjoy the convenience of ice, cold, hot, and room-temperature water instantly. Its automatic sterilization and UV-C wave technology eliminate harmful microbes, providing contamination-free water until the last drop. 
Experience unparalleled quality and purity with the amazing features of the JIK.SOO ICE Water Purifier:
Tankless design
UV Safe-Care: automatic sterilization
304 stainless steel pipes
Intuitive display for ice
Three temperatures of hot water
Smart touch-control watering
3L cold water in just 10 seconds
Smart moving tab
Slim and compact
Multi-stage nano-filtering system
2. LG PuriCare™ Self-Service Tankless Water Purifier  WD516AN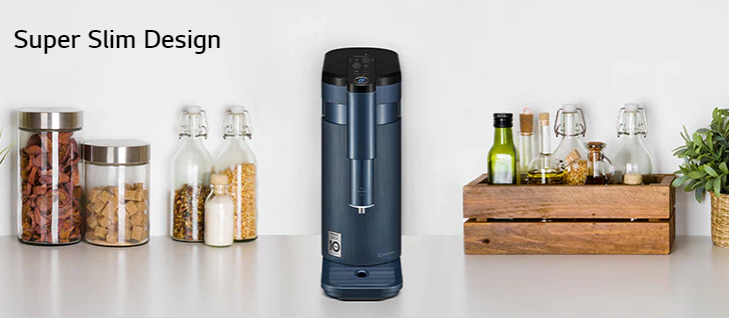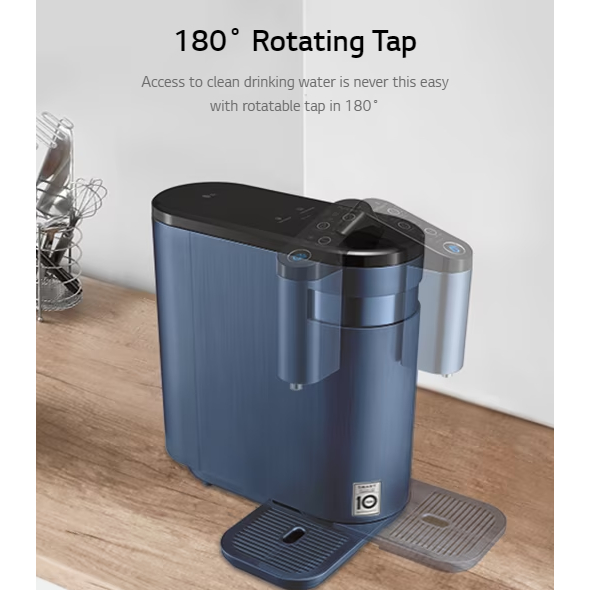 Next in line is the LG PuriCare Tankless Water Purifier, a self-service water filter and purifier that combines convenience, innovation, and purity. With hassle-free filter replacement and a subscription service for timely filter delivery, replacing this purifier's filters is a breeze. Its tankless system takes purification to a whole new level, while multiple temperature controls ensure fresh water at any temperature. Its 4-stage All-Puri filter system removes heavy metals, viruses, and bacteria. With smart voice guidance and LG ThinQ technology, this purifier offers a seamless and intuitive user experience.
Experience the future of water purification with the smart features of the LG PuriCare™ Tankless Water Purifier:
Auto sterilization
UV sterilization
Easy filter replacement
Filter subscription
17cm super slim tankless design
4-stage All-Puri filter system
Convenience: LG ThinQ™ and voice guidance
Volume and hot water control
180° rotating tap
3. Panasonic Ultra Filtration Alkaline Ionizer TK-AS700-WMA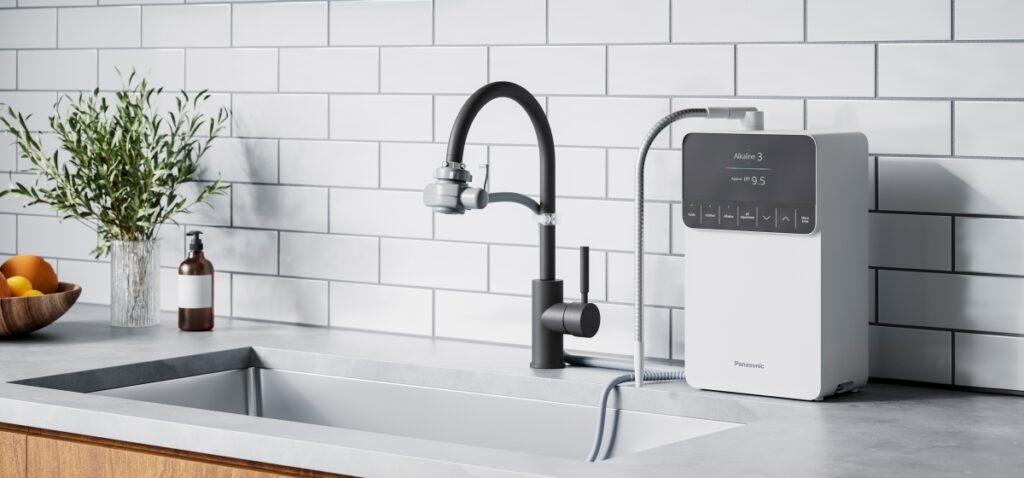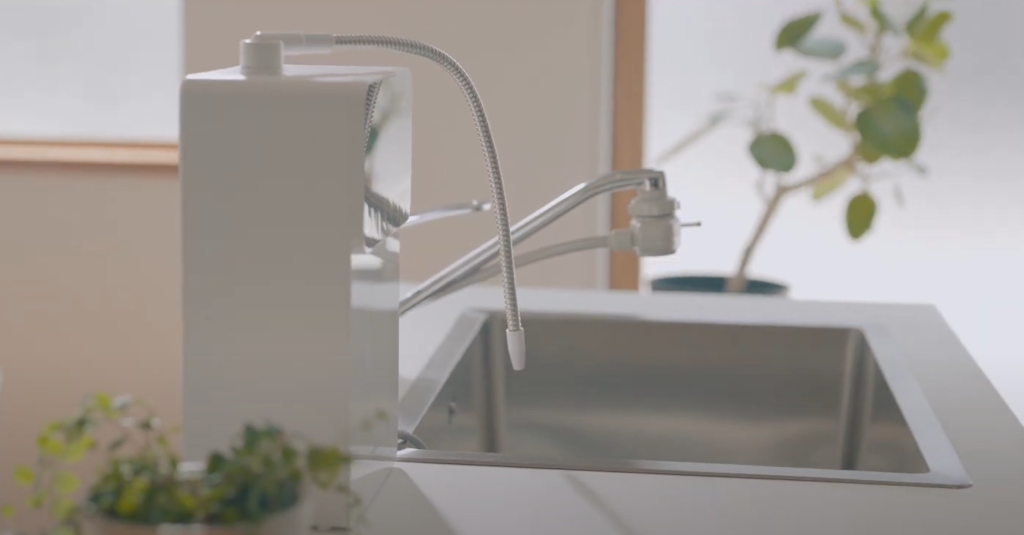 Now, let's talk about the Panasonic TK-AS700 Ultra Filtration Alkaline Ioniser. By attaching this filter and ioniser to your kitchen faucet, you can effortlessly produce alkaline ionised water, weakly acidic water, and purified water. With the help of a high-performance cartridge, the water generated by this ioniser goes through a rigorous purification process that removes 19 harmful contaminants that are frequently present in tap water as well as bacteria. This cartridge includes an Ultra Filtration membrane that even eliminates viruses and ensures thorough purification. With a single cartridge, you can purify approximately 6,000 litres of water, making it highly efficient and long-lasting. Even when purifying 15 litres of water daily, the cartridge can serve you for an entire year, significantly reducing the need for frequent cartridge replacements.
With the following remarkable features, the Panasonic TK-AS700 becomes your perfect companion, offering optimal support for your healthy lifestyle choices:
Generates 7 kinds of water: 4 levels alkaline, purified, and 2 levels acidic
Auto cleaning method
High-performance 4-stage filtration: removes 19 harmful substances
Ultra Filtration membrane: removes 99.9% of viruses and 99.999% of bacteria
Approximately 850 hours of electrolyzer life
6000 L of clear water with 1 cartridge
Large intuitive color display
Compact and flat design that fits in the kitchen
Easy water flow switch
No under-sink work is required for installation
4. Kent Gem RO + UF Membrane Water Filter And Purifier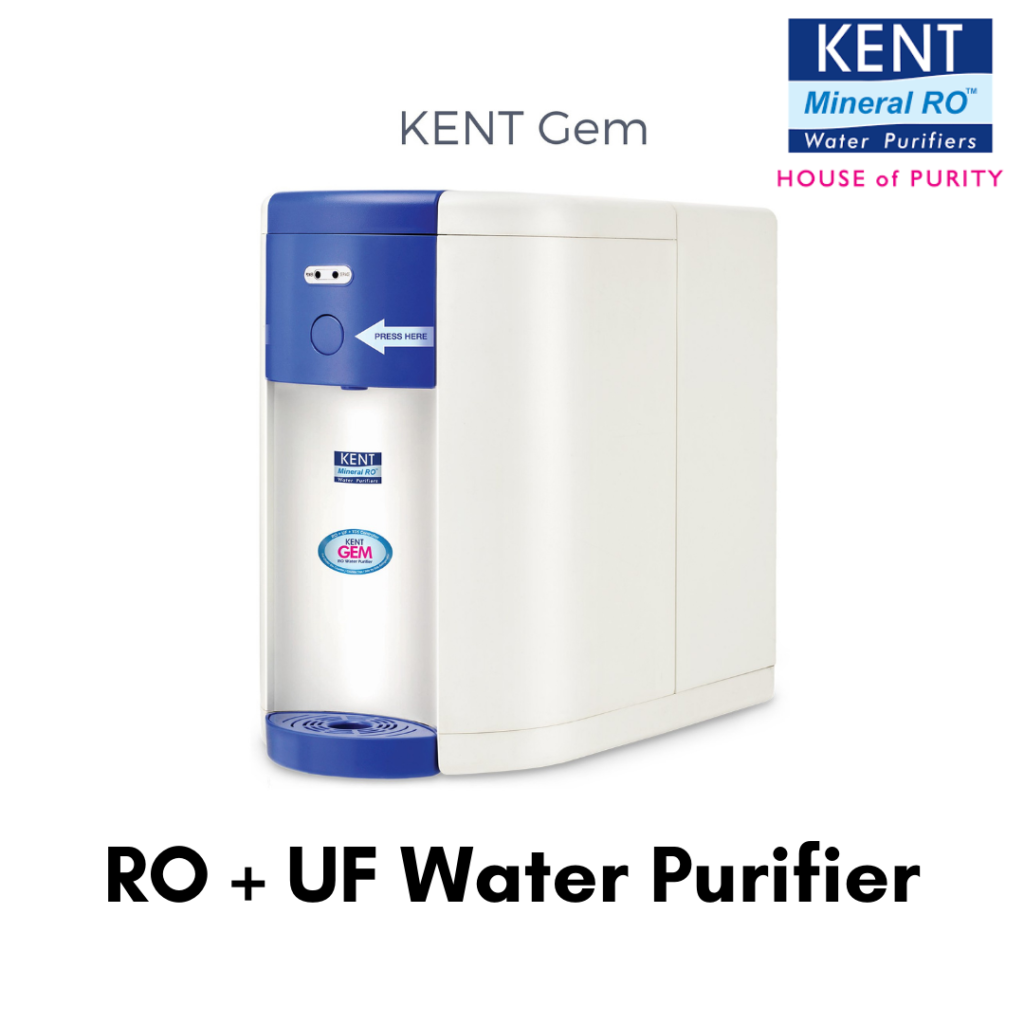 Moving right along, we have the Kent Gem RO+UF Membrane Water Filter and Purifier. It features KENT's Mineral RO trademark technology and is equipped with an inbuilt TDS controller. This controller retains essential minerals while enhancing the alkaline pH of the water, resulting in the perfect drinking water for you and your loved ones. Suitable for both homes and offices, this purifier is designed to effectively purify various water sources, including brackish water, tap water, and municipal corporation water supplies. What sets this purifier apart from the competition is its unique double purification process, combining Reverse Osmosis and Ultra Filtration membranes. This powerful combination effectively eliminates salts, chemicals, bacteria, and viruses, ensuring the highest level of purification.
With the features below, this purifier is indeed a true gem!
Can be placed under the sink or on countertop
Push button tap for above counter installations
Stainless steel faucet for under sink installations
Mineral RO technology
Double purification by RO and UF membranes
Sediment Filter to remove dirt, rust, dust, and sand particles
Activated carbon filter to remove chlorine, smell, and odor from water
Compact and modern design
Large storage capacity
Fully automatic operation
High-grade built-in stainless steel tank
ABS food-grade construction
5. Philips AUT2015 Pure Water Machine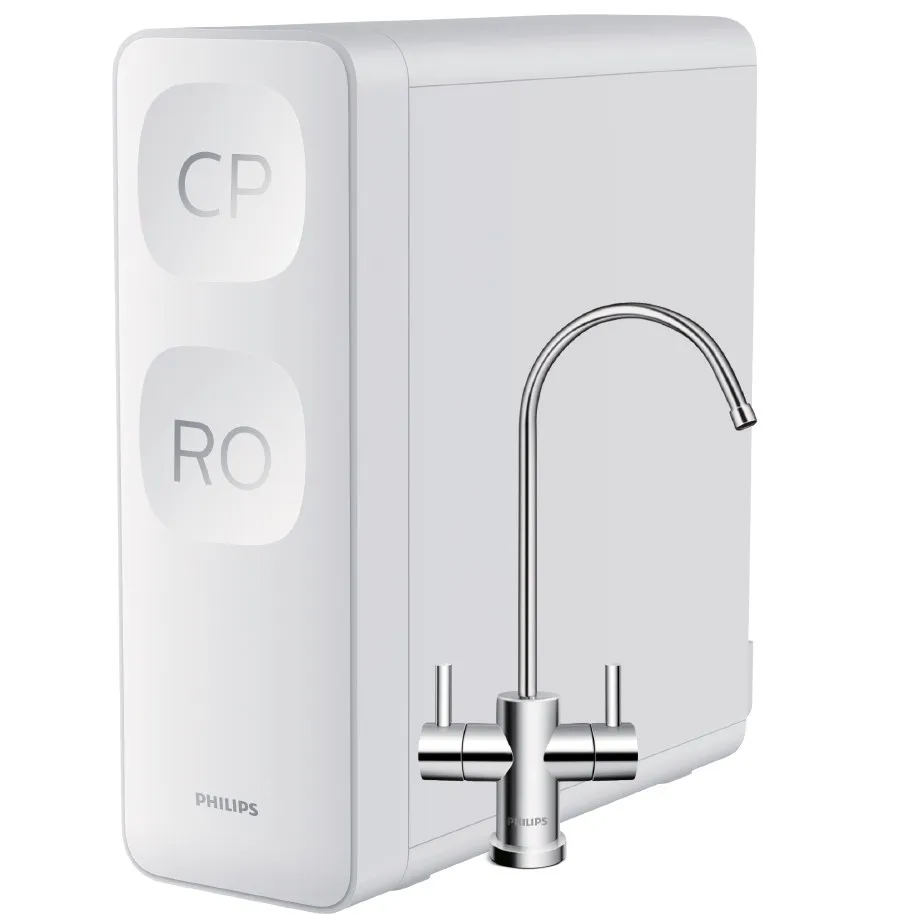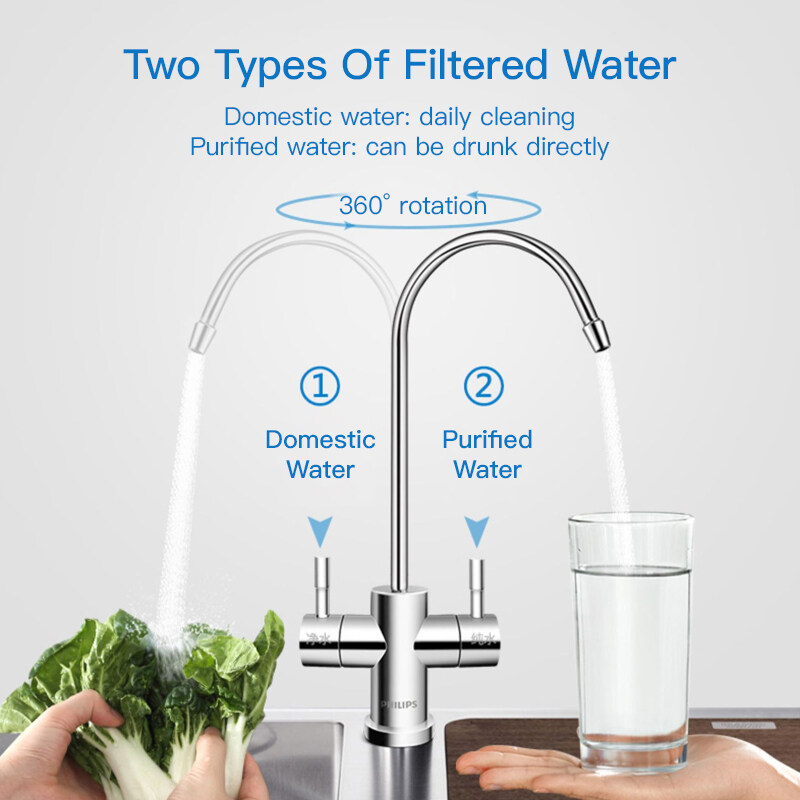 Now, brace yourselves for the Philips AUT2015 Pure Water Machine. This innovative product offers a mixed CP filter that combines sediment and carbon block technologies into one compact unit. When paired with a reverse osmosis filter, the entire filtration system effectively removes heavy metals, bacteria, organic matter, and sludge particles as small as 0.0001 micrometers. This Water Machine features a tankless design, ensuring every water drop is freshly filtered. Its sophisticated design adds a touch of elegance and convenience to any kitchen. With its dual water output options, users can enjoy purified water for direct drinking or filtered water for rinsing and boiling purposes. Its filter life indicator reminds users to replace the filter on time. And the horizontal filter placement makes it easy to change the filter with a simple twist, without the need to turn off the system.
Experience the superior performance and convenience of the Philips AUT2015 Pure Water Machine with the following features:
Powerful filtration
Mixed CP filter combines sediment and carbon block in one
Double purification with RO filter
Tankless design
Dual water output
Filter life indicator
Horizontal filter placement
App smart control
Slim and compact design
6. Elba Water Purifier Mild Alkaline Water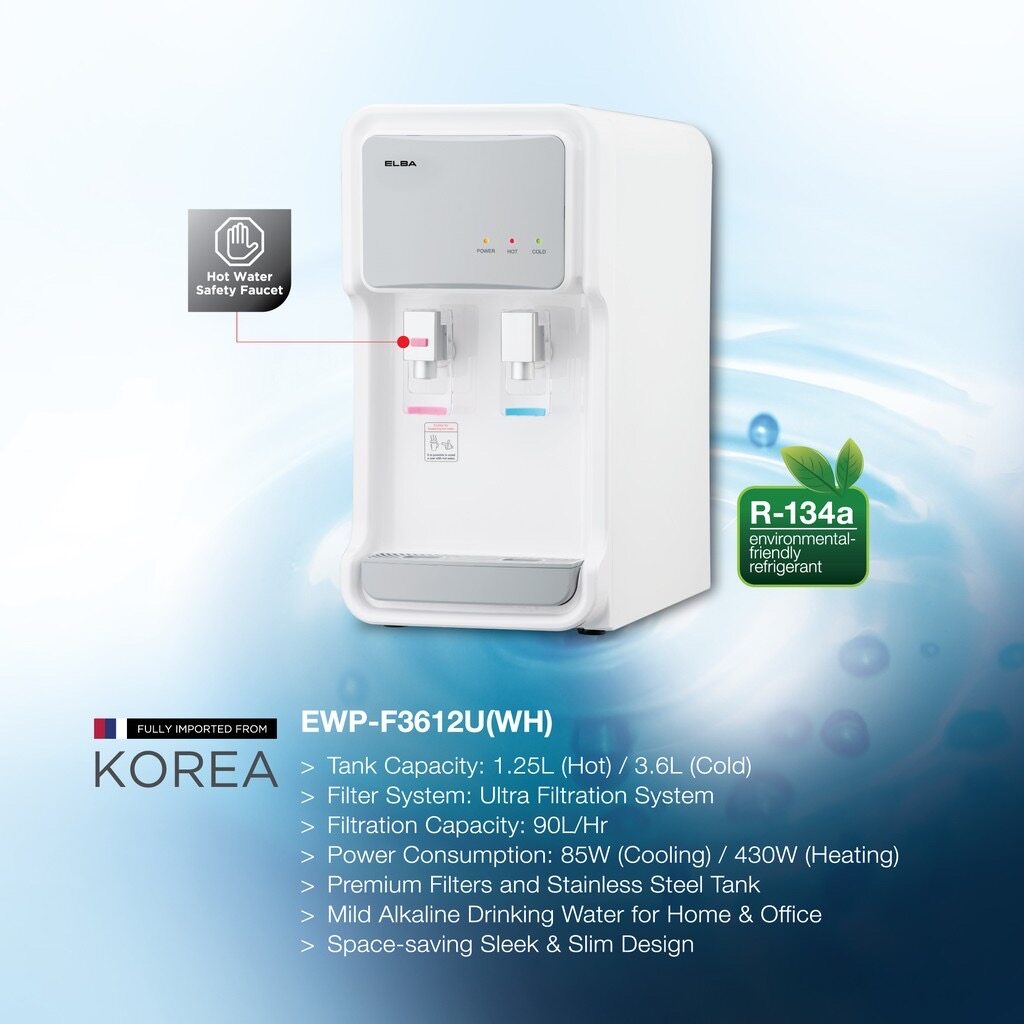 Next, we come to the Elba Water Purifier Mild Alkaline Water—your ticket to pure, refreshing hydration! With its cutting-edge features and advanced Ultra Filtration system, this water purifier guarantees healthy hydration for you and your family. It not only filters out impurities but also infuses your water with alkaline goodness. The purifier boasts a sleek and slim profile, allowing it to seamlessly fit into any kitchen space. It lets you enjoy the flexibility of controlling the water temperature independently. Whether you're in the mood for a soothing hot beverage or a refreshing cold drink, the Elba Water Purifier has got you covered.
With the features below, you can trust Elba to deliver excellence, one refreshing sip at a time:
Ultra Filtration technology
Multiple filters: Sediment Filter, Pre-Carbon Filter, U/F Membrane, and Carbon Block Filter
Large tank capacity
Space-saving 
Sleek and slim design
Stainless steel water tank
Independent heater On/Off control
Cold, hot and power LED indicators
Hot water safety switch
Imported from Korea
7. Snaptec Aurra Plus 2 Water Purifier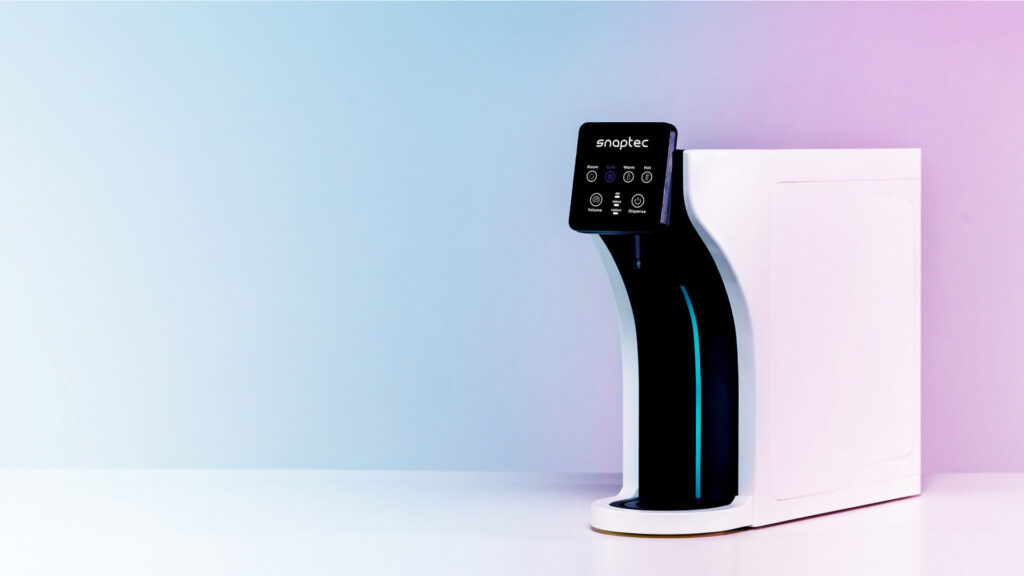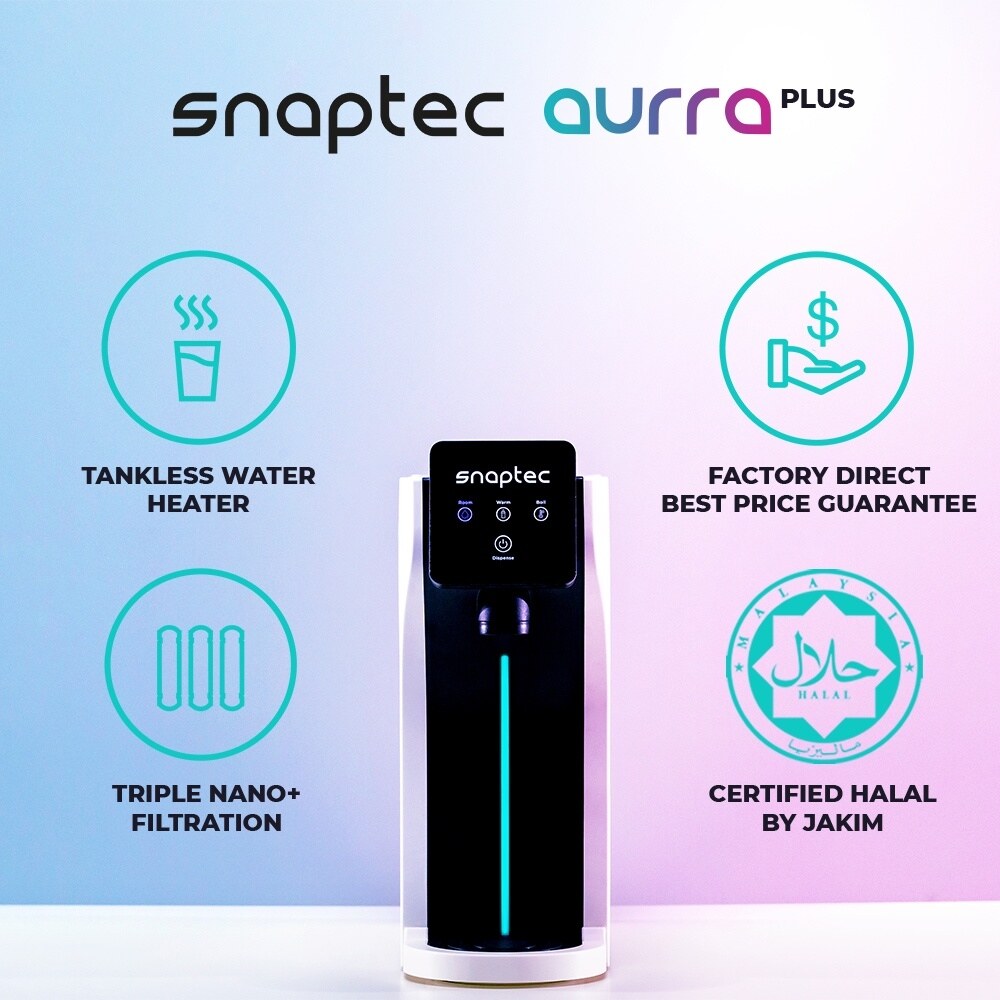 Next on our list is the Aurra Plus 2 Water Purifier, the best-selling water purifier from Snaptec. With its cutting-edge technology and stylish design, this purifier is capable of not only filtering out impurities but also enhancing the taste and quality of your water. Suitable for both homes and offices, it boasts all the essential features one needs in a water filter and purifier. It has a 5-stage DisruptorTM filtration system, which is inspired by nature's purification system. It removes harmful chemicals, bacteria, and viruses from the water and supplements it with all the essential minerals needed for our bodies. Its precise temperature control allows you to enjoy cold, hot, and boiling water at the same time. Moreover, you can connect your purifier with the Snaptec Connect app to track your hydration and the machine's efficiency in real-time.
The following are some amazing features of the Snaptec Aurra Plus 2 Water Purifier:
5-stage DisruptorTM filtration system
Snaptec Connect App: group hydration tracking and water track maintenance
Infinite volumes of hot and cold water
Tankless design
Energy efficient: low-power consumption
NSF certified heat resistant piping
Capacitive touch panel
Thermoelectric cooling
8. BACFREE Watero UF All-In-One Instant Heating Smart Water Filter Dispenser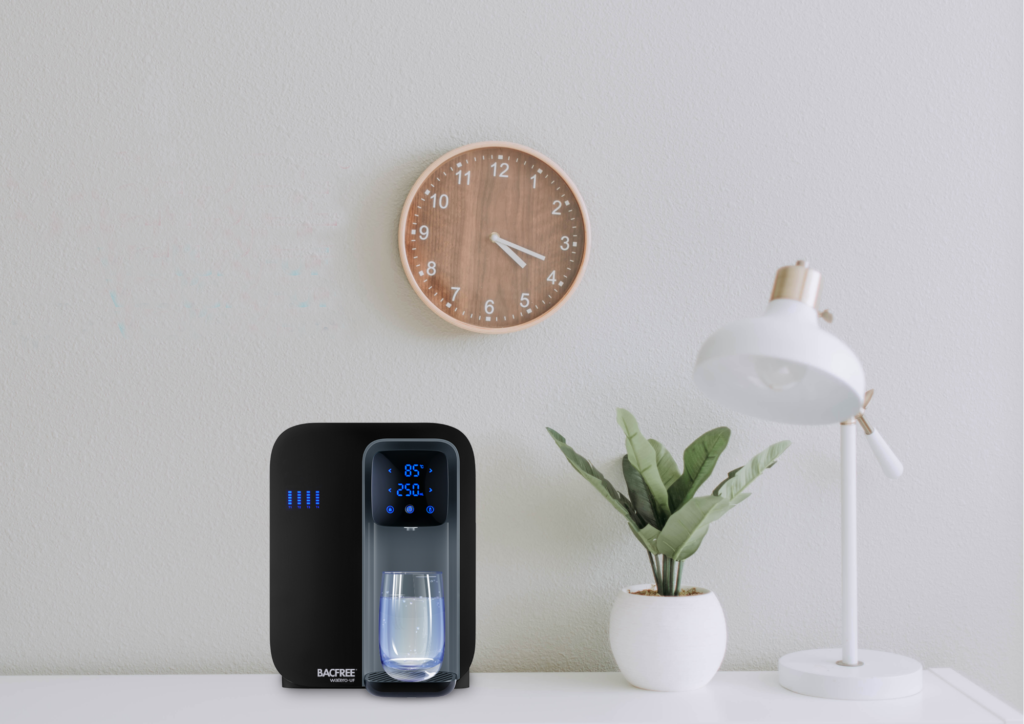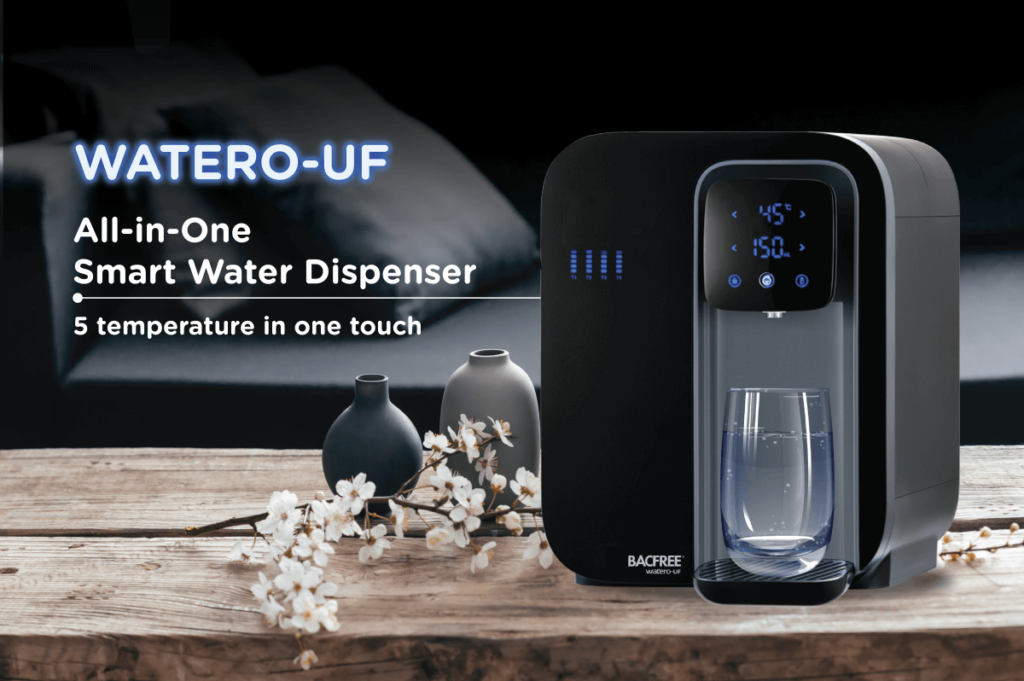 The BACFREE Watero UltraFiltration All-in-One Instant Water Filter is another good water filter and purifier on our list. Introduced in 2018, the cutting-edge technology of this filter has made its mark in the industry. Compact, portable, and user-friendly, Watero eliminates the need for cumbersome jugs, water bottles, and kettles. From its powerful filtration capabilities to its compact and convenient design, this all-in-one purifier has everything you need to keep your water clean and fresh. It offers unparalleled convenience without compromising on quality. With its small size and easy operation, Watero is the perfect choice for those seeking a space-saving filter for their home.
Experience the innovation and efficiency of the BACFREE Watero Water Filter in transforming your water consumption experience with the features below:
Zero installation
Touch control panel
5 different temperatures
One touch mummy button
Compact design and portable
Child safety lock
Filter lifespan reminder
Watero water filtration system: uses 4 layers of cartridge filtration and 1 layer of UV disinfection
9. PANASONIC TK-CS20 Water Purifier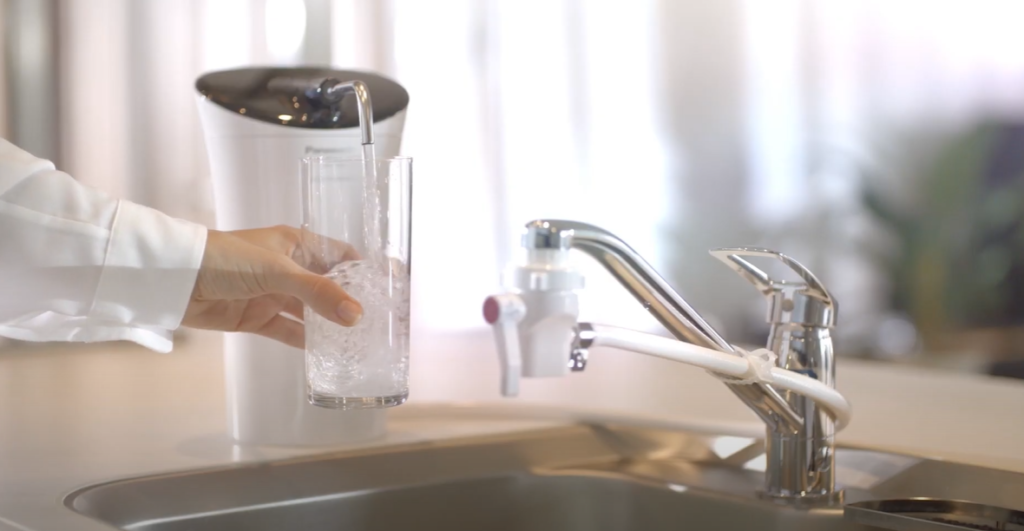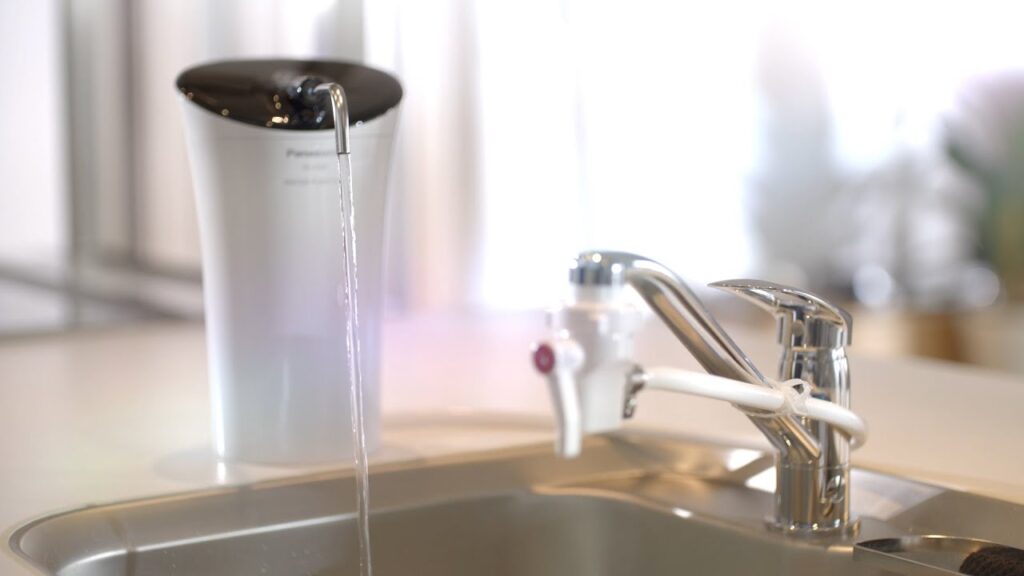 Moving on, we have the Panasonic TK-CS20 Water Purifier, your ultimate companion for safe and clean water in your daily life. Despite its compact size, it packs a punch when it comes to purifying your water. With a powerful combination of non-woven fabric and powdered activated carbon, it effectively filters out impurities and eliminates harmful substances like red rust and mold. The cartridge life checker ensures timely replacements for continued purity. In contrast, the extended cartridge life of 12,800 liters allows you to have purified water for an extended period, saving you both time and money. With a filtering capacity of 6.0 liters per minute, the Panasonic TK-CS20 Water Purifier delivers an efficient and steady flow of purified water. It removes up to 95% of residual chlorine, ensuring your water is free from any unpleasant odors or tastes.
Upgrade your water filtration system and embrace a healthier lifestyle with Panasonic's amazing features:
Countertop water purifier
6 liter/min filtering capacity
Powdered activated carbon and non-woven fabric filters
Long cartridge life
Cartridge life checker
Removes up to 95% of residual chlorine
Compact size
10. Coway Genie Water Purifier – P-07IU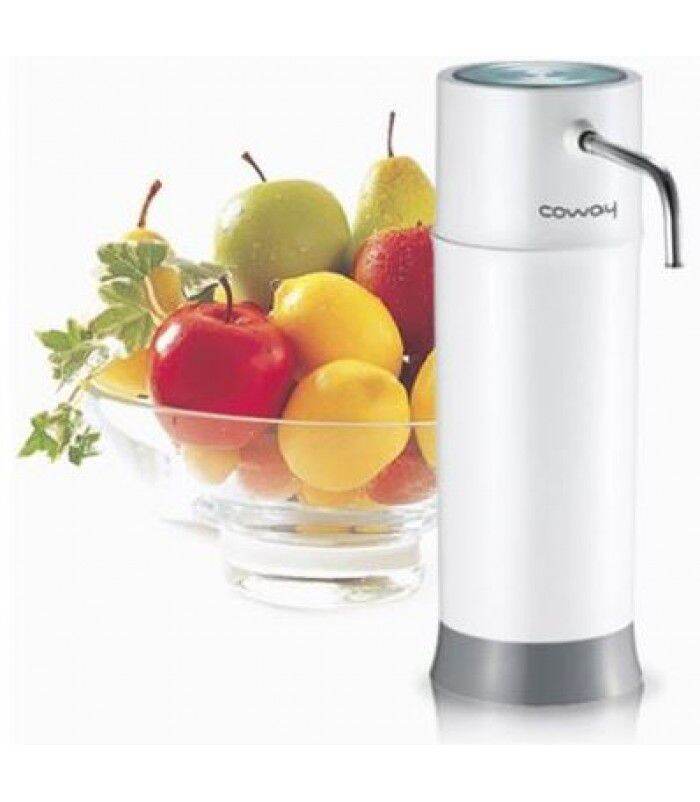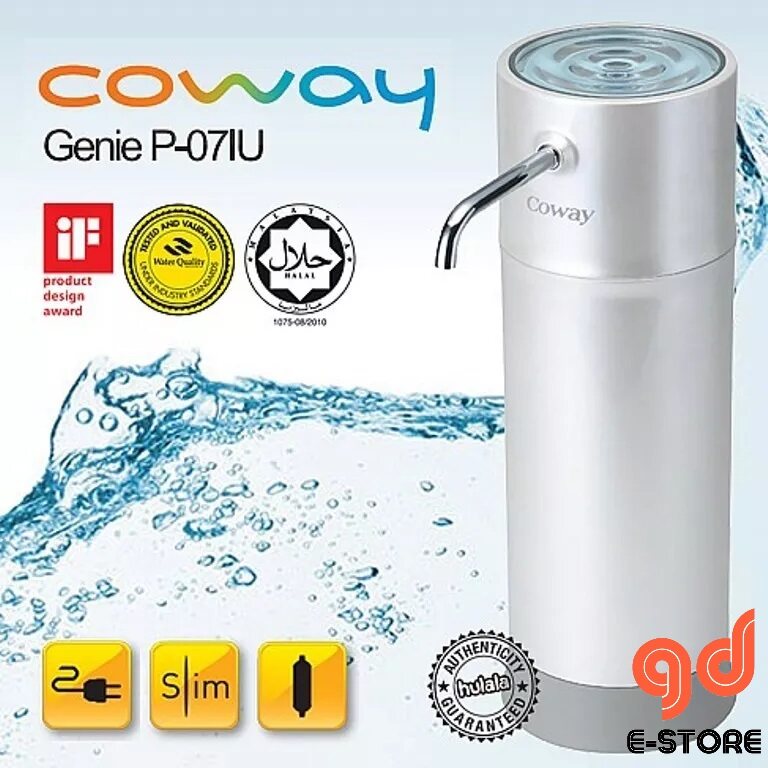 Last but not least, we have the Coway Genie Water Purifier – P-07IU. With its advanced filtration technology and user-friendly features, it's like having your very own personal water "genie", ready to grant you clean and healthy hydration whenever you need it. This pot-type water purifier boasts Ultra Filtration system consisting of three filters that are precise enough to remove microscopic particles like bacteria and viruses. It is a non-electric device, which means you can invest once in it and enjoy years-long pure water without worrying about electricity bills. This purifier has a compact size and needs only a little space for installation. When attached to the faucet, this tankless water filter can provide you with 2 liters of filtered water in a minute. Moreover, its filter replacement indicator keeps you informed about the filter status and when there's a need for replacement.
The following are the amazing features of the Coway Genie Water Purifier:
3-step filtration system
Stable with high water flow level
Can be connected to the faucet directly
Non-electric filtration
Filter replacement indicator
Stylish bamboo-shaped design
Compact and efficient
Award-winning
The Bottom Line
When it comes to choosing the best water filters and purifiers in Malaysia, you have a wide range of options to choose from. But with our carefully curated list, you can quench your thirst for pure, refreshing water without further delay. Whether you prefer the sleek and sophisticated designs of SK Magic JIK.SOO Rich and LG PuriCare or the advanced filtration technologies of Panasonic TK-AS700 and Kent Gem, there's a water filter and purifier out there to suit your needs. Remember: don't settle for less when it comes to your hydration. Invest in a reliable and effective water filter and purifier to ensure that every drop you drink is as pure and healthy as it can be.
Read also: Best of Home Appliances Series