Many of us have watched the famous Hollywood movie, Crazy Rich Asians when it came out in 2018. Although the film was supposed to be set in Singapore, many of the scenes were shot in Malaysia. One of them is Eleanor Young's house in Singapore that is actually Be-landa House by 29 Design in Kuala Lumpur. The house shot to fame when it was used for filming scenes in the movie and it's easy to see why.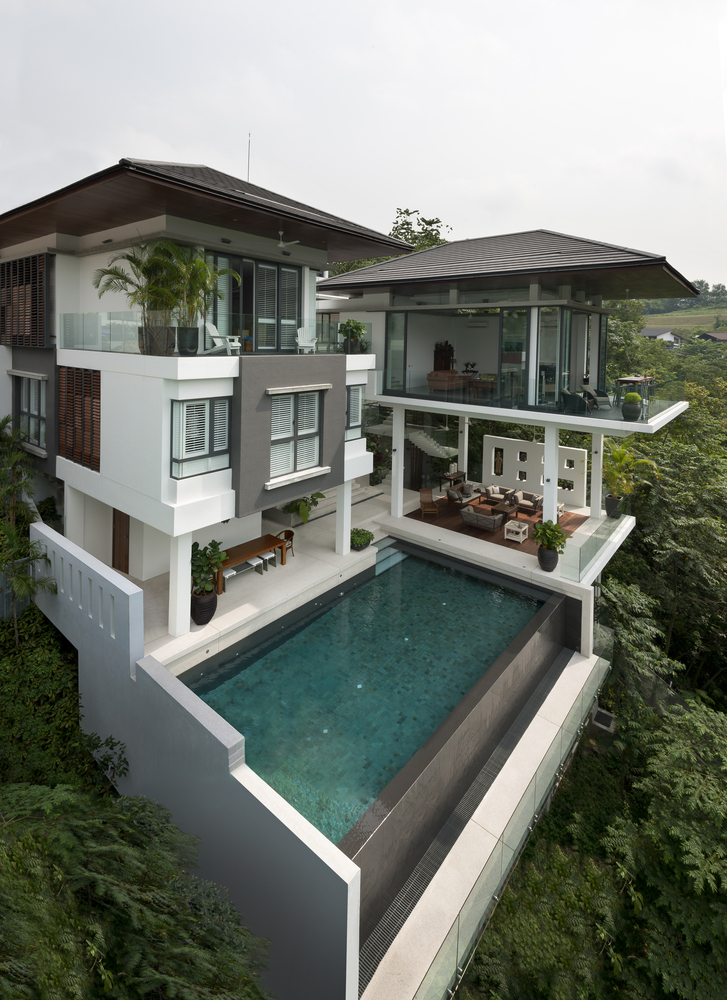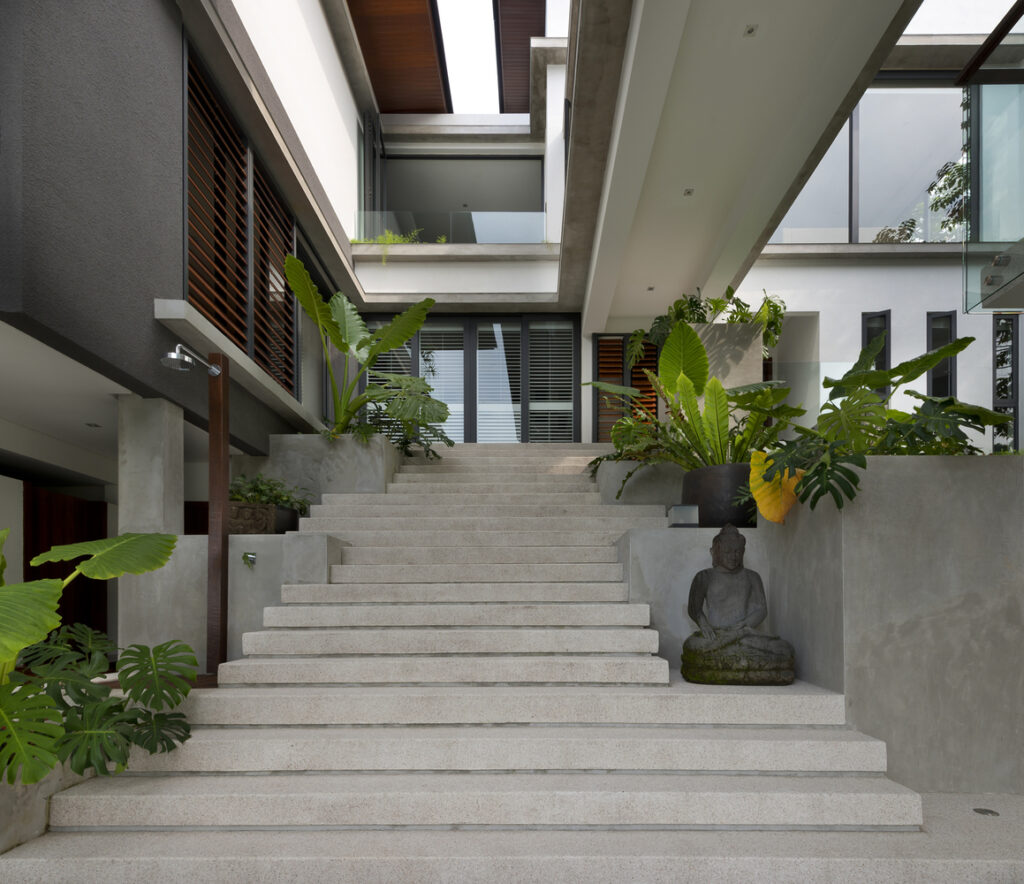 The house is owned by a Dutch family of five and its name is inspired by the Malay word for Netherlands, the country the family originated from. It's located on a dramatic 34-degree slope facing a forest reserve and was a rather challenging project. Ultimately, the architects decided to meld the residence into the terrain rather than shaping it into something different.
Three Main Pavilions:
(Be-landa House by 29 Design)
They planned out the area of flat land required for the house and drew a line for the retaining wall; to include a flat area for parking the cars, an adjoining main entrance, and the kitchen at the street level. After that, the retaining wall that bisected the site acted as a datum for the master planning; and they created three pavilions to accommodate the space that the family needed.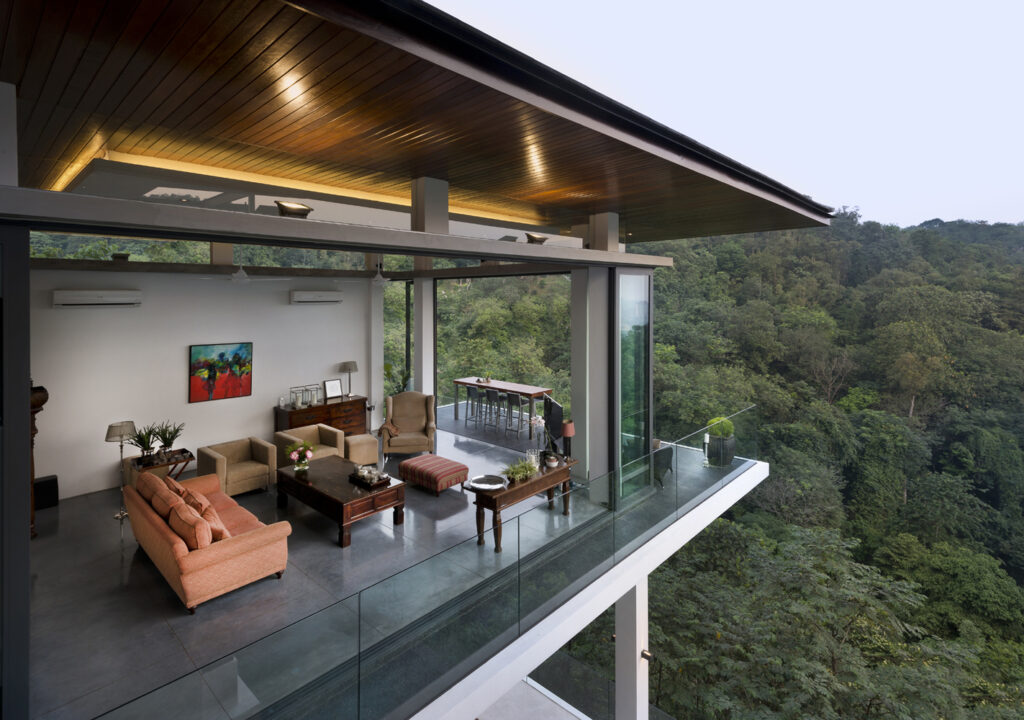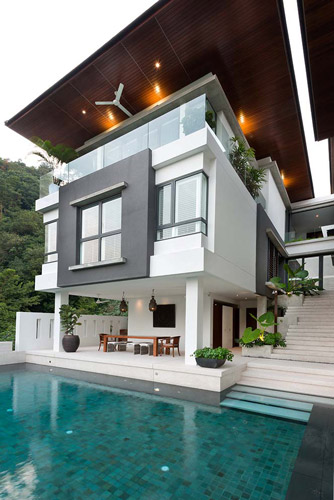 The first pavilion is entirely within the flat land area. The second pavilion is half on the flat land and half hanging over the slop supported by stilts while the third pavilion is precariously perched on the slope; which is accessible through a glass-sheathed bridge. From the street, one can only see the first pavilion and the flat area of the second pavilion. The facade is deceptively unassuming as it hides the proportions of the actual residence inside.
Crazy Rich Asians Filming Location: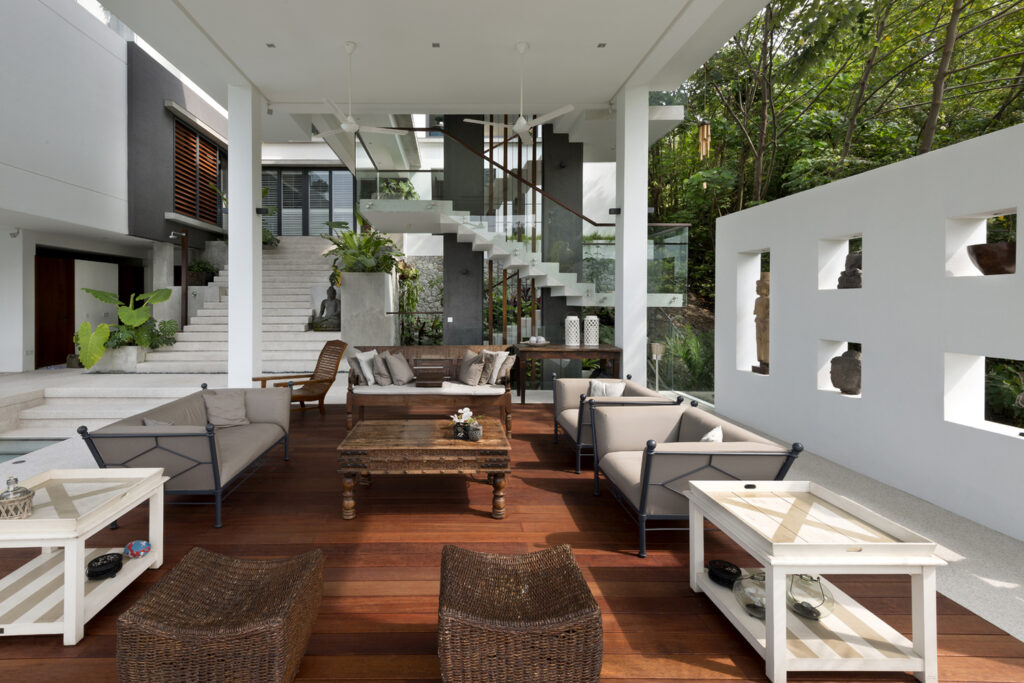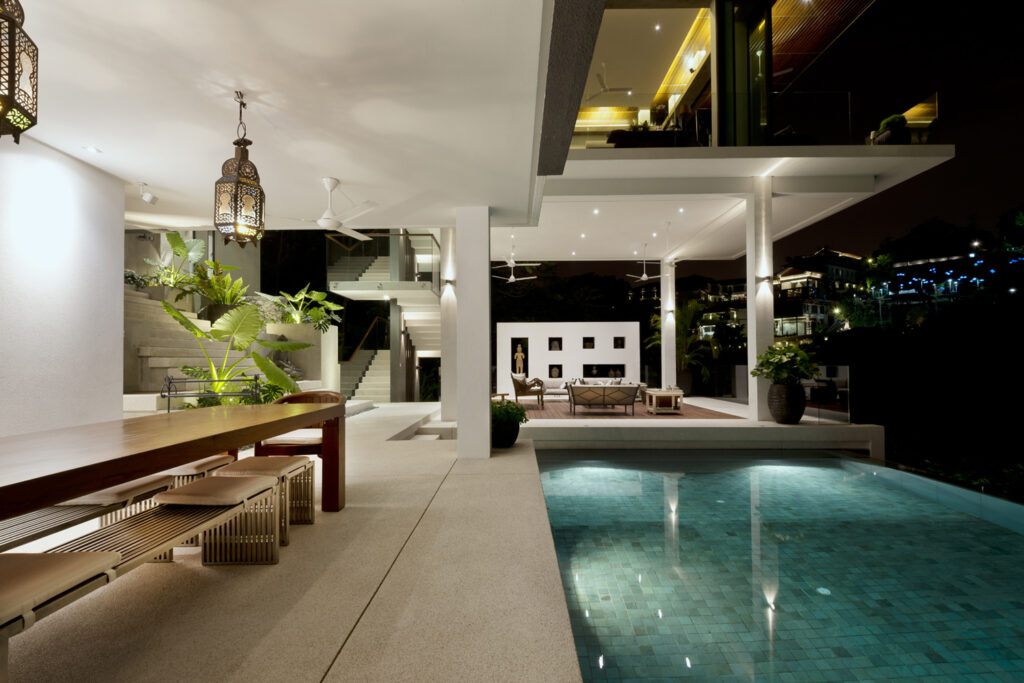 The family living there gets to enjoy a gorgeous view of the forest reserve across the valley. The lowest poolside living area is rather familiar, especially if you've watched Crazy Rich Asians before. That's because this is the scene where Eleanor Young and her group of society ladies gathered for Bible study and tea amidst the verdant greenery and sunlight. Although it is the lowest level of the house, it doesn't feel like it as the pool area sits on stilts eight meters above the untouched contours below.
Interior Area: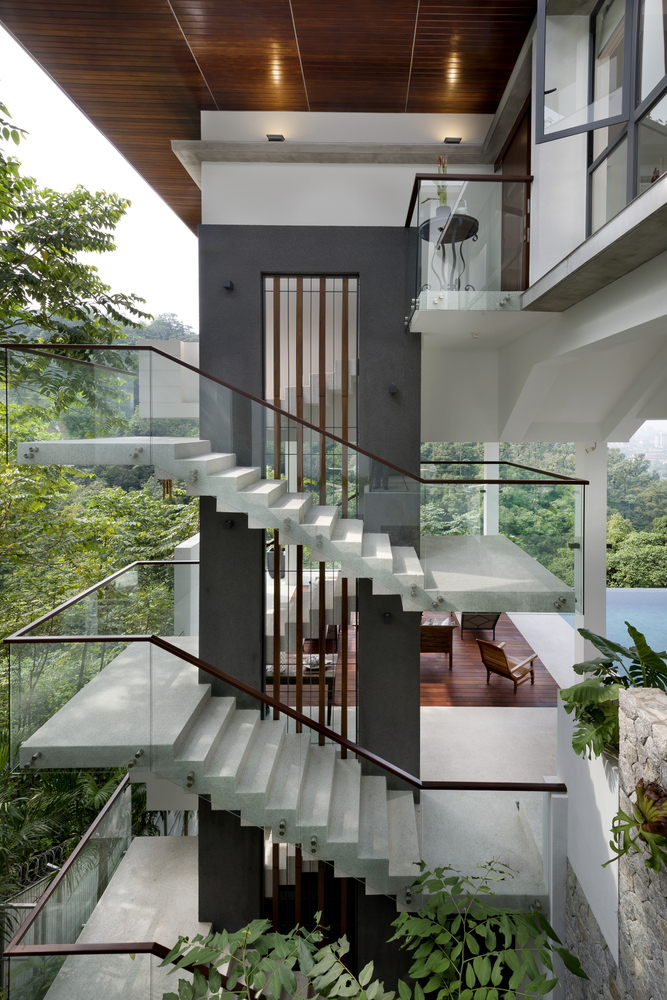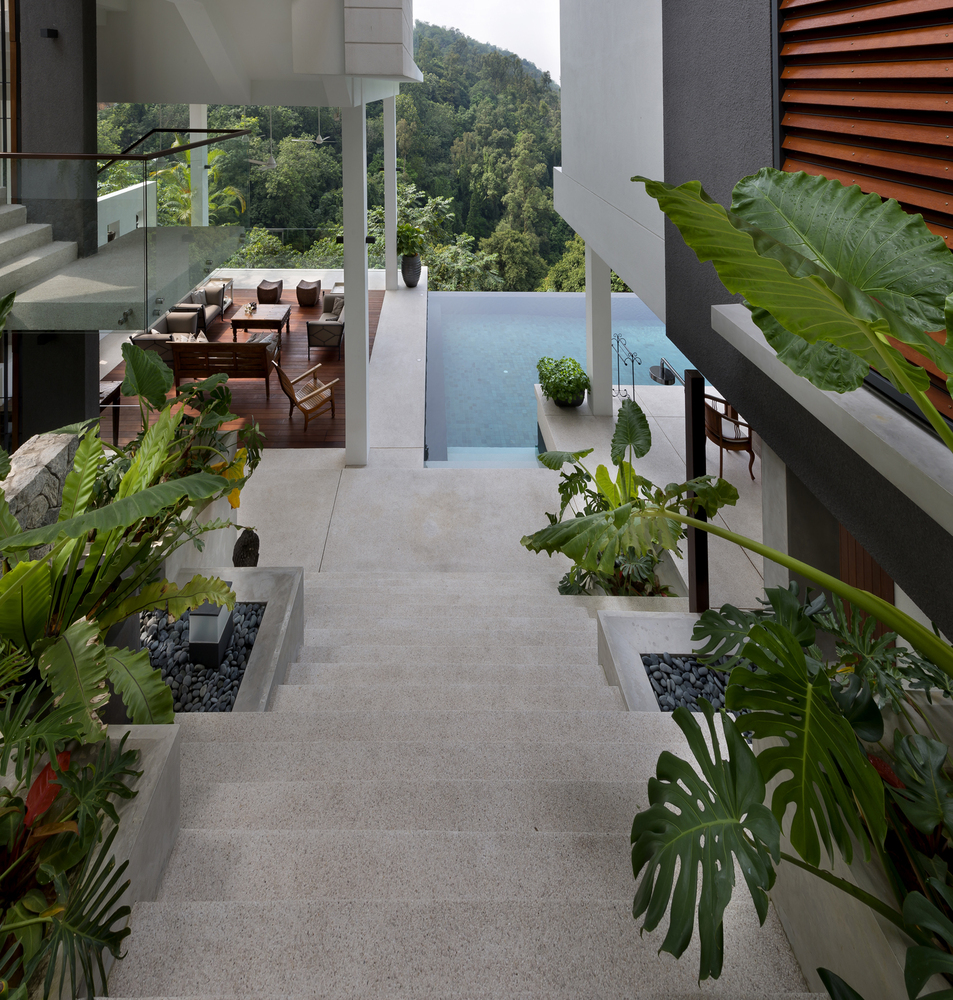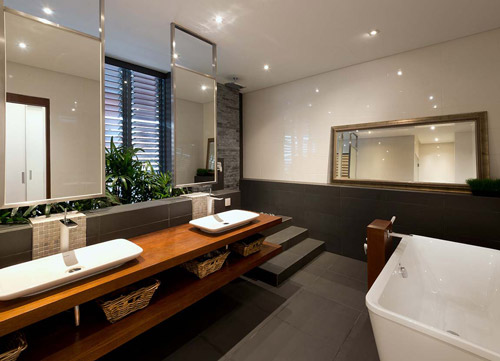 There are seven staircases floating throughout the house to make the space accessible. Local materials were used for the finishings including Sukabumi limestone at the pool areas, Merbau timber for flooring, ceilings, and façade screening. The interior is done in a muted colour palette of charcoal grey, white and timber to offset the lush hues of the surrounding forest.
All images taken from 29 Design unless otherwise stated.
All windows and doors are from Window Elements.
Interested for more amazing house designs? Check out our collection of house design articles now.