Using black for your interior decor used to be frowned upon, especially if it was used as a predominant colour. There were various opinions such as it would make the house feel too hot, too cramped, or even just plain ugly. Luckily, the times have changed and now, black is a classic colour that can create a stylish and elegant feel as long as you know what you're doing. Ahead, we have gathered several black interior decor ideas for your house so that you can create the dark haven of your dreams.
1. Loft-style Black Bedroom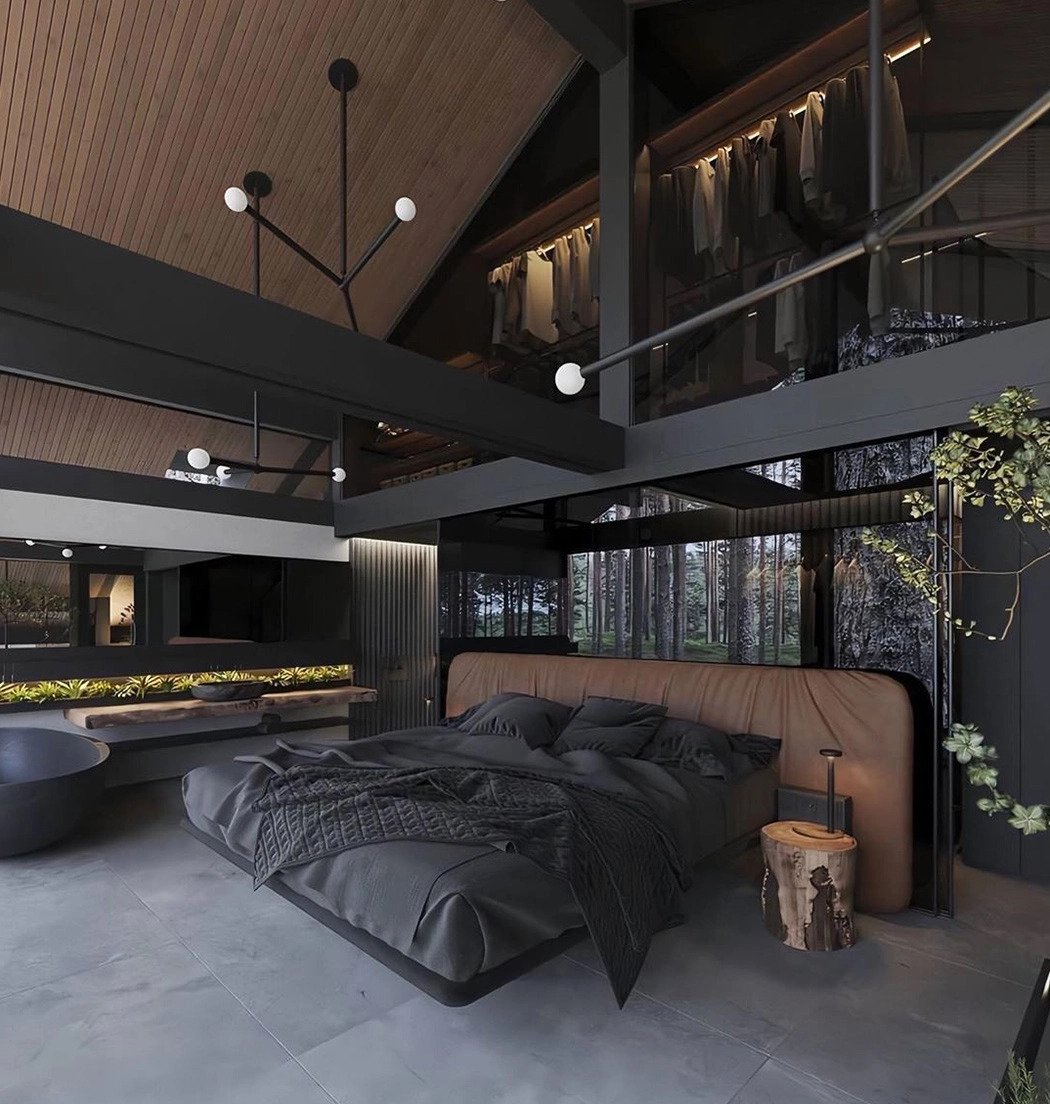 This modern yet rustic bedroom is decked out in black but thanks to the ample use of glass and huge windows, the space look bright and airy. The black is offset with some brown and wooden elements for a strong, stylish look.
2. Modern Black Living Room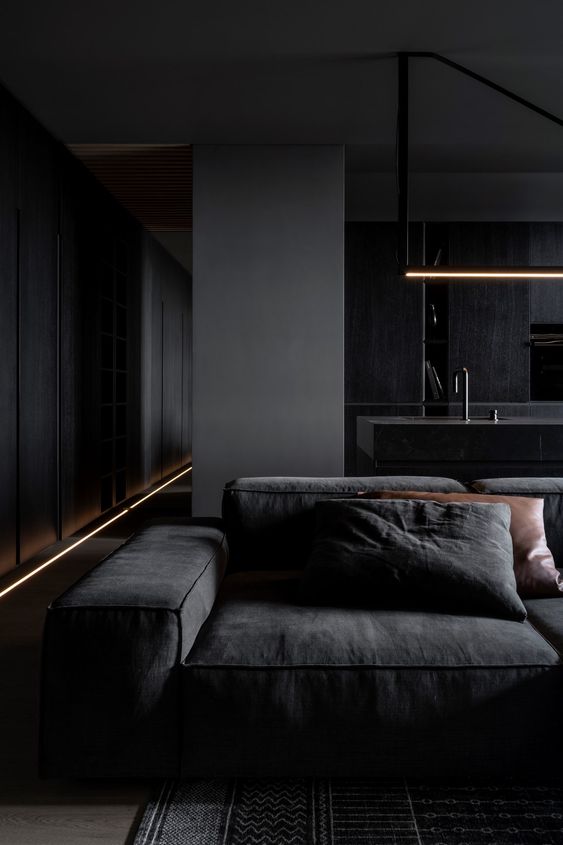 A contemporary living room with black fixtures and fittings looks really classy here. With discreet lighting that looks trendy and provides some much-needed illumination, it completes the room.
3. Hexagon-tiled Bathroom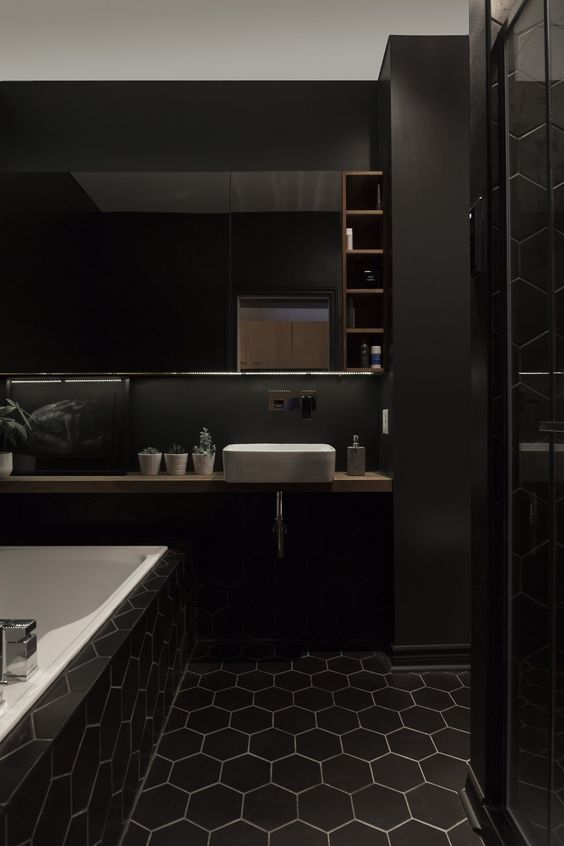 It might look like a boring black bathroom at first sight but the monotony is broken up with the white bathtub and trendy hexagon tiles on the floor and walls.
4. Elegant Black Dining Room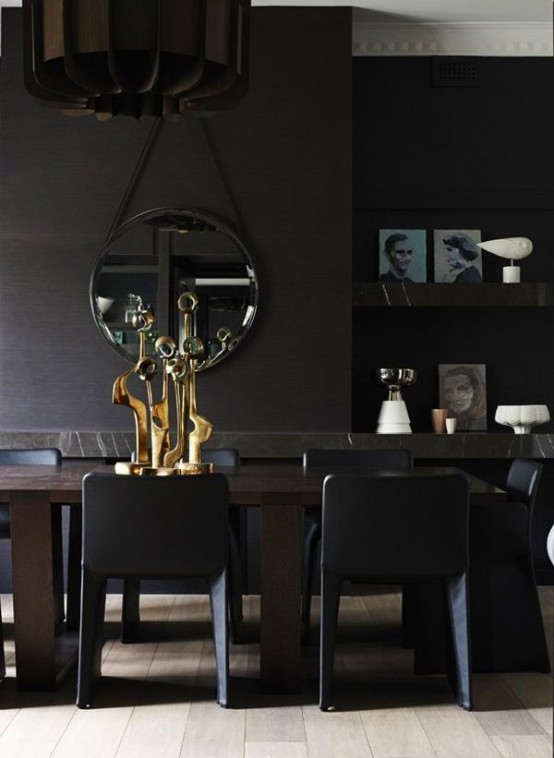 A few clever accessories in this dining room keeps it fresh and quirky. We love the vintage photos displayed on the shelf, the modern mirror and contemporary centrepiece on the table. The floor is done in light wood, to contrast with the black.
5. Sleek Black Walk-in Wardrobe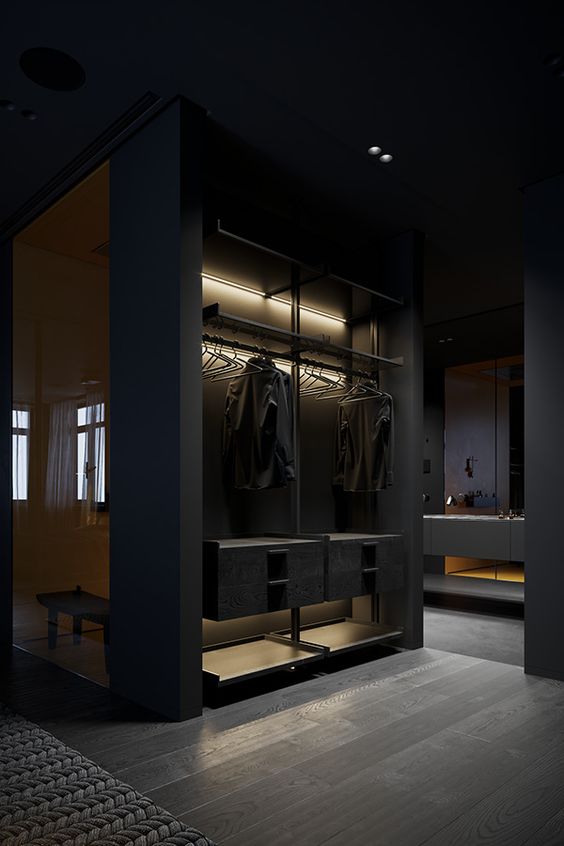 We'd love to have a walk-in wardrobe and this black design is definitely something to be proud of. It looks subtly chic and has soft lighting so you can find your clothes with ease.
6. Smart Black Dining & Kitchen Area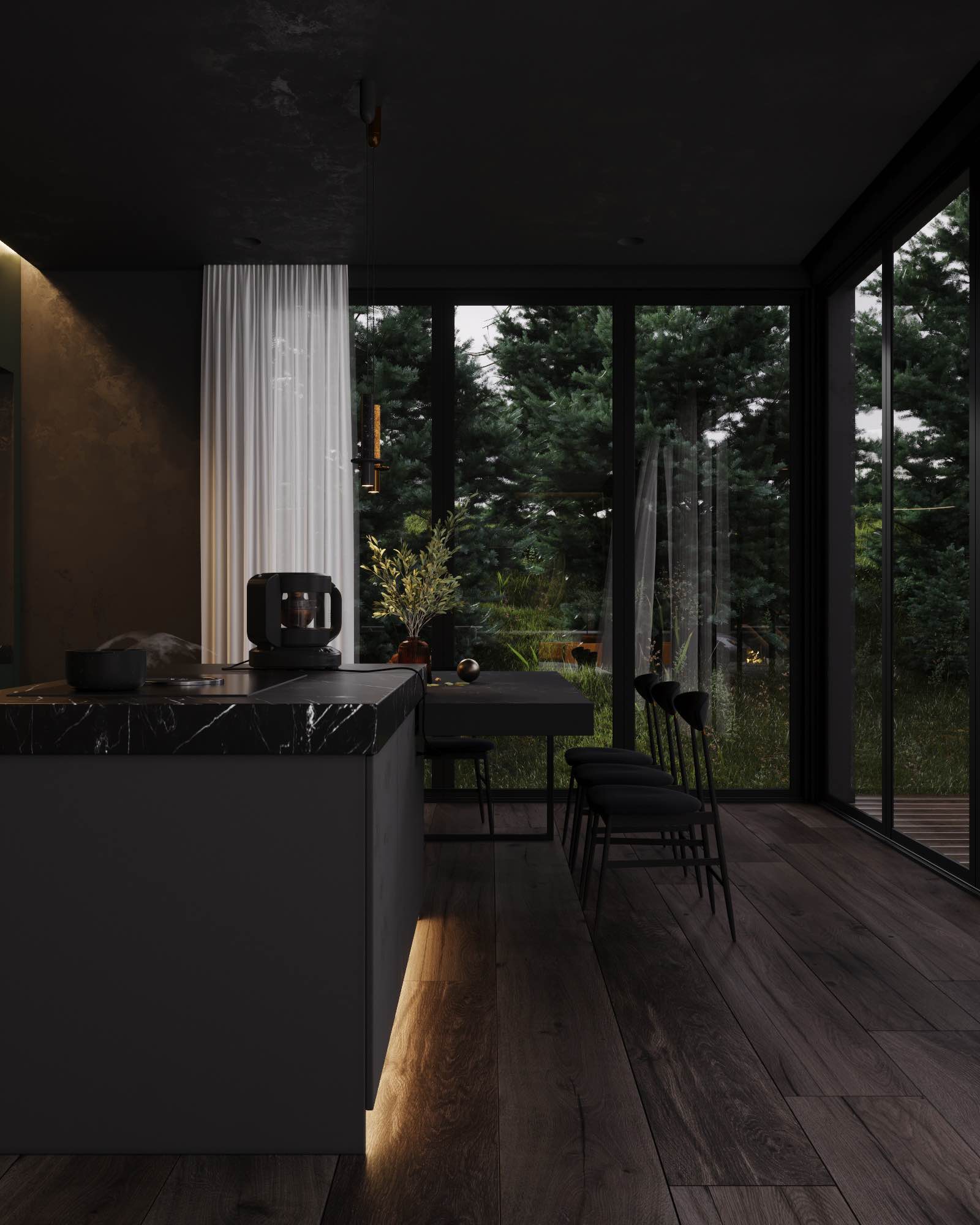 Connecting with nature will naturally make the home feel more lively and this house has done that with their kitchen and dining area. The oversized windows are contrast the dark decor by bringing in more light and air.
7. Comfy Black Bedroom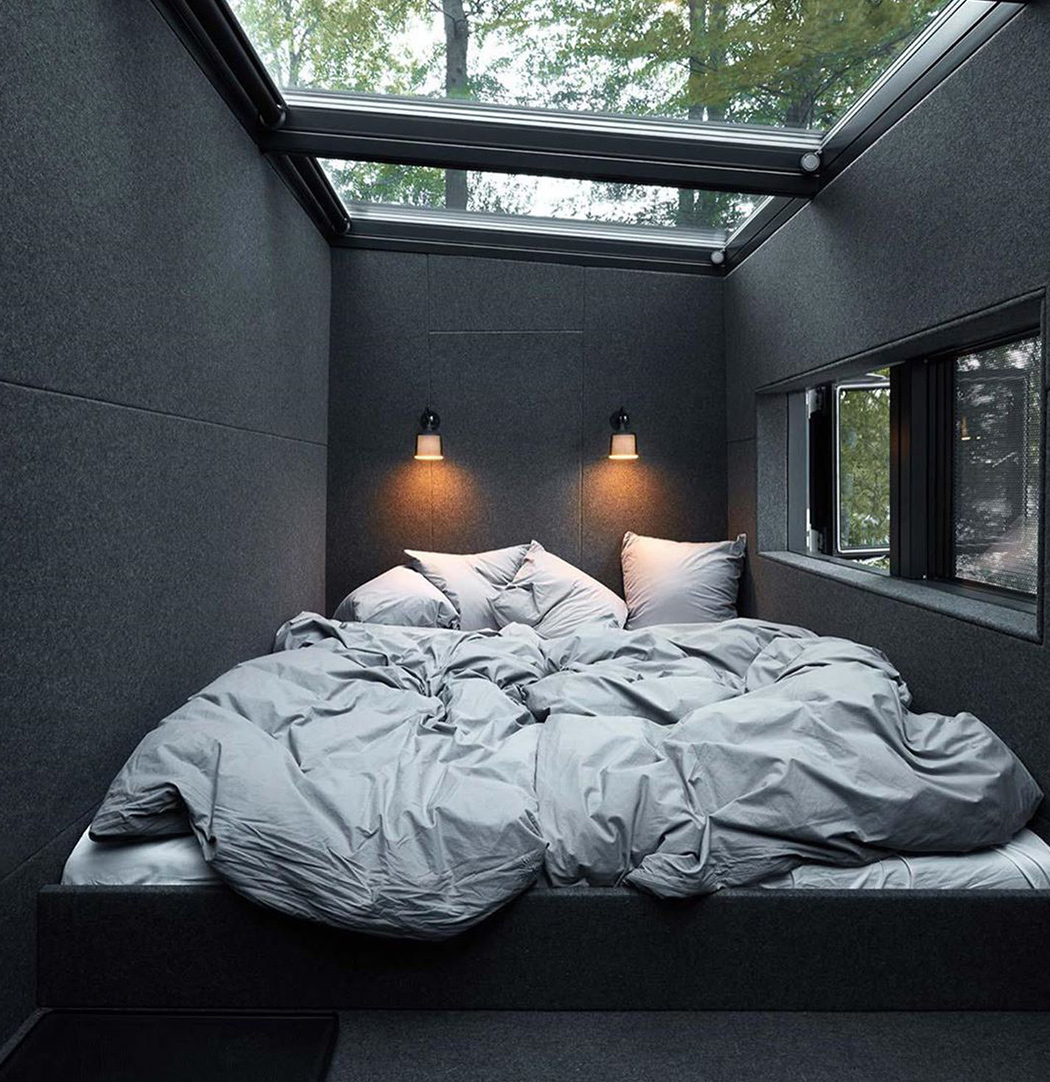 It's actually pretty easy to brighten and liven up black interior decor, just add windows to promote circulation and you'll have a relaxing bedroom like this. The wall sconces create a cosy atmosphere, perfect when you don't feel like getting out of bed.
8. Minimalist Black Bathroom
Matte black features were used in this bathroom so it looks very futuristic and sharp. This is offset with the bright white floors and illuminated ceiling.
9. Snazzy Black Living Room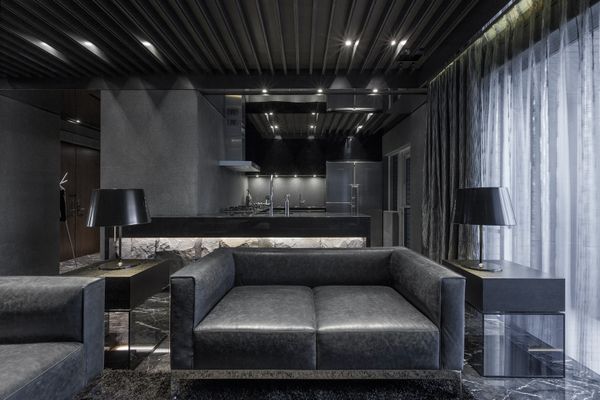 If you don't want to go for a look that is too black, then you can start small by going for a lighter shade. It will give the same effect but creates a softer look that's still classy.
10. Zen Black Bathroom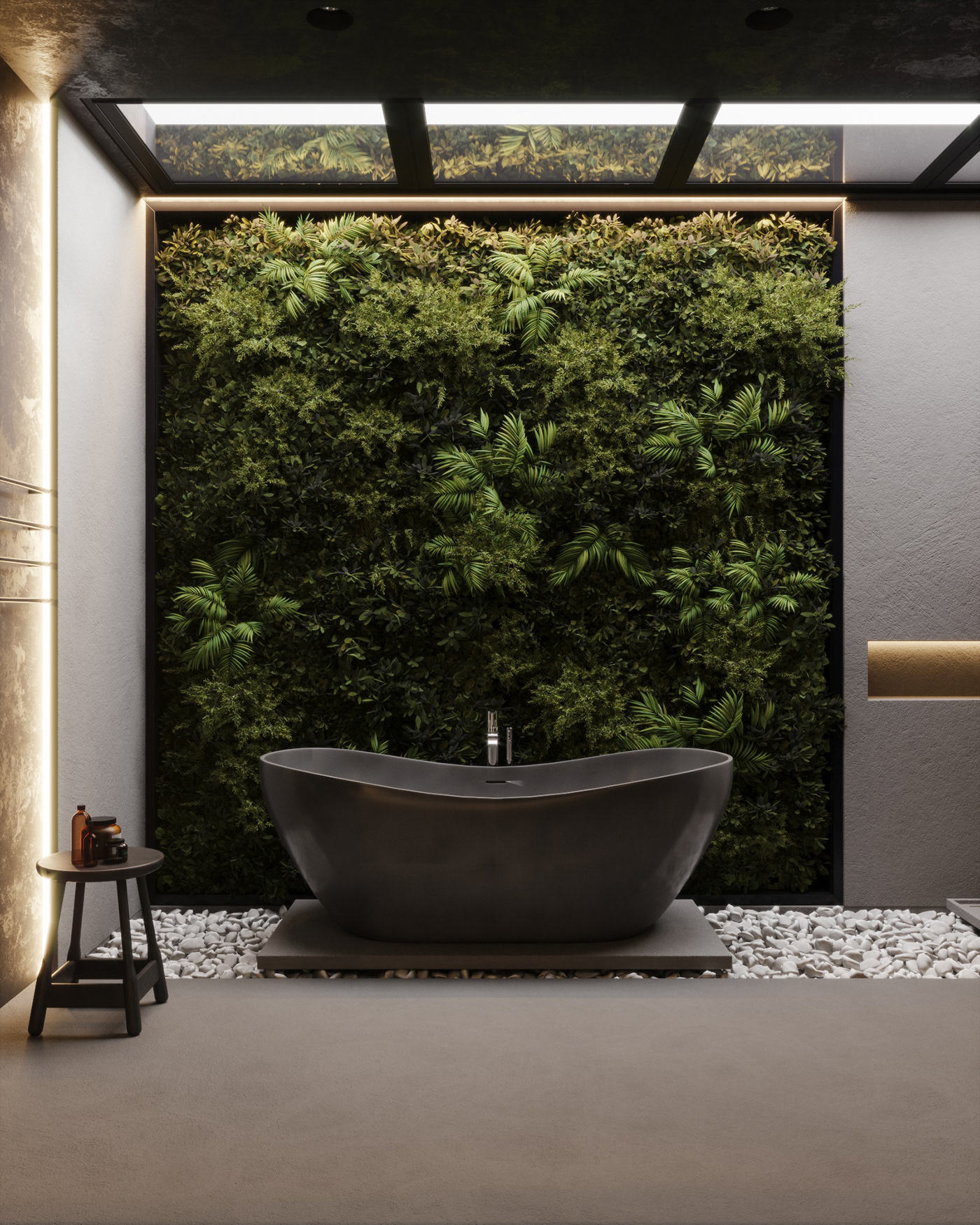 Here, nature complements the black bathtub that's set on some smooth pebbles, for an ultimate Zen atmosphere. The skylight is a clever idea that lightens up the whole space.
11. Whimsical Black Living Room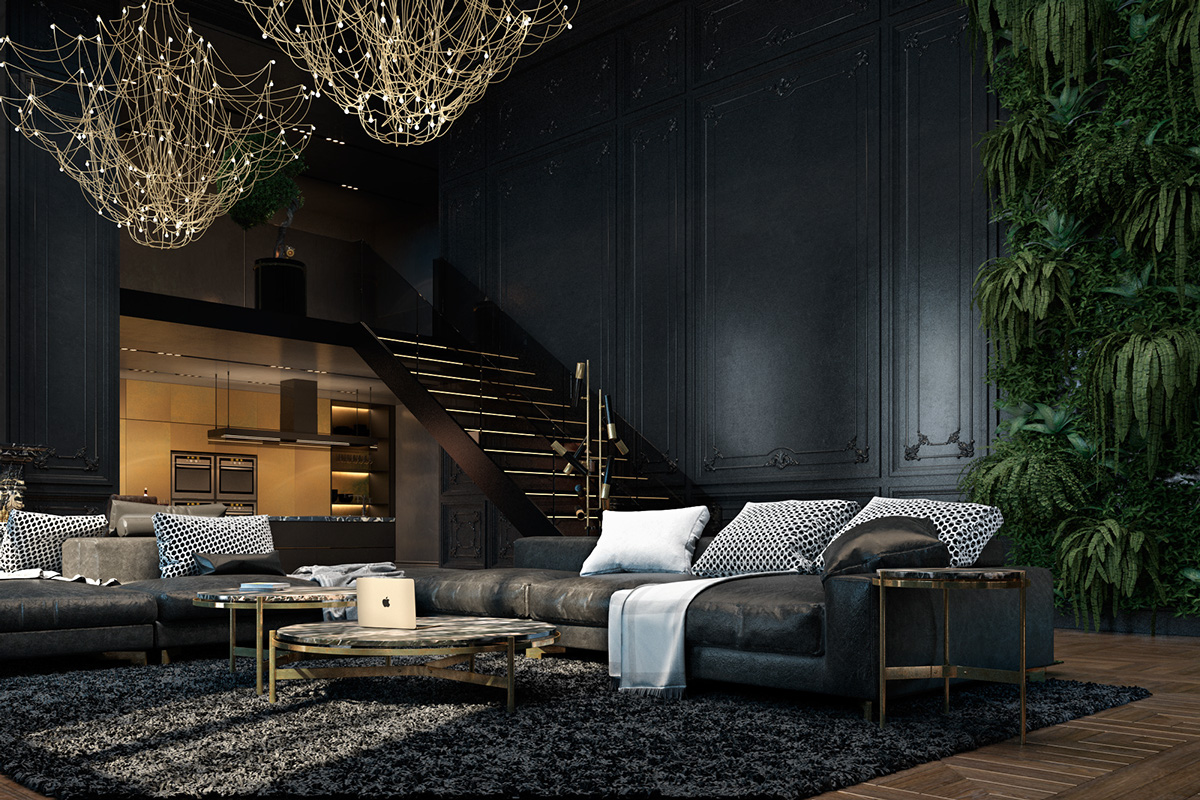 While this living room may look rather stuffy and boring at first, the accessories such as the marble coffee table, quaint feature lights and verdant plants manage to transform it into a charming space.
12. Grand Black Living Room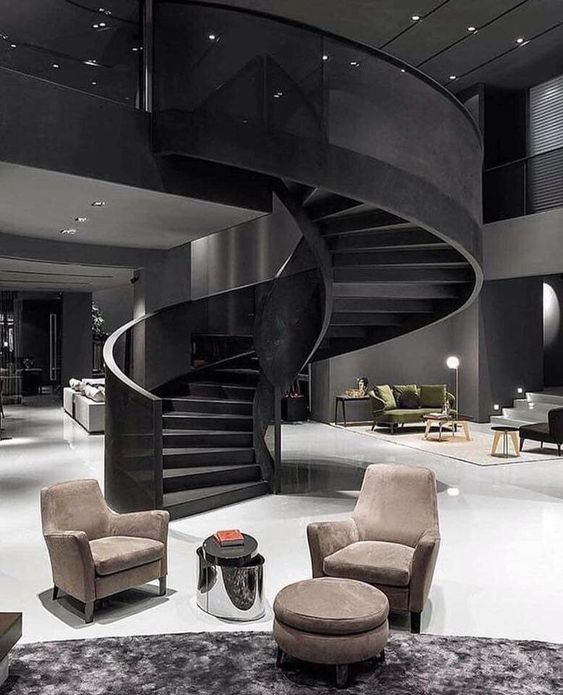 This grand living room looks even more majestic thanks to its dark-hued decor that is offset with cream and grey tones. The spiral staircase clad in black is a great focal point.
13.  Futuristic Black Bathroom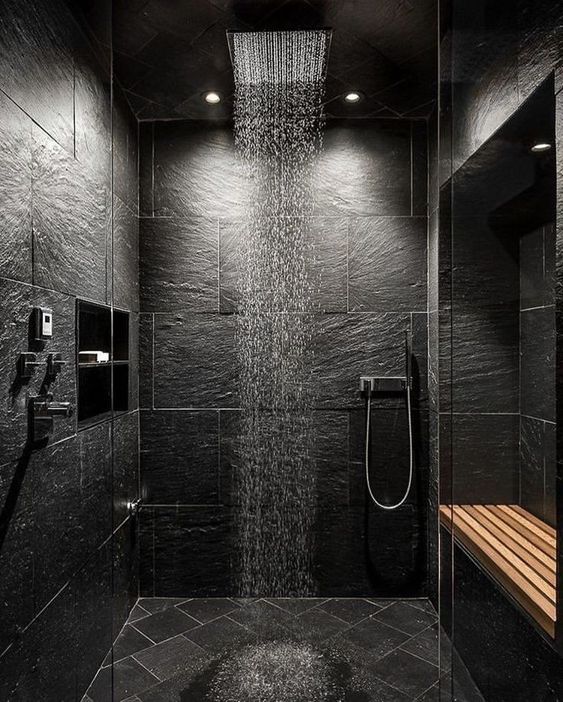 Take a shower in this bathroom and feel like you've stepped into the future. The rough bricks provide texture while the wooden bench contrasts well.
14. Contemporary Black Living Room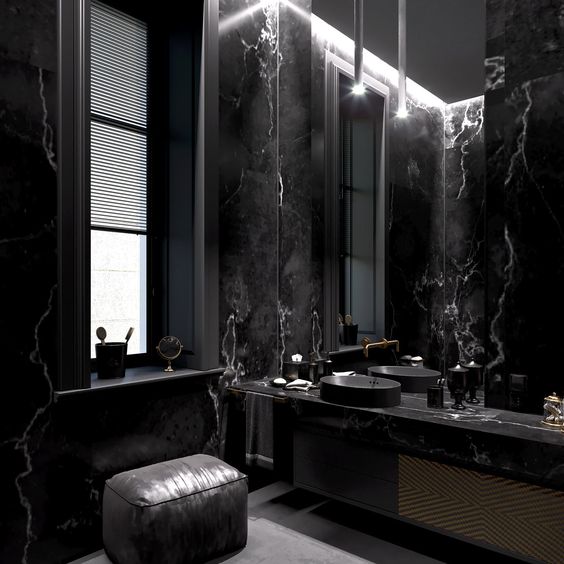 The marble patterns in this bathroom is a stroke of genius and brighten up the whole space. The light grey floor makes it look more spacious.
15. Snug Black Living Room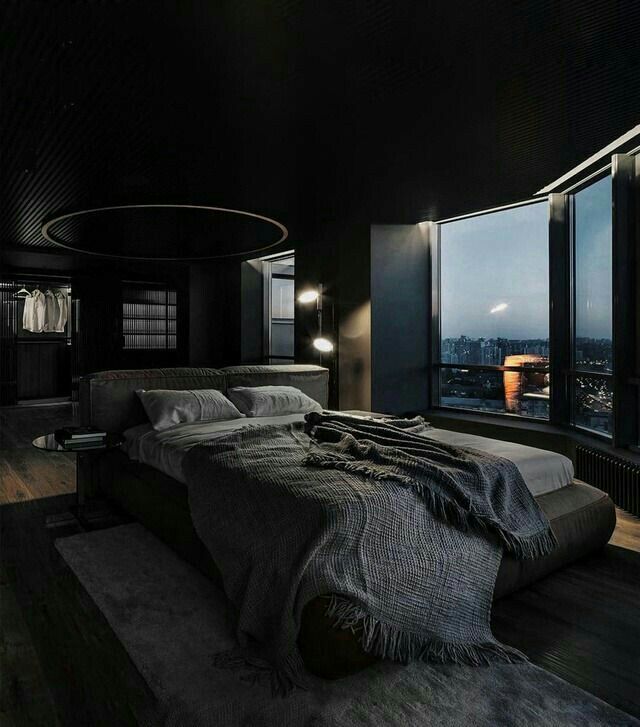 The view in this bedroom is to-die-for and the soft furnishings up the comfort factor.
16. Modest Black Living Room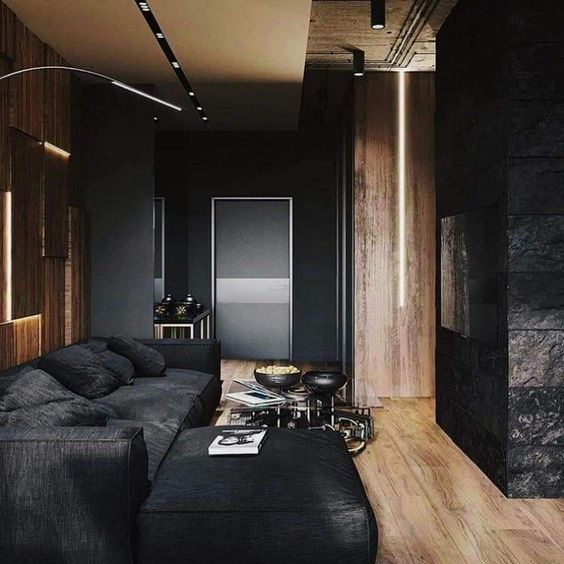 What this living room lacks in size, it definitely makes up for in style. The black sofa, feature walls and coffee table are great accent pieces.
17. Polished Black Bathroom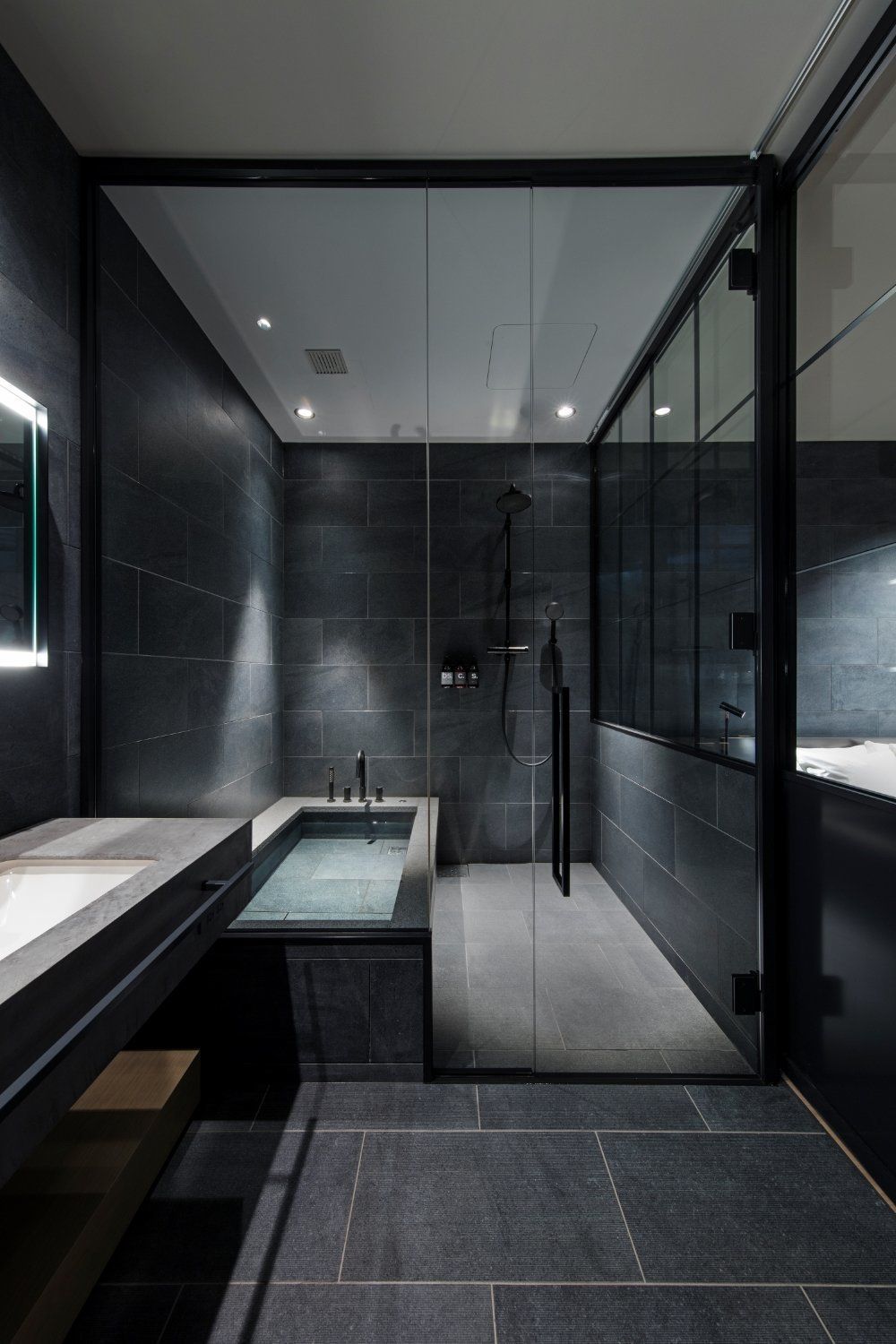 Lots of glass and sharp lines make this bathroom a clean, minimalist space that definitely doesn't look cramped or plain.
18. Tasteful Black Bathroom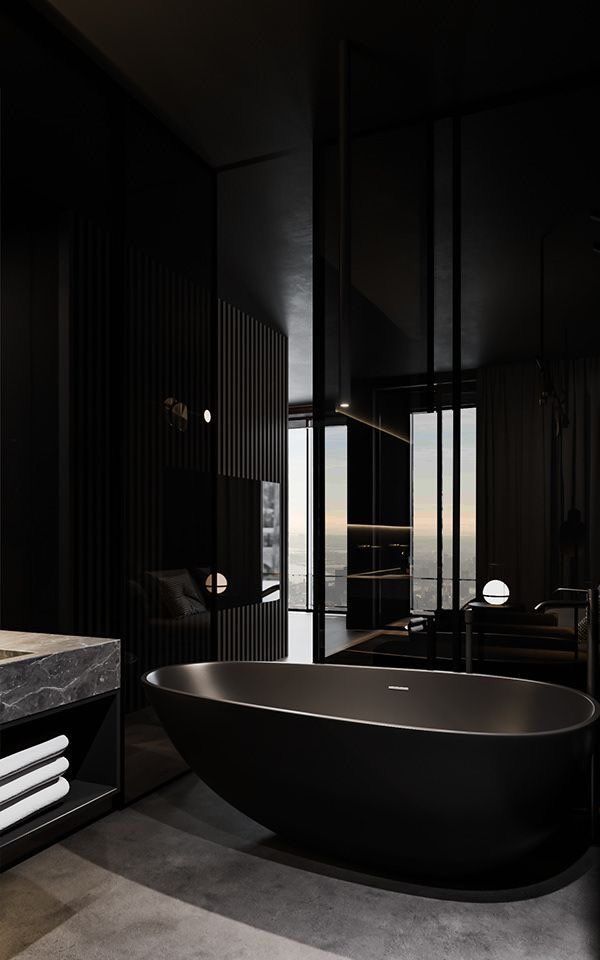 There's nothing better than having an awesome bird's eye view while you're taking a soak in this glistening bathtub, especially if you're in such a well-appointed bathroom. The wooden wall, light feature and marble sink breaks the monotony of the colour.
19. Sophisticated Black Kitchen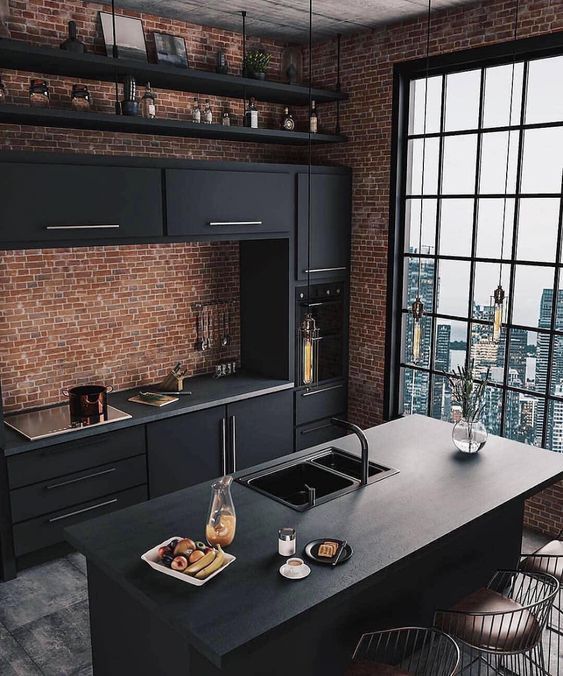 This industrial-style kitchen with the exposed brick walls, concrete floors and high windows provide a rugged backdrop for the black kitchen fittings. The fittings balance out the look to make it more refined and elegant.
20.  Exquisite Black Bathroom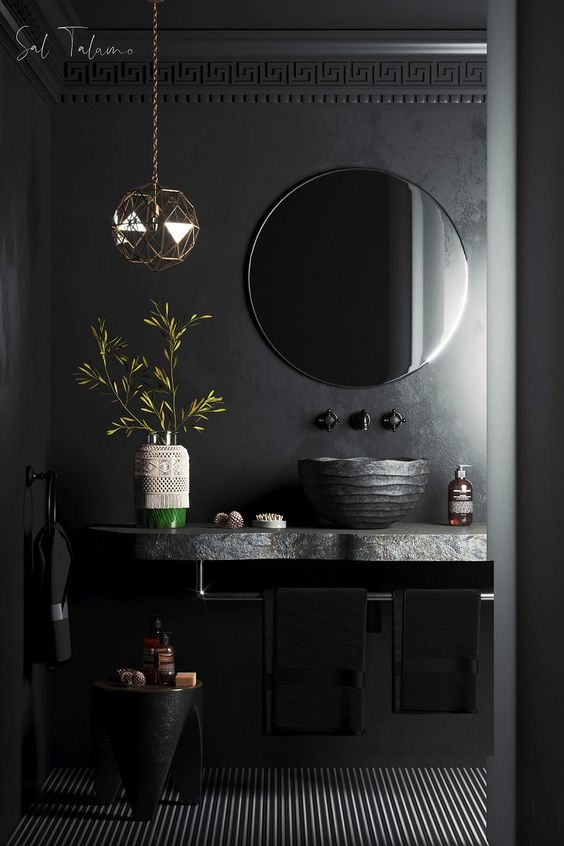 Another great example of a stylish black bathroom, it looks far from boring. The potted plant, striped floor and whimsical pendant light add to the style factor while the chunky stool and sink keep it down-to-earth.
21. Swanky Black Kitchen

With a simple yet tasteful design, this minimalist kitchen doesn't need much to make it look outstanding. But the sleek lines created by the furniture and fittings certainly helps make a statement.